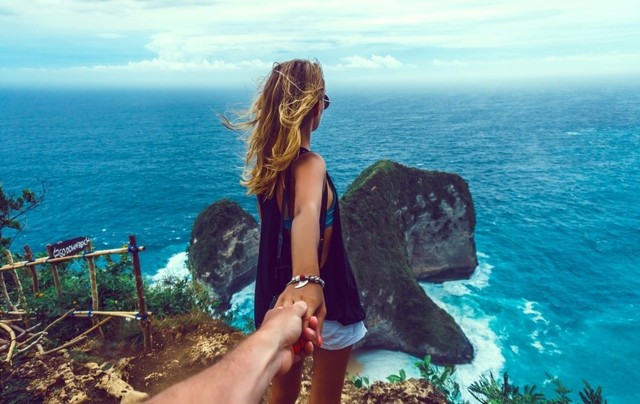 Are you planning your first trip to Bali and don't know where to start? There is so much information out there - how do you know what is really important and current? Trust us!
BaliLive has carefully gathered recommendations from experienced users of the largest community on Bali. The Beginner's Guide" - a treasure trove of useful information that covers 90 percent of questions about arrival, vacation, and long-term living on the island. Here you will guaranteedly find all the information you are interested in, thanks to which you will be able to confidently feel yourself in Bali as soon as you arrive here!
BEFORE THE TRIP
Visa
Currently, a VoA visa is available for travel to Bali. It can be obtained at the airport for 30 days by paying $35 and can be extended for the same period. Alternatively, you can apply for an eVoA electronic visa in advance on the Molina website, and it can be extended online once. You cannot extend this visa further and will need to leave when it expires. Therefore, it is suitable only for those who are traveling to Bali for a short period.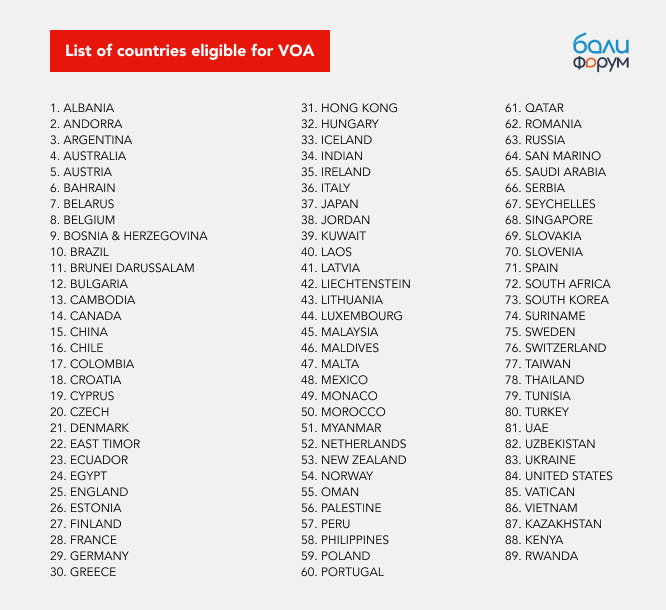 If you plan to stay on the island for a longer period, you should apply in advance for a social visa B211 for tourism purposes. The visa is issued electronically, so you don't have to go to the embassy. You can do it yourself (but then you won't be able to extend it) or with the help of a visa agency.
We recommend that you contact Legal Indonesia agency to obtain such a visa. This visa is issued for 60 days and can then be extended twice for 60 days each time. After its expiration, foreigners already in Indonesia are allowed to obtain new visas within the country.
Tickets
You can fly directly to Bali's Denpasar airport or through Jakarta. From Europe , you can fly with one layover to Bali via Doha with Qatar Airways, via Istanbul with Turkish Airlines, or via Dubai with Emirates.
From Jakarta to Denpasar, we recommend choosing Citilink or Garuda Indonesia airlines. Take flights from CGK airport (Jakarta Soekarno-Hatta). Allow at least three hours for a layover in Jakarta.
Documents
Make sure your passport is valid for at least six months from the date of entry into Indonesia. Otherwise, you will simply not be allowed to leave the country or enter Indonesia.
Make a photocopy of your passport and make it a habit to carry a copy with you while keeping the passport itself in a safe place.
A COVID-19 vaccination certificate is also required for entry.
Be sure to get good insurance! There is a reliable service from Cherehapa. Its employees are excellent at helping in disputed situations. Optimal for expats in Bali are VSK, Renaissance, Ingosstrakh. There is also a local insurance company, Allianz. Carefully check how long your insurance allows you to stay in the country and read all the contract terms. We recommend choosing coverage of at least USD 50,000 with coverage for COVID-19. Print out the obtained insurance and keep it with you wherever you go, and enter the hotline number of your assistance service into your phone. Questions about insurance in Bali can be asked to Cherehapa consultants on the forum.

If you plan to ride a scooter or drive a car in Bali, get an international driver's license. Police raids are conducted on the roads to check for the presence of international licenses. Legal Indonesia agency can also help with obtaining local licenses.
Install the SATUSEHAT Mobile app on your phone to monitor your health and register your account in it.
Pets
If you plan to travel to Bali with your four-legged friend, it only makes sense if you are staying for a long time. There is a quarantine in Bali for importing and exporting pets. It is possible to bring a pet here, but it is difficult and expensive. You will need to seek the help of a pet relocation agency. You can find a list of verified agencies in the Bali Forum Telegram chat for pet owners. You can find a detailed guide with tips and reviews on transporting pets to and from Bali in the corresponding article on the Bali Forum.
Mobile phone service
Since September 2021, Indonesia has implemented control over imported phones. If your phone was not purchased in Indonesia and you plan to stay in the country for more than 90 days, you need to register it on the website of the Tax and Levies Agency. The phone will not work with local SIM cards if it is not registered. The QR code generated in the application will need to be shown upon arrival at Denpasar or Jakarta airport in the customs office. If the value of your phone is less than $500, you do not need to pay import tax. You can bring a maximum of 2 phones per person into Indonesia.
Money
Ensure that you have different accounts or cards, with the bulk of your money on one card and another card that you can use to transfer the necessary amount as needed at an ATM. Do not keep all of your money on the card you use to pay at the store or insert into an ATM.
Set the maximum withdrawal amount per transaction on your card in your online banking to prevent large sums of money from being withdrawn without your knowledge.
Take at least a couple of hundred dollars in cash, with the rest on a card for safekeeping.
When exchanging money in Bali, always double-check the amount given, even if the money changer counted the stack demonstratively ten times in front of you.
Check the current exchange rate between the rupiah and the dollar at the top of the forum header. You can find the rates for the Kuta Central exchange network on their website.
Bring dollars with you that are no older than 2013. Old bills may pose problems when exchanging money.
Health
Take a standard first-aid kit that you always bring on vacation to the beach.
Be sure to bring rare medicines that are vital for you if you suffer from a chronic illness.
Most commonly used medications are sold in Bali and although they may have different names, in our table you will find their local names or equivalents.
No vaccinations other than COVID-19 vaccination specifically for a trip to Indonesia are required.
Clothing
You can bring standard vacation clothing with you. Don't forget to bring thin long-sleeved sweatshirts in case you get sunburned and need to hide from the sun. If you are not picky about style, you can buy summer clothes in tents on the shopping streets of Kuta, Seminyak, and other popular areas. Be prepared to haggle and lower the price by 2-5 times.
If you are demanding in terms of material quality and style, you can stop by one of the popular shopping centers - Beachwalk, Discovery Mall, Bali Mall Galeria, and buy what you like. For expensive and stylish clothes shopping, you can go to boutiques in Seminyak.
Take warm clothes (windbreaker, sweatshirt, jeans) if you have a long layover in an air-conditioned airport, if you'll be riding a bike at night, or if you plan on hiking volcanoes at night. If you plan to hike volcanoes, bring closed-toe shoes that you don't mind getting covered in volcanic ash.
If you're traveling to Bali during the rainy season, you'll likely encounter precipitation for a significant portion of your trip. Rain jackets or umbrellas are not necessary to bring along. Umbrellas can be inconvenient here, and rain jackets can be purchased at stores.
Time-spending
You need to understand what kind of vacation you want to have. Do you want to relax on the beach, surf, party, travel, practice yoga, or do it all? Make a rough list of what you want to do during your time in Bali.
Plan your route. You can move from one area to another, spending a week in each.
Accommodation
Decide on the area of residence. The areas differ greatly in the quality of the beaches, proximity to nightlife, suitability for surfing, tranquility, prices, and availability of attractions. It makes sense to stay where you will be close to your main vacation goals. Alternatively, you can stay in different areas.
Find accommodation. There are two main options: villa and hotel/guesthouse. Villas are convenient for a large group, where the total price can be split among all friends to get a lower cost per bedroom. Hotels/guesthouses are more convenient for solo travelers, couples or families with children, where only one bedroom is needed, and for those who prefer a more caring hotel service and hotel infrastructure.
How to find accommodation in Bali. 
Instructions: Who to contact to find a villa in Bali? Where to look for inexpensive guesthouses in Bali?
Pay attention to hotels that have reviews that suit you. Read reviews on hotels and pay special attention to negative reviews, what causes dissatisfaction among guests, to understand if you are willing to accept it.
You can choose not to take accommodation for the entire trip and move to different areas during your stay - it will be more interesting.
If you want to rent accommodation for a long time, do not pay for it in advance without inspecting it and reading enough reviews about it. Try to come and see the accommodation in person, send friends to look at the house or villa, or look for more reviews on different services. You can also check the surroundings of your potential home through Google Street View.
Transportation
The size of the island is 150 by 80 kilometers. Some remote areas or attractions from the touristy south can take 1-2 hours to reach. You need to decide in advance how to get around:
by bike (scooter)/motorcycle
driving a car yourself
in a car with a guide
by taxi/motorcycle taxi.
Don't overestimate your abilities. If you are not confident in driving safely around the island, don't risk it. If you have no experience riding a bike, but you are confident in yourself, take a few driving lessons from a good instructor.
In recent years, online moto- and car-taxi services (Grab, Go-Jek) have become more and more popular in Bali, working with mobile applications Grab and GoJek. However, not all areas of Bali allow these taxis to be easily called. Sometimes local, more expensive, district taxi drivers do not allow Grab and Gojek into their zones. The reason is that district taxi drivers pay high commissions.
Grab online taxi now comes to the airport. There is a special Grab Taxi stand there.
If you don't want to drive, you can take a taxi for short trips and use the services of a guide with a car for excursions.
Other
Download offline maps of Bali in advance. Open Google Maps, select "Offline maps" from the menu, select "Select your own map" and choose the map area. The Bali and Nusa Penida map will weigh about 85 megabytes but will be very useful if you suddenly find yourself without internet.
Open the list of important emergency phone numbers in Bali and the contacts of the tourist police in Bali and save potentially useful numbers from these lists in your phone.
UPON ARRIVAL
Airport
If you're staying for a while, don't forget to register your phone at the airport, as it will be much more difficult to do later.
Free Wi-Fi is available at the airport. You can connect immediately, which is very convenient if you need any information.
It is not allowed to take photos or videos in the immigration control hall. Violators will be fined heavily.
Make sure to check the date that is stamped in your passport upon arrival. The date of your arrival should be clearly indicated.
If you have been waiting for your luggage, but it has not arrived, go to your airline's office. It is possible that there was a mix-up, and they may ask you to file a lost luggage report. When they find it, they will deliver it to your hotel free of charge. Make it a habit to bring the essentials for the first 1-2 days in your carry-on luggage and not check in any expensive or irreplaceable items.
Upon arrival (or preferably before departure), you need to fill out an electronic customs declaration form. One document can be filled out for all family members.
Money
As you leave the airport, you will come across exchange offices along the way. They operate even late at night. It's better not to exchange all your money there, as the exchange rate at the airport is not very good. There are also many ATMs in the airport before and after passport control.
If you have Visa or MasterCard, you can use them to pay in stores and any other place where bank card payment is accepted. UnionPay cards are not accepted everywhere. Try to use your card as little as possible and only at serious establishments. Don't keep all your money on the card that you insert into an ATM and use for payments in stores and restaurants. Add money to it from other cards immediately before making a payment. There have been many cases of skimming in Bali.
Phone communication and internet
You can buy a local operator SIM card at the airport or in numerous shops along the road. Be prepared that at the airport, the SIM card will likely cost twice as much as in the tourist area and three times as much as in the operator's office.
Telkomsel has good quality communication, the widest coverage, and reasonably priced tariffs. Previously, it had complicated tariffs for new SIM cards, including local and general internet, which often wasn't recommended for short-term visitors to Indonesia, but now local internet has been canceled, so you can use it confidently.
Indosat Oooredooo provides cheap tariffs but not very good coverage.
XL Axiata is another good operator with reasonable prices and good coverage around the island.
Smartfren has not the fastest and most stable connection. But if your phone is disabled due to its registration being expired and other operators cannot register it, contact Smartfren.
Transport from the airport
If your hotel has offered you a free transfer, take advantage of it. The driver will meet you with a sign at the exit.
If your transfer is paid separately and you think it's too expensive, check MyBaliTrips to compare prices. This company may have a more affordable price. Transfer is convenient if you get tired after the flight, have a lot of luggage, or small children.
If you want to save money, use online taxis (Grab, Go-Jek).
ISLAND VACATION
Transport for getting around the island
To rent transportation, you can use the services of the company Balimotion.
If Balimotion doesn't have the type of transportation you need at the moment, you can contact another bike or car rental company by contacting their representative on Whatsapp.
When renting, take photos of all the damage on the transportation you are given, sign the rental agreement or receipt.
Before renting a bike, ask your rental if insurance is included in case the bike is damaged. Having insurance can save you money in the event of an accident. Don't hesitate to ask your rental in advance about what to do in case you get into an accident, who will pay for the repairs, and to what extent.
Most locals drive around the island not by the rules you learned in driving school, but by intuitive rules that they unconsciously learned from childhood while driving with their parents. While you're just starting to drive around the island, wear tight clothing, don't speed, watch the behavior and looks of other drivers because they "communicate" with looks. Be prepared for unpredictable behavior from other drivers. Don't be afraid to honk to warn other road users, it's not considered offensive. Honk at people standing on the left side of the road and planning to come out so they don't suddenly pull out in front of you.
In many places in Bali, there are paid parking lots. This is a standard system. The parking attendant usually helps you park your vehicle and take it out of the parking lot. The usual price for parking in the city for a bike is 2,000 rupiahs. At tourist attractions and beaches, the price can go up to 5,000 rupiahs for a bike. Paid parking is a completely normal phenomenon in Indonesia, and it's pointless to be outraged by its presence. 
Telephone and Internet
In the city, there are places where you can buy SIM cards registered under Balinese names. In this case, it cannot be guaranteed how long the card will work for you. However, due to recent changes, most places now offer registration in your name. To register, you will need your passport and your phone's IMEI number.
You can also buy a registered SIM card at central offices. If you buy a SIM card with registration in your name from points around the city, the normal price could be 120,000 rupiahs for a 6GB internet package, 150,000 rupiahs for a 9GB package, and 220,000 rupiahs for a 17GB package. After that, you can renew the internet package for a cheaper price.
You can buy a SIM card at any mobile phone shop in the city. They are usually located on central streets or in large shopping centers. The best 3G connectivity is provided by Telkomsel Simpati or XL cards.
To renew your internet package, you deposit a certain amount of money on your phone number at any minimart, open your phone provider's app on your smartphone, and activate the package you need. Be sure to connect the package! Without it, your internet will fly away at crazy speed!
Indonesian numbers are written in:
International standard (starting with +62 8, for example +62 81 777 777 777)
local mobile standard (starting with 08, for example 081 777 777 777) - to convert to international standard, change 08 to +62 83)
local landline standard (for example, +62 361 222 680, in this case, +62 is the code for Indonesia, 361 is the area code for Bali, and 222 680 is the phone number for the Bali Museum).
Spending Time
If you plan to visit places in Bali that require vaccination for entry (shopping centers, cinemas, some tourist attractions), the security at the entrance may ask you to show the Peduli Lindungi application. It contains information about your vaccination and COVID-19 testing. If you have been vaccinated but this information has not been uploaded to Peduli, then bring a paper vaccination certificate (in English or Indonesian) and a paper copy of the main page of your passport. In some cases, it may be sufficient to show photos of these documents on your phone.
If you don't know where to go in the evening to relax and have fun, you can join the Bali Forum chat and find friends with similar interests to hang out with at a restaurant or bar, regardless of whether there is a party that day.
Event posters with filters by theme and location can be found on the
Bali.live
website.
Install the Facebook Local app, where establishments announce their upcoming events.
You can check out a review of beaches to satisfy your beach cravings. All beaches in Bali have their unique charm.
In the first few days, while you are not used to the local sun, do not risk getting sunburned. Use sunscreen (with a protection factor of at least 50 SPF) and when taking long walks or riding a bike, wear a long-sleeved shirt and loose pants or a skirt.
If you get sunburned and don't have anything in your first aid kit for burned skin, buy Bepanten cream at the pharmacy. It is similar to the Russian Panthenol and helps to restore skin after burns and has a weak antiseptic effect.
Friends and socializing
People in Bali are open and friendly. This applies to both locals and foreign tourists. Even if you arrived alone, it's very easy to meet new people right in a café, restaurant, bar, or club and find new friends.
Food and drinks
If you want to try local street food, be prepared that food in local food stalls (warungs) is often very spicy. Food that is brightly colored red or yellow is potentially spicy. If you cannot eat spicy food, ask for non-spicy (no spicy / tidak pedas). Eat something fatty (milk, yogurt) or plain rice to offset the spiciness. Alcohol on Bali is expensive due to high taxes.
Be careful with cheap local drinks (arak and arak-based cocktails) and only buy them in reputable places. In clubs, keep an eye on your glass of alcohol and do not leave it unattended.
Prices on menus in restaurants are often indicated in thousands of rupiahs. That is, 20K is 20,000 rupiahs.
In Bali restaurants, except for local food stalls (warungs), a state tax and a service charge are added. Usually, they can add up to (10%, 15%, 21%). If the restaurant has this charge, its amount is indicated either at the bottom of the menu page or at the end of the menu. Tips are considered to be the service charge that should be given to waiters for their work. But if you want to give a tip to the waiter, you are free to do so and choose the amount of the reward at your discretion. There are no clear rules about the size of tips.
Safety
Do not drive while intoxicated, especially at night. There may be potholes, sand piles, or a lying dog on the road.
Keep an eye on your mobile phone in crowded places. Do not swing your phone uncontrollably and do not put it in the back pocket of your jeans. Do not put your phone in the pocket of your motorcycle when riding. Do not hold your phone while riding a motorcycle.
If you need to use navigation on the island from your smartphone, take headphones, turn on the voice mode in Google Maps, insert the headphones into one ear, and put the phone in the trunk. In 3-5% of cases, the voice navigator may lag, but most of the time it provides fairly reasonable navigation.
Install applications on your phone that will help you remotely lock your phone or track its location in case of theft. Set up backup data from your phone so that your data is not lost in case of theft. If your phone is stolen, there is a small chance of recovering it if you know its location, but the police do not always actively assist in such operations.
When riding a scooter in the dark, put your bag and all valuables in the trunk. Do not ride in the evening and at night with a bag over your shoulder, across your shoulder, or with a backpack. If robbers suddenly pull your bag or backpack, you will not only lose your things, but you may also fall off the bike.
When leaving your motorcycle in a parking lot, fasten the helmets to hooks located in the trunk, do not hang them on the handlebars. It's better to take full-face helmets with you when leaving, even if they are fastened to the motorcycle, they can be "cut off".
Please do not leave valuable items in the trunk of your car or bike if you leave your vehicle in a parking lot.
Do not take valuable items and large sums of money with you to the beach.
Always count your money last when exchanging currency, even if the person before you counted it in front of you multiple times. Do not let anyone touch your money again.
Do not withdraw money from ATMs located on the street. Withdraw money from ATMs located inside bank branches, preferably during the daytime when there is a security guard present. To find the nearest bank branch, open Google Maps and search for "Bank."
If you have a safe in your hotel room, keep valuable items such as laptops, passports, bank cards, and money in it. Do not leave large sums of cash in plain sight in your room.
If you are a woman, do not travel alone on deserted streets at night, especially if you are returning late at night from a club. Take a taxi or find a group of friends who can accompany you.
Do not walk alone on a deserted beach at night. If you are sitting on the beach with friends in the evening, keep your bags visible so that skillful "fishermen" cannot "fish" them with a fishing line and hook.
If you carry a bag with you, carry it in the hand that is farthest from the road so that robbers on bikes cannot snatch it from you.
In Bali, you may encounter reverse currents and powerful waves. Do not swim alone, do not overestimate your abilities, and read up on how to act if you get caught in a reverse current.
If you are in trouble and do not know what to do, write about your situation in the Bali Forum Telegram chat. There, you will receive helpful advice and support.
Health
If you need to find the nearest pharmacy, open Google Maps and enter Apotek or Pharmacy. The map will show you all the closest pharmacies.
In the chain stores Guardian or Watson, which often have a sign "pharmacy" on them, there may not always be a large selection of serious medications, and instead of real working drugs, they may offer you expensive vitamins or dietary supplements. Go to regular local pharmacies (Apotek) and ask for specific medications that you need.
If you have had an insurance case and you are sick, call your insurance company and ask which hospital they will send you to for treatment. Only after that, go to the hospital.
If you still came to Bali without insurance and you need medical treatment, contact one of the hospitals on this list. There are also quality dental clinics on Bali.
Also, for any medical questions, you can contact the BaliForum Health Telegram chat.
RETURNING HOME
Upon returning home at the airport, you will not have to pay any taxes or duties.
If you have miscalculated the number of days on your visa and have an overstay, you can pay for it at the airport. One day of overstay costs 1 million rupiah. If your overstay does not exceed 60 days, you simply pay for it and go on your flight. There will be no sanctions.
For an overstay of more than 60 days, you will need to undergo a special document procedure with the immigration service and pay a fine. If you have a large overstay, contact a visa agent and they will advise you on what to do.
Luggage packing at Bali airport costs 105,000 rupiah per unit.
Be sure to share this post with your friends - it's super useful for anyone planning to go to Bali! Have a nice trip! ;)