If you are planning your holiday on Bali by yourself or searching for accommodation on Bali, the first thing you need to do is decide on the Bali region in which you will stay. The regions on Bali are all different and suitable for different types of people.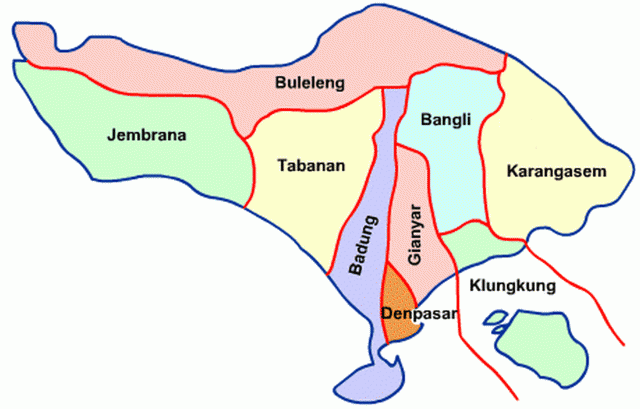 There is simply no one area on Bali that is the best. Therefore, the question "Which region to settle in Bali?" objectively does not make sense. But you can find an answer to this question based on your expectations, lifestyle, personality, and the company you are traveling with to Bali. In other words, you can find the Bali region that is optimal for you personally.
Where to live and where to vacation in Bali?
If you're traveling with children or elderly parents and want to be close to calm or small waves beaches - choose Benoa (Nusa Dua) for a short stay with a larger budget, or Sanur for a longer stay with a more modest budget.
If you're coming to learn how to surf - choose Kuta for the first week.
If you're already an experienced surfer and traveling during the dry season - choose Pecatu, Ungasan if you're not interested in crowds, or Canggu, Tibubeneng, Pererenan if you're looking for concerts, bars, and socializing. If you're traveling during the wet season - choose Benoa (Nusa Dua) or Sanur.
If you're coming for yoga and meditation and need to be near the ocean - choose Canggu, Tibubeneng, Pererenan. And if being near the ocean is not important to you - choose Ubud.
If you're a freelancer, enjoy beautiful beaches, and looking for more affordable accommodation - choose Jimbaran. If you're willing to compromise on the color of the beach, but more interested in an active nightlife, concerts, cafes, and beautiful design - choose Canggu, Tibubeneng, Pererenan.
If you're traveling for a short period and want to dive into the club scene without worrying about money - choose Seminyak or the closest part of Kerobokan to Seminyak. If you love bars and nightclubs, but want to save money - choose Kuta.
If you love diving and are interested in sunken ships, macro diving, and affordable shore diving - choose Amed. If you love manta rays - choose the island of Nusa Penida, and if you want to dive with turtles, sunken ships, and sharks - go to the Gilis.
If you're traveling during the rainy season and worried that rain will ruin your vacation - choose the Gili islands - Air, Trawangan, or Meno.
If you're looking for a place with clean air, white sand beaches, transparent water, and the ability to walk everywhere - choose the Gili islands - Air, Trawangan, or Meno.
If you're looking for a place where you can feel the spirit of adventure and the power of nature, choose the island of Nusa Penida.
Note that during the dry season (June-August), the wind blows from the east to Bali, and the beaches are cleaner on the west side of the island (Pecatu, Jimbaran, Kuta, Legian, Seminyak, Berawa, Canggu). During the rainy season (December-March), the wind blows from the west to Bali, and the beaches are cleaner on the east side (Nusa Dua, Tanjung Benoa, Sanur). Beaches on the south side of Bali (Ungasan, Kutuh) are consistently clean throughout the year.
List of regions in Bali
SOUTH: BUKIT PENINSULA
Kedonganan - fish market, airport, local people Jimbaran - beaches, seafood restaurants, surfing, expats, tourists Pecatu, Ungasan, Kutuh - cliffs, white sand beaches, surfing, fancy clubs on the cliffs, expats, tourists Benoa, Nusa Dua - convenient beaches, good for swimming, clean, expensive, family-friendly.
MAIN PART OF BALI (NORTH OF THE BUKIT PENINSULA)
Kuta - nightlife, crowds, surf schools, youthful, tourists Legian - budget hotels, restaurants, quiet Seminyak - fancy villas, restaurants, clubs, boutiques, expensive, trendy, glamorous, traffic, parties Kerobokan - spacious villas, expats, restaurants, not very expensive, fields, nature Canggu, Tibubeneng, Pererenan - calm, beautiful, fields, surfing, stylish cafes and hangouts, yoga, hipsters, expats, tourists Sanur - calm, family-friendly, older people, not expensive, beach without waves Serangan - surfing, turtles, no hotels
CENTRAL:
Ubud - rice fields, beautiful views, nature, yoga, meditation, healthy lifestyle, art galleries, expats, tourists.
Kintamani - beautiful nature, volcanoes, Mount Batur, Lake Batur, cool weather, no good hotels Denpasar - capital of Bali, traffic, non-touristy area Tabanan - nature, mountains, lakes, cool weather, temples, authentic villages
EAST:
Amed - nature, tranquility, snorkeling, diving, free diving, solitude, few people Candidasa - tranquility, solitude, diving, few people
NORTH: Lovina - calm, quiet, snorkeling, dolphins
WEST: Bali Barat National Park - nature, not particularly popular
THREE GILI ISLANDS:
Gili Trawangan - parties in the east, tranquility in the west, many restaurants, many water activities, dive centers, no petrol transport.
Gili Meno - tranquility, nature, the most beautiful snorkeling spots, mostly turtles, few restaurants, no petrol transport
Gili Air - balance of activities and nature, yoga, vegans, families with children, no petrol transport
SOUTH:
Bukit Peninsula - the southernmost point of Bali. Here are the most beautiful beaches with light sand, surrounded by high cliffs. Sometimes there are waves on the beaches, sometimes calm. There are shops and restaurants, but infrastructure facilities are usually separated from each other, and transport is necessary to get around.
There are 6 districts on Bukit - Kedonganan, Jimbaran, Pecatu, Ungasan, Kutuh, Benoa.
Kedonganan
Kedonganan is a district in Bali located just behind the airport. There aren't many hotels, but there are guesthouses. Mostly locals live in the area. Not all tourists are aware of this district, considering it part of Jimbaran.
Transport: Everything is compactly located in the district, and it is easy to walk around.
Attractions and entertainment: Kedonganan is famous for its fish market, where you can buy fresh fish and have it cooked for you to enjoy. There is also the beach club Ibiza in Bali just behind the fish market.
Beach: Kedonganan is the starting point of Jimbaran Beach, which stretches south to the Four Seasons hotel. The beach is perfect for morning and sunset walks and runs.
Pros:
Close to the airport
Close to the fish market
Affordable accommodation
Many local shops
Cons:
Not a particularly beautiful setting
Who to recommend: You can choose this district if for some reason you want to find accommodation very close to the airport and don't mind the general atmosphere of the area.
Back to district list.
Jimbaran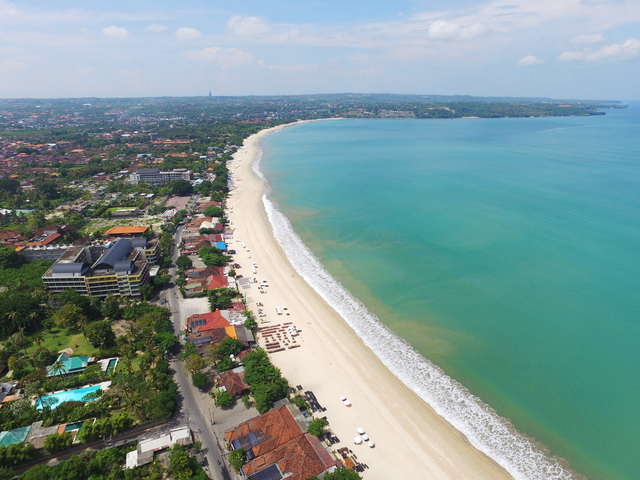 The Jimbaran area is an extension of Kedonganan. It starts in the lowlands and transitions to the high part of the Bukit peninsula, encompassing Jimbaran and Balangan beaches. The population is a mix of Indonesians and expats. The area has a fairly high population density and good infrastructure, with many grocery stores, markets, and spa salons.
Housing: There is a wide range of housing options available, from budget guesthouses to luxury villas and hotels.
Transportation: If you choose Jimbaran, it's recommended to rent a bike or car. Online taxis are also available to most places.
Attractions and entertainment: The Jimbaran area is generally peaceful. There are no nightclubs, so if you're looking for nightlife, you'll have to travel to places like Single Fin in the south, or Kuta or Seminyak. The Muaya area of Jimbaran Beach is famous for its seafood restaurants, such as Menega and Lia Cafe.
Beach: Jimbaran Beach is a favorite spot for sunset walks, while Balangan is popular among surfers. You can swim at Jimbaran Beach, but the water is usually murky due to the waves. Swimming at Balangan can be problematic due to the waves or long stretches of low tide. During the rainy season, plastic can accumulate on the beach.
Pros:
There are affordable and comfortable housing options as well as beautiful villas.
There are residential areas.
There are many shops and markets.
Jimbaran Beach is convenient for strolls and relatively comfortable for relaxing.
Cons:
Interesting places are far from each other.
There are no clubs or nightlife.
Who is it recommended for:
The Jimbaran area is suitable for long-term stays, as there are many affordable housing options, plenty of shops, and decent beaches nearby. There are also beautiful scenic villas available.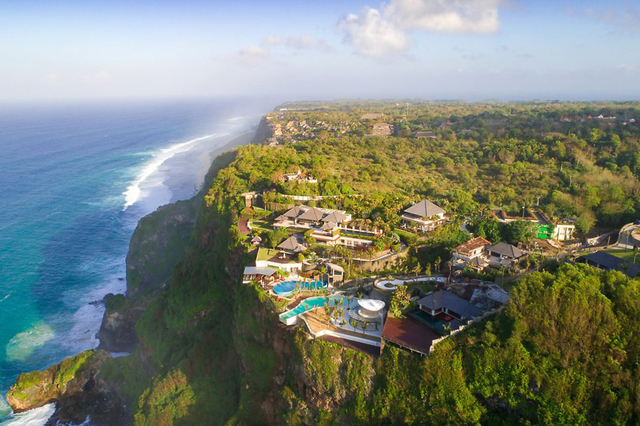 The districts of Bali - Pecatu, Ungasan, and Kutuh are usually grouped together by most tourists and referred to by the common name of Uluwatu. This is because Uluwatu is a famous temple located in Pecatu on the southern Bukit peninsula.
The population in these areas is a mix of locals such as Indonesians, Balinese, expats, and tourists.
These districts have the most picturesque white beaches under towering cliffs with crystal clear, blue water. There are fewer shops here than in Jimbaran, but there are quite a few nice European cafes and restaurants along the roads leading to the main beaches and surf spots.
Accommodation options in these areas range from expensive luxury villas and resorts on the cliffs to affordable guesthouses and long-term rental houses in residential neighborhoods due to the areas' remoteness from infrastructure.
When it comes to transportation, it is advisable to rent your own transport since online taxis are not allowed on all streets and getting around can be difficult.
The main attraction is the Uluwatu temple on the cliff, which many tourists visit at sunset. There is also a growing popularity of GWK Park due to the statue of the god Vishnu and his bird Garuda. There are luxurious clubs with pools on the cliffs where the glamorous crowd comes to flaunt their Instagram photos such as Savaya, OneEighty, Ulu Cliffhouse, El Cabron. A popular place to watch the sunset and have Sunday parties is the Single Fin bar.
There are many beautiful beaches such as Melasti, Pandawa, Padang-Padang, Dreamland, Bingin, Suluban, Thomas, and Gunung Payung. You can also arrange a beach tour if desired. However, during the rainy season, there may be plastic on the beaches on the west side, while on the south side, there is much less or none at all.
Some of the advantages of these areas include affordable guesthouses, beautiful villas on the cliffs, stunning beaches, less density of construction, more nature, beautiful clubs on the cliffs, and excellent surf spots. 
However, there are few shops and almost no markets, and having your own transport is necessary since taxis are not allowed on all streets.
This area is recommended for those who love beaches with light sand and surfing, whether for a short vacation or long-term stay.
Benoa,Nusa Dua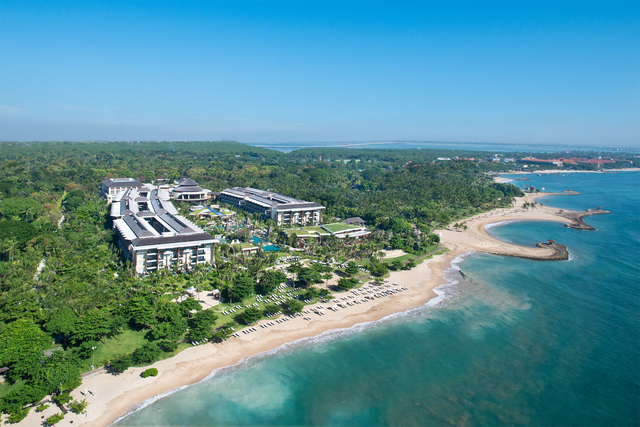 The area of Bali Benoa (Nusa Dua) includes the famous elite tourist district of Nusa Dua, Tanjung Benoa cape, and Benoa port. There are shops and markets in Benoa, but they are located further inland. For example, there are supermarkets Pepito and IThon not far from the tourist zone.
Accommodation: In Nusa Dua, the first line is occupied by expensive five-star hotels popular among tourists who want to find an area where everything is at their fingertips. If you move away from the beach line and luxurious hotels, you can find houses for long-term rent or cheap guesthouses in local settlements.
Transportation: To rent a place to live in this area, you also need to rent your own transport because shops and interesting places are located at a distance from each other, and online taxis are not allowed everywhere.
Sightseeing and entertainment: There is a well-kept neat park and Bali Collection shopping area with shops and restaurants. There are almost no clubs in Nusa Dua. If you need nightlife, you will have to go either to Kuta and Seminyak or choose accommodation in those areas. Slightly further into the district, there is a square of five temples with functioning temples of five confessions practiced in Indonesia.
Beaches: Nusa Dua has a comfortable beach for swimming. There are parts that are affected by low tides, and there are parts where you can swim all the time. The sand in front of the hotels is cleaned, and the beach is in perfect condition. From public beaches, Geger and Mengiat are recommended.
Pros:
Very beautiful and well-groomed complex in Nusa Dua
Beaches suitable for swimming with children and clean even during the rainy season
Cons:
High prices for food and goods in the Nusa Dua tourist complex
No nightclubsOnline taxis are not allowed everywhere
Whom to recommend: This area can be recommended either to tourists who come to Bali to enjoy "relaxation" in a five-star hotel on the beach and are willing to spend a lot, or to those who are going for a long time and are willing to travel to local settlements in search of more budget accommodation. The area is loved by families with children and couples.
Next, we move from the Bukit Peninsula to the north to the main part of the island. This is also the southern part of Bali, but more densely built up, more active and energetic.
Tuban
The Tuban area starts right after the airport. It consists of a couple of blocks with mainly local housing, so it is unlikely that you will settle there.
Kuta
Bali Kuta is the first tourist area to the north of the airport. There are few people who are indifferent to this area. There are those who love it and those who hate it. If you have spent your vacation in Bali only in Kuta, then the word "Bali" can be excluded from this construction in principle.
Here, there is dense development, narrow streets, which are packed with market stalls and massage salons.
In Kuta, there is a huge concentration of shopping centers such as Beachwalk, Bali Galleria, Discovery, and Lippo. Fruit and vegetable markets also exist, although they are not as obvious and need to be sought out. All major fruit and vegetable markets in tourist areas are on Bali's public map.
Accommodation: There are no super expensive hotels here, but overall, accommodation is more expensive than in the neighboring, more glamorous area of Seminyak. The clientele that comes to Kuta is simply not elite. The most respectable hotels that can be recommended are The Anvaya, The Stones, The Sandi Phala, and Sheraton Bali.
There is more budget-friendly accommodation and budget guesthouses in Kuta.
Transport: The area is compact and can be explored on foot. In the evenings, there can be traffic jams on Legian Street due to taxis that transport tourists. Online taxis can go almost anywhere.
Sights and Entertainment: In the evenings, music blasts from clubs and bars in Kuta. Kuta is a concentration of emotions, sounds, and movements. Kuta and Seminyak are the most popular clubbing areas in Bali. Kuta is for those who are looking for simpler and more budget-friendly fun.
Beach: Kuta beach starts near the airport and flows into Legian beach. During the dry season, it can be quite clean. Periodically, eco-activists clean the beach, even picking up plastic lids. But during the rainy season, trash washes up on Kuta beach. The sand is quite soft and light, but the waves are strong and sometimes not suitable for swimming.
Pros:
You can get around without transport and walk everywhere.
There are many nightclubs.
There are many cheap guesthouses, hostels, and hotels.
If you look for them, you can find fruit and vegetable markets.
The beaches are suitable for surfing lessons.
The sand on the beaches is light.
Cons:
It is noisy, with people constantly trying to sell you things on the street.
There is a high chance of phone or pocket theft if you don't keep an eye on your belongings.
It is densely built up, with no nature.
Who to recommend it to:
Young people who love wild parties and want to live in the center of it all. People who are just starting to surf and don't want to waste time in traffic going to the surf spot from their hotel. People who like the atmosphere of Pattaya in Thailand and are looking for something similar.
Legian
Although Legian Street starts in Kuta and attracts crowds of people every evening, not every tourist knows exactly where the Legian area is located. "Between Kuta and Seminyak?" - most would answer, but the exact location is a mystery to many. Legian starts just before the turn of Kuta Beach Street, where it goes deeper into the island from the beach. Along the narrow streets, there are plenty of stalls selling clothes and souvenirs.
Transportation: The area is small, and you can walk around it. Sometimes during the day, there are traffic jams on the narrow streets leading from Legian Street to Legian Beach. Online taxis can go almost everywhere.
Sights and entertainment: There are bars and restaurants in the Legian area, but there are almost no nightclubs.
Beach: Along Legian Beach, there is no busy public road with heavy traffic, and that is its advantage. The sand is slightly darker than on Kuta Beach, although you are unlikely to notice this difference.
Pros:
You can get by without transportation and walk everywhere.
A relatively quiet beach without a public road alongside it.
Plenty of souvenir shops on every corner.
The sand on the beaches is still relatively light.
Cons:
Quite dense development.
Street vendors constantly try to sell something.
Who to recommend to:
Those who want to live near the airport, walk everywhere, but stay away from clubbing streets.
Seminyak
The Seminyak area of Bali begins after Arjuna Street and the Double Six beach and extends northwards. Seminyak captures the hearts of luxury lovers with its expensive establishments.
Many consider Seminyak to be a more respectable and luxurious alternative to Kuta. At least here, it's quite rare to see Australian tattooed brutes in Bintang beer t-shirts, which are a standard crowd in Kuta.
Accommodation: In general, accommodation in Seminyak is more expensive than in the surrounding areas to the south and north. The farther from the ocean, the cheaper the hotels, villas, and guesthouses become. Some high-class expensive accommodations to recommend are The Legian Bali, The Oberoi, Hotel Indigo Bali Seminyak Beach. There are few cheap guesthouses, but they can also be found.
Transport: You can walk everywhere. In the evening, there may be traffic jams from taxis that bring tourists to The Oberoi. Aggressive parking attendants can also be found there. Online taxis can go almost anywhere.
Sights and entertainment: There is a huge concentration of expensive restaurants, hotels, nightclubs, beach clubs, and boutiques. There are even several art galleries. Some of the most interesting beach clubs in Seminyak are Potato Head with its perpetually trendy shuttered finish, Ku De Ta with one of Seminyak's most virtuosic restaurants, Double-Six with pools streaming across terraces that resemble rice paddies, and Mrs. Sippy, which, although it doesn't have a view of the ocean beach, boasts 1, 3, and 5-meter platforms for jumps and breathtaking somersaults.
Beach: The sand on the beach has more volcanic components. And if you are a fan of light beaches, it is possible that the sand at Double Six beach will not attract or charm you.
Pros:
You can walk everywhere
There are many boutiques, cafes, restaurants, spas, and nightclubs
Cons:
Dense construction, heavy traffic, many traffic jams
Accommodation is quite expensive
Who to recommend:
Party-goers who want to live near restaurants, nightclubs, and boutiques, who do not care about proximity to the ocean with a good swimming beach and pleasant water.
Kerobokan
Just behind Oberoi Street (also known as Kayu Aya) begins Kerobokan Kelod. Although many tourists persistently call it Seminyak. It still maintains the luxury of Seminyak, but here there is already more space. Occasionally, rice fields peek through between the streets. And the further north you go, the more nature and rice fields there are.
Here there are still many restaurants, slightly fewer boutiques. You can find more Balinese color here. One of the streets in the area, Umalas, is a unique area within the area. There is a lot of greenery and villas where expats live.
Transport: You can walk around the southern part of the area. The northern part is more spacious and requires some form of transportation. Online taxis can go almost anywhere.
Beach: The beach has even darker sand and is not particularly popular for swimming.
Pros:
more space and greenery
you can still walk around
you can find cheaper accommodation than in Seminyak
Cons:
the beach is not particularly popular for swimming,
 and the sand is not attractive in color
Who it's recommended for: Long-term residents who are looking for a place somewhere between Seminyak and Canggu.
Canggu
These areas of Bali are located close to each other and collectively referred to as Canggu. It is a trendy neighborhood that is currently experiencing a powerful surge in popularity. Balinese, Indonesians, expats, and tourists all live here. The atmosphere is characterized by a hipster spirit of easygoing relaxation, whimsical and sometimes casual design, and even more greenery.
There are many markets and shops in the area. It is preferable to have your own transportation, but you can also walk or take a taxi. Compared to Seminyak, there are already significantly fewer sidewalks, but pedestrians are still respected.
There are quite a few yoga enthusiasts and health-conscious people living in the area who, for some reason, didn't find Ubud appealing. There are many vegan and vegetarian restaurants, as well as yoga studios. The most popular ones are Samadi, Practise, and Desa Seni. Coworking spaces are also growing and developing. Many freelancers or "digital nomads," as they call themselves, live here. The neighborhood is very popular with expats.
Housing: There are very few large expensive hotels in Canggu. Interesting and expensive accommodation is mainly represented by villas. The atmosphere is relaxed, and not everywhere has sidewalks, so it is not attractive to a demanding crowd. There is budget accommodation, but it is generally 20-30% more expensive than accommodation of the same class, for example, in Bukit.
Transportation: If you live on Batu Bolong Street, Pandang Linjong, or Brava, you can walk. This is where everything essential to a tourist is concentrated. If not, rent a bike. With a car, it will be more difficult because there are very few parking spaces near restaurants and shops. Online taxis can travel on main streets, but they are not always allowed in alleys.
Sights and Entertainment: In Canggu, there are many bars and concert venues where concerts, film screenings, markets, and festivals are held. Every evening, you can find a pleasant place to hang out with friends here. And if you can't find one, you can always stop by Old Man's bar, which has its own program for each evening.
Beach: The area would be perfect if it had a Bukit beach instead of the Brava, Batu Bolong, and Pererenan beaches. These are excellent surf spots, but not ideal for beach relaxation. Also, during the rainy season, there is a lot of trash on the beach.
Pros:
Colorful design and interesting graffiti everywhere
A wide range of interesting cafes and restaurants to suit any taste
Organic food and designer goods markets
Coworking spaces
Interesting nightlife - bars, clubs, concerts
Good surfing spotsLots of greenery and rice fields
Streets with authentic 
Balinese houses
Cons:
The beach has unattractive gray sand
Traffic jams on the Raya Changgu street, which runs almost parallel to the beach line.
Recommended for: Young people and those who are young at heart, those who love unusual design. Creative people who are looking for company. Surfers. Yogis and vegans/vegetarians who want to live by the sea.
Sanur
The Bali Sanur area is located on the east coast, which is its advantage during the rainy season. While the western beaches suffer from plastic, this area is good. And during the rainy season, you can also surf here.
This area is good for long-term living for families with children and for families who want to save money. Typically, families are advised to stay in Nusa Dua or Sanur. Nusa Dua is suitable for short stays and if you're willing to spend money, while Sanur is for long-term stays and for those who want to save.
In Sanur, you can find both expensive comfortable hotels on the first line, which will cost you less than hotels in Nusa Dua, as well as inexpensive guesthouses.
In Sanur, there are many paved streets with sidewalks, so a baby stroller can go everywhere.
The atmosphere in the area is calm and measured. There are quite a few elderly people. You will meet many divers and dive centers, as trips to Nusa Penida for diving with manta rays are organized from Sanur.
Transport:Walking is possible, and you don't need to rent a bike or car. Sanur is known for its huge popularity of bicycles. The secret lies in the promenade along the beach line. You cannot drive a car along this promenade, and only certain sections allow bike riding, but you can ride a bicycle along the entire Sanur beach.
Sights and entertainment: There are bars and restaurants with acoustic concerts, but there are few of them.
Beach: The sand on Sanur's beaches is not as refined as in Nusa Dua. There are sometimes coral clusters, and the bottom of many areas is covered in seaweed. However, there is a reef in the distance, and the water near the shore is calm and warm, making it safe for children.
Pros.
Very quiet and peaceful
Good infrastructure - sidewalks, shops
Beach without waves
Few cars
Cons:
The beach is affected by tides, and seaweed is visible in many places.
There are no nightclubs.
The sand on the beach is not ideal and can be interspersed with coral and dry seaweed.

Recommended for: Families with children and families with elderly members.
Serangan
The Serangan Peninsula has been a Balinese village with a surf beach for a long time, which was ideal for surfing during the rainy season. Not long ago, the land in the area was handed over for a large-scale project. It is expected that a resort with eco-villas and an opera theater will appear there. But for now, there is no tourist accommodation on Serangan, and surfing is also not practiced there. In general, we are observing the situation in dynamics.
Amed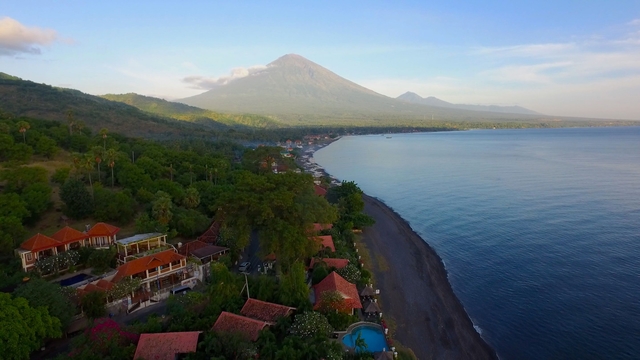 Bali's Amed area is known for its diving. Along the beach, there are several diving centers and freediving schools. And in the depths of the ocean lie two sunken ships, the American Liberty and the Japanese one. It's quiet here, with relatively little traffic, and a rural atmosphere prevails. Inexpensive guesthouses in Amed are within walking distance of the beach.
From Amed, there is a very picturesque and majestic view of Mount Agung. Before reaching Amed, if you are traveling there from the south, you can stop by the water palaces and parks of Bali's nobility, Tirta Gangga and Taman Ujung.
Some places offer acoustic concerts in the evenings. There are restaurants and cafes, but they are quite simple and unpretentious.
Attractions and entertainment: Water palaces and parks of Bali's nobility, Tirta Gangga and Taman Ujung.
Beach: Covered in black pebbles, the water is fairly transparent, and you can dive with a mask and snorkel right off the beach. About 50 meters from the shore, you can find fish and coral.
Pros:
Relatively low cost of accommodation
Peace and quiet
Authentic Bali experience 
Diving and snorkeling
Cons:
Few shops, only local stalls and markets
Pebble instead of sand on the beach
Far from the airport
Recommended for:
Divers, freedivers, people who don't need a lot of infrastructure and want to immerse themselves in peace and tranquility.
Candidasa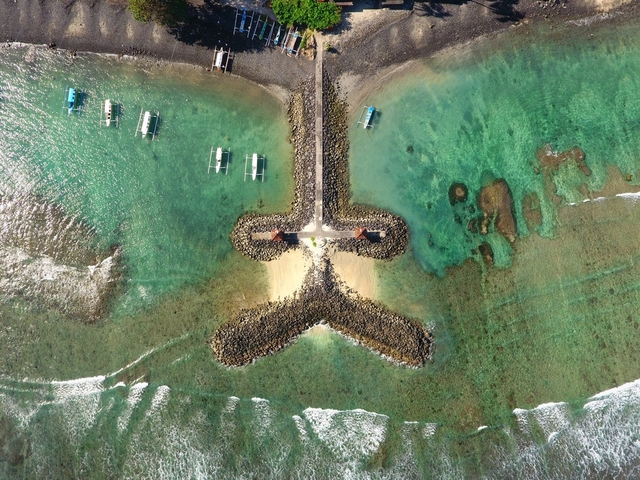 This Bali district is located on the road that runs from the south of Bali to the east. Essentially, it's a narrow strip of volcanic beach that gets covered with water during high tide, with a few hotels and restaurants lined up along it.
There are very few options for budget accommodation in Candidasa. There are also very few options for European restaurants. I'm 
Attractions and Entertainment: Lagoon with lotus flowers, nearby you can find a temple with flying bats called Goa Lawah.
Beach: Black volcanic sand. Within a half-hour drive, you can find the beautiful and clean white coral beaches of Virgin Beach or White Sand Beach with crystal-clear water.
Pros:
Peacefulness
Authentic Bali experience
Cons:
Very limited selection of hotels and restaurants
Beach with strong waves
Black sand
Few entertainment options
Far from the airport 
Ubud
Ubud is considered the cultural capital of Bali. It has numerous art museums and galleries, festivals, and other cultural events.
Of course, there are plenty of shops and stalls throughout Ubud where you can buy Balinese and Indonesian souvenirs. The largest collection of them is on the central market of Ubud and on the "street of masters". This is a multi-kilometer street that stretches from the statue of Arjuna in Ubud to the north towards the rice terraces and Mount Batur.
Ubud is also the capital of yoga and meditation. There are many yoga studios in the town. The oldest and most famous of them is Yoga Barn.
There are plenty of restaurants and cafes to suit every taste, but of course, the largest concentration of vegan, vegetarian, and even raw food places is in Ubud.
Due to the fact that Ubud is located on a hill, the climate here is quite cool, but there is also more rainfall. Even in the dry season, the humidity in the air is higher than in the lowlands. Surrounding Ubud are large areas of rice fields and even lush, juicy jungles.
Accommodation: In Ubud, there are many luxurious five-star hotels with infinity pools, views of the river canyon, and organic design. Near Ubud, there is a whole bamboo "Green Village," where all the buildings are constructed from bamboo and the project is led by the innovative visionary architect Elora Hardy. Additionally, there are a large number of quality guesthouses in Ubud at a very reasonable price.
Attractions and Entertainment: In Ubud, there are many art galleries and museums, as well as a monkey forest with a significant Pura Dalem Agung Padangtegal temple on its grounds. Interesting places near Ubud include the Artist Trail (Bukit Campuhan), the Tegalalang rice terraces, the Tegenungan waterfall, the Goa Gajah cave with a fairy forest around it, the royal tombs in the jungles of Gunung Kawi, the holy springs of Tirta Empul, Gunung Kawi Sebatu, and Sebatu. It is relatively easy to get to Mount Batur and Lake Batur in the mountainous region of Kintamani from Ubud. Many cycling and rafting routes start from Ubud.
Ubud is a good starting point for exploring the sights and nature of central Bali.
Entertainment in Ubud is in line with its character. Open mic nights, ecstatic dance sessions, sound bowl meditations, and cocoa ceremonies are held. Acoustic music concerts also occur. However, these events typically end early, not late at night.
Transport: It is convenient to walk around the city on foot as everything in the center is located close together. You can rent a bike or car, or ride a bicycle. Online taxis are not available on all streets.
Beaches: The nearest beaches suitable for comfortable swimming are Bias Tugel, Blue Lagoon, and Virgin Beach.
Pros:
beautiful views of the jungle
cool weather
numerous interesting cafes and restaurants
many yoga studios
close proximity to the attractions of central Bali
Cons:
distance from the airpor
tdistance from beaches
lack of nightclubs
humidity in the air
Recommended for:
Yoga and meditation enthusiasts, nature sightseeing lovers, tourists who want to stay in Bali for a long time and don't mind the absence of a beach nearby, and those who prefer a cooler climate.
Denpasar
Denpasar is the capital of Bali. It is a densely populated area predominantly inhabited by locals. There are hotels here, but they are mainly designed for undemanding tourists from Indonesia. There are areas with quite spacious parks, mainly Renon, where many embassies and other administrative institutions are located.
If you do not care about the proximity to the ocean and European-type infrastructure, you can look for accommodation in Denpasar. There is a chance to find cheap apartments of good quality.
Attractions and entertainment: If you live in Denpasar, you will certainly be interested in walking in Renon parks. The central street along the park is closed on Sundays, and until noon it becomes pedestrian. At Kumbasari market, you can stock up on souvenirs and cheap fruits and vegetables.
Transport: In Denpasar, you need to have your own transportation, but you can also use online taxis.
Beaches: The nearest beaches are either in Sanur or in Kuta, Legian, Seminyak, Tibubeneng, and Canggu.
Pros.
Local flavor
Cheap apartments
Cons:
High population density
Air pollution
Local infrastructure

Whom to recommend: Expats who are very limited in means and ready to immerse themselves in the local flavor.
Kintamani
Kintamani is an area surrounding the caldera of Mount Batur. The area is inhabited by local residents, and tourists do not stay here for long. They either come during the day to sit in one of the cafes with a view of Mount Batur, or they come at night to climb Mount Batur, bathe in the hot springs, and leave.
Therefore, the restaurants and cafes here are not of very good quality. Their main goal is to provide a beautiful view, rather than to surprise with culinary delights. It is also difficult to find good accommodation here.
Tabanan
Tabanan is an area in the heart of which are the natural beauty of rice fields and black volcanic beaches. It starts at the ocean after Changgu and its neighboring areas and ends in the highlands of Bali's north, covering Mount Batukaru and Lake Bratan.
Sights and entertainment: Tabanan's attractions are presented as natural objects - Jatiluwih rice terraces, Lake Bratan, Mount Batukaru, Blamantung and Santiapla waterfalls. And spiritual objects - such as the Tanah Lot, Pura Ulun Danu Bratan, and Pura Batukaru temples. In the city of Bedugul, there is a botanical garden teeming with various plants, and there is also a climbing park with a zip line. Extreme entertainment in Tabanan includes motocross through the jungle and along black sand beaches. Baliyan Beach is known for its excellent surfing waves. 
Beaches: The beaches have very beautiful black volcanic sand, which is great for taking photos, but not suitable for beach activities.
Pros:
Peace and quiet
No intense traffic
Lots of natural attractions
Cons:
The volcanic beach is not suitable for swimming
Limited restaurant variety
No nightlife
Underdeveloped infrastructure.
Lovina
Lovina is a resort tourist area located in the north of Bali. It is located slightly west of the northern capital of Bali - the city of Singaraja. Lovina stretches along the road that runs along the northern coast of the island. It is quiet and has few tourists. You can stay in Lovina if you are planning a trip to the north, through the mountains, waterfalls, and monasteries, but are afraid that you will not be able to drive from the south to the north and back in one day.
Accommodation: Decent budget accommodation here is more expensive than in other areas of Bali. This may be due to the low number of tourists and weak competition. But you won't find any five-star hotels in the area.
Attractions and Entertainment: Typically, tourists head north to visit Bali's most spectacular waterfalls - Sekumpul and Aling-Aling, which are conveniently located on the way to Lovina. In addition, there are several other waterfalls worth visiting - Git-Git, Jembong, and Munduk. Another important stop on the way north is the trio of mountain lakes Bratan, Buyan, and Tamblingan. And finally, there's the Buddhist monastery Vihara Brahma Arama and the Buddhist temple Vihara Dharma Giri. In the morning, they take tourists to see the dolphins in Lovina. The animals don't like the noise of boats and tend to flee. So getting a good look at the dolphins is unlikely. There are no nightclubs in Lovina. In the evenings, some restaurants and bars host acoustic concerts.
Beaches: Lovina Beach is covered with dark pebbles. Typically, there are no waves most of the time, so it's safe for swimming.
Pros:
Quiet and peaceful
No heavy traffic
Lots of natural attractions on the way to Lovina
Cons:
Pebble beach
Limited variety of interesting restaurants
Poor nightlife
Recommended for:
Tourists who want to stay somewhere when traveling to northern Bali.
Gili Trawangan
Gili Trawangan is considered the most active and developed island out of all three Gilis. It is the largest in size and actually has a lively eastern part and a calm western part. Since many young people come to the island, there are the most diverse types of entertainment here.
Accommodation: From modest hostels to 4-star eco-resorts and villas.
Sights and entertainment: As for attractions, there's only a hill that isn't worth much attention. As for underwater sights, there's an artificial reef with underwater scooters. As for entertainment, there are plenty of options to choose from, such as beaches, bars, snorkeling, diving, free diving, horseback riding, parasailing, inflatable donut riding, wakeboarding, kayaking, stand-up paddleboarding, yoga, yoga on a paddleboard in the sea, and surfing. And once again, bars-bars-bars and beaches!
Beaches: The most convenient beach for swimming with soft sand and unaffected by tides is located on the northeast side just beyond the port. You can both swim and snorkel there. From other parts of the island, the beaches are coral and dry up during low tide.
Pros:
a variety of active entertainment
active nightlife
a wide choice of accommodation
friendly atmospherea 
wide variety of restaurants
Cons:
it's difficult to find fresh fruit in stores
Recommended for:
Young people, party-goers, divers - the eastern part of the island. Young couples - the western and northern parts of the island.
Gili Meno
This is the quietest of the Three Gili Islands. Here, you will find the most untouched nature and the most beautiful coral gardens to admire turtles and fish.
Accommodation: There are decent guesthouses, villas, and a few resorts.
Attractions and activities: There is a lake in the western part, but it is not particularly interesting. It is shallow and you can't swim in it. On the western coast, in the water opposite the under-construction Bask Hotel, there is an underwater statue "Nest" - very popular among Instagrammers. Definitely worth a visit! Activities include snorkeling, diving, horseback riding, and fishing trips can be arranged.
Beaches: The best swimming beach is on the southeast, just behind the port. Other beaches are subject to tides. On the west side, it is also convenient to swim on the beach opposite the Mahamaya Hotel. On the east side - opposite the Siri Resort.
Pros:
Lots of untouched nature
The most beautiful underwater world of all Three Gili Islands
Lots of turtles
Relatively cleaner
Cons:
Few restaurants and options for interesting dining
Only Eka Jaya boats go from Bali
Recommendations:
For lovers of peace and nature, and those who prefer to snorkel from the shore on their own.
Gili Air
Gili Air is an island with the largest number of indigenous people among all three Gili Islands. The locals take care of the island and develop its infrastructure. There is even a solar power plant. Here, you can find the most convenient vegetable and fruit stores and generally the most convenient local shops. There are also concerts and parties, although there are not as many as on Trawangan.
Accommodation: From simple and cute guesthouses to 4-star private villas.
Sights and Entertainment: There are no attractions. As for entertainment, there is snorkeling, beach relaxation, moderate bar fun, diving, free diving, horseback riding, surfing when there's a swell, and two yoga studios (H2O and Flowers&Fire) and meditation.
The best swimming Beach is on the southeast of the island. You can also snorkel there. There is another good beach in the north, but you can only swim there at high tide.
Pros:
Good infrastructure
Very friendly locals
Many places for yoga, vegans
Optimal balance of nature and activity

Cons:
There are periodic power outages on the island.
Who to recommend:
Families with children, families with elderly people, yogis, vegans, health enthusiasts, and families who don't care much for parties.