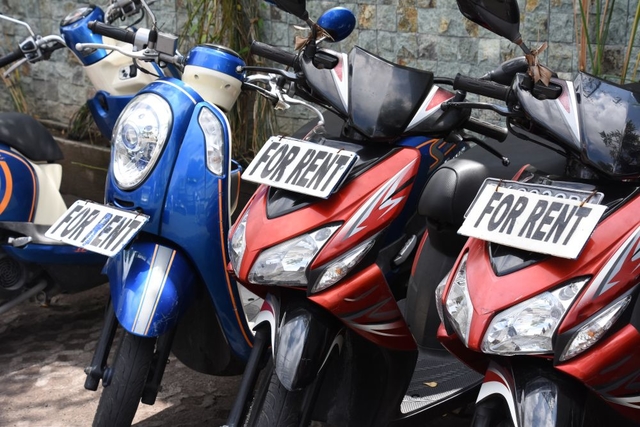 Bali on a bike and Bali
without a bike
are two different Balis. This is something any seasoned visitor to the paradise island will tell you. A scooter truly provides a level of freedom that can't be replaced by taxis and, considering the often chaotic post-pandemic traffic, not even by a private car.
For an inexperienced rider, all these unfamiliar "varios" and "skupis" can be bewildering – it's unclear which model to choose (if the rental offers a choice, of course). Your relationship with your "iron horse" will depend, in part, on its "breed" – whether you'll be tearing through Bali's roads on a wild mustang or gently cruising on a cozy pony. We'll tell you how to choose the right bike and what to pay attention to when signing a rental agreement.
This material is prepared based on recommendations
from "
Balimotion
" experts.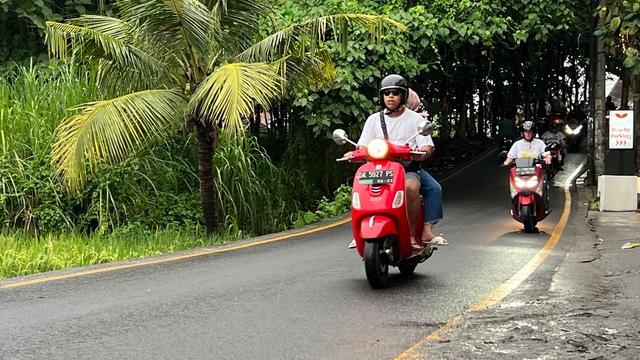 "Can I see them all?"
"If it's a scooter, then it's the Nmax!" – that's what most people think when deciding to rent a scooter in Bali, especially for the first time. To some extent, this is justified. The Yamaha Nmax is indeed a good choice. It has optimal power, comfortable seating (both for the driver and passenger), and a spacious luggage compartment. However, the demand for Yamaha's flagship model, and consequently the rental price, is currently quite high. At the same time, there are many other worthy models that fit your technical requirements, especially if you're traveling alone and not planning to overtake trucks on mountain serpentine roads.
Honda Scoopy:
Very popular among petite girls and beginners. Although it's also suitable for riding with a passenger. Stylish, maneuverable, and equipped with a good luggage rack.
Dmitriy, Balimotion expert: "My wife has one. We comfortably ride together to Amed and back without back pain or anything like that. It's quite lightweight, both in terms of weight and handling. But it's better to get it with insurance since the spare parts are not cheap."
Honda PCX:
A fairly high-quality and comfortable bike with a distinctive appearance. In terms of operation, it can be compared to the Yamaha NMax. Essentially, they're quite similar, with the main difference being in appearance – it depends on personal preference. It's better to rent it with insurance since spare parts are expensive and not always readily available.
Honda Vario 125/150:
Also suitable for beginners, slightly more dynamic than the Scoopy. There's space up front for a bag that can be hooked on. It's comfortable for two small passengers, e.g., a 77 kg guy and a girl up to 50 kg. One downside is that if you're 180 cm or taller, you won't have much legroom. The latest generation of Vario features keyless ignition and an improved braking system.
Yamaha XMax 250:
The most affordable maxi-scooter on the island. It's comfortable for long and leisurely rides and accommodates passengers of any build and height. It's not very quick off the line, but its forte is covering long distances. You won't feel discomfort in heavy traffic and dense traffic.
Yamaha Aerox:
A sporty option. It has an aggressive design and stiffer suspension. Riding as a passenger is less comfortable, especially on rough roads. It's an excellent choice for solo riding. It's quite dynamic at startup and handles turns excellently.
Yamaha Lexi:
A larger scooter for beginners. Very comfortable and quite nimble for its 125 cc engine. There's storage space in front for hand luggage. The downsides are that there's practically no storage space under the seat, and the fuel tank is small at 4.4 liters, providing a range of about 150 km.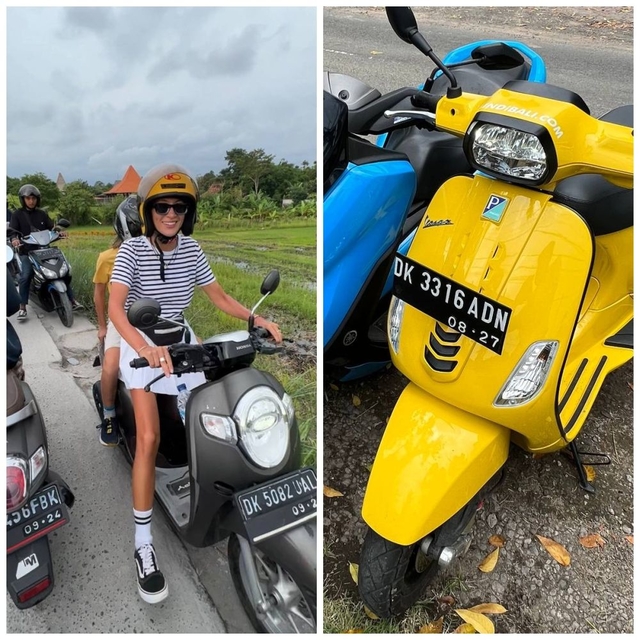 Translation:
Perhaps the main factor to consider when choosing a scooter is the height and combined weight of the driver and passenger. If the driver is under 160 cm in height, it's better to go for the Scoopy or Vario. For those taller than 165 cm, the NMax, PCX, Aerox, Lexi, or XMax would be more comfortable. Riding two-up on any of these bikes is comfortable. Stories about the Scoopy not being able to handle the weight of both the driver and passenger on hills are a myth. However, if your combined weight exceeds 150 kg and you plan to ride on mountain roads a lot, it's advisable to choose something like the NMax or PCX.
What about a bike for a family? Dad, mom, and a small child?
Dmitriy, Balimotion expert:
"I wouldn't recommend riding a bike with children under seven years old. The risk of a fatal outcome in the event of an accident is too high. I understand that many people ride with their kids, and many might say, 'What are you talking about?!' But it's statistics, and it's unforgiving. If you want peace of mind with a little one, it's better to take a car with a child seat. It may be tiny, but it's a thousand times safer."
Are you sure it's a rental? Contract, insurance, deposit
To properly rent a bike, you should turn to reputable services with contracts in two languages, transparent terms, and no double clauses. Ideally, it should come with insurance against at least damage, with no limits on the amount of damage. Finding such offers, especially now, is not easy. Furthermore, in street rentals, at best, you might be able to negotiate a $100 insurance fee that they will use to cover scratches if they occur. Full insurance is not provided,
so if the bike is stolen
, you'll still have to pay.
Pay attention to reviews and recommendations. Ratings, for example, on Google Maps, are also important. Ideally, there should be at least 50 recommendations. All-positive reviews raise suspicions. Aim for a rating no lower than 4.6 out of 5. In good services, you don't need to check the condition of the bikes. In 99% of cases, they are serviced and don't require checking for the next 1000 km. Getting a brand-new bike is nice, but it comes with extra responsibility: any scratch, even the smallest one, will be visible, and the rental provider may ask you to pay for it.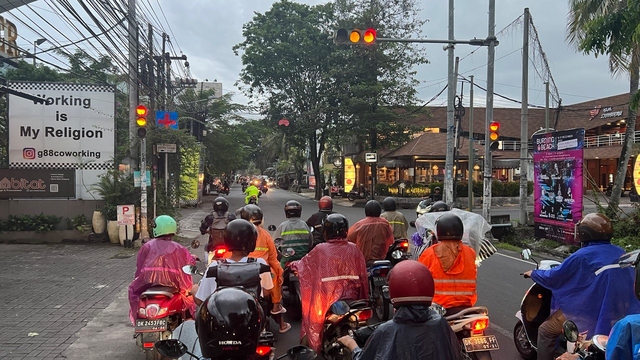 Recently, many rental services have started asking for a deposit of 1 million rupiahs. Some even require you to leave your passport (don't even think about it!). As for the deposit, it's up to you to decide. However, they currently have a huge demand for bikes, so they can afford it.
To avoid any issues later on, when renting, don't hesitate to turn on your phone's camera and inspect the scooter from all sides. Take pictures of every scratch and scrape. Don't rush. It's essential to take the bike for a ride before signing the contract.
Dmitriy, Balimotion expert: "If this is your first bike, ideally, ask someone with experience to conduct a test drive, maybe even someone from your hotel staff. An experienced rider will notice problems right away. For example, the bike may have bad, spongy brakes. A low remaining tire tread or completely bald tires. The bike may pull to one side (usually related to fork or frame geometry issues). In good services, the vehicle always looks decent on the outside. If the bike is all scratched up or has cracked parts, it's unlikely that it was well-maintained technically. The appearance says a lot about the attitude toward the vehicle in general."
Friends, share your bike rental experiences. What other pitfalls might be expected? Have you encountered unscrupulous rentals? We look forward to your comments!