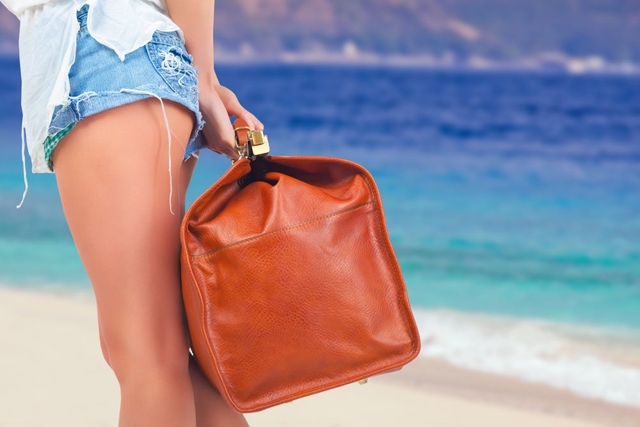 If you have been living in Bali for at least six months to a year, you have probably heard about the need to cross the state border to renew your legal stay in Indonesia. Some of you may have already flown to Kuala Lumpur or Singapore for this purpose. For those who have decided to extend their stay on the paradise island after the 60-day visa on arrival (VoA) expires for the first time, we will provide more details.
So, you arrived in Bali for a month, but after 30 days, you suddenly realized that you don't want to go home at all. What to do? As a holder of a "visa on arrival," you have the full right to visit the immigration office and
extend your visa for another 30 days
.
However, after that, you will definitely have to leave. Don't worry; you can return to Bali without any problems. At this point, you'll need to decide whether you want to repeat the entire cycle (entry on VoA, extension, and departure after 60 days) or if you prefer to get a visa for a longer period.
Malaysia, Thailand or Singapore?
To begin with, you'll need to decide where to go. You should do this while extending your VoA as you will need tickets confirming that you will indeed leave in 30 days.
Kuala Lumpur
As of today, this is the most budget-friendly option. It's about a three-hour flight. You can buy a round-trip ticket for around $170-190. For example, on September 26, 2023.
There are plenty of things to see in Kuala Lumpur. Here's
a great itinerary
for the capital of Malaysia. Many people fall in love with this city. You can briefly immerse yourself in the atmosphere of the metropolis and reminisce about the charms of life in the concrete jungle.
Bangkok
Flying to the Thai capital takes more than 4 hours, and accordingly, tickets are more expensive, ranging from approximately $320 to $370. Recently, marijuana has been legalized in Thailand. For some, this may be a compelling reason to spend a day in Bangkok.
Please note: bringing drugs to Bali is strictly prohibited. The island has very strict regulations in this regard.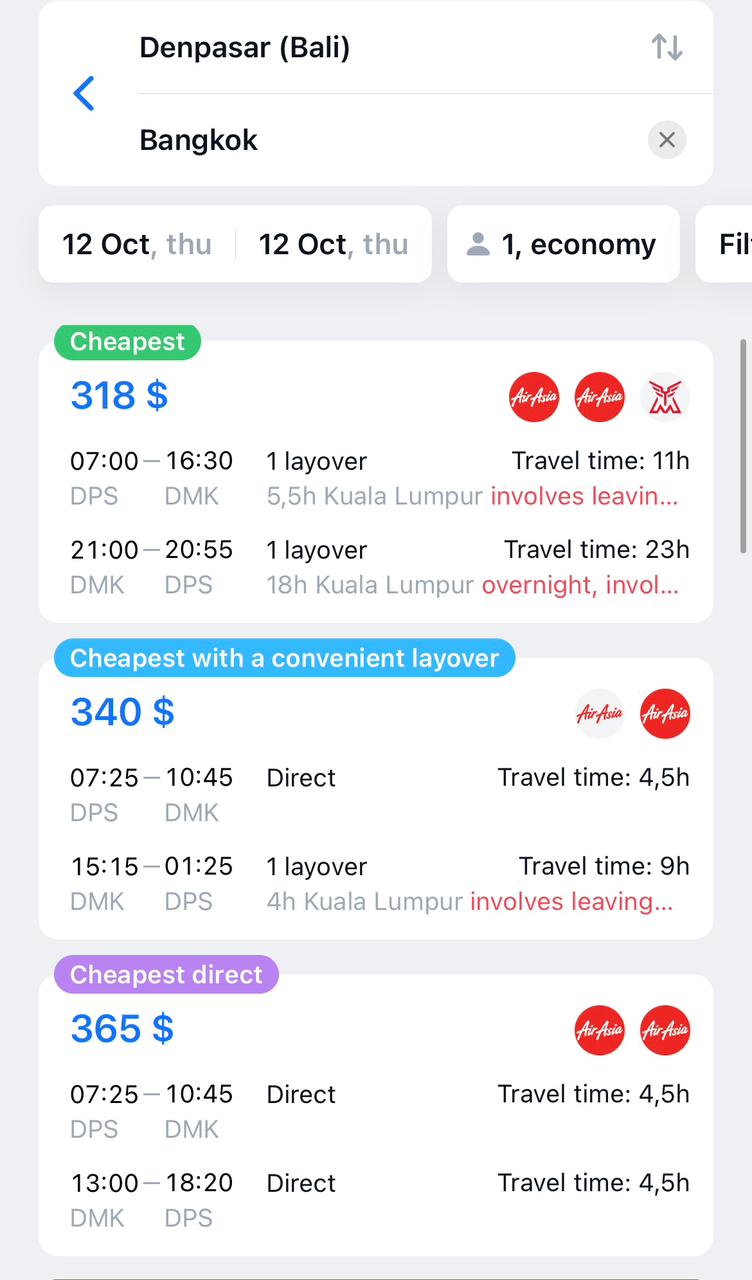 Singapore
Three hours by plane, and you're in Singapore. It's definitely worth visiting at least once. Tickets will cost around $220 to $250. Prices in Singapore can be quite impressive, just like the atmosphere of a futuristic metropolis. The average restaurant bill is around $30 to $50: beer starts at $8, a glass of wine from $15, cocktails in bars around $20, and a hot dish is $15 to $20. However, you can eat more affordably at Chinese eateries and food courts, but you won't get a meal (without a drink) for less than $8 to $10. Hotels start from $80 for 2-3 stars, while hostels are around $25 to $30 per bed.
The main drawback of Singapore for the Bali-Singapore-Bali route is that you will need
a Singaporean visa
. A free visa is only available if Singapore is a transit country. For example, Bali-Singapore-Kuala Lumpur-Bali. At passport control, you will be asked for a ticket, and if you don't have one, you won't be allowed into Singapore. Some used to create fake tickets, but this is now prohibited. If you sort out the visa issue and find yourself in Singapore, here's a great
three-day guide
for you.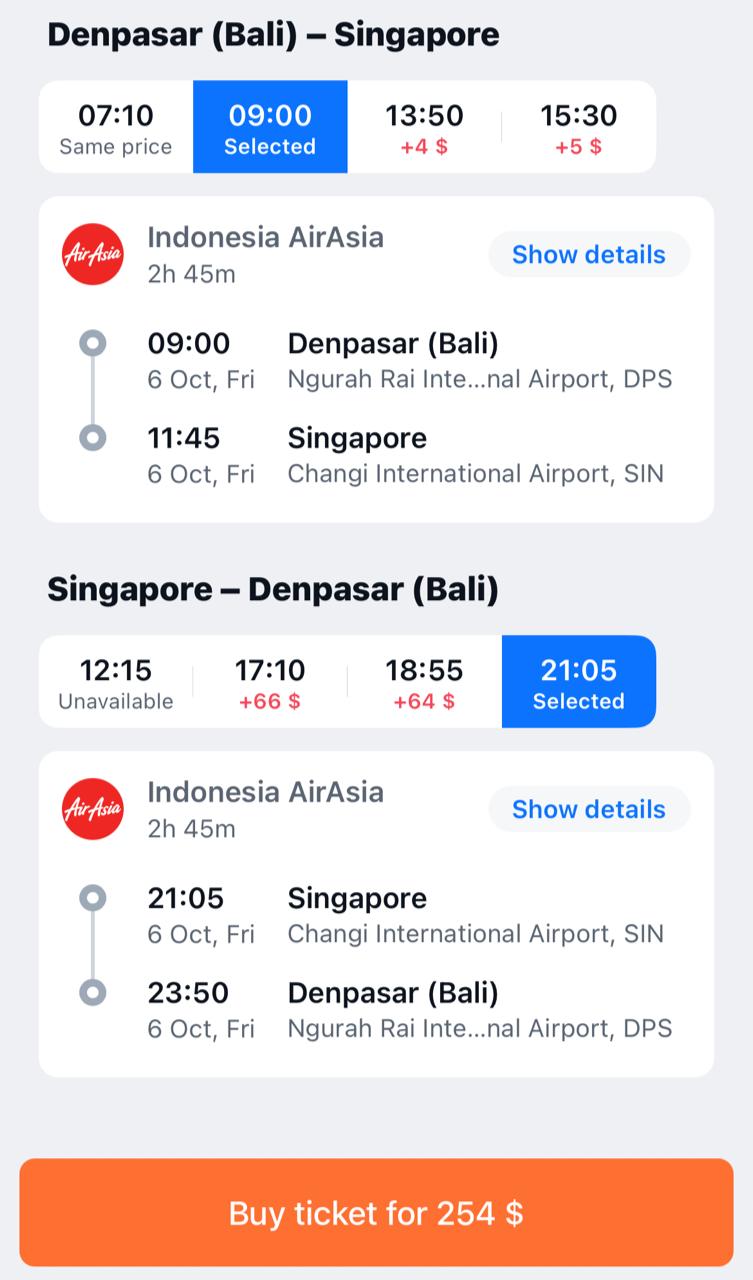 Penang
Another interesting option is the island of Penang.
Penang is an island in Malaysia and, at the same time, a separate state. The capital, George Town, is the main attraction of Penang. The historical center of the city is protected by UNESCO. In general,
there is a lot to see and explore
.
You can fly directly from Bali to Penang in 3.5 hours. However, please note that AirAsia does not operate daily flights, so it may be challenging to find a round-trip ticket without layovers. But you can choose Scoot and have a layover in Singapore, where you can explore as well (since Singapore will be a transit point).
Crossing the border in one day: is it dangerous or not?
According to those who have recently crossed the border, Balinese border officials have been asking more questions to foreigners who leave and return on the same day. There is no official ban yet. However, as you may know, passport control officers can make decisions on their own. Therefore, we recommend staying away for a few days (24-72 hours) to avoid suspicion.
There is another option. Many foreigners have already opted for the B211a visa. They apply for it for two months.
What do you prefer, leaving the country or getting a long-term visa? Share your thoughts in the comments; it's interesting to read!