Current for 2023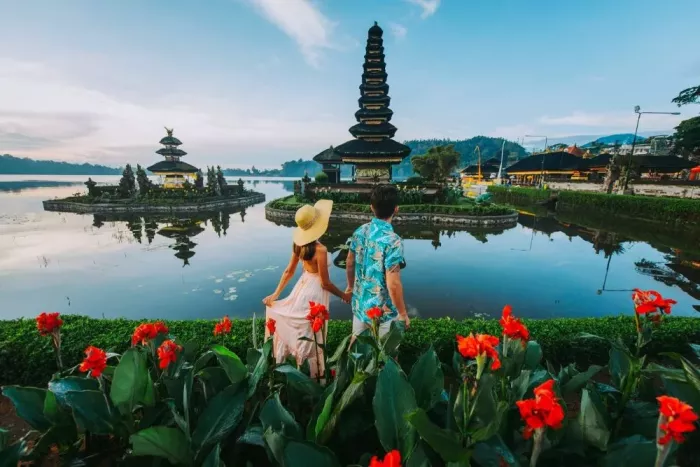 Primary requirements
  ✅ Visa
If you are flying for a short period, you can obtain a visa on arrival (VoA) at the airport or apply for one in advance. It costs 500,000 Indonesian Rupiah and is valid for 30 days, with the possibility of a one-time extension for an additional 30 days.
▪️ If you plan to stay on Bali for a longer duration, it's advisable to apply for a tourist or business visa B211A in advance.
 ✅ Airplane ticket to Jakarta or Bali
If you are flying on a tourist or business visa, it is recommended to wait for the visa to be ready before buying a ticket.
 ✅ Insurance
This is not a mandatory condition, but it is highly desirable.
✅ You will need a return ticket from Indonesia to any country. For a tourist visa B211A, the ticket should be no later than 59 days after entering Indonesia, and for a visa on arrival, it should be no later than 29 days. Recently, there have been cases where immigration officers in Bali have required a paid ticket upon arrival, not just a reservation.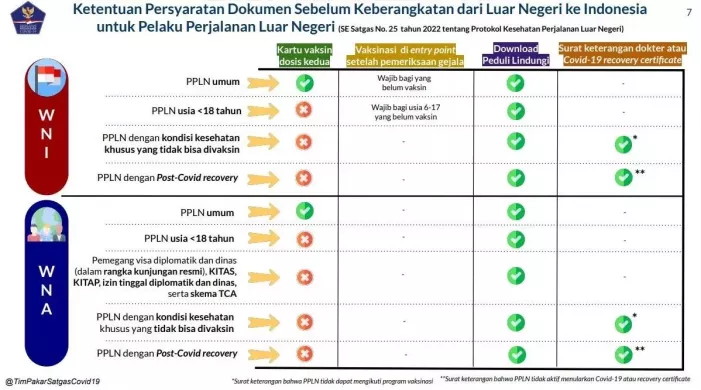 More about arrival in Indonesia
As of today, citizens of 96 countries are eligible for a Visa on Arrival (VOA), which can also be obtained in advance through the e-VoA website. Citizens of ASEAN (Association of Southeast Asian Nations) countries have the option of visa-free entry for 30 days.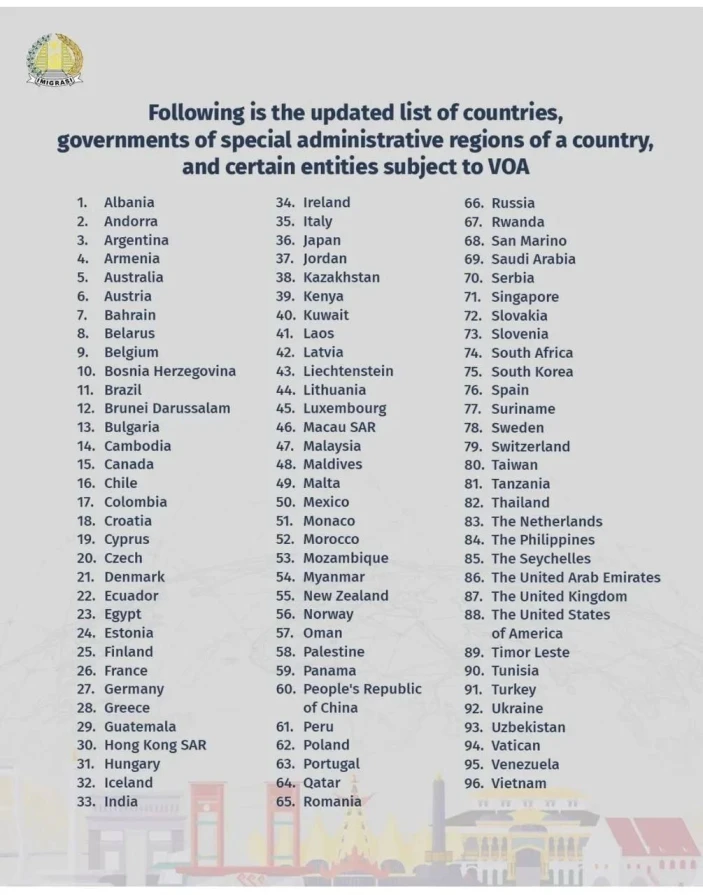 As of June 9, 2023, vaccination against COVID-19 is not required for entry into Indonesia. However, the authorities recommend getting vaccinated, using the Satusehat app, and following sanitary guidelines for guests and residents of the country, especially those in high-risk groups. In case of a worsening COVID-19 situation, health protocols may be revised.
Issuance of a visa
You can apply for and pay for the Indonesian electronic visa on arrival (e-VoA) in advance directly through the immigration service website without the need for intermediaries. This can help expedite the immigration process at Jakarta or Denpasar airports upon arrival. With this visa, you can stay in the country for 30 days with a single extension of an additional 30 days, after which you will need to depart.
For those who cannot obtain a visa on arrival or do not want to spend time extending it, there is an option to apply for a B211A tourist visa directly for 60 days. You can submit an online application on
the molina website
. This visa cannot be extended, so you must leave the country when it expires.
Alternatively, you can apply through an agency. This type of visa will be obtained with a sponsor's assistance, and you can extend it twice for 60 days each time (a total of 180 days). Afterward, you can obtain a new offshore visa by leaving Indonesia. We recommend contacting
Legal Indonesia
for assistance with this process.
The cost of an offshore visa is approximately 3,700,000 IDR, which is around $250, including taxes and fees. The processing time is 7-10 working days. This fee includes:
All taxes and fees
Sponsorship provided by the company
Guarantee letter from the company (for business visas)
eVisa processing and submission of all required documents and certificates.
Return ticket
When registering for your flight or upon arrival in the country, you may be asked to provide paid tickets out of Indonesia, which is an official requirement. The departure date on your return ticket should not exceed the validity of your visa, excluding extensions. In other words, if you have a 60-day visa, the departure date on your return ticket should be within 60 days. For visas on arrival, it should be within 30 days. This applies even if you plan to extend your visa.
Different airlines may have varying requirements, with some accepting either paid or unpaid reservations, while others require paid tickets. It's important to check with your airline regarding their specific requirements. In recent times, there have been cases where immigration officers upon arrival in Bali have requested proof of paid tickets rather than just reservations.
If you're unsure about your return date, you can consider purchasing refundable tickets from your airline or using platforms like
expedia.com
, which offer the option to purchase tickets with free cancellation within 24 hours without penalties (please note that some low-cost airlines may not offer this option). If you decide to use such a platform, make sure to buy your ticket shortly before your flight registration to ensure you have enough time for cancellation if needed.
Other necessary documents
Foreign passport
Every foreigner entering Indonesia must have a passport valid for at least 6 months at the time of entry. Otherwise, they will not be put on the flight.
Insurance
When you fly, you may be asked to show your insurance, or you may not be asked. But this is not a reason not to buy it at all. Remember that medicine is expensive in Indonesia and your insurance will pay off at the first visit to the hospital.
Customs declaration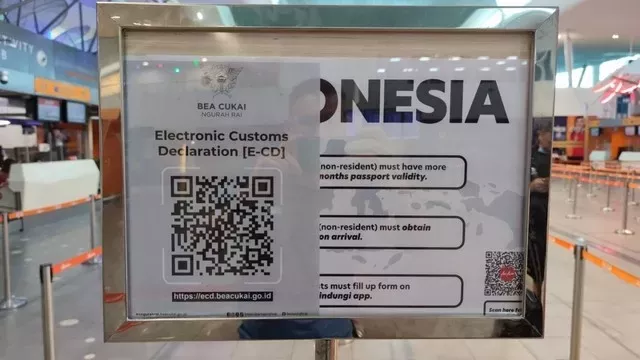 The electronic customs declaration form should be filled out in advance, and you can do it online before your departure or at the airport upon arrival by scanning a QR code. However, an increasing number of airlines require travelers to complete this form in advance. In the declaration, you will need to provide your personal information, flight number, date of arrival, the quantity of accompanied baggage, and the quantity of unaccompanied baggage. It's important to have this information ready to facilitate the customs process upon arrival in Indonesia.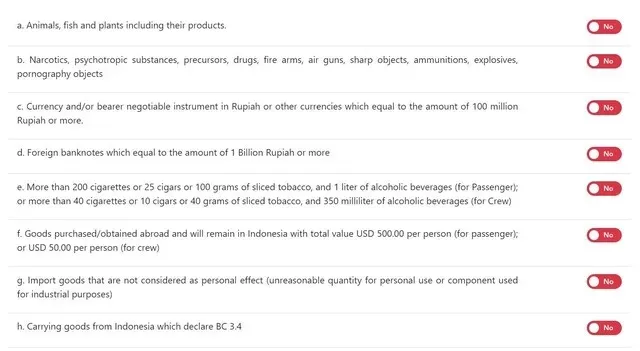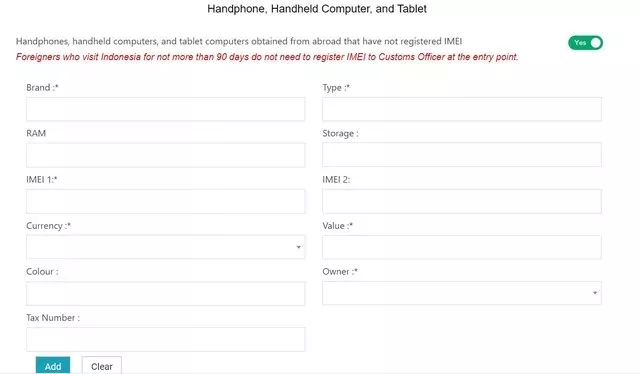 After filling out the declaration, you will be shown a QR code, which will need to be shown when passing customs control.
Phone registration
If you stay in Indonesia for more than 90 days, you need to register the phone you will be using. If you don't register it, your mobile phone may eventually stop working with local SIM cards. You can register your phone at the arrival airport. If you plan to use your phone with a foreign SIM card in roaming or only use Wi-Fi, registration is not required.
Money
Order a UnionPay card in advance and bring some cash in dollars or euros with you.
Do not exchange a large sum of money at the airport right away.
The exchange rates there are not favorable. Exchange 20-50 dollars for the initial period. The airport exchange office operates even at night. Exchange rates in hotels are also very unfavorable.
Exchange the main amount of money at network exchange points.
It's better to exchange money at a bank or choose an exchange office that belongs to a large network. Many exchange offices are marked on the Bali Tourist Card. There is a large network of exchange points called
Central Kuta.