All the hotels are located on the first line and have direct access to the beach.  
The St. Regis Bali Resort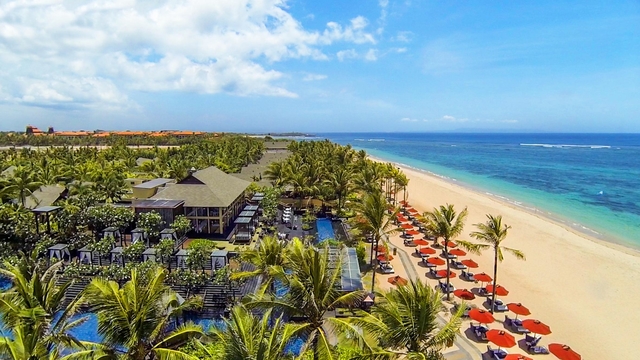 Located on an incredibly pristine beach, with panoramic views of the ocean, lush gardens, and a blue lagoon. The hotel offers luxurious 81 suites, 41 villas, and 1 residence. There's even a children's learning center for the little ones.
The beach is just a 2-minute walk away from the hotel.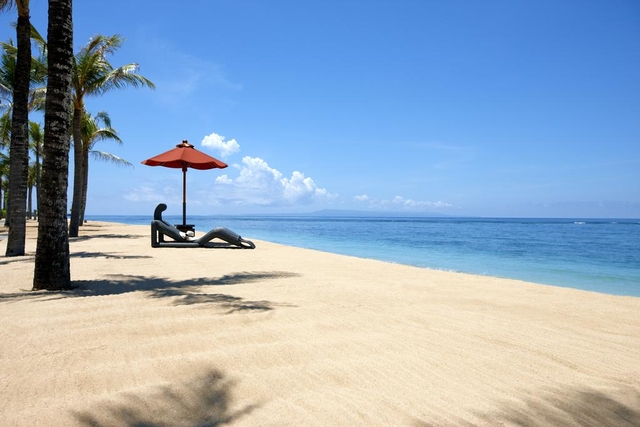 Guests can enjoy a full-service spa, an open lagoon pool, and complimentary round-trip limousine transfers to and from the airport. Free Wi-Fi is available in all areas of the hotel.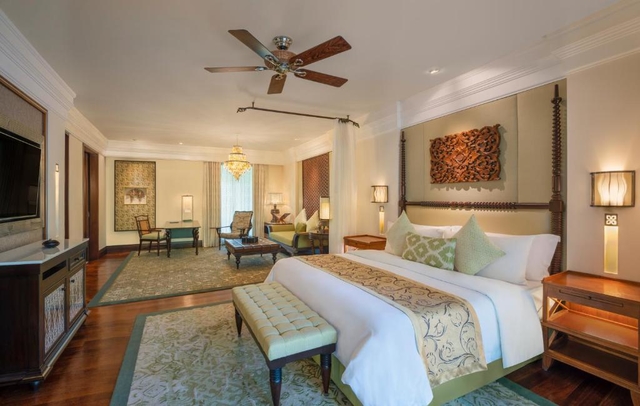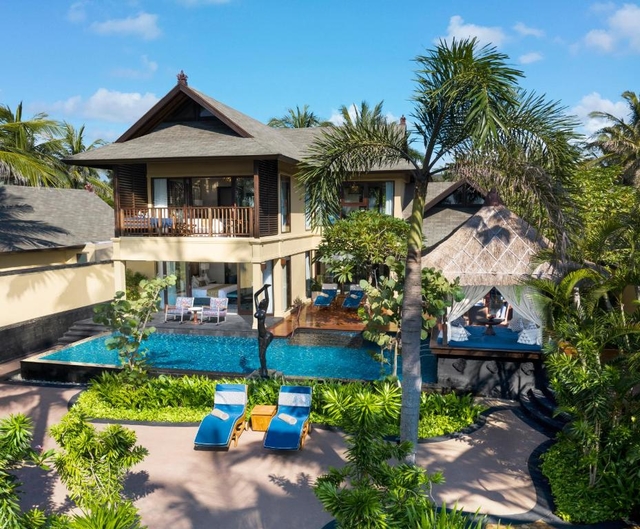 Samabe Bali Suites & Villas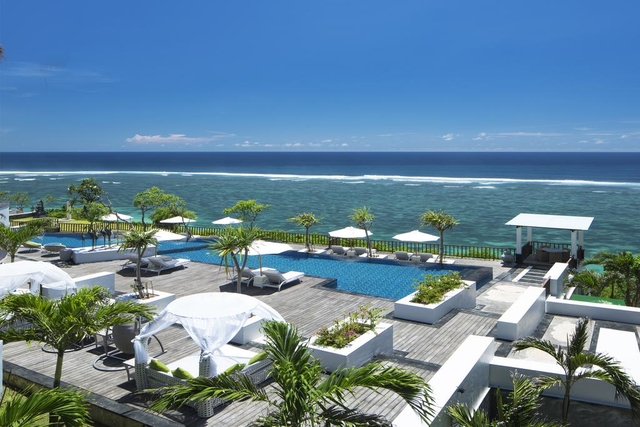 The tropical resort hotel Samabe Bali Suites & Villas with direct beach access is just a 1-minute walk to the beach. It is located a 15-minute drive from the Nusa Dua area.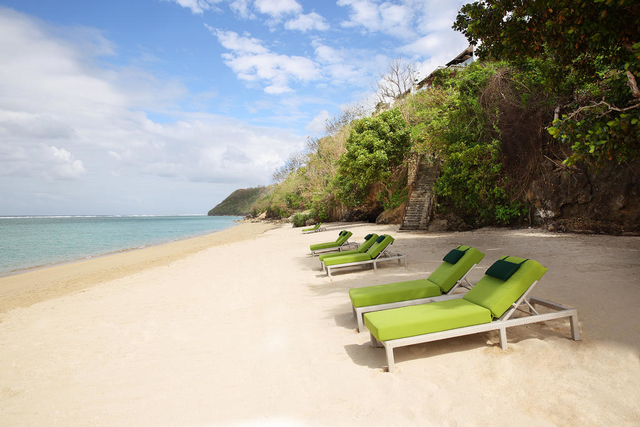 Guests are offered free Wi-Fi throughout the property, an outdoor pool, a spa salon, and a fitness center.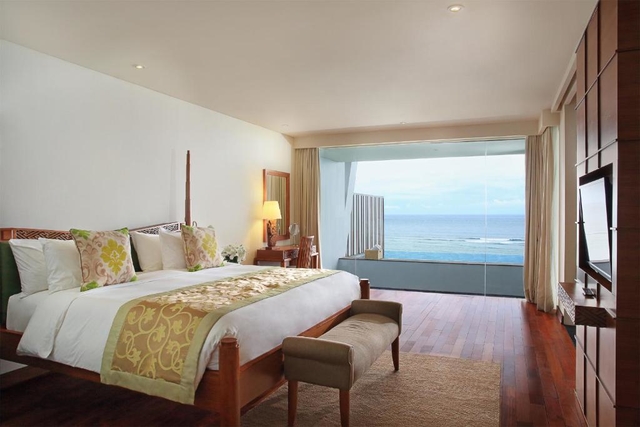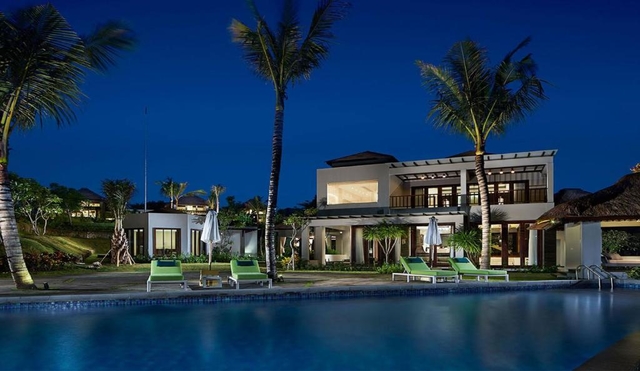 The Laguna, A Luxury Collection Resort & Spa, Nusa Dua, Bali
The hotel is situated by a white sandy beach. Guests can enjoy 7 large lagoon-shaped pools and breathtaking ocean views. The property is surrounded by landscaped tropical gardens.
The Lagoon Spa offers a wide range of cosmetic procedures. Guests are provided with free Wi-Fi throughout the building, free parking, a fitness center, and tennis courts.
The hotel is just a 5-minute drive from the Bali Collection shopping gallery and a 20-minute drive from the popular Uluwatu Temple. The journey to Bali's international airport takes 20 minutes.
The Banyubiru restaurant serves Western and Pan-Asian cuisine throughout the day. Fresh seafood is served at the beachfront Arwana restaurant. Signature cocktails and light snacks can be ordered at the poolside Kul Kul bars, as well as at the Cascade and Sapphire Lagoon bars.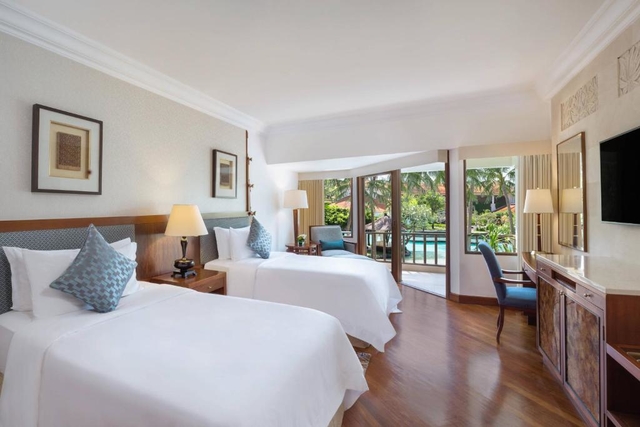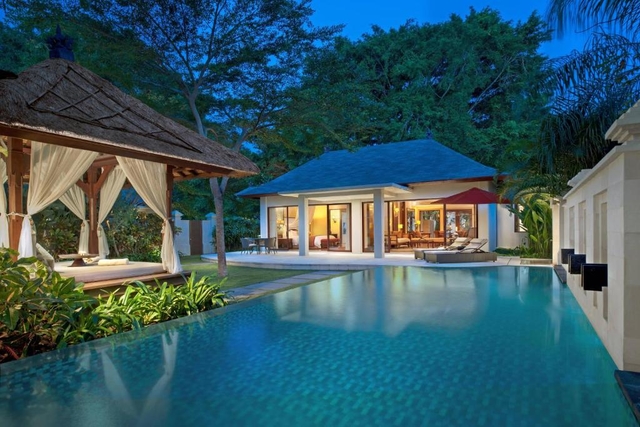 INAYA Putri Bali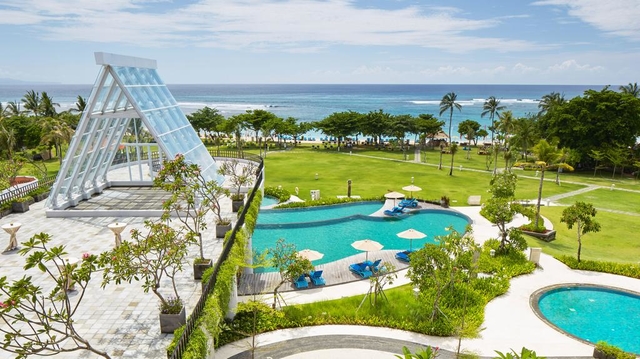 The INAYA Putri Bali resort is located along the beach in the tourist area of Nusa Dua, a 15-minute walk from the Bali Collection shopping and entertainment center. Guests can enjoy modern and elegant rooms and villas with free Wi-Fi, as well as an outdoor swimming pool.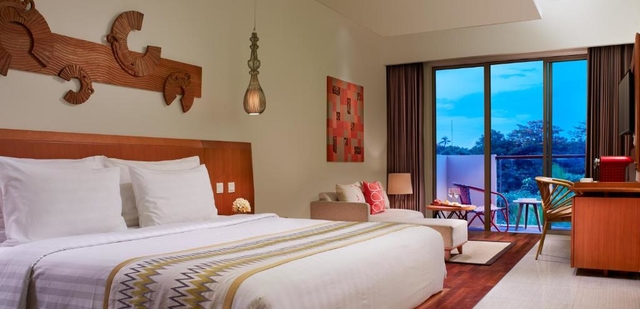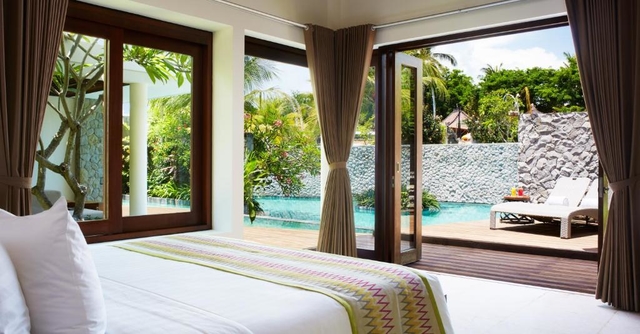 The Apurva Kempinski Bali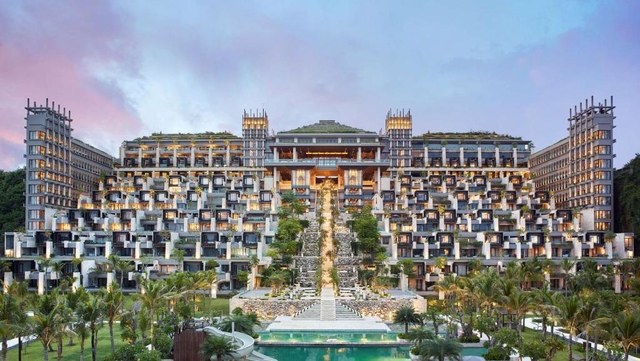 The hotel is surrounded by greenery with an ocean view. There is a 60-meter outdoor swimming pool and a spa salon on the premises.
From the private balcony, guests can enjoy views of the garden or the ocean. The bathroom features separate bathtub and shower. Some rooms come with a private pool and an ocean view.
The Pala restaurant serves dishes from local and international cuisine. Light snacks can be ordered at the Selasar Deli restaurant.
Adults can relax by the pool while children play in the kids' pool.
The hotel is located 2.7 km from the Bali National Golf Club and 5.5 km from the Bali Collection shopping center. Ngurah Rai International Airport is 15 km away from the resort.