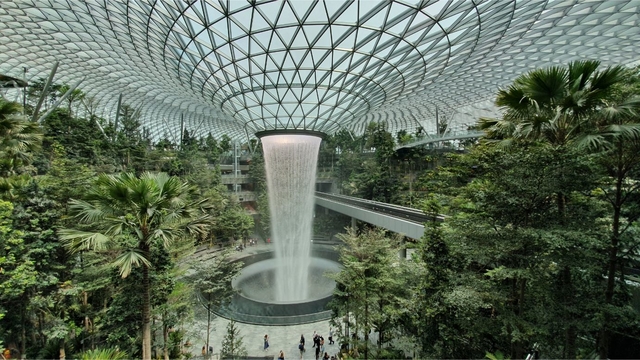 If you're contemplating which route to take when flying to Bali and among your options you're considering a layover in Singapore, just imagine the architectural marvel you can experience by spending a few hours, or maybe even a couple of days, in this city!
A seven-time winner of the "Best Airport in the World" award, Singapore's Changi Airport has recently added another gem to its crown.
Changi is one of the most important transportation hubs in the world, accommodating over 65 million travelers annually. Now, it has taken its services to a whole new level by unveiling the "Changi Jewel" complex.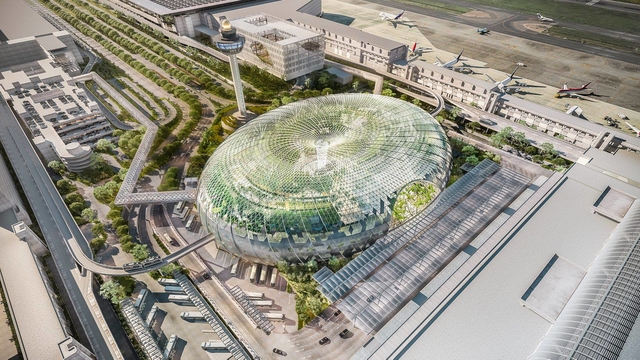 An architectural masterpiece, it was created by the architectural agency Moshe Safdie, also known for another equally popular building in Singapore, the Marina Bay Sands. Changi Jewel opened in April 2019, with some of its facilities being introduced to guests in June.
The complex's design outwardly resembles a massive glass "doughnut" spanning 135,700 square meters, encased in steel. The new center is spread across five underground and five above-ground levels. It features attractions such as a multi-screen IMAX cinema, a hotel, a full-sized supermarket, and 280 retail spaces.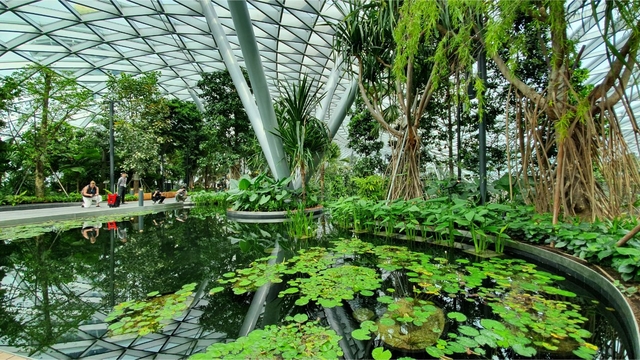 It offers visitors free Wi-Fi, the option to rent charging devices for 12 hours in the lounge area, and is equipped with sleeping and shower facilities.
The construction of Changi Jewel cost $1.7 billion as part of the airport expansion program. Further development includes the construction of a fifth terminal, which will exceed the size of the other four combined and is set to be completed by 2030.
The most grandiose feature of the complex is the world's tallest indoor waterfall, the Rain Vortex, standing at 40 meters. Given Singapore's frequent rain and storms, the waterfall was designed to drain rainwater at a rate of 10,000 gallons per minute. This water flow naturally cools the air under the dome, with the collected rainwater being reused.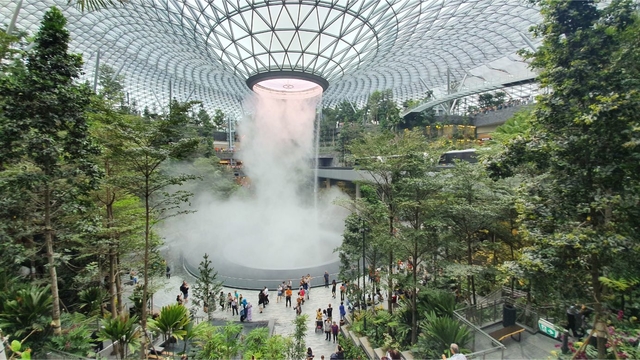 The Rain Vortex is active both day and night and is used as a canvas for light and sound shows, which can be viewed from all sides.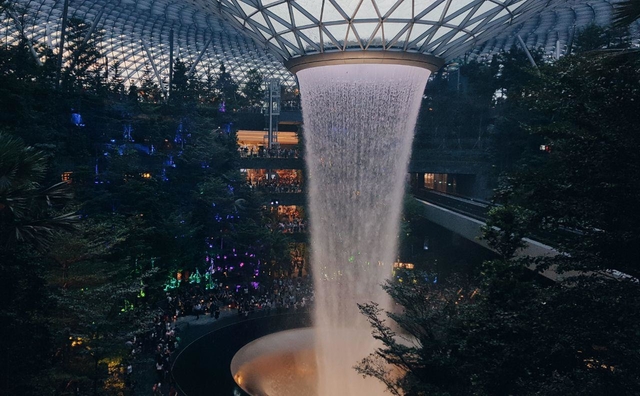 The waterfall cascades from a huge dome of glass and steel, dense enough to muffle the noise from airplanes.
Singapore is known as the "City in a Garden," a concept that architects considered when designing the building. In line with Singapore's ecological concept, the Rain Vortex is surrounded by five levels of gardens.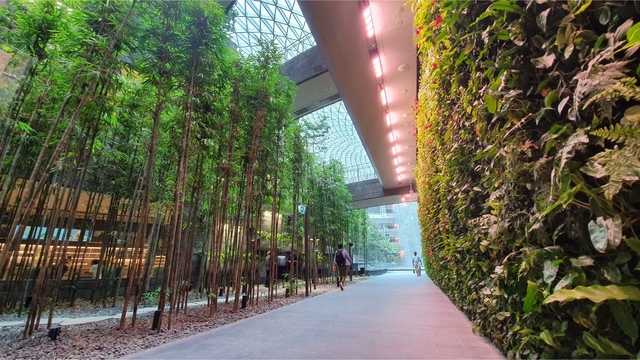 Among them is the Shiseido Forest Valley, a four-story area with over 900 trees and 60,000 shrubs from around the world, as well as pedestrian paths.I'm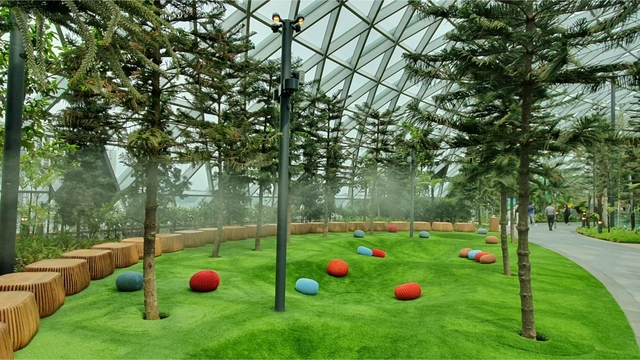 On the upper floor, there is the Canopy Park, spanning 14,000 square meters, filled with restaurants, themed gardens, playgrounds including mazes, slides, and a 50-meter-long suspended bridge.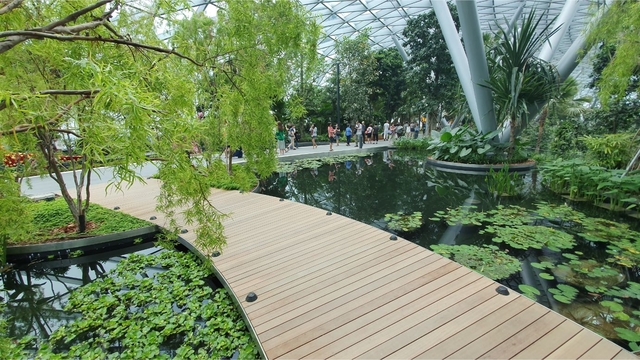 "I believe one of the reasons we won the construction tender was that other projects looked and felt like shopping malls, but not our project. It offers a new kind of experience that challenges us to rethink how shopping centers might appear in the future," explains Moshe Safdie.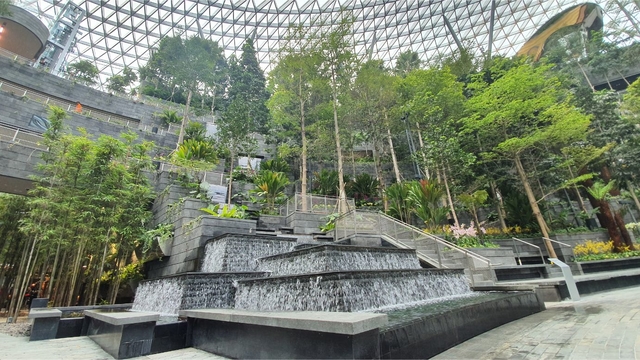 Changi Jewel is connected to Singapore's public transportation system and other terminals through pedestrian bridges.
Another innovation of Changi Jewel is the Skytrain, which shuttles between three terminals. Its tracks pass through a bridge constructed across the entire gallery of the complex at the third floor level. This design makes the trains appear to emerge from a rock, pass by the waterfall, and disappear into another rock. A shuttle bus from the fourth terminal also comes here.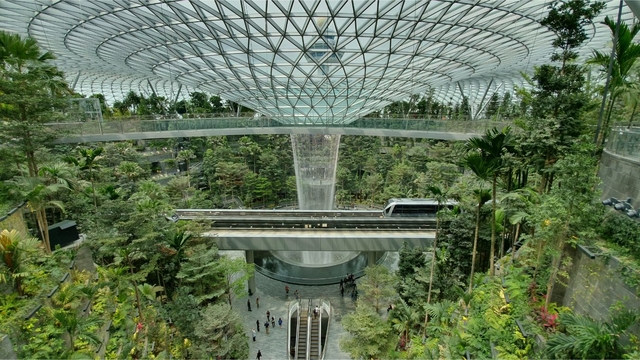 Changi Airport was conceived to cater to both passengers and local residents looking to have dinner or spend weekends outdoors. Strategically located just a 30-minute drive from the city, Changi aims to become a popular leisure destination for Singaporeans.