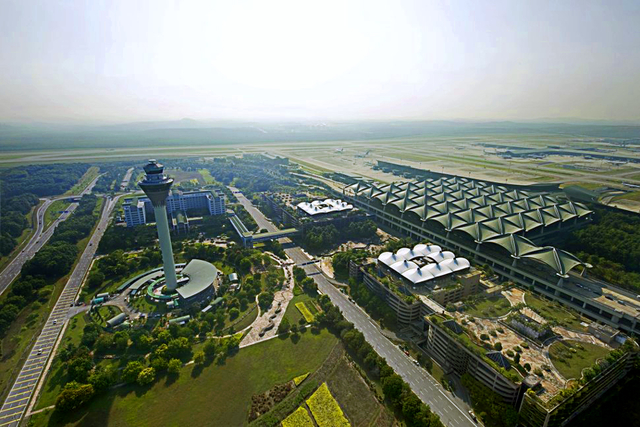 The Kuala Lumpur Airport or KLIA (Kuala Lumpur International Airport) is the main airport of Malaysia and one of the largest transportation hubs in Southeast Asia and the world. It is located in the Sepang area, approximately 45 kilometers from the center of Kuala Lumpur.
In 2018, it served 59,988,409 passengers, ranking 23rd globally in terms of passenger volume among the busiest airports.
Covering an area of 100 square kilometers, the airport was built on agricultural land. KLIA currently has 3 runways and two terminals, with the first terminal having a satellite.
History of Kuala Lumpur Airport
The groundbreaking ceremony for Kuala Lumpur International Airport (KLIA) took place on June 1, 1993. The existing Subang International Airport could no longer handle the increasing load. The old airport is now called Sultan Abdul Aziz Shah Airport. The architect of the new airport was Kisho Kurokawa from Japan.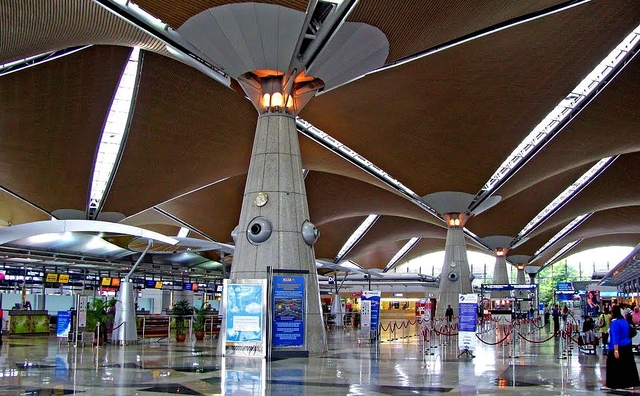 After the completion of the new KLIA airport, the first terminal in the old one was demolished, and the third one was reconstructed to accommodate charter flights. Additionally, the new airport took over the aviation code KUL from the old one, while the old one started to be referred to as SZB.
KLIA was inaugurated on June 27, 1998.
In the satellite terminal of KLIA1, there is a "Jungle Boardwalk" leisure area.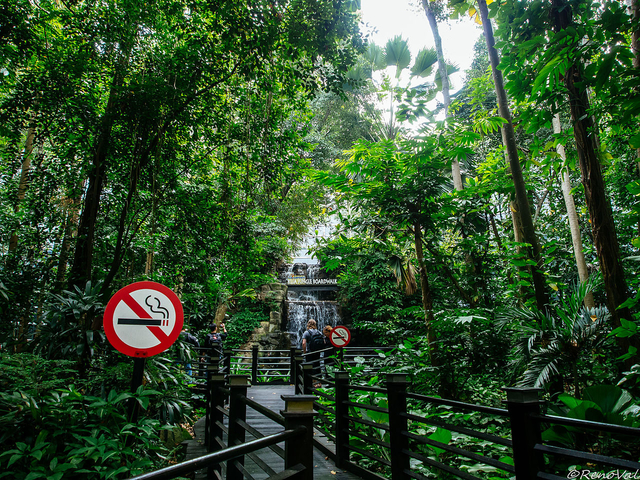 Kuala Lumpur Airport has three runways that can handle up to 78 landings per hour.
The main terminal, KLIA1 (KLIA1).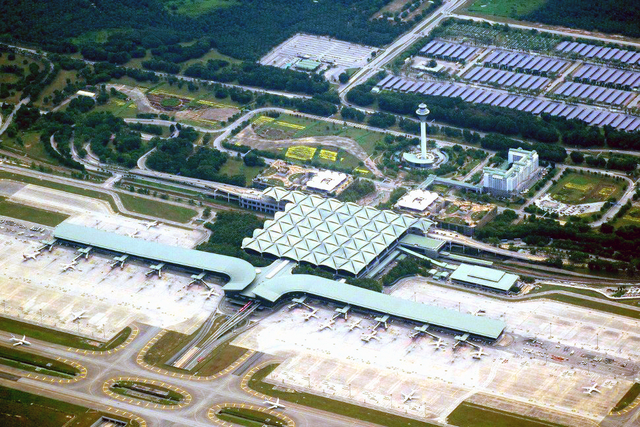 The terminal is situated between two runways. Its area is 390,000 square meters. There are 216 check-in counters here, and self-service check-in kiosks have been operational since 2007. The introduction of these kiosks was pioneered by KLM.
In the terminal, gates are labeled A, B for domestic flights and G, H for international flights. Gate C is located in the satellite terminal, accessible via the Aerotrain. The travel time takes just two minutes, and trains run at 5-minute intervals.
Certainly, this is a short journey, but it can be a bit inconvenient if your gate is changed from a satellite location to the main terminal building. In such cases, upon arrival, you would need to travel to the satellite and then return to the main terminal. Always keep an eye on the gate assigned to your flight on the displays located within the terminals while you are at the airport before your flight.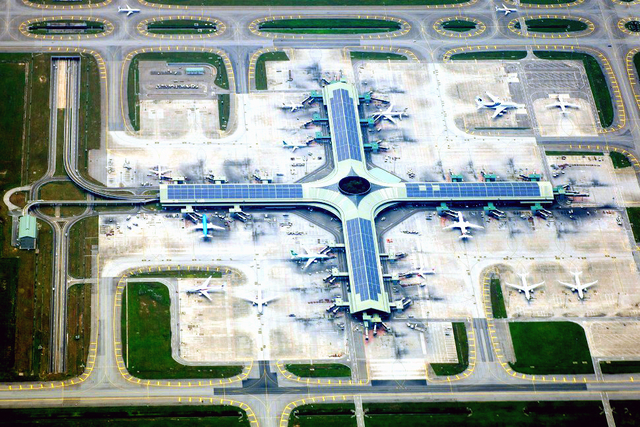 The satellite terminal covers around 176,000 square meters and serves international flights. Here, you'll find numerous Duty-Free shops, boutiques (Burberry, Harrods, Montblanc, Salvatore Ferragamo), and restaurants. So don't worry if you haven't spent all your ringgit in the main terminal – you'll have the same opportunity in the satellite terminal.
At Kuala Lumpur Airport, there's free internet and many lounges, including those with children's playrooms and movie theaters.
The new terminal, KLIA 2 (KLIA2).

Approximately 4 billion ringgit was spent on the construction of the terminal. It was specifically built to accommodate low-cost carrier flights. KLIA2 replaced the previously existing Low-Cost Carrier Terminal (LCCT).
KLIA2 commenced operations on May 2, 2014, and by May 9, 2014, all operations had been transferred from LCCT to KLIA2. Additionally, a new runway was constructed for the new terminal, becoming the third runway at the airport.
The terminal covers an area of 257,845 square meters and can handle 45 million passengers annually. It features 68 departure gates and 80 aerobridges. The main KLIA2 terminal is connected to its satellite terminal through a covered walkway. KLIA2 holds a certificate as a Leader in Energy and Environmental Design (LEED).
Gates J and K are designated for domestic flights, while gates L, P, and Q are for international flights. Gates P and Q are situated in the satellite terminal, accessible via the covered walkway.
Gateway@klia2 shopping complex.
Integrated into the terminal building is the vast Gateway@klia2 shopping complex, featuring the following stores:
Beauty and health products:
Aeon Wellness, Guardian, Quicknails, The Body Shop, Watsons
Clothing, footwear, leather goods:
Amaze Creative, Brands Outlet, Crocs, F.O.S, Giordano, H&M, Hush Puppies, Jelly Bunny, Mnb, Original Classic, Padini Concept Store, Pierre Cardin, Polo Haus, Soxworld, The Travel Store, Uniqlo, Vincci, Wings, Young Hearts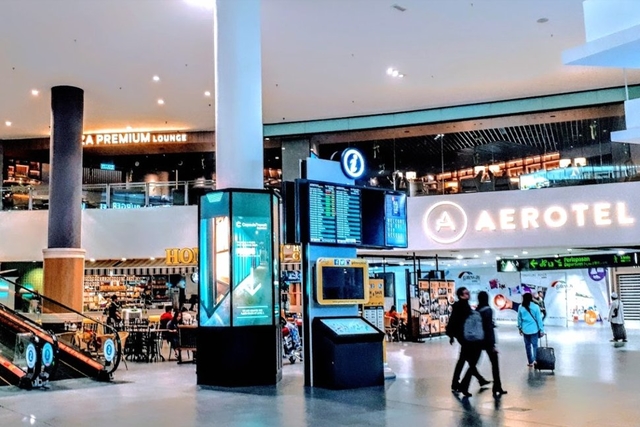 Electronics:
Canon, Igadget, Topgate Telemobile
Optics, watches, accessories:
Awg Fine Watches, City Chain, Pandora, Sunglass Hut, Tissot
Convenience stores:
7 Eleven, Familymart, Jaya Grocer, Kk Super Mart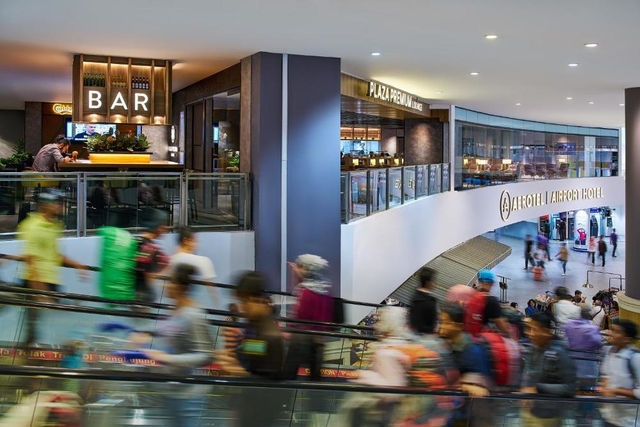 Cafes and Restaurants:
4Fingers Crispy Chicken, Ages Ago, Ah Cheng Laksa, All About Malaysia, Auntie Anne's, Baiwago Plus Café, Ban Heang, Baskin Robbins, Beryl's, BMS Organics Cafe, Boat Noodle, Boost Juice, BreadTalk, Burger King, Chatime, Choco Pot, Daily Fresh, Dunkin' Donuts, Edibee, Famous Amos, Fidani Factory, Food Arcade, Garrett Popcorn, Gong Cha, Home & Me, Hometown Hainan Coffee, I Love Yoo!, Ipoh Vintage, Isaac Toast & Coffee, KD Hong Kong, KFC, Kluang Station, Kofi Kraze2, Liang Sandwich Bar, Llao Llao, Luo Han Tang, McCafe, McDonald's, Mr. Siew Bao, Nam Heong, Nando's, Nanyang Food Garden, Nyonya Colors, NZ Curry House, Old Town White Coffee, PappaRich, Quizinn By Rasa Food Court, Regiustea, Samtai Yamch'A, Sedap Sedap, Shihlin Taiwan Street Snacks, Soul Chicken, Starbucks Coffee, Street Churros, Subway, Sushi King, T Bun, T2 Nasi Kandar, Tai Croissant, Tealive, Toast Box, Vanilla Cafe, Wincaa Bubble Tea, Xing Fu Tang
Kuala Lumpur Airport Statistics
In the top five airports served by KLIA:
1. Singapore Changi Airport (4,097,000 passengers in 2018)
2. Jakarta Soekarno-Hatta (2,716,808 passengers in 2018)
3. Bali Ngurah Rai (1,587,021 passengers in 2018)
4. Hong Kong Airport (1,580,320 passengers in 2018)
5. Don Mueang Airport in Bangkok (1,416,402 passengers in 2018)
Top five carriers operating in KLIA:
1. AirAsia (22,749,737 passengers in 2018)
2. Malaysia Airlines (13,403,931 passengers in 2018)
3. AirAsia X (5,643,538 passengers in 2018)
4. Malindo Air (4,438,320 passengers in 2018)
5. Indonesia AirAsia (1,269,368 passengers in 2018)
Transport within and between terminals.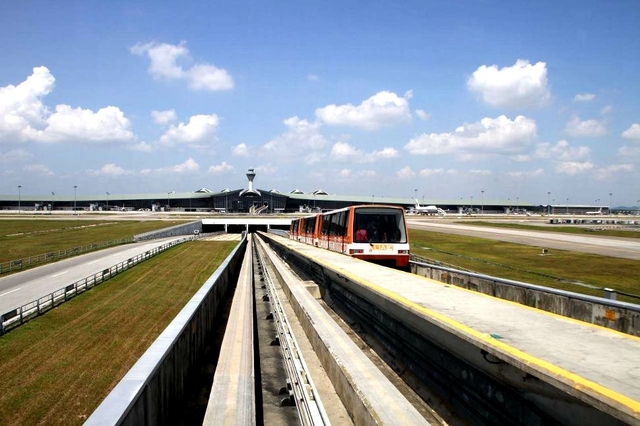 Inside the KLIA1 terminal, transportation between the main building and the satellite is carried out by an aerotrain. It can accommodate 250 people and transport 3000 passengers per hour. The average speed of the train is 56 kilometers per hour. The travel time takes around 2-3 minutes. The aerotrain operates at 5-minute intervals. Its operations, including speed, stops, and door opening at stations, are controlled by automation.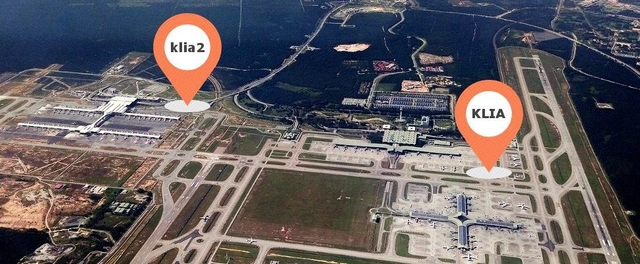 In KLIA1 and KLIA2, there are KLIA Express train stations, and it's precisely through this train that you can quickly travel from one terminal to another if, for instance, you've confused the departure terminal. The ticket from one terminal to the other costs 2 ringgits.
Additionally, there are free shuttle buses running between the terminals, available for passengers in transit.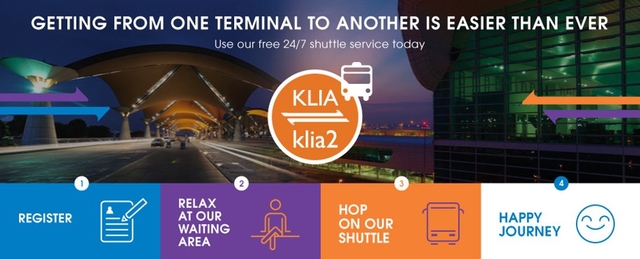 These buses run 24/7 every 10 minutes. You can find them on Level 1 in KLIA1 and KLIA2.
Transport to the city. How to get to Kuala Lumpur from the airport?
Kuala Lumpur Airport is connected to KL Sentral station in the city center. An express line called Express Rail Link (ERL) leads there, covering a distance of around 57 kilometers.
On this line, there are two services departing from adjacent platforms.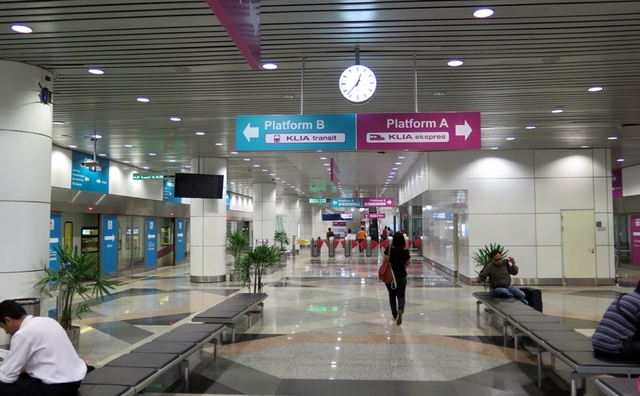 High-speed train platforms; on the right, the fastest KLIA Express, on the left, KLIA Transit with additional stops.
KLIA Express
This train goes from the airport to the city (to KL Sentral) without any stops. It takes 28 minutes from KLIA1 to the city and 33 minutes from KLIA2 to the city. During peak hours, the train departs every 15 minutes.
The KLIA Express station in the city allows flight check-in up to 2 hours before departure for passengers flying with Cathay Pacific, Emirates, Etihad Airways, Malaysia Airlines, Malindo Air, and Royal Brunei Airlines.
KLIA Express ticket prices vary. Discounts are offered for groups.
KLIA1/KLIA2 - KL Sentral one-way ticket: 55 ringgits for adults, 25 ringgits for children
KLIA1/KLIA2 - KL Sentral - KLIA1 round-trip ticket: 100 ringgits for adults, 45 ringgits for children
Family ticket KLIA1/KLIA2 - KL Sentral one-way: 40 ringgits per adult, 20 ringgits per child
For group purchases of more than 3 adult tickets - one-way ticket costs 40 ringgits
You can get a 10% discount on tickets by purchasing them through the KLIA Express app or at self-service kiosks at the airport.
KLIA Transit
This route includes three stops: Bandar Tasik Selatan, Putrajaya/Cyberjaya, and Salak Tinggi. It's suitable if you decide to visit the new administrative capital, purpose-built for this reason - Putrajaya.
The journey on KLIA Transit to the city will take 35 minutes from KLIA1 and 39 minutes from KLIA2. During peak hours, KLIA Transit departs approximately every 20 minutes.
Bus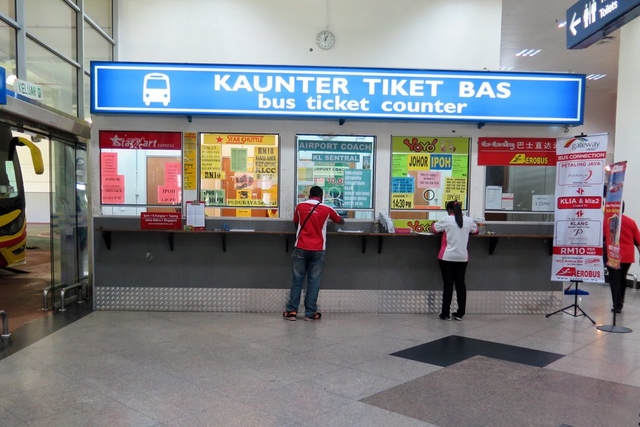 Both private and public buses run between the airport and the city. You can find them on Level 2 of the terminals. A ticket from KLIA2 to KL Sentral will cost around 15 ringgits. From KLIA1 to KL Sentral, it's approximately 12 ringgits. A very convenient, clean, and air-conditioned bus journey takes about an hour, with services running even at night, making it convenient for travelers arriving late but not wanting to take a taxi. During the day, buses run approximately every 10-15 minutes.
From stops in Kuala Lumpur, you can travel to KL Sentral (the most frequent route), Puduraya - where there's a bus terminal with routes to various cities in Malaysia, Bukit Bintang - a hub for shopping, hotels, and nightlife, KLCC - a shopping center home to the iconic Petronas Towers.
When buying tickets from the city to the airport, be sure to pay attention to the terminal from which your flight departs. While it's possible to reach the other terminal in about 15-20 minutes, it's better not to waste that time if you're in a hurry.
Sometimes it's a bit tricky to find the bus stop at KL Sentral. Look for the KLIA Express counters in the main hall; near them will be the exit to the station. Just outside the exit, you'll find escalators leading down to the bus station. If you get lost in KL Sentral, ask a security guard where the bus to the airport is, they will kindly guide you.
At the airport, you can purchase tickets not only to Kuala Lumpur but also to major cities in Malaysia (Johor Bahru, Penang, Malacca, and others), to Hat Yai in southern Thailand, or to Singapore. You can find and book tickets online on the
Bus Online
Ticket website.
Online ride-hailing service
In Kuala Lumpur, Grab taxi operates efficiently. If you already have the Grab app installed on your phone, you can use it here.
Regular taxie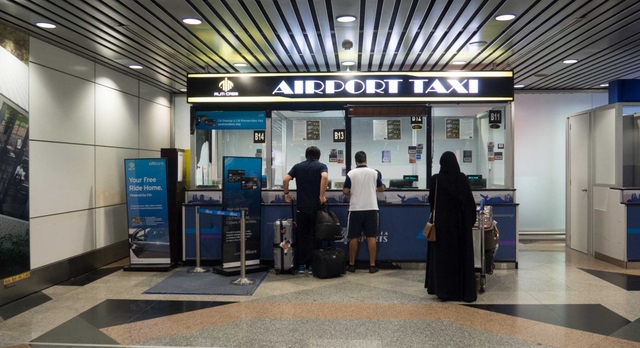 In the terminals, there are taxi booking counters, among which you can even book a limousine. Additionally, on levels 1 and 3 of the KLIA terminal, taxis with meters are available.
Major airlines operating at KLIA1.
Keep this in mind during transfers and departures!
Air Canada (AC)
Air France (AF)
Air India (AI)
Air New Zealand (NZ)
All Nippon Airways (NH)
American Airlines (AA)
Bangkok Airways (PG)
Batik Air (ID)
British Airways (BA)
Cambodia Angkor Air (K6)
Cathay Pacific (KA)
China Airlines (CI)
China Eastern Airlines (MU)
China Southern Airlines (CZ)
Delta Air Lines (DL)
Emirates (EK)
Etihad Airways (EY)
Eva Air (BR)
Finnair (AY)
Firefly (FY)
Flynas (XY)
Garuda Indonesia (GA)
Japan Airlines (JL)
Jet Airways (9W)
Kenya Airways (KQ)
KLM Royal Dutch Airlines (KL)
Korean Air (KE)
Lion Air (JT) - PLEASE NOTE THIS!!!
Malaysia Airlines (MH)
Malindo Air (MXD) - PLEASE NOTE THIS!!!
Myanmar Airways (8M)
Oman Air (WY)
Philippine Airlines (PR)
Qantas (QF)
Qatar Airways (QR)
Royal Brunei Airlines (BI)
Royal Jordanian (RJ)
Saudi Arabian Airlines (SV)
Shanghai Airlines (FM)
Shenzhen Airlines (ZH)
SilkAir (MI)
Singapore Airlines (SQ)
SriLankan Airlines (UL)
Swiss International Air Lines (LX)
Thai Airways (TG)
Turkish Airlines (TK)
United Airlines (UA)
Vietnam Airlines (VN)
Virgin Australia (VA)
Xiamen Airlines (MF)
Airlines operating at KLIA2.
Keep this in mind during transfers and departures!
AirAsia (AK flights)
AirAsia X (D7 flights)
AirAsia Indonesia (QZ)
AirAsia Zest (Z2 flights)
Thai AirAsia (FD flights)
Cebu Pacific Air (5J)
Jetstar Asia (3K flights)
Scoot (TR flights)
JC Cambodia (QD)
If you're unsure about the departure terminal of your flight, check the information on the electronic display board online. Enter your flight number and get terminal information. If it's Terminal 1, it's KLIA1; if it's Terminal 2, it's KLIA2.
There's also an electronic display board on the Kuala Lumpur Airport's official website. However, to check the departure terminal, the system will redirect you to
flightstats.com.
Mobile Connectivity
You can immediately purchase and activate a SIM card from a phone operator at the airport. They sell SIM cards from top phone operators, so there's no need to be overly picky. A SIM card with 5 gigabytes of data will cost you around 30 ringgits.
Baggage Storaget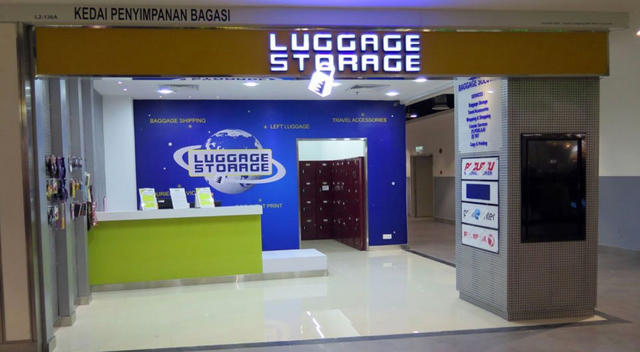 If you're planning to explore the city but don't know where to leave your belongings, baggage storage services are here to help. In the terminals, you'll find smart lockers that operate 24/7, and the payment is based on daily storage.
Medium locker (40 cm height, 32 cm width, and 75 cm length)
1-6 days: 40 ringgits per day
7-14 days: 36 ringgits per day
15 days and beyond: 32 ringgits per day
Large locker (55 cm height, 43 cm width, and 75 cm length)
1-6 days: 51 ringgits per day
7-14 days: 46 ringgits per day
15 days and beyond: 42 ringgits per day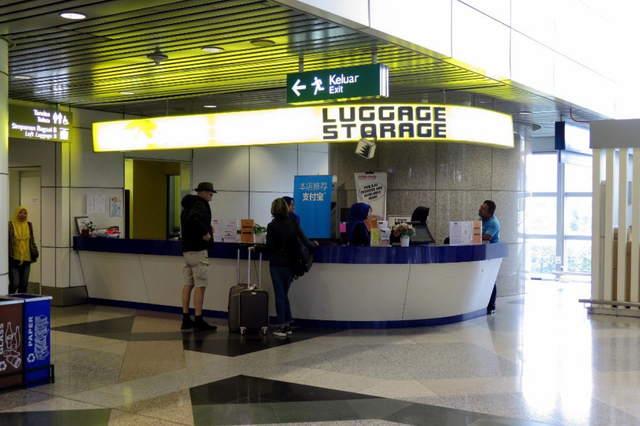 There is a baggage storage service where the calculation is based on the number of bags/suitcases, and payment is charged for daily storage.
Small baggage (43 cm height, 31 cm width, and 21 cm length)
1-6 days: 19 ringgits per day
7-14 days: 17 ringgits per day
15 days and beyond: 15 ringgits per day
Medium baggage (60 cm height, 42 cm width, and 25 cm length)
1-6 days: 30 ringgits per day
7-14 days: 27 ringgits per day
15 days and beyond: 23 ringgits per day
Large baggage (67 cm height, 46 cm width, and 31 cm length)
1-6 days: 40 ringgits per day
7-14 days: 36 ringgits per day
15 days and beyond: 32 ringgits per day
Extra large baggage (if dimensions exceed those mentioned as "large baggage")
1-6 days: 51 ringgits per day
7-14 days: 46 ringgits per day
15 days and beyond: 42 ringgits per day
Share your experience visiting Kuala Lumpur Airport. Was it convenient for you? How did you spend your time there and how did you get to the city? What additional information about Kuala Lumpur Airport would you like to receive?