One of the most significant landmarks of Kuta is associated with the history of this district.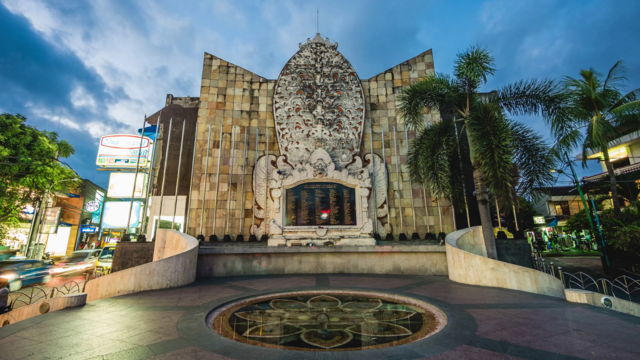 The Bali Bomb Memorial
This is a memorial to the victims of the bomb explosion that occurred in Kuta on October 12th, 2002. The tragedy happened on Legian Street, opposite the intersection with Poppies II Street.
As a result of the explosions, 202 people died (including 88 Australians, 38 Indonesians, and more than 20 other nationalities). Another 209 people were injured.
The Attack
Various members of the radical Jemaah Islamiyah movement were convicted in connection with the bombings, including three participants who were sentenced to death.
The attack included the detonation of three bombs: a device mounted on a backpack, a car bomb that was detonated in Kuta, and a third smaller device detonated outside the United States Consulate in Denpasar, which caused only minor damage.
After the bombings, an audio cassette was found, allegedly containing a voice message from Osama bin Laden, who claimed that the Bali bombings were a direct retaliation for the support of the United States' war on terrorism and for Australia's actions in the liberation of East Timor.
On November 8th, 2008, three terrorists - Imam Samudra, Amrozi Nurhasyim, and Huda bin Abdul Haq - were executed by firing squad on the island of Nusakambangan.
Every year, a mourning ceremony is held at this place on October 12th.