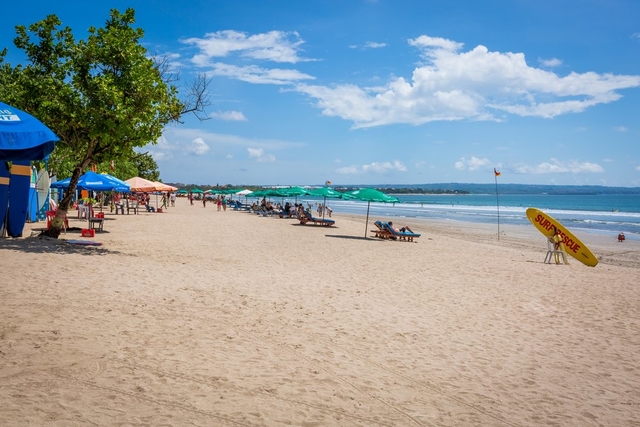 Location
Actually, administratively, the Kuta district includes Seminyak, Legian, Tuban, and Kedonganan. However, typically, when people refer to Kuta, they mean the part of Kuta located north of Tuban and south of Legian. It begins almost immediately after the Ngurah Rai International Airport.
In reality, there isn't a clear division among many Balinese residents and tourists regarding what exactly constitutes Kuta. Some believe that Kuta stretches from the airport to Melasti Street. Google Maps might depict a more intricate boundary. Perhaps, this question isn't worth serious and prolonged disputes, and we can allow some flexibility in defining Kuta's boundaries in our discussions.
Pantai Kuta Street, or Kuta Beach, stretches for 2 kilometers. Parallel to it, about half a kilometer inland, runs Legian Street, which is lined with clothing stores, souvenir shops, bars, and restaurants. Further north, it turns into Seminyak Street (Jalan Seminyak) and then Basangkasa Street (Jalan Basangkasa). Moving further inland, roughly parallel to the beach street and Legian, is the broad Sunset Road (Sunset Road).
Within the areas defined by these streets, there's a maze of smaller streets that cleverly connect the central roads, featuring hotels, guesthouses, bars, restaurants, shops, and spa salons.
Notable streets that link Legian to the beach include Poppies 1 and Poppies 2, named after the famous Poppies Cottages hotel, Benesari Street, and Melasti Street, where you can find a relatively large souvenir market. Getting lost in this network of alleys can be somewhat challenging at first. Houses may seem similar, and shops might appear somewhat alike. When leaving your hotel for the first time, it's advisable to carry your phone with GPS and remember the name of your hotel, as peculiar as that advice might sound.
Transport
Depending on which part of Kuta you plan to visit, the price for transportation can vary.
The transportation situation in Kuta is excellent. There's a lot of it—actually, an overwhelming amount. During rush hours, you might even see the traffic jam with vehicles blocking the roads.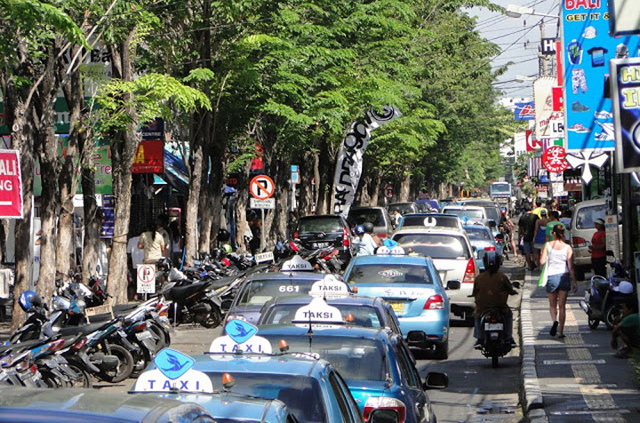 An alternative is renting a motorbike. You can rent a motorbike by contacting a rental service directly by phone or by renting one on the street. If you're hesitant to ride a motorbike, you can install the Grab or Gojek app on your mobile phone and use motorbike taxi services.
Public Transport
Several Kura-Kura bus routes pass through Kuta.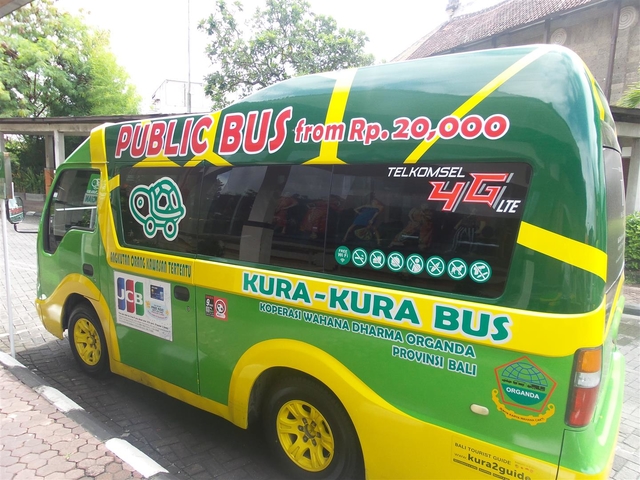 There are stops at the Kuta Aston Hotel, Lippo Mall, Waterbom Water Park, Kuta Paradizo Hotel, Grand Inna Kuta, Beachwalk Shopping Center, Ground Zero Monument, and Bali Galeria Shopping Center. Depending on the bus line, buses run every 20 to 90 minutes. If you can decipher the puzzle of schedules and routes of Kura-Kura, you'll be able to use these buses.
Atmosphere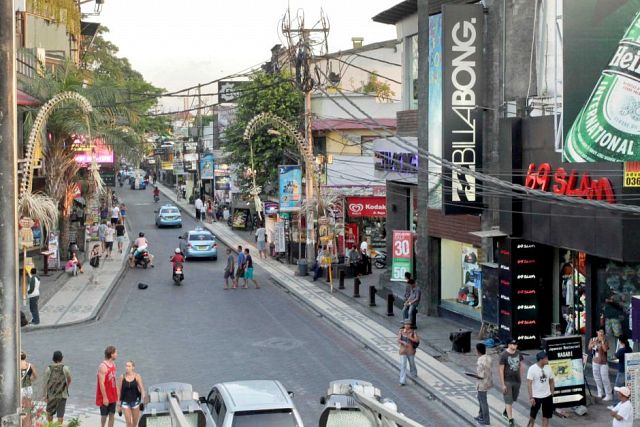 Before the rise of tourism, Kuta was one of the poorest villages in Bali, inhabited by farmers and fishermen. At one point in history, it was a slave market.
In the 19th century, Kuta became known as an international trade port. The first hotel in Kuta was opened by American surfers Bob and Louise Koke in the 1930s.
Japanese invasion slowed down the development of tourism, but in the 1960s, Kuta established itself as an iconic stopover for hippies traveling through Southeast Asia. It lured them with a laid-back atmosphere for carefree living in rustic bamboo homestays.
It is said that the rapid development of Kuta and its reputation as a "place of debauchery" for infidels played a role in the 2002 terrorist attack by the Islamic group Jemaah Islamiyah. The bomb explosion in the heart of Kuta claimed the lives of 202 people, many of them tourists. This had a severe impact on the tourism industry, not only in Bali but throughout Indonesia. Bali took several years to rebuild its reputation as a safe tourist destination.
As soon as tourists began returning, another terrorist attack occurred three years later in Kuta at Kuta Square and in Jimbaran near the fish restaurants at the Four Seasons Hotel. Once again, this was followed by a long period of reputation recovery.
Before the pandemic, Kuta attracted a diverse range of tourists. Kuta was to Australians what Mallorca or Ibiza is to the British and Cancun is to Americans.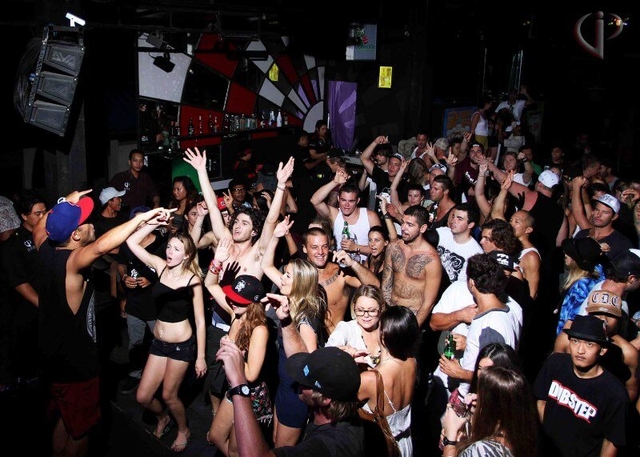 They say Kuta has a unique quality of polarizing people. You will either love it or hate it, there's no in-between.
Before the pandemic, Kuta was one of the most popular destinations, lively, bustling day and night. However, during the pandemic, the short-term tourists who were the mainstay of Kuta's guests disappeared. Kuta was left deserted, and interestingly, some long-term Bali residents who used to dislike the noise of Kuta moved here.
One major downside of Kuta pre-pandemic is the relatively limited number of restaurants in the area, compared to places like Canggu or Seminyak. Some tourists also find long rows of completely closed shops worrisome.
It's worth coming to Kuta if:
- You want to take your first steps in surfing and are looking for a place with a nearby learning beach for surfing and a surf school.
- You came to Bali with a modest budget and need affordable accommodation.
- You are hesitant to rent a bike or car, and you'd like to save money on taxis by walking a lot.
- You're not particularly interested in Balinese culture and nature, and you're willing to go on tours to see them.
- You understand that you need to keep valuables and your mobile phone close to your body to avoid theft.
- You're not shocked when street vendors try to sell you drugs or fake drugs.
- You're not afraid to swim in the waves at the beach.
If you checked off each of these statements, congratulations, Kuta isn't a challenge for you.
Housing
Kuta is abundant with budget and mid-range hotels. In recent years, affordable but comfortable chain hotels have been displacing cheap guesthouses in Kuta. There are quite a few hotels in Kuta that are either close to the beach or even directly located on the beachfront.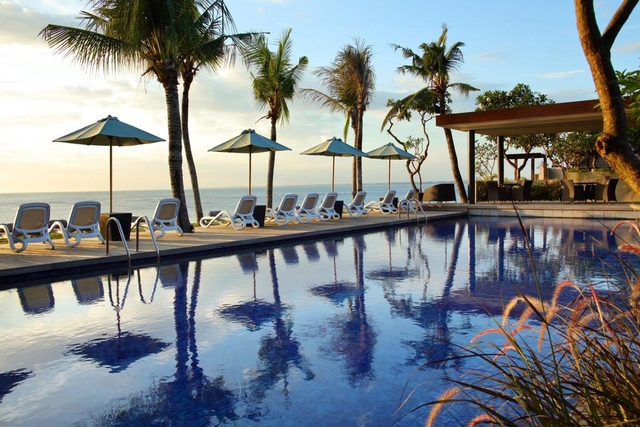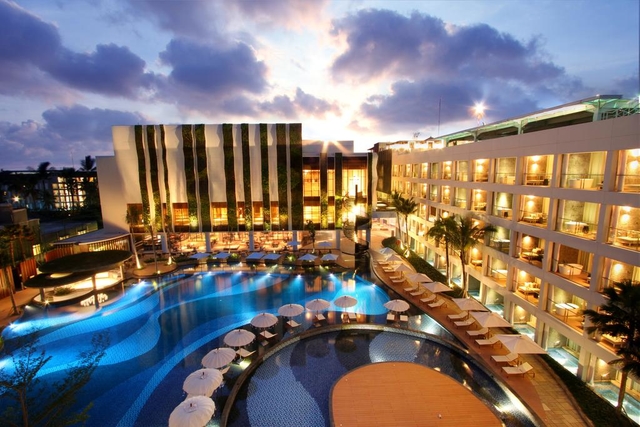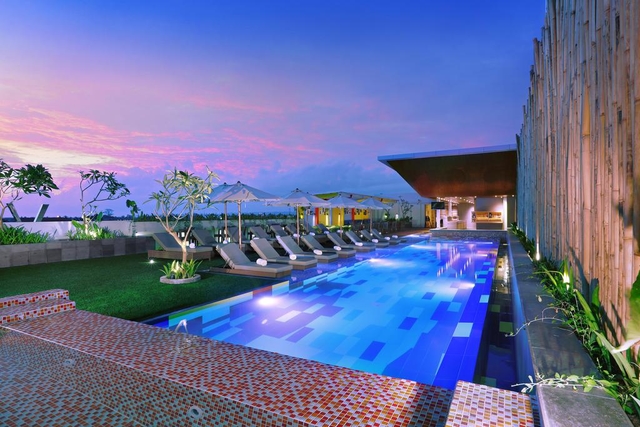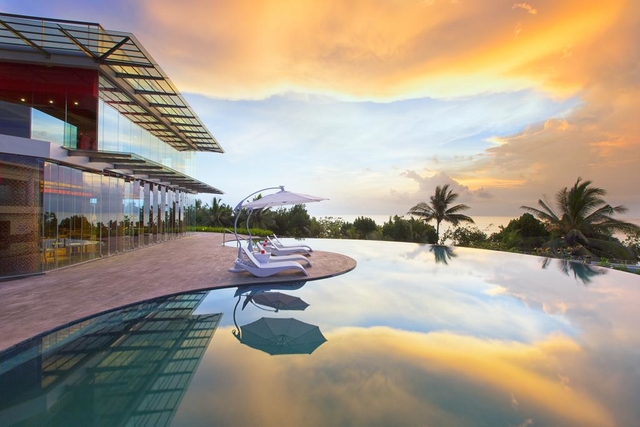 If you're not on a tight budget, it's better to choose a hotel room on the first line to save yourself from long walks to the beach. Among the hotels that are highly recommended by tourists, you can consider Amnaya Resort Kuta, The Anvaya Beach Resort Bali, The Stones - Legian Bali, The Sandi Phala Beach Resort, Rama Beach Resort and Villas, Vasanti Kuta Hotel, Sheraton Bali Kuta Resort, and The Vira Bali Boutique Hotel & Suite. These options should provide you with comfortable and convenient stays in Kuta.
Kuta also has many inexpensive guesthouses, inexpensive guesthouses and rooms for rent on a monthly basis.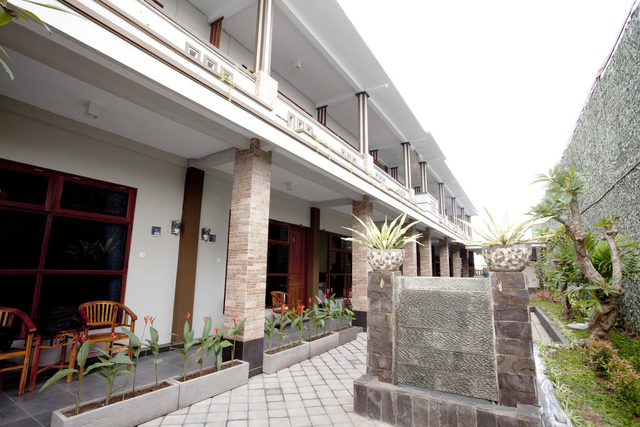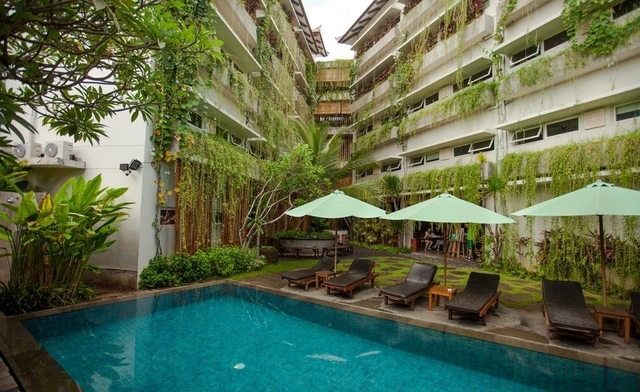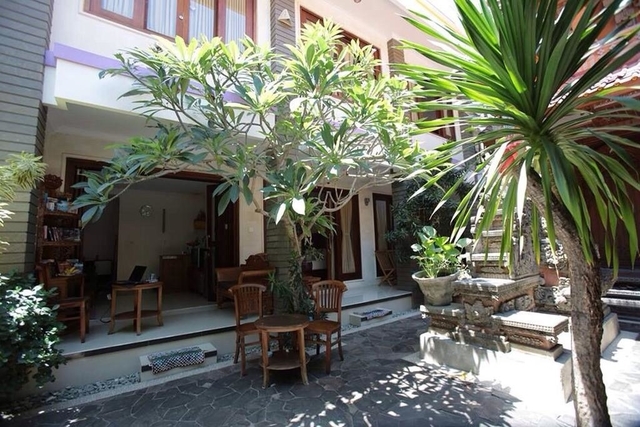 It's a good idea to inquire with the staff about discounts for long-term stays if you find a budget guesthouse you like and plan to stay there for a few months. Sometimes, discounts for monthly stays can be quite significant, even up to a month's worth of savings.
Additionally, hostels have been on the rise and often offer dormitory beds at prices that were once equivalent to guesthouse room rates. Hostels frequently come with perks that many guesthouses may not provide, such as a fresh and youthful design, fast internet, air conditioning, hot showers, a pool, free breakfast, and top-notch cleanliness.
However, in the alleys of Poppies 1 and Poppies 2, you can still find numerous older guesthouses with very basic levels of comfort, such as the once-famous Suka Beach Inn, Mekar Jaya, and Komala Indah.
Entertainment
Waterbom Bali is indeed a fantastic destination for daytime fun. It's considered the largest water park in Southeast Asia and the third-largest in the world.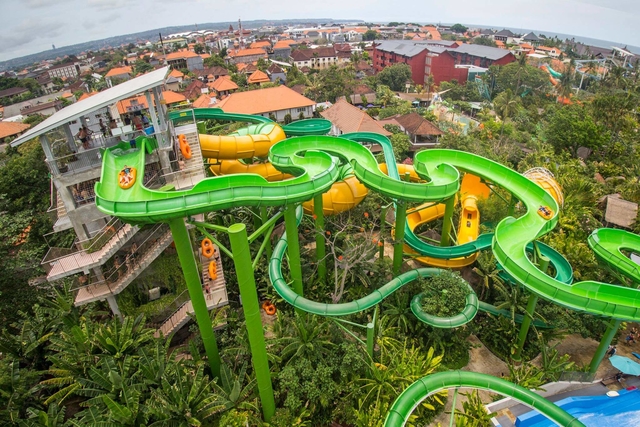 Waterbom Bali truly offers a thrilling adventure set in a tropical garden atmosphere. It features approximately 100 attractions across a four-hectare area. There are attractions suitable for kids, various water slides with different levels of intensity, cafes, a spa center, sunbathing areas, relaxation zones, a floating bar, and two restaurants, making it a perfect place for a fun and enjoyable day out.
It's a good practice to check the official
website
of the park for the most up-to-date information on Waterbom Bali, including admission prices and other details.
Circus Waterpark Kuta is indeed another waterpark option in the area. While it may be smaller and more peaceful than Waterbom Bali, it also offers a more budget-friendly entrance fee.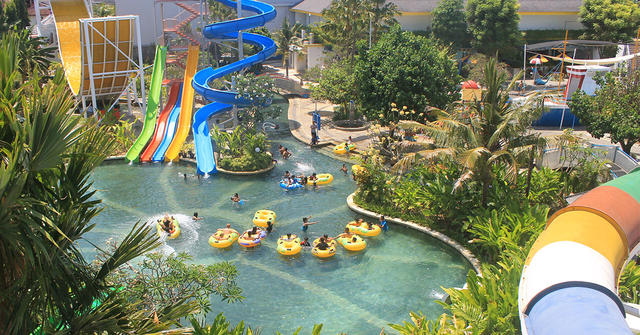 Movie
In Kuta, there are four cinemas where you can enjoy the latest blockbusters. Foreign films are usually shown in their original language, typically in English, with Indonesian subtitles.
Two of these cinemas belong to the Cinema XXI chain:
3) Not far from Circus Waterpark Kuta, specifically in
Park23 Mall.
You can check the movie schedules on the
Cinema XXI
centralized network's website. Select the city "Denpasar" from the dropdown menu, and you'll find information about the respective cinemas and their showtimes.
SPA and massage
Massage parlors are everywhere in Kuta, but not all of them offer the same quality. Masseuses often get jobs at these parlors without having any experience, primarily to earn money and potentially meet European men.
Frequently, tourists who visit random massage parlors complain that the massage was reduced to random, chaotic rubbing. Those who are offered a "happy ending" massage typically either don't complain or do not discuss it further.
Remember that an inexperienced masseuse can not only waste your time and money but can also potentially harm your health.
Clubs
Let's talk about nightlife. There are noticeably fewer nightlife options during the pandemic. The center of nightlife has shifted to Canggu.
There's no strict dress code in Kuta's establishments. Shorts, flip-flops, and even t-shirts with the logo of the local Bintang beer brand are perfectly acceptable. Beachwear is appropriate everywhere, as long as you're not only wearing swim trunks or a swimsuit.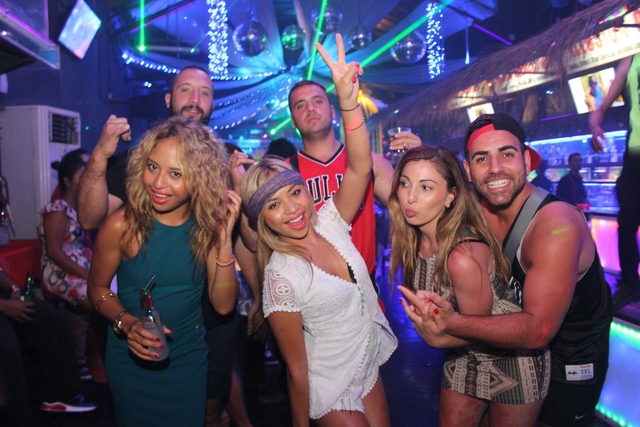 Kuta attracts young, wild crowds of tourists seeking cheap drinks and preferring hits, R'n'b, hip-hop, and reggae music.
Be cautious with cheap cocktails. There have been cases of methanol poisoning with fatal outcomes in Bali. This is why it's better to avoid drinks based on arak and unfamiliar components. Don't leave your drinks unattended.
The most popular clubs are Enjin Rum and VIP. Those who enjoy live music will like the Hard Rock Cafe on Kuta Beach's waterfront.
Extreme
5GX Bali
If you have already visited all the nightclubs in Legian, gathered crowds of fans and thunderous ovations, but something is missing, try entertainment that will allow you to be born again.
The nearby Sky Garden has a swing catapult that propels thrill-seekers into the sky in just a second, leaving their souls in their heels. It's quite challenging to find out the actual price for this attraction. When attempting to inquire about the price, the staff at the attraction might ask, "How many people will be riding now? How many times will you ride?" It seems they name the price based on their mood.
Attractions
Ground Zero
One of the most significant landmarks in Kuta is associated with the history of this area.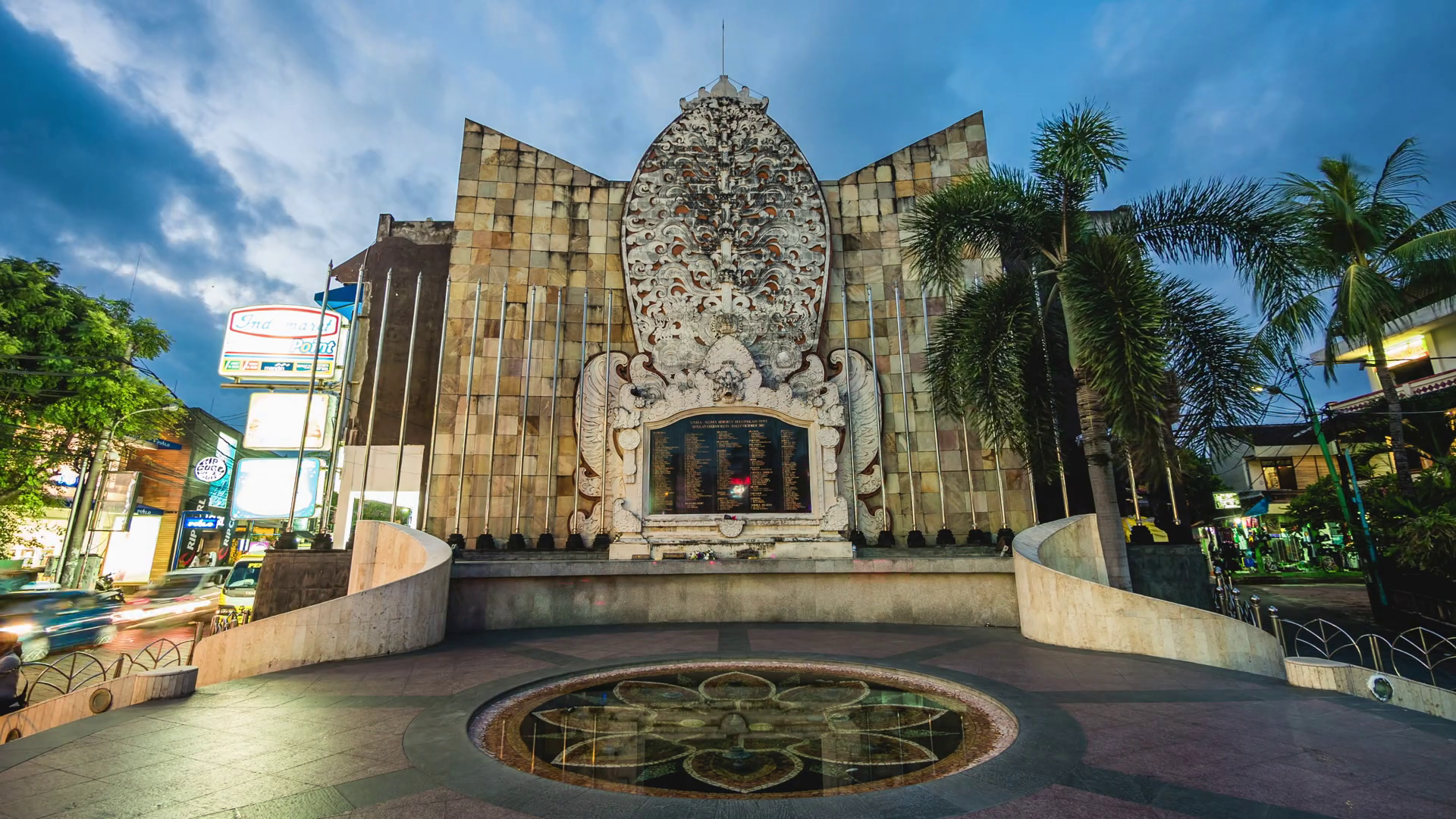 This is the Bali Bomb Memorial, also known as Ground Zero. It is a memorial dedicated to the 202 people who lost their lives in the bombing in Kuta on October 12, 2002. The tragedy occurred on Legian Street, across from the intersection with Poppies II Street.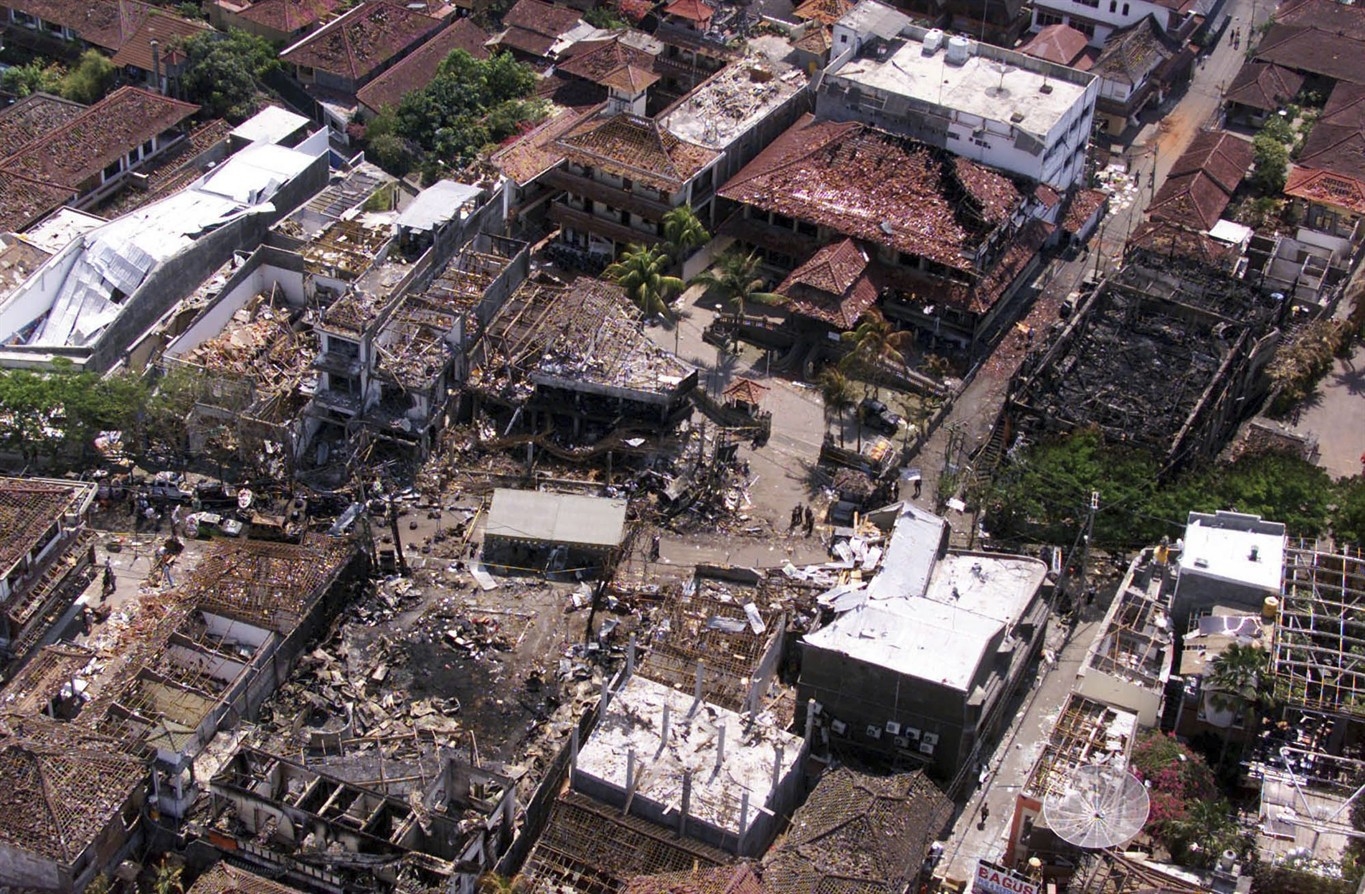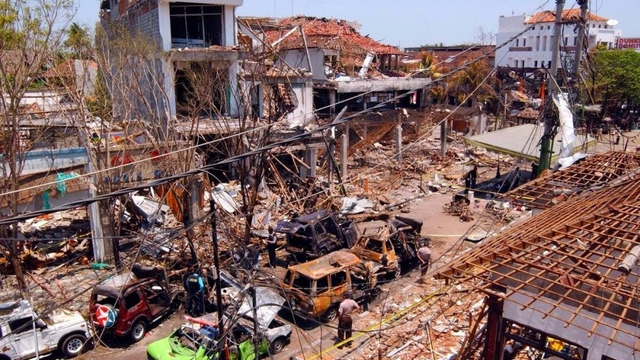 Every year a funeral ceremony is held at this site on October 12.
Vihara Dharmayana Kuta
Another cultural attraction in Kuta is the Buddhist temple Vihara Dharmayana Kuta.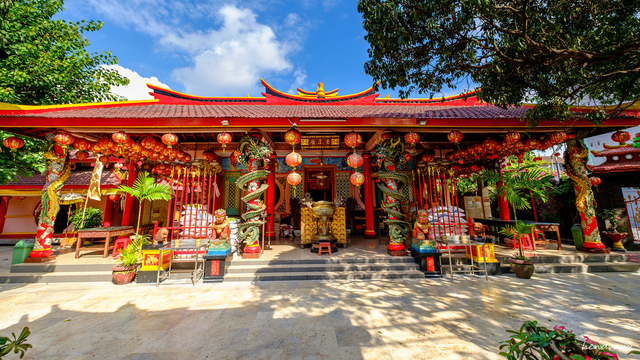 This temple was visited by the 14th Dalai Lama during his visit to Bali in 1982. Its other local name is Kongco Kuta.
It was built in 1876. Despite its venerable age, the temple is kept in very good condition. Most of the parishioners are Balinese Chinese. Buddhist celebrations are held here, among which the most vibrant and important is the Lunar New Year.
The main temple building, Bhaktisala, is adorned with large round lanterns hanging from the roof of the building. The roof is supported by columns adorned with dragon figures.
Next to it is the Dharma Hall, where family prayers are held, and statues of Chinese deities are installed, and the wall depicts a temple complex on Java - Borobudur.
In the courtyard, there is a sacred banyan tree - another place of worship where prayers to the Four-Faced Buddha take place.
Statue of Gatot Kaca (Patung Gatot Kaca)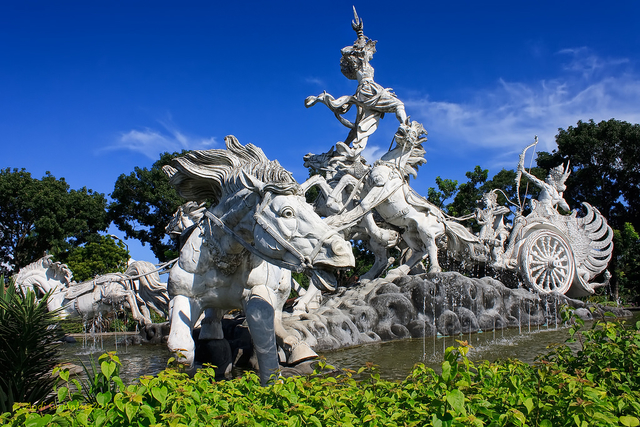 Another striking monument that greets tourists arriving in Kuta is the sculptural composition of Gatot Kacha. It is located at the intersection of Airport Street and Tuban Street.
The statue was erected in 1993 in honor of the legendary warrior Ghatot Kach, son of Bima, one of the Pandava brothers of the Indian epic Mahabharata.
Shops and markets
Кута offers a wide range of shopping opportunities, from upscale air-conditioned malls to narrow streets with roadside stalls where every vendor tries to attract you with "cheap prices." Whether it's a blessing or a curse depends on your stress tolerance and where exactly you go for shopping.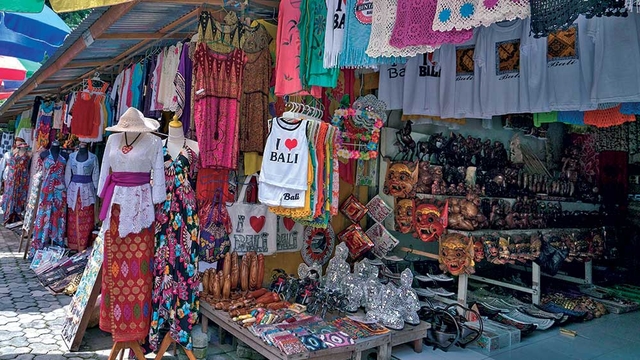 The entire Legian area is a string of stalls and shops. Along a stretch of approximately 5 kilometers on Legian Street (including Seminyak and Basangkasa streets), you can find a wide range of goods, from stylish and elegant to wildly colorful. You can find everything here - souvenirs, eyewear, sarongs, footwear, jewelry, home decor, and artwork.
It's a lively and bustling street with a lot of traffic, which becomes cooler and more welcoming in the evening after sunset.
- It's best to explore it on foot. There is very little car parking available, although finding parking for scooters can also be a bit tricky.
- Along the way, you can visit the art market on Melasti Street or the art market on Bakung Sari Street. In the same area, you'll find a bustling street in Kuta with many branded stores - Kuta Square.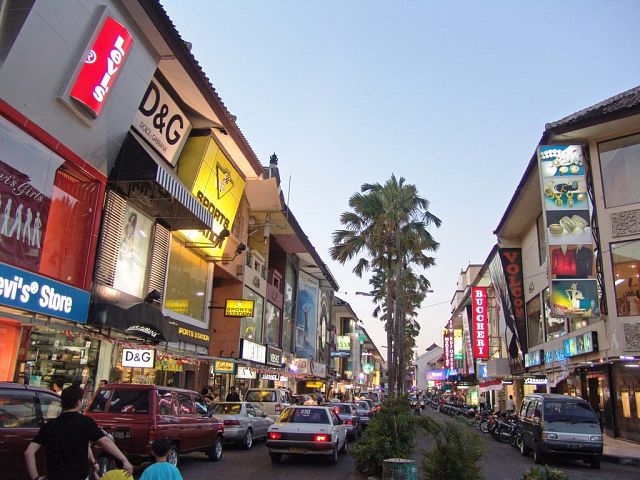 - If you liked Kuta shopping, check out the streets of Benesari, Poppies 1 and Poppies 2.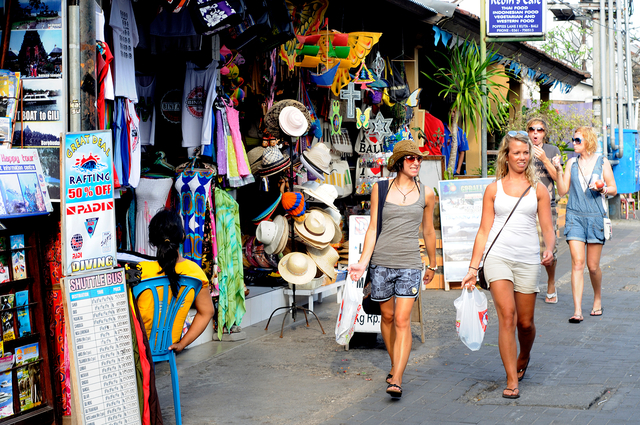 - Make sure to haggle. The markup can sometimes inflate the price of an item by 4-5 times. An important point to note is that if you mention that you just arrived today or yesterday, the vendor will understand that you are not familiar with the prices and may try to overcharge you. Usually, the vendor's questions about your personal information (like where you're from, when you arrived, where you're staying, what you do for a living) are not mere curiosity but rather a prelude to haggling and an attempt to assess how much money you have on hand.
- If you're walking down a shopping street and you find the touts annoying, don't respond negatively. Just smile and walk past without saying anything.
- Avoid flaunting expensive mobile phones and keep an eye on your bags.
Restaurants
In Kuta, you can find places to eat at any time of the day or night. If you want to enjoy traditional and affordable Indonesian food, venture into the narrow alleyways and look for local eateries known as "warungs." If you're looking for well-known chain restaurants, focus your search around the malls.
The Food Court on
Patimura Street
with cheap and excellent juices and fruit salads is very popular among budget tourists.
Beaches
The beach in Kuta is sandy and quite extensive, stretching for about 5 kilometers. However, the water is not very clean and is hardly transparent, so swimming may not be as enjoyable as in some other places. There are waves at this beach.
During low tide, the water recedes about 50 meters from the shore, but due to the gently sloping sandy bottom, it has little impact on swimming. However, it's suitable for jogging and leisurely walks along the beach.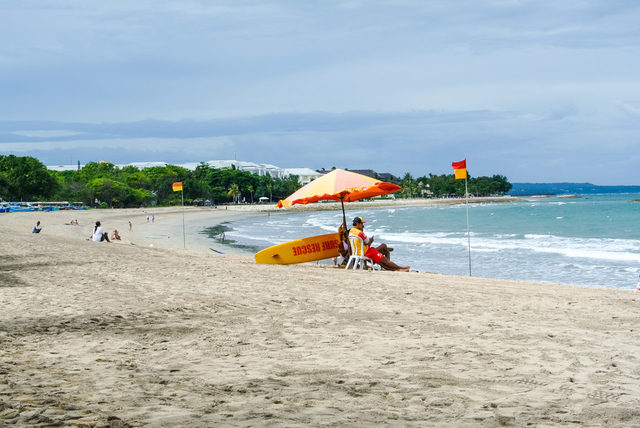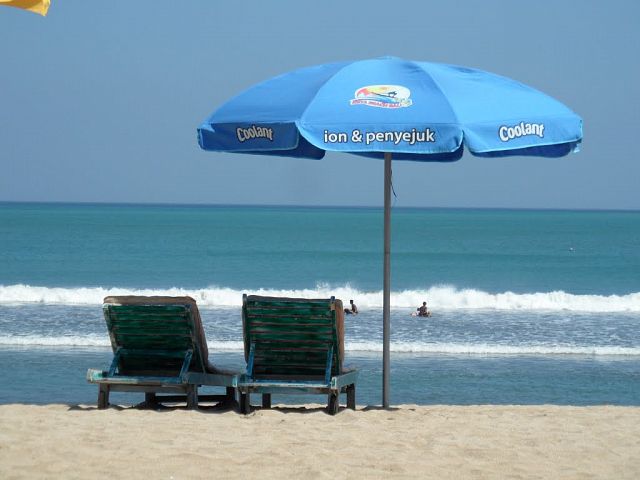 The Kuta Beach stretches for a couple of kilometers, smoothly transitioning into Legian Beach, Seminyak Beach, and further to the north and northwest.
It is crowded with vendors selling all sorts of things, from ice cream to air rifles, and also includes massage therapists, manicurists, and hair braiders.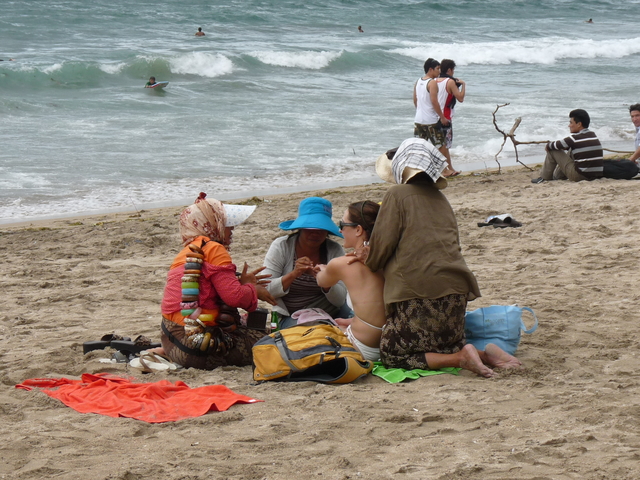 The Kuta Beach is also known for being a popular spot for surfers. Depending on the time of year and the tide, Kuta Beach can be clean, calm, and welcoming, or it can be littered with sticks, driftwood, plastic waste, and subjected to waves that make it clear that newcomers to surfing should stay out of the lineup for the next few hours.
Lifeguards are present on the beach, so make sure to swim in officially designated areas marked by flags.
The waves at Kuta are ideal for beginner surfers, which is why many people come here to learn to ride the waves. The sandy bottom makes learning to surf even more comfortable and safe.
Kuta is also known for its breathtaking sunsets. They are especially fascinating when low tide coincides with sunset, and the wet sand extends several meters from the shoreline. During these moments, you can capture stunning photos with reflections.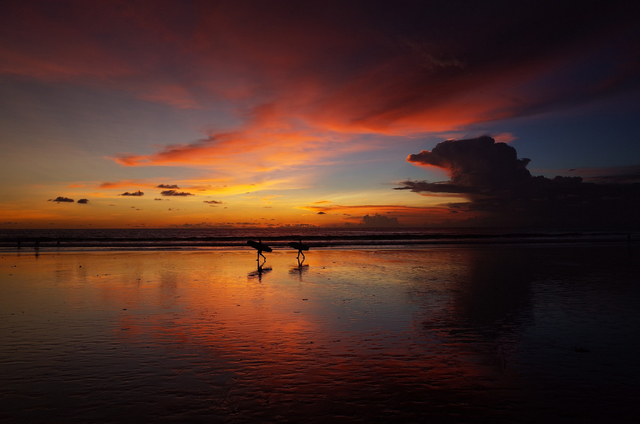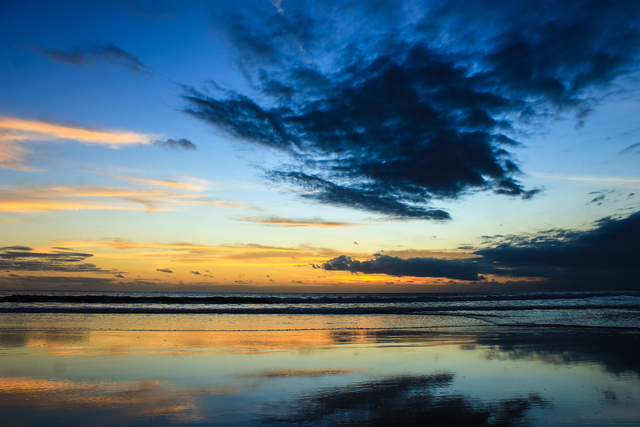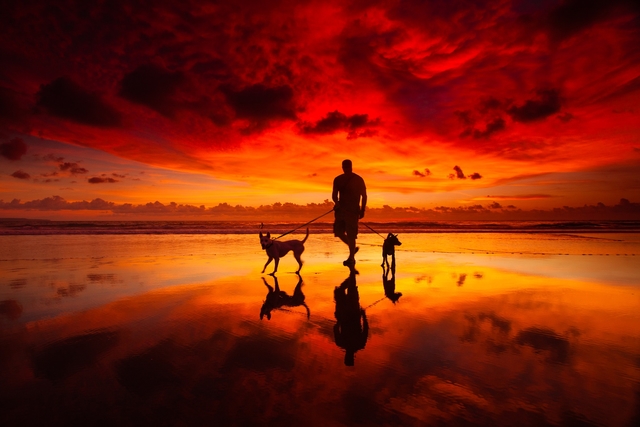 It's often considered that the beaches in Legian and Seminyak are more civilized than Kuta Beach. However, the further north you go in this direction, the more volcanic components are present in the sand, making it darker. While the deep and mystically black sand can look impressive in photos, it can often get embedded in the fibers of your swimwear, and it's challenging to rinse out. Therefore, when it comes to sand color, Kuta has an advantage over Legian and Seminyak.
Another common story about Kuta Beach is the abundance of Indonesians who want to take photos with you. They don't usually ask who you are or what your name is. Their main goal is to take a photo with a foreigner. Some people feel like stars in such situations, while others may feel embarrassed or irritated. Reactions can vary.
Kuta Beach is known for being one of the riskier locations in terms of theft. To safeguard your belongings, consider taking turns swimming with friends, avoid bringing valuable items to the beach, or rent a beach chair with the hope that the owner will look after your things. If you're renting a surfboard, you can leave your belongings with the board owner.
Surfing
The waves in Kuta are considered to be the safest and most suitable for beginners due to the sandy bottom. There are also numerous surf shops there.
Safety
ATMs and exchange offices are readily available in Kuta. However, be cautious with both. Use ATMs located in bank branches if you want to avoid becoming a victim of cyber fraud.
When exchanging money, carefully check the final amount provided by the money changer to ensure it's accurate.
Health
There are several medical clinics in Kuta, of which BIMC and SOS are the most serious.
It is here that travelers are often sent for treatment under insurance.