Many hotels in Bali allow non-resident tourists to use their pools. We have selected the best ones so that each of you can enjoy the luxury of Balinese hotels and cool off in a beautiful pool!
Inter Continental Bali Resort can boast not just one, but five pools.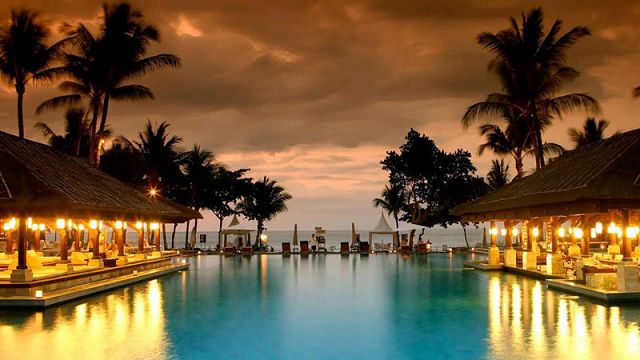 Plus, there is another pool in traditional Balinese style.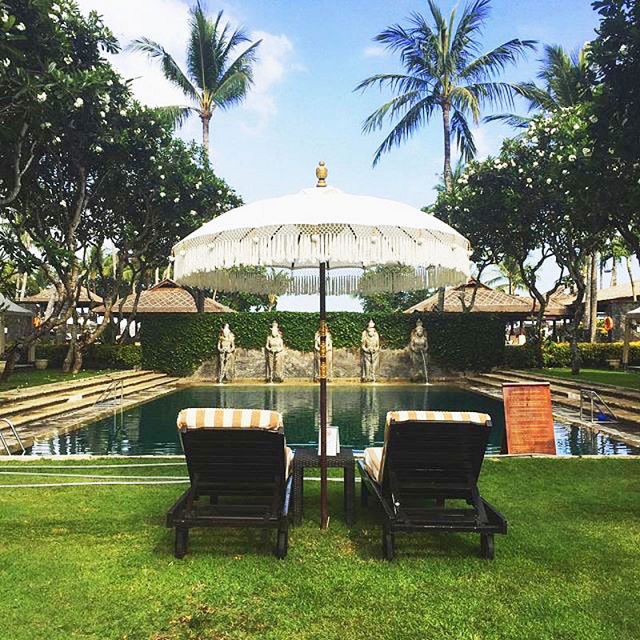 All the pools are situated around the perimeter of the hotel, amidst magnificent landscaped gardens.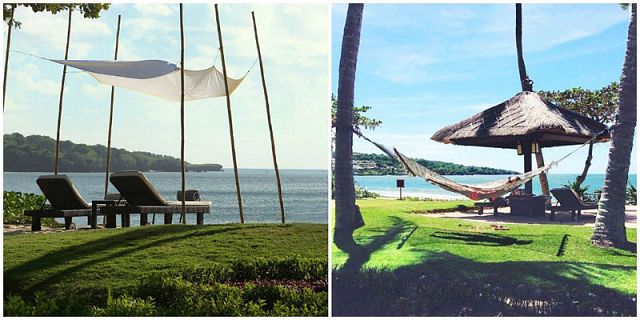 Surrounded by a terrace with plenty of sun loungers, the 35-meter Main Pool never empties.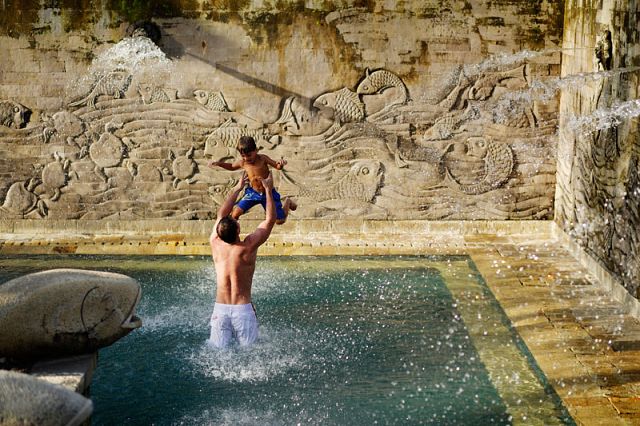 The secluded Balinese-style pool with sculpted stone walls and aquatic plants is highly popular. For children, the hotel features one pool with fountains and two pools with attractions and slides.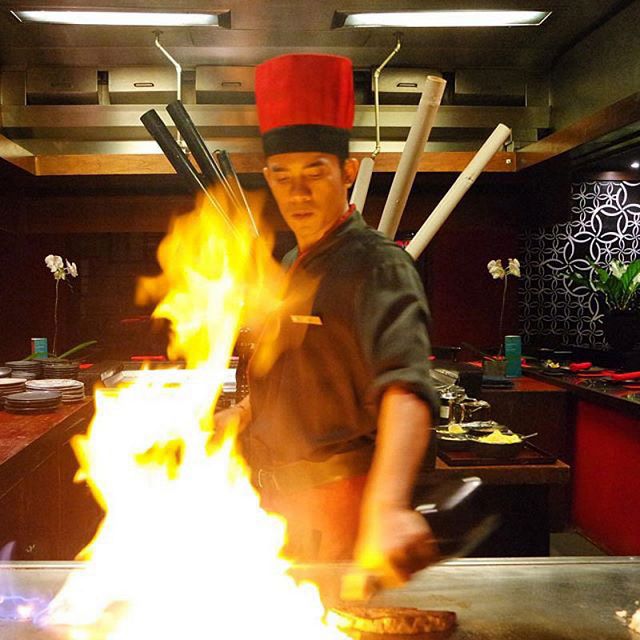 If you choose Inter Continental Bali Resort, you will not only be delighted by its beautiful and well-maintained grounds, but also offered the chance to savor delicious Japanese cuisine at the KO restaurant. Additionally, you can indulge in exquisite Italian dishes at the Bella Cucina restaurant and enjoy fresh seafood at Jimbaran Gardens. For cocktails or beer, head to the Sunset Beach Bar & Grill.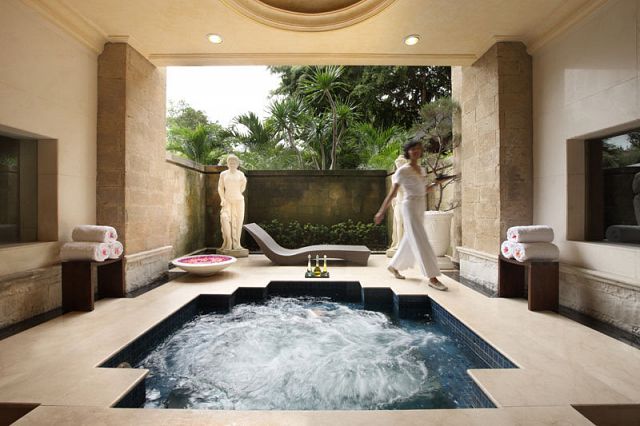 Tip: We recommend booking in advance. Prices: 1-day pass – 200,000 Indonesian rupiah. Includes: towel, sunbed, and access to the main pool, traditional Balinese-style pool, pool with attractions, and fountain pool.
Gym access - 150,000 Indonesian rupiah. Gym and spa access - 250,000 Indonesian rupiah. For full access to all mentioned facilities, the ticket costs 300,000 Indonesian rupiah.
Address: Jalan Uluwatu No. 45, Jimbaran, South Kuta, Badung Regency
The longest pool on the island - Sundara Bali, Four Seasons Jimbaran.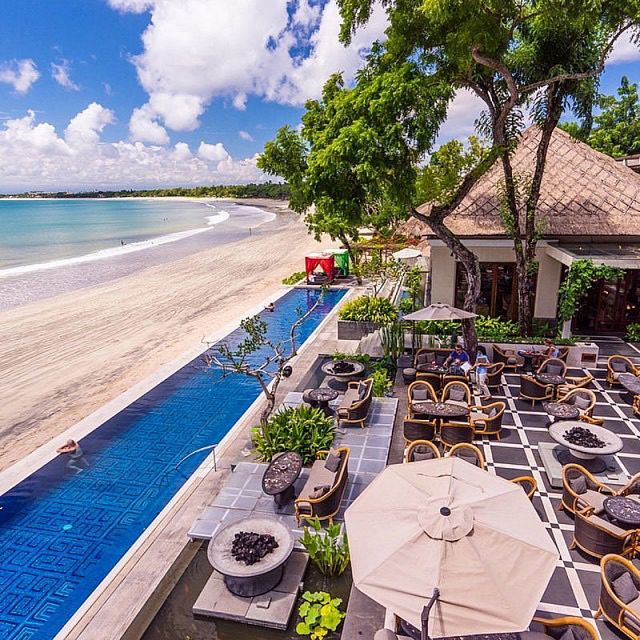 Sundara is the most renowned luxury resort for the affluent in Jimbaran. It features a luxurious beach club, one of the best restaurants in Bali, a world-class spa, and the longest beachfront infinity pool on the island (57 meters in length).
The pool is situated adjacent to the beach, with a narrow strip of sand separating it from the ocean.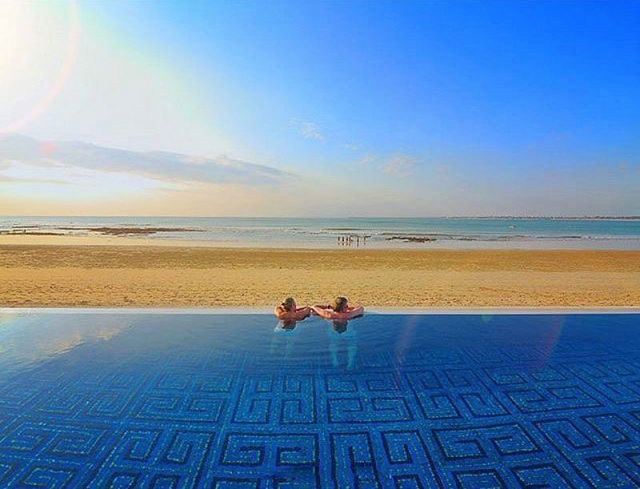 Hotel guests and their family members can enjoy dinner at the beachside bar-restaurant. For children, there is an excellent kids' club where a nanny takes care of the little ones (80,000 rupiahs per day for children older than 4 years and 50,000 rupiahs for children under 4 years).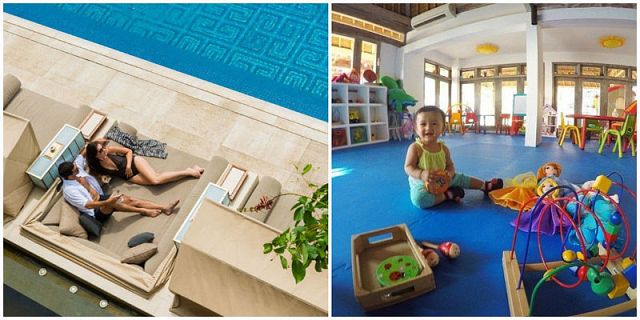 For an additional fee, you can also use the pool and sun loungers.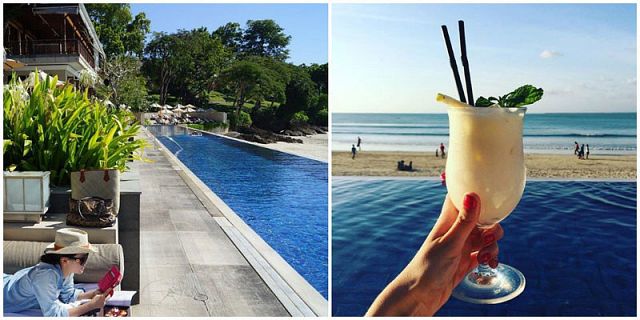 Along the pool, there are luxurious and spacious sun loungers with a view of Jimbaran Bay. P.S.: A little secret - Sundara Hotel serves the most delicious desserts in Bali. The exquisite desserts are guaranteed to satisfy your sweet cravings!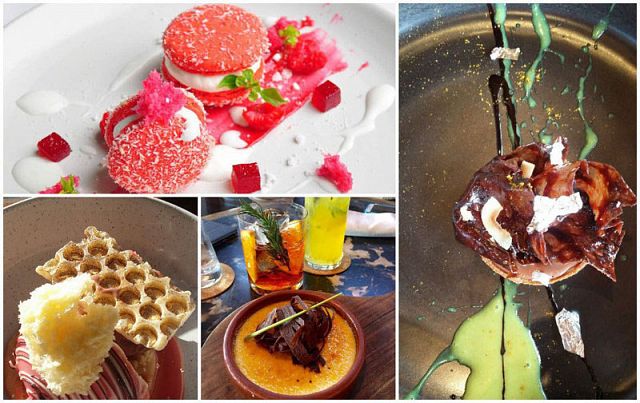 Prices: Sunbed rental - 980,000 Indonesian rupiahs, which also gives you access to all facilities at the hotel. This amount includes a 600,000 rupiah food and beverage credit, complimentary fruits, and free Wi-Fi.
Address: Kawasan Bukit Permai, Jimbaran
Phone: (62 361) 708333
Glamorous W RETREAT & SPA BALI - SEMINYAK.
Stylish and glamorous hotel. The most impressive feature is the incredible three-level pool, designed by taking inspiration from Bali's rice terraces.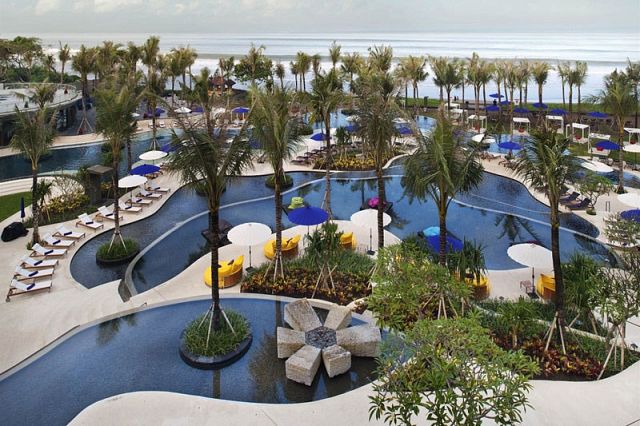 The pool is surrounded by lush tropical palms and verandas where you can enjoy sunsets and parties.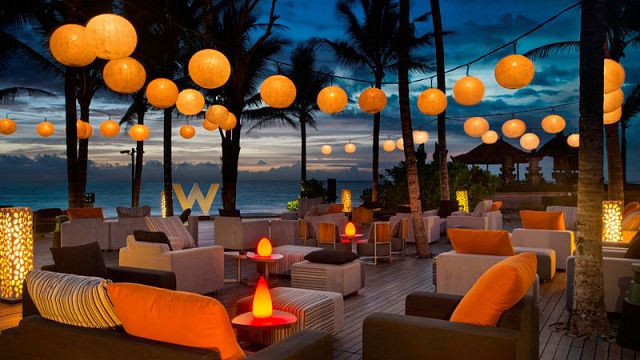 If you order food or drinks at the bar, you can freely swim in the pool and relax in the gazebos without any additional cost. Additionally, complimentary towels will be provided for your use.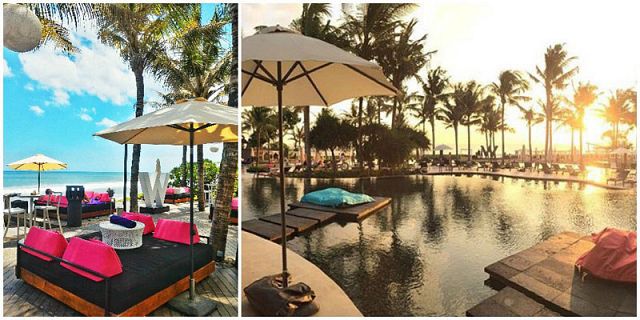 Sun loungers and chairs around the pool are reserved for hotel guests, but you can always use the sofas in Woobar.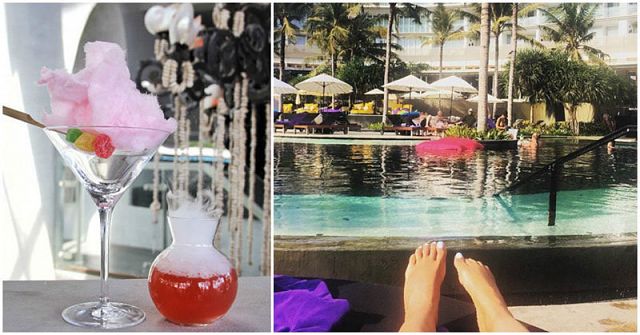 Prices: Absolutely free! All you need to do is buy a drink at the bar. (They even provide you with a towel!)
Address: Jl. Petitenget, Kerobokan, Seminyak
Phone: +62 361 3000106
Magnificent Pool and Lagoons - Padma Resort Legian
Artfully designed oasis, Padma Resort Legian, is located in close proximity to the lively Legian Beach.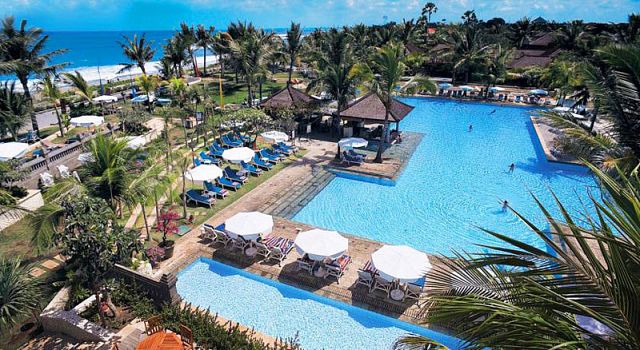 If Padma Resort is not within your budget, don't worry - the restaurants, beach club, and pool are open to the public. There, you can relax away from the heat and bustle of the beach.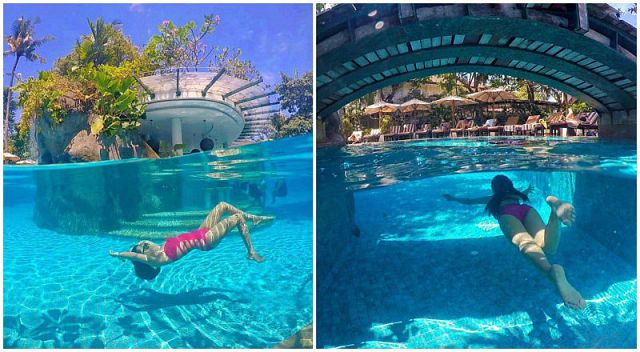 If Padma Resort is not within your budget, don't worry - the restaurants, beach club, and pool are open to the public. There, you can relax away from the heat and bustle of the beach.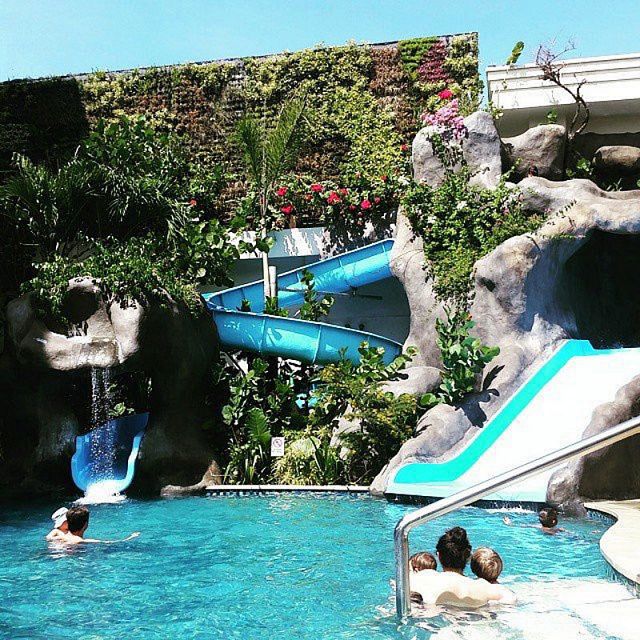 You can get a free towel if you make a purchase of Rp250,000 in the bar or restaurant. The rental of a beach lounge with an ocean view costs Rp500,000. The Barong Pool Bar & Cafe offers very tasty food and snacks.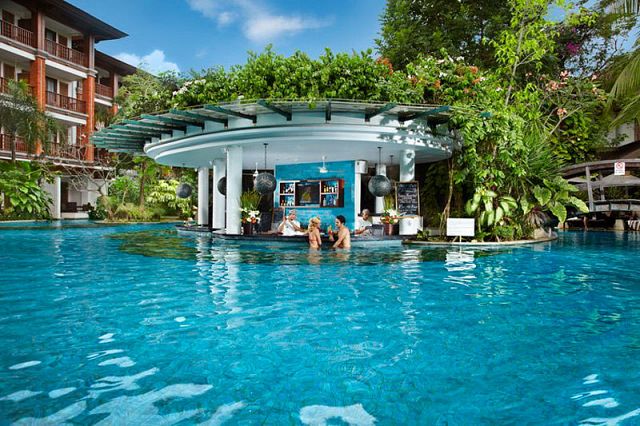 The Asian restaurant DONBIU offers a rich selection of dishes, the Italian restaurant La Dolce Vita serves Mediterranean cuisine, and Tenkai is a Japanese restaurant for those who love sushi. For dessert lovers, there's The Deli!  
Tip: We recommend booking in advance.
Prices:
Access to the pool and complimentary towel - 250,000 Indonesian Rupiah per person.
Pool, towel, and beachfront lounge chair - 500,000 Indonesian Rupiah.
Address: Jalan Padma No. 1, Legian, Kuta, Badung
Phone: +62 361 752111
Karma Kandara Resort and the picturesque Karma Beach.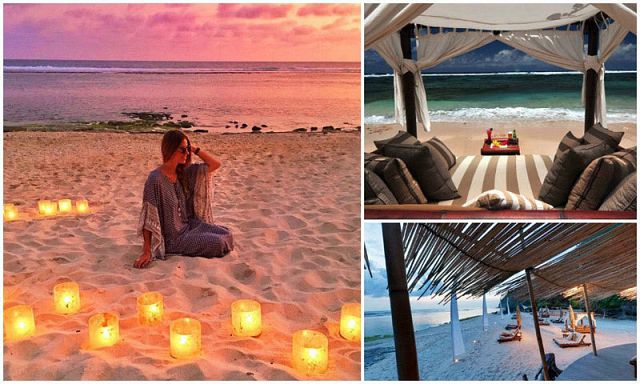 While the day pass may not grant you access to the main pool, the special beach is definitely worth your attention. Karma Kandara is situated on the southern coast of Bali, also known as the billionaire's paradise.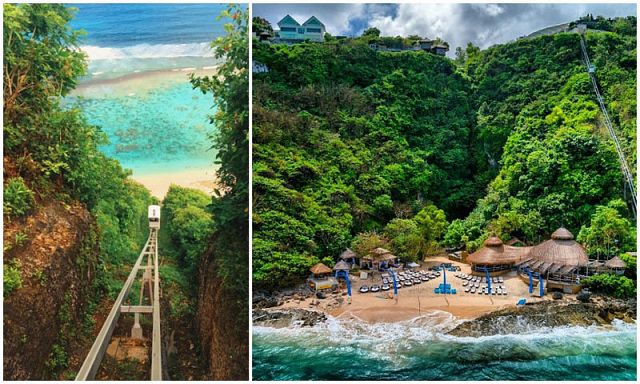 The picturesque and exclusive Karma Beach with its white sand is perfect for a relaxed getaway, fully serviced by the resort staff. Ambitious guests opt for luxurious private pool villas. However, for the rest of the visitors, there are breathtaking expanses of the Indian Ocean. You can reach the beach via a cable car! At Karma Beach, you can make use of loungers and towels.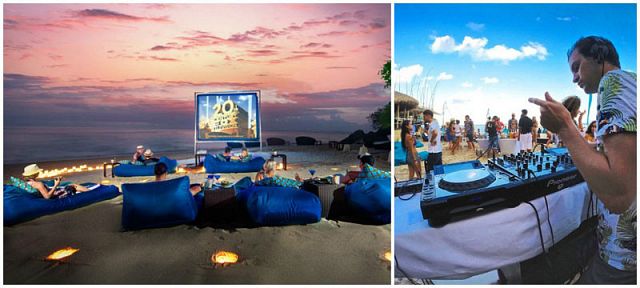 The DJs will set the perfect mood for your relaxation. You can use kayaks and snorkeling equipment (for an additional fee). You can also use your day pass at the restaurant. Moreover, regular movie screenings take place on the secluded beach. Just imagine comfortably sitting and watching a movie on the beach.
PS: Visit one of the most unique bars in Bali, right here at Karma Kandara. The Temple Lounge & Bar is located on the rooftop of the La Mare restaurant, which is perched on the cliff!
Prices: Weekdays - 350,000 Indonesian Rupiah. Weekend price - 500,000 Indonesian Rupiah. This includes: a 250,000 Indonesian Rupiah food and beverage credit on weekdays and 350,000 Indonesian Rupiah on weekends.
Address: Jl. Karma Kandara, Banjar Wijaya Kusuma, Ungasan, Kuta Selatan, Kabupaten Badung
T: +62 361 8482202