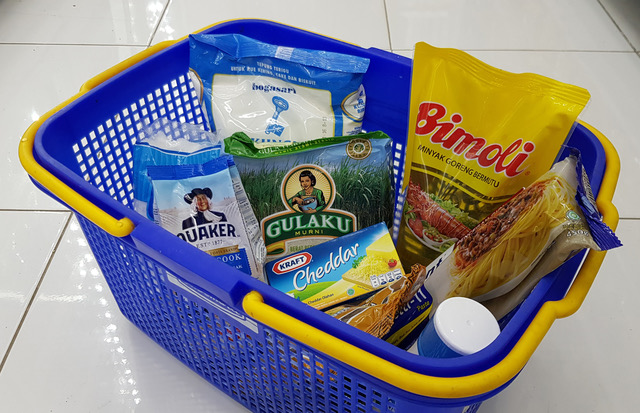 For those who are planning to come and live in Bali for a few months estimate their budget and try to understand how much money they should allocate for monthly expenses.
It's pointless to ask in chats and groups, "Hey guys, how much do I need per month to live comfortably in Bali?" "Living comfortably" is a very relative concept. Do you know how much you need in Europe to live comfortably? What about your neighbor? Your former school friend? Your distant relatives? Your subordinates or your superiors?
Everyone has different preferences when it comes to the comfort of life, the range of essential entertainment, and favorite food.
Nevertheless, there are some basic products whose prices can serve as a reference point to understand whether it will be expensive or affordable for you in Bali. That's why we want to introduce you to the "Indomaret basket."
Why Indomaret? It is the most popular and widespread minimart in Indonesia, similar to 7-Eleven in Thailand. It always offers fairly low prices for basic products, and it can be found almost everywhere. You can buy non-perishable items, beverages, household chemicals, and simple medications there.
The downsides are that most Indomaret stores do not sell fresh fruits or vegetables. There is no fresh meat or fish. However, by tracking the prices of main products, you can see if prices are rising throughout Indonesia in general. The plus side is that there are almost no imported or high-quality products, as the assortment consists of what the average Indonesian buys daily. It's just the basics.
You can't make a minimum consumer basket out of these products. This is because such minimarkets do not sell fresh meat, vegetables, and fruits. Therefore, choose for yourself what you would put in your basket from this set.
We tried not to include products with short-term discounts to try to reflect more long-term prices. We chose brands that are either familiar in Europe or more popular in Indonesia. It's not a fact that the quality of these products will be suitable for you or familiar.
Bag of rice "Beras Ramos" - 5 kg - 62,500 rupiah (4.46 USD) Wheat flour "Kunci Biru" for pies - 1 kg - 10,600 rupiah (0.76 USD) Quick-cooking oatmeal "Quaker" - 200g - 12,900 rupiah (0.92 USD) Pasta Fettuccine 30/Spaghetti 10 "La Fonte" - 225g - 8,500 rupiah (0.61 USD)
White sliced bread "Sari Roti - Tawar" - 370g - 12,000 rupiah (0.86 USD) Wheat white sliced bread "Sari Roti - Gandum" - 350g - 18,000 rupiah (1.28 USD)
Sugar "Gulaku Murni" - 1 kg - 12,500 rupiah (0.89 USD) Iodized salt "Indomaret" - 500g - 4,900 rupiah (0.35 USD)
Tomato sauce "Indofood" - 275 ml - 8,900 rupiah (0.63 USD) Spicy tomato sauce "Indofood Sambal Pedas" - 275 ml - 10,900 rupiah (0.78 USD) Mayonnaise "Mama Suka" - 300g - 28,900 rupiah (2.06 USD)
Vegetable oil for frying "Bimoli" - 1 liter - 13,200 rupiah (0.94 USD) Margarine "Blue Band Cake & Cookie" - 200g - 8,300 rupiah (0.59 USD)
Full-fat milk Ultramilk - 1 liter - 18,500 rupiah (1.32 USD) Skimmed milk Ultramilk - 1 liter - 19,800 rupiah (1.42 USD) Drinkable yogurt "Cimory" 250 ml - 8,500 rupiah (0.61 USD) Thick yogurt "Biokul" - 80 ml - 8,700 rupiah (0.62 USD)
Condensed milk "Indomilk" - 370 ml - 9,400 rupiah (0.67 USD) Processed Cheddar cheese "Kraft" - 185g - 22,300 rupiah (1.59 USD)
Tea bags "Sari Murni - Teh Asli" - 25 bags - 5,600 rupiah (0.40 USD) 3-in-1 coffee packets "ABC" - 10 packets - 9,500 rupiah (0.68 USD) Arabica coffee powder "Excelso Arabica Coffee" 100g - 26,700 rupiah (1.90 USD)
Eggs - 10 pieces - 18,000 rupiah (1.28 USD)
Oreo Original cookies - 137g - 8,100 rupiah (0.58 USD) Alpenliebe caramel - 125g - 7,900 rupiah (0.56 USD) Cadbury chocolate - 85g - 15,200 rupiah (1.08 USD) Snickers - 51g - 9,900 rupiah (0.71 USD)
Pantene shampoo - 135ml - 24,500 rupiah (1.75 USD) Pantene conditioner - 135ml - 24,500 rupiah (1.75 USD) Lux soap - 110g - 4,800 rupiah (0.34 USD) Pepsodent toothpaste - 190g - 11,700 rupiah (0.83 USD) Pepsodent soft toothbrush - 14,000 rupiah (1 USD) Indomaret toilet paper - 2 rolls - 9,500 rupiah (0.68 USD) Banana Boat Sport Lotion Spf 50 sunscreen - 90ml - 167,900 rupiah (11.94 USD)
Rinso Anti Noda - Rose Fresh / Royal Gold laundry detergent - 770g - 19,900 rupiah (1.42 USD)
Red Bull energy drink - 250ml - 19,900 rupiah (1.42 USD) Bintang Zero non-alcoholic beer - 330ml can - 8,500 rupiah (0.61 USD) Coca-Cola Soft Drink - 390ml - 4,500 rupiah (0.32 USD)
Aqua drinking water - 1.5L - 5,200 rupiah (0.37 USD) Refill for a 19-liter water gallon - 19,300 rupiah (1.38 USD)
Marlboro/Marlboro light cigarettes - 26,500 rupiah (1.89 USD)