"On Bali, it's cheaper to eat in cafes than to cook at home." Do experienced Bali residents agree with this statement?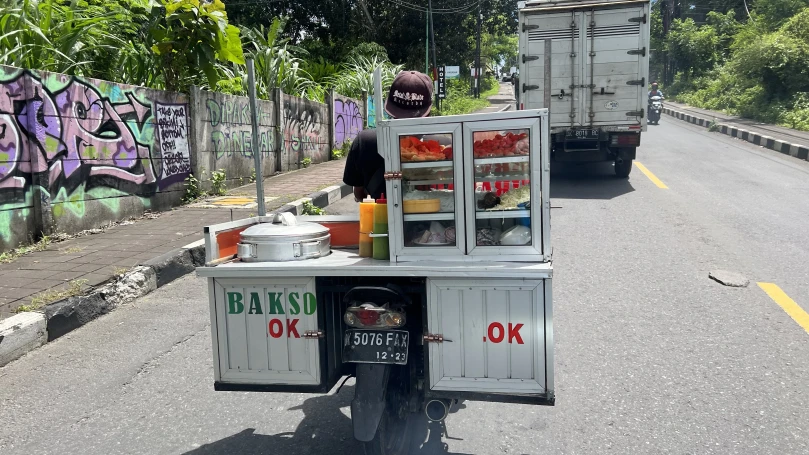 Of course, if you're used to having breakfast in trendy cafes in Canggu or dining in Seminyak's sunset-view restaurants, saving money on dining out might not be feasible. But if you can live without avocado toast, aren't afraid of (sometimes unsuccessful) culinary experiments, and have a limited food budget, keep reading our overview of Balinese street food.
Caution: it's addictive (and may cause gastritis)!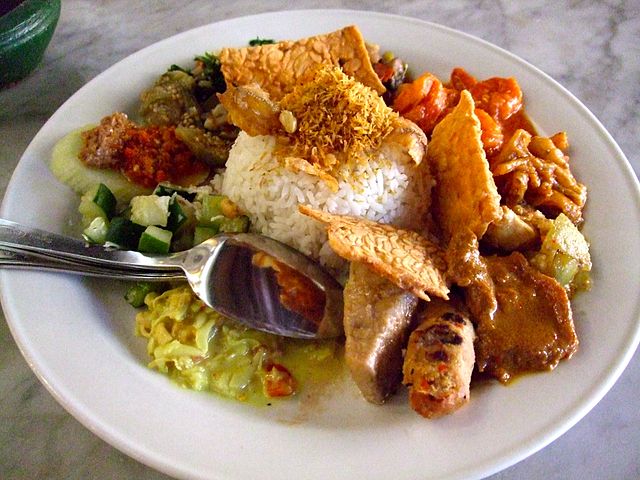 Indonesian cuisine: dishes to try in Bali! - Bali.live Indonesian cuisine: dishes you must try in Bali! Let's start with the fact that Indonesia is an Asian country. And, like in all of Asia, a lot of spices are used in the cooking process in Bali. bali.live
Nasi Campur (Mixed Rice)
Price: from 10,000 rupiahs per portion
Lunch, dinner
Spiciness level: self-adjustable with sauces.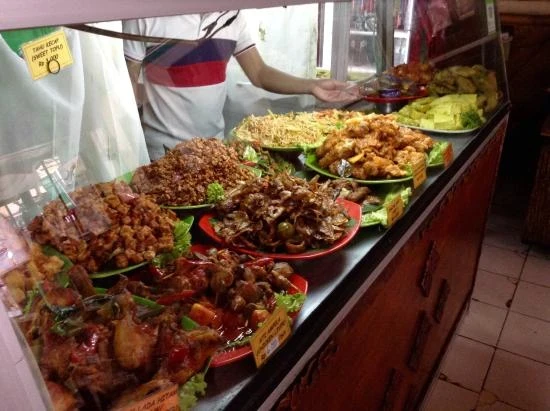 Essentially, it's Bali's version of a buffet (campur translates to "mix" in Bahasa). The base is rice (some places offer white, red, and even yellow rice). You choose the fillings, which can include vegetables (fresh, stewed, in various sauces, with glass noodles), boiled and fried eggs, tofu and tempeh, potato croquettes, and various nuggets. Usually, there are several types of chicken, and sometimes beef. In more touristy NasI Campurs, you might find fish, shrimp, and even squid rings in sweet and sour sauce, but the price won't be super "local". The most budget-friendly Nasi Campur can be found somewhere off the tourist routes – rice plus 3-4 fillings for 15-20k.
In general, how the cost of this dish is calculated remains a great mystery. Sometimes, the same set can cost differently in the same place...
One more piece of advice applicable to all street food spots: observe where the locals buy food. If there's a line or many people in the place, it's a safe bet.
Masakan Padang or simply Padang
(Masakan Padang)
Price: from 15,000 per portion (rice + 2 fillings with meat/fish)
Lunch, dinner
Spiciness level: only the rice is not spicy. You can add green and red chili sauce.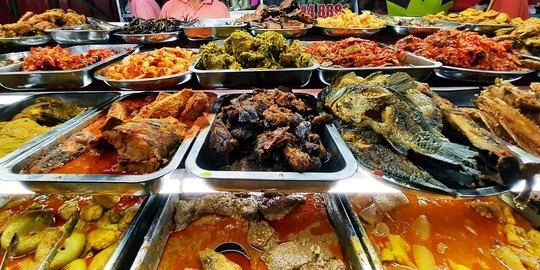 In terms of essence, Padang is very similar to Nasi Campur. It involves the same rice and a variety of fillings to choose from. It's a traditional street food of Sumatra. There's plenty of meat options here (mostly beef, but chicken is also available), fish, omelet, and vegetables—all in spicy sauces. You can assemble it to be not very spicy, but completely avoiding "spicy" is not possible, as some additions come pre-prepared with chili.
Usually, complimentary cold tea is offered with the meal. Since Sumatra is a Muslim island, Masakan Padang is prepared halal. Don't expect pork here.
It's well-suited for a main meal; having Padang for breakfast is not everyone's preference.
Babi Guling
Price: from 20,000 IDR
Spiciness level: can be requested non-spicy, or adjusted with sauce.
Lunch, dinner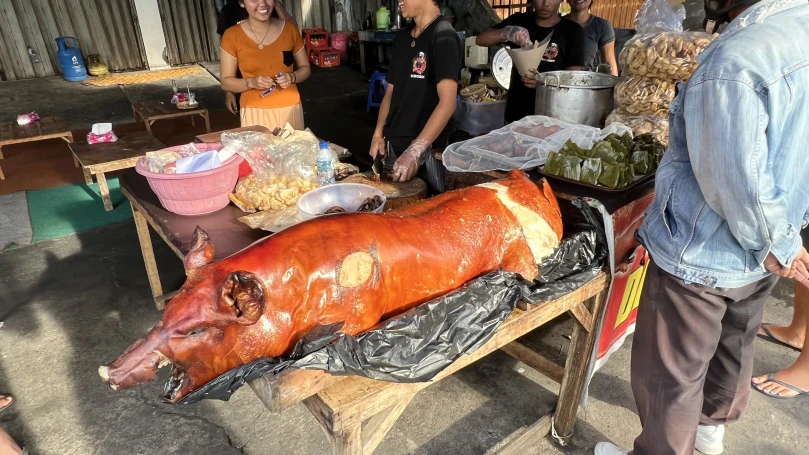 Babi Guling is perhaps the most popular Balinese dish—a roasted suckling pig seasoned with various spices. The pig is roasted on a spit, and then it's cut, the crispy skin is removed separately, the meat is sliced, cracklings are made, and blood sausage is prepared from the innards. All of this is served with white boiled rice and broth.
The prepared animal is cut into small pieces. It has a tender, slightly spicy taste, absolutely lean meat, and no specific pork smell. The correct way to eat Babi Guling is to mix rice with pig and wash it down with the broth.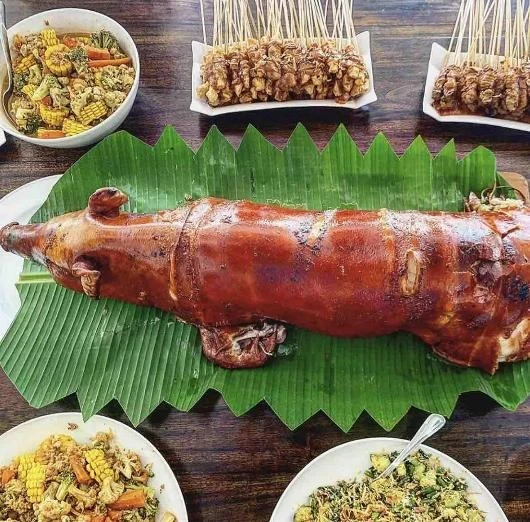 Depending on the chosen dish, you'll get different parts of the pig + broth and rice. Classic options include:
- Babi Guling Pisah (plate with different pig pieces, rice, and pork broth) - 30-40k,
- Babi Guling Campur (same as above, but not all pig pieces) - 20-30k,
- Daging Babi (large portion of pig, rice not included) - 60k,
- Sate Babi (pork skewer, 10 sticks, rice not included) - 30-50k,
- Various types of pork sausage - from 20,000 IDR.
Bakso Ayam
Price: from 5,000 IDR
Spiciness level: not spicy
Breakfast, lunch, dinner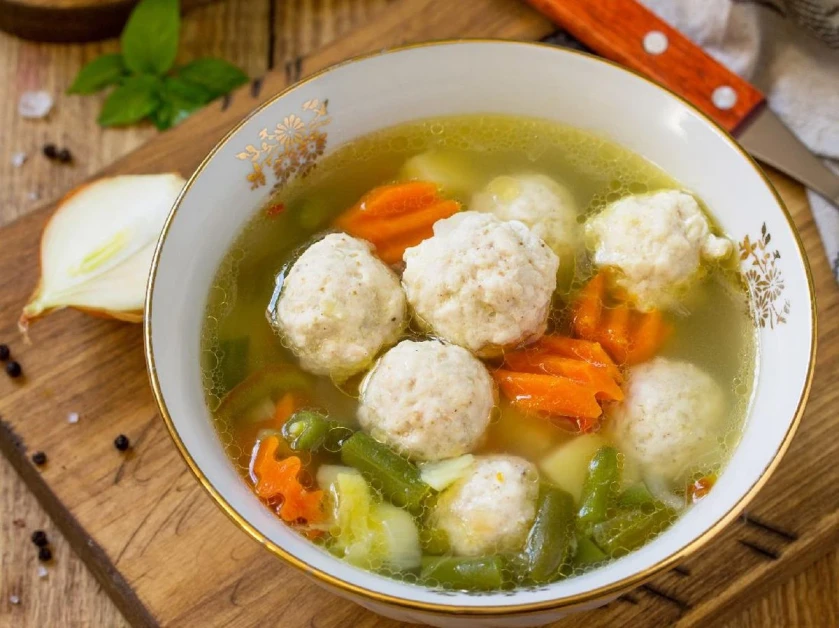 Bakso is a popular Indonesian dish, representing special type meatballs that can be made from almost any kind of meat, fish, or seafood. They are usually served in broth or soup, often with noodles or vegetables, sometimes fried. Bakso Ayam is the chicken variety of these meatballs. The simplest version in broth is one of the cheapest street foods. In remote areas, you might find it for as low as 5,000 IDR, though the quality of the meatballs can vary.
In Indonesia, you can encounter dozens of variations of Bakso Ayam. Sometimes it's served with broth and fried onions. Sometimes they may just put the meatballs in a bag and provide a couple of sauces. In particularly advanced mobile stalls, you might be offered several different types of Bakso Ayam: fried, baked, or deep-fried.
Ayam Geprek + Nasi
Price: from 4,000 rupiahs/portion (saw this price only once on the way to Amed, usually around 6,000-10,000)
Spiciness level: initially not spicy, a packet of red chili is given with each portion.
Lunch, dinner, snack.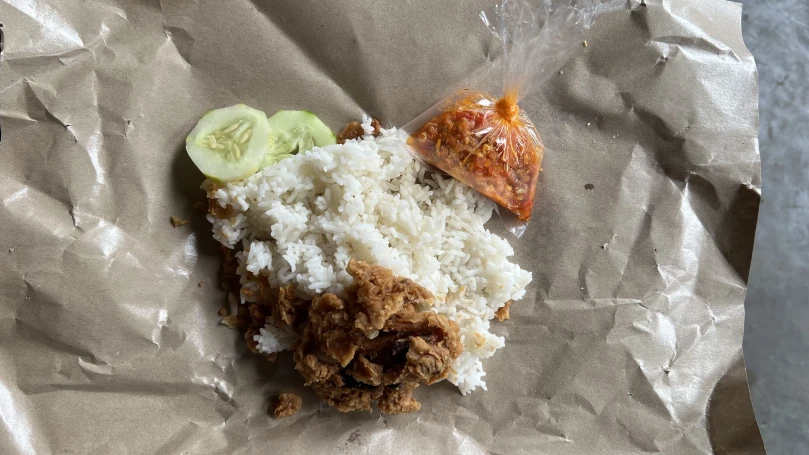 Everything is clear here. It's basic food, and you can buy it even in the most remote areas. The rice, as always in Asia, is divine in 99% of cases, but don't expect culinary delights from the meat. It will be a maximally fried piece of thigh in oil. It's better not to dwell on how often the frying oil is changed; you might get heartburn before lunch with Ayam Geprek. It's usually served in a paper bag with a small piece of tomato and cucumber and chili sauce. Suitable for a snack: it'll satisfy hunger temporarily but won't suffice for a hearty lunch. Perhaps the cheapest street food in Bali.
Sate
Price: from 10,000/10 skewers
Spiciness level: adjustable with sauces provided separately
Lunch, dinner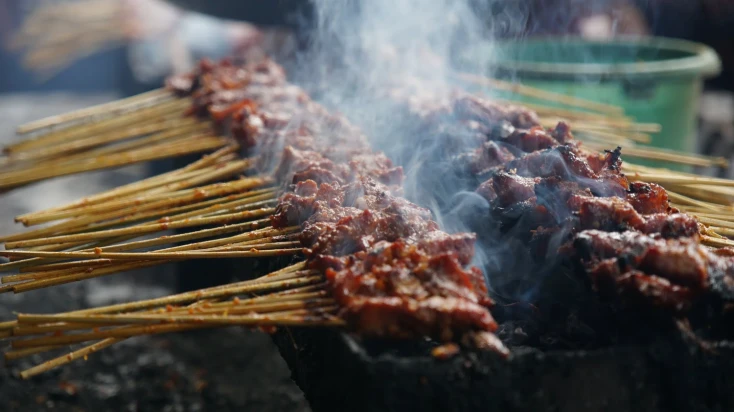 You've likely seen those small skewers being grilled. Or at least caught a whiff of their enticing aroma as you passed by. That's Sate. They come with all kinds of meat found on the island: chicken, pork, lamb, beef. It's definitely worth trying; it's very tasty. Prices vary. Lamb is the most expensive, around 50,000 for 5 skewers. Chicken and pork are cheaper, and you can find them for 10,000/10 skewers along the roadside. In warungs, they range from 20,000 to 40,000, depending on the meat. Rice is usually not included in the price.
Gorengan
Price: from 1,000 per piece
Spiciness level: not spicy
Breakfast, snack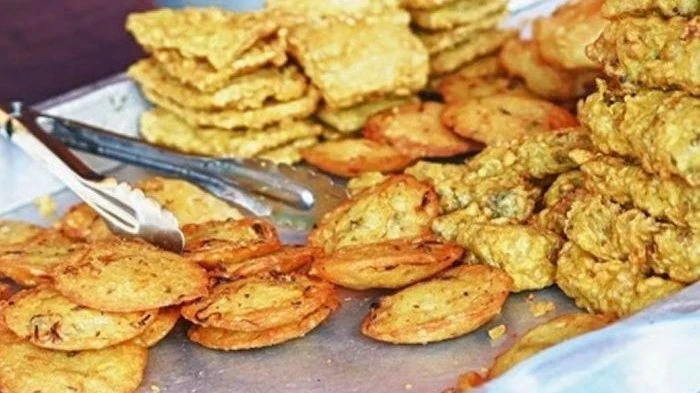 Gorengan literally translates to "fried food." In this case, it's fried in palm oil. It can be anything from banana with jackfruit to tofu with vegetable hash browns. Usually sold along roadsides. The cheapest is fried banana (pisang goreng). You can ask for sauce, but not all vendors have it. Be cautious; you might get hooked on gorengan. The main thing to remember: eating such food regularly is slow suicide. Occasionally as a cheat meal works!
Ayam Betutu
Price: from 30,000 for a whole chicken
Spiciness level: spicy, depending on the cooking recipe, sambal sauce might be not only on the outside but also inside.
Lunch, dinner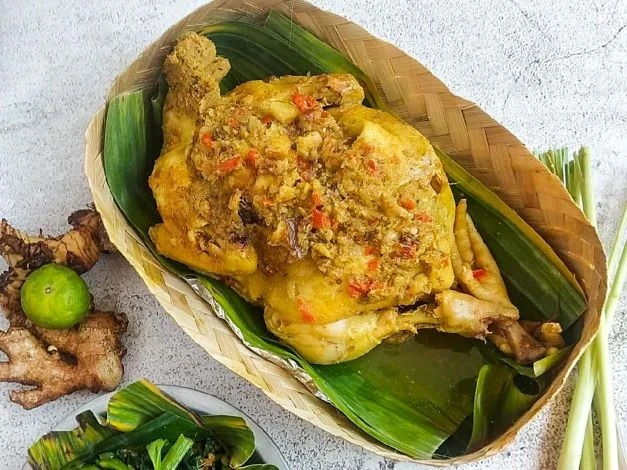 Betutu is a Balinese term denoting the use of a whole chicken marinated in rich aromatic spices and herbs, then steamed and/or grilled. In different regions of Bali, Betutu is prepared with slight variations. Some wrap it in banana leaves, some make it very spicy, and at times Betutu is stuffed with spices and vegetables like cassava leaves or cabbage. In essence, it resembles our familiar grilled chicken but with an abundance of spices. Ayam Betutu is a chicken dish, and Bebek Betutu is the version with duck. This traditional dish can be found on the menus of luxurious hotels or restaurants in Bali and in local markets. However, it's not as widespread as other items on our list. Suitable for sharing.
TahuTek
Price: from 13,000
Spiciness level: not spicy
Lunch, dinner, snack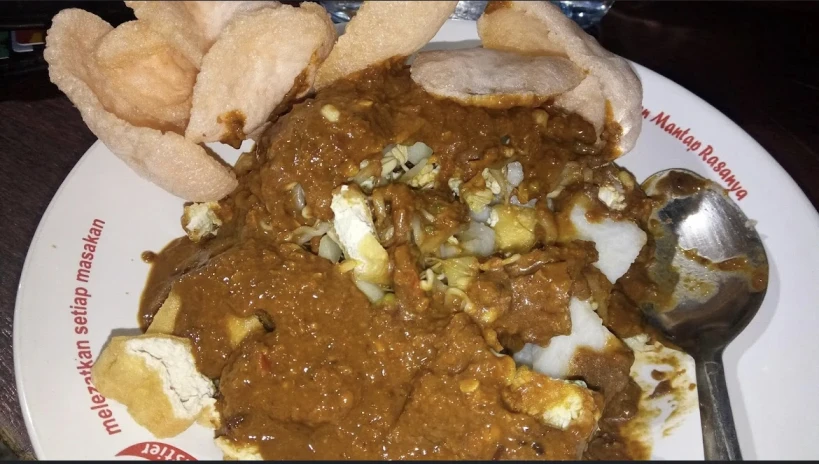 Not as popular as, for example, satay, but undeservedly so. The foundation of TahuTek is protein-rich tofu. It's fried and accompanied by leafy greens, vegetables, and sometimes soybean sprouts. Recipes may vary. TahuTek is somewhat similar to a salad. Perhaps one of the healthiest dishes in Balinese street food. It's typically dressed with peanut sauce. The sauce is made from chili, garlic, roasted peanuts, and water. It's served with shrimp chips. For those accustomed to full-fledged meat and side dishes, it might be insufficient. However, it's perfect for a light dinner or a snack, especially for women.
Es Campur
Price: from 7,000
Spiciness level: not spicy
Breakfast, dessert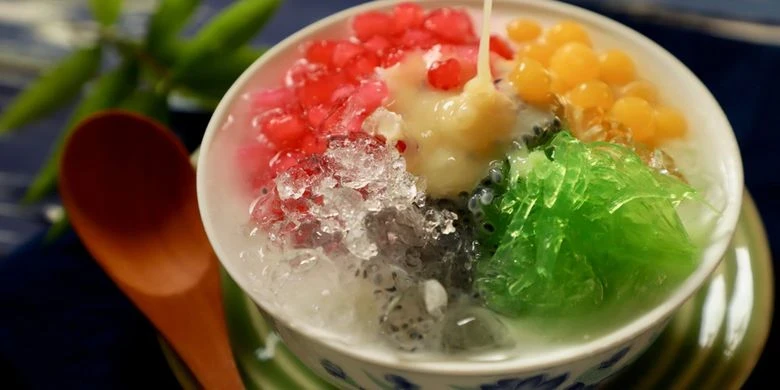 Literally translating to "mixed ice," Es Campur is one of the favorite treats of Balinese children. It consists of ice onto which you can add jelly, fruit pieces, condensed milk, and even grated cheese according to your preference. It turns into an incredibly sweet and colorful icy concoction. It can evoke both delight and repulsion. Trying it at least once is definitely worth it.
Laklak
Price: from 2,000/piece
Spiciness level: not spicy
Dessert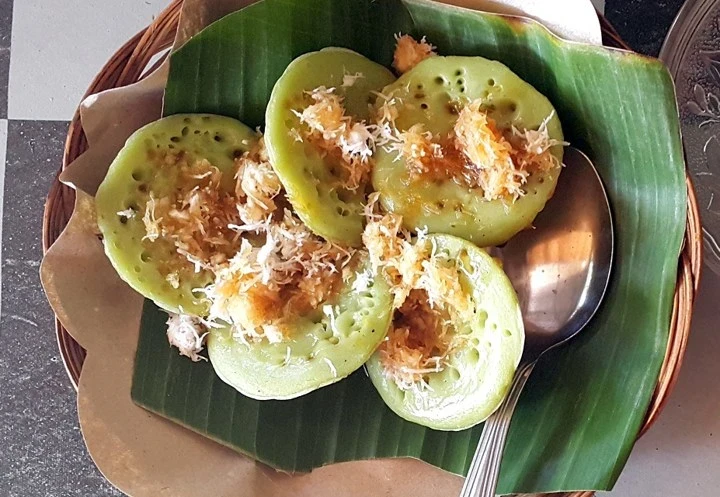 A traditional Balinese dessert made from coconut milk and rice flour. These small pancakes usually come in two colors (white and green), but, as is often the case in Bali, they taste exactly the same. These sweets are baked in a special griddle. Laklak is served with grated coconut and sugar syrup. Very delicious! Balinese people enjoy these green delicacies with tea. Don't overindulge; rice flour combined with palm sugar and condensed milk is not the most diet-friendly product.
Bubur Injin
Price: from 5,000
Spiciness level: not spicy
Dessert, snack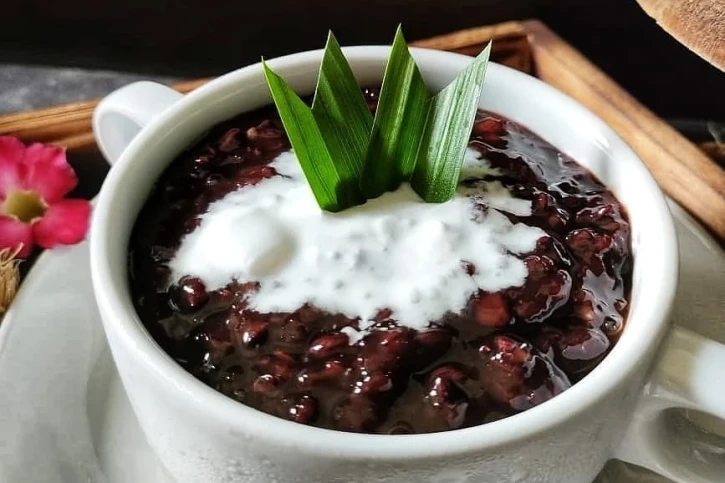 A pudding made from black rice. In appearance, it resembles black porridge with coconut cream. This dessert can be found both in roadside stalls and restaurants. For Balinese people, "bubur" is a snack, but after such a "snack," you can forget about hunger for a couple of days. In local families, preparing such a dessert is the privilege of grandmothers, presumably due to the abundance of free time. To cook such a dish, you need to simmer it in sugar for several hours, continuously stirring. If you love rice, be sure to give it a try.
Rujak
Price: from 5,000
Spiciness level: spicy, you can ask for no chili
Snack, dessert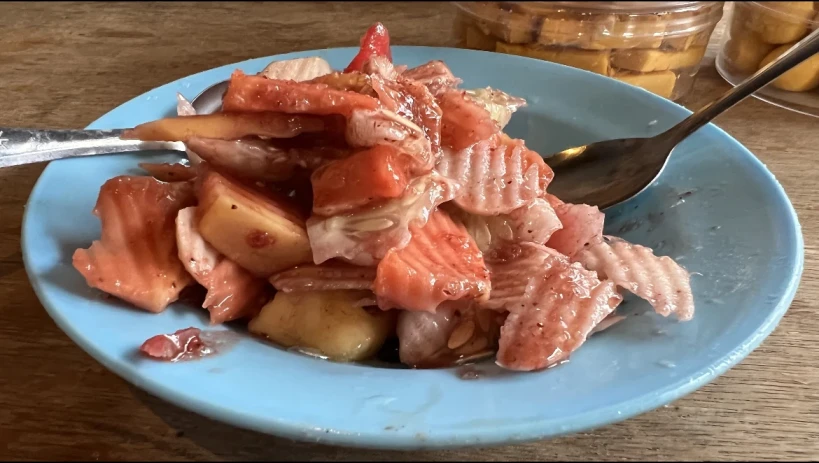 Rujak is essentially a salad made from fruits and vegetables, featuring various colorful fruits and vegetables mixed with a sweet and spicy sauce made from palm sugar and aromatic spices.
A classic Indonesian fruit rujak consists of pieces of various tropical fruits such as water apple, pineapple, green mango, and cucumber. Sometimes pomelo is added. The sweet and spicily hot dressing for rujak is made of water, palm sugar, tamarind, crushed peanuts, shrimp paste, salt, and chili pepper.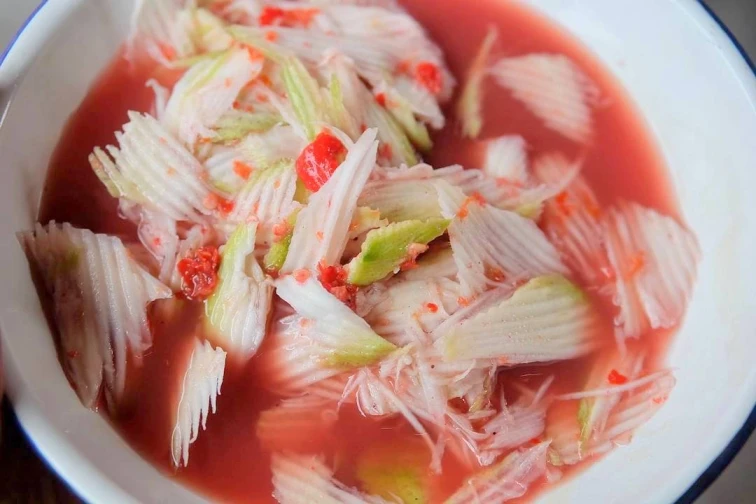 A thick, sweet-spicy rujak dressing is poured over the fruit pieces. Sambal garam powder (a simple mixture of salt and ground red chili pepper) is added as an alternative for those who prefer the salty taste of rujak.
Rujak is usually a vegetarian dish that does not contain animal products, except for the sweet and spicy dressing, which may include shrimp paste.