Playground near cafe Genius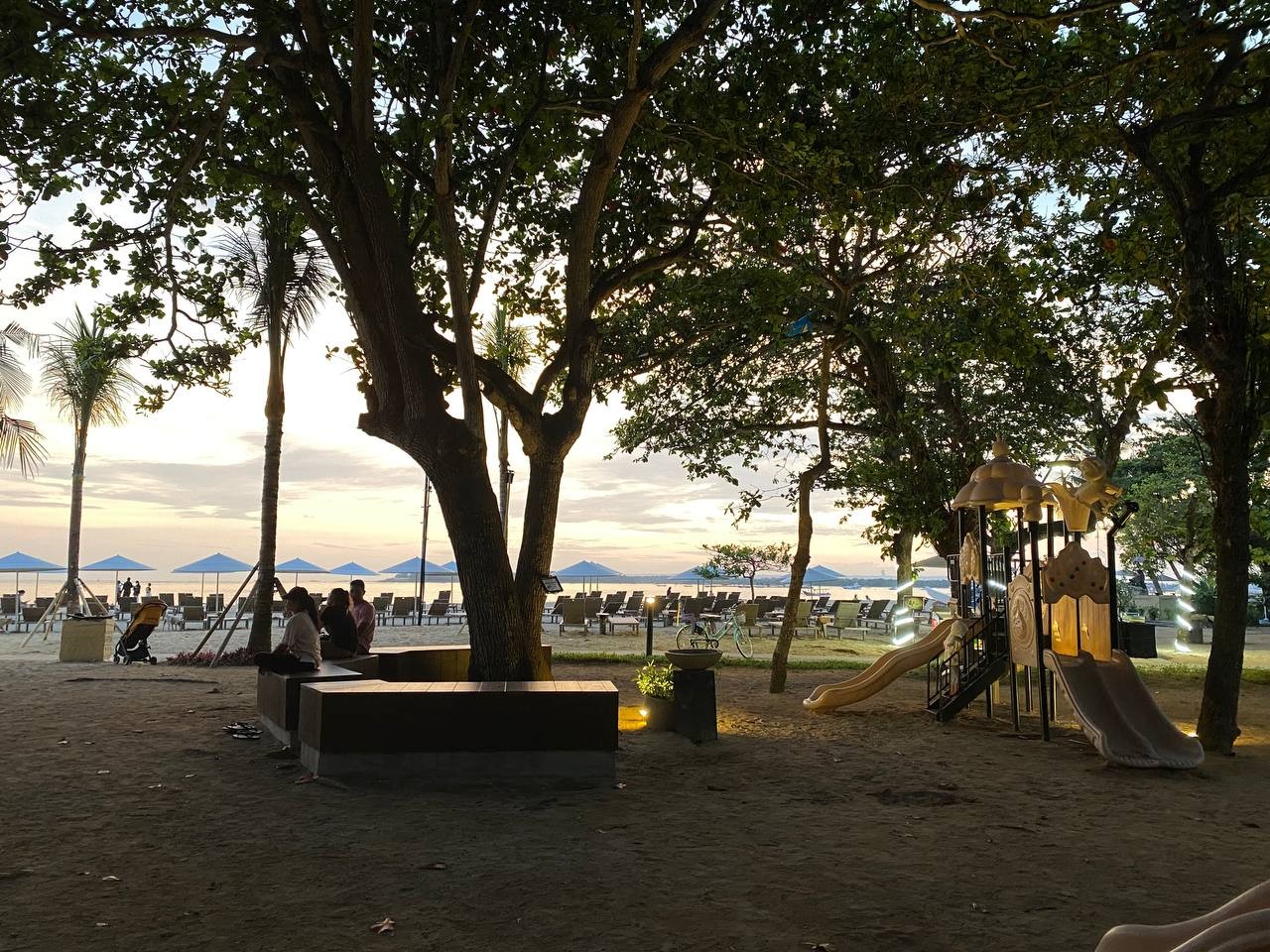 Opening hours: 24/7
This open playground for children is located near the ocean. It features various slides, swings, climbing structures, and monkey bars.
Adjacent to it, there are exercise equipment for adults. Several cafes are situated around the complex where you can take a break and have a snack.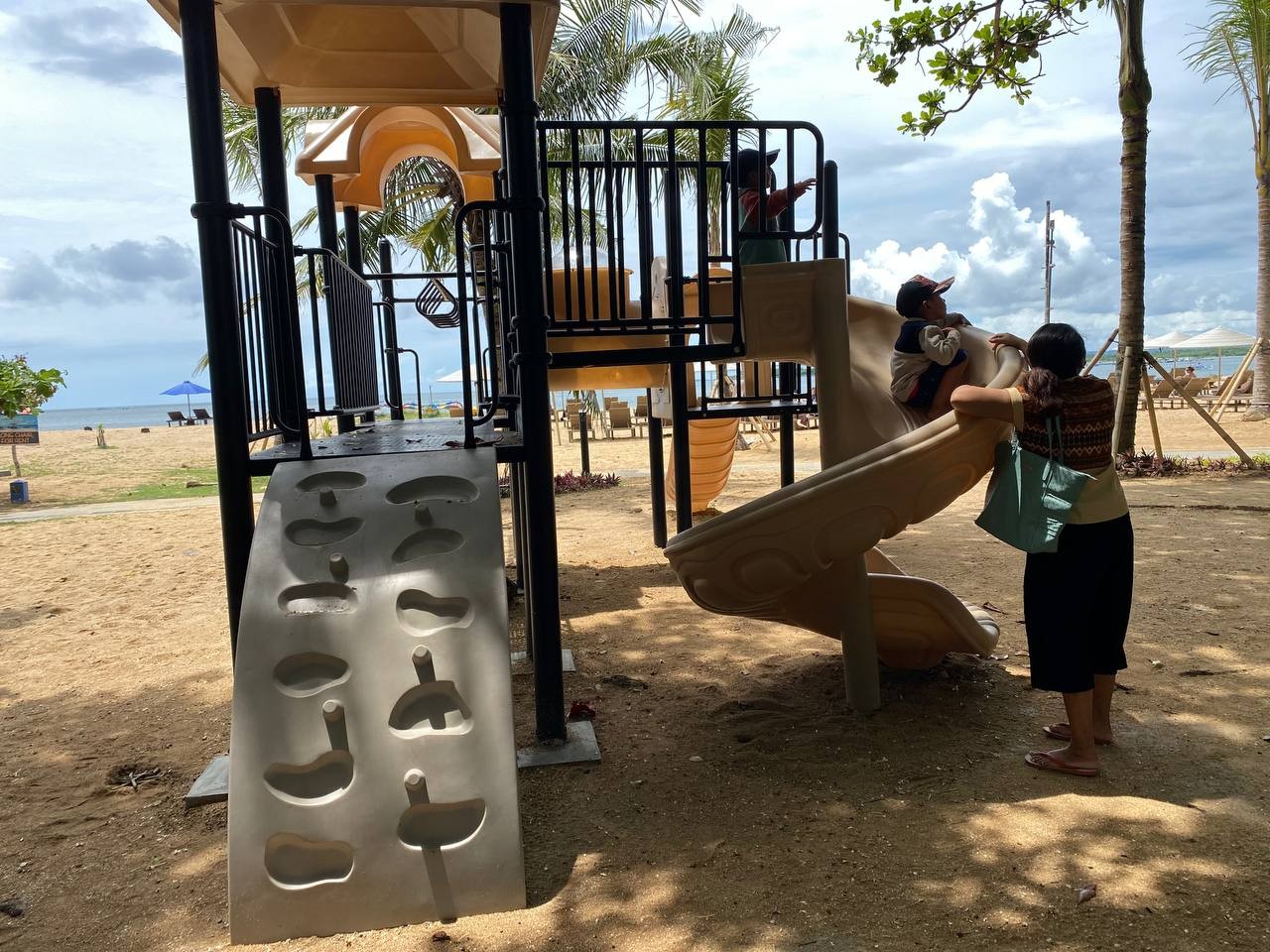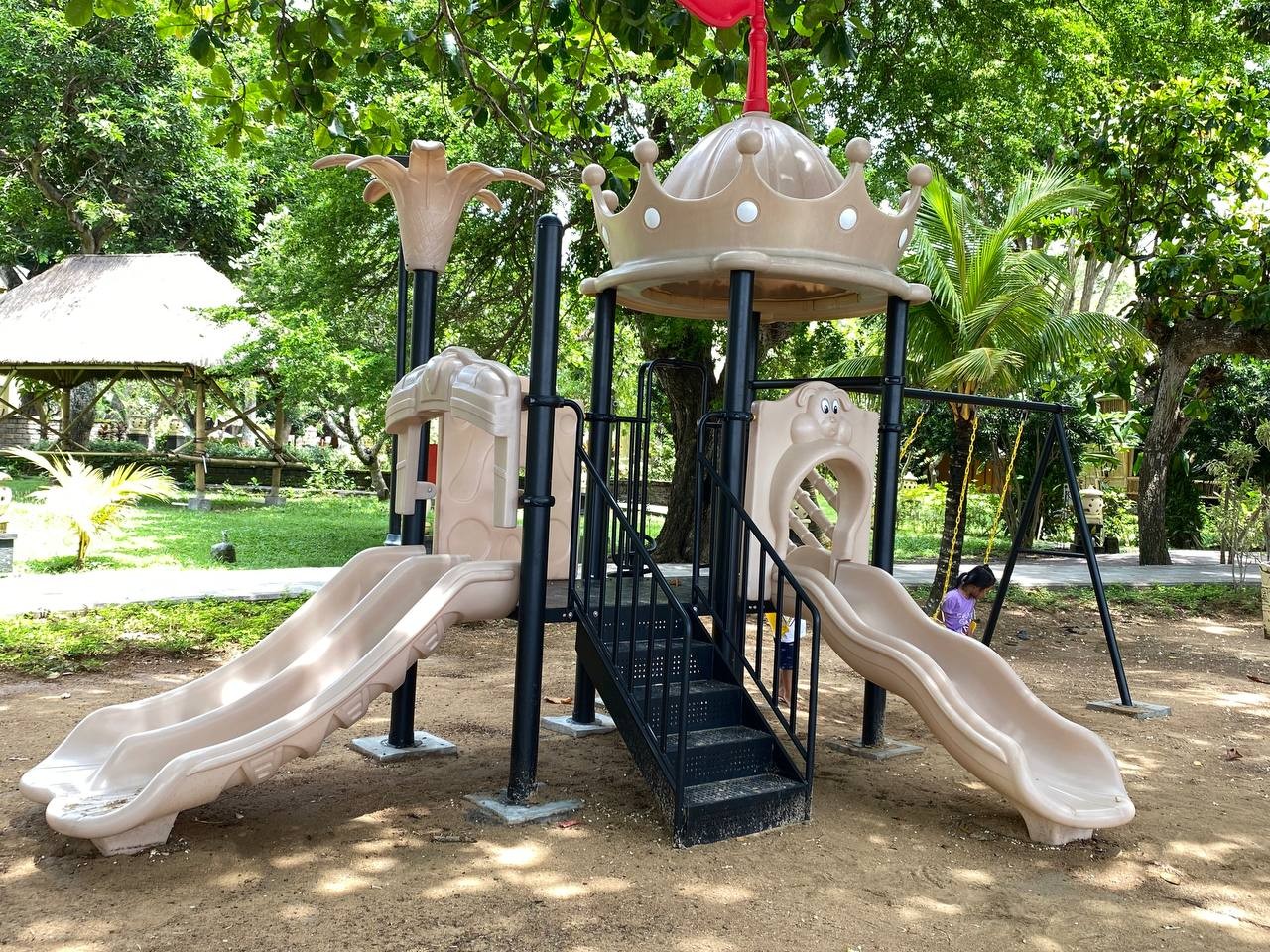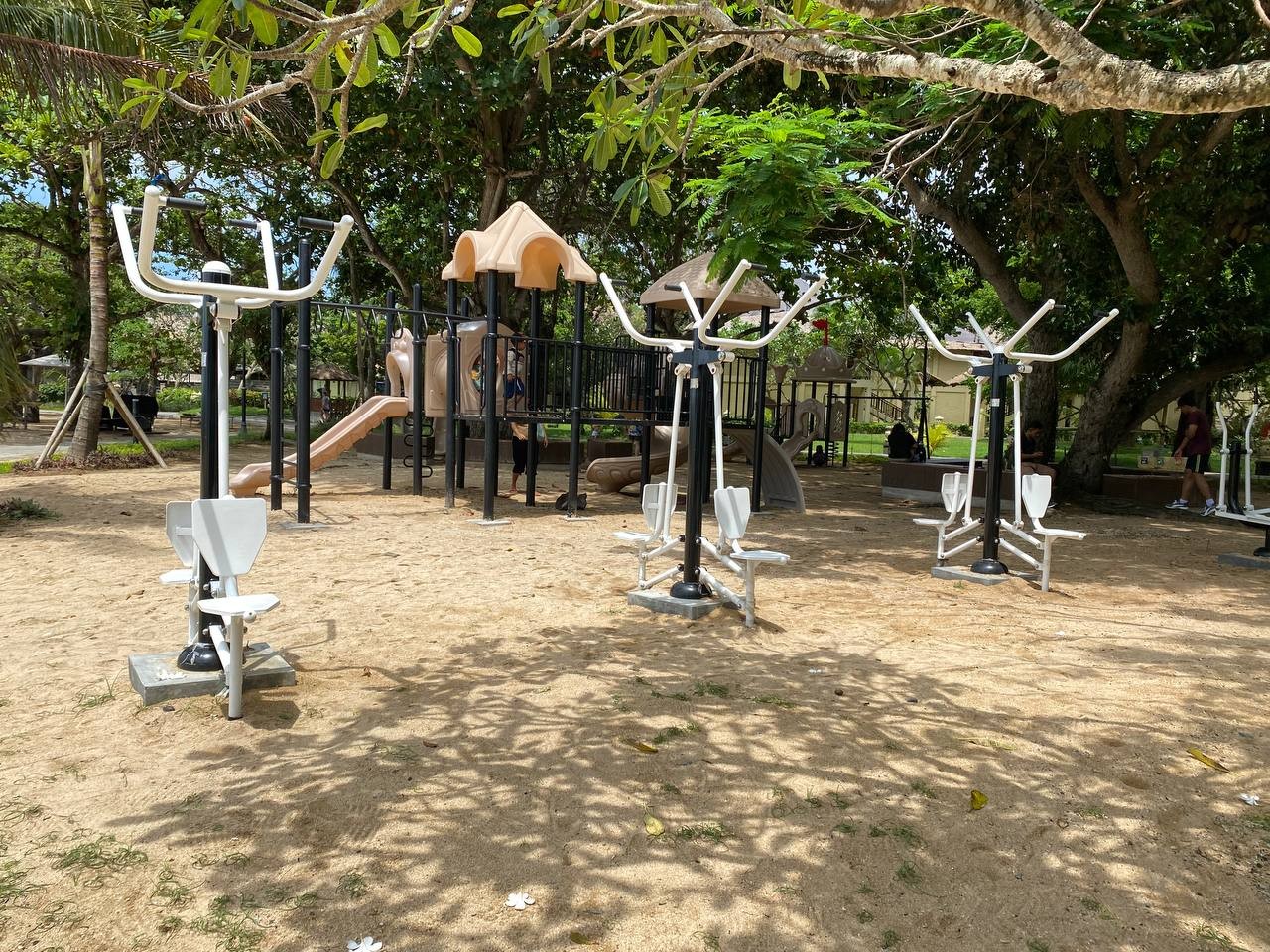 The nearest cafe offers a diverse menu with healthy drinks and food, including options for children. The restaurant's signature dish is vegetable curry with rice and greens. The menu was crafted by a renowned Australian chef using organic ingredients. This restaurant also functions as a co-working space. An annual membership costs $100 per year.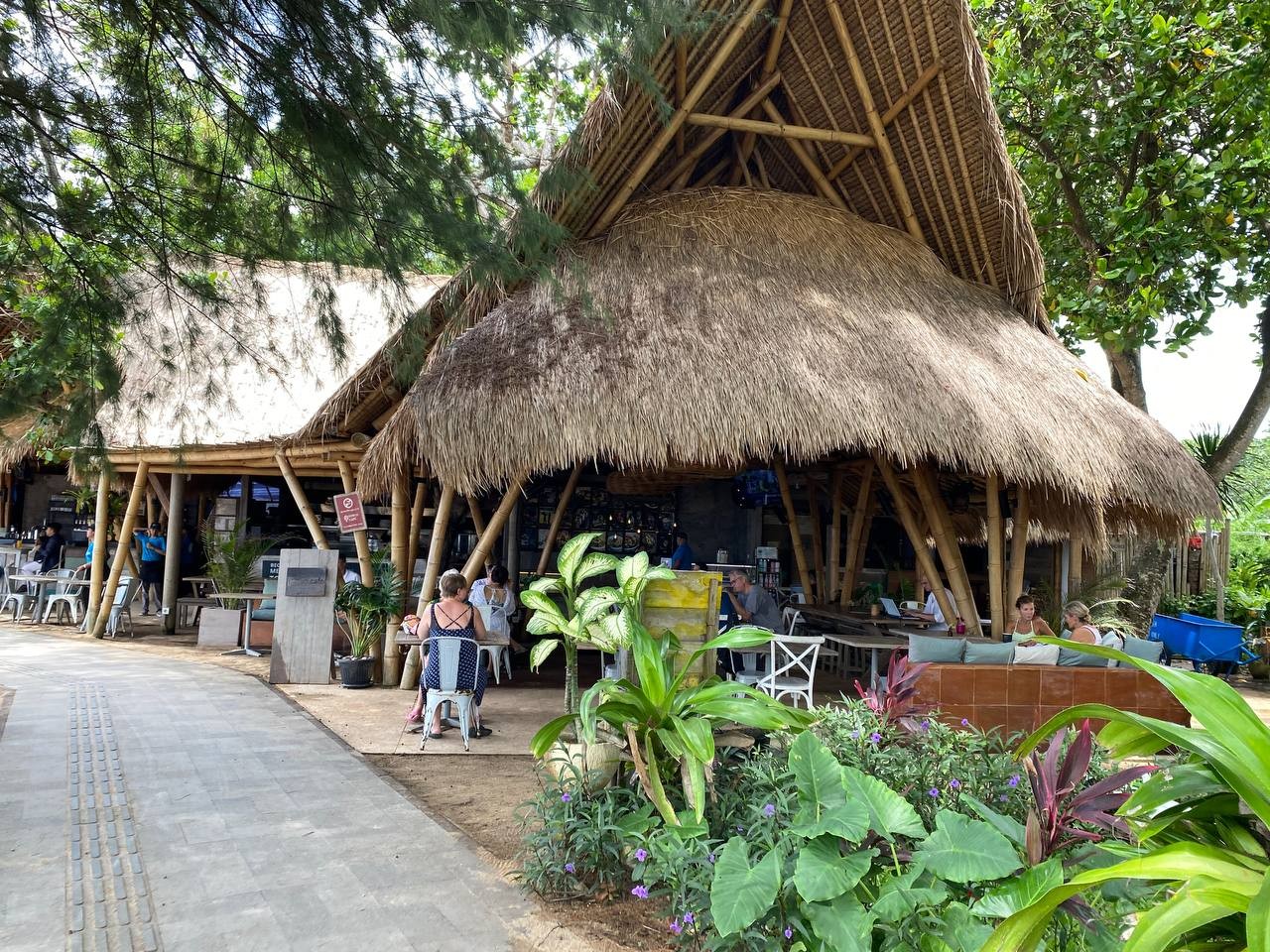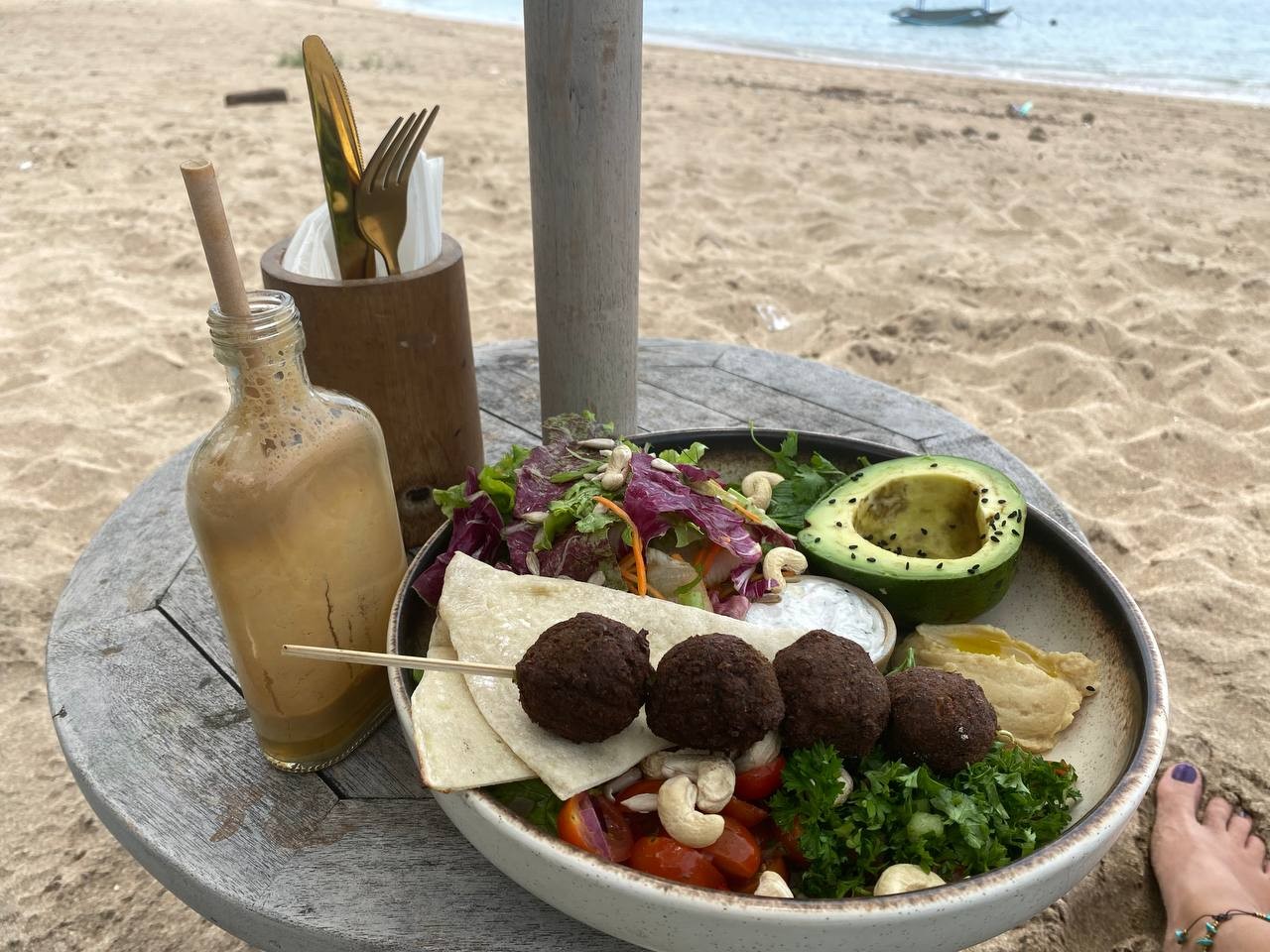 Every day, free events take place at the cafe, including movie screenings, entrepreneur lectures, live music, and salsa lessons. Every Sunday is a family day. From 10:00 to 12:00, there's a developmental club and games for children. Throughout the day, there are children's activities, and in the evening, movie or cartoon showings. Once a month, an educational program about ecology and environmental conservation is presented. A detailed list of events can be found on the cafe's
website.
In this part of Bali's eastern coast, some of the most beautiful sunsets can be witnessed, so it's recommended to book beachside tables at Genius cafe in advance.
Kids SoHo Playground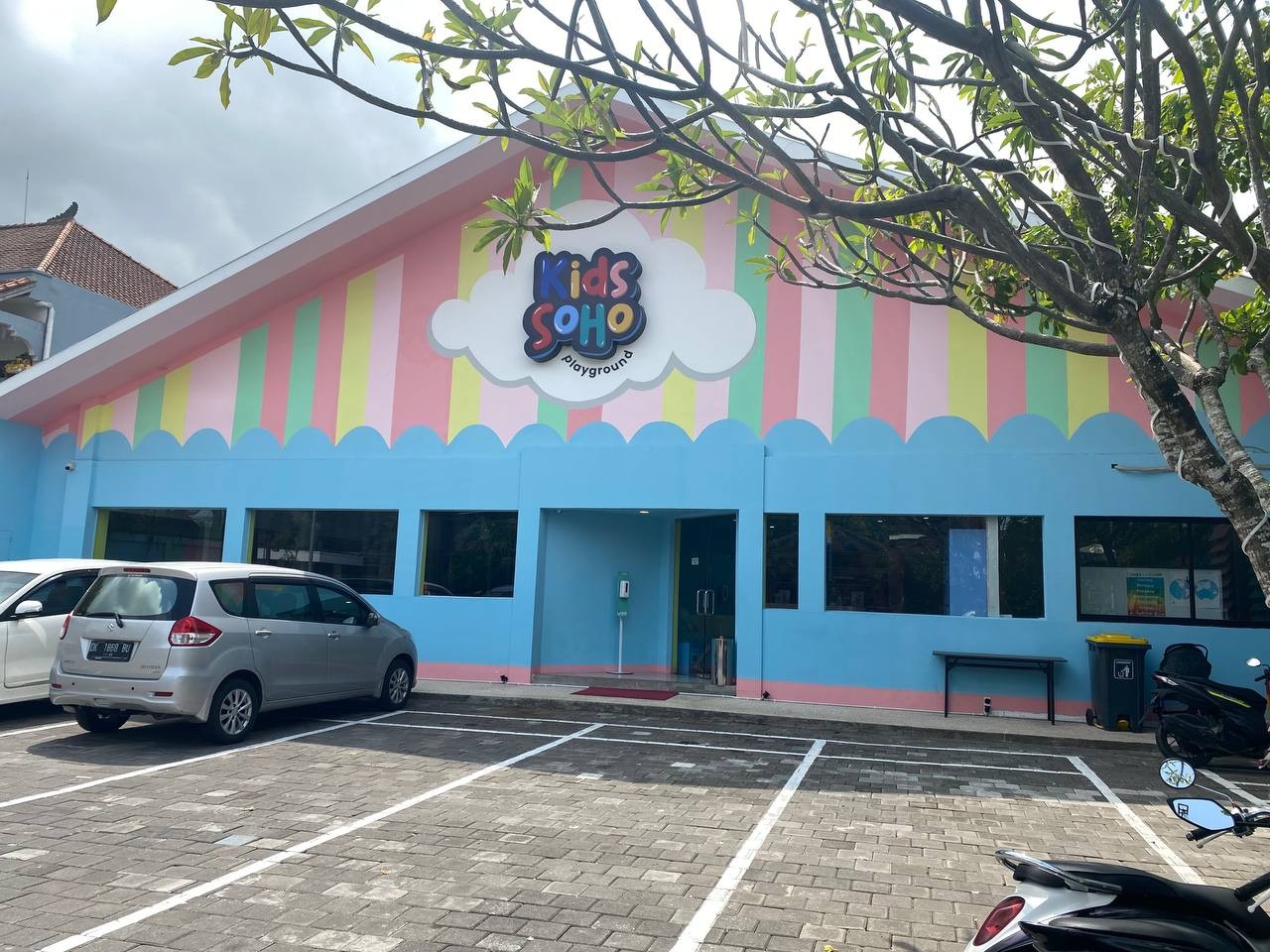 Opening hours: every day from 10:00 to 21:00
This modern indoor complex is suitable for children aged 2 to 8 years old. There is a large parking area near Kids SoHo Playground. Inside, there are soft slides with ball pits, cardboard houses resembling a hospital, kitchen, store, and police station, numerous toys, and large toy cars for children to operate.
The price for admission on weekdays for three hours of stay per child in the complex is 100,000 Indonesian Rupiah, and for unlimited stay, it's 150,000 Indonesian Rupiah. On weekends and holidays, the prices are 120,000 Indonesian Rupiah and 170,000 Indonesian Rupiah respectively. Club members of Kids SoHo Playground receive a 20,000 Indonesian Rupiah discount for each option.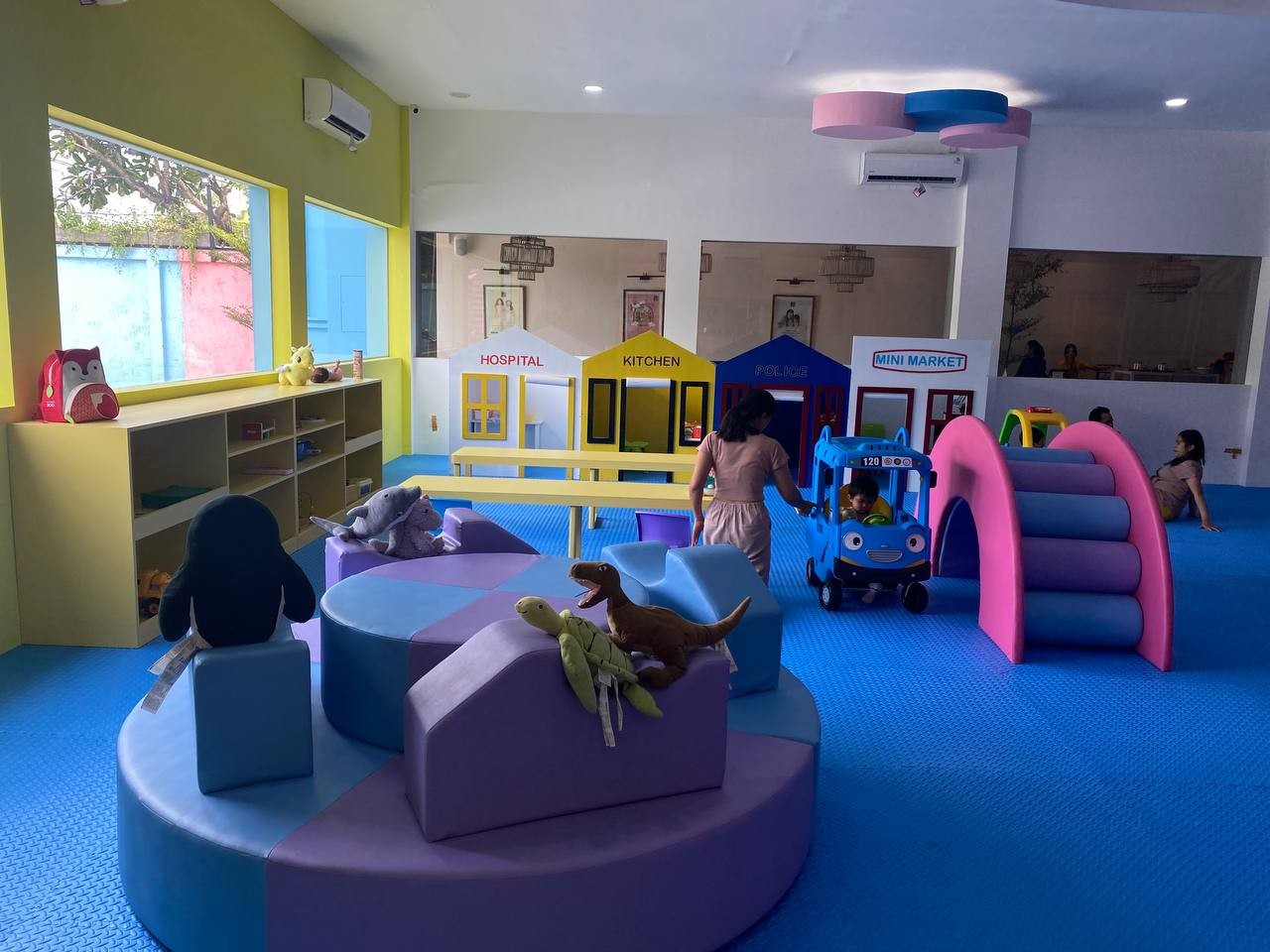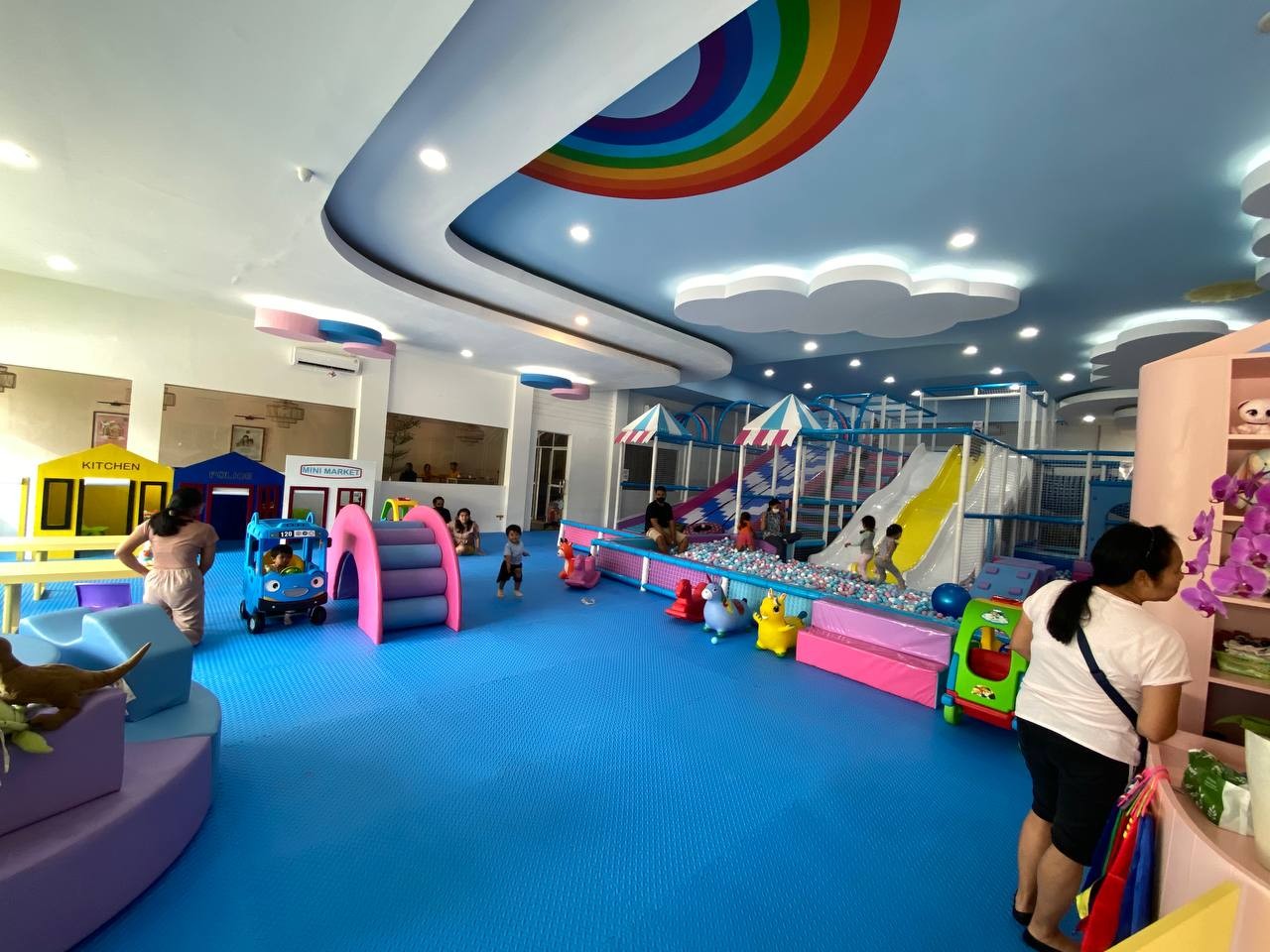 It's useful to have a map for those who want to engage their child in additional activities. Here, they offer a kids' modeling class, English language lessons, and a beauty class. You can find more details about the conditions and prices on their official Instagram page.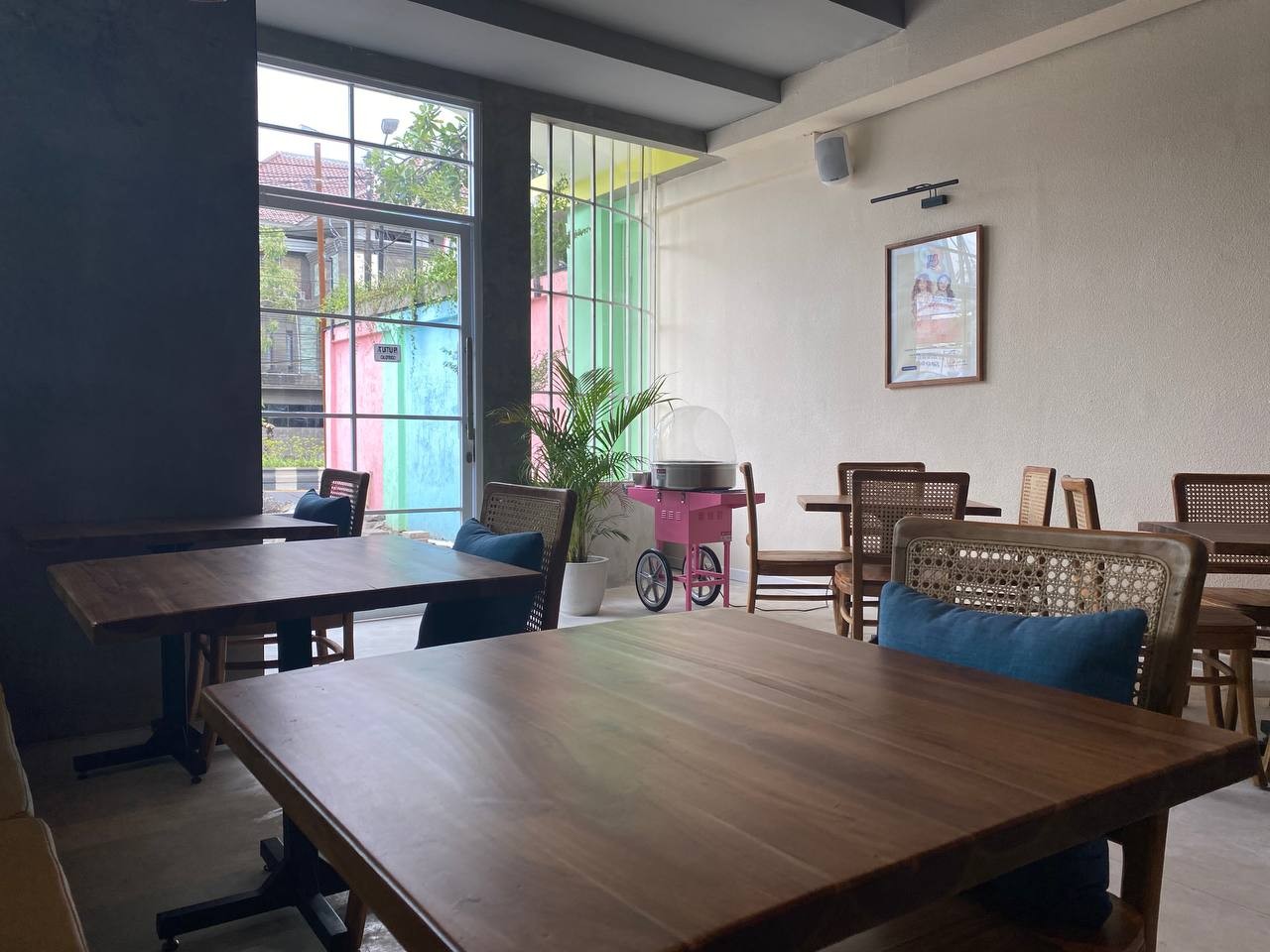 Very recently, they opened a cafe within the complex, where every parent can comfortably watch their child through transparent glass. There are power outlets near each table for smartphone charging. For children, they prepare popcorn and cotton candy. The menu offers a wide selection of healthy food and drinks for the whole family. The standard 16% service charge applies for the service at this cafe.
Bali United Playland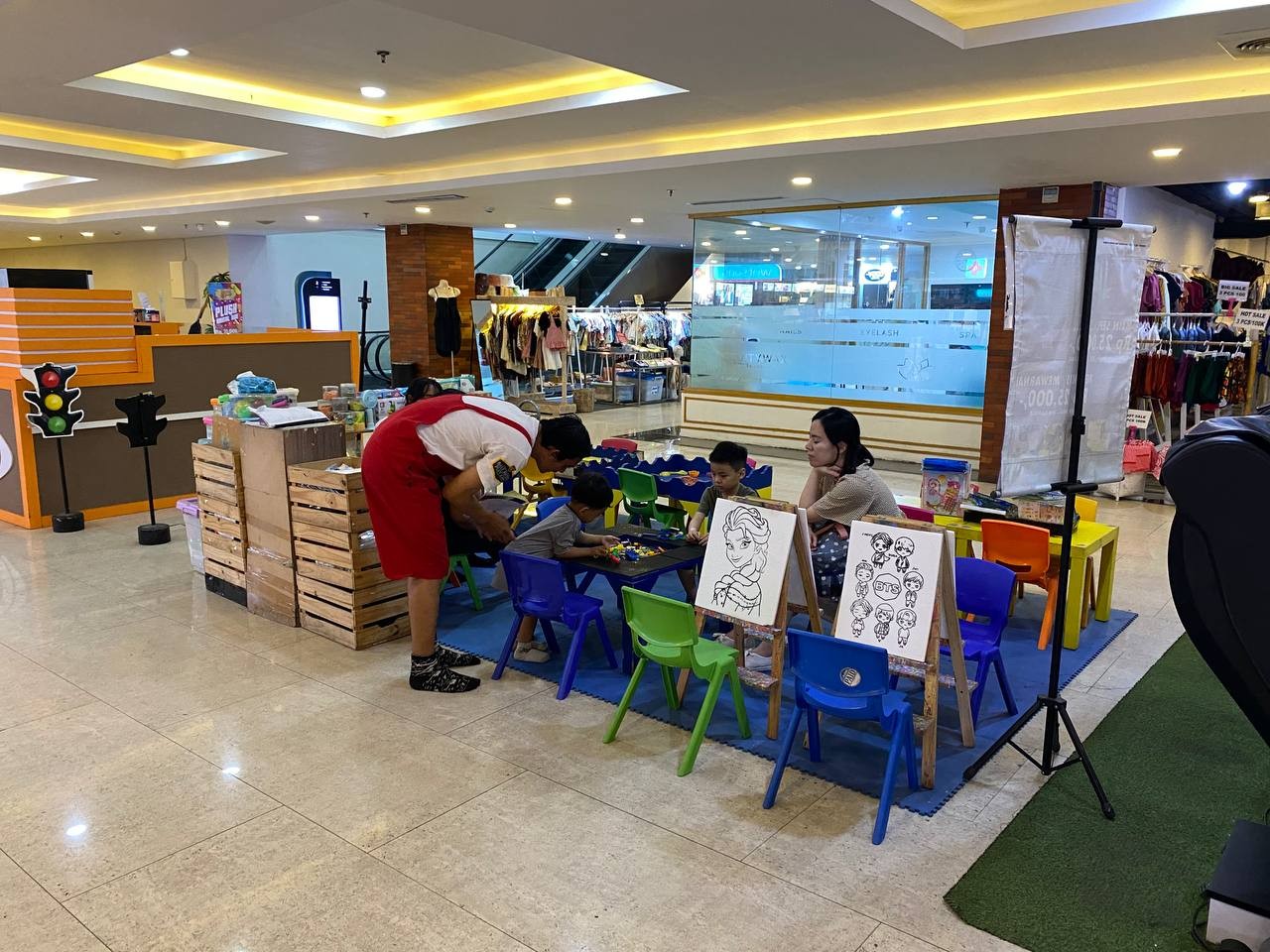 Operating Hours:
Monday-Thursday: 10:00 AM - 9:30 PM
Friday-Sunday: 10:00 AM - 10:30 PM
The complex is situated on the third floor of the Plaza Renon shopping center. For children, there's a whole world of arcade games, attractions, and massage chairs. Additionally, the children's complex offers dance and drawing classes, as well as contests.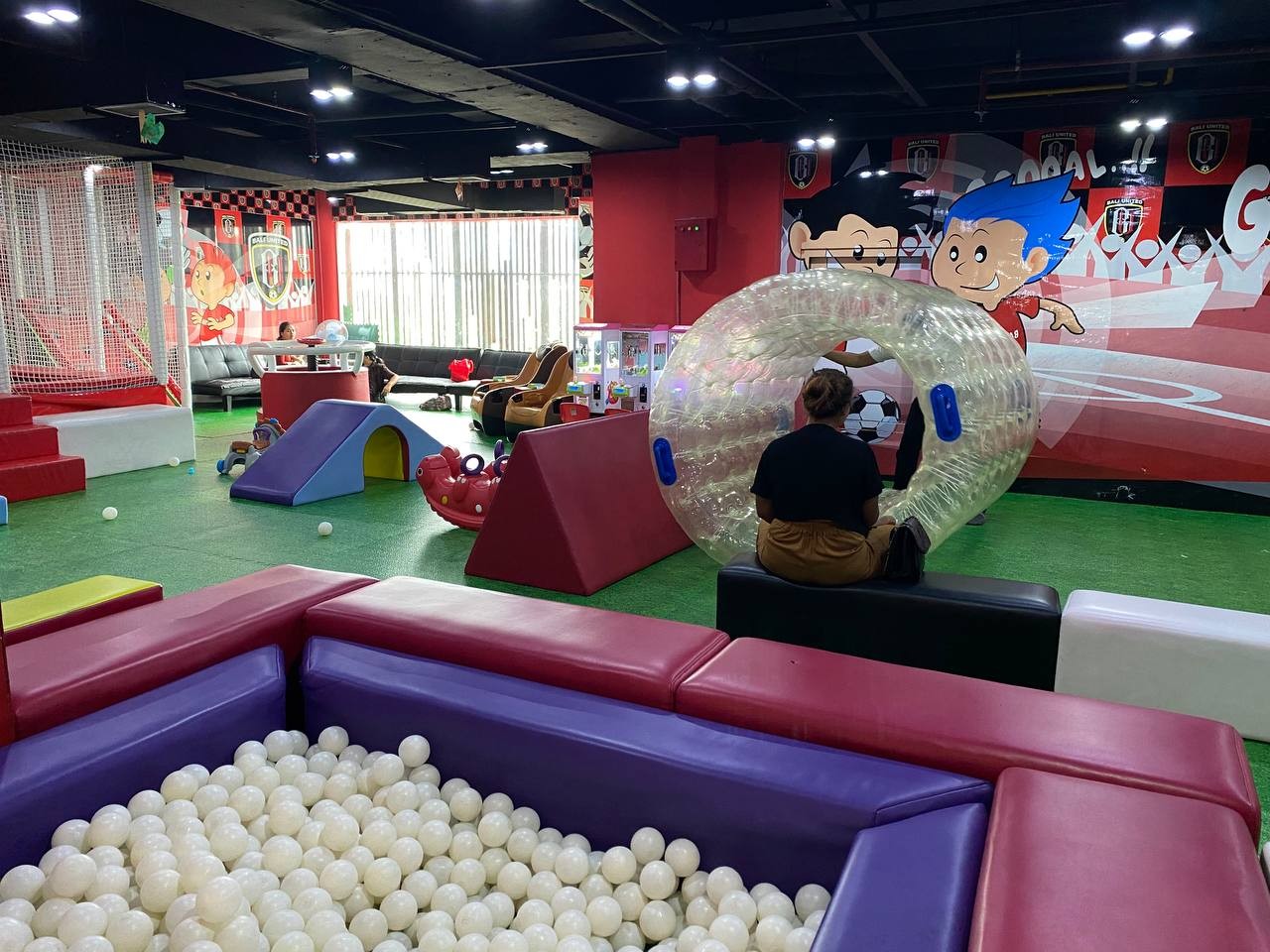 The cost varies depending on the day of the week. From Monday to Thursday, the price for an all-day play pass is 45,000 Indonesian Rupiah, while from Friday to Sunday, it's 50,000 Indonesian Rupiah. An additional fee of 25,000 Indonesian Rupiah is required for drawing lessons. An essential requirement for visiting Bali United Playland is to have socks.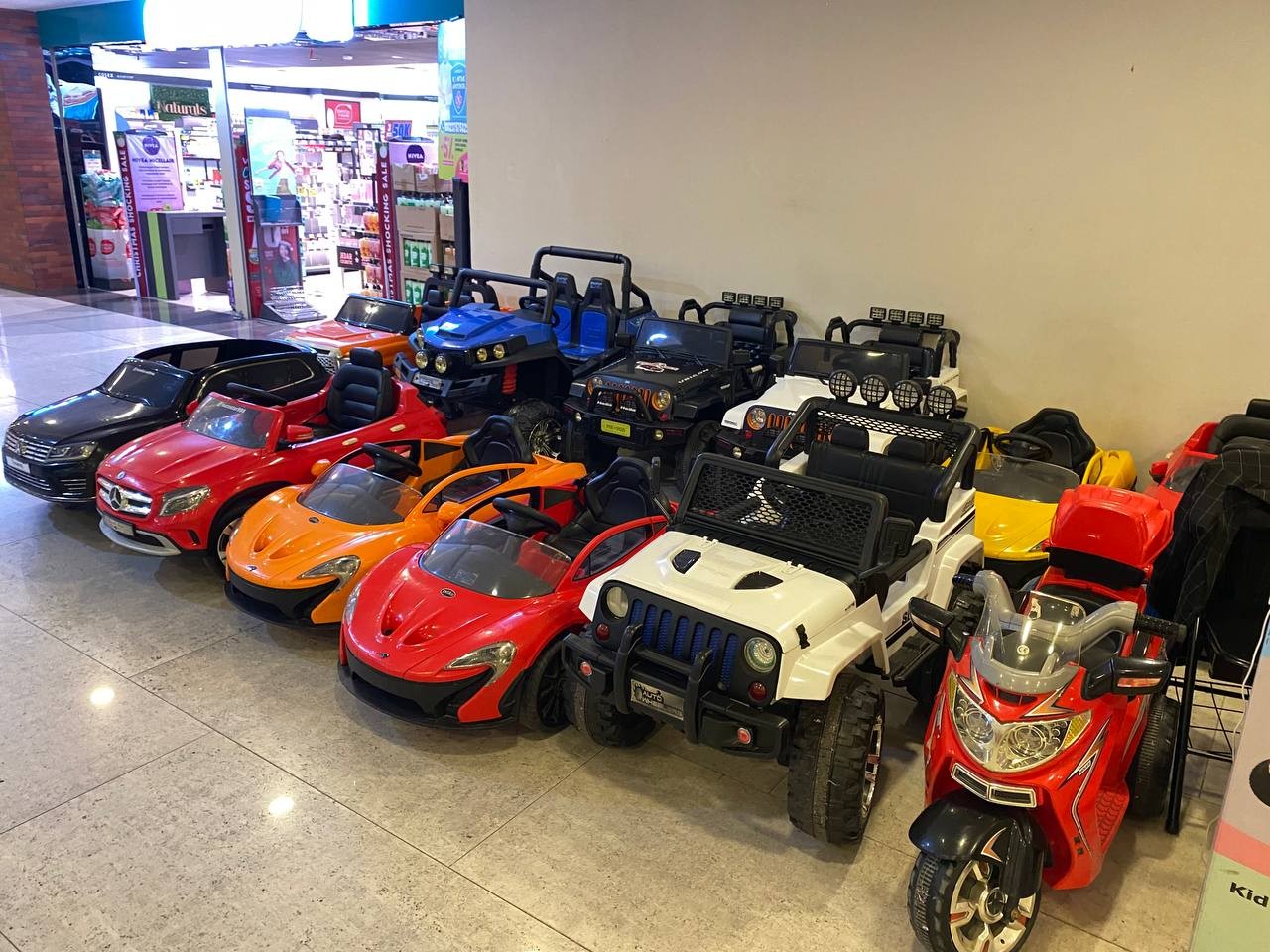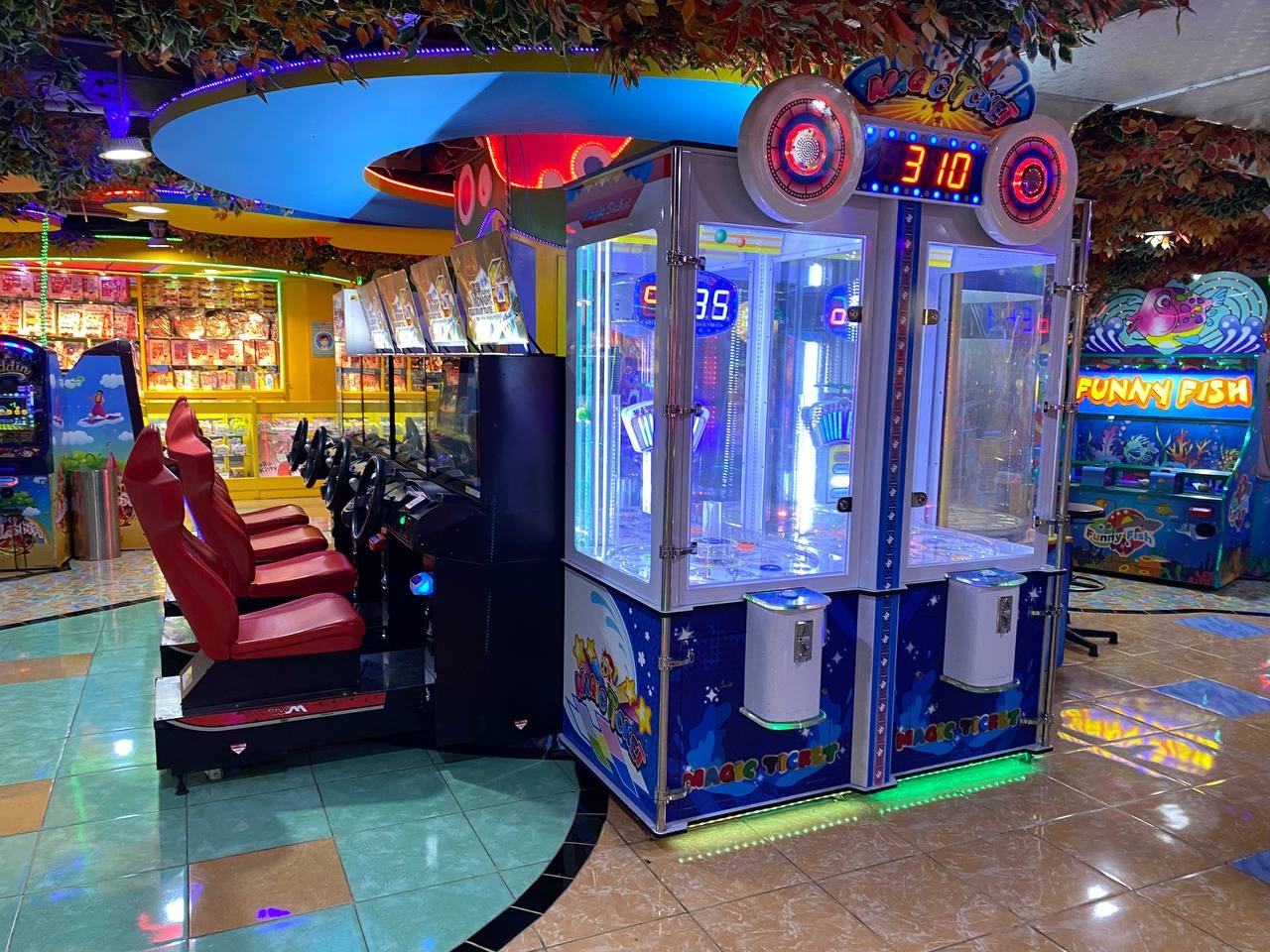 The third floor of the shopping center is almost entirely dedicated to children's entertainment. In addition to the Bali United Playland area, there are attractions for riding in the form of animals and electric cars of various brands.
In this area, there is also a vast Amazone space with arcade machines suitable for all ages, making it a great place for the whole family.
SunnySide Shop and Playscape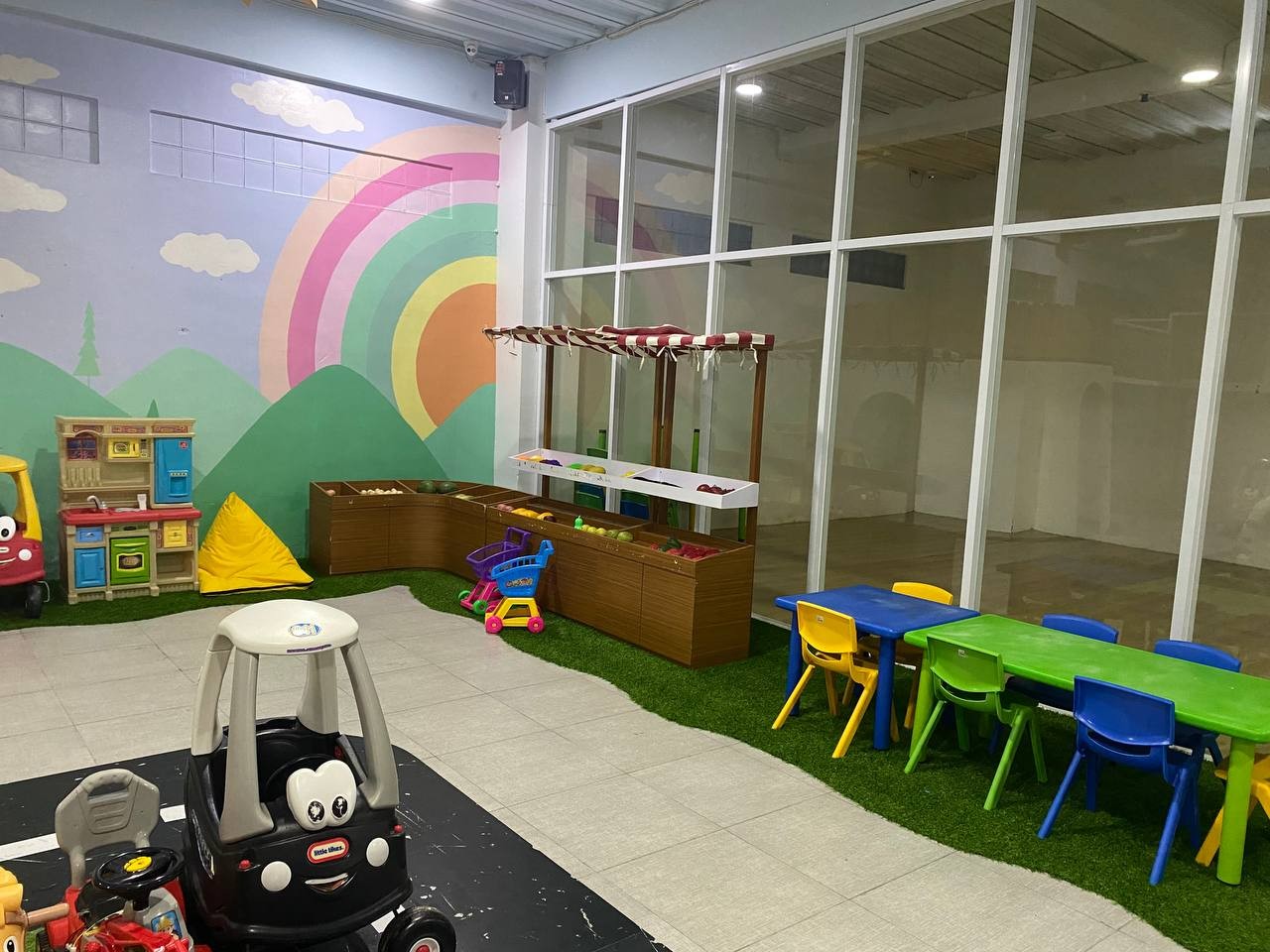 Opening Hours: Everyday from 10:00 AM to 6:00 PM
Sunnyside Playscape is a very cozy children's complex. Inside, it provides the ambiance of a pleasant apartment with different rooms designed for various age groups. There is a Montessori area, a reading corner, a playhouse with toys, a ball pit slide, soft toys, and various means of mobility for toddlers.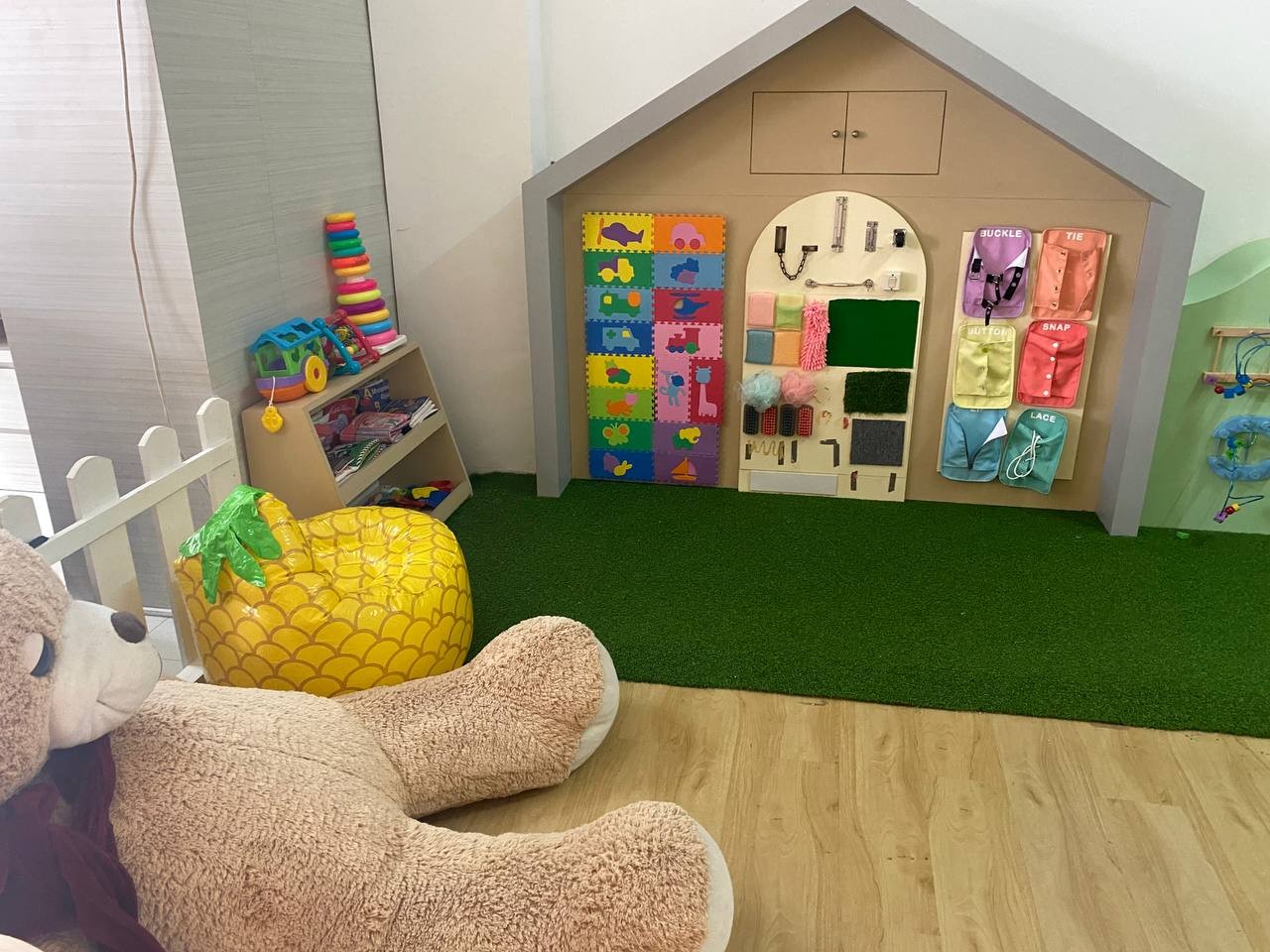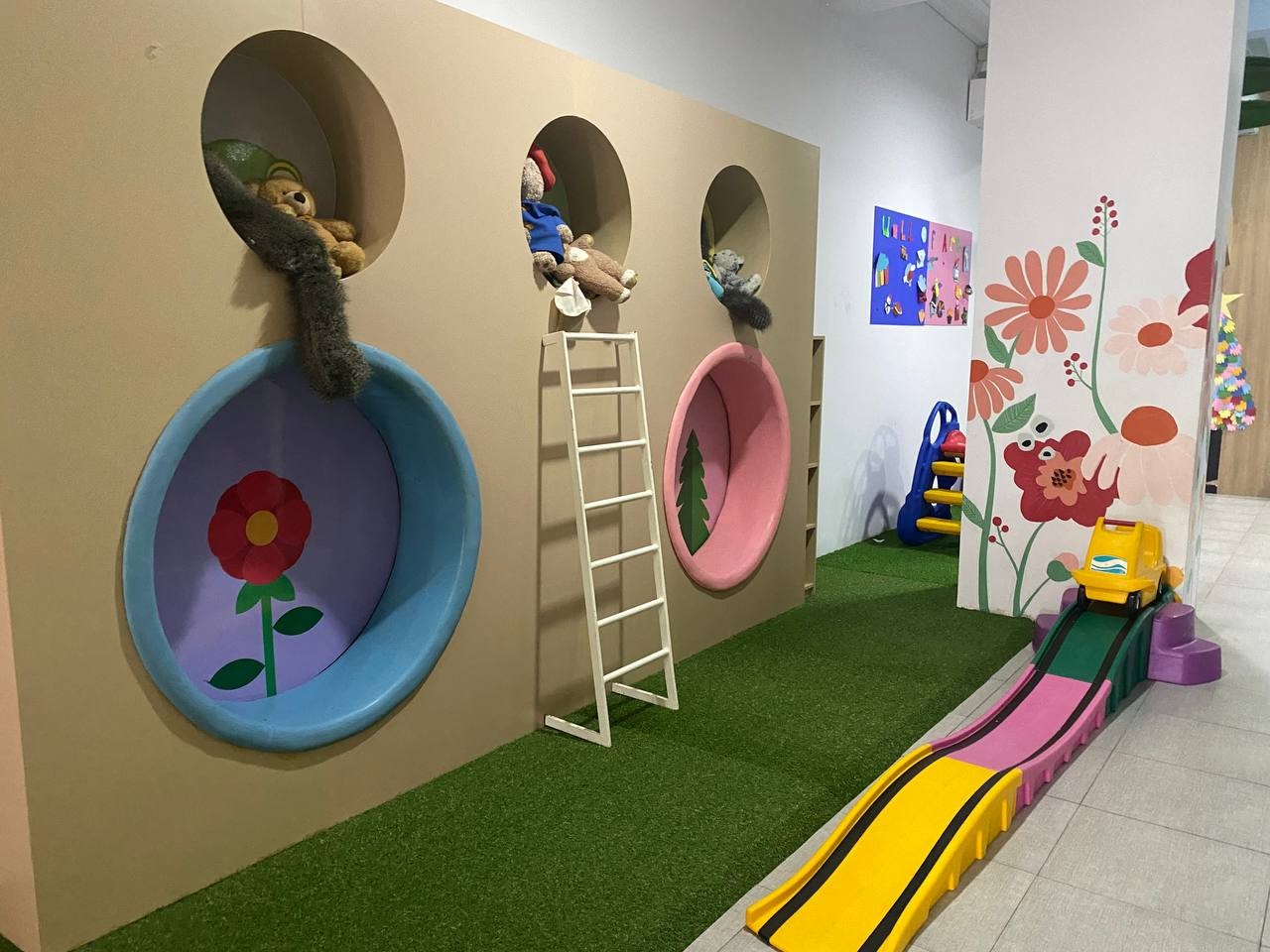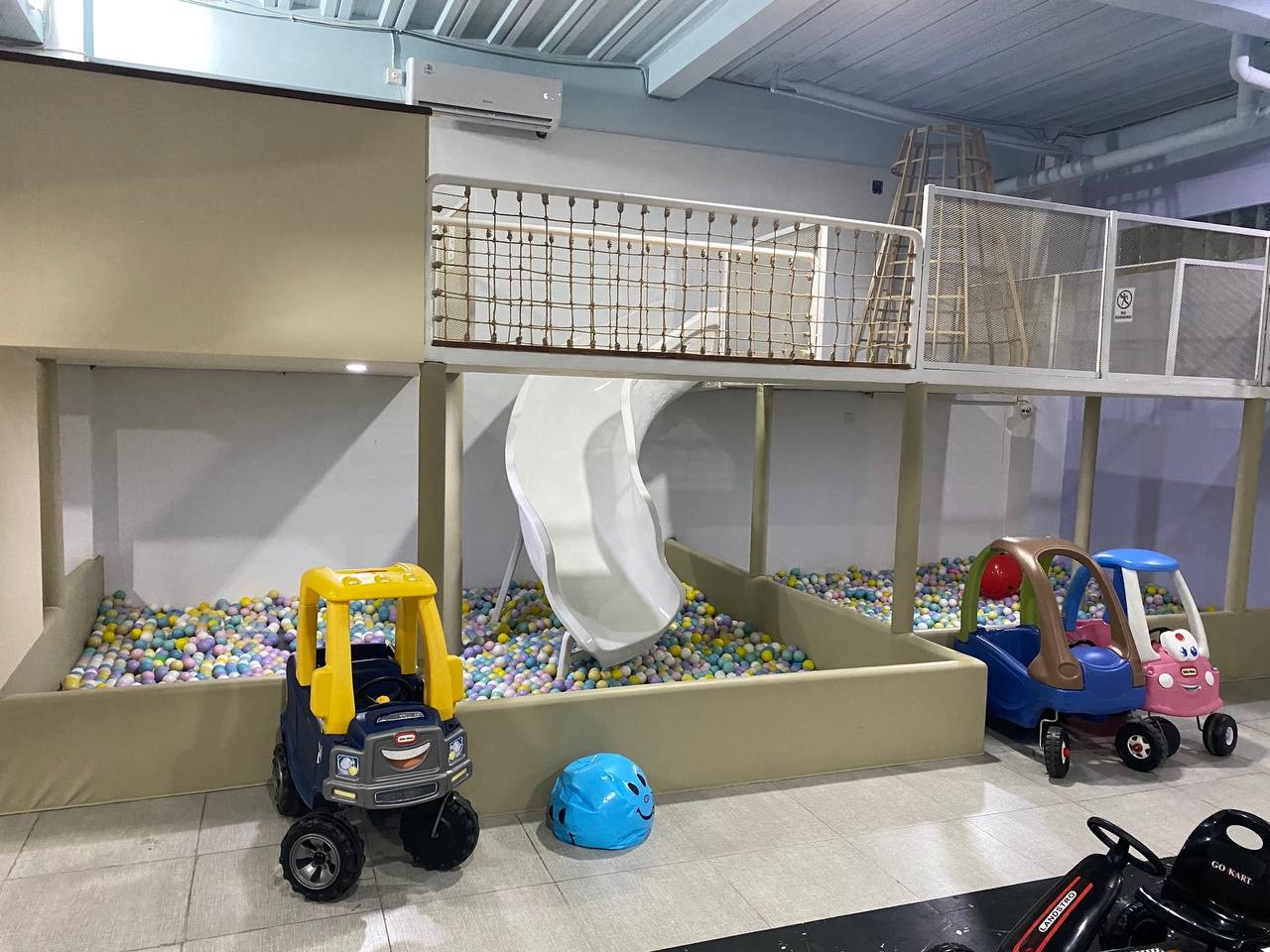 The price for entry during weekdays for 2 hours is 40,000 Indonesian Rupiahs, while on weekends it's 50,000 Indonesian Rupiahs. For unlimited hours during weekdays, the cost is 60,000 Indonesian Rupiahs, and on weekends it's 70,000 Indonesian Rupiahs. Additionally, you can purchase snacks, water, and juices from vending machines at the entrance. There's a small shop on the premises offering clothing and toys.
Furthermore, SunnySide Shop&Playscape offers annual memberships, workshops, and themed events. For more detailed and up-to-date information about these activities, you can visit their official Instagram page.
Taman Janggan Renon Denpasar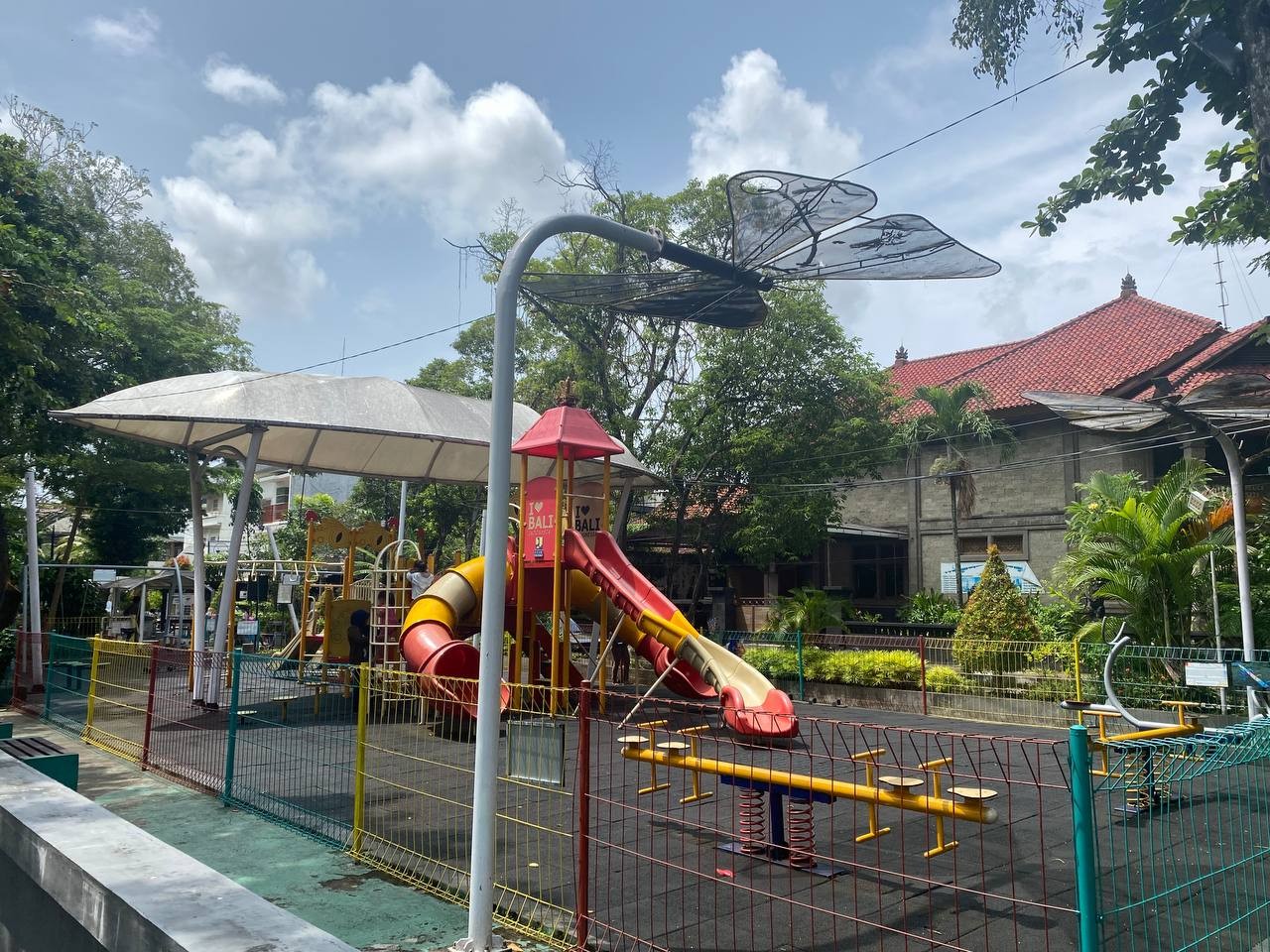 Operating Hours: 24/7
The children's open-air playground is situated in a park. The complex is located near one of the main roads with heavy traffic.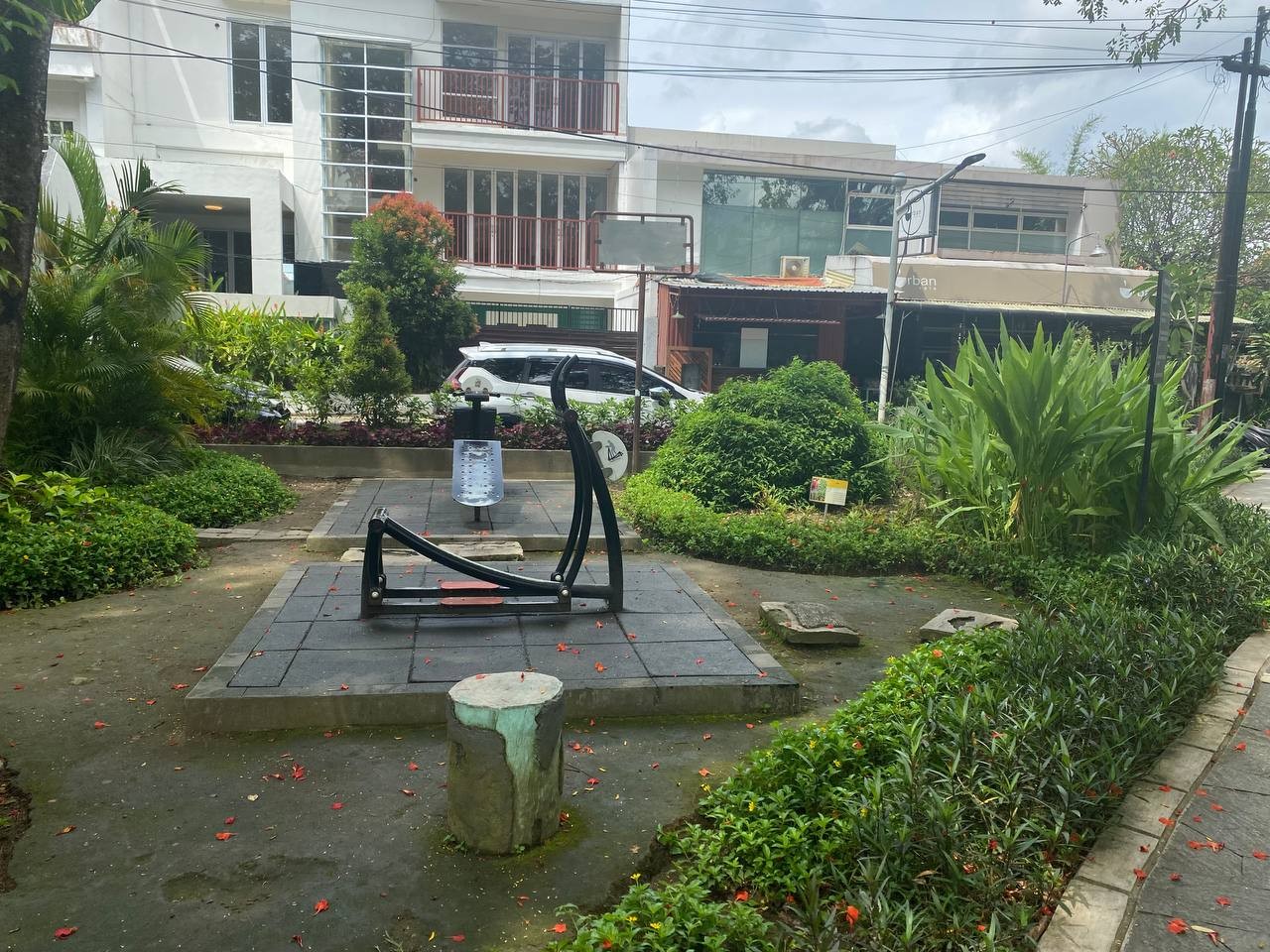 Here, there's dust, smog, and the sound of engines, so I wouldn't recommend this place for frequent visits. However, it's worth taking a stroll here at least once because besides the slides and swings for kids, there's also a skateboarding area, a sandbox, a fountain with fish, and a zone with birds.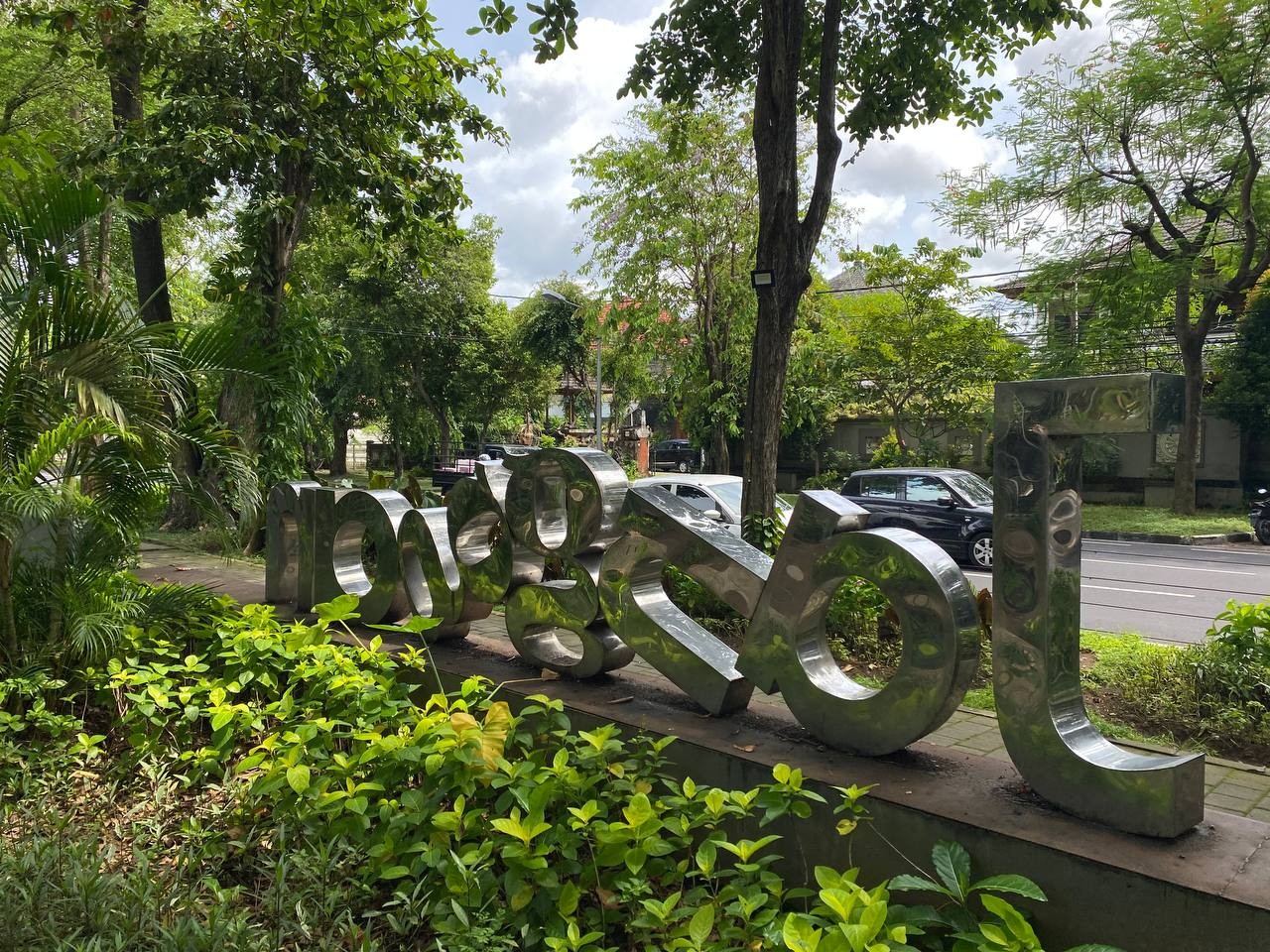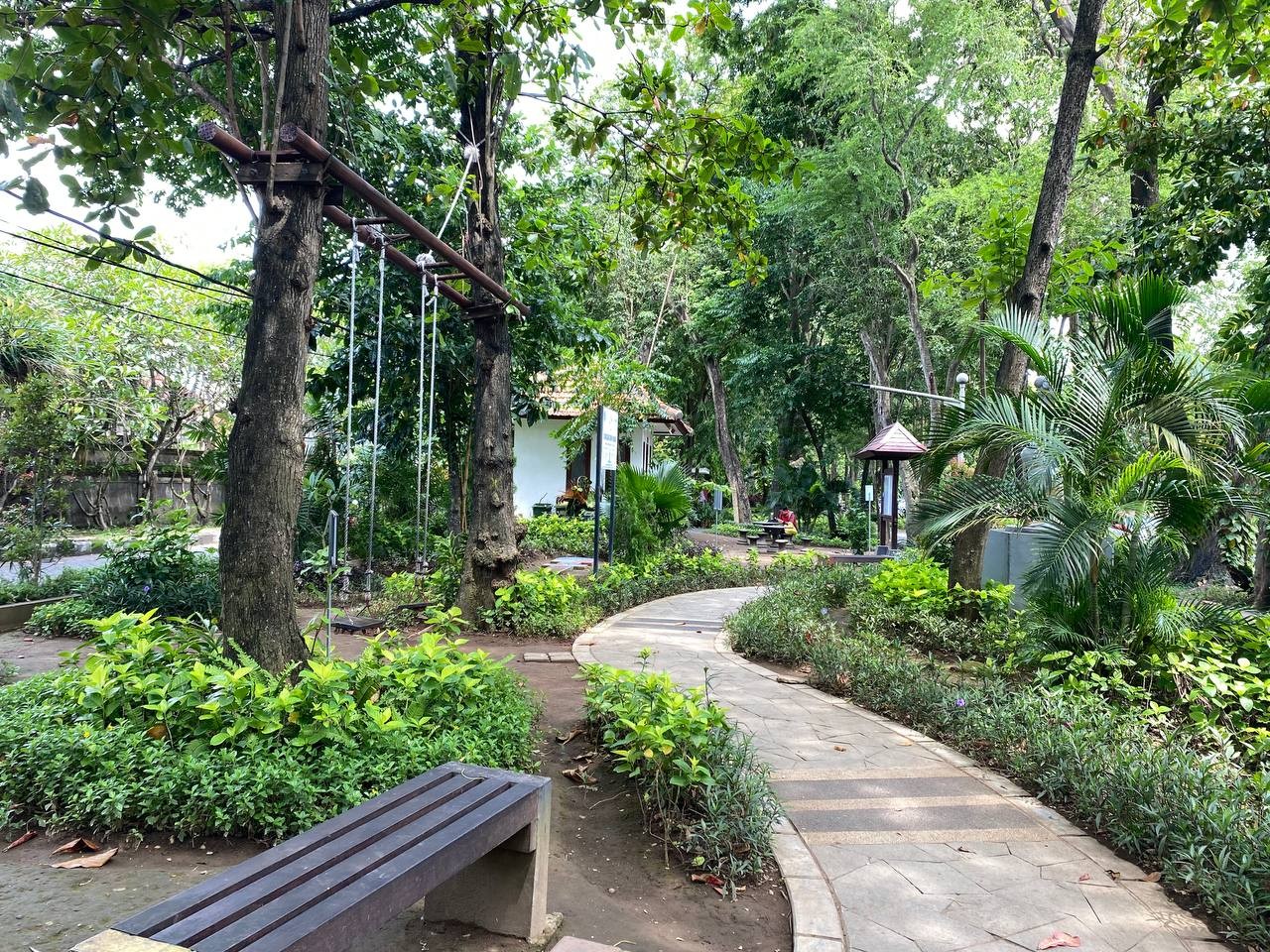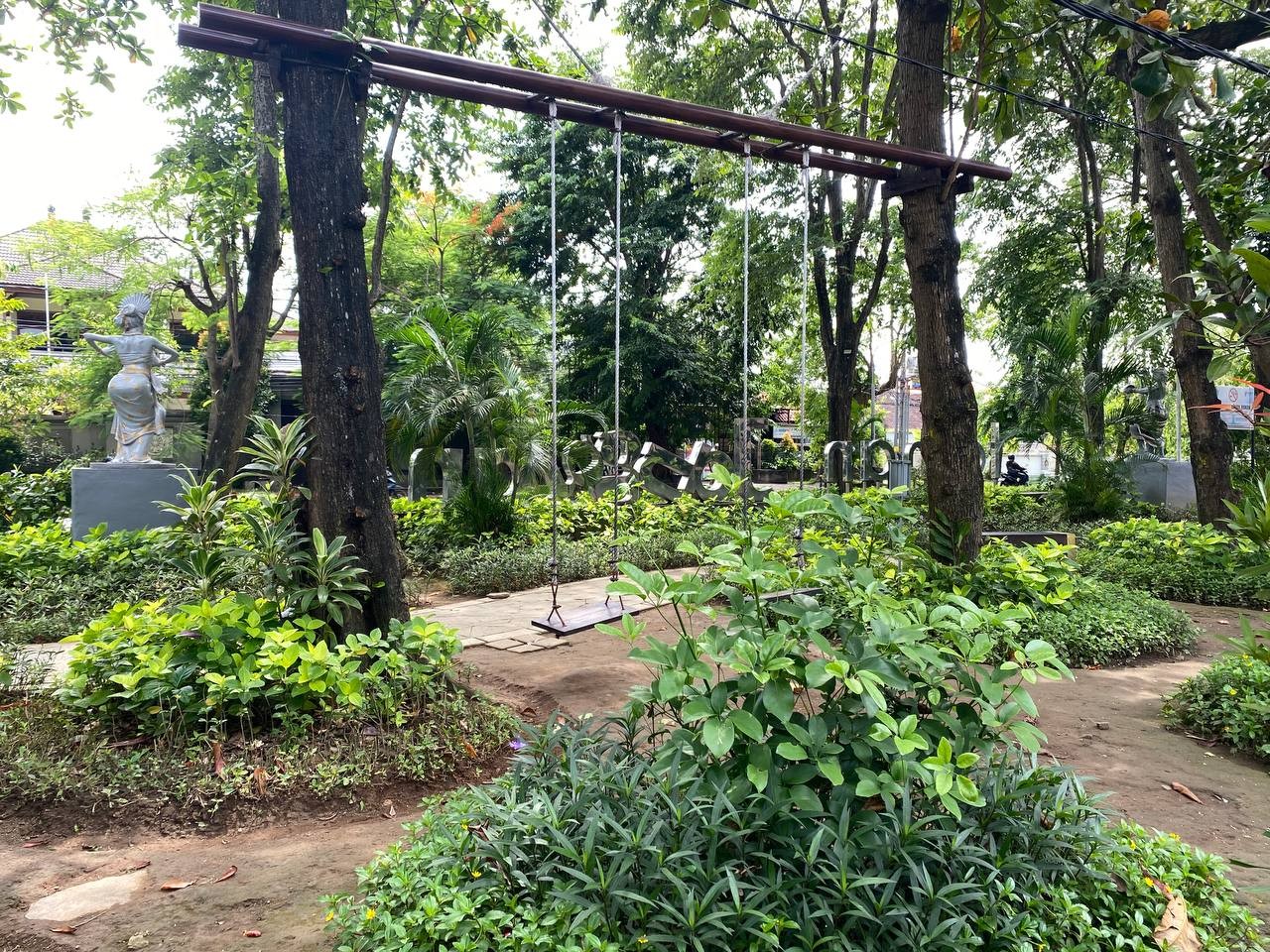 Within walking distance from the square, there is a large park.
Recommendations from Lera:
- Prama Sanur - a shallow pool with children's slides, sprays, etc. Entry fee 30K.
- You can rent a bicycle with a child seat.
- Byrdhouse beach club - children's pool with a slide and a wooden playground on the sand. Just order from the menu and kids can play everywhere.
- Hilton - pool, playground, day pass 150K.
- Baloncu - a children's store with a small car to ride and a slide to slide down. The staff is nice and they can even play with your child while you're shopping.
- Lamis My Warung - great indoor or outdoor play area, lots of toys and a children's playground, trampoline, etc.
- TAMAN INSPIRASI MUNTIG SIOKAN - a park with a playground, swings, benches by the shore, horses, and camels.
Review 
"We went to IZZY yesterday. Perhaps we are spoiled by Japanese cuisine in our city, but we didn't like it there. The rice was dry and sticky, the portion of eel for 165K had a tablespoon of it, and the rolls were tasteless, etc. The children's playground (rather a corner) is quite small, but at least it's covered in case of rain."