Canggu is located to the north of Kuta, north of Legian, Seminyak, and the Kerobokan area. The name Canggu is often associated with three districts. There's the actual Canggu, the district to the south known as Tibubeneng, which is also referred to as Berawa after its main street, and Pererenan, located to the north of Canggu. The true Canggu area consists of Batu Bolong Street from Ray Canggu to the beach, along with the adjacent areas of Nelayan and Padang Linjong, also known as Batu Mejan. Additionally, there's a slightly smaller area beyond Ray Canggu extending further inland.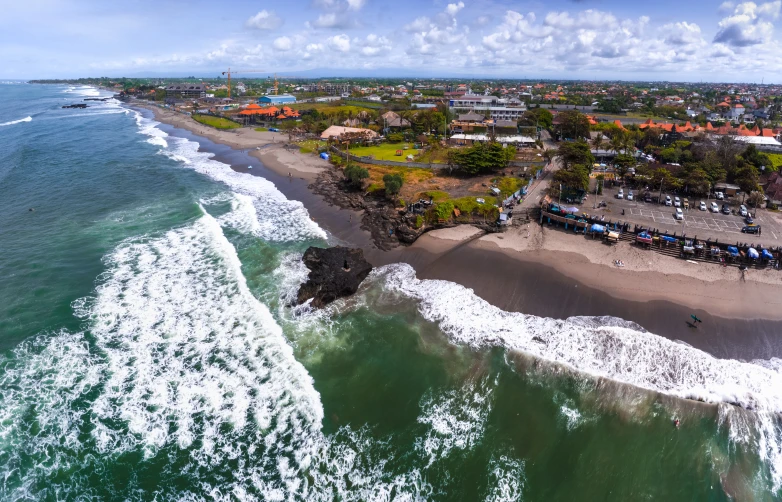 However, since expats often extend the name "Canggu" to neighboring areas (Tibubeneng and Pererenan), in this overview, we'll mention them as well.
Why are these areas interestingly laid out in narrow strips from the beach towards the interior of the island? This is due to a geographical feature. Canggu, Tibubeneng, and Pererenan are mainly formed around one or two streets where life buzzes. Stores, cafes, restaurants, small hotels, and guesthouses operate on these streets. The farther away from the central street, the closer you get to rice fields, which, along with small rivers, serve as distinct boundaries between the districts. On a clear day, from the expanse of rice fields in Canggu, you can clearly see Bali's mountain ranges and peaks - Batukaru, Batur, and Agung.
Transport
Public transport doesn't operate in Canggu at all. Not even the Kura-Kura buses. Walking is an option if you're staying relatively close to the beach. The closer you are to the beach, the more concentration there is of useful infrastructural places like restaurants, cafes, shops, and pharmacies. There are places where you can even ride a bicycle.
However, it's better to rent some form of transport. If you don't plan on traveling far, a scooter is a good choice. If you're driving to Canggu's restaurants and cafes by car, you might find that on the narrow streets, it's not always easy to find parking, and due to heavy traffic, a short journey can turn into an unbearable ordeal.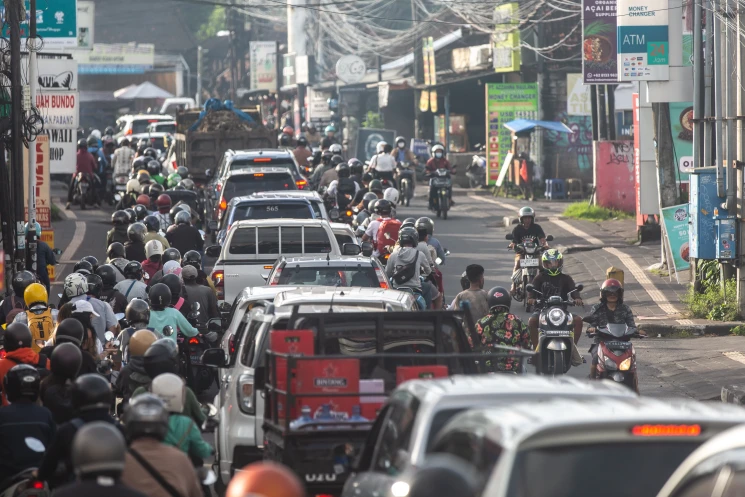 On the streets of Canggu, especially Batu Bolong, there are numerous rental companies. Sometimes, all you need to do is step outside your guesthouse or villa, walk about 100-200 meters, and find a scooter for rent.
You can use online taxis, but not everywhere. This is because the local community (banjar) protects their own drivers and puts up signs everywhere indicating that Grab and GoJek services are only allowed for passenger drop-offs. In other words, if your guesthouse is located deep within an alley, an online taxi can take you to your home. However, you might need to walk to the main road to meet the driver. A similar situation is common near the nightclubs in Canggu.
Atmosphere
Just a few years ago, it was very peaceful here. Due to the development and overcrowding of the neighboring Seminyak area, developers turned their attention to Canggu. However, the pleasant and youthful atmosphere remains intact.
Canggu is home to many long-term expatriates from abroad. Surfers, yogis, vegans, and partygoers all live here. The area is attractive because it strikes a good balance between sports/spiritual activities and club/restaurant life.
Canggu has many natural and beautiful places. Simultaneously, it boasts good infrastructure (shops, restaurants, cafes) and places where you can engage in surfing.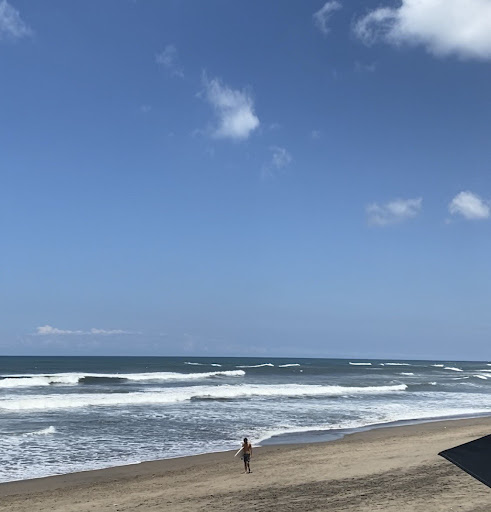 Many expatriates work remotely, which is why Canggu has coworking spaces and cafes where you can work while enjoying good internet and the company of interesting "colleagues." Among such establishments, it's worth mentioning,
Milk & Madu
, 
Nude
,
Ruko
,
Machinery
,
Sprout
, as well as larger coworking spaces like SETTER Coworking & Private Offices, PUCO Rooftop Coworking space & Eatery, Tropical Nomad Coworking Space, B Work Bali, Matra Coliving & Coworking Canggu, Outpost Canggu Coworking, and Shashvata CoLiving - CoWorking - Cafe.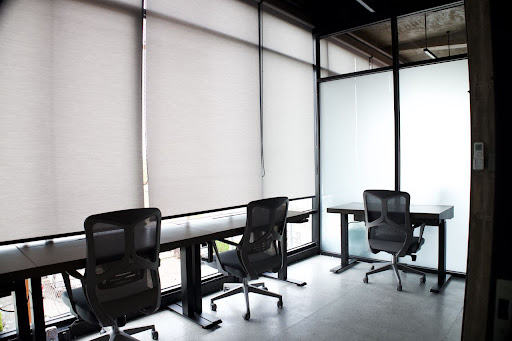 Canggu is interesting because it's very stylish. There are plenty of unconventional interior and exterior design solutions, graffiti, and an overall creative vibe. Canggu is one of the three main areas that expats with moderate to high income choose for long-term living. When compared to other areas, Bukit is attractive for those who prioritize surfing and beaches with light sand, and who also prefer a calm atmosphere. Ubud is a great choice for those who value yoga, healthy eating, and an authentic atmosphere.
Canggu combines surfing, yoga, Balinese authenticity, and adds to them the vibrancy of bars, the style of beach clubs and cafes, the luxury of restaurants, and nightclubs. Among the downsides of the area are the dark gray sand on the beaches, which are not very suitable for swimming, and a lot of trash during the rainy season.
Housing
Currently, Canggu is the most expensive area in terms of housing prices. Only Nusa Dua and its expensive luxurious hotels can compete with it.
Canggu has very few expensive large resort hotels. One of the high-end hotels is almost the only one - Tugu Bali, a 5-star hotel. However, Canggu boasts numerous villas with interesting designs and magnificent views of the rice fields. If you plan to settle in Canggu for an extended period and are looking for a budget option, there are guesthouses available.
Among the decent guesthouses with good reviews in Canggu, with prices ranging from $35 to $70 per night and including a pool, are:
- Surf Motel (price varies around $47-$63 per night)
- Big Brother Surf Inn ($38 for one night)
Big Brother Surf Inn is a surfer-oriented guesthouse with its own surfing school, located near the ocean. There are a few negative reviews on Google Maps about booking issues, but the reviews from those who stayed at the hotel are mostly rated 5.
Affordable guesthouses include Vande Guest House, Bali Full Moon Guest House, Temuku Guest House, Asung Guesthouse, Ryanbagus Guest House, and The Uma Canggu.
You can also search for people willing to rent out spare rooms in villas through chat groups. Alternatively, consider staying in apartments such as The Apartments Canggu, Sold, and Canggu Apartments. To find accommodation, you can send your inquiries to the following groups: Canggu Community Housing, Bali Seminyak & Canggu housing & accommodation, Bali Canggu housing & accommodation.
Entertainment
Canggu is a paradise for partygoers. Every day, there are parties, exhibitions, concerts, or simply gatherings in clubs or bars with pleasant DJ sets. Looking for somewhere to go in the evening? The easiest thing to do is to check out the list of the best bars in Canggu, find a place that suits your mood, and head there.
From the iconic places that you can visit regardless of whether there are events happening, it's worth mentioning the beach bar and restaurant Oldman's. Here, wild and crazy parties with an unimaginable number of people take place. Even if you come here on any day of the week after sunset, you can experience a pleasant atmosphere, listen to DJ sets, and meet nice people.
Another well-known spot is Deus Canggu—a restaurant, a shop for surfing enthusiasts, custom bikes, interesting clothing, and accessories, a concert venue, and an exhibition space all in one. Deus Ex Machina is a must-visit place in Canggu. It's where motorcycles are assembled and surfboards are crafted. Here, you'll find Asian dishes and a full bar, including fine wines, draft beer, and coffee. The restaurant's tables are made of teak wood, and paintings by artists Robert Moore, Andrew Wellman, and Dustin Humphrey are hung around the perimeter.
Nate's bar is a surfers' spot on the shore of the raging ocean. You can rent surfboards here. Live music plays in the evenings, and there's a wide selection of cocktails. There's also a small playground for children.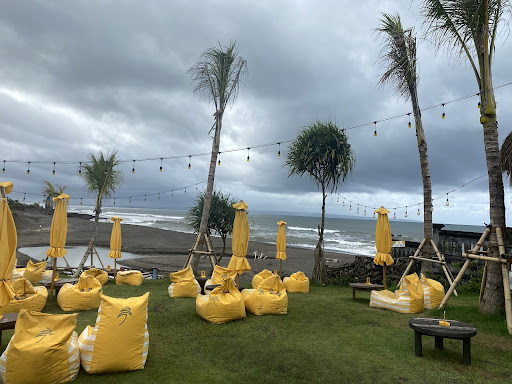 Sights
There aren't many tourist attractions here in the traditional sense. The closest one to Canggu is Tanah Lot—a famous temple on the island. It's a very beautiful place with a large area to stroll around and a wide selection of cafes where you can enjoy the sunset with a magnificent view. There's also a cute café with civet coffee, where you can encounter the creatures that produce this coffee. You can pet and feed them. Pura Tanah Lot is a 20-30 minute drive from Canggu. Keep in mind that you won't be able to book an online taxi there either, as the service is only available for passenger drop-offs.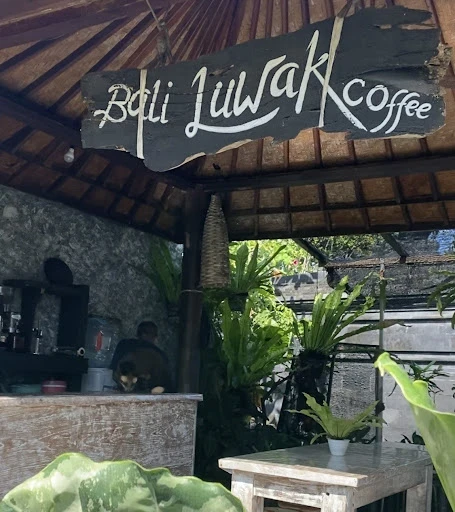 Stores and Markets
There are quite a few local residents in the area, so there are markets here. There are traditional Indonesian markets like Semat and Batu Bolong. There are numerous fruit and vegetable stalls along the roadsides. There are stores like Pepito, Frestive, and Canggu Station.
In Canggu, there's a café and shop called Bali Buda, a haven for all healthy food enthusiasts. And on Sundays, there's a Sunday Markets. You can come to the Samadi Market with children: they can take a walk, draw. There's also a nice café with vegetarian food here. The market operates from 9:00 AM to 2:00 PM. La Brisa- one of the popular markets on Sunday.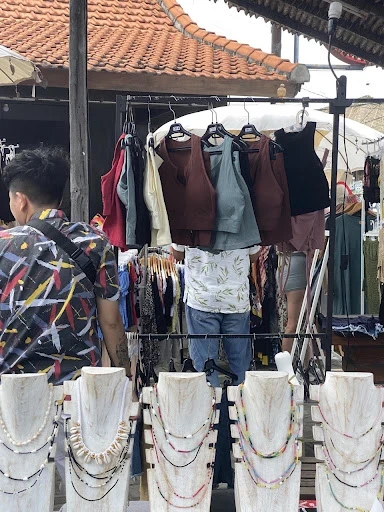 Among the stores for healthy food enthusiasts, it's worth mentioning Alive Wholefoods Store and Canggu Shop. In Canggu, there are numerous clothing and accessory stores. For instance, Studio K - Organic and Ethical Yoga Wear, Berawa Luxe, Gingersnap Bali. Besides them, you can check out the bazaar located near Deus Canggu - Love Anchor Bazaar. Here, you can find a variety of interesting food, clothing, accessories, surfwear, and jewelry.
Restaurants
In Canggu, which attracts both surfers and health-conscious individuals, there are many establishments catering to vegans, vegetarians, and health food enthusiasts. There are even entirely vegetarian restaurants. Eating deliciously and interestingly here will be more affordable than in Seminyak or Nusa Dua.
From trendy and interesting places, I can recommend to you: Gypsy Kitchen and Bar - interesting cocktails and healthy food from a Canadian chef, Milk and Madu, Nalu Bowls - a haven for smoothie bowls with a huge variety, Panama Kitchen & Pool - a charming restaurant with an extensive menu and a pool, The Slow - a conceptual spot and stylish restaurant with a creative menu. Crate - an Australian-style eatery, serving breakfast all day, there might be queues. Ulekan - Indonesian food with a focus on healthy eating, Peloton - a fully vegetarian restaurant, Milu Bali - a pleasant place overlooking rice fields, offering many vegetarian dishes, Nude - suitable for work, Moana Fish Eatery - specializes in fish, Varuna Warung - a traditional "warung" with a beautiful interior, Monsieur Spoon - a French bakery with wonderful breakfasts, La Baracca - good wine and Italian cuisine. The cozy Nourish cafe with a view of rice fields serves delicious and healthy dishes. There's also a health food and products store nearby.
For breakfast, it's a must to visit Bungalow Living Bali. They serve delicious and healthy food and also sell home goods. You can enjoy tasty and fresh sandwiches at Swich cafe for a snack.
Beaches
In Canggu, there are long beaches with black sand spanning about 8 kilometers in total length. Swimming is not very common here due to the black sand, which makes the water less transparent. However, walking along the beach is very enjoyable. If you're sunbathing on the beach, you can enter the water to cool off from the heat and even do a bit of swimming. Such swimmers are often found between the beaches of Berawa and Batu Bolong.
Surfing
Canggu has plenty of spots for surfers beyond the beginner level. It's not a place to learn how to surf. If you want to live in Canggu and learn to surf, you'll need to travel to Kuta for lessons at the beginning. Afterward, depending on your progress, you might be able to continue at Batu Bolong.
Batu Bolong
A great spot for those who have completed their surf school training and want to ride calm, long waves. There are long left and right waves. The waves are quite thick, so most people surf at Batu using larger boards. There's also good and affordable board rental available.
Berawa
A good spot with several peaks and a sandy bottom. There are both left and right waves. This spot is suitable for continuing your training. The lineup is quite close to the shore.
Old Man's
Adjacent to Batu Bolong. Both left and right waves. These are relatively easy, making it a good spot for longboarding. It works best on low and mid tides. Suitable for intermediate surfers. It's often even more crowded than Batu.
Echo Beach
A fairly fast left wave. Conveniently, the lineup is very close to the shore. The best tide is mid-tide. The skill level of surfers here is intermediate to advanced. This spot is not suitable for beginners. The black sand beach is one of the most popular places among surfers from around the world. You don't necessarily have to surf; you can simply sit in one of the beachfront restaurants, have a cocktail, enjoy the sunset, and watch the surfers conquer the waves. Echo Beach has surf schools with experienced instructors who can teach you the basics of this challenging sport.
Canggu Right (Pererenan)
A highly popular right wave. It's a quality, fast wave. There are always many skilled surfers here, even if you come at 6 in the morning. The peak is quite small, intensifying the competition. Not suitable for beginners.
In Canggu, it's better to surf during the dry season, although that doesn't mean nobody surfs during the rainy season.
Sports, Fitness, Yoga
Canggu has a lot of yoga studios. In terms of quantity, Canggu could probably surpass Ubud. Desa Seni, Serenity, Samadi, The Practice, and Canggu Studio (which offers a wide variety of dance classes) are some of the yoga studios available.
DESA SENI is a splendid eco-resort located on rice terraces. All resort rooms are situated in original antique wooden houses from across Indonesia. Most people come here for yoga, with sessions starting from 140,000 IDR per person.
For fitness enthusiasts, there are plenty of options to choose from. There's the impressive Finn's Club, offering a wide range of sports activities on a club basis. Avenue Fitness is well-maintained and equipped with new, pleasant machines. For budget-conscious individuals, there's Victoria Fitness in Pererenan. Gathering spots for CrossFit enthusiasts include CrossFit Wanderlust and S2S Fitness Bali.
Canggu Studio is a yoga studio by the ocean, located in Udaya Bali. It's not exactly in Canggu or even Pererenan, but it's a short drive away.
In Canggu, there are several places for skateboard enthusiasts. For example, there's a ramp installed in the side yard of Deus Canggu.
If you enjoy beach relaxation, one good option is LV8 located right on Berawa Beach. The resort offers various accommodation choices. The charming hotel rooms at Lv8 provide breathtaking ocean views. Within its premises, the club boasts three restaurants, a spa salon, a gym, and a large landscaped pool. It's hard to think about everyday tasks here, as you'll just want to unwind. The hotel can be found on
Booking.com
.
Beach Clubs/Nightclubs
Finns Beach Club is one of the popular beach clubs on the island. It features a huge area with a fitness center including a pool and sports courts, a tennis center, a spa salon, five restaurants, a sushi bar, nine bars, and four pools. For children, there are several types of entertainment options: the Splash water park, Bounce trampoline center, Strike Ten Pin bowling, and the Cubby House kids' club.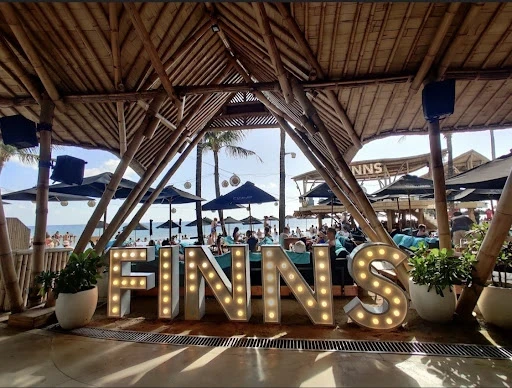 La Brisa Bali - beach relaxation seamlessly transitioning into nightlife. Beautiful sunsets, many attractive young people, and a lot of alcohol.
COMO Beach Club - a beachy atmosphere with delicious food. SENSES CANGGU - a nightclub with a show program and a pleasant atmosphere. Vault - a trendy underground nightclub with a lively dance floor, DJ performances, and a separate cozy lounge area.
How to Get There
You can rent a car or a motorcycle or order a taxi. A car from the airport costs around 200,000 IDR, while a bike costs 50,000 IDR.
If you'll be staying in Canggu, we recommend booking a hotel that offers a free airport transfer.