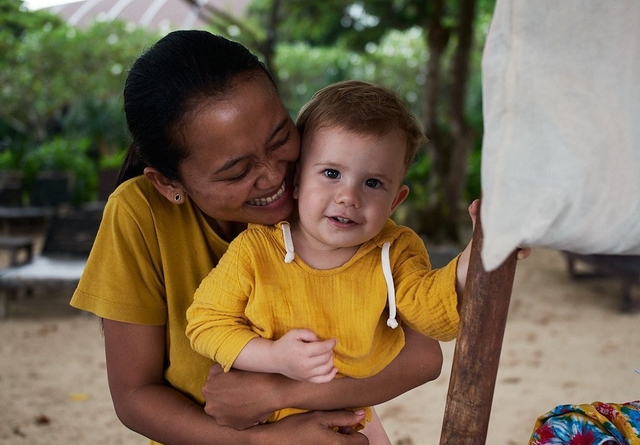 Bali is indeed a great place for children, offering sunshine, beaches, fresh fruits, multicultural experiences, and numerous activities for kids of all ages. For teenagers, there are opportunities for travel, surfing, and skateboarding. When a child is happy, their mother is happy. However, to achieve complete happiness, mothers sometimes need more free time, and this is where the island's unique feature, local nannies, comes into play.
Until now, there has been a perception that it's easier to find a suitable nanny in Bali compared to Europe. Balinese nannies typically offer a comprehensive range of services, including childcare, housekeeping, cooking, and even accompanying families to the market. The compensation for such all-inclusive work is often lower compared to European countries, and there is a vast pool of candidates with many eager to fill the role. Balinese nannies are known for their adaptability and may not require extensive accommodations; they are content with small rooms, often without windows, and some even prefer to sleep on the floor despite the presence of a bed.
As for the current situation on the island, it's essential to consider that Bali has become increasingly popular among tourists and expatriates in recent years. This influx of people may have impacted the availability and pricing of services, including the hiring of nannies. It's always advisable for families to conduct thorough research and seek recommendations when hiring childcare services on the island, as the situation may have evolved over time.
Where can I find Mary Ketut Poppins?
To find a nanny in Bali, you can use various resources and social media groups. Here are several ways:
1. Agencies:
In Bali, there are several agencies that offer services for finding nannies. These agencies typically provide a range of services, from childcare to organizing children's parties. Some of them include
You can find a nanny through these agencies in various locations and choose their qualifications. The minimum cost for nanny services from an agency is around 75,000 Indonesian Rupiah per hour (with a minimum booking of 4-5 hours), excluding transportation costs.
2. Facebook Groups:
When searching for a nanny, it's essential to create a specific job posting with your preferred price range, clear job responsibilities, required skills, and the desired location. Be prepared for a large number of responses, not all of which may match your criteria, so be sure to request resumes upfront. Invite candidates for an interview only if they meet your key requirements, such as English language proficiency, knowledge of first aid, and experience with children of the required age. Additionally, review photos in their profiles, as excessive selfies with children may indicate that the nanny spends more time taking pictures than caring for them. If a nanny claims to have worked with a family for an extended period, don't hesitate to request references, as some nannies may change clients frequently but emphasize consistency.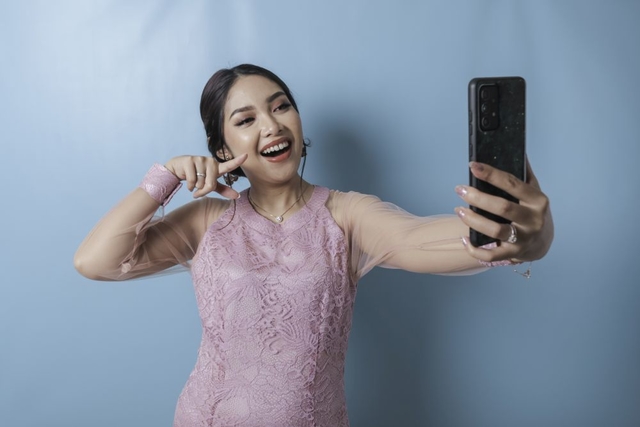 Through experience, it has been found that the best nannies are those recommended by your social circle, such as homeowners, cleaners, cooks, or long-term expatriates living in Bali. It's highly advantageous if someone you know personally can vouch for a nanny.
Here are some pros and cons of Indonesian nannies:
Pros
1. Affordability:
One of the significant advantages of hiring Indonesian nannies is the cost-effectiveness of their services. You can often find a nanny to care for one or two children for approximately 4,000,000 Indonesian Rupiah per month, which typically includes their services from 8-10 in the morning until 7-9 in the evening.
2. Comprehensive Services
Indonesian nannies often offer a wide range of services, including childcare, playing and engaging with the child, accompanying them to various activities, daily and evening routines, beach trips, and even helping with household chores and meal preparation for the entire family.
3. Flexible Options
There are various options available, such as paying around 2,000,000 Indonesian Rupiah and providing accommodation for the nanny in a guesthouse. Some nannies may also live with your family for a monthly fee of 3,000,000 to 4,000,000 Rupiah, allowing you the flexibility to attend occasional nighttime events while your child is under their care.
4. Hourly Rates
If you don't need a full-time nanny, many nannies offer hourly services, ranging from 30,000 to 100,000 Indonesian Rupiah per hour. Nighttime nannies typically charge higher rates, usually starting from 50,000 Rupiah per hour.
Cons
1. Varying Quality
The quality of Indonesian nannies can vary significantly. While some may have excellent qualifications and English language skills, others may be less experienced. During peak tourist seasons, the demand for nannies can lead to a decrease in the quality of available candidates.
2. Inexperienced Nannies
Some mothers may hire inexperienced nannies for low hourly rates, but it's essential to consider the safety and well-being of your child. Inexperienced nannies may not be familiar with essential childcare practices.
3. Domestic Responsibilities
While many nannies take on household responsibilities, not all are equally skilled in this regard. Some nannies are excellent at managing household tasks, such as grocery shopping and meal preparation, while others may not excel in these areas.
In summary, Indonesian nannies can provide valuable childcare services at a reasonable cost. However, it's crucial to carefully vet and interview potential nannies to ensure they meet your specific requirements and expectations. Recommendations from your local network can be particularly helpful in finding a reliable and trustworthy nanny.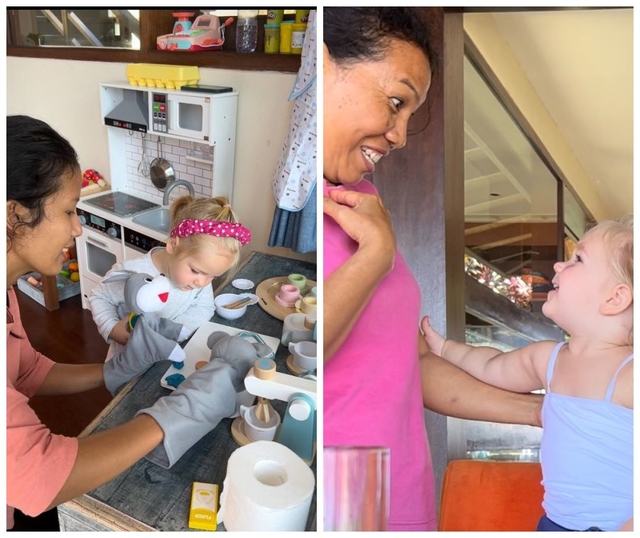 A good nanny can serve as your guide to the Indonesian world. If you make an effort to learn a few basic phrases in Bahasa Indonesia and greet, say goodbye, and ask about your nanny's family in her language, it can help create a positive atmosphere and facilitate solving minor household issues, like communicating with a water delivery service, making phone calls regarding packages, or asking neighbors for information.
Indonesians genuinely love children. Playing, singing, dressing up little ones, and taking care of them bring them immense joy. However, there's a flip side to this: not all mothers appreciate it when their child is constantly photographed or allowed to interact with every passerby, from the owner of a local warung (small restaurant) to the territory cleaner. For a local nanny, this behavior is normal, so it's crucial to discuss this with them before hiring if it's not acceptable to you.
Additionally, Balinese women are generally positive and cheerful, which is a significant plus when your child is growing and developing alongside a friendly and easygoing individual.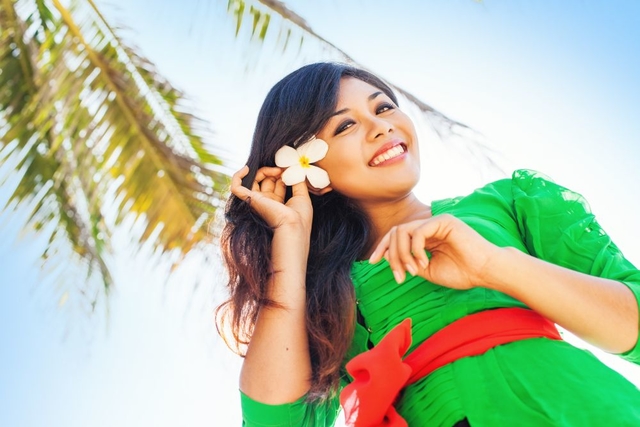 For many moms, language proficiency is essential when hiring a nanny. However, let's be realistic – most Indonesian nannies have limited English skills. A nanny who is proficient in a foreign language, such as English, will cost between 75,000 to 100,000 Indonesian Rupiah per hour. While there are some on the island who claim to speak the language in their resumes, they are relatively few. If your child is young, this language gap can hinder communication with you. For toddlers and older children, the language barrier may be insurmountable. When looking for a nanny, it's essential to pay attention to their response to your requests, as their ability to understand your needs is crucial.
Many local nannies may lack competence in childcare, which can lead to misunderstandings. However, a nanny who is open to cooperation can easily address these issues through clear communication. It's essential to discuss important matters with the nanny, even if they seem obvious, such as paying extra for gasoline expenses on top of their hourly rate. This additional cost (usually around 20,000 Rupiah) is essential for many local nannies but may not be obvious to you.
You should also establish a list of activities for the nanny to engage in with your child throughout the day, including activities that promote fine motor skills development for infants and active play. Sometimes, even agency or hotel nannies, who are highly trained and focused on understanding your needs, may need guidance on what to do with your child. Even with such nannies, it's a good idea to clarify certain seemingly obvious things like their ability to communicate via WhatsApp, what is or isn't allowed with your child (e.g., watching TV, eating sweets, swimming, napping), and the lunch break or the option to go out and buy food.
Many foreign parents expect nannies who attend interviews or begin working to be neatly dressed, maintain personal hygiene, and wash their hands before approaching the child. However, it's essential to bring up these topics, as well as the importance of handwashing before interacting with the child. Address the issue of cleanliness explicitly. While it's excellent for children to develop a natural immune system and interact with their environment and other children, there's no need to collect all the bacteria by visiting friends in guesthouses or warungs (small restaurants) with your child. Even experienced local nannies may not understand this concept due to cultural differences, so don't hesitate to repeat these points as needed.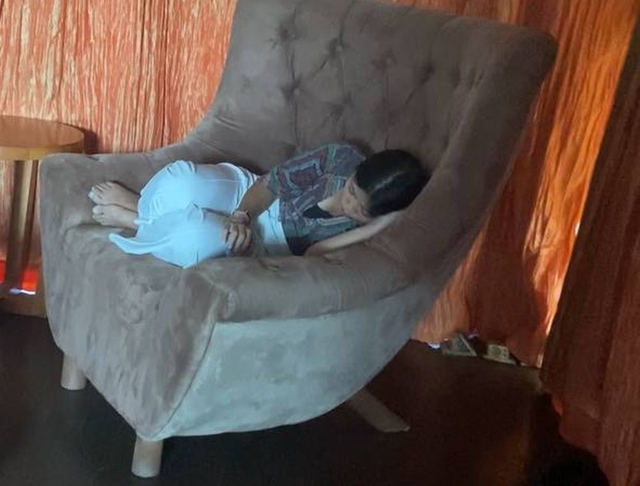 Make sure your nanny is in good health, and ask her to notify you in advance if she's feeling unwell or tired. Otherwise, she might fall asleep at work or, even worse, cancel at the last minute, claiming she can't come five minutes before her shift starts. Providing advance notice is a mandatory requirement when dealing with local nannies. Often, hired Indonesian nannies don't consider your plans and may cancel their arrival due to rain, a visit to relatives in Java, or other unexpected reasons. Unfortunately, if a nanny doesn't listen to your concerns and continues to act this way, it's better to part ways to save yourself from stress and wasted time.
The unpredictability of local nannies can be a powerful tool in their hands. They can surprise relaxed foreign mothers. For example, a nighttime nanny showed up to relieve my acquaintance, who was about to head to a club with her two children. With no time to change her plans, she had to take the risk, and the nanny managed to handle the situation. Our advice is to accept that local nannies, regardless of their experience and cost, are often unpredictable and try to stay calm (learn from your Mary Poppins).
In general, it's not a good idea to have confrontations or accuse them of anything. Indonesian women are quite sensitive, so try to express your concerns as politely as possible and avoid raising your voice. It's better to part ways amicably than to argue with the nanny on her turf.
What Moms Appreciate in Local Nannies:
1. Initiative (from offering assistance to using a voice translator).
2. Driving skills not only on a scooter but also with a car and having a valid driver's license.
3. Honesty (if a nanny has a habit of stealing even small things, it's best to part ways immediately, although this is more of an exception than a rule).
4. Variety in activities with the child (ability to swim, come up with games, craft, teach new things, and not allow excessive phone or TV usage).
What Moms Dislike: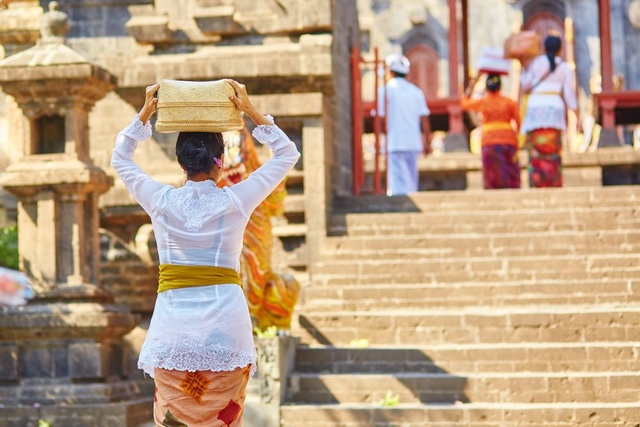 1. A specific characteristic of Balinese nannies is their religiosity. As you may know, festivals and ceremonies are common for locals. On these days, the nanny is unlikely to come to work. However, nannies from other Indonesian islands are not bound by the Balinese calendar (though Muslim nannies might go home for Ramadan and may expect holiday compensation from you).
2. Some local nannies see foreign mothers solely as a source of money to be emptied. Within 2-3 days of diligent work, they might start asking for additional money for various reasons, such as medical treatment, a relative's funeral, upfront payment, lunch and gasoline expenses, and more. Their demands are likely to increase, and it's best to part ways with such nannies as soon as possible.
When dealing with local nannies, be flexible and polite, but also attentive and demanding. Most of them are sensitive, responsive, dedicated, and hardworking employees. With a bit of luck and useful information, you can find a suitable nanny. We welcome any additional insights in the comments.
Reviews: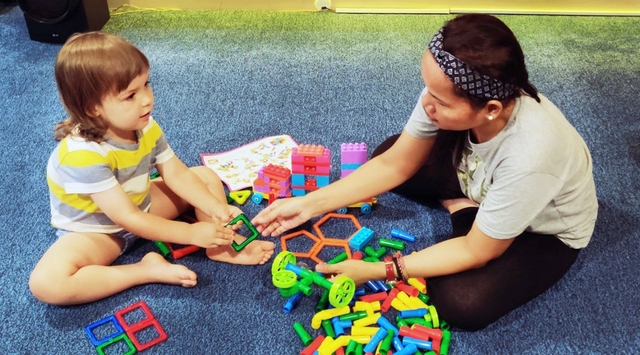 Her name is Tuti. She always finds ways to keep the child engaged, and our son looked forward to her arrival every day.
She's also an excellent cook!! The food she prepares is really delicious! 😍
She speaks English well.
She also helped us with household chores.
An invaluable and very kind person! ❤️
WhatsApp: +62 813-9172-7268
reviews: 
Hello, everyone!
My name is Tatiana, and I'm a professional nanny. Currently, I am on Bali and planning to stay here for several months. I'm looking for a wonderful family to work with.
You can find more about me on my Instagram blog @nanny.tanny.
Here's some more information about my experience:
- I have over 10 years of experience working with children.
- I have worked as a camp counselor.
- For the past 3 years, being a nanny has been my profession. During this time, I have collaborated with more than 20 families and worked with over 25 children. Some of them I met just once, while with others, I have been working for 3 years.
I have experience in various formats of our profession, including:
- Travel nanny (Sochi, Italy - Venice, Pisa, Spain - Sitges, Barcelona, Thailand, Turkey).
- Live-in nanny.
- Hourly nanny.
- Night nanny.
- Part-time nanny for a couple of days a week.
- Full-time nanny (5/2).
- Nanny in a short-stay group at a developmental center.
Additional qualifications and skills:
- Completed a course in child psychology.
- Engaged in self-improvement and self-education for 8 years.
- Conduct online consultations for mothers on various issues and fears related to nannies.
- Provide online consultations for nannies on employment and job nuances.
- Organize live meetings for mothers.
- Currently working on an online course for mothers and nannies.
To get in touch with me, please write on WhatsApp at +7 977 995 27 85 or DM me on Instagram @nanny.tanny.
Recommendation from Niki:
"Bali Nanny Ubud
I negotiated like this:
2 million per month for 6 hours/6 days
Only child care
+62 831-1449-0240 WA
She is currently looking for work.
Say that it's from Niki.
Young, good, knows English, and cheerful."
I'm sharing the contact information for our nanny in Bali (Canggu).
She's our friends' neighbor.
Her name is Warni. She's a lovely Balinese woman who adores children.
+62 811 3942000
Review from Rulina Sasha:
I want to recommend a nanny for 4-5 hours.
+62 812-3793-8821 Ella
29 years old
Has worked as a nanny for 4 years
Very pleasant
Kuta, Seminyak, Kerobokan
Madé, lives in Denpasar. Comes to work in Canggu. Kind, responsible, punctual. The little one always had fun with her.
+6287866192511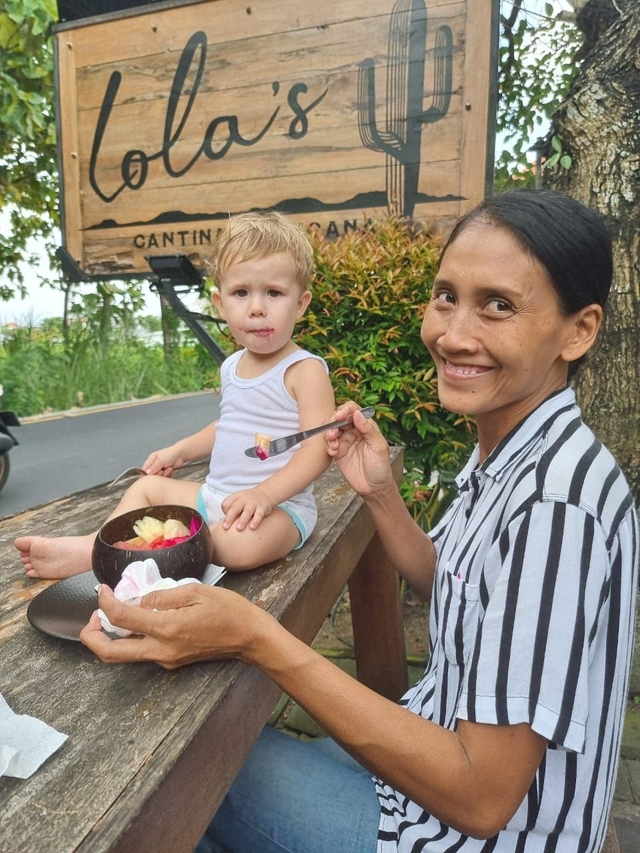 Recommendations from Rulina Sasha:
+62 899-0344-164 Gungnasari
20 years old, studying to be a nurse, has experience caring for a one-year-old child
Not available on Wednesdays
Location: Kerobokan
+62 819-3306-6892 Iluh
35 years old
Location: Seminyak
+62 813-1496-5626 Timuk
4 years of experience as a nanny
Has a 13-year-old son
Charge: 35k per hour
+62 812-3600-6109 Rey
+62 813-9012-6061 Ani
34 years old, nanny experience since 2014
Has worked with Australian families
A couple more nanny contacts that I checked and can recommend 🙈
I chose mine, these were selected from 60 people who wrote to me.
+62 812-3793-8821 Ella
29 years old
Lives in Kuta
4 years of nanny experience
Very pleasant
+62 813-5328-2019 Mela
27 years old
Cared for a child from birth to 5 years old
+62 877-1064-2342 Titi
30 years old
All of them use a motorbike for transportation
Recommendation from Natalya Varfolomeeva:
"I recommend my nanny to everyone. She's the best I've ever had) A pedagogue with multiple specializations. She's been working with children for over 30 years. A very creative and cheerful woman in the best sense of the word, loved by our whole family ❤️
Contact her on WhatsApp
Review from Rulina Sasha:
Nanny
+62 899-0344-164 Agungsari
20 years old, intermediate English, has experience caring for children from 3 months to 1 year
Changu area, Pererenan
Ready to work 5-6 hours a day
Review from Yuli Rudnitskaya:
I recommend this Nanny
Age 28 years
6 years of work experience
Last family - Australians, two children, a baby and an 8-year-old girl
Worked long-term, also handled organizational matters during the family's absence
Very good English
Can ride a bike with the children
Can cook food for the children, knows Western cuisine
Can play and engage in educational activities
Executes tasks of any complexity well, doesn't require a lot of explanation
Has a 9-year-old son
Originally from Java, so won't engage in constant ceremonies
Preferred working area Ubud, possibly Changgu
Preferred hourly rate 40k/hour (negotiable depending on the workload)
WA +62 813-3967-3757 Ditty
Recommendation from Anna:
My friends always find nannies this way: go to the reception of a good, upscale hotel, and tell them that you live nearby and are looking for a nanny. They have contacts for nannies for their guests. All three nannies found this way in different places were better than one another. They cried when parting ways.
Good evening!
Is there anyone in need of a nanny for their children in Sanur? We are about to leave and are ready to share the contact of a wonderful nanny. She can cook, take the kids for walks, clean during free time, and is available to work whenever and for however long is needed. The child adores her, always looks forward to seeing her, and gets upset when she leaves. A heartfelt recommendation. Contact: +62 813-3929-1793 Parwati.
Hello! If anyone is currently in need of a nanny, I would like to highly recommend mine and help her find work. The area is Ubud. The employment would be for approximately 3-4 months. For all inquiries, please contact at +79191615560.
Good day!
We are leaving Bali on June 5th, and our nanny and house assistant will be available. She is a local, active, and kind-hearted person. Our 2.5-year-old daughter has grown very fond of her. The nanny takes our daughter to the kids' club, cooks, and feeds her. Before us, she worked as a nanny for a family with a child under one year old.
She charges 40,000 per hour.
We found her through a recommendation in this chat.
The areas she covers include Nusa Dua, Bukit, Jimbaran, Denpasar, and Sanur.
Her name is Ifa, and you can contact her at +62 857-3807-3173. If you have any questions, please message us at +79033074555.
Hello, everyone!
Our wonderful Balinese NANNY, named Kade, will become available from June 5th.
We would like to make her contact available to you, as well as help this good person find work.
Kade worked with our children for 8 months, and during that time, she became a part of our family ❤️ She is positive, well-mannered, and active.
Kade lives in the Changgu area and is mobile, getting around on a scooter. She has two daughters of her own, aged 10 and 15, who go to school and have become friends with our children.
Kade speaks English almost fluently. She assisted with cooking meals for the children, potty-trained our younger daughter (we stopped using diapers), and took the two children on her scooter to school and various activities. She accompanied them to playgroups, the beach, and picnics!
We felt comfortable leaving the children in her care, knowing they were safe, well-fed, and would have productive and enjoyable times. Kade even stayed overnight with the children on occasion.
Regarding her rate, we paid 50,000 per hour for both children, with the rate varying based on the number of hours.
If you are interested, please contact Kade at  +62 878-6137-1070 and feel free to reach out if you have any questions!