Despite the availability
of e-cards
for paying the Bali Mandara Toll Road, few tourists have purchased them. Some hope for the kindness of locals waiting in line behind them. Alternatively, you can pay a toll booth employee, and they might assist you. However, this usually only works during daytime hours. Without a card, you could find yourself in a difficult situation at night.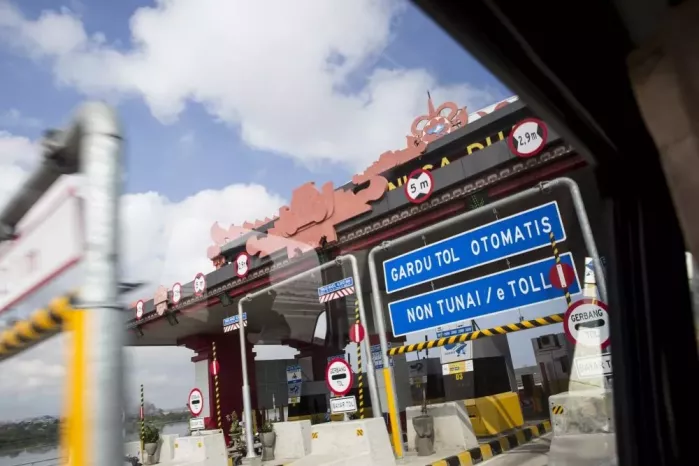 Soon, everything will become simpler. Indonesian authorities have announced test launches of a new payment system. Later this year, the entire Denpasar-Ngurah Rai Airport-Nusa Dua route is expected to feature Multi Lane Free Flow, which will eliminate the need for toll booth gates altogether.
MLFF, or Multi Lane Free Flow, is a global navigation system that enables payment without the need to stop at toll booths. Information about the vehicle's movement is captured by satellites, and then the payment is processed through a dedicated smartphone app. The only thing the driver needs to ensure is that there is a sufficient balance in their account. Using Multi Lane Free Flow can reduce transaction times from ten seconds to four seconds. The most significant benefit is that drivers can forget about waiting in queues at toll booths.
The toll road over the ocean
will serve as an expensive testing ground. Officials believe that due to the low traffic on the Denpasar-Nusa Dua road, it will be easier to track all the nuances and potential issues in the system's operation here. After successful test runs and trouble-free operation, MLFF will be implemented on 40 more toll roads in Indonesia, including Bali and Java. This is a massive project with a cost of nearly 4.5 trillion rupiahs.
As for traveling on the road between Denpasar and Nusa Dua, the previous payment option will remain available. Half of the lanes at the entrance will be converted to the MLFF system, while the other half will have conventional card-operated turnstiles. You can pass through the Multi Lane Free Flow gates without slowing down, and the deduction of funds will occur after exiting the toll section.
How to pay for travel using the Multi Lane Free Flow system?
When using MLFF, users of toll roads can make transactions in three ways.
Method 1: Using a Smartphone
This method is suitable for drivers who rarely change their vehicles. If you travel daily on a single car or motorcycle, you can choose the E-OBU payment system.
Install the ITS OBU app and provide your personal information, including your mobile phone number, email address, and the electronic wallet or bank card you use.
Then, select the "Vehicle Registration" menu and enter the required information: license plate number, vehicle make, a photo of your vehicle, and a photo of the STNK document.
Method 2: Using an On-Board Unit (OBU)
The second method involves using an on-board device (OBU) and is recommended for vehicles frequently used by different drivers.
You will need to purchase an on-board unit and register your vehicle. This method is similar to the first, with the system tracking toll road usage based on GPS data and deducting funds automatically according to the tariff.
Method 3: Electronic Route Tickets (Electronic Route Tickets)
The last method allows you to avoid stopping at the toll booth by purchasing an electronic route ticket. This option is recommended for vehicle owners who rarely use toll roads.
Electronic Route Tickets can be purchased through the app. You will need to enter the entry and exit points on the toll road, and the system will calculate the amount to be paid before your trip.
Please note that violations of the terms (non-payment or providing incorrect data about the used section) may result in fines. 
The vehicle owner's information will be sent to the police for further investigation.