In case of troubles involving the police in Bali, law enforcement officers almost always tend to side with their citizens. For a foreigner involved in a traffic accident, deportation and imprisonment are potential consequences, with a high chance of losing everything. Locals are aware of this and may take advantage of the situation in case of an accident, demanding a substantial sum of money. But what should you do if your vehicle is damaged again, and medical assistance is needed? This can lead to further complications with the rental provider not being in favor of the visitor, and expensive medical care for foreigners.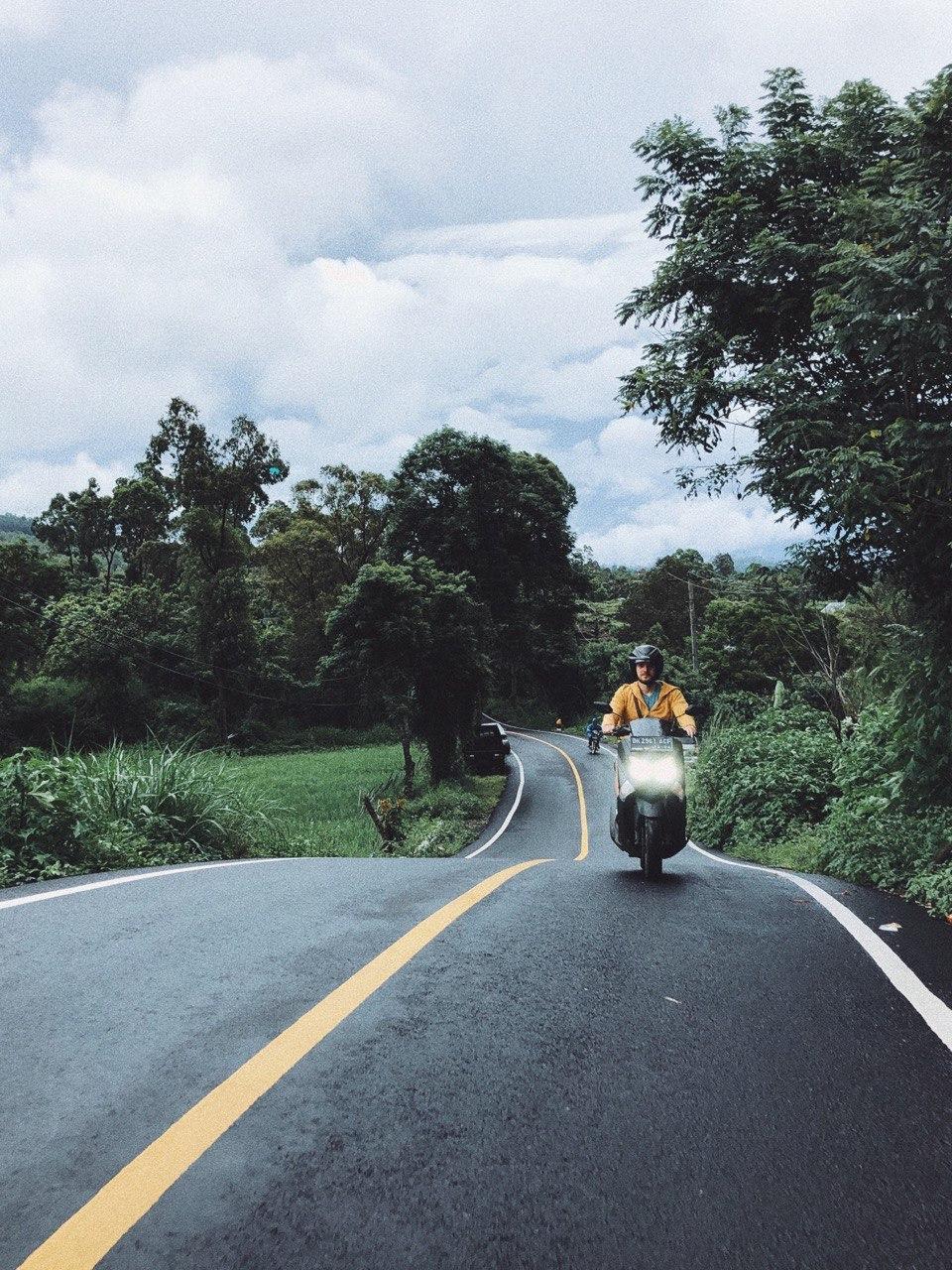 It's better to shield yourself from these troubles in advance, so we recommend getting insurance - both for your vehicle and medical coverage❗. Insurance policies themselves don't cost much, but they can undoubtedly be of great help in difficult times.
There are many challenges and obstacles on Balinese roads that may be unfamiliar to our driving experience. Let's list some of them:
📍 Left-hand traffic,
📍 Inebriated holidaymakers,
📍 Inexperienced tourists on scooters,
📍 Heavy traffic with jams,
📍 Constant sharp turns,
📍 Sand on the road,
📍 Stray dogs everywhere (crossing cats, chickens, mice, crawling snakes, and other wildlife),
📍 Specific Asian driving style (based on visual contact rather than rules),
📍 Wet asphalt after rain (or tropical downpours causing flooding).
The list could go on. And all these are reasons for accidents that unfortunately involve drivers. Therefore, your task is not to turn your life in a paradise into a personal hell overnight, and ours is to tell you about the insurance options available for your vehicle.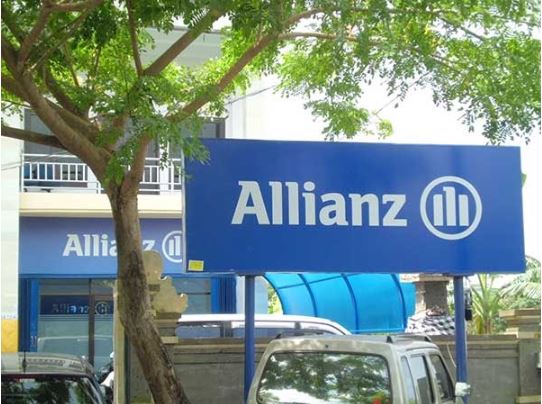 On Bali, there is a network of insurance agencies called ALLIANZ, dealing with various types of insurance and having different offices in areas such as Kuta, Seminyak, Canggu, and Denpasar. Many foreigners frequently mention this network when discussing insurance.
Here is a list of insurance companies that handle vehicle insurance:
1. Allianz Insurance Bali
- WhatsApp: +62-877-7711-8807
- Working hours: 09:00-21:00 daily
2.Allianz Insurance in Seminyak
- WhatsApp: +62-877-7096-7667
- Working hours: 09:00-21:00 daily
3. Asuransi Allianz Denpasar Bali
- WhatsApp: +62-812-3983-882
- Agent: Wawan (explains everything and provides scooter insurance)
- Office hours: 09:00-18:00, Monday-Saturday
Other insurance agencies include:
1. AIC Insurance
- Working hours: 08:00-17:00, Monday-Friday
2. MPM Insurance
- Working hours: 08:00-17:00, Monday-Friday
You can also inquire with your vehicle rental provider to see if they offer a similar service. Some rentals may not provide vehicles without insurance, including companies like
Balimotion
. You can check their website for a list of all services (bike and car rentals, helmet sales, insurance, home delivery of vehicles, etc.).
As for the types of insurance offered by Balimotion:
1) "From any damage": includes full restoration of the vehicle. Cost: 280,000 IDR ($20) per day. Theft is not covered.
2) "Insurance 500F": in case of vehicle damage, the repair cost is covered, but not exceeding $500. The insurance company covers the remaining expenses. Cost: 85,000 IDR ($6) per day. Theft is not covered.
How to independently contact an Indonesian insurance agency for a policy:
You can write to the chosen agency via WhatsApp. For example, using the provided phone numbers for one of the Allianz network offices mentioned above. They will kindly ask you to send vehicle data in English for insurance calculation. They will need:
- Car/bike brand,
- Year of manufacture,
- Approximate current value,
- Type of vehicle,
- Number of seats,
- Sometimes they may request a photo of the vehicle registration certificate (STNK) and your email.
Agents can quickly provide car insurance quotes within a few hours, while for bike insurance calculations, they need to contact the central office in Jakarta, so you may need to wait.
Examples of insurance calculations from an insurance agency:
If you have a Toyota Avanza 2019, valued at 150 million IDR, the annual insurance will cost approximately 5,200,000 IDR. For a Mitsubishi Mirage 2014, valued at 100 million IDR, the insurance cost will be between 3,000,000 to 4,000,000 IDR per year, depending on the insurance company. You can insure both against damage and theft.
The approximate cost of motorcycle insurance ranges from 300,000 to 500,000 IDR per year. If insurance is not included in the rental and you don't want to contact the insurance company yourself, you can discuss this separately with the rental provider. Many are willing to arrange it additionally.
For a Honda Vario 2015 scooter, the annual insurance cost was 317,000 IDR.
Sample insurance calculation with the insurance contract for a scooter: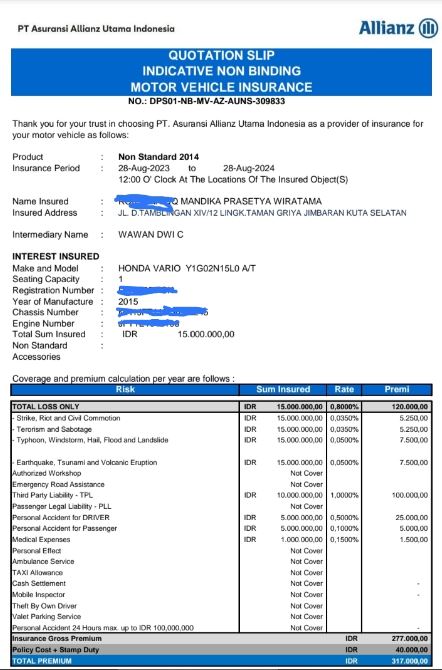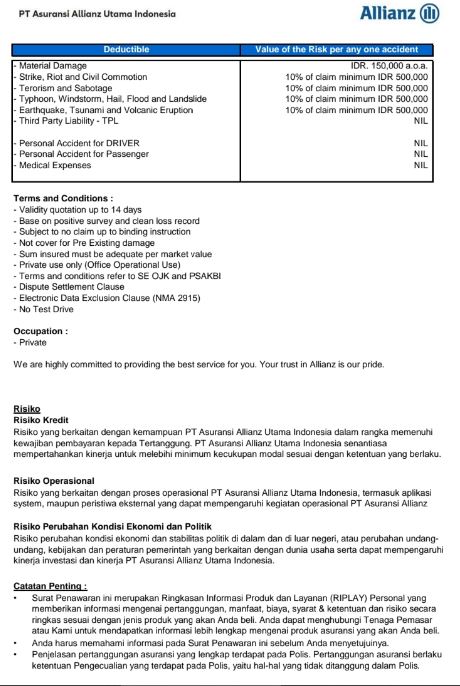 By car: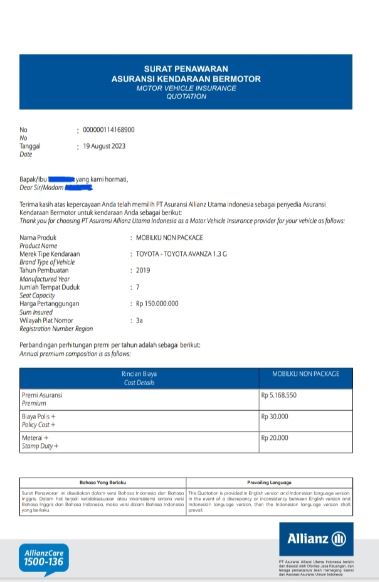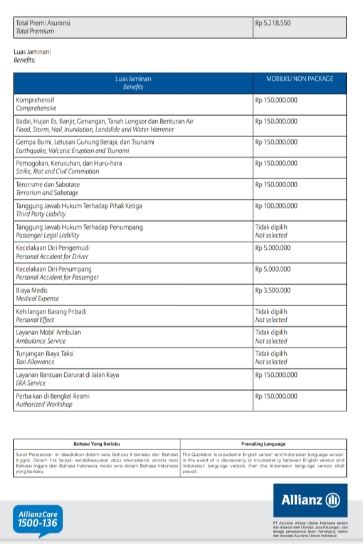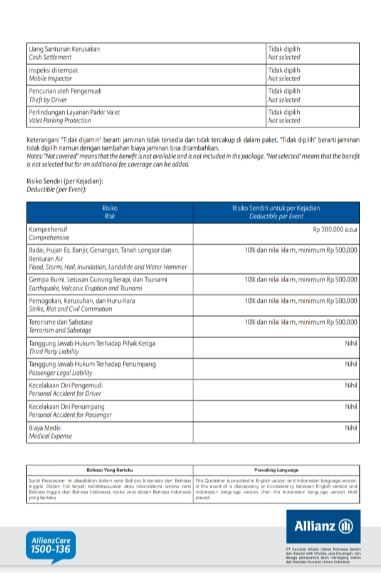 Contacts for communication 👇