The fire at the Suwung landfill near Sanur has been burning for 22 days. Despite the efforts of firefighters, emergency services, and other authorities, they have not been able to stop the fire yet.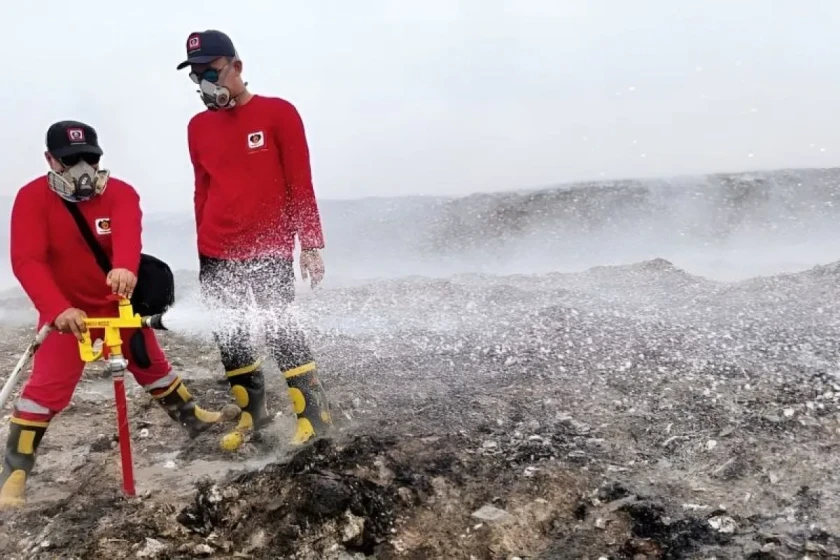 31 firefighters, 20 vehicles, and two helicopters are involved in extinguishing the fire. Approximately 1200 liters of water are used for each helicopter flight, and on average, they make 120-140 drops per day. This means that 160-200 thousand liters of water are dumped onto the landfill daily from the air.
"We are trying to stop this disaster as quickly as possible, and we have recently developed a working firefighting technique. We tried various approaches, but they didn't work. Now we have found a more effective way," said the regional secretary of the Bali province, Deva Made Indra.
Various efforts, including spraying large amounts of water over the fire using a firefighting fleet, have been made to extinguish the fire at the largest landfill in the Bali province.
"The process of extinguishing such fires is significantly different from combating forest or peat fires, where the fire is on the surface, while in the landfill, the fire is deep inside," said Deva Made Indra. Now, for example, continued Indra, helicopters do not drop water while flying but hover over the necessary point and release water directly there. This yields more effective results.
The new method of extinguishing the Suwung landfill fire involves opening up the most smoke-emitting garbage piles to a certain depth and then pouring water from firefighting hoses and helicopters onto them.
"With this new method, we were able to quickly extinguish a significant part of the fire," he said. Thanks to this technique, the fire area has steadily decreased from ten hectares to one over the past few days. Initially, the landfill, which was on fire, covered 16 hectares.
Deva Made Indra also advised district and city administrations across Bali to study the experience of the Suwung fire. "Now we know that in high air temperatures, the likelihood of landfill fires is very high." Therefore, preventive measures are now being taken at landfills throughout Bali. For example, in Buleleng, large waste piles were leveled to avoid possible fires within these colossal mountains.
Salt is also used to prevent fires. "If you sprinkle garbage with salt, it will cool its surface. We did this, and now the landfill in Buleleng will not catch fire. We ask other areas to take similar measures so that these fires do not continue," he said.
While the Suwung landfill continues to burn, albeit on a much smaller scale, the main good news for residents of nearby areas is that the landfill has resumed waste acceptance. This means that household waste collection will be regular again. A few weeks ago, there were significant problems with waste disposal.