Lembongan Harmony Villas
4 stars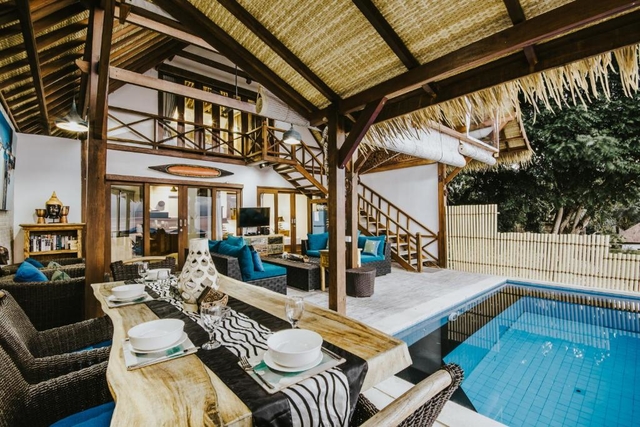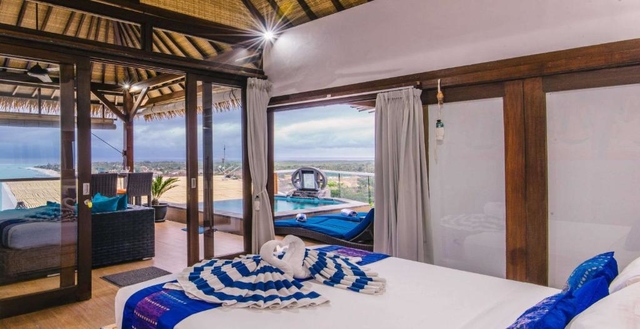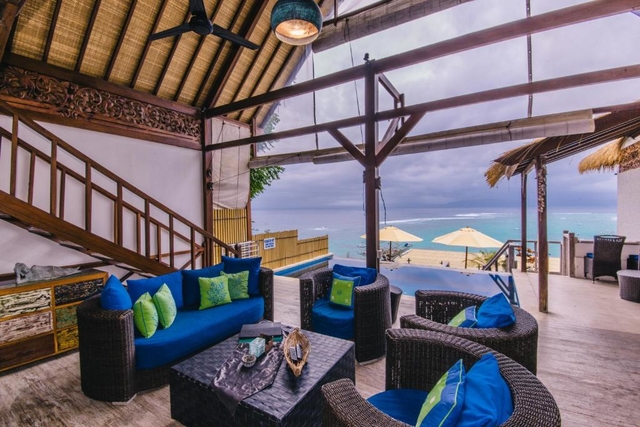 The Lembongan Harmony Villas complex is situated atop a hill, just a 5-minute walk from the Dream Beach and Coconut Beach, and a 2-minute walk from the restaurants and cafes along the waterfront. From the windows, guests can enjoy views of Bali, Mount Agung, and the sea. The complex offers villas with 1 or 2 bedrooms and private pools.
All villas are equipped with air conditioning, a living area, a flat-screen TV, a DVD player, an iPod docking station, and a well-equipped kitchen.
Lembongan Harmony Villas is located a 10-minute walk from Tamarind Beach and a 30-minute walk from Mushroom Beach. The fast boat ride to Bali takes 30 minutes.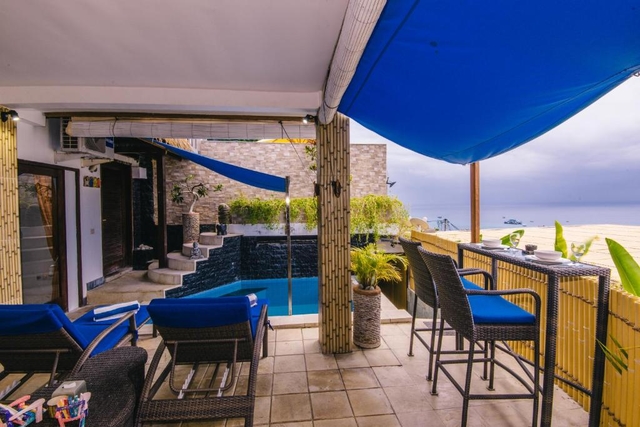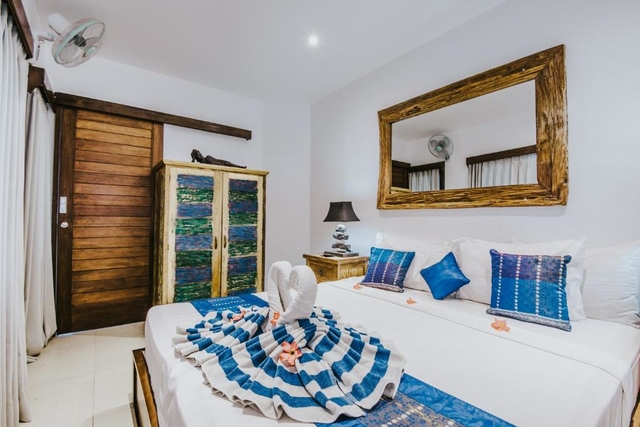 Guests especially appreciate the friendly staff who are well-informed about island activities. They also love the sea view (surf spots can be seen right from the veranda), proximity to the beaches, reasonable prices for the stocked fridge, and the attention to detail in the villas.
Secret Outlook Lembongan
4 stars
Secret Outlook Lembongan is located 1.5 km from Mushroom Bay Beach and 2 km from Devil's Tears. It offers villas with air conditioning, open-air pools, gardens, and free private parking.
Each villa has 1 bedroom, 1 bathroom, bed linen, towels, a flat-screen TV with satellite channels, a dining area, a fully equipped kitchen, and a patio overlooking the pool.
Guests at Secret Outlook Lembongan can rent bicycles.
Nearby attractions include Sandy Bay Beach Club, Gala-Gala Underground House, and the Yellow Bridge.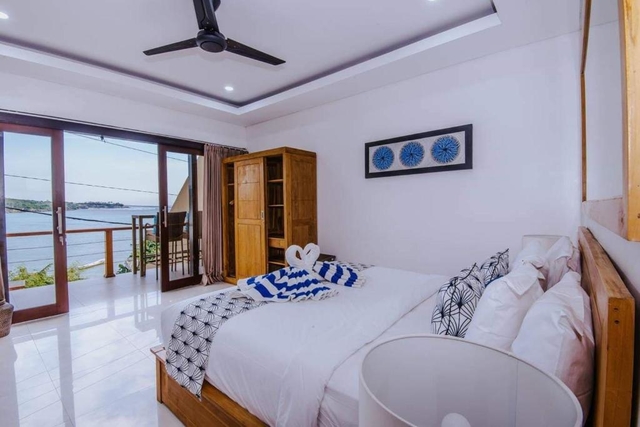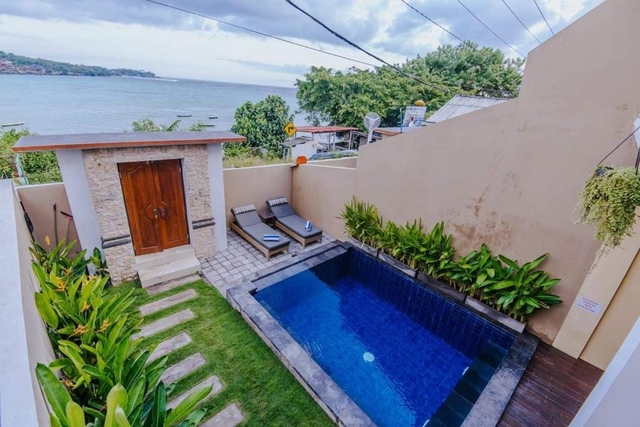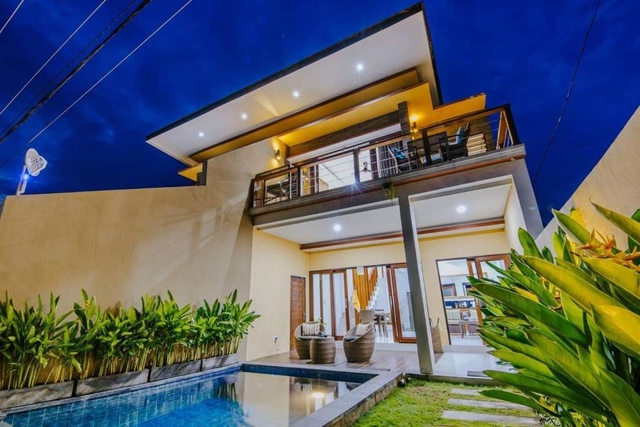 Guests particularly appreciate the impeccable cleanliness of the villa, proximity to restaurants, and the magnificent view. Everyone loves the attentive villa manager. Prices in the mini-bar are cheaper than in stores.
Due to the hotel's relatively remote location from the beaches, renting a scooter is necessary.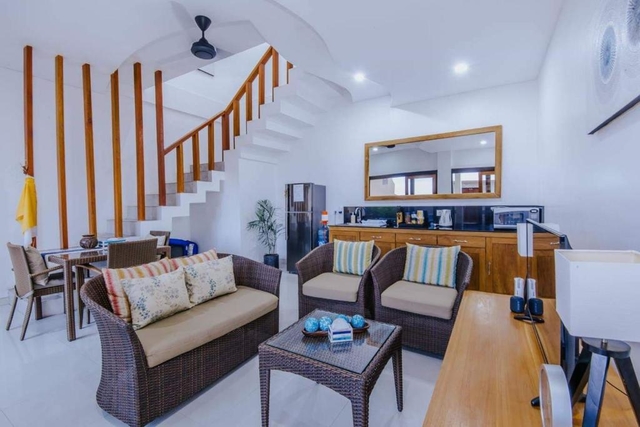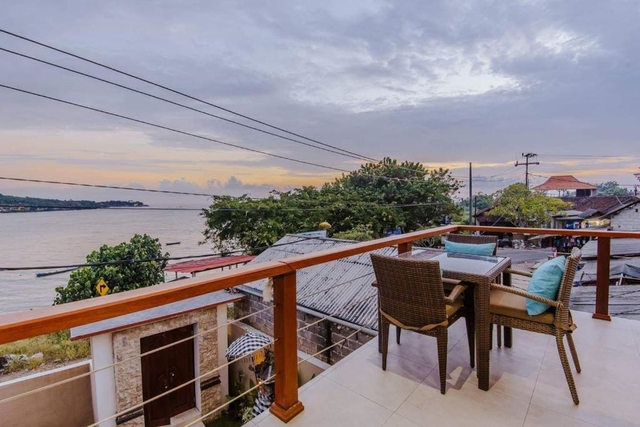 LGood Lembongan Island Villas
4 stars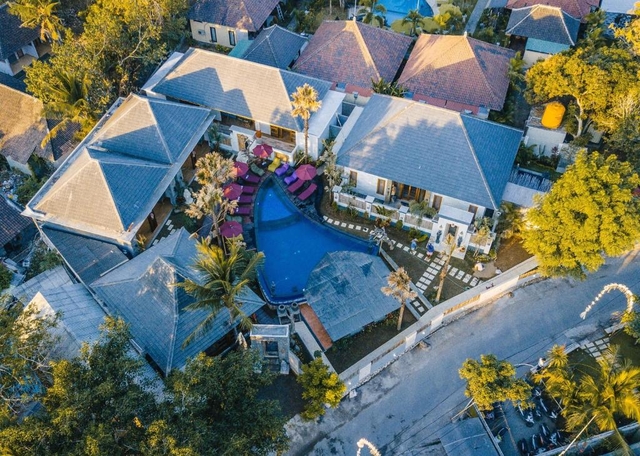 Good Lembongan Island offers standard rooms, two-bedroom cottages, and a three-bedroom villa with a private pool. There is a restaurant, a 24-hour front desk, a bar, a garden, a shared outdoor pool, and a terrace on the premises.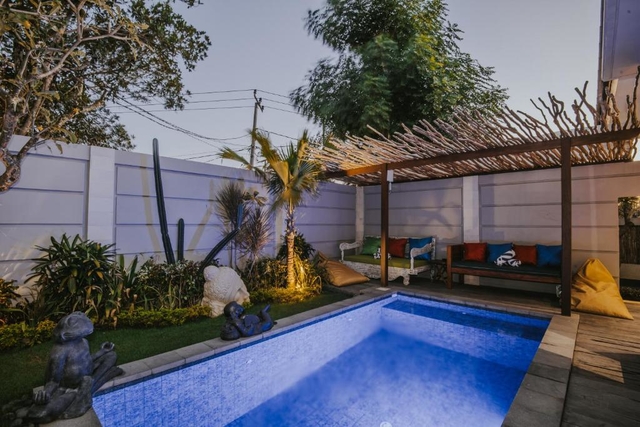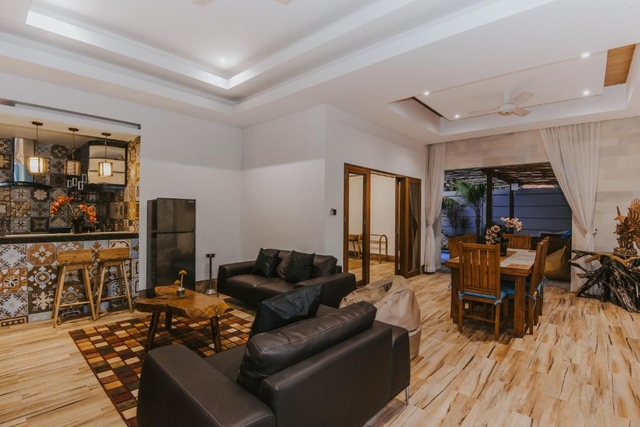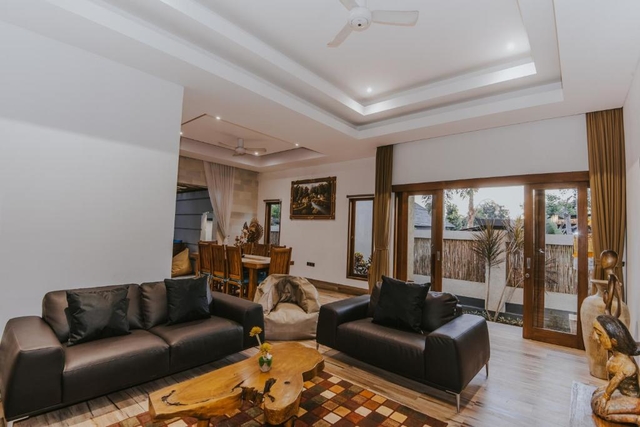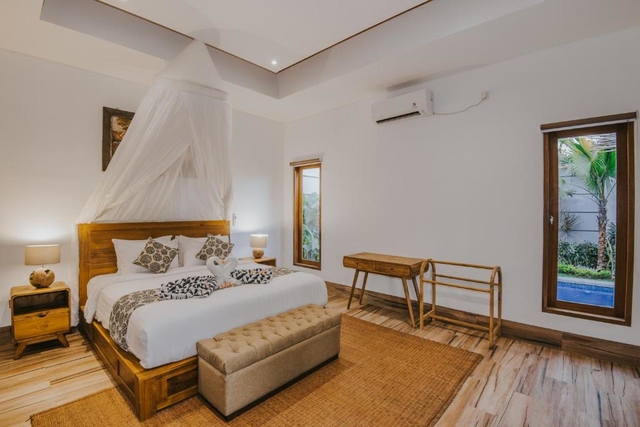 All rooms come with a living area, a flat-screen TV with satellite channels. Towels and bed linen are provided for an additional fee.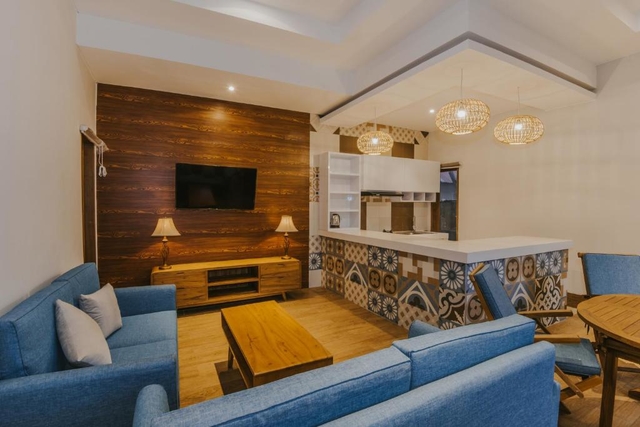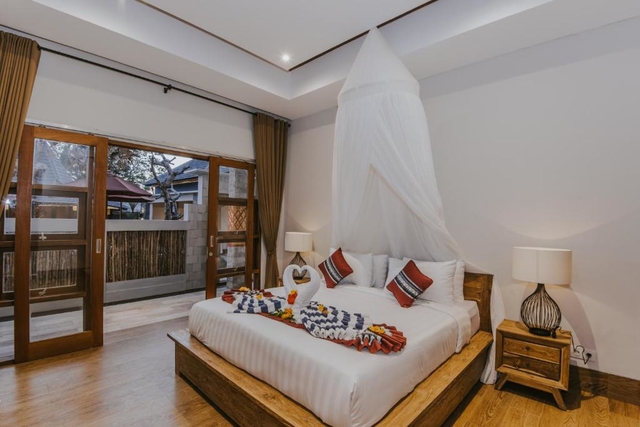 Guests are served a continental breakfast.
Near the hotel, you can find popular attractions such as Mushroom Bay Beach, Devil's Tear, and Sandy Bay Beach.
Guests especially appreciate the comfortable beds, friendly and attentive staff. The atmosphere here is very relaxing, and the beautiful decor is pleasing to the eye. The restaurant serves delicious food. The restaurant is one of the cleanest and most modern on Lembongan. The villas themselves are clean and tidy, with housekeeping cleaning the room every morning while guests are at breakfast. The staff is very open and can tell you everything about the island or their culture. They can even arrange a trip to a local ceremony.
Sunset Garden Nusa Lembongan
4 stars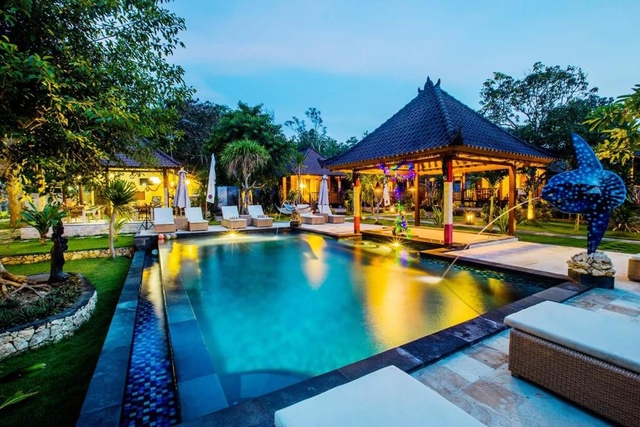 The hotel offers various room categories, from standard single cottages to two-bedroom villas with a private pool.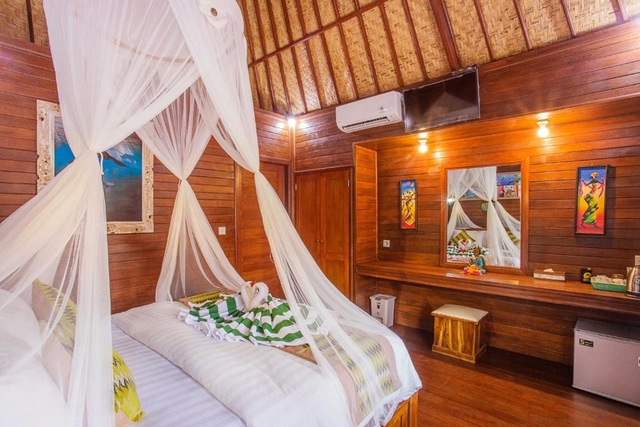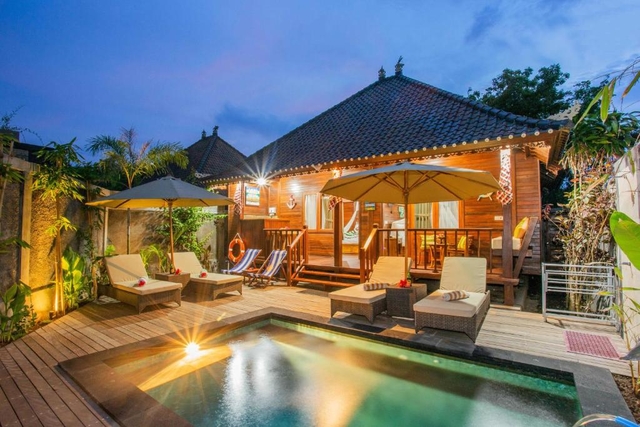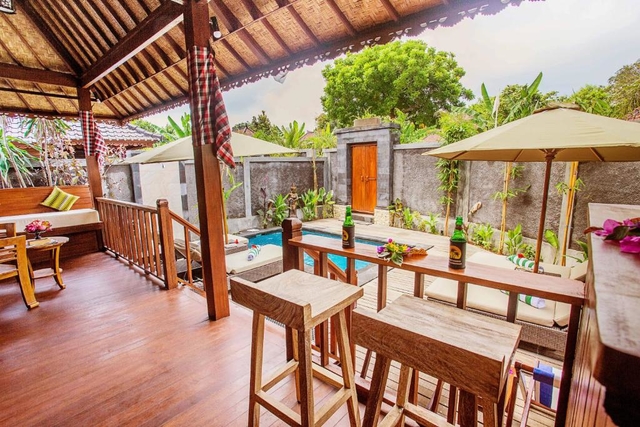 The hotel is located 5 minutes' walk from Sunset/Sandy Bay Beach. It features a shared outdoor pool, a restaurant, and a bar. Complimentary transfers to Mushroom Beach, Sunset Beach, Dream Beach, and Devil's Tear are provided. Bicycles and cars can be rented at the hotel.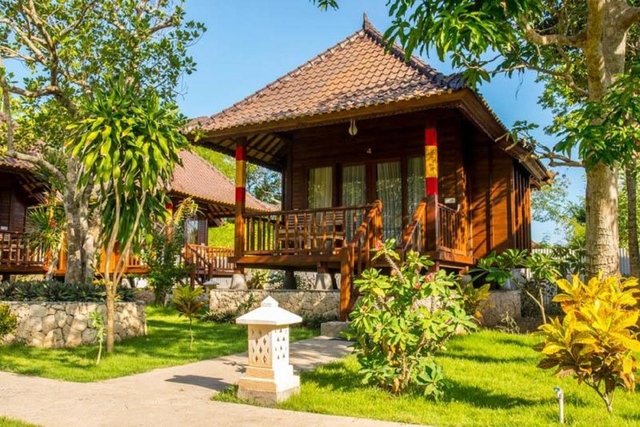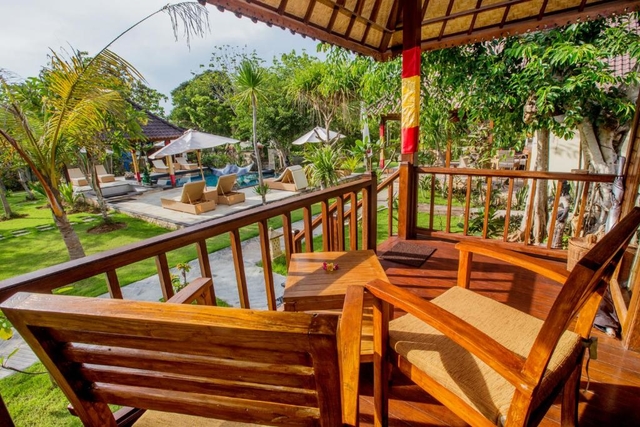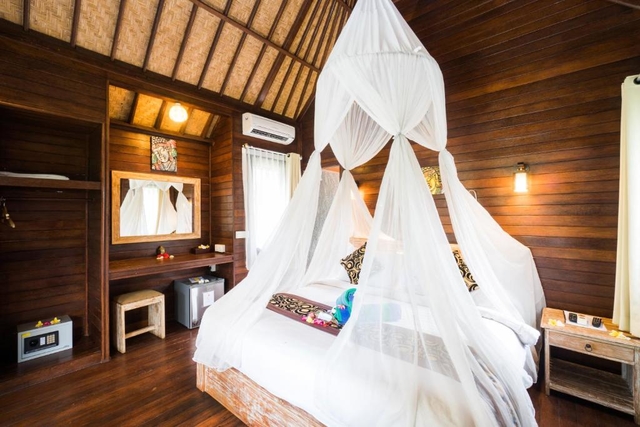 Guests especially love the beautiful garden, the lovely pool, and the attentive and friendly staff. The location is excellent, and there is a great selection of breakfast options. While renting a scooter will certainly shorten travel time, you can still walk to many restaurants and spas. The garden here is stunning, and the hotel staff spends a lot of time caring for it. It's well-designed and exudes a tranquil atmosphere.