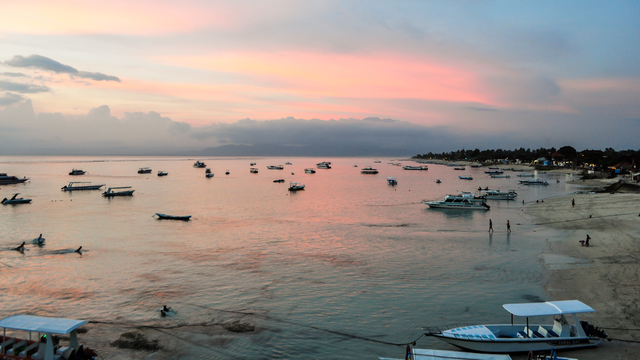 Location
Nusa Lembongan is a small island off the southeast coast of Bali. It has two closest neighbors: Nusa Ceningan, which is separated by a narrow strait and connected to Lembongan by a suspension bridge, and the larger Nusa Penida, which can be reached by boat in 15-20 minutes.
The total area of Nusa Lembongan is 8 square kilometers.
Administratively, these three islands are part of the Klungkung Regency of Bali and are separated from Bali by the Badung Strait.
Transport
Nusa Lembongan can be circumvented by motorcycle in about an hour. There is no heavy traffic or congestion here.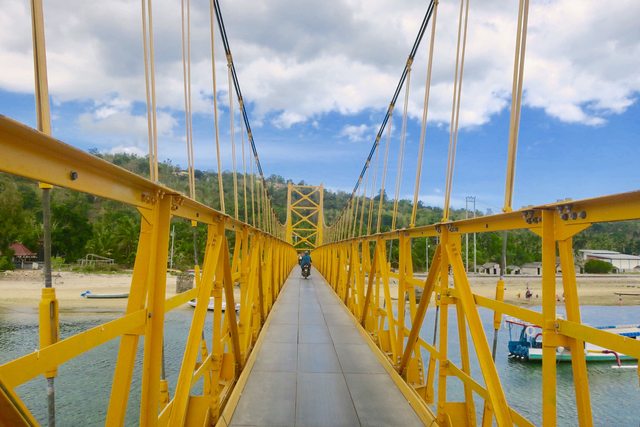 Often, the islands of Lembongan and Ceningan are perceived as a single entity because they are connected by a bridge, and there is convenient access between them via motorcycles. Cars do not travel on the bridge, so this is something to consider when traveling.
It is almost impossible to bring your motorcycle or bike to the islands of Lembongan and Ceningan. Speedboats that transport passengers do not carry vehicles.
Cars and bikes that circulate on Lembongan and Ceningan were brought to the islands through special arrangements.
By walk
Nusa Lembongan is a great place for walking: coastal paths connect almost all guesthouses, hotels, and restaurants. Most walks will take less than two hours.
You can walk across the yellow suspension bridge to Nusa Ceningan.
Walking can be less comfortable during the hot part of the day, so it's better to plan your walks for the morning or evening.
By bicycle 
Bicycles are available for rent at most hotels and guesthouses. Many roads on the island are well-paved, but there are also gravel roads with stones.
The cost of renting a bicycle is around 20,000–30,000 rupiahs per day.
By motorbike
You can rent a motorbike at many hotels and guesthouses. The cost ranges from 50,000–100,000 rupiahs per day, depending on the condition of the motorbike.
By truck 
There are hardly any cars on Nusa Lembongan. Any business or local resident wishing to bring a car to the island must obtain special permission from the village elders.
Among four-wheeled vehicles, pickups are popular here. Grab and Gojek services do not operate on the island.
Atmosphere
The atmosphere here is very informal and relaxed. Lembongan is much more peaceful and quiet than Bali.
The local residents here are Hindus, just like in Bali, and traditional Balinese architecture is prevalent.
Lembongan's climate is similar to Bali's, but it's drier here, especially from May to September.
Infrastructure
It's advisable to withdraw cash on Bali before your trip. There are ATMs on Lembongan, but they are limited, so they often run out of money.
Major beach clubs and restaurants accept card payments.
Accommodation
Accommodation on Lembongan ranges from expensive and luxurious villas to modest guesthouses. Compared to accommodation on Nusa Ceningan and Nusa Penida, there are many more lodging options here.
Affordable guesthouses on Nusa Lembongan
Entertainment
Most of the entertainment on the island is related to water activities such as swimming, cliff jumping, snorkeling, diving, and surfing.
There are no nightclubs here. However, some cafes or restaurants may host small acoustic concerts.
Attractions
Devil's Tear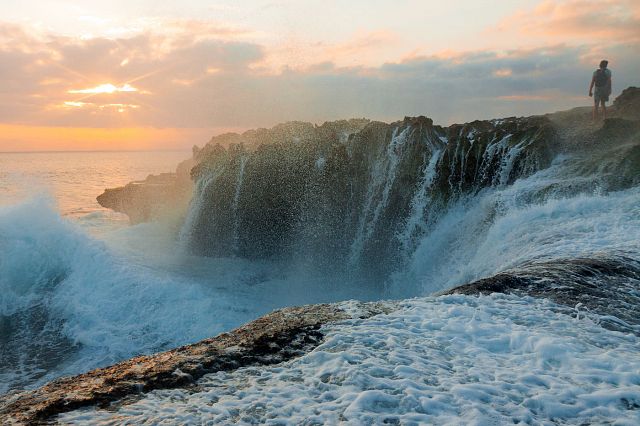 Rocky bay where the ocean waves crash dramatically.
Be cautious when taking photos in this place. Sometimes, tourists, in pursuit of impressive photos, venture very close to the edge of the cliff, thinking that each successive wave will be of the same size.
But the waves are irregular and sometimes crash onto tourists, knocking them over, scratching them on sharp rocks, and soaking their cameras and video equipment.
Mangrove forest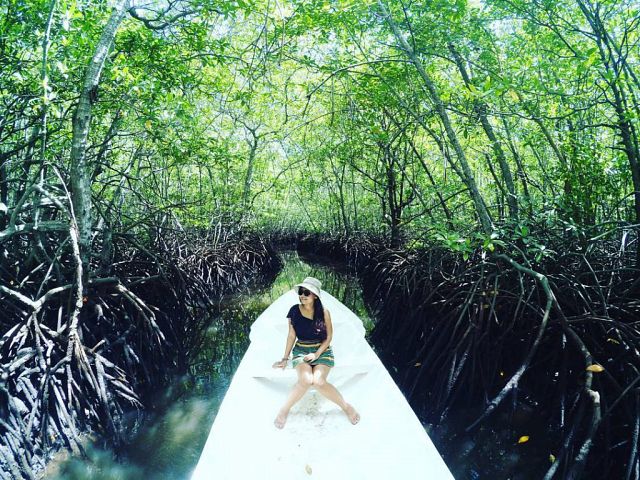 It is located in the northeastern part of the island. Mangrove forests not only attract tourists but also play a crucial role in environmental protection. They protect the coastline from erosion and natural disasters.
To explore the mangrove forest, you'll need to rent a kayak and paddle through narrow channels. Prices are usually negotiable, and kayak rental can cost anywhere from 100,000 to 150,000 rupiahs.
The trip to the dead-end will take about 10-15 minutes. It's a very atmospheric place. Sunlight filters through the foliage, and sunbeams dance across all surfaces. The forest is occasionally filled with the songs of birds.
If you decide to go kayaking, opt for an earlier time. Towards evening, the water recedes, and the channels become very shallow.
Gala-Gala Cave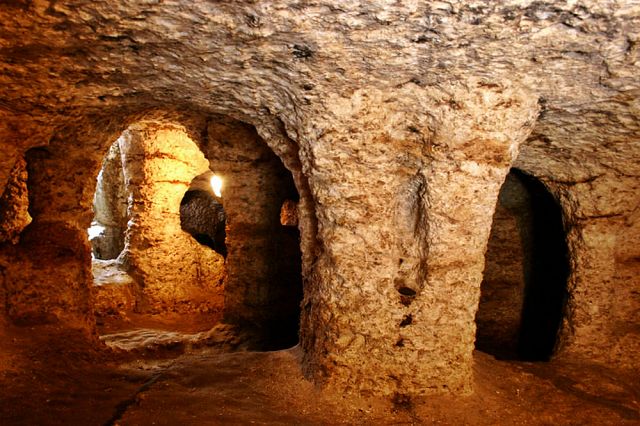 This is an underground house carved out by a hermit. The space is about 500 square meters in size. There's nothing special inside. People prone to claustrophobia may find it psychologically challenging.
Yellow Bridge
The famous suspension bridge connects two islands: Nusa Lembongan and Nusa Ceningan. It's an excellent spot to take stunning photos if you happen to be on the bridge when it's not crowded.
Beaches
The beaches are mainly concentrated on the western side. These include Mushroom Beach (where boats arrive from Bali), Dream Beach to the west, Sandy Bay, and Mangrove Beach (offering beautiful views of Bali and volcanoes, snorkeling, and a mangrove forest).
Jungut Batu Beach
This is the longest beach on Nusa Lembongan. It's where all the wooden tourist boats and fishing vessels dock. There are also surf spots here.
The beach is perfect for those who want to enjoy the sunset on the sand or at a beachside bar.
The beauty of walking on this beach is that the main Balinese volcano, Mount Agung, always looms in the background.
Dream Beach
Located on the southwest part of the island, it is adorned with cliffs, turquoise waters, colorful reefs, and hidden caves. The waves on the beach can often be turbulent, so it may not always be suitable for calm, relaxed swimming.
In any case, avoid swimming in the eastern part of the beach. From the cliff on the right side of the beach, there is a beautiful view, especially at sunset.
There is a cafe attached to the only resort here where you can order food, change, or take a shower.
Mushroom Beach
This is where most boats arrive on Nusa Lembongan. It's a white beach, perfect for swimming, snorkeling, diving, and surfing. You can enjoy a meal here, relax in a pleasant atmosphere, and rent a stand-up paddleboard.
Surfing
Nusa Lembongan has three main surf breaks, two of which are in the upper half of the western coast. Another, less known, is located to the southwest of Nusa Ceningan.
These breaks are suitable for intermediate and experienced surfers, as they all pass over coral reefs.
You can surf here year-round, but the best waves come from April to September/October.
Diving
Between the islands of Nusa Ceningan and Nusa Penida, you'll find some of the best diving spots in the area, where you can see manta rays, the elusive Mola-Mola sunfish, and dolphins!
A boat trip from Nusa Lembongan to Manta Bay takes about 20 minutes.
Despite the fact that the best diving sites are off the shores of Penida, there are plenty of dive centers on Lembongan that take divers out by boat.
Snorkeling
Great snorkeling on Lembongan is available right from the shore. Two of the best areas are Mushroom Bay on the west coast and the beach in front of the mangrove groves at the northern tip of the island.
You can rent snorkeling equipment at hotels or on the beach. Depending on the quality of the gear, it will cost you around 75,000 to 100,000 rupiahs for a mask, snorkel, and fins.
If you want to go snorkeling in Penida to see manta rays, a dive center can sell you a spot for snorkeling on a dive boat. Additionally, local boatmen can take you on their boats to various snorkeling spots.
Restaurants
Pondok Baruna Warung
Slightly pricier than local warungs, but the food is delicious and worth it. A crowd favorite is the fried fish fillet (ikan goreng) in a rich tomato sauce.
Mama Mia Bar & Grill / TAWE Warung
These two places are located next to each other, both facing the ocean. They both offer excellent spots to sit and watch the magnificent sunset over the western side of the island.
B'fresh Juice Bar
A great place for breakfast. Reasonable prices, and they have it all, from smoothies to tasty banana pancakes and light lunches.
Ginger & Jamu
They prepare healthy and truly nutritious dishes at a quite affordable price. Excellent smoothie bowls, haloumi burgers, tempeh bowls, vegan tacos, and mahi-mahi. A great place for lunch and dinner.
The Deck
The restaurant is located on the waterfront overlooking Jungut Batu Bay. You can drop by at any time of day. In the mornings, you can order an Australian-style breakfast, for lunch - tacos, burgers, or salads. One of the best sunset restaurants on the island, not only thanks to the food and location but also due to regular live concerts.
Thai Pantry
A retro-style food van offering the best and most authentic Thai cuisine. Green curry, pad Thai, stir-fried vegetables in a wok, and all the other essential Thai dishes - all prepared just like in Thailand.
Come early to enjoy the sunset.