In 2023, the Balinese New Year, Nyepi, will be celebrated on March 22nd. On this day, it is prohibited to turn on lights, go outside, or make noise. The Pengrupukan parade in honor of the holiday will take place on March 21st, the day before Nyepi.
From 6 am to 6 am, people are not allowed to go outside, use lights and electricity (at least in a way noticeable from the outside), and make noise. During this period, airplanes to and from Bali do not operate, and boats and ferries do not depart. Travel is only permitted for medical, police, fire, and emergency vehicles.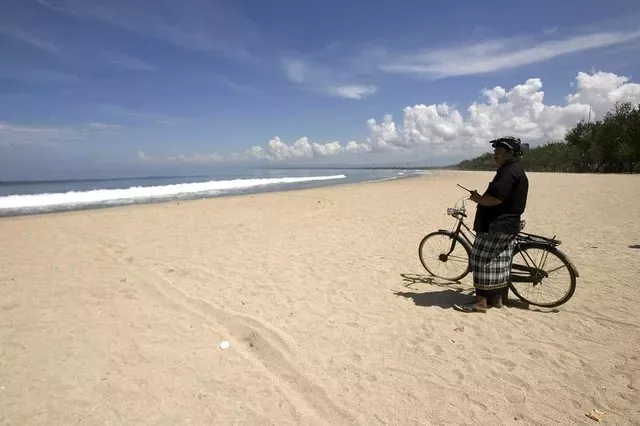 Imagine a celebration where almost nothing happens. People don't go outside, they don't travel anywhere, they don't dance or listen to music, they don't turn on lights, and some even refrain from eating and speaking. This is the Balinese New Year, Nyepi, and as you may have guessed, it's a very unique holiday.
The History of Nyepi
Nyepi is not the only New Year on the island; it's one of the Balinese calendars' New Year celebrations. According to legends, Aji Saka brought this calendar from India and became the first Javanese king. The Saka calendar was put into effect in the year 78 AD.
Nyepi is celebrated on the day after the first new moon of the spring equinox. That's why the holiday doesn't have a fixed date in the Gregorian calendar. Based on it, Nyepi falls in March.
Many Hindus in India also celebrate a festival around the spring equinox. It goes by different names such as Cheti Chand, Gudi Padwa, and Ugadi. However, the Balinese New Year is unique and different from them.
Melasti
The first significant day of the Nyepi celebrations is Melasti, also known as Melis. Usually, it takes place three days before Nyepi. However, the exact date is decided by the village council. If the local council decides, Melasti can occur one to five days before Nyepi.
On the seaside, near sacred springs, rivers, and lakes, Balinese people dressed in white clothes participate in processions with decorated bamboo poles, penjors, and Balinese umbrellas.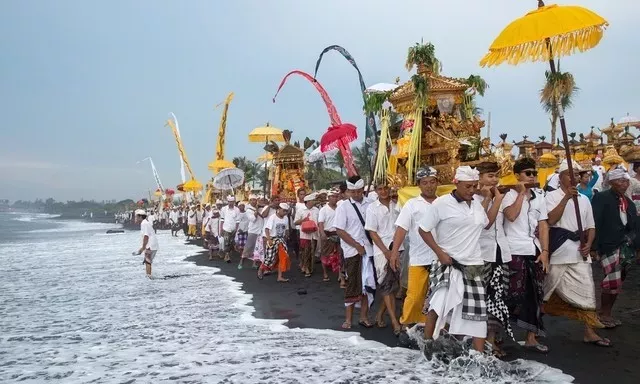 They sanctify sacred objects belonging to temples such as Arca, Pratima, and Pralingga. Balinese people collect seawater and water from sacred springs, which, according to Hindu beliefs, contains the essence of eternal life, Tirtha Amerta.
The purpose of Melasti is to purify the small world - the human body and soul, Bhuana Alit, and the big world - the universe, Bhuana Agung, from all evil influences, deeds, and thoughts.
Offerings to the gods are taken to the ocean on boats. At this moment, the Balinese who have come to the ocean pray, facing towards it. The boat returns with the holy water, which is used to sprinkle everyone present at the ceremony.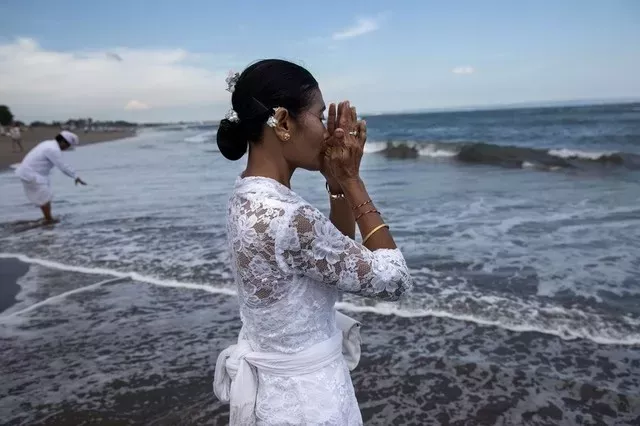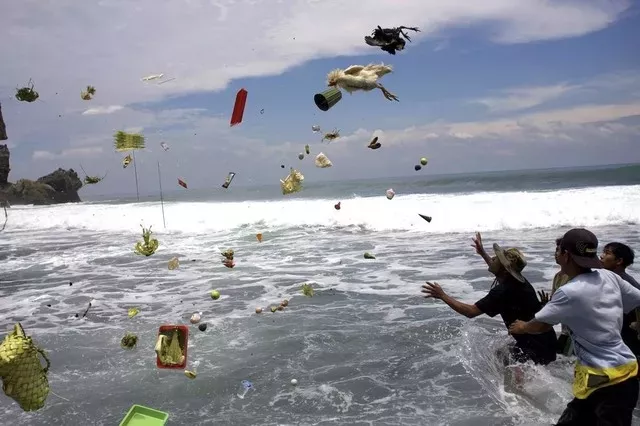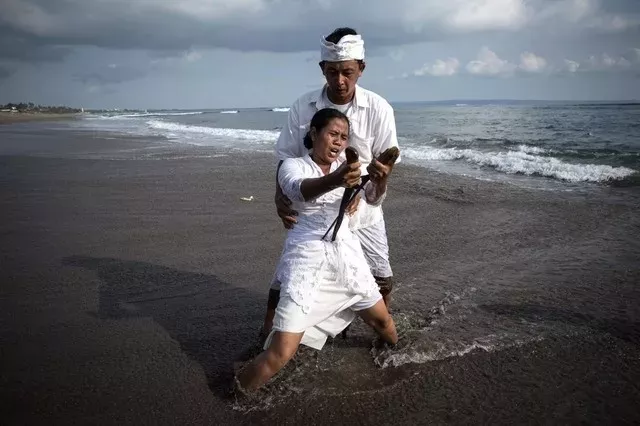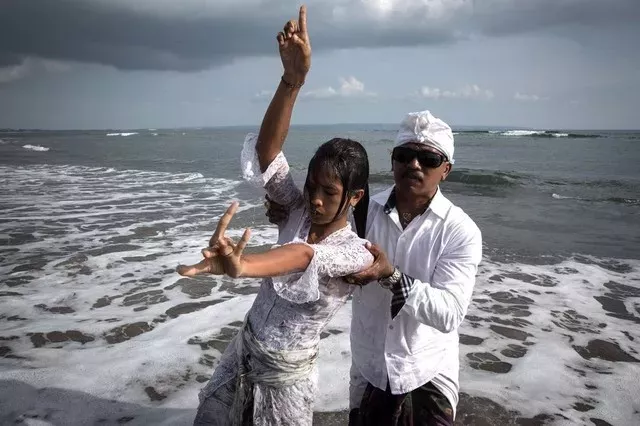 Mecaru
The day before Nyepi is the brightest, noisiest, and most festive. On this day, the Melasti ceremony is held to overcome negative elements in nature and achieve a balance between God, humans, and nature. Balinese people sit on woven mats (called "cinovka") placed at road intersections to pray. In villages, offerings of animals, birds, and crops are made as sacrifices.
Pengrupukan
In the evening, it's time for Pengrupukan - the ogo-ogo parade. Ogo-ogo refers to giant statues depicting scary demons and evil spirits.
As the sun sets, Balinese people start their processions. They carry the monster figures through the streets and spin them three times at intersections to confuse evil spirits. There's noise and excitement everywhere.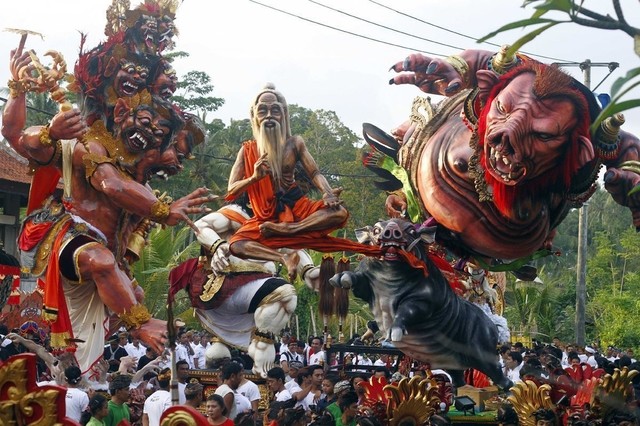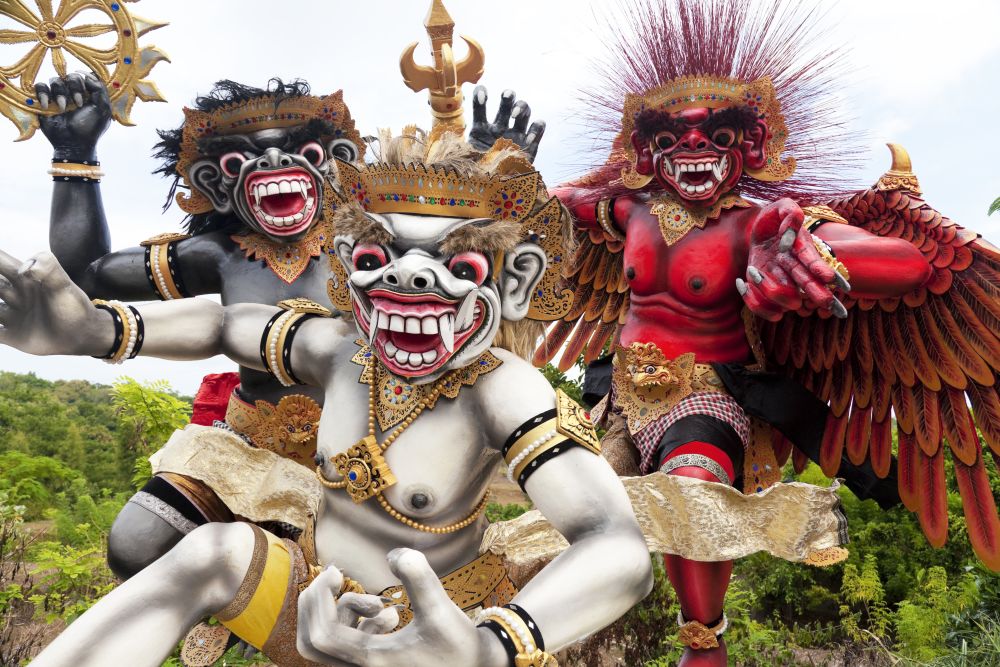 Balinese people walk along the streets with torches. In Bali, they believe that the torches and noise will prevent demons from entering the purified homes. Balinese people perform purification ceremonies with fire.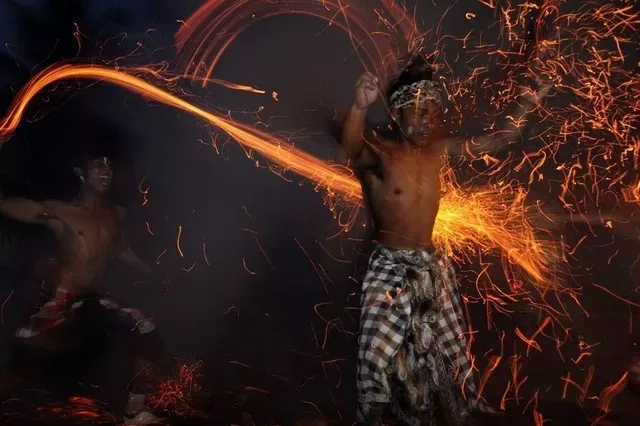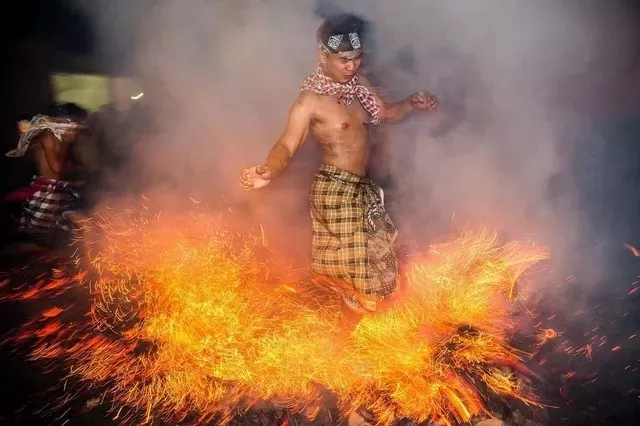 Sometimes monster figures are burned after the parade. The burning symbolizes victory over one's own demons and the expulsion of evil forces. However, burning is not always done due to the risk of fires. Some Balinese residents take these monsters home and decorate their entrances. Others leave them to "guard" fields or sell them to collectors.
If you arrive in Bali during the Pengrupukan period, you may encounter difficulties reaching your hotel. Many streets in Pengrupukan are closed for parades, and you'll either have to find alternate routes or wait until the streets reopen. Closer to midnight, the parades usually end, and you can drive through.
On the other hand, if your departure from Bali coincides with the Pengrupukan celebrations (approximately from 6:00 PM until midnight), it's better to arrive at the airport in advance before road closures begin.
The most vibrant mass parades, called "Ogo-Ogo," take place in Denpasar around the Brahma statue at the intersection near the Bali Museum, in Ubud at the football field on Hanuman Street, in Sanur, and in Jimbaran on the Bypass. But even if you go somewhere deep into rural Bali, you'll still find parades, though not as large-scale.
Nyepi
At six o'clock in the morning the next day, with the sunrise, the Day of Silence, Nye pi, begins. It lasts exactly 24 hours until six o'clock the following morning.
It is a day of silence, prayer, and meditation. It is a time to introspect and reflect on the past year.
You may choose not to participate in the festivities of other days dedicated to the new year. However, if you are in Bali, you must respect and observe the rules of Nye pi.
Four prohibitions on Nyepi
There are four prohibitions, Chat ur Brata (Catur Brata), which are in effect for the full 24 hours of Nyepi.
Prohibition of fire and light
Amati Geni - prohibition of fire or light, including electricity.
All residents close their windows and turn off the lights in their buildings. Do not turn on lights in the evening. If you are seen by Balinese community guards (pecalang), they will come to reprimand you or may even throw stones at your windows. You would be in the wrong, as you would be breaking the law, while they are there to protect it.
The prohibition of fire also extends to cooking. However, if you cannot refrain from cooking and do it discreetly, no one will scold you for it.
Electricity is available during Nye pi, but you must not turn on lights in the evening.
Prohibition of work
Amati Karya - prohibition of work.
Nye pi is an official holiday throughout Indonesia, and even if there is no curfew on other islands, the day remains a day off. But in Bali, all establishments are closed. ATMs are turned off to prevent hacking.
Prohibition of travel
Amati Lelungan - prohibition of travel.
It is so serious that Bali's international airport is closed on Nye pi. All flights for this day are canceled. By the way, it is the only airport closure in the world for religious reasons.
If you have purchased a ticket to Bali or from Bali on the date of Nye pi, contact the airline. Most likely, your flight will be rescheduled. From 6 am on Nye pi day until 6 am the next day, no flights operate at Bali's airport. No boats depart or arrive in Bali during this time, except for medical, firefighting, police, or emergency vehicles.
On the streets, there are only animals and birds. Occasionally, community guards (pecalang) walk the streets to ensure order.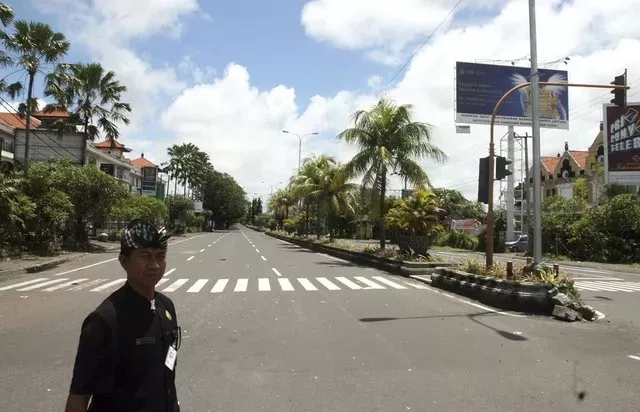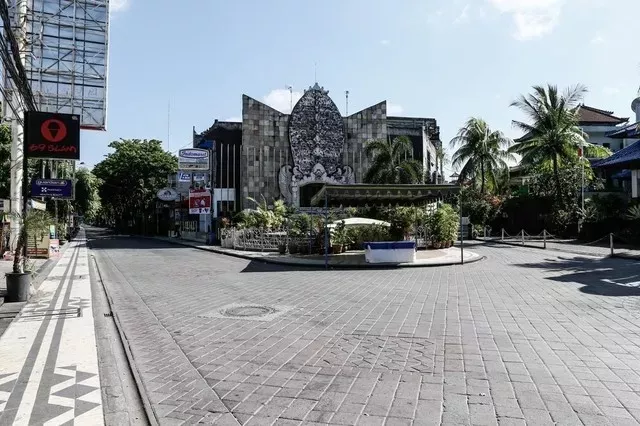 If you violate the rule and wander on the streets, the community guards may detain you and demand a ceremony to cleanse you from evil spirits, often with a fee. The penalty for breaking this prohibition can range from hundreds of thousands to several million rupiahs. Just don't joke about it and don't act like heroes. Apart from the potential financial costs of leaving your home during Nyepi, it also shows disrespect for Balinese traditions. This prohibition must be strictly followed. There are villages in Bali where the restrictions on movement are not strictly enforced. In such villages, people can walk on the streets and even play football. Therefore, it's better to clarify the Nyepi rules in your specific area with your Balinese neighbors, the owners of your villa/house, or your Balinese staff. On Nyepi, only pecalang (community guards), police, ambulance, and other emergency services are allowed to travel on Bali's streets.
Prohibition on entertainments and pleasures
Amati Lelanguan (Amati Lelang) - the prohibition on entertainments and pleasures.
It applies to food, smoking, music, and much more. Spiritual leaders in Bali do not approve of overly festive entertainment programs at hotels during Nyepi. In most hotels on Nyepi, guests are allowed to move around the premises, swim, but loud and highly active events are prohibited.
However, many people do not strictly adhere to the prohibition on entertainments. They eat, listen to music, watch movies, or smoke without drawing attention. At the same time, there are truly religious people in Bali who observe Nyepi in meditation, silence, and fasting.
Because of this prohibition on entertainments, several years ago, the religious council of Hinduism decided to shut down the internet in Bali.
Sometimes, by accident, in some hotels and with certain providers in specific areas, the internet continues to work. But predicting where this will happen exactly is difficult.
All four prohibitions apply to both Balinese and foreigners. Everyone on the territory of Bali, Nusa Penida, Lembongan, and Ceningan must comply.
Make sure to follow the Nyepi prohibitions. In doing so, you will not only avoid the displeasure of the community guards but also gain a unique experience that can bring you interesting emotions.
The morning of January 1st in Russia could be considered our Russian Nyepi. Streets empty, no people or cars. No one works. No one eats, simply because there's no strength left for it.
Unique and beautiful experience
Don't be afraid of Nyepi. It has pleasant moments.
The most beautiful time in Nyepi is before the dawn of the next day. The spirits have already been appeased for the previous day. If you go out early in the morning, you can see incredibly bright stars that are not obscured by city lights. In these moments, you can feel true happiness from being one with this world.
Often we live in crowded places filled with the noise of motorbikes and cars, loud music, and conversations. We forget about the music that nature offers us. In Nyepi, you can listen to a tender and beautiful symphony of birdsong, the wind's gentle breeze, the rustling of the sea waves, or the gurgling of rivers all day long.
On the eve of the holiday, we asked readers of the Baliforum: "What would you like to know about Nyepi from a Balinese priest?" We gathered questions from Baliforum participants and met with priest Jero Mangku I Nyoman Sudarka and his family - his wife Jero Mangku Ni Wayan Indriati and his younger brother I Ketut Wigama. He performed a Balinese ceremony for us and answered the most interesting and important questions along with his brother.
Ngembak Geni
Early in the morning on the day following Nyepi, Ngembak Geni begins - friends and relatives gather together to ask forgiveness from each other.
Omed-Omedan:
In the village of Kaja Sesetan in Denpasar, on this day, they hold the kissing festival Omed-Omedan. Young unmarried girls and boys between 17 and 30 years old kiss in front of everyone, while others spray water on them from all sides. The boys are expected to kiss the girls forcefully.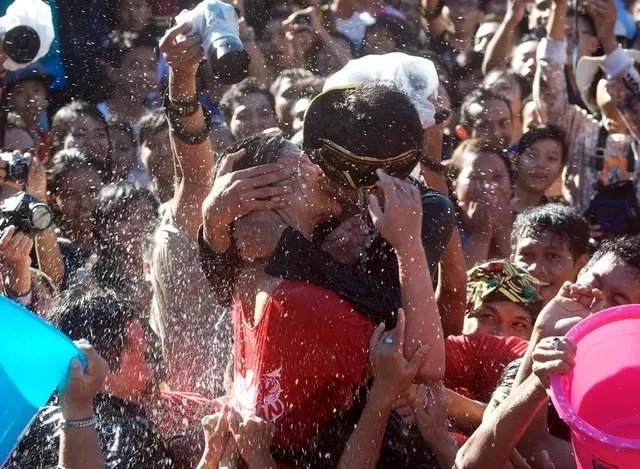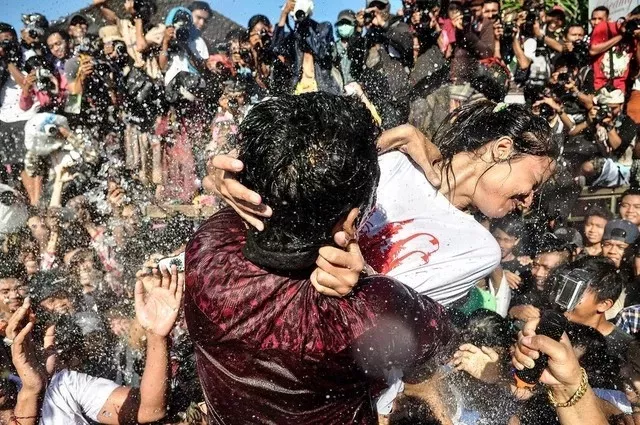 It is believed that the ritual helps strengthen communication among the youth in the village. For a period in the 1980s, the festival was canceled due to an unknown illness affecting village pigs, causing them to fight each other. Of course, they had to bring back Omed-Omedan.
How to prepare for Nyepi?
Here are some important tips:
1. FOOD: Make sure you have enough food and drinking water at home for the day before the holiday. Shops might close earlier than usual on the day before Nyepi, around 6:00 - 7:00 PM.
2. MEDICINE: Check your home first aid kit and buy any necessary medicines in case something is missing. In case of emergencies, a doctor can come to your home, but you won't be able to go to the pharmacy.
3. LIGHTS: If you plan to use lights during Nyepi, ensure you have thick curtains or blankets to cover your windows. Use lights minimally to avoid being seen from outside.
4. LIGHT PERMISSION: If you have a child at home who is terrified of the dark, visit the local banjar in advance to obtain official permission to use lights during Nyepi. Sometimes exceptions are made.
5. ELECTRICITY: Check if your electricity bill is paid. If your villa or house's meter starts beeping loudly, you won't be able to go anywhere to pay it.
6. MONEY: If you don't have enough cash, withdraw money from an ATM in advance, preferably two days before Nyepi. On the day before Nyepi, all ATMs will be turned off to prevent hacking. The exact time of this happening is uncertain, so be prepared in advance.
PETROL: Fill up your tank with enough petrol before sunset on the day before Nyepi. Gas stations often close when the parade passes by, and if you run out of fuel far from home in the evening, finding petrol could become a challenging quest.
TRANSPORT: Carefully plan your movements hours before Nyepi to return home on time (by 6:00 am). This year, the toll road may be closed, and there might be fewer taxi drivers available to take you back as they also need to return home on time. If 6:00 am finds you in an unexpected place instead of at home, you will have to spend the next 24 hours there.
PROPERTY PROTECTION: If you leave your home on Nyepi, take care of the safety of your valuables, such as expensive electronics, household appliances, cash, and valuable jewelry. Leave someone at home who can be present and deter potential thieves. Take something small with you if possible. If that's not an option, leave your belongings with neighbors who are staying home during Nyepi. Burglaries sometimes occur in villas during daylight hours on this day.
COMMUNICATION: The internet is disabled during Nyepi. However, regular phone connections continue to work, allowing people to contact the police or medical emergencies in urgent situations. Prepay your phone credit in advance to have sufficient funds for calls if needed. Save all the essential phone numbers in your phone book that might come in handy, such as police, tourist police, and the nearest hospital.
What to do on Nyepi?
1. Approach Nyepi with strictness, engage in meditation, fasting, and dedicate time to peaceful thoughts about the meaning of life and plans for the future.
2. Load up on movies, stock up on food, and stay at home. Read books, watch movies, spend time with family and friends. If you have a closed courtyard, go out at night to admire the stars.
3. Purchase a Nyepi package at a hotel where you can move around more freely within the premises.
How not to restrict yourself on Nyepi?
If you don't want to spend Nyepi at home all day without electricity and internet, you can travel to other islands for a couple of days. For example, to the Gili Islands - Gili Trawangan, Gili Meno, or Gili Air.
On Gili Islands, Lombok, and Java, Nyepi is simply a day off for office workers if it falls on weekdays. It is an official holiday across the country. However, the four prohibitions of Nyepi (on travel, entertainment, work, and fire) only apply to Bali and the islands of Nusa Penida, Lembongan, and Ceningan. These islands are administratively and culturally related to Bali.
Moreover, sometimes on Penida, they centrally cut off electricity on Nyepi.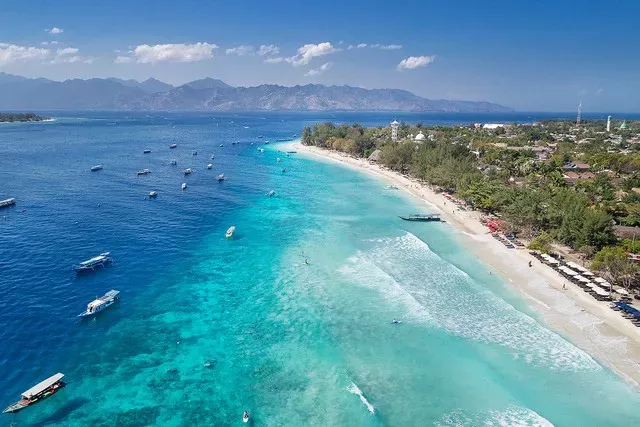 How to spend this Balinese New Year is up to you. We simply want to congratulate you on the upcoming event and wish you all the best in the New Year!