The Griya Villas and Spa
5 stars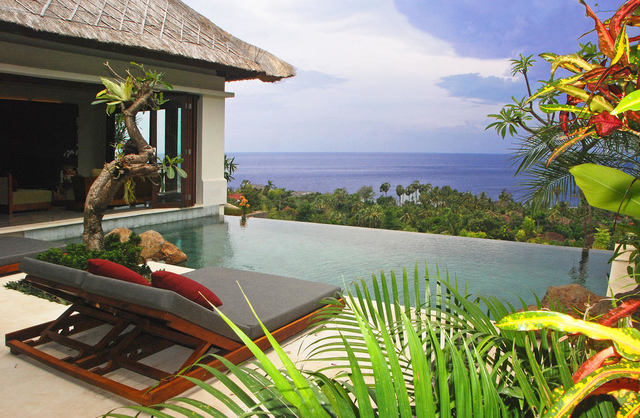 The beach is just a 1-minute walk away. Guests have access to villas with their own sea-view private pool, a fitness center, and a spa salon.
The villas feature a spacious living area with a sofa, a flat-screen TV with a DVD player, and a dining area. Among other amenities, the villas have a fully equipped kitchen with kitchen utensils, a microwave, a kettle, and a refrigerator. All villas open onto a veranda by the pool.
The complex offers a terrace and a spa salon for guests' use. The open-air Safka terrace restaurant and the fine dining restaurant Maku serve dishes from both Indonesian and international cuisines.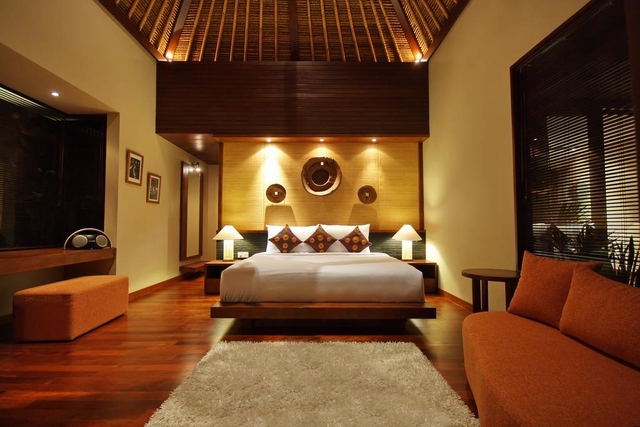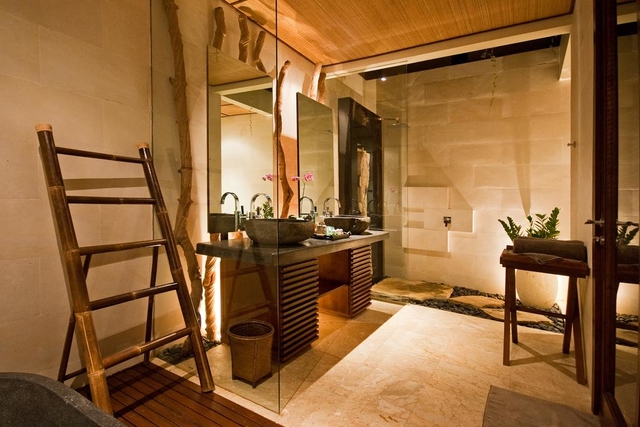 The hotel is very comfortable, everything is well thought out. The staff is very attentive to guests. Lovely à la carte breakfast, elegant presentation of dishes, and delicious coffee. The beach is within walking distance, and you can swim in the ocean throughout the day; the sea is clear with aquarium-like fish.
Coral shoes are necessary because there are rocks and corals almost immediately at the shore.
Aquamarine Beach Villas
5 stars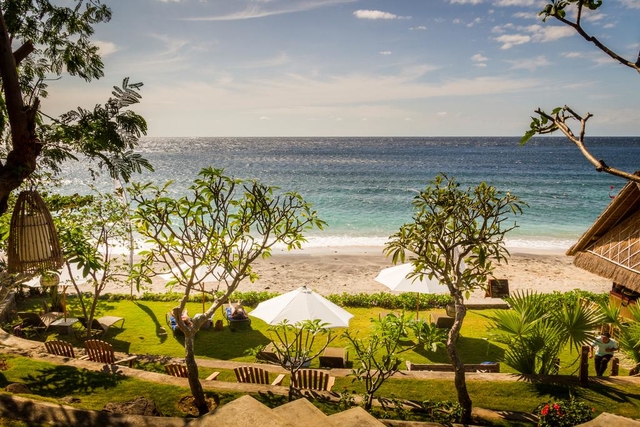 Комплекс Aquamarine Beach Villas is just a 1-minute walk from the beach. It is situated on a secluded beachfront. Guests can enjoy a tropical garden with a private pool and a beach area for swimming and snorkeling.
All villas are equipped with air conditioning, ceiling fans, a flat-screen TV, DVD player, a fully equipped open-plan kitchen with kitchenware, utensils, and a refrigerator. Each villa also features a spacious outdoor terrace with a sitting area, dining zone, and hammock, offering views of the private pool, gardens, and ocean. Guests can relax on the terrace or indulge in a rejuvenating beachside massage.
A daily breakfast is served at the villa. The Trattoria restaurant offers Italian cuisine for lunch and dinner.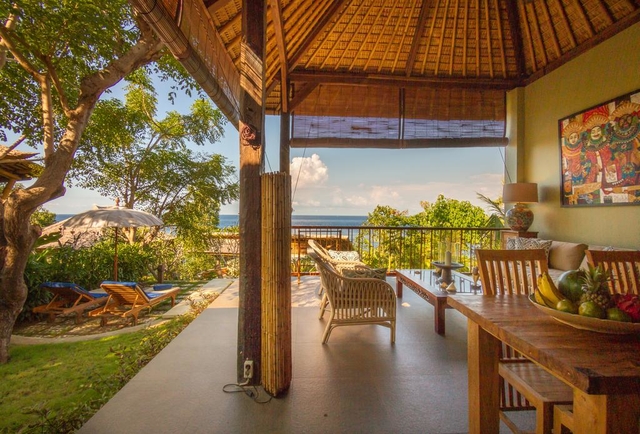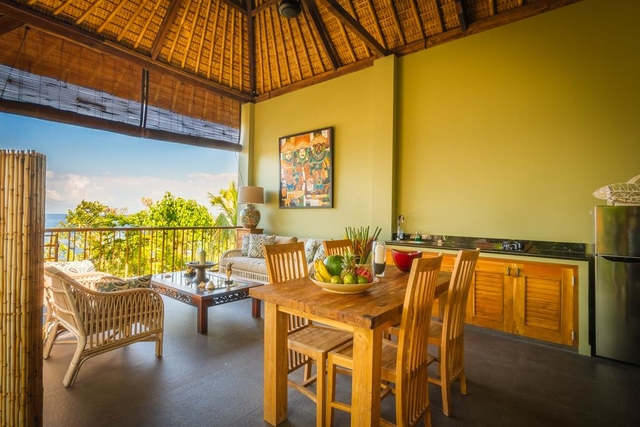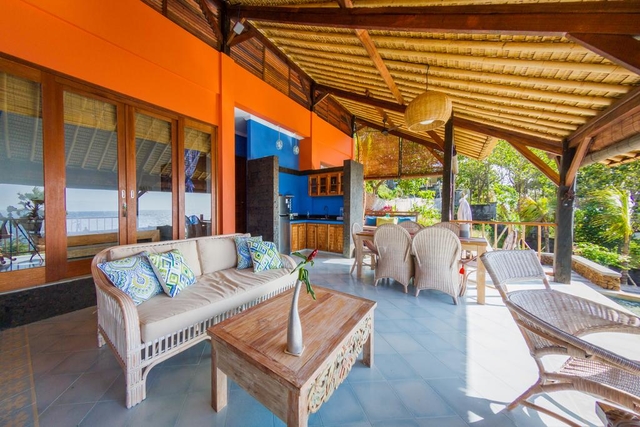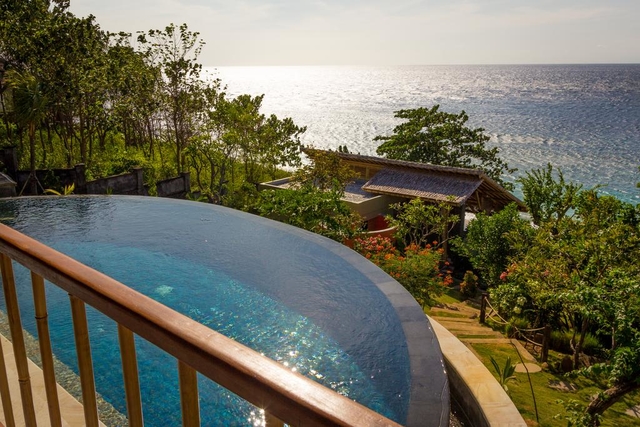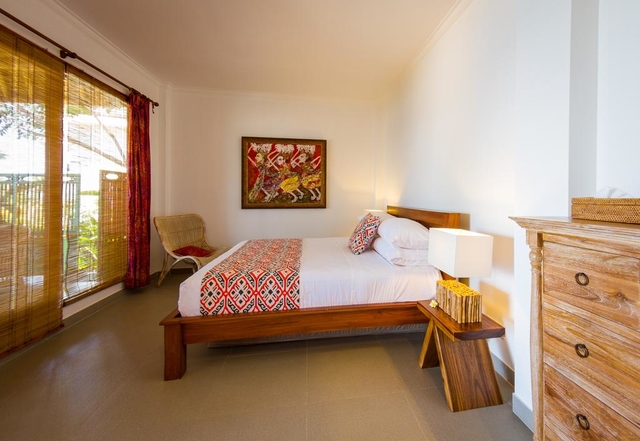 Everything is beyond praise. Nearby there's a reasonably priced spa, a hotel restaurant, excellent breakfast, fantastic sea for snorkeling. A very beautiful place with well-maintained grounds.
The quality of the internet is not quite good, and mobile reception is unavailable.
Mathis Lodge Amed
4 stars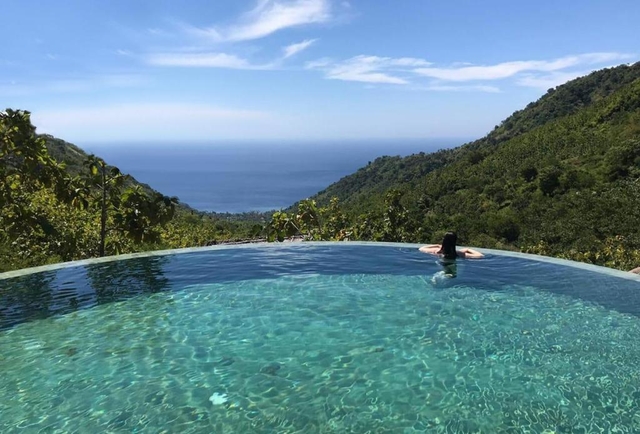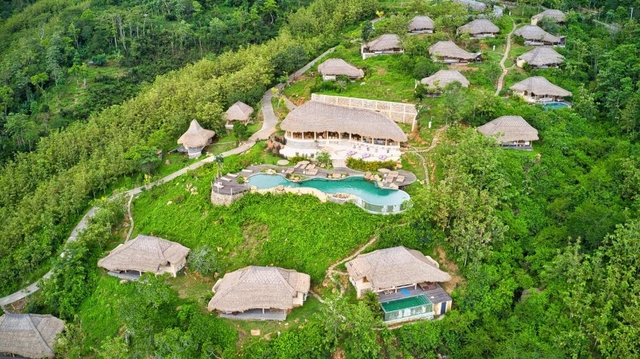 This lodge is located in Amed with an ocean view. Breathtaking views of the sea and mountains, exquisite design, and excellent food await you. Guests have access to a restaurant, 24-hour front desk, bar, garden, outdoor pool, and terrace.
All apartments are equipped with air conditioning and a living and/or dining area.
Guests of the lodge can enjoy à la carte breakfast.
It's a fantastic place to spend a few days. The hotel is very stylish and peaceful. Every little design detail is carefully thought out and placed perfectly. Everything feels incredibly natural yet super comfortable.
The food in the restaurant is delicious. Yes, it might not be cheap, but every dish stands out for its exceptional quality.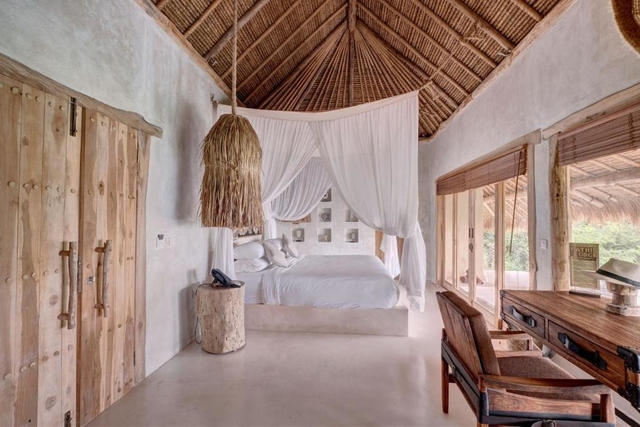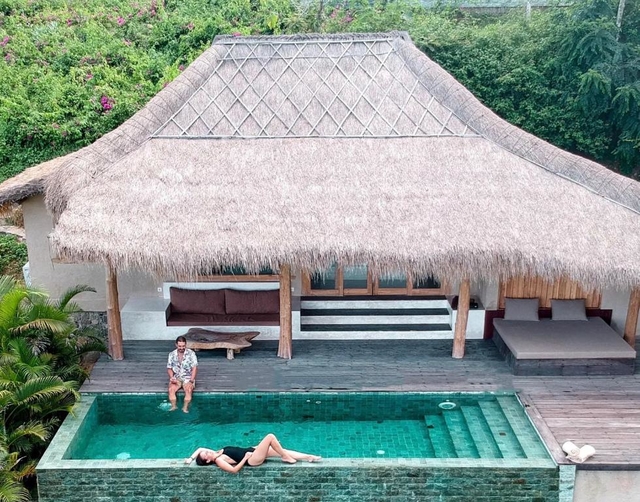 Ashling Villa
5 stars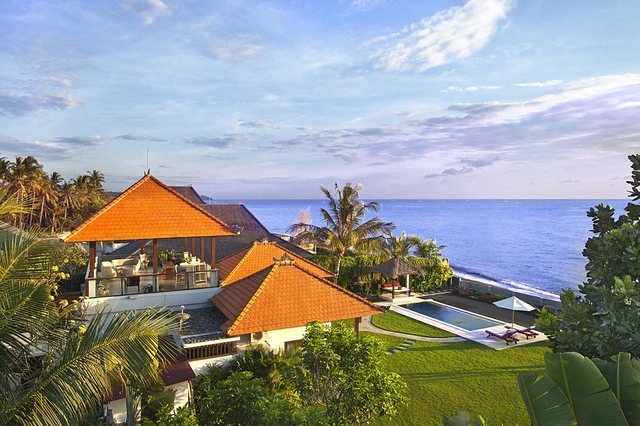 Guests are provided with bedrooms featuring air conditioning and a private open-air pool. The windows offer breathtaking views of the ocean and Mount Agung.
Each of the 2 bedrooms has its own en-suite bathroom. The windows provide views of the ocean, garden, and pool. Additionally, there are mosquito nets and a wardrobe.
Guests can relax in the poolside gazebo or in the living area of the villa, which is equipped with a flat-screen TV. There are indoor and outdoor dining areas, as well as a well-equipped kitchen with a microwave, stove, and refrigerator.
Housekeeping services are provided for villa guests. Moreover, those who enjoy active leisure can rent snorkeling and diving equipment.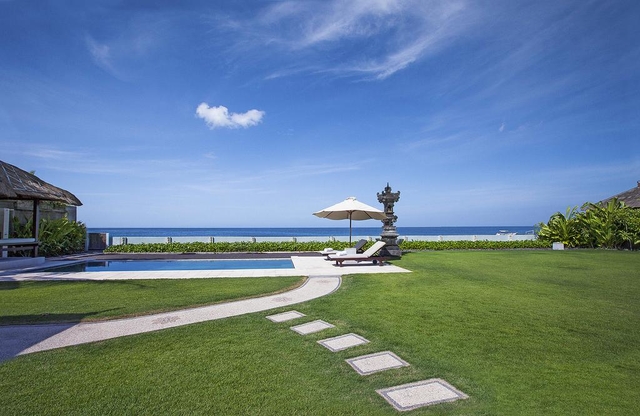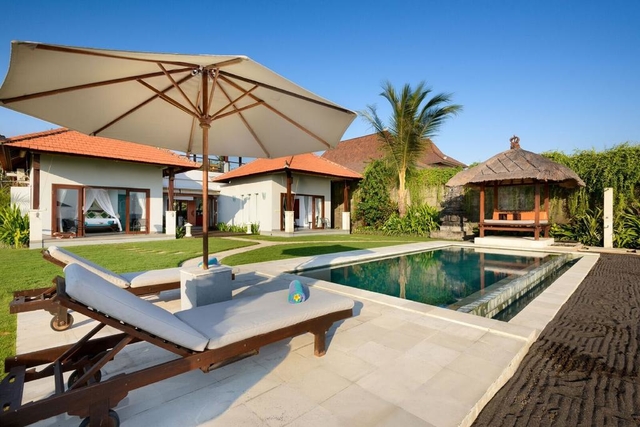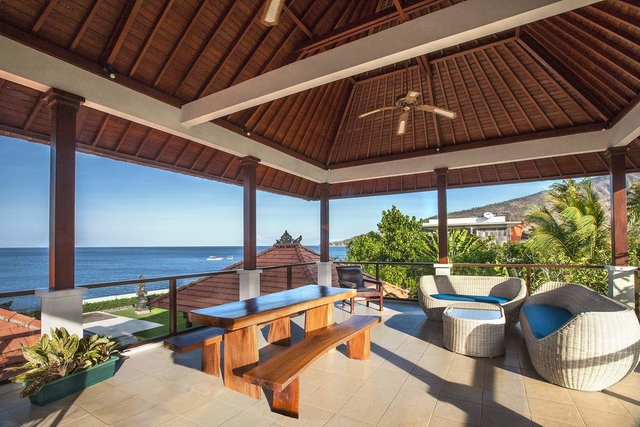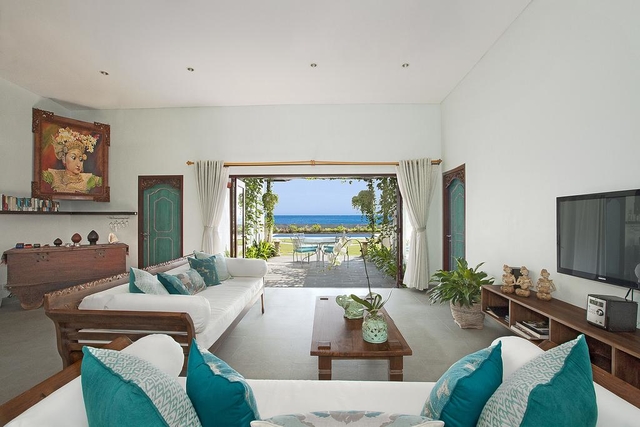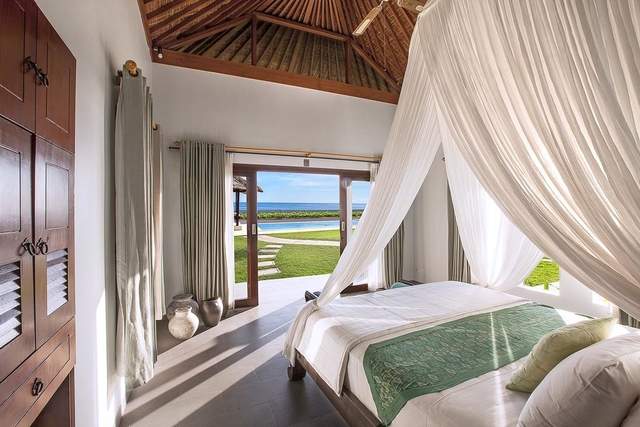 The vast well-maintained property offers a stunning view of the sea and Mount Agung from the upper terrace. Delicious breakfasts and dinners are provided. The staff is very kind, good, and polite.
It's quite remote and lacks direct access to the ocean. To swim in the sea, you need to walk about a kilometer to the left. There are many geckos.
Bali Marina Villa's
5 stars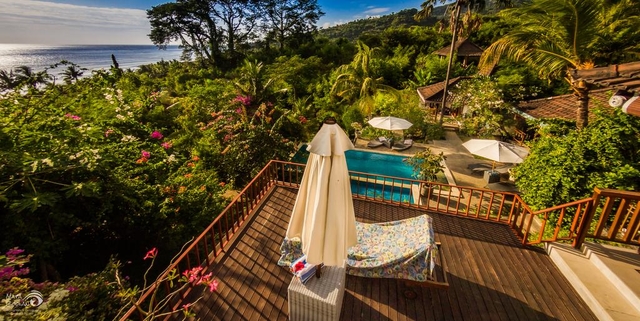 The beach is just a 3-minute walk away. Bali Marina Villa's complex with an open-air pool and restaurant is situated on a hill overlooking the ocean.
The terrace-equipped rooms come with air conditioning, a wardrobe, and mosquito nets. The dining area features a fridge, electric kettle, and minibar. The private bathroom with a bathtub and shower includes a hairdryer. Windows offer views of the sea and the pool.
The restaurant serves Balinese and Indonesian cuisine. Room service for food and beverages is available.
The 24-hour front desk is operational. Water sports equipment is provided, and luggage storage facilities are offered.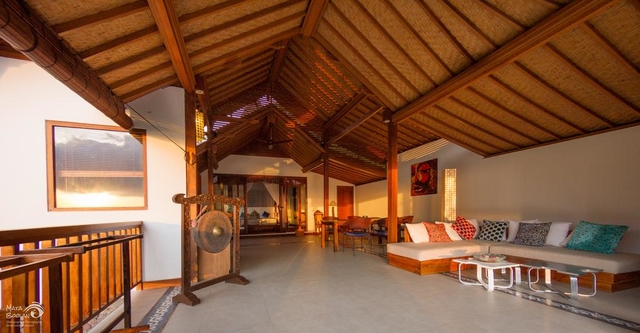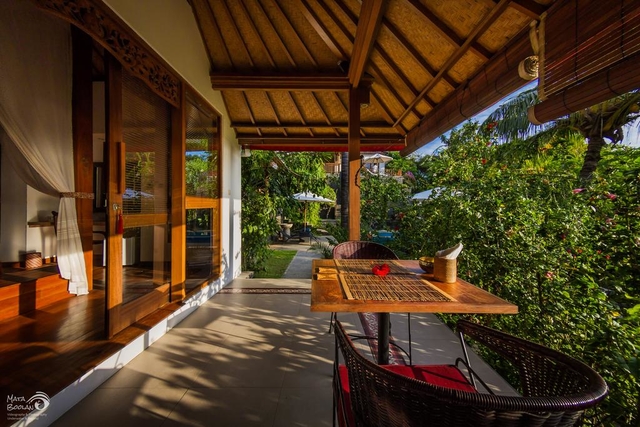 The view from the room is of the sea through lush greenery, a beautiful pool, and terrace breakfasts/dinners. Marina, the hotel owner's hospitality, is captivating. The sea's beautiful underwater world is right in front of the hotel. Good grounds, separate villas, and an unusual outdoor shower and toilet. It takes less than a minute to walk to the shore. The breakfast is excellent, and there's a good restaurant 50 meters away. Across the road by the sea, there's a hotel with a decent restaurant. The staff does everything and helps if you ask.
Sometimes there is noise from cars going up the road nearby. But it's rare.
Aura Villa & Spa Amed Bali
4 stars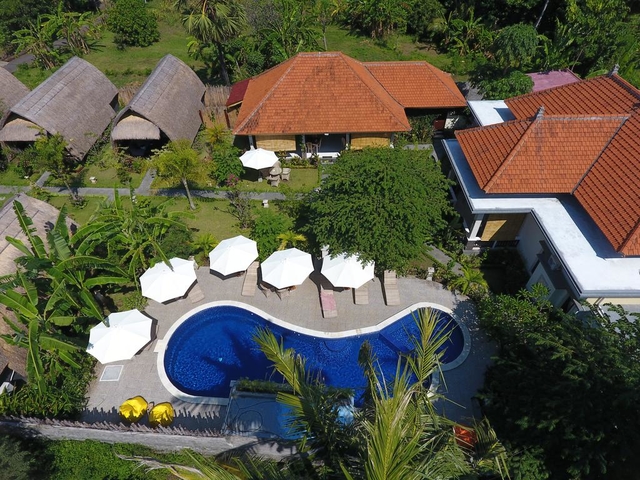 You can reach the beach in just 6 minutes. Guests have access to a garden and an outdoor pool.
The apartments are equipped with air conditioning and a flat-screen TV. Some apartments feature a living and/or dining area. Among other amenities, there is a kitchen with a microwave and a private bathroom with a hairdryer.
The Aura Villa & Spa Amed Bali complex features a spa center and a restaurant on its premises.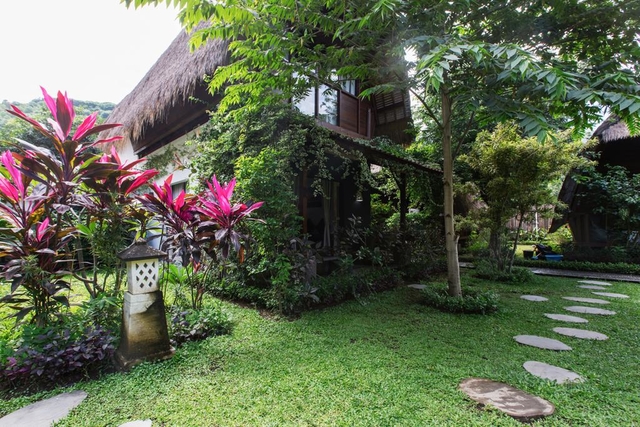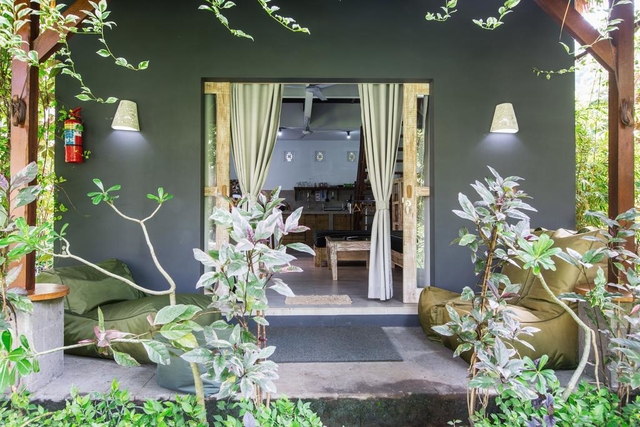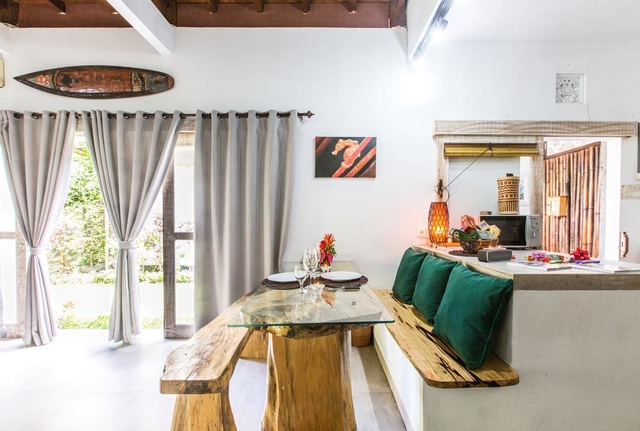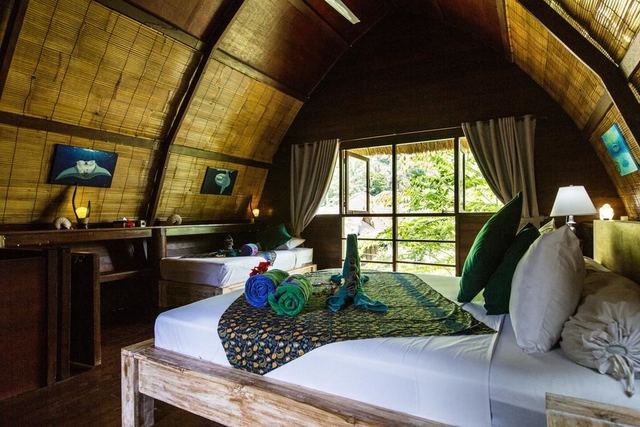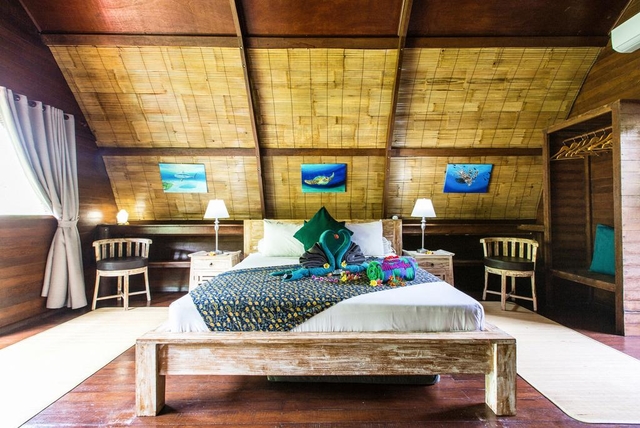 A wonderful spacious two-story cottage within an excellent resort. Attentive hosts ready to assist with any question. Beautiful design, plenty of space and light, well-equipped kitchen, the house is designed for living and enjoyment. Fantastic pool on the resort premises, a beautifully maintained garden with flowers where a charming white rabbit lives and can be fed with carrots. Superb vegetarian breakfasts (the best Handmade muesli, jams, bread, pancakes, fresh juice). Suitable for families with children... and without children as well. The best pizza in Amed can be found at the resort, just like in Italy. Bicycles are available for rent. Some massage treatments can be done on your cottage veranda.
Might be a bit far from the beach, and the road to the resort can be a bit rough.