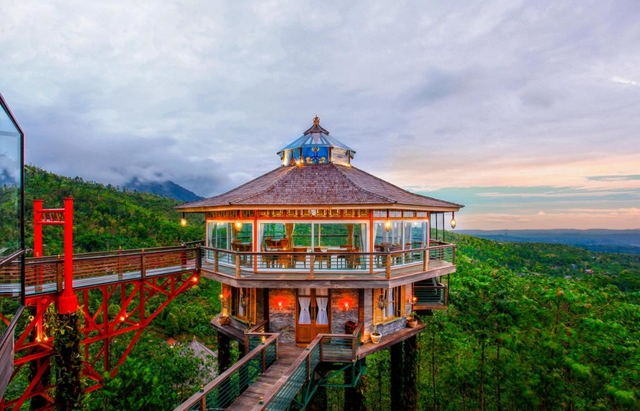 The focus will not be on Kuta-Seminyak-Canggu, which already have plenty of information. The hotels we want to share are located in relatively remote locations that not all tourists reach. And it's a shame... Because without visiting these places, you might miss the real Bali experience.
These are not just hotels - they are the best we've found in 10 years. And we offer you a unique journey, making stops in the true hidden gems of the island. Each of these hotels is a attraction in itself! However, these are not budget options; they are 4-5 star categories. To feel the atmosphere of these places, it's enough to stay a couple of nights in each.
The route can be planned as follows: Candidasa-Amed-Lovina-Pemuteran-Munduk, to avoid long transfers. Along the way, you can see temples, parks, palaces, waterfalls, and take Instagram-worthy photos. This is a super journey that introduces you to the island in such a diverse way that you couldn't have imagined initially!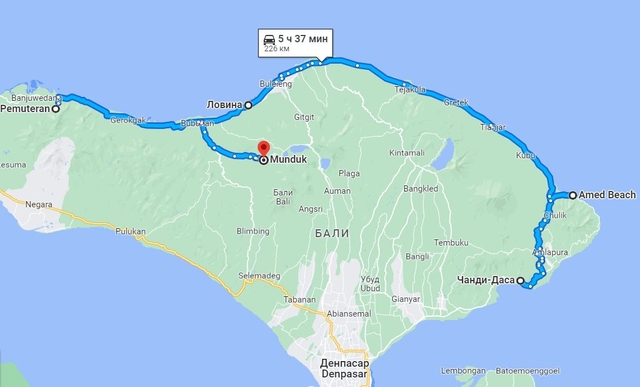 Candidasa. Candi Beach Resort & Spa 4*
The best part is the sea and the beach - beautiful and swimmable, with an excellent sandy gradual entry into the sea! This is quite rare in Bali. Low tide doesn't affect swimming, the water is clear, and there are almost no waves (great for non-swimmers and children).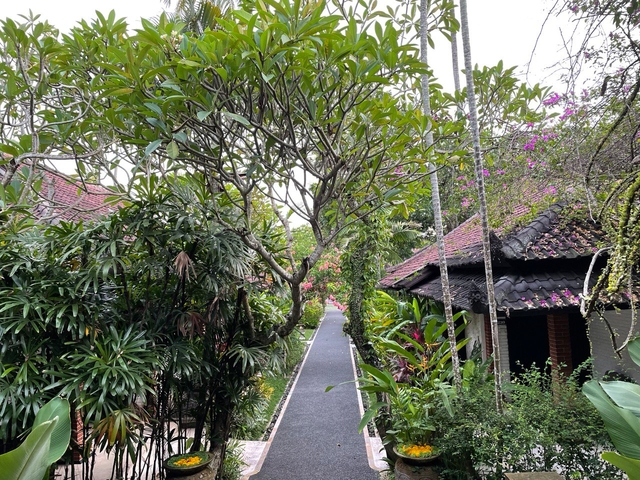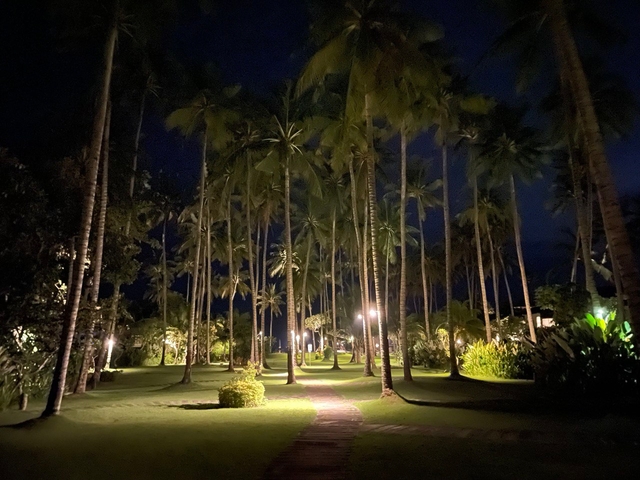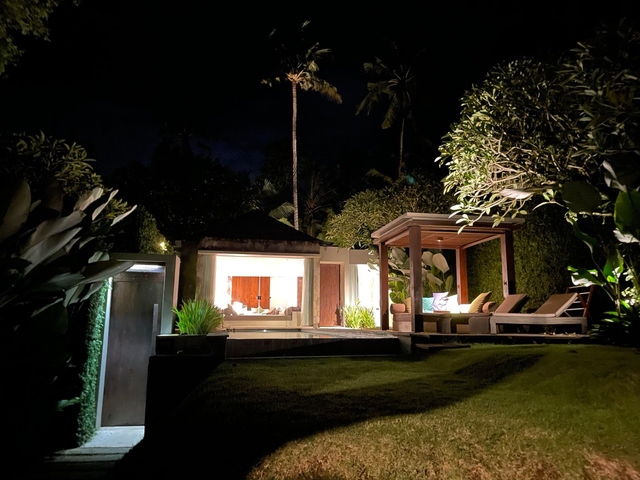 Wonderful, spacious, and very comfortable rooms with all the necessary amenities. There's a wide range of accommodation options available (bungalows, semi-suites, suites, villas) catering to different budgets (even the lower category starts at $90/night and goes up to $200-$250/night for a villa with a pool). The air conditioners are quiet and strategically placed. The staff is friendly and attentive.
The breakfasts are great, and there are many cafes nearby. Free shuttle service to the center of Candidasa (you can also walk there in about 20 minutes). There are two scenic pools (one with a jacuzzi), two scenic restaurants, and a bar. Both the rooms and the entire property are very clean and beautifully maintained. The sunsets are breathtaking. They offer various water activities like quad biking and snorkeling trips to the Blue Lagoon (with amazingly beautiful corals in super clear water), which you can book right at the hotel reception and they'll arrange a boat for you. The Blue Lagoon is about a 20-minute boat ride away.
As for downsides, our only issue was the internet; it kept disconnecting. We had to reconnect every time. Apart from the weak internet, there's hardly anything to complain about. Although we were there during the COVID period, I can see that the internet ratings are now high. Maybe we were just unlucky...
Amed. The Best 5-star Hotel: The Griya Villas & Spa
In Amed, there are a couple more hotels that claim to be 5-star, and we stayed in them. However, in reality, they definitely don't measure up to 5-star standards. In this hotel, there are only 1-3 bedroom villas. It's quite expensive, in my opinion, around $120-$160/night. But this hotel is leaps and bounds better than all the others in Amed. It's situated on the second line with breathtaking views both from the restaurant and the villas themselves. All the villas have views, a private pool, and a small private area. You might not even want to leave the premises - it's that beautiful there.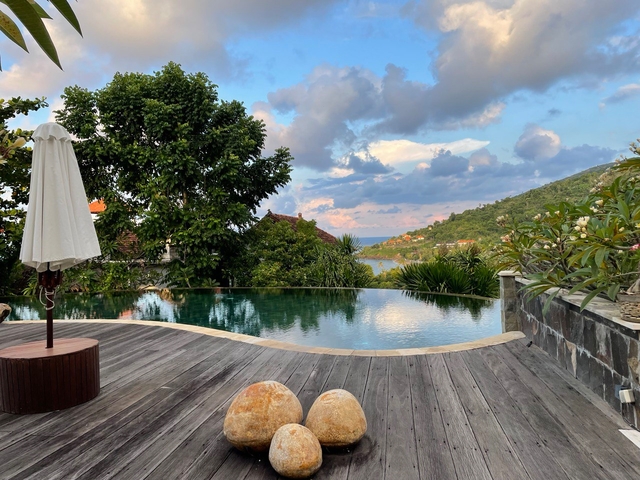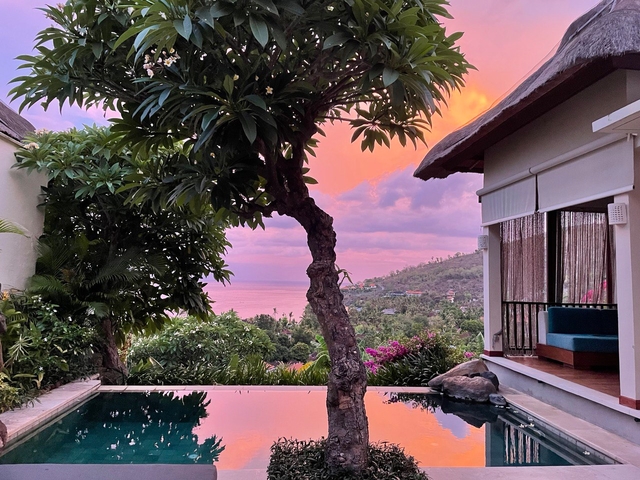 Extremely comfortable, with a wonderful microclimate and a well-placed quiet air conditioner. There's ample space for work, a kitchen, and a water cooler. Everything is clean, cozy, convenient, and very beautiful. The staff is excellent. The breakfasts are delicious and the food in the restaurant is great overall - they offer both European and Indonesian dishes. There are plenty of cafes and restaurants nearby, including the hotel's own restaurants by the beach.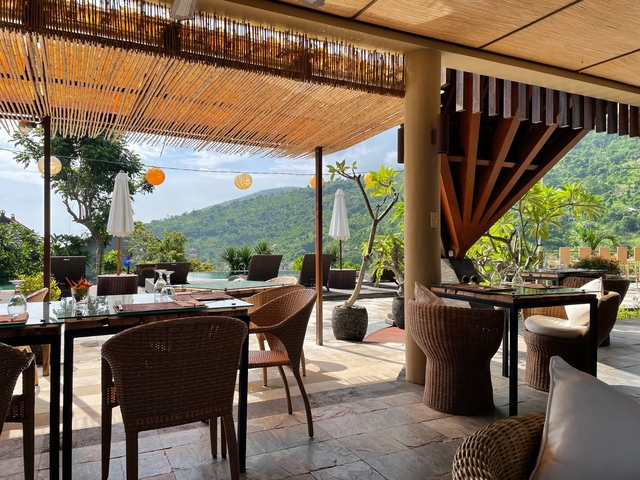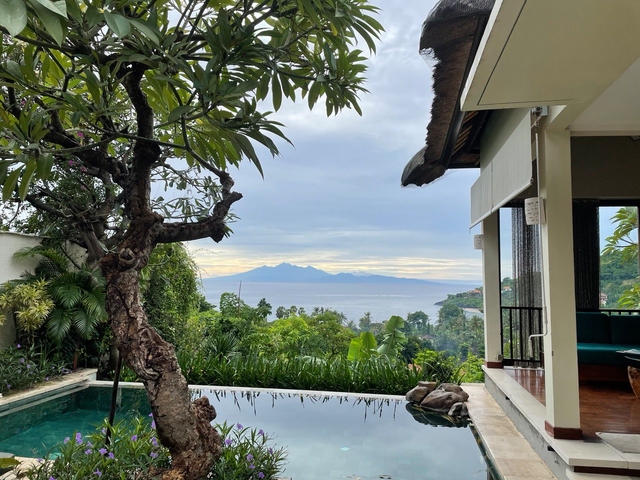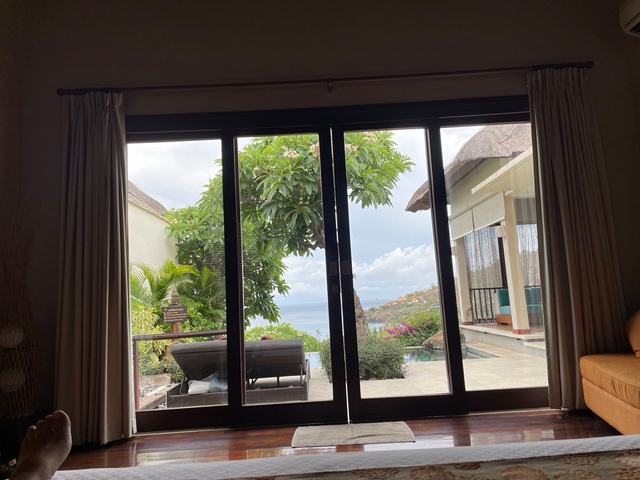 The sea is a seven-minute walk to the nearest beach. To Lipah Beach, it's another +7 minutes walking along the shoreline. I believe fans of Amed could argue endlessly about which beach is better, but for us, Lipah is the best. You can snorkel right from the shore, with stunning corals, fish, and even large turtles. However, this is only possible when there are no waves; otherwise, the sand gets stirred up, and the beauty is hidden in the murky water. It's best to have sunny weather, as the corals shimmer like a fairytale... as if you're floating above Mars. You should wear coral shoes because the corals can be just a couple of meters away, and you might cut yourself.
The downsides - the Wi-Fi periodically cuts out. Not always, but from time to time. It's not consistent in the villas - sometimes it's great, sometimes weak. However, the Wi-Fi in the lobby and restaurant is excellent and very stable - there are plenty of places to work there, so feel free to go there if needed.
Lovina. The Kayu Manis Villa & Spa 4*
A charming boutique hotel with a beautiful view - only three villas: two single-bedroom and one double-bedroom. The room cost is around $60 per night. There's a shared large infinity pool with a seated Buddha overlooking breathtaking landscapes. The owners are a Frenchman and his Indonesian wife (Michel and Diana). There's a spacious common gazebo in the shade and a separate beautiful kitchen in the style of joglo. The bungalows themselves are a work of art, showcasing the designer's touch and the owners' love for their place. They are very spacious, stylish, and comfortable - simply delightful!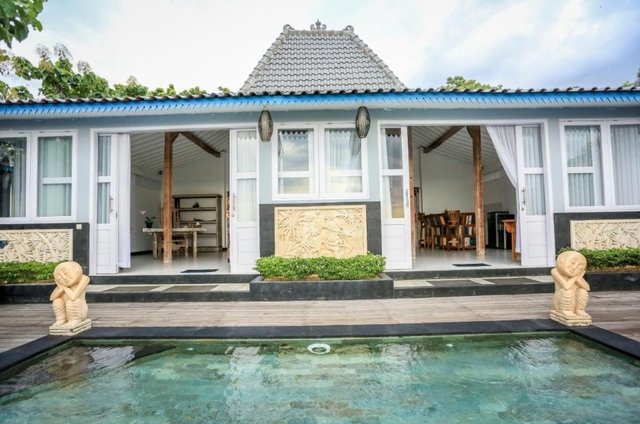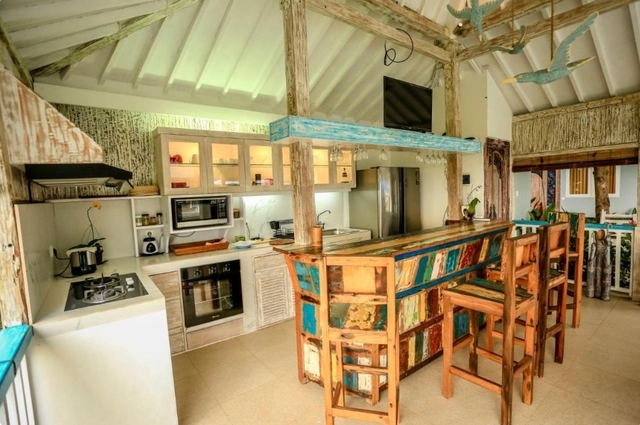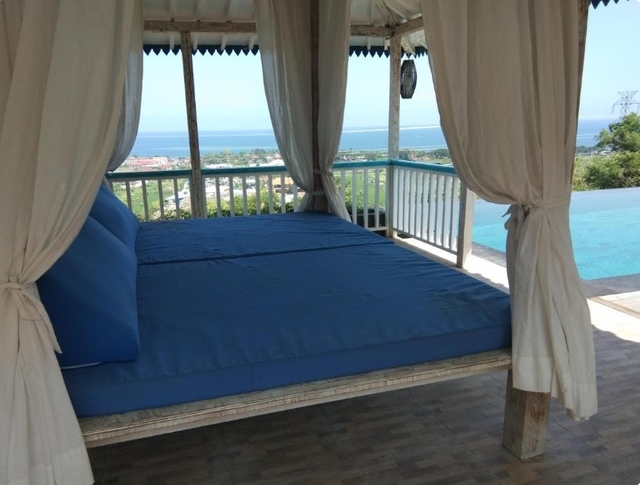 They have a great grill, and you can ask the owners to buy and cook fish, shrimp, or whatever you like. Diana will prepare it for you. The owners have their own boat - they can take you to see the dolphins. You can also order food from nearby restaurants. They offer bike rentals, or you can ask Michel and he'll take you. Everything is cozy and homely. And very beautiful! The Wi-Fi is decent in the common areas, and it's also available in the villas, although it might be slightly slower there.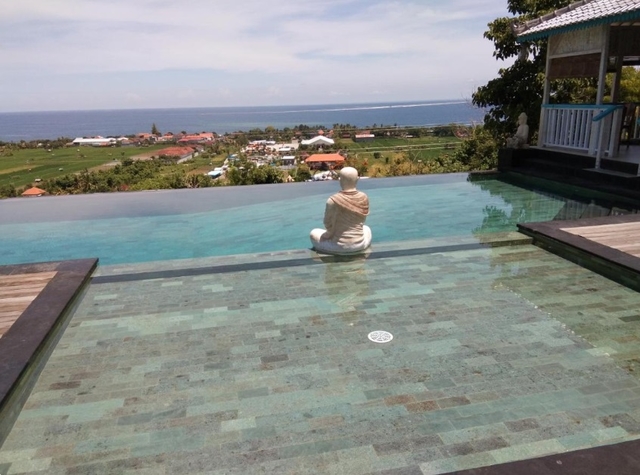 Drawbacks - right below the villas is the Krishna amusement park. It looks beautiful at night, but during the day, there's noise from it. There's no infrastructure right next to the villa, you would need to travel to find facilities.  
Pemuteran. Taman Sari Bali Resort & Spa 4* Hotel
This is practically the northwest of Bali, near Java. And near a nature reserve and the island of Menjangan. There are not many tourists there (which doesn't mean there are none), everything is two or even three times cheaper. There is also infrastructure, but mainly local warungs, rare shops, and markets. But the main thing is that there is also very good sea with sandy entry and corals right at the shore, clean and calm at the same time! And crystal clear. During low tide, you can walk knee-deep in the water and see blue starfish on the seabed. Coral shoes are recommended - there are sea urchins! Corals grow on metal structures in the form of Buddha, a ship, a turtle, and other artificial "skeletons." There is a turtle farm. Several dive centers are within walking distance. They take you snorkeling to Menjangan Island - there is a huge variety of fish and turtles. We didn't go, the corals from the shore were enough for us.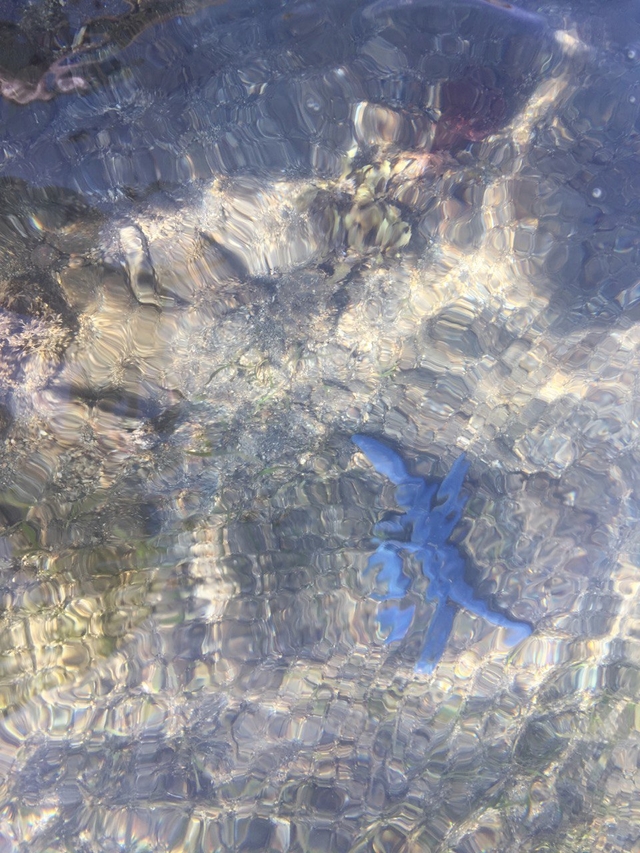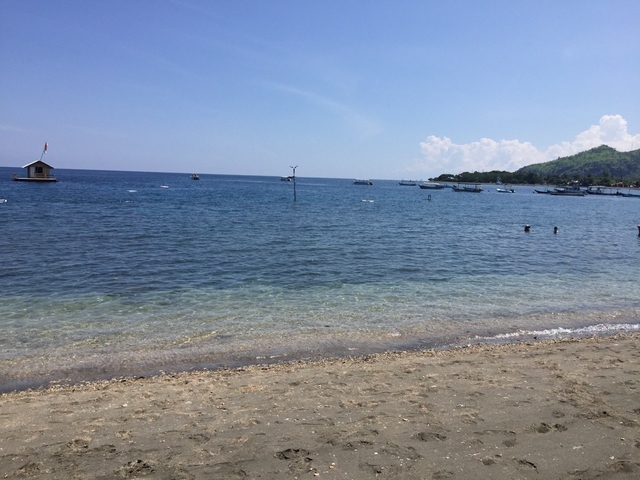 The hotel has a good concept - they offer several room categories, starting from studios in a small two-story building and ending with four-bedroom private villas with their own pool - prices range from $50 to $255 per night. There are several categories of bungalows, as well as family bungalows and villas with two to four bedrooms. A diverse group of travelers with varying budgets can find accommodation options there.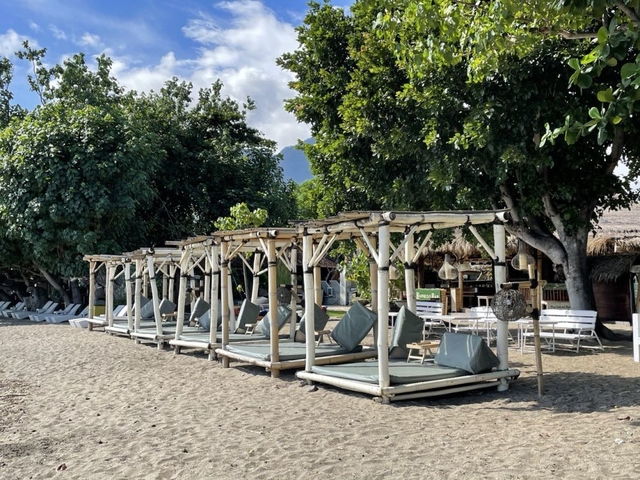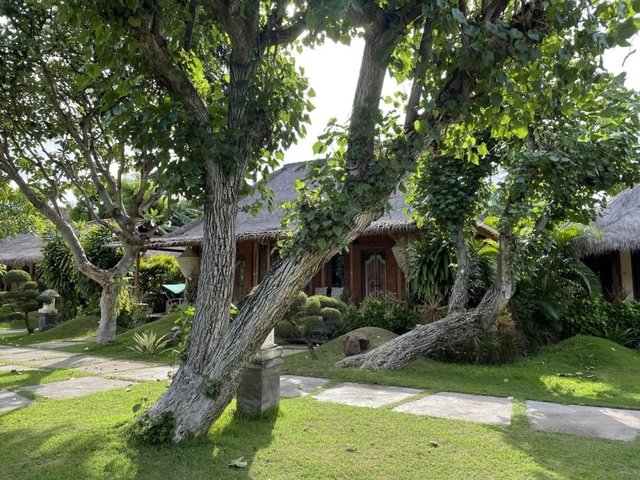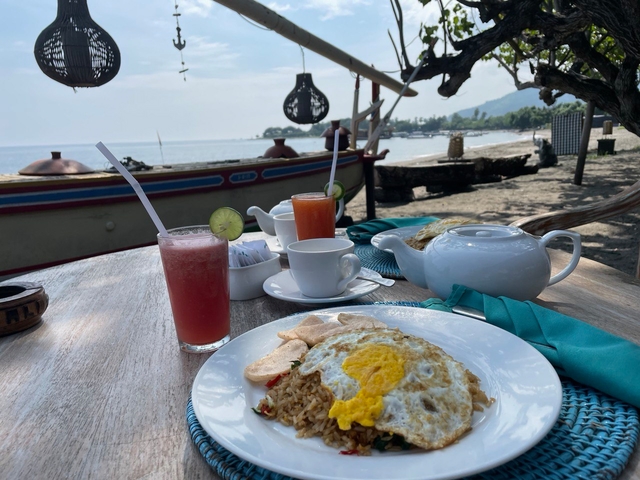 In such a remote location, far from the tourist areas, there is no shortage of land, which is why the hotel grounds are vast. Beautiful mountains can be seen in the distance. Right on the beach, there is a picturesque restaurant with several tables set on the sand by the water. Surprisingly, there is decent internet connectivity as well.  
Munduk Heaven Luxury Villas 4*
is an absolutely unforgettable hotel! It is situated high up in the mountains halfway between Pemuteran and Ubud. As a result, the temperature there is pleasantly cool. Undoubtedly, this is one of the best hotels in Bali! The owners faced unfortunate timing as they opened in December 2019, right before the pandemic. However, despite this, the hotel is in excellent condition, and the staff is abundant and operates at the highest level, comparable to the best chain and family hotels! The room rates range from $115 to $320 per night.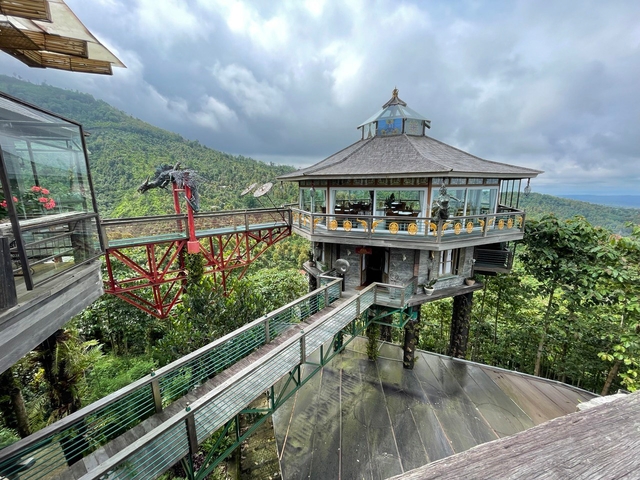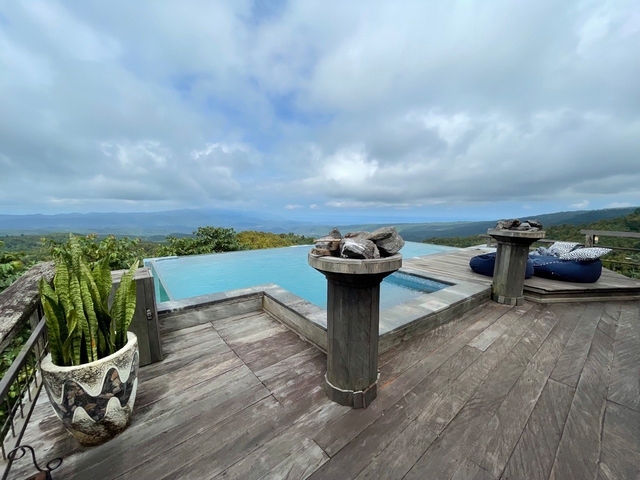 The villa is exquisite - I strongly recommend opting for a villa. It's clean, dry, and warm (which is crucial at such an altitude, trust me). The space is very well-organized and convenient. And the most important part - the breathtaking views! Views can be enjoyed from the villa itself, the marvelous restaurant, and the pool area! Even though we were the only guests, it felt like the entire hotel was fully occupied - we were attended to by so much staff! They set up a table for us near the pool with a view, provided us with blankets. However, it slightly cooled down in the evening, so we moved to the fireplace and they lit a fire for us! The cuisine is beyond praise - you'll want to try everything! The steaks are amazing, the duck breast, the breakfasts!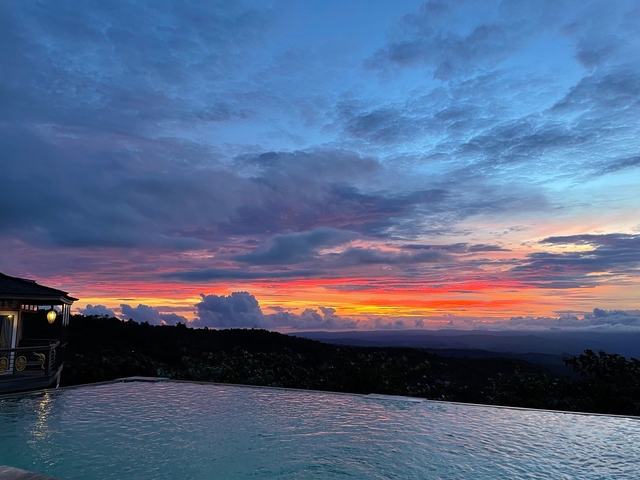 I can't express all the positive impressions and emotions with words! We were fortunate with the weather, and we witnessed a sunset - it was the best sunset on Bali! We've stayed at another well-known hotel in Munduk before - it was also good, but believe me, this one is better in every way!
The only drawback is the internet. It's suitable for messaging and YouTube, but not for video conferences or bloggers. If not for this limitation, it would be incredibly perfect here!
Text and photos by: Anna Kartashova