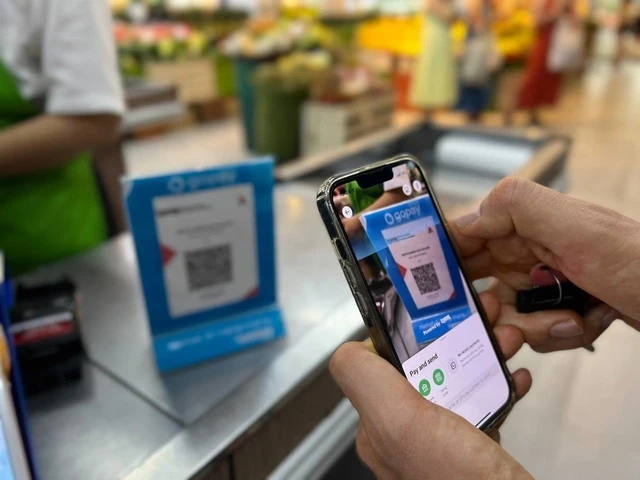 The Indonesian bank Permata issued a record number of cards to foreigners in February 2022. Local plastic cards are used for cryptocurrency transactions and everyday payments.
But it turns out that Indonesia has several electronic payment systems with very extensive functionality. In this article we will tell you more about them.
QRIS (Quick Response Code Indonesian)
This is a QR code payment system. You can find it at any official point of sale. Payment is made contactless in just a few clicks, eliminating the need to carry cash or a card. It's not as fast as Apple Pay, but it's still very convenient.
Until 2019, each bank or service had its own QR code, but later they unified the system. During the pandemic, service sector businesses began registering with QRIS. The Indonesian government insisted on this to reduce cash circulation. As a result, within a year, 4 million entrepreneurs in the country joined the system.
Positive:
- Supported by all Indonesian banks through their mobile apps. The transfer occurs directly from the buyer's account to the seller's account.
- It is accepted by numerous official sellers (look for the QR code sign near the cash register). Unfortunately, you can't pay for fuel as gas stations in Bali still accept cash only.
- It's supported by many card terminals (they can print a QR code for you) and electronic wallets like Go-Jek and OVO.
- Minimal commissions for participants. Sellers don't need any additional equipment.
Disadvantages:
OVO
Positive:
- Allows you to pay for a vast number of online services and purchases from Indonesian e-commerce platforms like Tokopedia, Lazada, Shopee.
- You can link it to the Grab app (they share the same owners with OVO) and use it to pay for various services, from taxis to deliveries and hotel bookings. It's suitable for paying utilities.
- With OVO, you can withdraw funds from peer-to-peer platforms (such as Binance) even without a local card. To do this, you simply select OVO as the payment method. You can cash it out at ATMs of BCA, BRI, BNI, Mandiri by scanning the QR code from the app.
- You can top up your OVO balance at any Indomaret store, at ATMs using your card, or through mobile banking apps.
Disadvantages:
- Limit: You cannot have more than 2 million Indonesian Rupiahs in your OVO account. You can increase it to 20 million by undergoing enhanced verification (it's not complicated, and after a call with the operator and a few questions in English, they'll approve it).
- Not all offline stores accept OVO as a payment method. Many sellers still prefer credit cards, or even better, cash.
- Sometimes there may be an additional fee for using the system.
- The exchange rate when withdrawing from cryptocurrency exchanges to your OVO account is not as favorable as to a bank account.
- The main drawback is the registration process in the app. Besides having a local SIM card and a passport, you won't need anything else... except for knowledge of the Bahasa language. Or intuition. Although users say that everything is very simple and clear in the app, the developers could add English language support.
GoPay
Another electronic wallet. If OVO is owned by Grab, then GoPay, as you might have guessed, is a payment system created by
the GoJek corporation
. Based on this, it's clear that it's most convenient to use it when paying for GoJek app services.
When GoJek started as a startup in Jakarta in 2010, there were only 20 motorcycle taxis. Today, the app offers dozens of different services, from food delivery and ticket purchases to online cinema and insurance. And for all of these, when using the electronic wallet, you can get discounts.
In addition, there are cashbacks and rewards.
In terms of functionality, it's very similar to OVO. In some cases, it's more advantageous to use one system, in others, the other.
You can top up your GoPay wallet with a local bank card, by transferring from another GoPay account, or at any Alfamart store (but there will be a small fee).
The main downside is the limits!
With a regular account, you cannot have more than 2 million rupiahs on your balance. Upgrading to GoPay Plus will increase this limit to 20 million rupiahs.
There is also a limit on the total balance, which is the sum of all inflows for the month. Transfers, cashbacks, and top-ups to your GoPay should not exceed 20 million rupiahs. For GoPay Plus, the limit is twice as high, up to 40 million.
Upgrading your account to Plus is quite simple. You will need your passport. You can only verify one account with this document.
LinkAja
This electronic wallet is the successor to another popular payment system, TCASH, from Indonesia's largest mobile operator, Telkomsel. LinkAja was officially launched on June 30, 2019. Those who previously used TCASH were automatically transferred to the new platform. All they had to do was download the app.
Only Telkomsel SIM card owners can use this electronic wallet.
You can top up the balance from accounts at all major banks in Indonesia (BNI, BRI, Mandiri). You can also withdraw money from LinkAja to these banks.
Positive:
LinkAja is convenient for topping up your mobile phone balance. You can use it to make payments at retail outlets where QRIS is installed. In addition to offline purchases, this service is suitable for paying for products on Tokopedia and topping up your MyPertamina account (an app from the Pertamina gas station network).
The security of transactions, balance information, and personal data is provided by Telkomsel.
As for the downsides, like all electronic wallets, there is a limit: you cannot have more than 10 million rupiahs on your balance.
ShopeePay
This is another electronic wallet service launched by the Shopee e-commerce platform. If you frequently make purchases there, it makes sense to register.
Download the Shopee app. Enter your email address and phone number (an Indonesian one, of course). Select the ShopeePay menu and click "Set Up ShopeePay."
How to top up your balance?
Method 1. Open your bank's app, select "virtual account" from the menu, enter your mobile phone number registered with Shopee. Enter the amount you want to deposit (minimum 10,000 Rupiah).
Method 2. Visit the nearest convenience store (Indomaret, Alfamart, Alfamidi). Inform the cashier that you want to top up your Shopee balance. Choose the top-up amount (starting from 50,000 Rupiah). Provide your phone number to the cashier. Choose your payment method.
Method 3. Ask another electronic wallet user to top up your balance using your phone number.
You can pay for ShopeePay in many chain stores and cafes: 
Alfamart
McD
KFC
J&t
JNE
Citilink
Starbucks
Burger King
Yoshinoya
Solaria
If you verify your account (this is done within the app and requires a scan of your passport), you can also withdraw funds to your bank account.
Users with enhanced verification can also use Shopee Paylater. This is a zero-interest installment service for online shoppers. It offers installment options for 3, 6, and 12 months.
DANA
DANA is an e-wallet that has made it to the top 5 e-money apps in Indonesia based on data analysis from App Annie.
A notable feature of DANA is that it offers an English-language app, which can be very convenient for non-Indonesian users.
DANA does not charge for monthly maintenance, and transfers above 50,000 Indonesian Rupiahs are free. However, if you want to send a smaller amount, there is a fee of 4,500 Indonesian Rupiahs.
Your DANA Indonesia account can be of two types: regular and premium. To upgrade to the premium account, as you may have guessed, you simply need to undergo enhanced verification.
However, there are advantages as well:
You can top up your balance up to 10 million Indonesian Rupiahs.
The ability to withdraw cash.
The option to send money to other users.
The capability to transfer money to other bank accounts.
Special promotions and cashback offers (they advertise up to 100% in their ads).
Most of the other functionalities are similar to other Indonesian electronic payment systems. You can top up from a bank account, pay for utilities, and transfer money from your DANA account to another user's account. Payment at stores is also done via QR code.
Do you often use electronic wallets? Share your experiences in the comments!