Registration of PT PMA in Indonesia with Legal Indonesia
👆🏻In today's reality, more and more people are considering moving to Bali, and the island is becoming one of the popular investment destinations. This raises questions about how to open a company in Bali and what type of company to choose.
👉🏻A Foreign Investment Company (Penanaman Modal Asing or PT PMA) is the primary license that regulates the activities of foreign investors. This type of registration is suitable for projects of any size, and investors do not face any restrictions in their endeavors.
After opening the company, you can:
Apply for a 2-year investor Kitas (Limited Stay Visa)
Come and go from Indonesia when it suits you
Also, apply for a family Kitas for your family members
Open a bank account and conduct business activities on the island completely legally
🤷🏼‍♀️Independent research and verification of the necessary information will take a lot of time. Our company already knows all the "pitfalls" and how to overcome them.
Legal Indonesia will assist you at all stages of PT PMA registration:
Choosing the right business classification to maximize ownership percentage
Selecting an office, obtaining the company's address (Domicile Letter)
Obtaining a tax number (NPWP) from the tax office
Getting the business registration number (NIB or Nomor Induk Berusaha)
Obtaining commercial licenses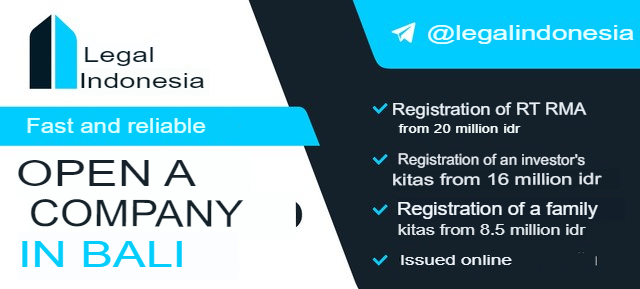 Our task is to dispel any arising questions and help you accomplish your goal as quickly as possible.
For more detailed information and questions specific to your situation, you can contact our managers: ▶️
@legalindonesia