You can see real Balinese mandarins growing and taste them along the way from Mount Batur to the big bridge in Kintamani. There are many mandarin plantations along the road that offer breathtaking views of the surrounding mountains. You can take a great walk among citrus trees, watch the process of harvesting and enjoy the nature of Bali.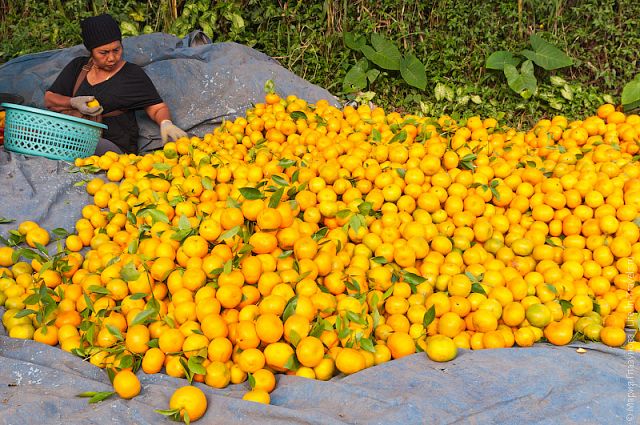 Mandarin Plantations Description
Mandarin plantations are large areas planted with mandarin trees (or rather, bushes). One bush can grow up to 50-70 fruits. Mandarins are harvested not only orange, but also greenish. If you pick tangerines from the tree together with the petioles, they will last longer.
Harvesting of Mandarins
Local residents collect them, put them in large woven baskets made of palm leaves, connected by a stick for carrying on their shoulders, it turns out something like a Russian bench. Then they sort them by size and color by the roadside to sell select ones at a higher price and send them to distributors who supply goods to markets and stores.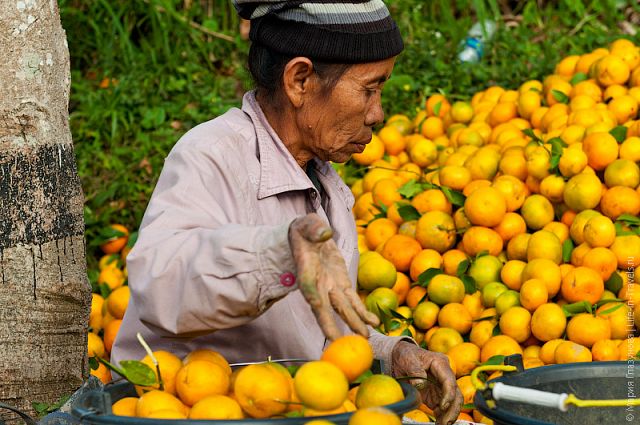 Collectors will gladly treat curious guests. You can also buy mandarins for pennies at the market. In markets and stores, you can see several varieties - from unattractive, small and sour, to perfectly beautiful, selective, large and sweet.
Usage of Mandarins on Bali
Bali people love to put small mandarins in their offerings to the gods and evil spirits. Local residents use large fruits for ceremonial offerings to temples. Of course, mandarins are also used for their intended purpose, for example, they are eaten fresh, make mandarin juices and fruit salads.
If you like citrus fruits, be sure to try fresh mandarin juice, it is not at all like orange juice, very tasty and refreshing.