From January 26, 2023, a tourist visit visa is available in Indonesia, which can be applied for online. Citizens of 93 countries can do it.
The cost of a new visa is IDR 1,500,000 + a small fee for paying by card.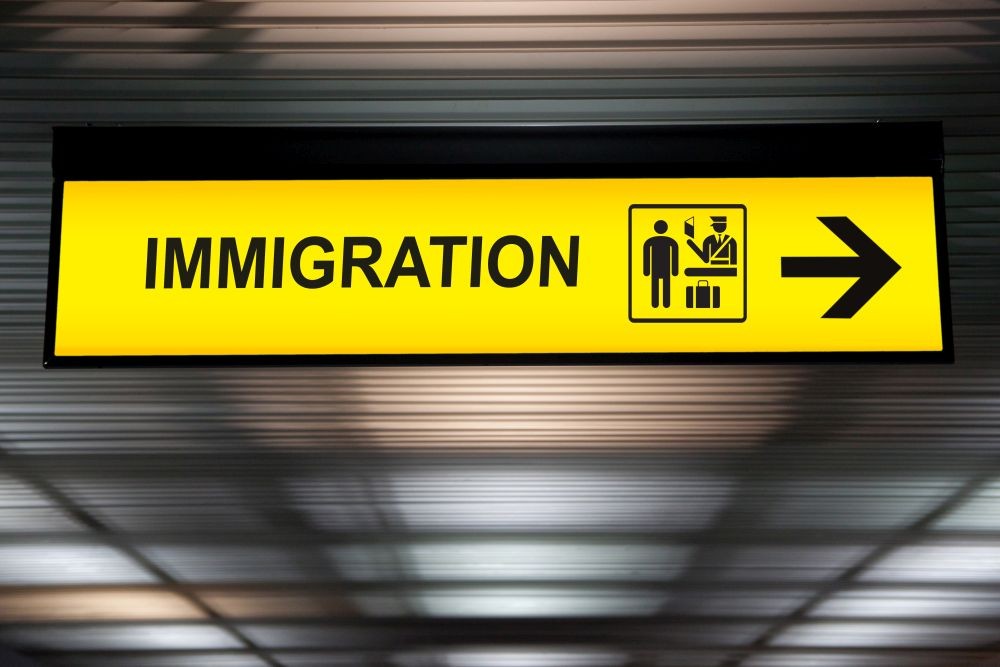 Please note that there is only one official website for visa applications. Recently, there have been increasing cases of fraud through fake websites posing as official ones. Please carefully verify the website address before applying for a visa. Here is the link to the official
website.
The visa is valid for 60 days. According to the official website's "Frequently Asked Questions" section, this type of visa cannot be extended.
Here, we obtained a real visa and provided screenshots of each step for illustrative purposes.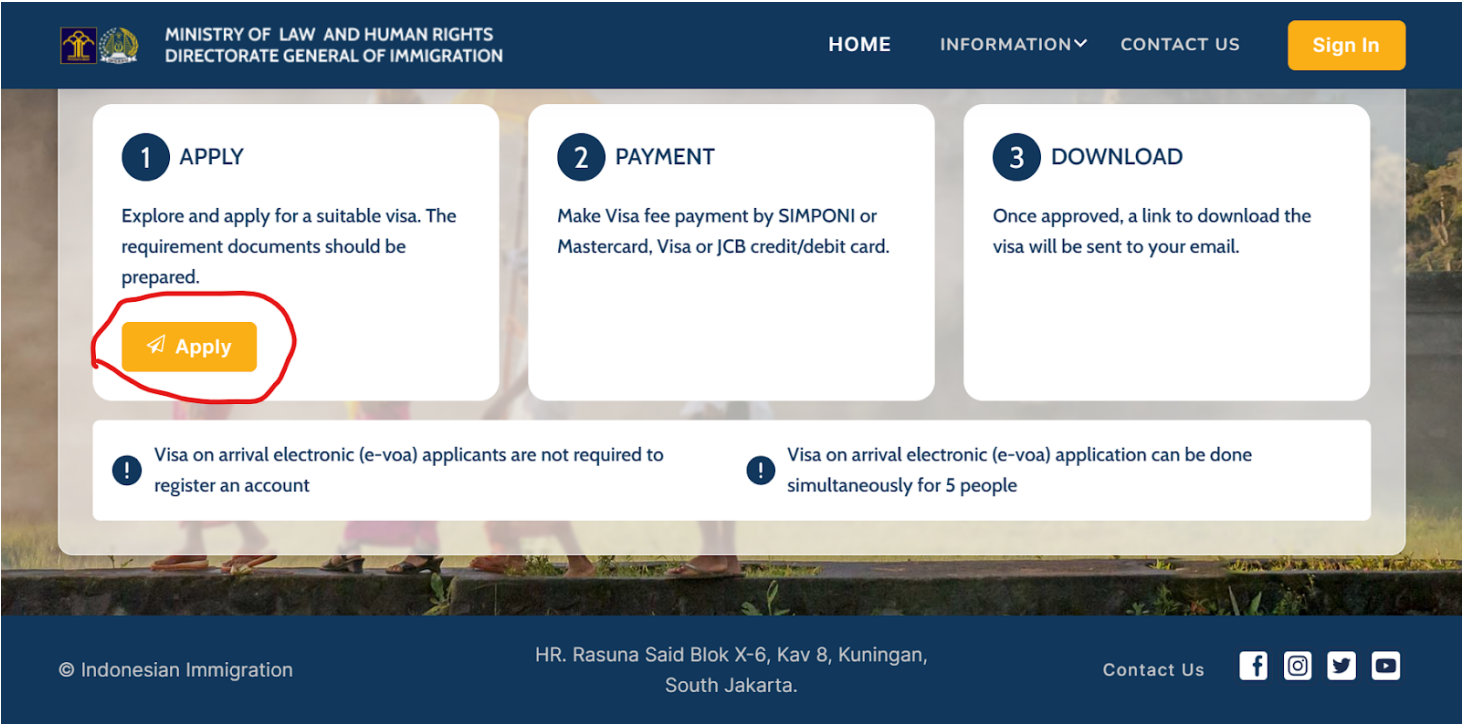 Click the "Apply" button and get to the login page for your personal account.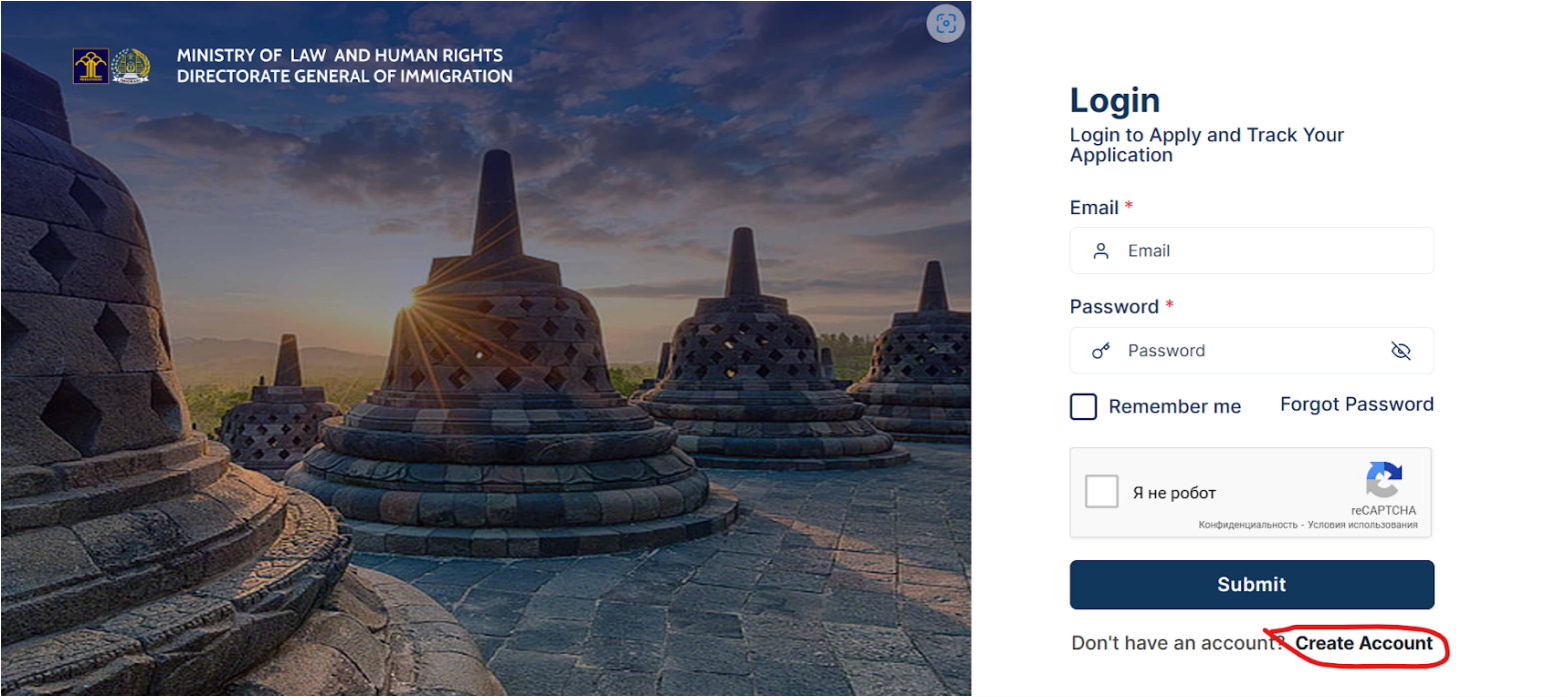 If you have already issued an e-VOA, then log into your account and skip the registration steps.
If you don't have an account, you need to create one. To do this, at the very bottom right, click on the Create account button. Next, select the purpose of the visit - Tourism.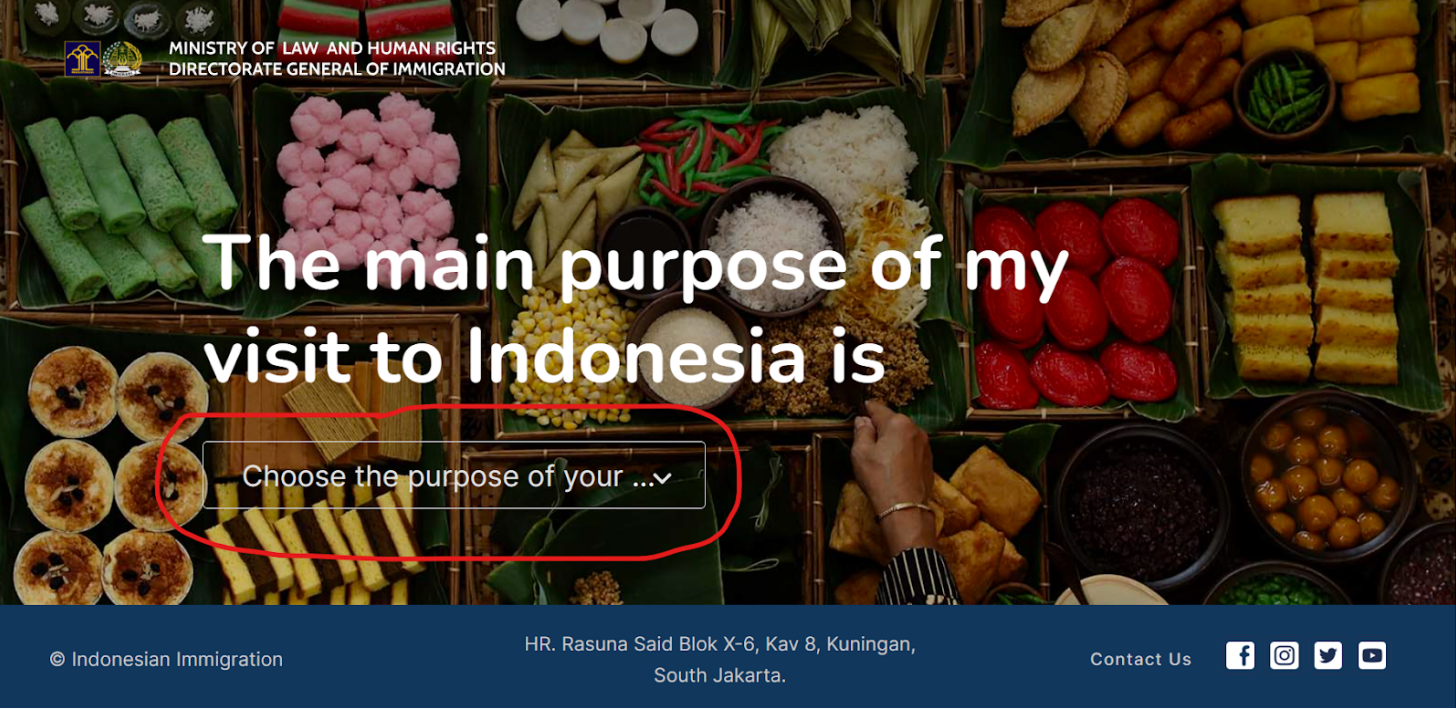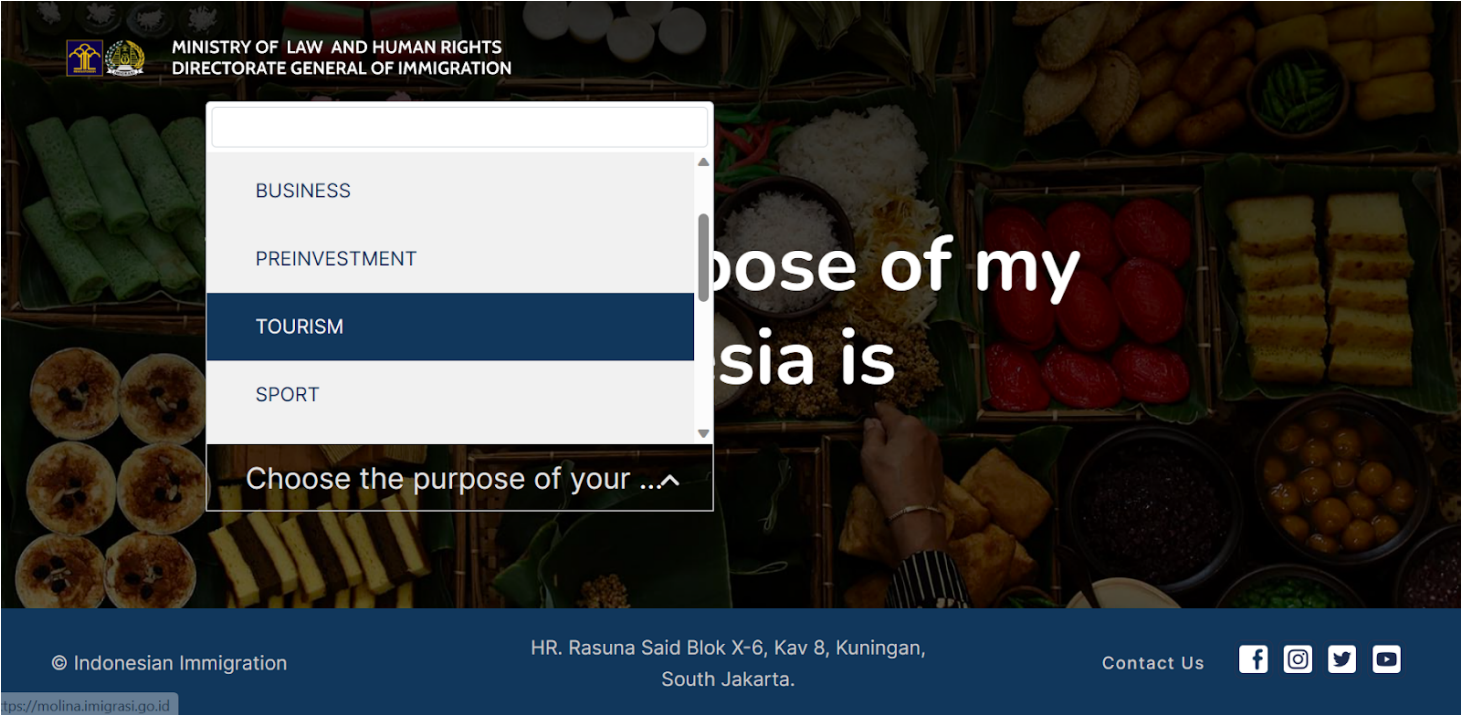 Then select the country that issued your passport.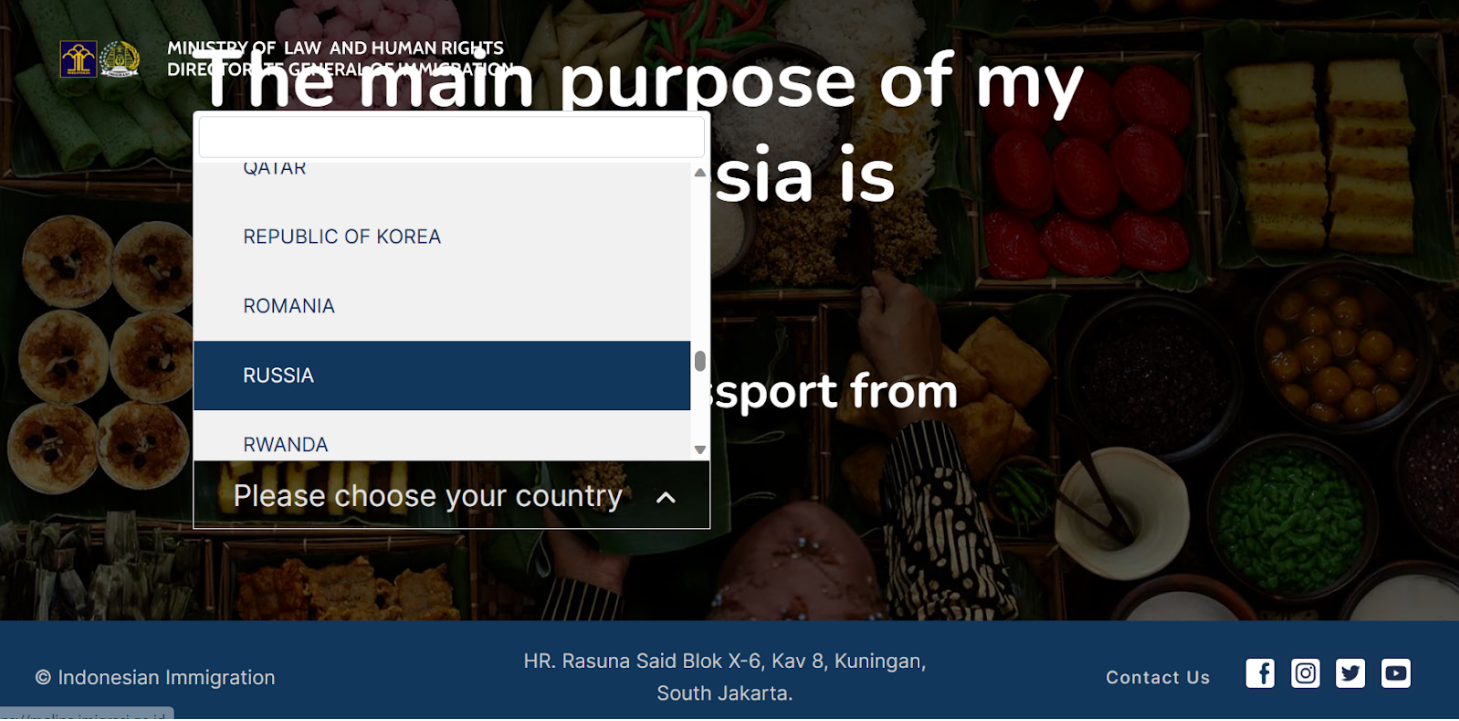 The next paragraph asks you to select the type of visa. In our case, Tourism Single-Entry Visitor Visa is 60 days.
Read our article
about how to open a tourist visa for 30 days.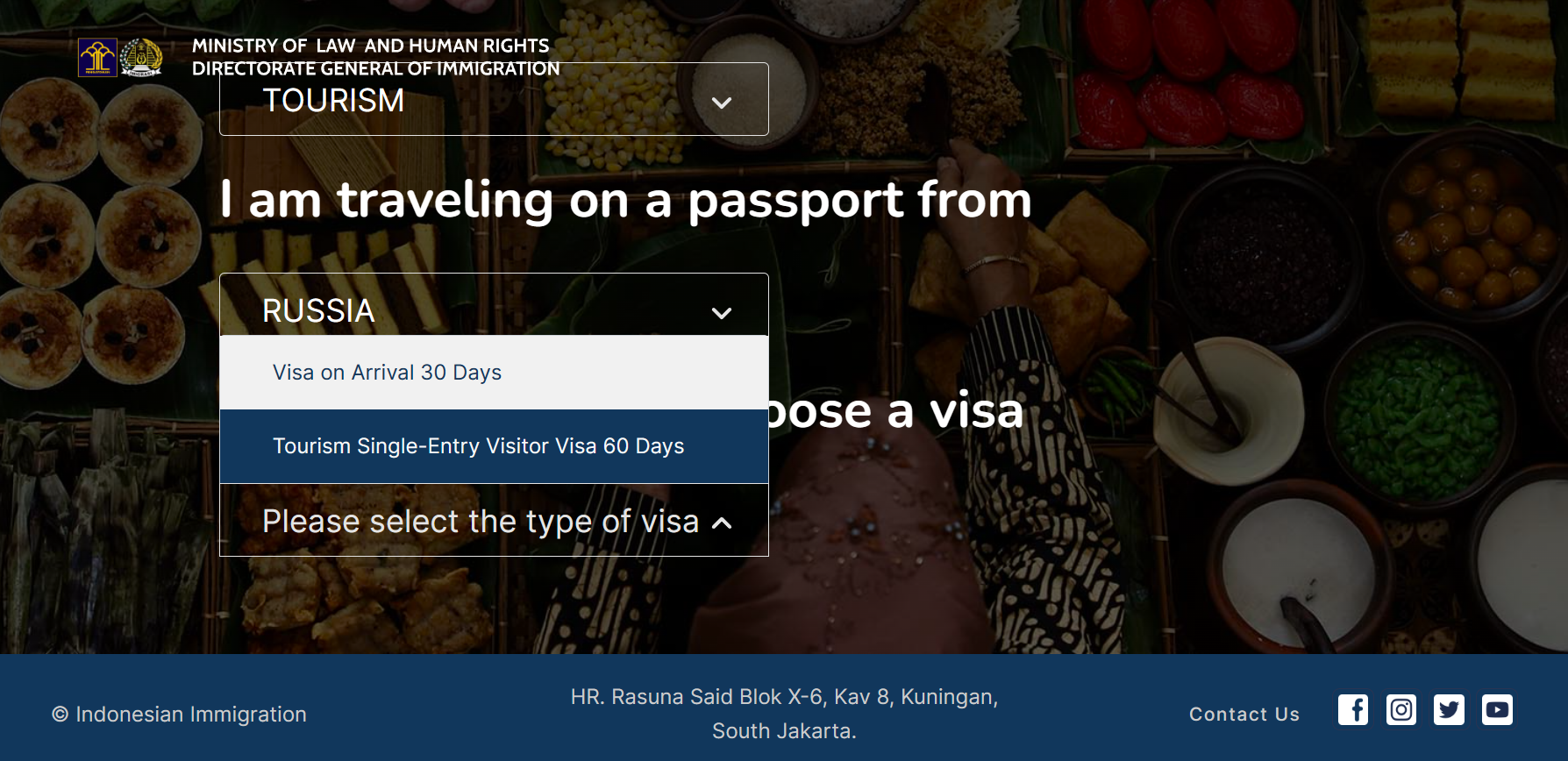 Below, click on the Detail & Apply button.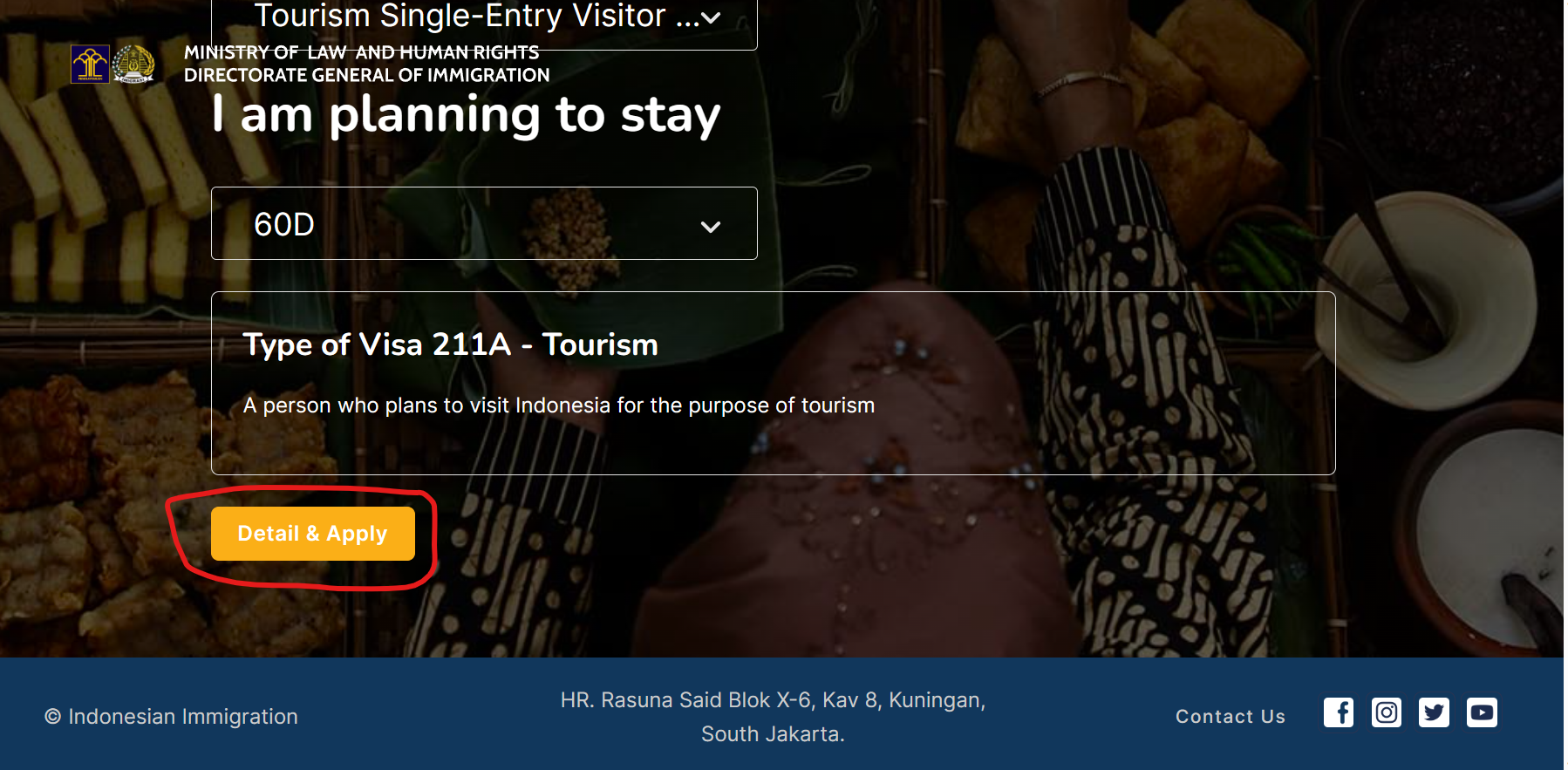 Next we get to the page with personal data. Here you need to upload the cover page of your passport (where all the information and photos are) by clicking on the Upload button. The image must be clear, without glare, in JPEG, JPG or PNG format.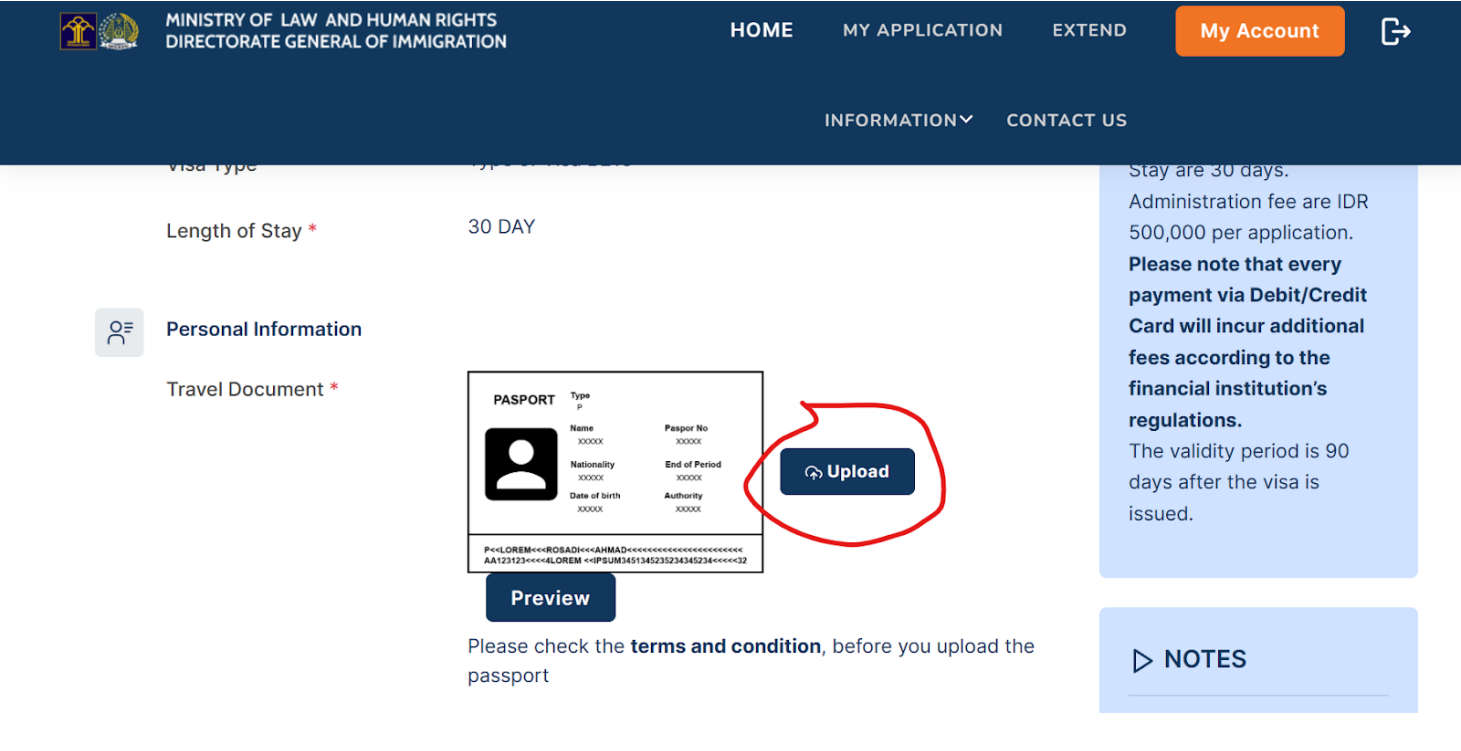 Some of the data will be filled in automatically, but we recommend double-checking everything very carefully. The Birth Country (country in which you were born) and Phone Number (phone number) fields must be filled in manually.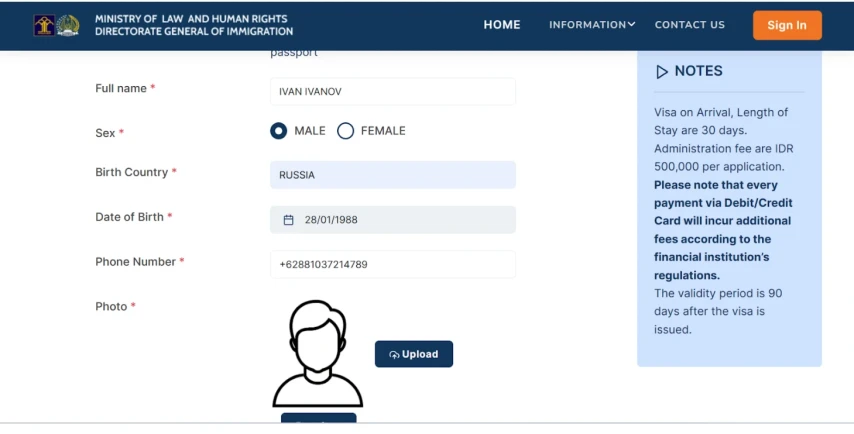 Photo item – here you need to upload your photo. It must be in color, full face, 4 x 6 cm in size, with a resolution of at least 400 x 600 pixels and in JPEG, JPG or PNG format. Click on the Upload button and select the prepared photo.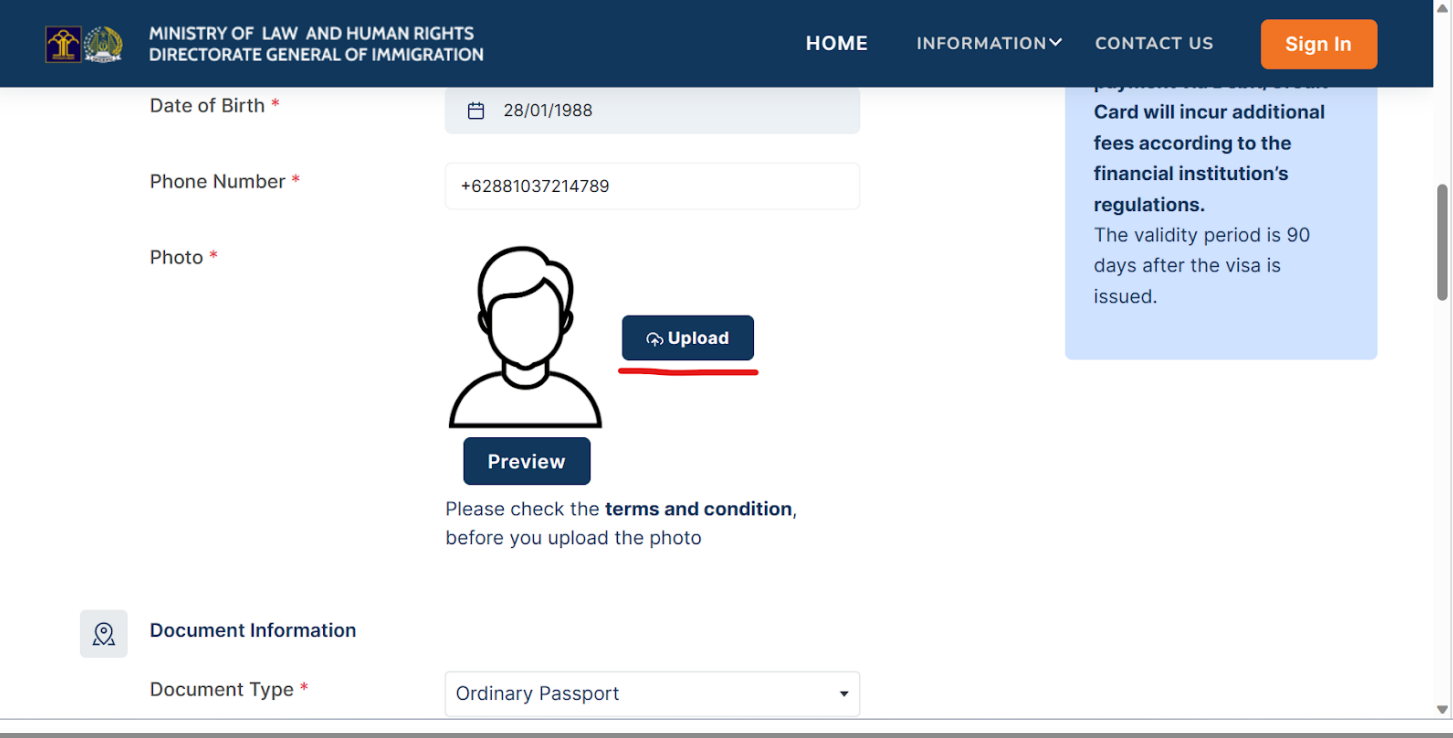 Next, you need to upload your return ticket and bank account statement. Please note that the departure date on your return ticket must not be later than the expiry date of your visa. The return ticket can be to any country except Indonesia. You must have at least 2000 USD in your account in US dollars. Files must be in PDF format only.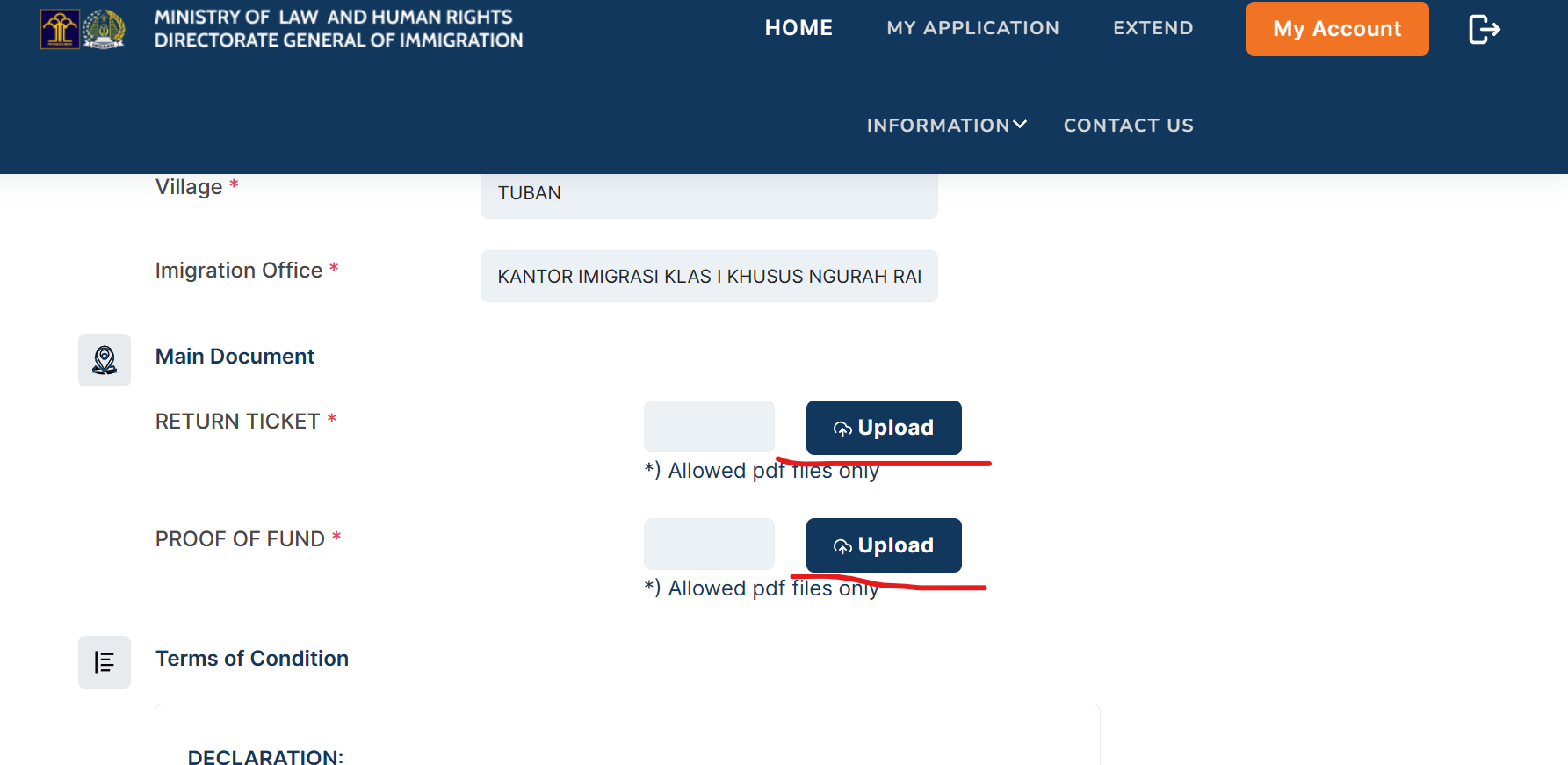 Then enter the following information into the empty or incorrectly filled fields:
Document Type - select Ordinary Passport.
Document No. - enter the passport number without the symbol No. and without spaces.
Nationality - select a nationality from the list.
Date of Issue – date of issue of your passport.
Date of Expiry – date of expiration of the passport.
Issuing Country - the country that issued the passport.
Date of Issue – date of issue of the passport.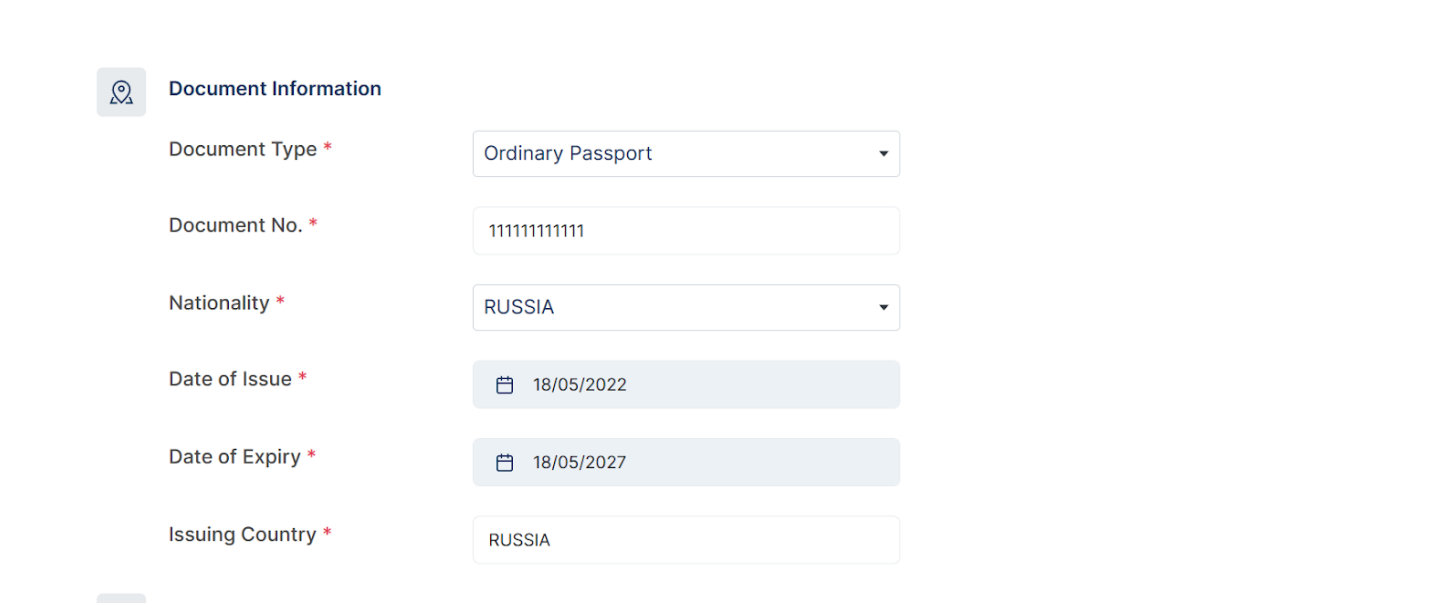 The next item is Arrival Information.
Mode of Transportation - the type of transport by which you arrived in Indonesia (AIR - airplane, SEA - by sea, LAND - by land).
Flight/Vessel Number – number of a flight, ship, train, bus, etc.
Arrival Date – date of arrival in Indonesia.

Then we indicate the address in Indonesia (Address in Indonesia).
Residence Type – place of residence in Indonesia, or rather, the type of this place (house, hotel, villa, apartment, etc.).
Address – and here is the address (you can copy it from Google maps). After entering the address and zip code, all other fields should be filled in automatically. If they are not filled out, then follow the instructions below.
Postal Code – postal code.
Province – province (you will most likely have Bali).
It will be more convenient to fill in City, District, Village using the address you copied from Google maps. For example, Jl. Bypass Ngurah Rai Jimbaran No.88A, Nusa Dua, Kec. Kuta Sel., Kabupaten Badung, Bali 80361. Coming from the end: 80361 is an index, Bali is a Province, Kab.Badung is a City, Kuta Selatan is a District and Jimbaran is a Village.
The Immigration Office will be filled in automatically.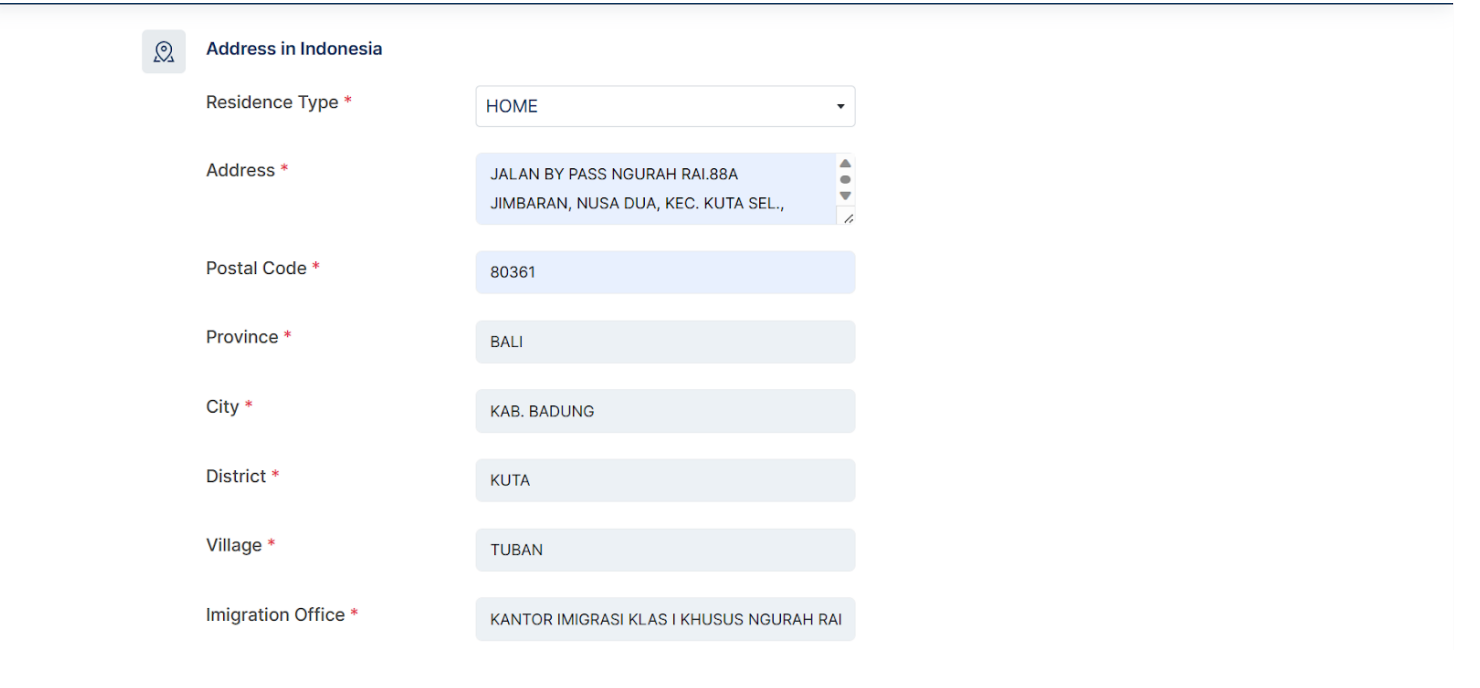 Then enter your email address and phone number. Below we agree to the terms by checking the box. Also check the box "I'm not a robot" and click on the Save button.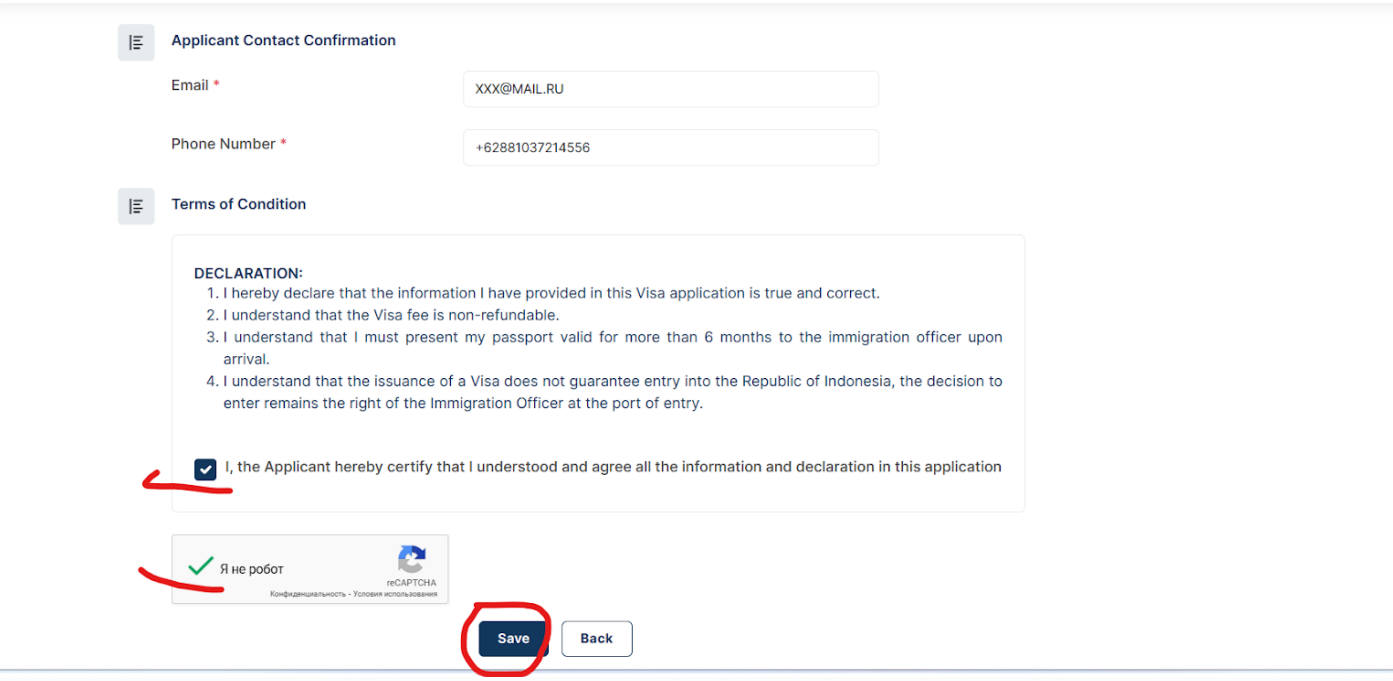 Next, we arrive at a page with pre-filled information. Click on the "Submit" button. In the pop-up window, you will be asked whether you want to continue obtaining the visa as a guest or as a registered user. If you are on vacation for a couple of weeks and do not plan to make visa runs, you can continue as a guest by clicking the "As Guest" button. If you plan to stay in Indonesia and will be applying for visas again, it is recommended to continue with registration by clicking "With Register." In the first case, you will immediately be directed to a page with your data. In our example, we will proceed with the second option. However, it differs only in a window where your email will be indicated, and below that, you need to create a password – it must consist of at least eight Latin letters, with at least one uppercase letter and at least one digit.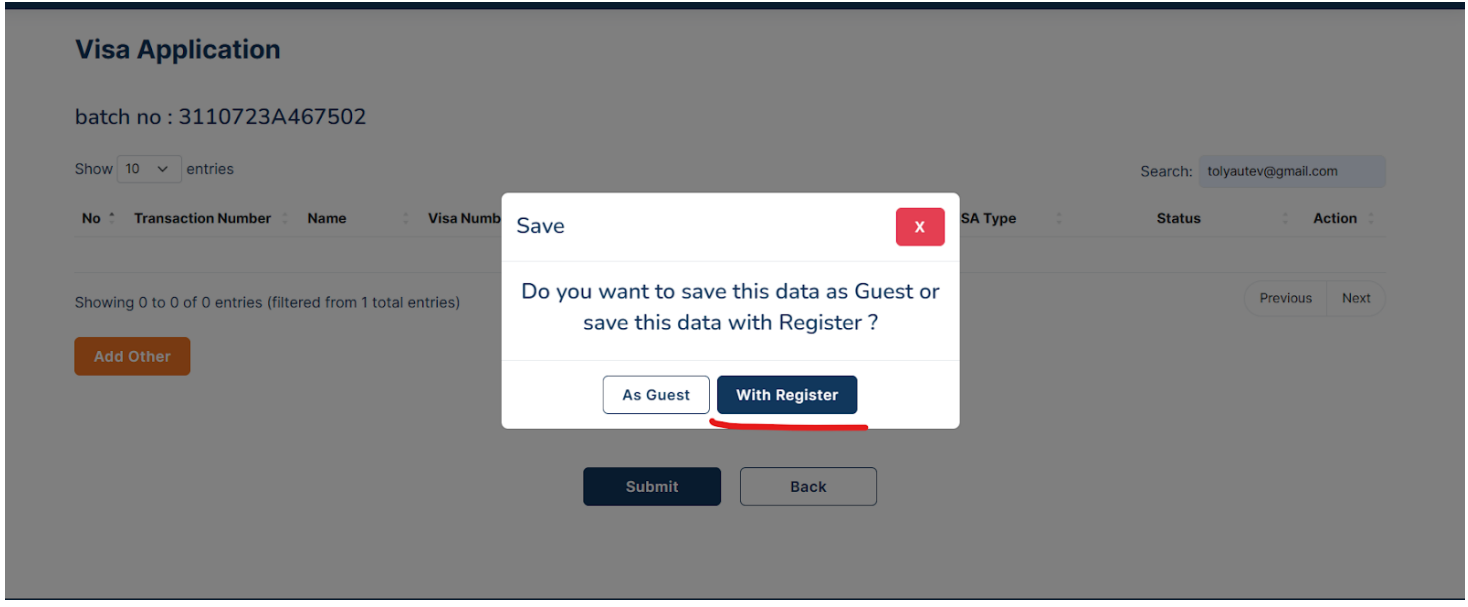 Next, click the "Submit" button. The "Success" message indicates that the account registration was successful. However, you still need to activate the account. To do this, go to the registered email and in the email from DIRECTORAT JENDERAL IMIGRASI, click on the "Activate" button. Now you can log in to the account, remembering to check the "I'm not a robot" box.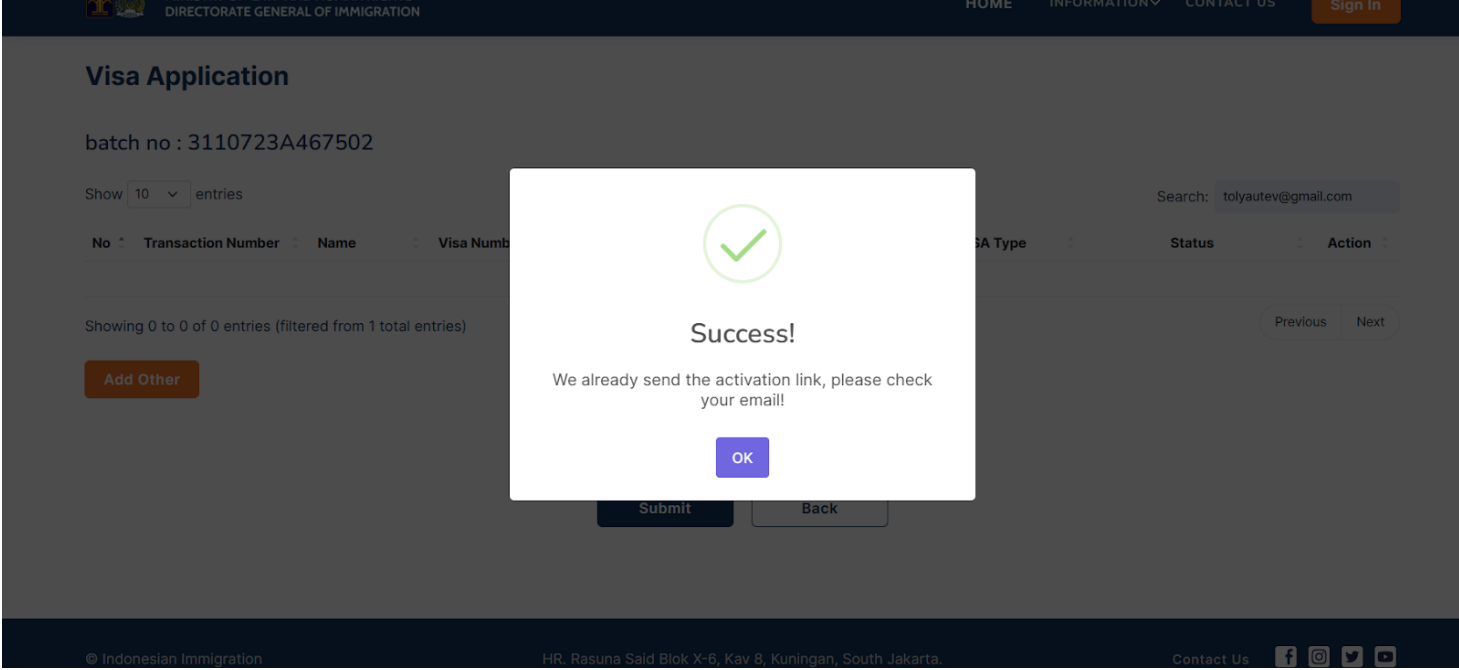 Then you will be directed to the page with your details (similar to the registration process as a guest). Double-check all the information. Now, all that's left is to make the payment. Please note that you have 7 hours to complete the payment. Click on the "Make a Payment" button at the bottom left.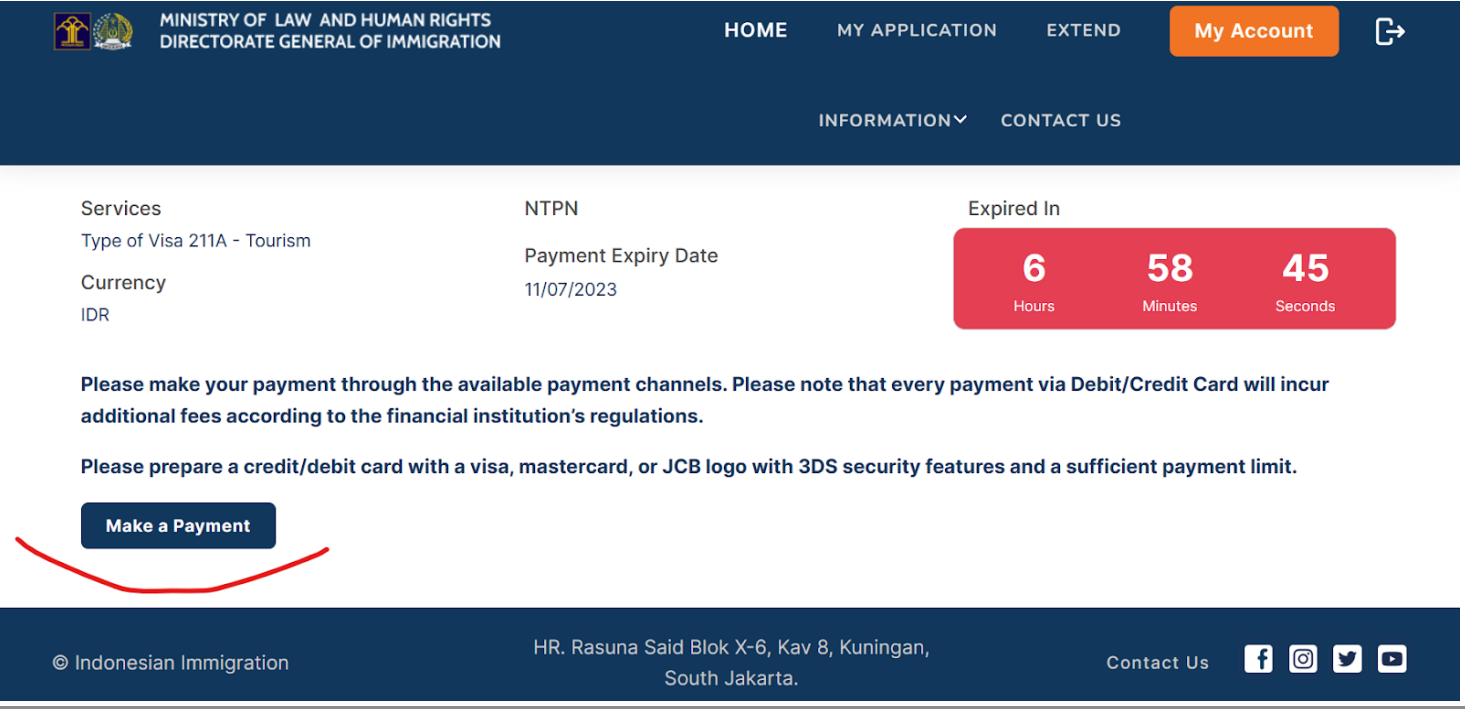 Fill in your card details and click on the red Bayar Sekarang button.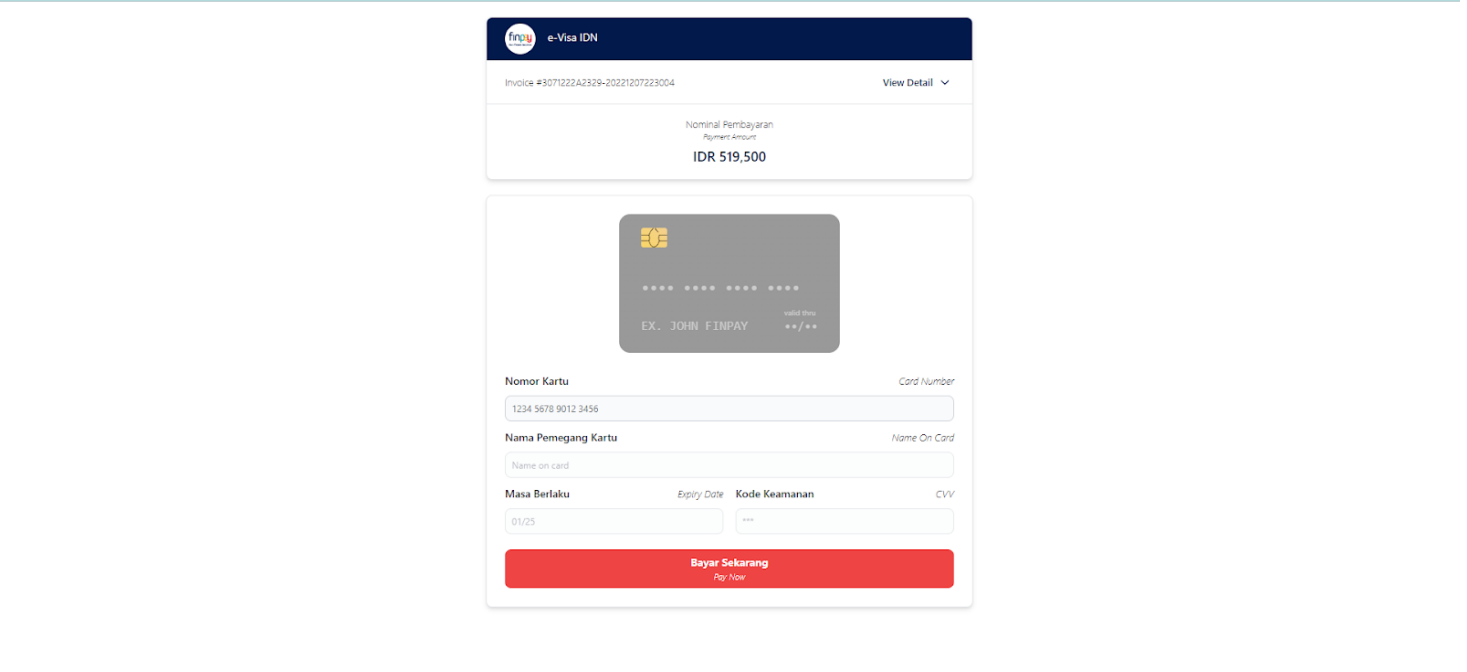 We confirm the payment using the code from SMS (the window here may be different - it depends on your bank).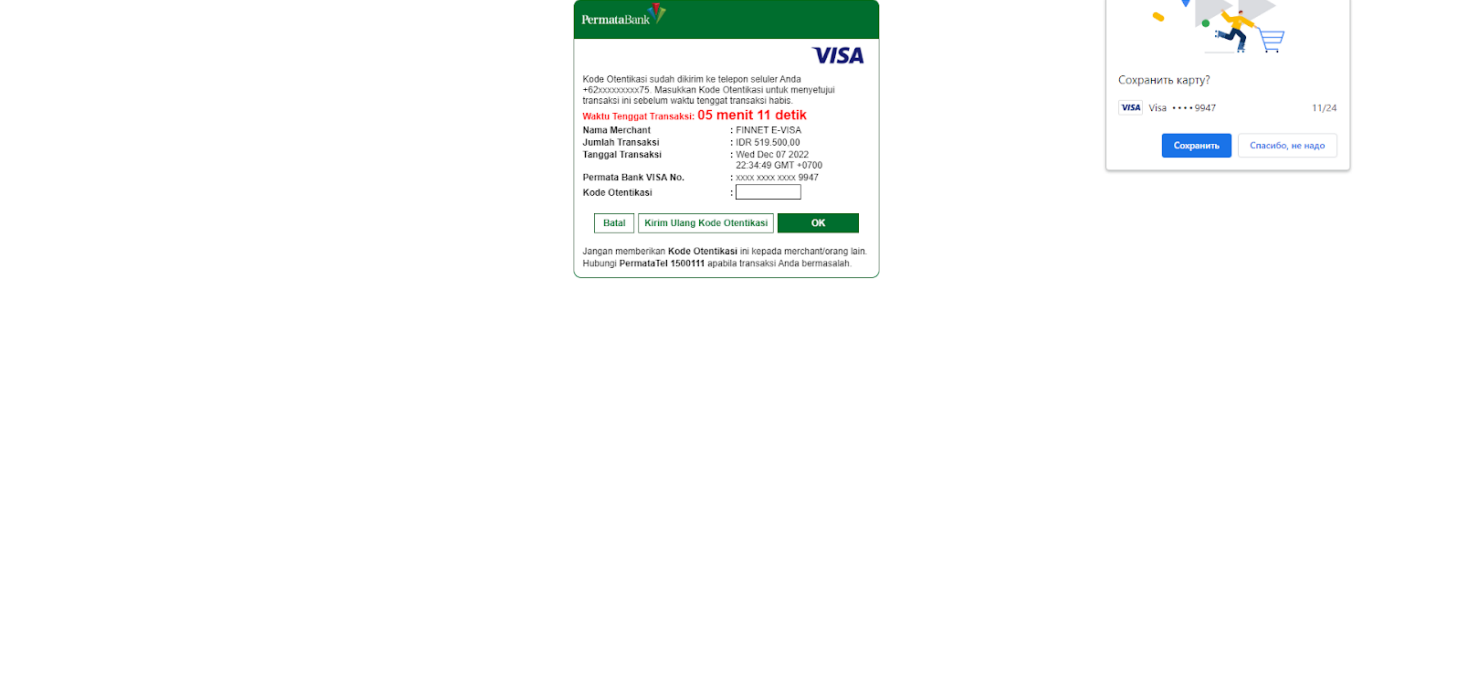 Congratulations! The payment was successful.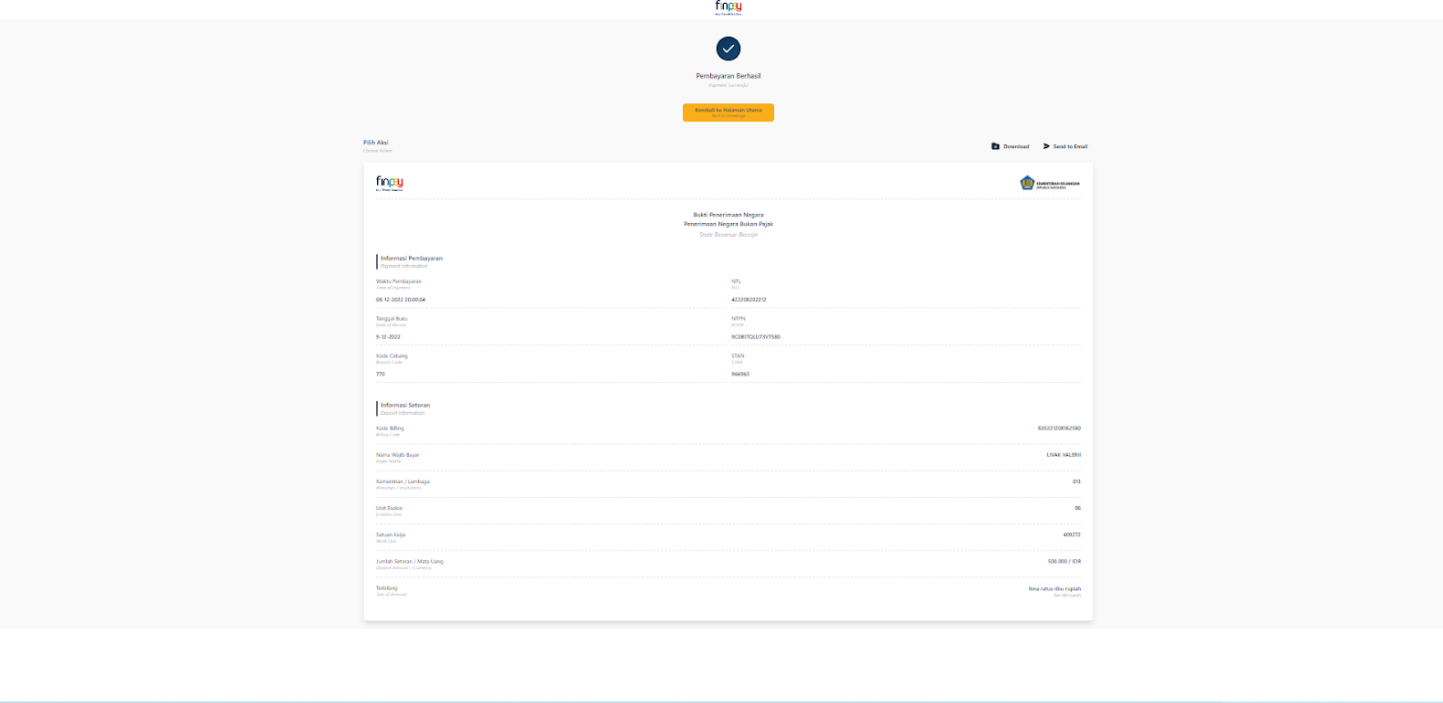 Now in the mail you specified you will find three letters. Two of them are confirmation of payment, and the third is the long-awaited visa! Just in case, print it out. At Bali Airport, look for the e-VoA sign and proceed to the designated passport control counters for e-visa holders. Recently, due to the large influx of tourists, counters for e-visa holders are also accepting regular visas, so be prepared for a queue.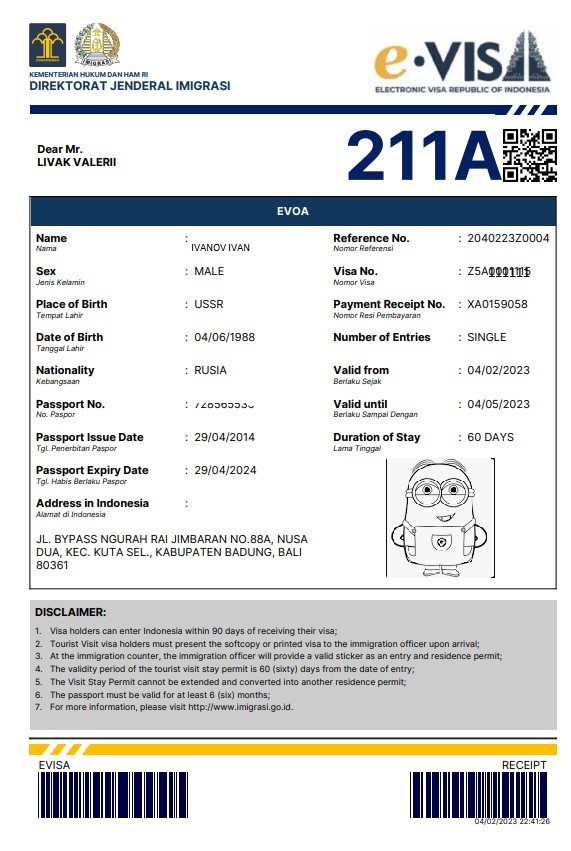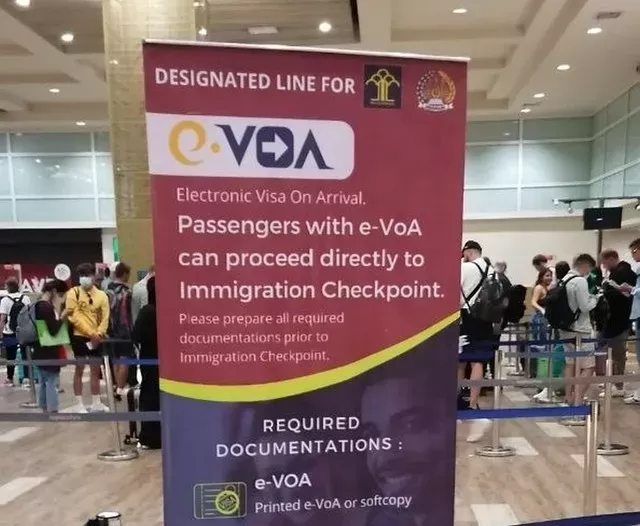 Now you can easily and quickly apply for a visa. We hope that our instructions will help you.