Likely the oldest bathhouse in Bali, it has been welcoming guests for nine years already. Over these years, on a fairly large area, many structures have emerged, including steam rooms. There are three baths: large, medium, and small, secluded, each with its own pool and all the necessities for a few people. The Dacha itself is steeped in Ubud's mystical atmosphere and leaves a pleasant impression. The menu doesn't include beer and alcohol in principle, but for some, this could be a plus. The food is exclusively vegetarian. Additionally, on the premises, there are a homemade vegetarian café, a healthy bar, a natural spa, a river pool, and a magical garden with places for relaxation and beautiful views.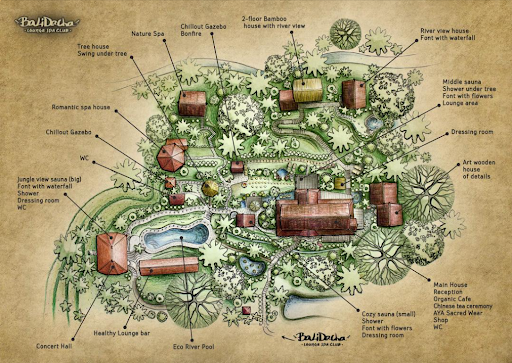 At Dacha, there are club days that take place on Wednesdays, Fridays, and Sundays. The organizers claim that guests can expect three jungle saunas, sauna ceremonies, baths, and a river pool with flower petals, herbal teas, a Chinese tea ceremony, dancing, performances, fire shows, live and electronic music, bonfire dances, numerous relaxation areas, homemade vegetarian and vegan food, and a great atmosphere. The cost on Wednesdays and Fridays is 400,000 Indonesian Rupiahs, and on Sundays - 500,000. The ticket includes three jungle saunas, sauna ceremonies, live music and DJ, performances and fire shows, sound healing and bonfire dances, nail studding, baths and a river pool with flower petals, a Chinese tea ceremony, watermelon plates and herbal teas, scrubs and aloe vera.
Sauna rental is available on Mondays, Tuesdays, Thursdays, and Saturdays, with prices starting from 2,200,000 Indonesian Rupiahs for five people. The price includes two hours in the sauna with the option to choose additional hours during booking, a natural pool, a bath with flower petals, herbal tea, watermelon plates, scrubs, and aloe vera. Hats and sarongs are also provided. Reservations can be made on the website. The café with homemade vegetarian cuisine and hookahs is open at all times.
Bungalow rental is also possible, priced at 1,000,000 Rupiahs.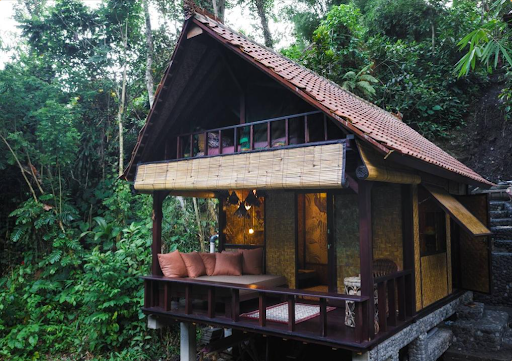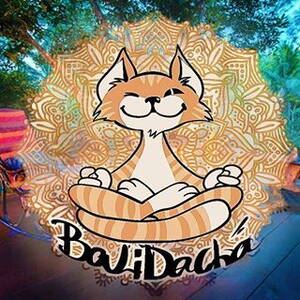 Bali Dacha Бали Дача в Убуде. Легендарное пространство для здоровья души, тела и творческого вдохновения. Taplink
Google Maps Bali Dacha · Bedulu, Blahbatuh, Bedulu, Kec. Blahbatuh, Kabupaten Gianyar, Bali 80515, Indonesia