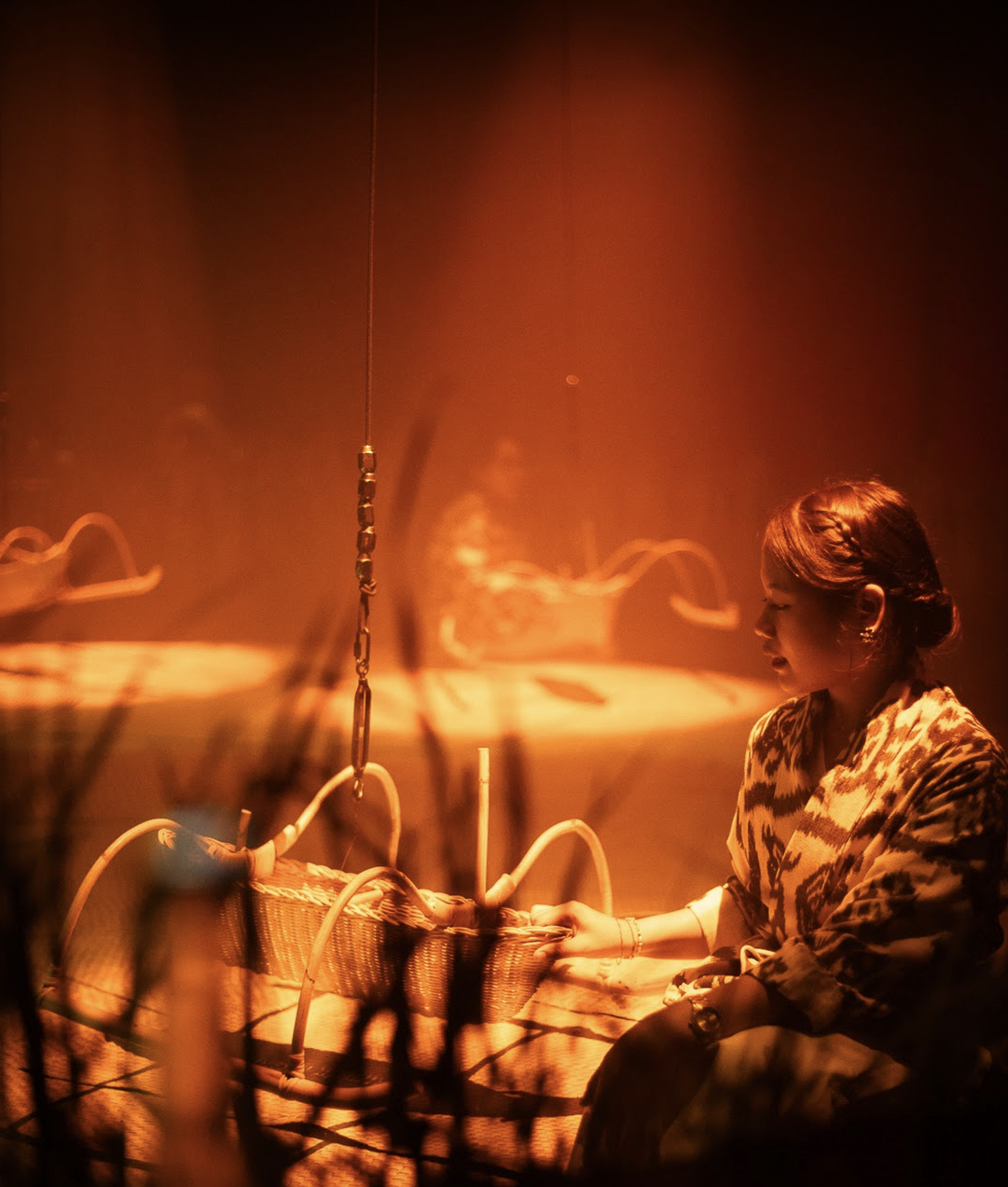 The restaurant has been operating since August and has already gained high ratings and enthusiastic reviews from guests. Gajah Putih is open for dinners from Wednesday to Sunday, starting at 18:30. However, arriving without a reservation is not possible, as all dishes are prepared based on the number of guests.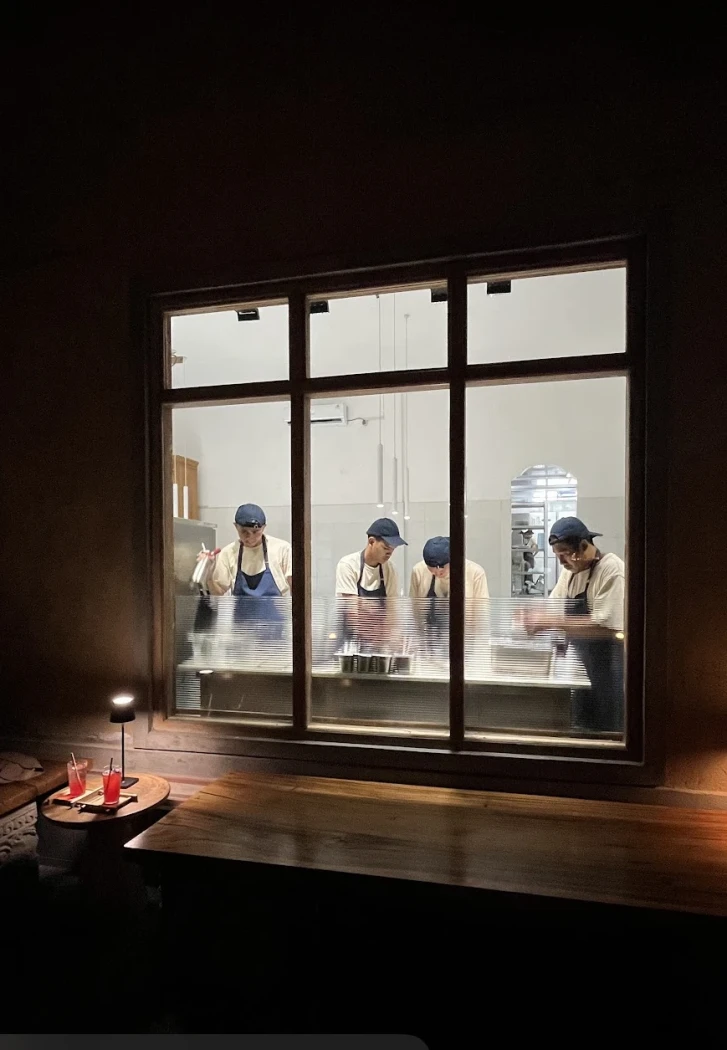 At the heart of the Gajah Putih project is the intertwining and combination of exquisite cuisine with a captivating theatrical performance. The project's founder, Maxim Krasnyuk, also known on Bali for the Slavic cuisine cafe network Usha, is an entrepreneur with deep respect for Indonesian culture, having lived on the island for over 9 years. Gajah Putih is his latest project, uniting his love for Indonesia and the desire to create a unique dining venue.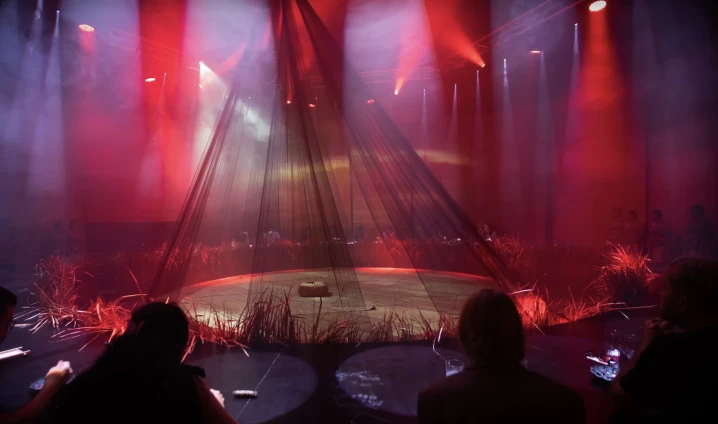 The restaurant's chef, responsible for culinary magic, is Alexey Dokuchaev. His dishes not only impress with an interesting palette of flavors but also evoke visual delight. Alexey possesses vast experience and skill, creating culinary works of art that captivate visitors. "Gajah Putih is not just a restaurant. It's a stage where food becomes art, and art becomes a celebration for the senses," explained chef Alexey.
The tasting menu consists of eleven dishes featuring Balinese ingredients sourced from local farms:
1. Chem-chem - a Balinese drink made from local healing herbs, mango candied, kaffir lime oil, Amed salt.
2. Gemitir - velvet tamarind flower, deep-fried. Balinese use these flowers for offerings.
3. Woven tuna ball with smoked local young cheese.
4. Salad of fresh berries, greens, and vegetables from Bedugul under cilantro oil.
5. Dolma with shrimp and seaweed from Nusa Penida with cream sauce.
6. Beef ribeye steak satay on a skewer with garlic ketchup and thick marinated soy sauce.
7. Grilled barramundi fish fillet with curry mousse and Nusa Penida fermented banana flower sambal.
8. Aged duck with tamarillo and herbs, dressed with wine vinegar.
9. Magical marinated mushroom with dragon fruit powder.
10. Traditional Balinese Bika Ambon cake made from tapioca flour with "Pandan" ganache and dragon fruit gel.
11. Roselle sorbet with explosive cream puff with chili pepper; vanilla gelato with Nasi Goreng caramel, rice popcorn, Balinese lak-laks with durian, lime and arak chocolate.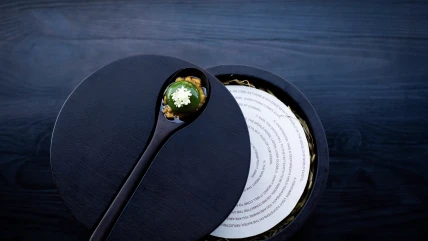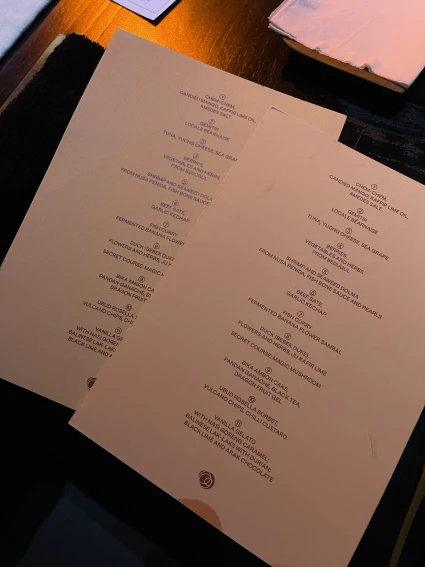 Gajah Putih is an exclusive space with a unique concept, introducing a new style of gastronomic dinner to Bali, where guests can indulge in exquisite cuisine while immersing themselves in a captivating theatrical performance.
Access to the restaurant is possible only by advance reservation - purchasing a ticket through the online system via the provided link. The ticket cost is 1,000,000 IDR, inclusive of an eleven-course dinner; beverages are to be paid separately by the guest after completing the meal.
Two days before the anticipated dinner, you will receive a message in the messenger app, requesting information about dietary preferences, potential allergies, and providing recommendations regarding dress code and the restaurant's location. The restaurant offers a vegetarian menu option.
Situated not far from the Usha cafe in a quiet Ubud location, the venue is unobtrusive, with a small sign adding to the sense of mystery. The staff, dressed elegantly, will greet you from the road and guide you to the spacious and rocky parking lot, so be cautious on a bike.
At the reception, the hostess will ask for your names and hand you a personalized ticket specifying your name and seat in the hall. Each guest or couple is assigned a dedicated waiter who will accompany and provide details during the guest gathering and the entire show.
Every guest is welcomed ceremoniously! Upon opening the main door, you enter an area where you will be offered drinks from the bar menu. The menu features many alcoholic cocktails, but there are also a couple of non-alcoholic options.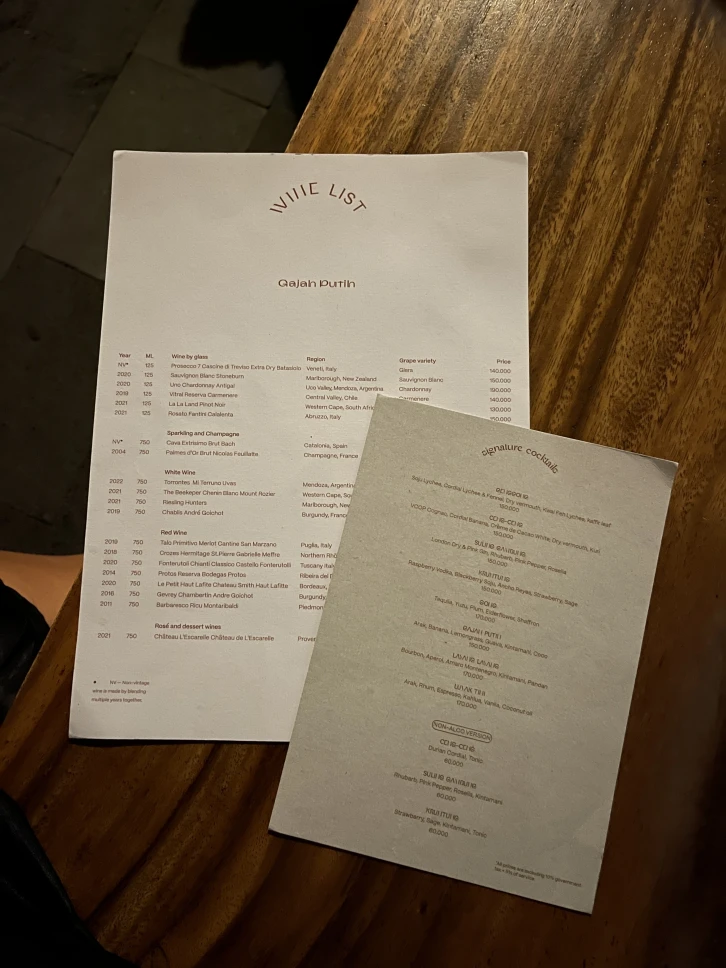 There is also an extensive wine list that complements the culinary delights of the restaurant. In the waiting area on the veranda, there is a smoking zone.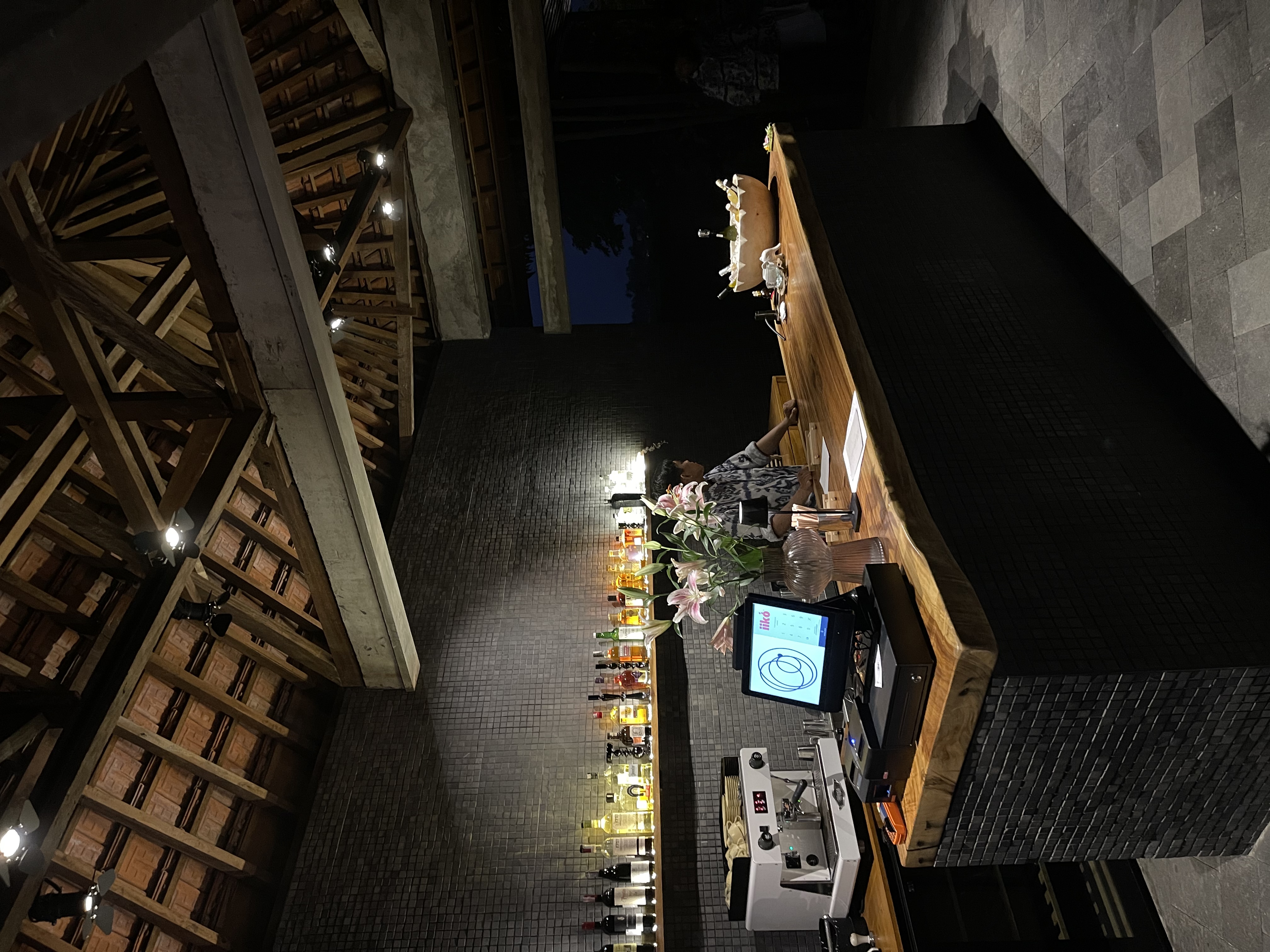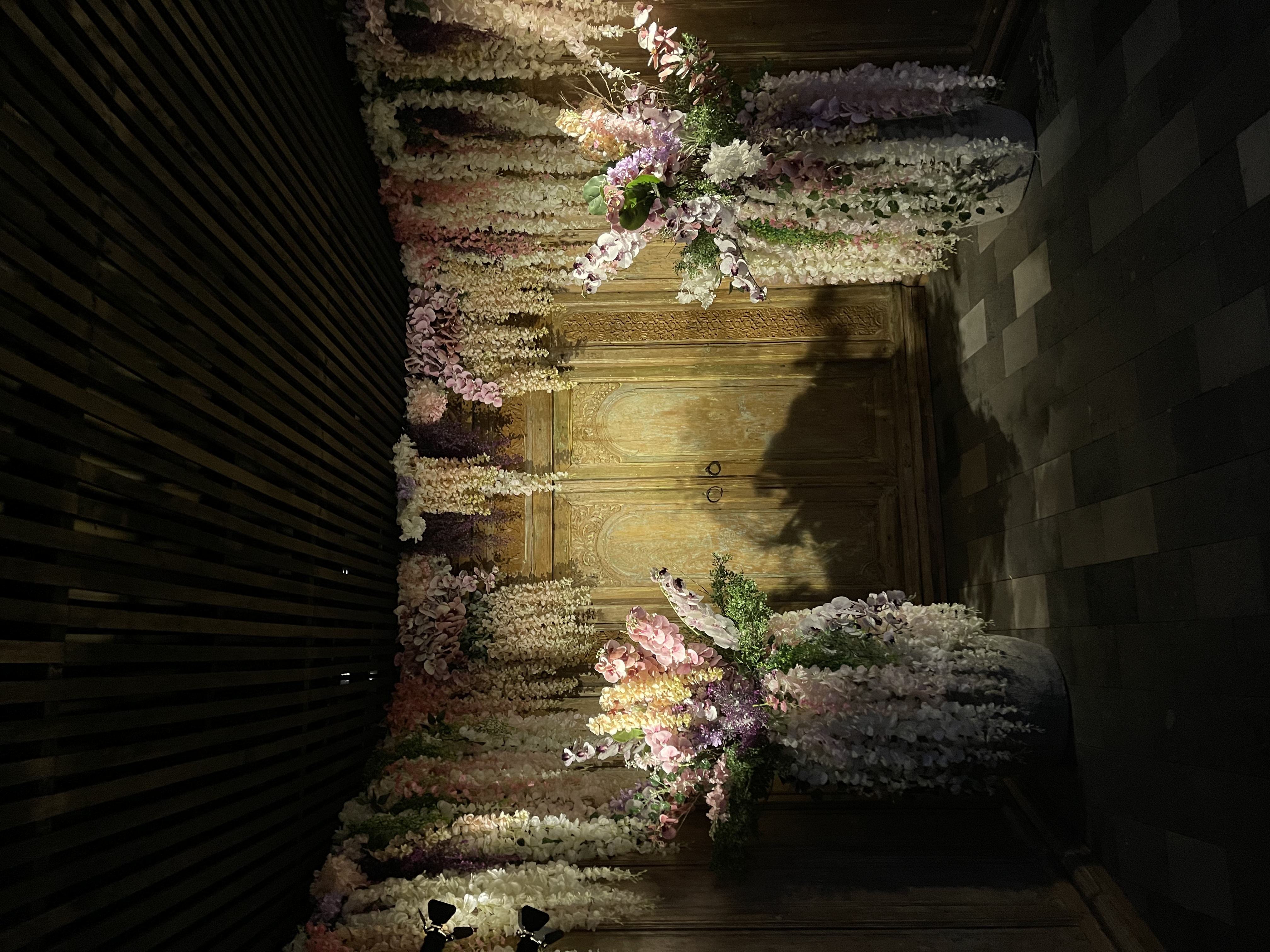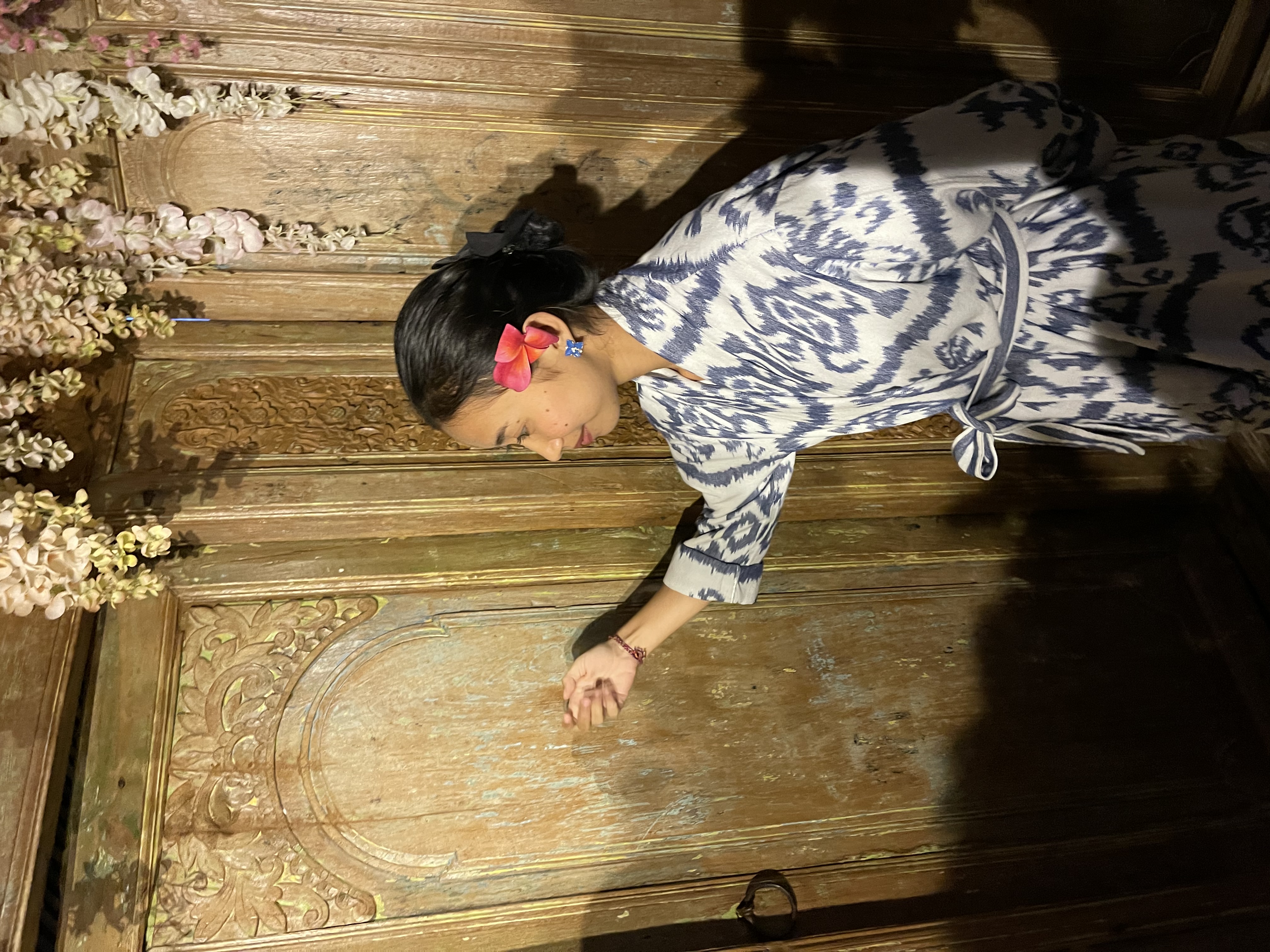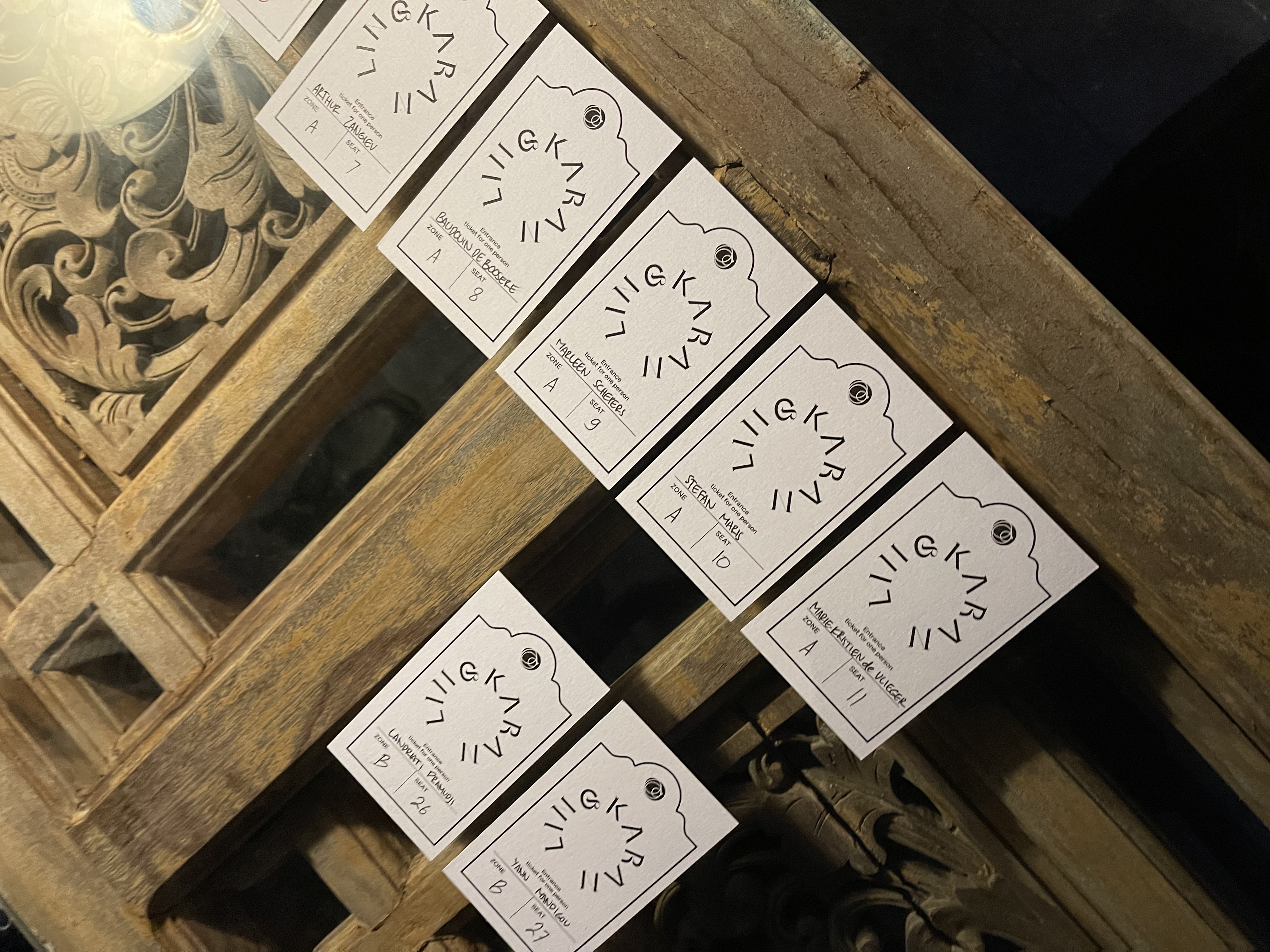 Посмотреть еще
1 фото
The main doors of the restaurant open at 19:00, revealing subdued light and mist. The magic of the place captivates. Each guest is individually escorted to their seat, but before that, they are guided to the stage and invited to perform a ritual before the meal, washing their hands with a fragrant towel. Every detail in the restaurant is well thought out, and with each passing second, you eagerly await each new show, feeling like a part of the entire performance.
In the main dining area, the central stage, where all the action takes place, is surrounded by a large table structure, ensuring every guest has a comfortable viewpoint. Each dish is accompanied by a performance on stage. The entire staff participates in the presentation. For example, our waitress beautifully performed a traditional Balinese dance. We couldn't take our eyes off her. The entire team is involved in the presentation without exception.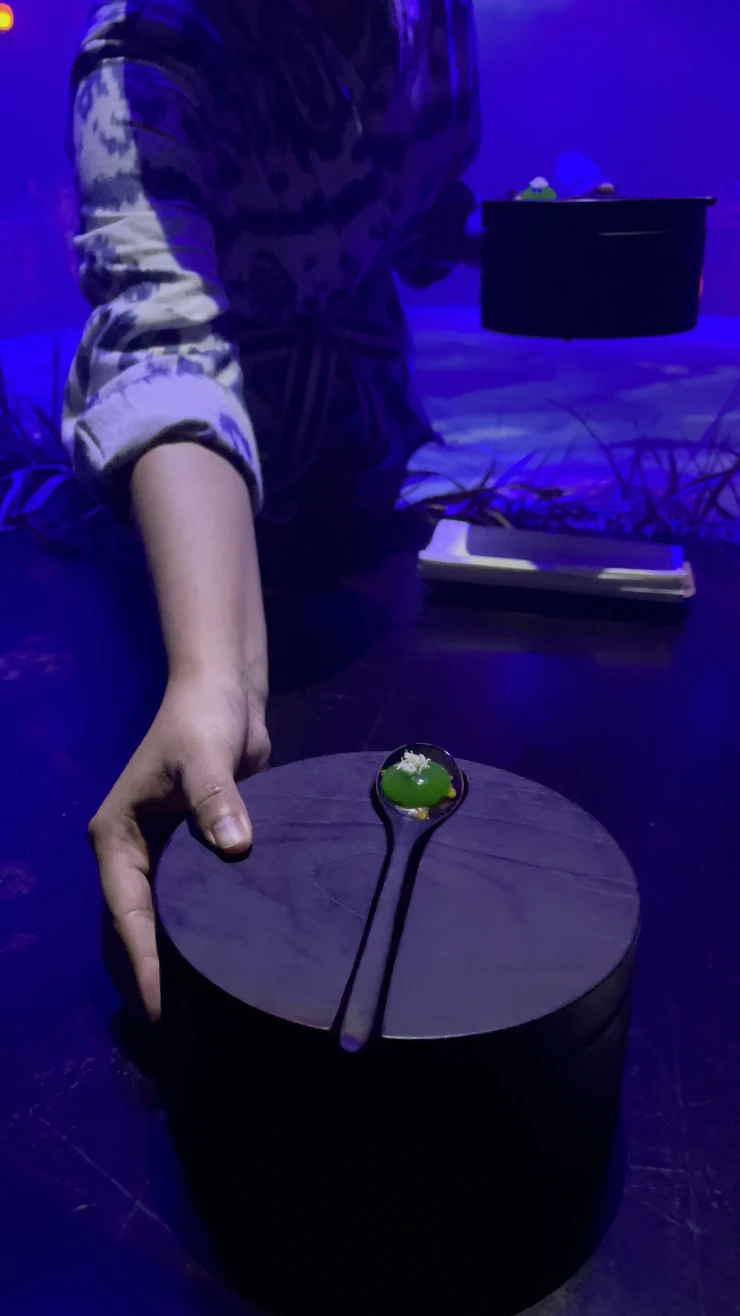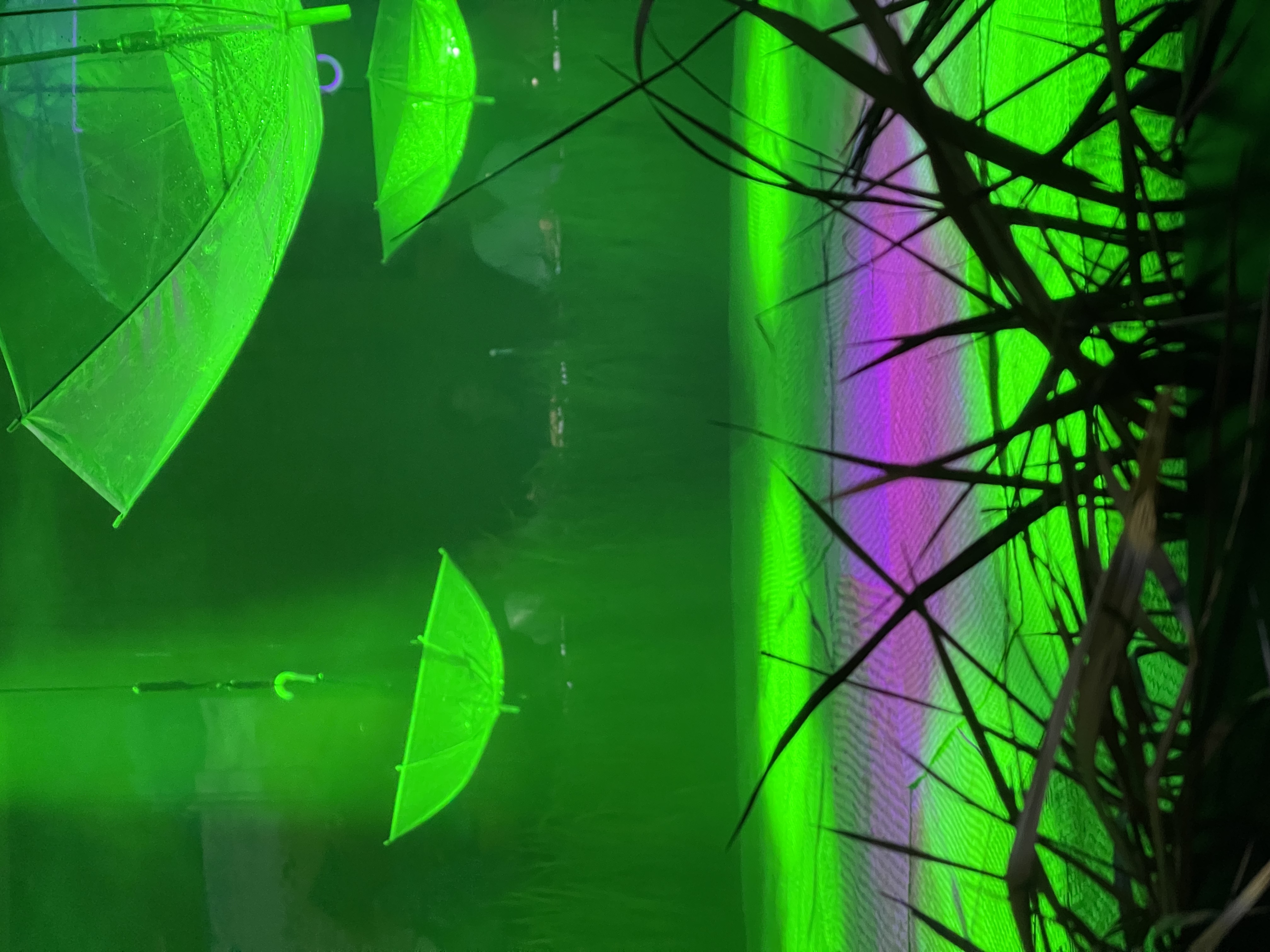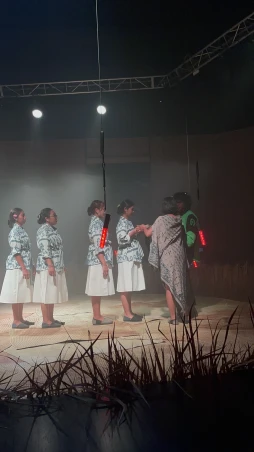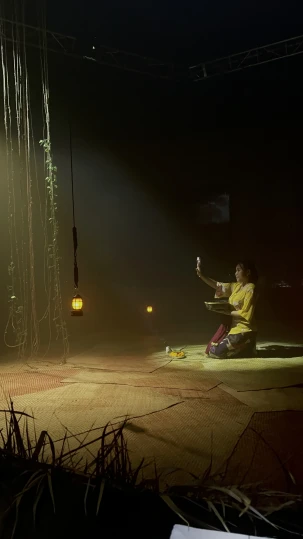 Every show is structured as if you are watching an exciting movie. What I particularly liked was that the story and culture of Bali, narrated by the actors in the performance, are interspersed with dynamic music and modern life plots that we see on the island.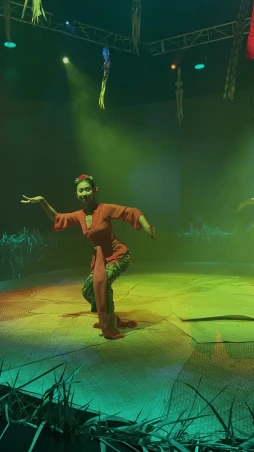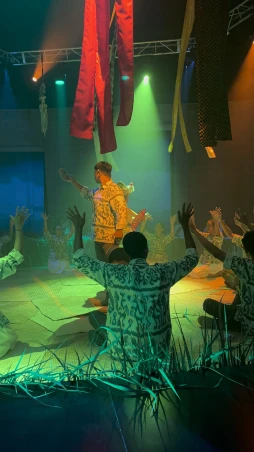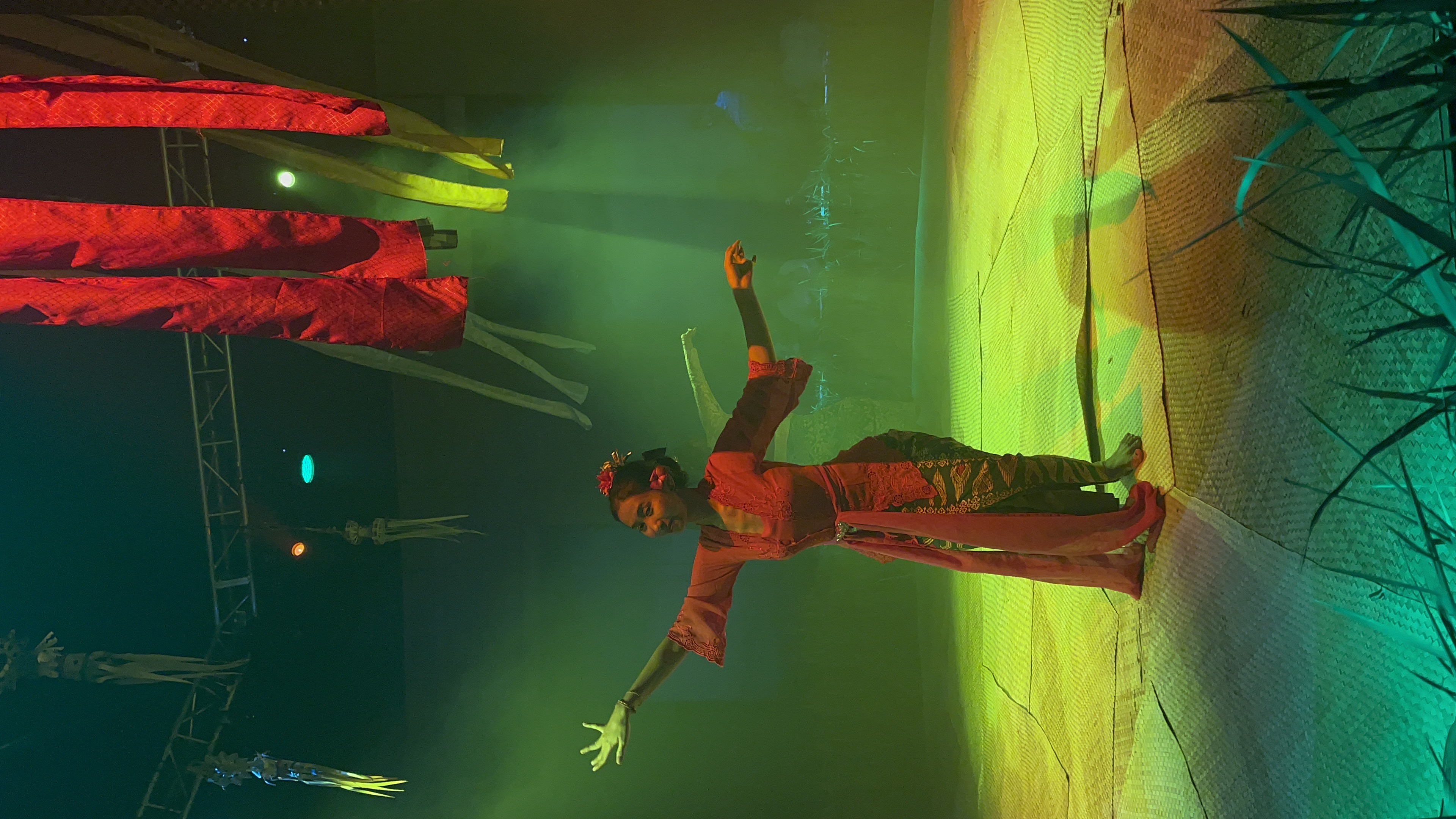 With each dish, the waiter provides important recommendations: the recommended order to eat, what on the plate is edible, and what is purely for decoration. Overall, I was amazed that some flowers presented in the dishes were edible and, when combined with the main ingredients, added a refined taste.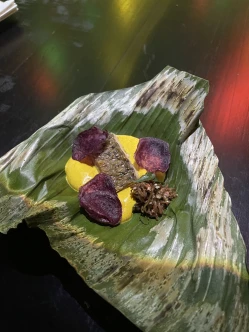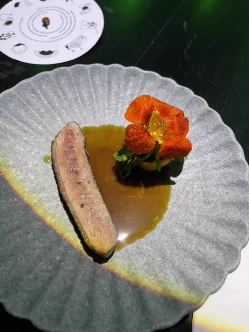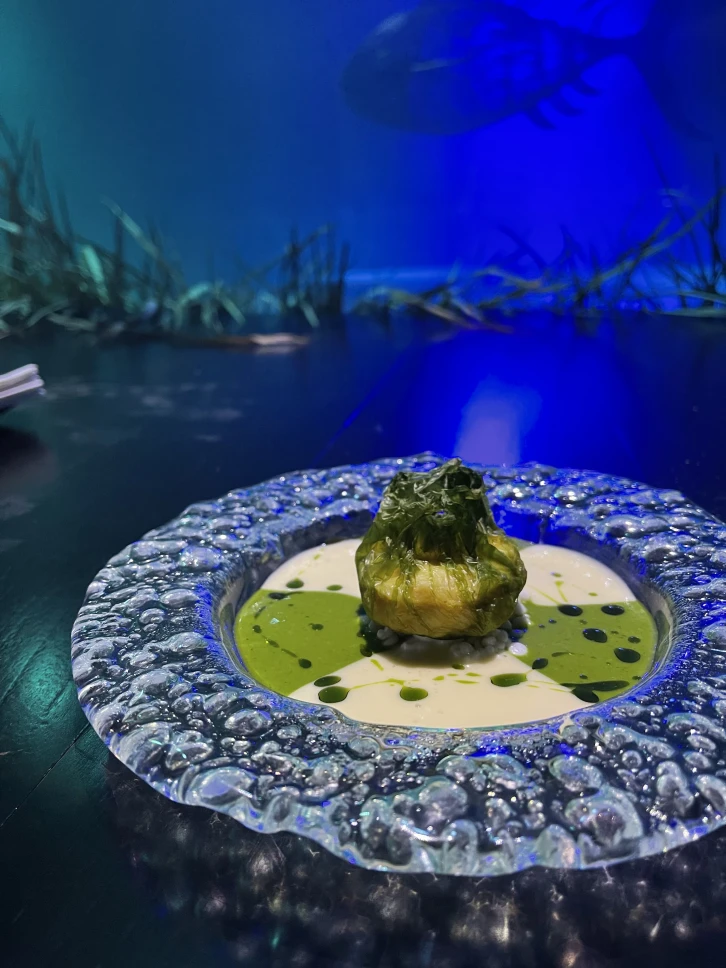 In the restaurant, some dishes are served without utensils, requiring you to eat with your hands, which, in my opinion, also brings us closer to Balinese customs. Throughout the entire performance, I immersed myself in different emotions and states: sometimes I wanted to cry with gratitude to the island and the people whose territory we currently inhabit, for the happiness they radiate with their smiles; sometimes I laughed heartily and rejoiced; and at times, unexpectedly to myself, I marveled and admired how beautifully ancient culture and its customs could be seamlessly blended with dynamic modern music and narratives.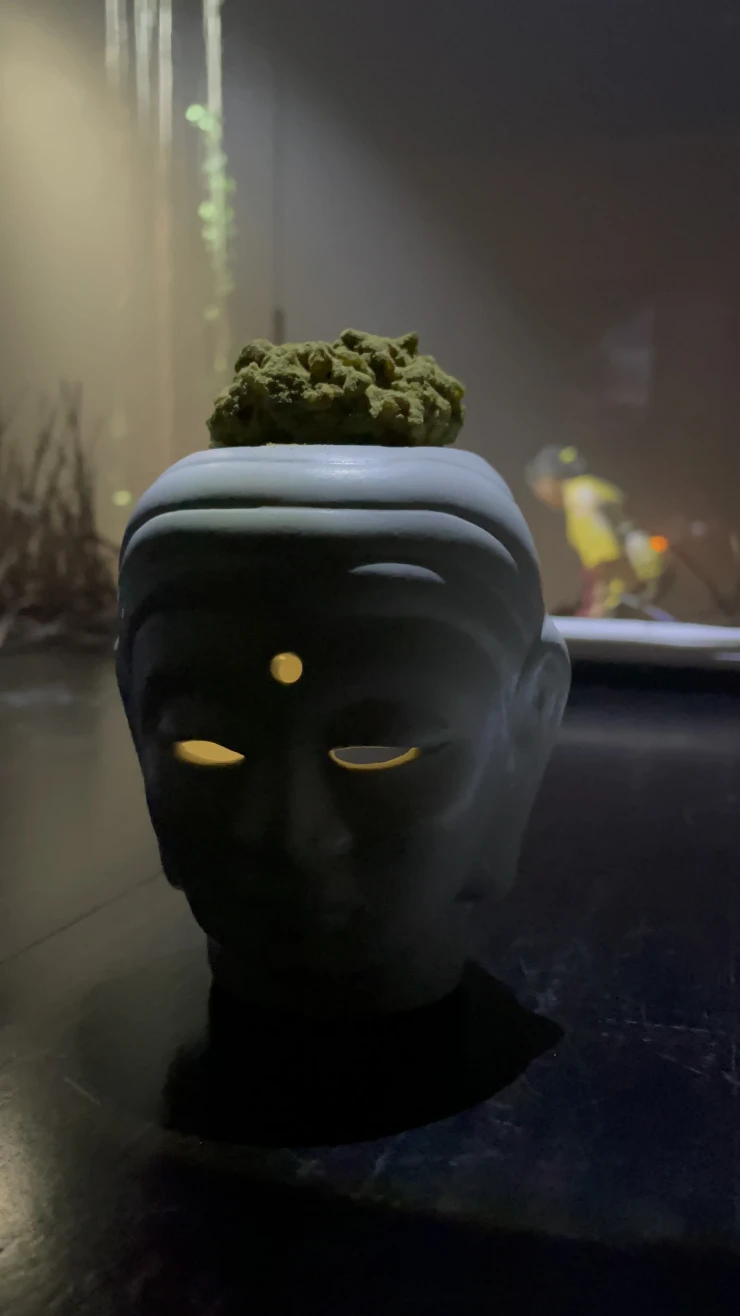 I am delighted to recommend this restaurant to those who have recently arrived as tourists because it is an excellent way to get closer to Balinese culture. I also recommend it to those who have been living on the island for a long time and consider it their home because everyone will experience their unique journey here.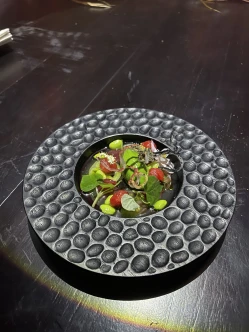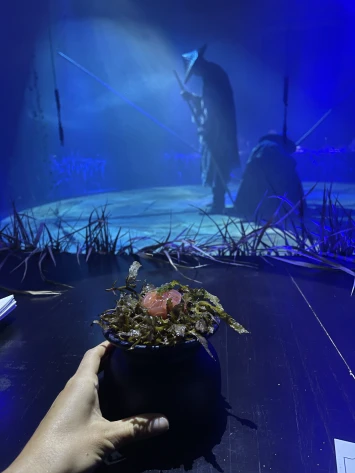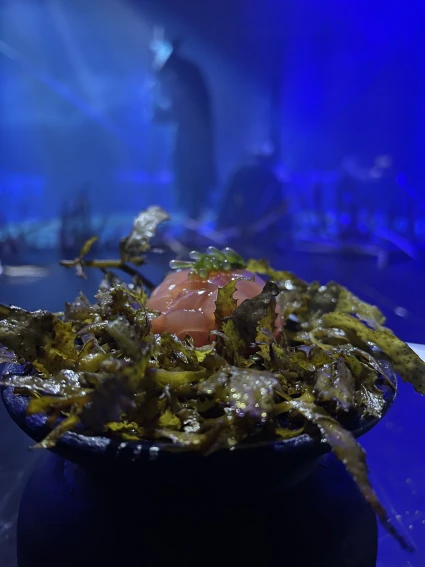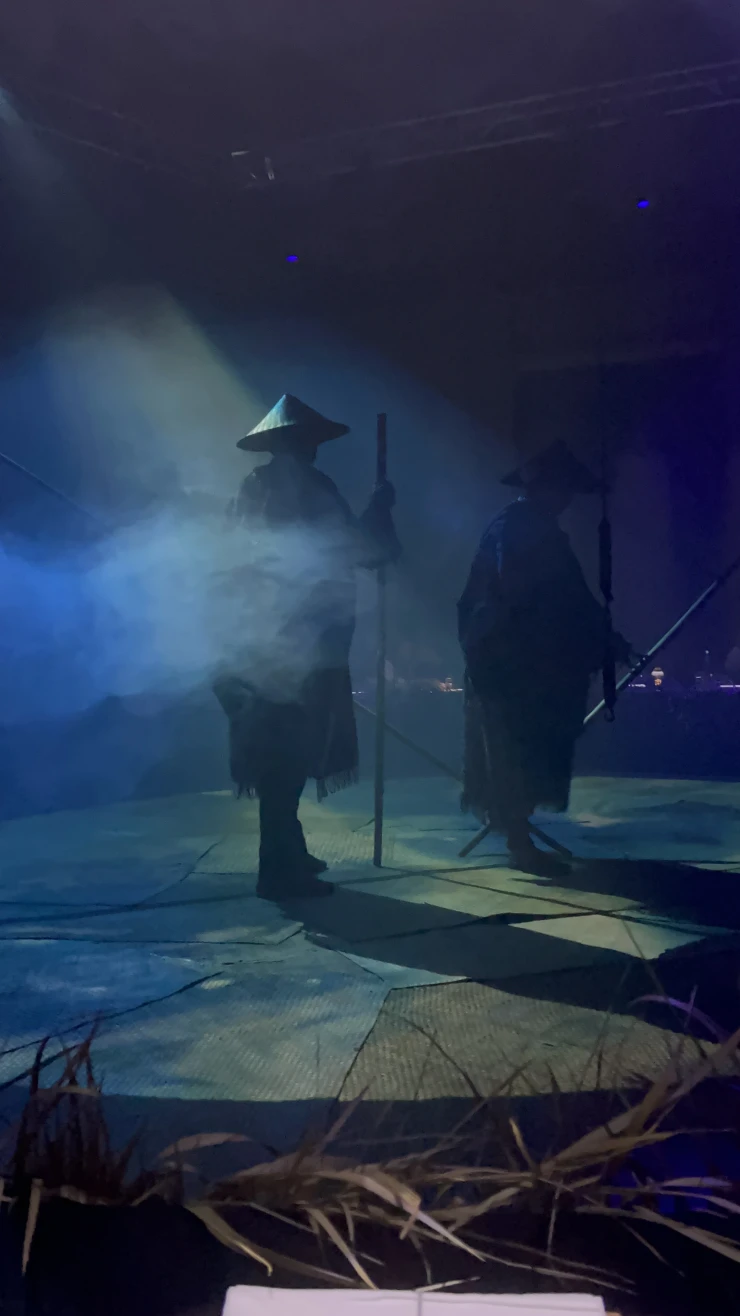 I am immensely grateful to the restaurant for the palette of flavors and emotions I experienced.
After dinner, the project director, Maxim Krasnyuk, and the restaurant's chef, Alexey Dokuchaev, gave us a brief interview.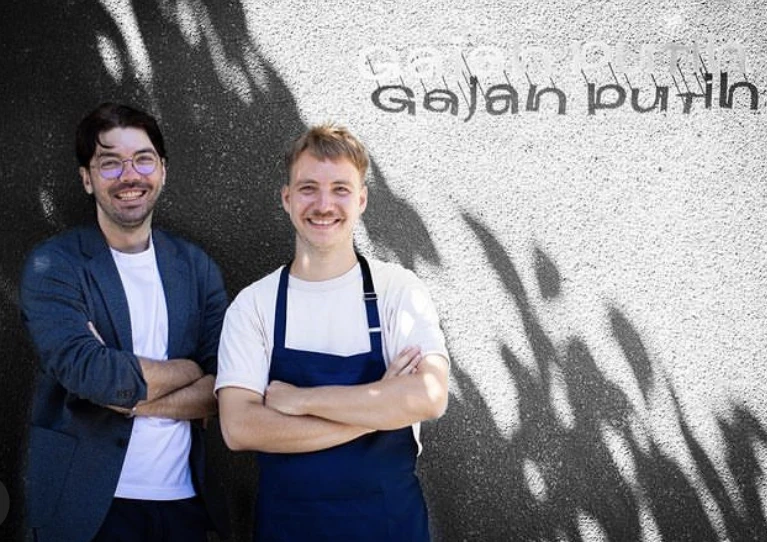 - Gajah Putih, translated from Balinese, means "white elephant." Who came up with the name, and does it carry a special meaning?
M.K: Many years ago, when I arrived on the island, approximately 9 years ago, Bali seemed more authentic and magical to me. I saw many different symbols, one of which was the elephant-headed deity, Ganesha. I thought of getting a tattoo of a white elephant. When I consulted with a local priest, he approved the idea, mentioning that seeing a white elephant is a rare occurrence in one's life. The concept of the Gajah Putih restaurant had been brewing in my mind for three years. Initially, the name was supposed to be simpler, but during the project's discussion and development, I asked myself: What exactly do I want to achieve with this project? What emotions should guests feel after visiting the restaurant? That's when I remembered the priest's phrase and realized I want guests to say that it is a great joy for them to visit such a restaurant. I am confident that soon people will come to the island, including to visit Gajah Putih. However, it's worth noting that you won't find any elephant symbols in the restaurant itself. This is done to leave something mystical.
- Why is the name in Indonesian?
M.K: We consider this project as part of Indonesia and want it to glorify the country, hence the name in Indonesian.
- How did you choose the location of the restaurant and the area?
M.K: We see this project as a special, planned place to visit. You can't just walk in off the street; a table is reserved in advance by purchasing a ticket. In this sense, the location is not as crucial, and that's why the restaurant doesn't have to be in the cultural capital of the island, Ubud.
- In your project, the kitchen equipment, dish development, and presentation are handled by Alexey. Tell us about the concept of the establishment. What should guests expect?
A.D:  Guests should expect incredible experiences and emotions. I don't see any analogs to this restaurant worldwide. Our task is to make a visit to the restaurant a special event. We engage all the senses to convey the taste of the dishes during dinner: through emotions, scents, and sounds. We want the guest to enter a magical realm. Max and I have been to many successful and beautiful restaurants around the world, and what stays with you emotionally, beyond just the food and good service, is memorable.
Question for the chef. Creating a dish is a very creative process. All your dishes are based on subtle, refined combinations of ingredients and flavors. How do you find them?
A.D: We pay attention to interesting tastes and traditions. For example, in our menu, there's a dish with interwoven tuna - I came up with this dish based on the tradition of Balinese weaving, Anyam. In one of our desserts, there's salted caramel. Usually, everyone makes it with miso paste, but I made it with the taste of nasi goreng. Or the case when we were on a farm and picked an interesting flower growing on a banana tree. We came up with the idea to ferment it similarly to making sauerkraut. There were instances when Lesha and I really liked the smell of a plant, but it turned out to be entirely inedible. Anything that seems strange, unusual, and interesting to us in taste or smell on the island is very inspiring.
Which ingredients do you use most often? Is there something special from the Balinese palette of products?
A.D: 90% of our menu consists of local ingredients. We source them from local farms and plantations.
- How often do you plan updates?
A.D: For us, the update process is endless; something will constantly change: taste preferences, the combination of dishes and tableware, the show program. Currently, we have a permanent show called "Lingkaran." We plan to create other shows that will run concurrently with this one. It's a long and complex process, but in about six months, we will launch a second show that will run parallel to the current one.
In Ubud, there are many vegans or vegetarians. Are there plans to develop a special vegan menu?
M.K: We have the option to order a vegetarian set; we adapt as much as possible. We can replace any item specifically, both fish and meat. It's essential to us that the main idea is not lost. In Gajah Putih, everything is interconnected - the show and the dish. Therefore, a vegan set (without butter, cheese, and other dairy products) is not currently planned. It contradicts the concept of our establishment and disrupts its integrity.
- Is there anything planned for New Year's?
M.K: We do not plan a separate New Year's show, but we are open to suggestions for private events for our visitors.
- Do you have any advice for guests who want to explore the cuisine?
M.K: Be prepared and open-minded.