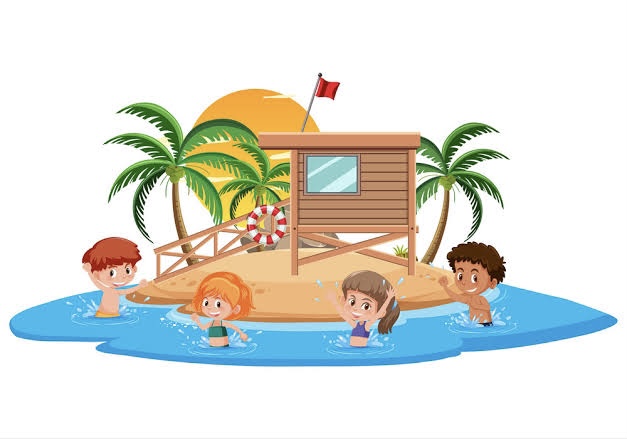 "When our little one appeared in our family, the thought crossed my mind that our travels would not continue for a very long time. However, when our little one turned six months old, I firmly decided that I did not want to shelter my child from the outside world, as there is so much interesting, new and unusual around us. Trips to nature, to the grandparents' house 250 km away - were a milestone. And we decided to continue traveling as a family of three. In 2 years, we visited the Czech Republic, Spain, Thailand, Egypt, the UAE, Singapore, and of course Bali. We were in Asia for the first time at the resort island of Phuket, before our child was born. It slightly spoiled our impression of the vacation when there was a snake on the balcony and a complete lack of good children's food in the stores. When we went to Bali for the first time six months ago, I armed myself with a huge amount of baby food, medicines, and toys, read horror stories about diseases, and a large number of fauna representatives in every corner. Honestly, traveling to Asia with a child was a little scary, but with the right approach, precautionary measures, and common sense, living here is possible and even necessary!"
My article is dedicated to the benefits of life with a child in Bali, but where there are positives, there are also negatives. They are very few, and most likely can be found in any country, but they do exist.
Negative Side 1. The biggest downside is the dozens of curious eyes watching you no matter where you are. You can't escape it: the island has a large number of insects, reptiles, animals, and other "creatures of God." Mosquitoes here can't resist biting delicate baby skin. Grasshoppers, cockroaches, and bugs are constantly on you, snakes are so curious that you can encounter them anywhere, and I won't even mention geckos: there's a whole family living next to us in our room, but we've gotten used to it. I really don't like wildlife, but the habit of looking around and checking if it's clear under the covers before sleeping quickly developed. But honestly, the disregard and fear quickly fade away. Solution: children's insect bite remedies, mosquito netting over the crib, a ban on walks in bushes, vigilance, and more vigilance.
Negative Side 2. Intestinal infections and not the best sanitary and epidemiological situation. This drawback can be attributed to many countries in Southeast Asia. Solution: wash your hands more often with soap, strict hygiene, be careful with crowded places, don't eat or drink anything. We generally avoid Warungs with the child.
Negative Side 3. The downside of any traveler: we miss our family and friends terribly. Solution: modern technology has given us a lot of ways to please grandparents with happy squeals - Skype, Facetime, and Viber are at your service. While our son is still young, of course, we're saddened that he has forgotten his friends, relatives, and his home:(
Negative Side 4. Language barrier. This is a minus that I will later smoothly turn into a plus. Our little one gets a little upset when other kids don't understand him, and he's also shy when he can't understand what they're saying to him. Children are great diplomats, and we as adults only have to learn from them about communication skills and confidence. And our little one is no exception, he easily makes friends with representatives of any country and finds a common language. And understanding is a learned skill.
Solution: frequent visits to international children's companies.
Negative Side 5. The situation with developing sets, books, and toys is very poor here. Playdough doesn't stick, paints are oil-based, and brushes are bald. Maybe we are not looking in the right places, but we haven't been able to find good materials for creative activities to keep our little one engaged like we used to at home. However, I will turn this negative into a positive later.
Solution: We are developing through observing nature, replacing puzzles with rocks and leaves, and now we have more time to talk with our child about various topics. The lack of engagement is a plus when it comes to communication.
Now, let's move on to the positives of life with a child on the paradise island of Bali!
Positive Side 1. Vitamin-rich. The variety, ripeness, taste, and abundance of fruits, vegetables, and greens in Bali are a delight and provide a huge amount of vitamins! Unfortunately, such delicacies are no longer available in Europe. Here, we have the opportunity to provide our child with a lot of healthy food, at least for the next decade. We carefully observe the reaction to new fruits and go ahead and get those vitamins.
Positive Side 2. Health benefits. The ocean, clean air, excellent ecology, and pleasant climate have made our child incredibly strong. In Bali, we forgot what colds, coughs, flu, and respiratory infections were. Our child receives daily sunbaths and seawater treatments, and has become incredibly active and healthy.
Positive Side 3. Communication benefits. Our child's interaction with an international community is a significant and important advantage. At just over two years old, our child communicates actively with other children, even using a little indonesian  and meowing like a cat. Skin color, language, and age do not divide them; they treat each other as equals. Though they may not always be able to share something important with a new friend verbally, they can communicate through gestures. It's wonderful to see our child growing up to be kind, open-minded, and confident, receiving the kind of social interaction that we never had at their age. We're amazed at how they continue to expand their vocabulary and expressions. This is all thanks to live interaction and not Balinese magic.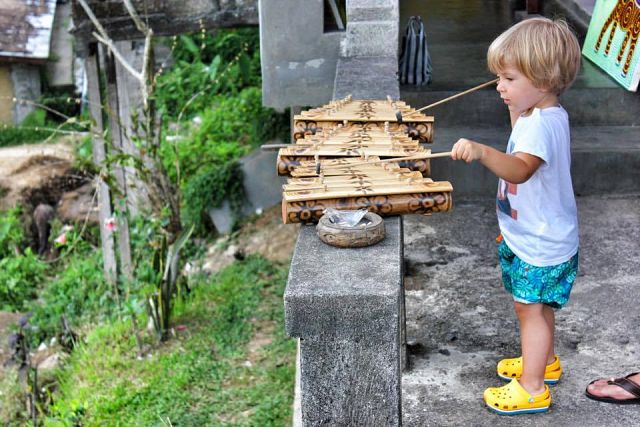 Positive Side 4. Children's leisure activities. Before we flew to Bali, I mistakenly thought that our child would become bored and have no one to play with or nowhere to go. However, we discovered a vast number of daycares, care centers, schools, clubs, and entertainment centers, such as water parks, bird and animal parks, and amusement parks. They have everything for leisure activities on weekends and holidays. Indonesian nannies are known for their loyalty, kindness, care, and calm nature and are considered among the best, along with Filipina nannies. Finding a nanny here is not a problem. 
Positive Side 5. Informative. Nature is the best place for games, observations, and experiments. Every day we learn about the world with our eyes, hands, and feet. New flowers, trees, insects, and birds. The child is impressed by what they see and hear, and they fantasize, invent, and ponder. "How, what, and why" become their most frequent questions.
Positive Side 6. Independence. Like any other parents, we love and protect our little one and worry about them. The island gives the opportunity to be independent, attentive, and careful. Watching them, we try to give them more opportunities to move, learn, and make choices consciously: how to act, what is good or bad, where is forbidden, and where they are safe.
Positive Side 7. Relaxing. Any mother, I think, will agree that there is no place for fatigue here. No matter how strong, energetic, and positive we are, no matter where we live, what wealth we have, how often we rest in spas, cinemas, or cafes with friends, we are still women - fragile and vulnerable creatures. I am not prone to depression, household chores do not bother me, and the climate at home is not very oppressive. But despite the fact that the kindergarten gave me the opportunity to relax and do my own thing, this feeling of constant fatigue and sadness often did not leave me. In Bali, I wake up with a desire to live, love my child and husband, and with a great energy boost. Here, I only think positively and am ready to move mountains. Everything here is tuned to harmony, love, and an inexhaustible feeling of comfort and relaxation. In such an atmosphere, I do not need to take a break from my child. I am open and free for them around the clock.
Positive Side 8. Material. All that a child needs here to be happy are swimming trunks :) Only here can a child run around the garden all day in just flip-flops and swimwear, leaving behind worries about choosing winter overalls and Finnish boots. The minimum amount of clothing for a child is an incredible joy. And for parents, it's a pleasant savings. This plus is practical and useful.
Positive Side 9. Family. We're together, any time of day or night! And this is very important for a child to be close to mom and dad as much as he wishes. It's such a pity that we couldn't afford it earlier.
Positive Side 10. Our child is simply happy. And when children are happy, their parents are happy too. We're proud that we can give our child a happy childhood, with plenty of sunshine, warmth, and ocean, new friends, colors, and beauty, and we hope that someday he'll say thank you to us.
And we say thank you to this amazing place, four letters of its name meaning to us:
Beautiful Amazing Lovely Island.