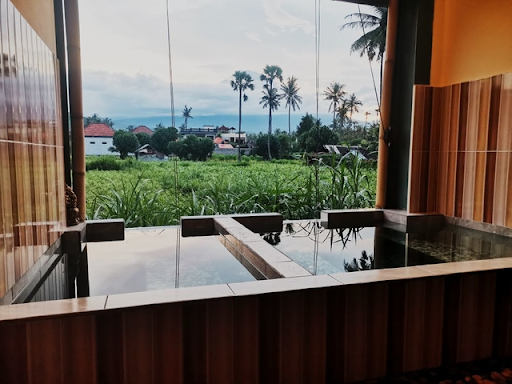 Russian sauna in Amed. Interestingly, this sauna features a window in the wall that provides a view of the fields and Mount Agung. You can not only enjoy a good steam but also savor the breathtaking views, as Agung can be truly beautiful. Additionally, there's a yoga center, a pull-up bar, billiards, and a rule (a type of traditional Indonesian board game). Towels, caps, showers, and a pool are included. The kitchen menu offers various dishes, including toast, cottage cheese, syrniki (pancakes), borscht, and pancakes.
The cost of a bungalow per day is 300,000 Rupiahs, and if you're deeply enamored with Amed and decide to stay for a month, the bungalow will cost you six million Rupiahs. For a single visit to the sauna, the cost starts from 500,000 Rupiahs if there are five or fewer people. For more people, an additional fee of 100,000 Rupiahs per person applies. There's also a shared sauna session available on Mondays, Wednesdays, and Saturdays from 6:00 PM to 8:00 PM, costing only 100,000 Rupiahs per person.
Google Maps Cahaya Melasti · Jl. Melasti, Purwakerti, Kec. Abang, Kabupaten Karangasem, Bali 80852, Indonesia
WhatsApp: 081935955067.
Yogika-Center Amed , Villas, Sauna and Restaurant Yogika is a hotel space with seven detached spacious villas for a comfortable stay on the oceanfront with a beautiful view of Agung Volcano. At your disposal: a yoga room with yoga hammocks, a Rule simulator, a sauna, a spa area with a view of Agung, a vegetarian cafe, a Juice center. yogika.center