If you are enjoying of watching sunsets not only in a picturesque and romantic place, but also in a comfortable place, and if you appreciate excellent service and superb drinks in addition to the sunset view, then this material is for you. We have selected the very best bars with views of Bali sunsets for you.
SugarSand
Set out to admire sunsets that will take your breath away, while enjoying the captivating coolness of first-class drinks. If the sunset view is worth a million, then this place is on our list.
Today it's the turn of glamorous Seminyak.
The new addition to Seminyak beach: SugarSand.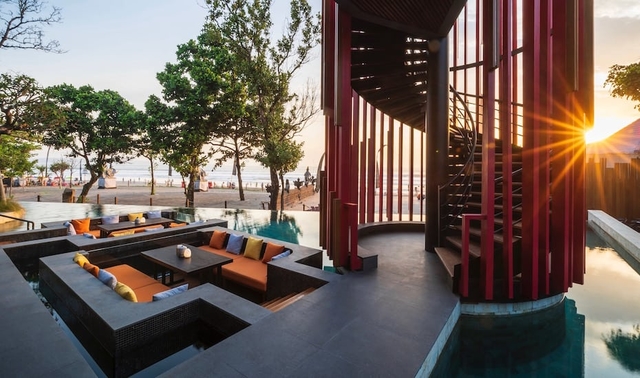 Booking:
sugarsandbali.com
Working hours: Mon-Sun, 8.00-01.00 (at night) Instagram: @sugarsand.bali
If you are looking for the perfect sunset formula, choose SugarSand. Its a new place in Seminyak that is both beachy, fun, and elegant. They carefully select the music, and they are even more concerned about the food. The concept of the establishment is a fashionable mix of Peruvian and Japanese cuisine called Nikkei style. SugarSand is not just a beach club; it is the quintessence of the most fashionable trends in art, design, and culture.
SugarSand is located on two levels. On the first level by the pool, there are six wide daybeds. Across the road from the main building, a comfortable terrace with loungers and sofas stretches directly on the sand. And on the second floor, there is an open terrace with many chairs and comfortable sofas.
Singaporean mixology maestro Sulfiyan Mahmud has created a drink menu in the same Nikkei style. He will delight you with tropical variations on sake and gin and tonics to make the sunset even more enchanting.
Don't forget to come here on Sundays for the "Seventh Heaven" party, which starts at one in the afternoon and lasts until eight in the evening, featuring seven DJs, each presenting their unique musical styles.
Among the highly recommended cocktails is the "Seguna Milk Punch," made with milk whey, sake, black tea, and goji berries, which is a new version of the classic English cocktail Clarified Milk Punch. And the cocktail that works as both a dessert and a pleasant alcoholic drink - the "Javanese Juice." This is a version of the espresso martini, which uses cold-brew coffee mixed with butterscotch sauce, vodka, nutmeg, and ice cream, which crowns this masterpiece.
Refined Chic: Alila Seminyak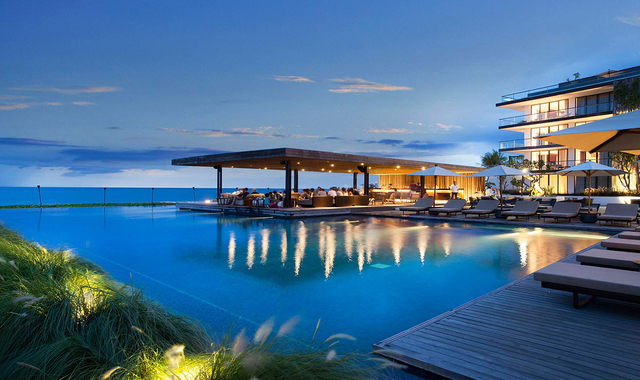 Booking:
alilamoments.com/seminyak/beach-bar
Hours: Mon-Sun, 10:00am – 11:00pm Instagram: @beachbarseminyak
With two sunset-facing bars right on the sand, Alila Seminyak is one of the most magical places to watch the sunset on the beachfront. To get to the bars, walk through the stylish minimalist resort, past the perfectly manicured lawns, and let the ocean breeze embrace you. Here, you can escape the Balinese tropical heat and cool off with innovative cocktails or even just a cold beer while the sun sets into the night.
You can cozy up on a low sofa or sink into a beanbag, satisfy your hunger with tapas or even order a barbecue with a smoky aroma. Enjoy food and drinks while watching the caramel streaks of the sky's watercolors. Indulge in Alila's signature cocktails, especially the coconut and lime daiquiri. And simply dissolve into the splendor of nature.
A modern Colosseum with a twist: Potato Head Beach Club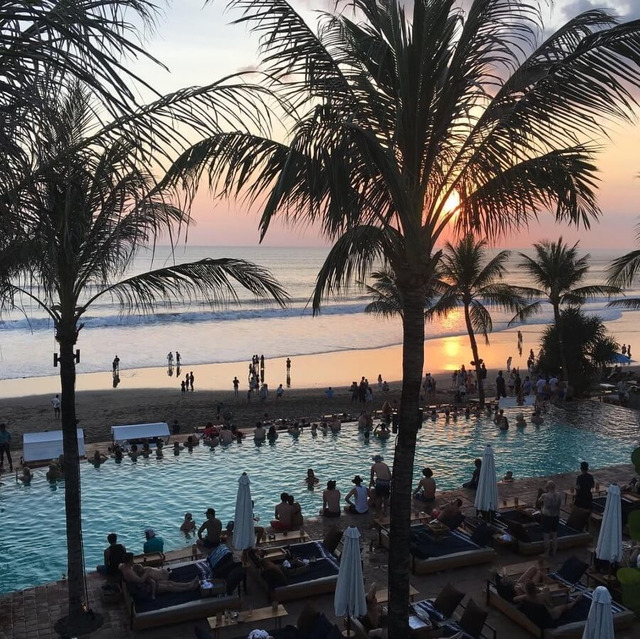 Please see the English translation below:
Booking:
phbc.reservation@pttfamily.com
Opening hours: Mon-Sun, 10.00 – 02.00 Instagram: @potatoheadbali
To be honest, this is one of the most visited places in Bali. A true epicurean trip to Bali would not be complete without a visit to this designer beach club that never goes out of style. The entrance to this wonderland is through a narrow concrete canyon with water flowing down the walls. And then you enter a marvel that is hard to imagine until you experience it.
It's a modern colosseum made up of a multitude of louvers that cover all surfaces, including the ceilings. They have gathered here the moods of a whole host of regions, cities, villages, and families scattered throughout Indonesia. The architecture was designed by the well-known master Andra Matin. Only by visiting this place can you understand why even Bali's regulars love this place.
The 500-square-meter lawn accommodates those who love to lie on the grass while enjoying the sunset and occasionally becomes an exhibition space for conceptual works.
An Infinity pool with breathtaking views of the sparkling ocean extends to the first line of the beach. The uniqueness of this place is not only in the construction of the Colosseum itself, lined with shutters, but also in the extensive vintage collection of furniture and decor items that found their place in Potato Head.
Numerous parties of famous musicians and DJs are held here. The brightest New Year celebrations also take place in this club.
The main bar of the club serves pasta and grilled dishes with a first-class selection of cocktails. On the second floor of the club building, there are two high-end restaurants - Kaum and Ijen.
Real dandies who know a thing or two about Balinese clubs come here during the day to treat themselves to lunch, take the most comfortable sun loungers, and prepare for the evening show, unfolding right before the eyes of the enchanted audience.
Elegant Classic: Ku De Ta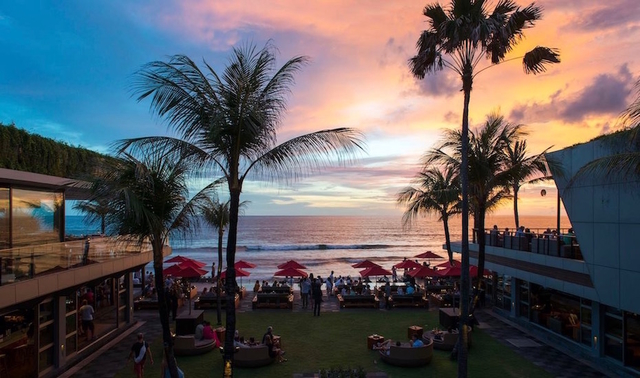 Booking: +62 361 736969 Opening Hours: Mon-Sun, 8:00 AM – 2:00 AM Instagram: @kudetabali
Ku De Ta is a first-class beach club in Seminyak, and it can be said that it is a long-standing member of the cohort of beach clubs in the area. It still attracts guests day after day with its spectacular sunsets. Ku De Ta is one of the top sunset bars in Seminyak, and it is a must-see if you want to enjoy your evening in style.
For many years, this beach club has been a trendsetter and a benchmark in the world of high-end nightclubs and beach restaurants in Seminyak.
Among other things, it is also home to Mejekawi restaurant, a modern eatery that offers "couture" dishes with Indonesian and Balinese influences. Innovations like sous-vide cooking are used in the preparation of the food.
The restaurant decor features simple and clean lines.
The drinks are excellent, and you should definitely try the coconut-strawberry daiquiri made with rum, strawberries, coconut milk, sugar, and lime.
Immerse yourself in the languorous pleasure of the approaching night, sipping on exquisite drinks and bidding farewell to another day full of adventures.
Wow factor: Woo Bar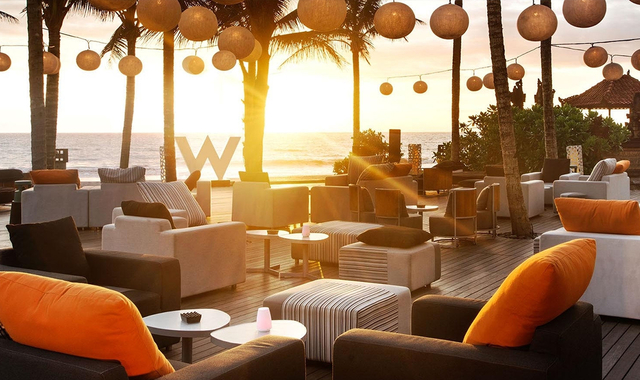 Booking: +62 361 4738106 Working hours: Mon-Sun, 10.00-01.00 (night) Instagram: @woobarbali
The bar is in line with the worldwide network of legendary W hotels, where it proudly resides and shows off. This is the pinnacle of Bali's glam style. So expect world-class food, excellent entertainment, and an ultra-stylish atmosphere.
Here you can truly indulge in the beachfront restaurant, and then relax on a soft couch while enjoying the sunset in pleasant company and soft rhythms of music. Happy hours and drink discounts last during the sunset hours from 16.00 to 18.00. And it's impossible to resist ordering the signature Woojito cocktail from the mixology masters.
The decor of this place is a mix of beachy free style with retro hints that perfectly combine with the free-spirited nature of tropical palms growing through the bar deck.
Greatness and Coziness: La Lucciola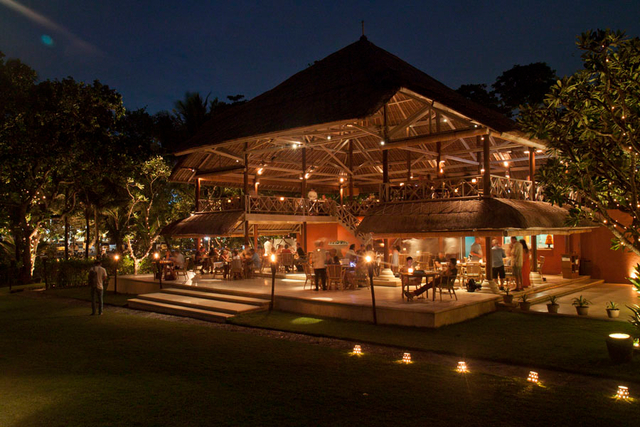 Booking: +62 361 730 838 Opening hours: Mon-Sun, 9.00-23.00
One of the veterans in Seminyak, it is simple yet very cozy in its colonial style. It is a piece of "old Bali" at its best. Here, you can immerse yourself in the atmosphere of the Mediterranean and explore a wide selection of wines. It is impossible not to fall in love with this place with excellent service, legendary food, and magnificent views. This is perhaps the only luxurious restaurant in Seminyak that does not have its own website. And in this - the charm of its old-fashionedness.
Legendary luxury: Rooftop Sunset Bar at Double Six Hotel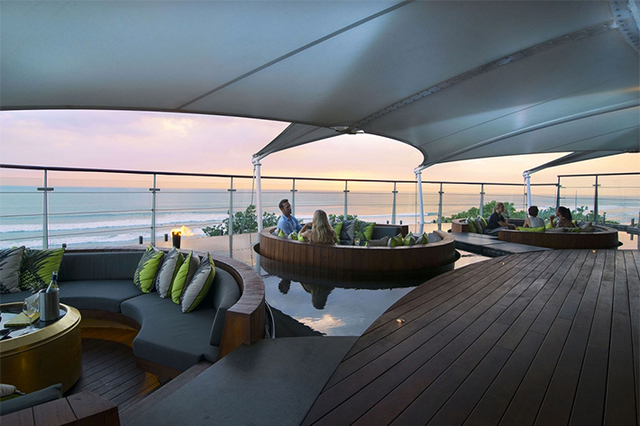 This is the location of the first modern club on Bali, and it was popular until 2011. Nowadays, the spacious 1,700-square-meter rooftop terrace at the Double Six Hotel attracts wealthy visitors who want to relax and enjoy the sunset after a hot day.
The terrace offers 180-degree views of the ocean and Seminyak Beach. There are round open couches with cushions placed in the water of an artificial pond, and these are the most popular places to watch the sunset. To reserve them, expect to spend at least 1 million rupiahs.
In the center of the room is a grill that forms a "fire ring" where juicy satay is prepared on coconut charcoal.
The bar serves drinks in the style of tropical Tiki culture. Notably, the Pandan Daiquiri, made from dark rum steeped in pandan leaves and soursop sorbet; the Semangka Collins with watermelon, rosella, and soda; and the Blue Iguana, a mix of pineapple, lime, lemongrass, Sailor Jerry rum, blue curaçao, and young coconut water. You can also try the Salvador Sling, a fantastic blend of golden rum, Crème de Mure liqueur, ginger liqueur, lime and pineapple juice, and Angostura bitters.
If you're in the mood for a snack, you can choose from their sandwiches, which are made with Japanese wagyu beef grilled on the grill, milk-fed pork, tiger prawns, or chorizo sausage. Don't forget to check out the huge variety of satays, which include skewers of Italian lamb, pork, mahi-mahi, Japanese wagyu beef, or lobster. If you're overwhelmed by the choices, you can get a mixed plate for two.
Jazz and blues tracks fit perfectly with the atmosphere of elegance and luxury of this magnificent place.
Once you've found the perfect spot for the sunset, everything else is simple. Order drinks, grab a snack, and immerse yourself in the melodies.
Best Mediterranean vibes: Cocoon Beach Club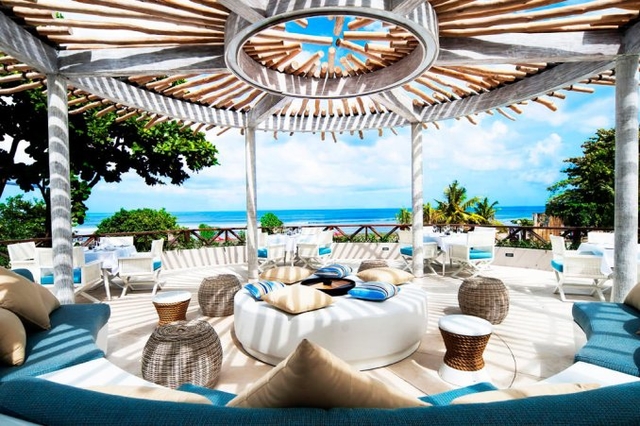 Booking: +62 361 73126,
info@cocoon-beach.com
Hours: Mon-Sun, 10.00 - 24.00
Cocoon Beach Club is a realm of white and blue colors that permeate with freshness anyone who enters this beach club.
Located at the end of Double Six street right on the beach, its charm lies in the magnificent sea views and delightful design, with traditional Balinese umbrellas as its centerpiece. Cocoon serves Asian fusion and Mediterranean cuisine throughout the day and offers a selection of innovative cocktails for the sunset hours.
Guests can lounge on sunbeds or in cabana gazebos by the pool, or sit in the semi-open restaurant filled with ocean breezes.
Romantic evenings are typically spent on the second-floor sunset terrace, a spacious circular platform with tables for two or cozy sofas placed under a wooden canopy, which serves as a shelter and a masterpiece of designer art.
Culinary delights include fish carpaccio with mint and lemon oil, and home-smoked Tasmanian salmon with sour cream, grated horseradish, and a salad of salak and mandarins. If possible, be sure to try the pan-fried veal cutlets with sweet peppers, pine nuts, and raisins.
To top off the enjoyment of these delights, the green tea tiramisu is a must-try, served with delicate slices of fresh strawberries and a ball of delightful homemade ice cream with black sesame seeds.
In the evenings, international DJs play here. For sunset hours, classic mojitos or Cocoon's signature cocktail B Svenaz, made with tequila, orange liqueur, orange juice, and sorbet made from rhubarb, served in a chilled margarita glass, are perfect.
In the evenings during sunset hours, there is a promotion of two cocktails for the price of one and discounts on beer. Take refuge in the comfort of the cabana with cocktails at this fresh club inspired by the mood of the Balearic Islands. Be sure to keep an eye on the schedules of the full moon parties. These scorching hot nights are impossible to miss.
Sunsets from a bird's-eye view: Moonlite Kitchen and Bar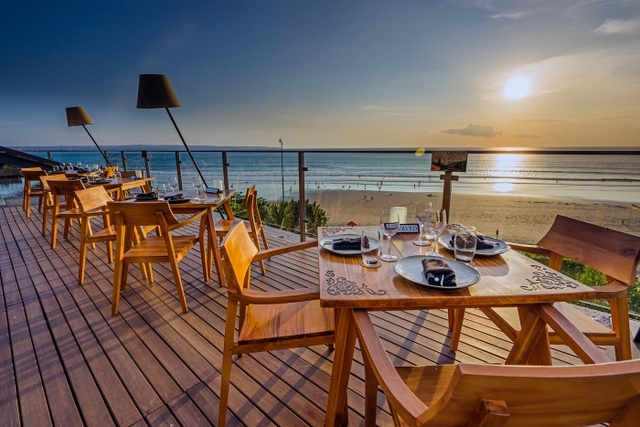 Booking: +62 361 737773
This bar and restaurant is located on the fifth floor and offers several spaces, including a main terrace with ocean views of the sunset, a bar, and a lounge. It's a great place to stop by for a bite to eat during sunset hours, when there's a discount on cocktails "buy one get one free."
The tempting menu, prepared in an open kitchen, presents the captivating aromas of modern Asian cuisine, which can be enjoyed in the dining room with decor inspired by Balinese charm or on the open terrace with panoramic views of the ocean.
The food menu offers a wide selection of seafood. Among the favorites is the spicy, sweet and sour tamarind barramundi. Meat lovers will enjoy the grilled pork with pineapple, paprika, and caramel chili sauce.
For more substantial dishes, the marinated grilled ribs with coriander oil and black pepper sauce are highly recommended.
Desserts are inspired by the concept of merging East and West. One of the most interesting is the Balinese "bubur injin" - black rice pudding with cassava and jackfruit pieces, topped with coconut ice cream. Another option is the Balinese chocolate brownie with a spicy touch of chili pepper, cashew nuts, caramelized banana, and almond cream ice cream.
Indulge in unique gastronomic experiences. Relax in the trendy Balinese lounge bar with a wide selection of traditional, classic, and modern drinks, including tempting cocktails and a variety of items on the wine list. Enjoy a magnificent sunset, which often turns into a live concert starting at 7:00 p.m.