The Kayon Jungle Resort by Pramana
5 stars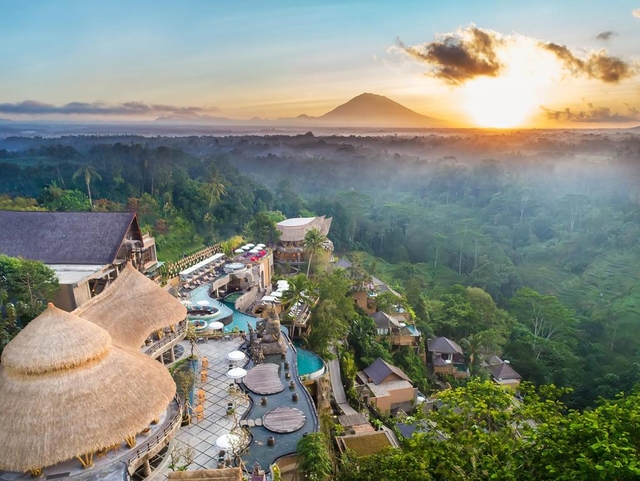 This is a cozy boutique hotel with a very relaxing romantic atmosphere. The hotel, built in traditional Balinese style, features a spa center and a fitness center. The picturesque three-level pool is unparalleled. Guests can also borrow bicycles for free.
Some rooms have their own private pool, while others have a private balcony overlooking the valley. Each apartment has its own bathroom with a bathtub.
The entire staff is very courteous and friendly.
Every morning, the hotel serves a delicious continental breakfast or a breakfast menu. Guests can order drinks at the bar or have lunch at the restaurant.
The hotel also has a business center.
In addition, the hotel has a very nice gym and includes yoga sessions in a beautiful yoga shala.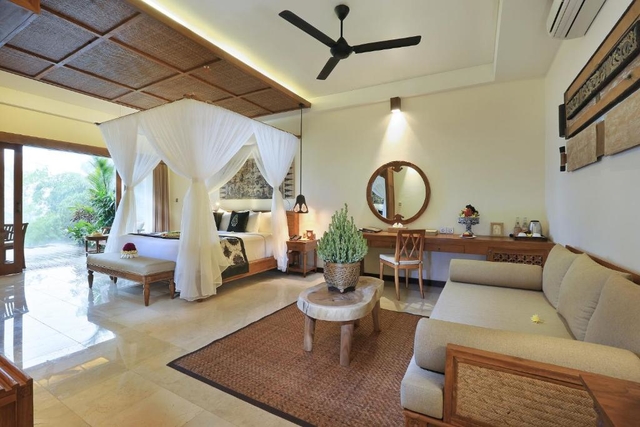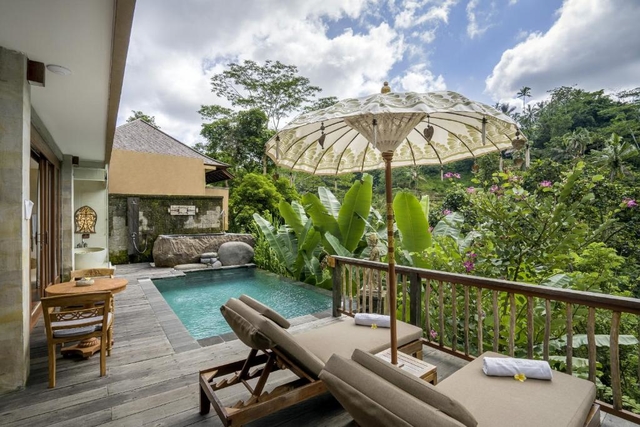 Tejaprana Bisma
5 stars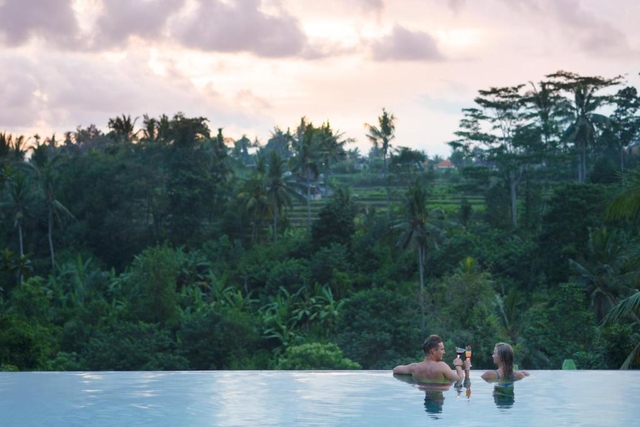 The hotel is located in Ubud, 1.4 km from the Ubud Market. Guests can enjoy the on-site restaurant, free private parking, a bar, and a garden.
Each room at the resort hotel features a wardrobe and a private bathroom. The villas have a very beautiful interior. All furniture is very clean and neat, and the beds are super comfortable.
At Tejaprana Bisma Hotel, a continental breakfast or a breakfast menu is served. The staff is an example of hospitality worldwide!
The surroundings are popular among cycling enthusiasts. Bicycle and car rentals are available for guests.
The hotel is within walking distance of the Monkey Forest.
Kuwarasan A Pramana Experience
5 stars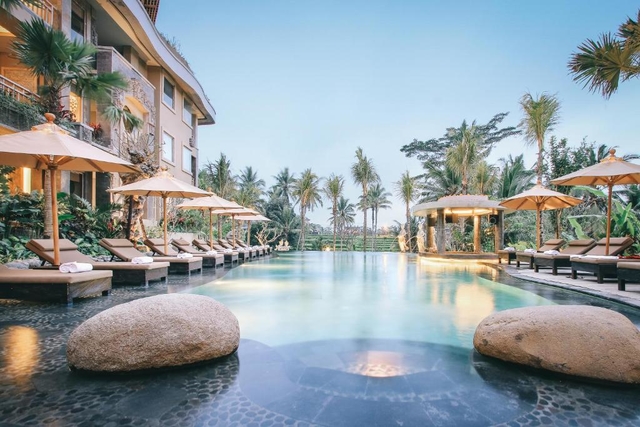 This impeccably clean and very stylish hotel is nestled amidst rice fields, offering breathtaking views. The rooms feature private bathrooms with a bathtub and complimentary toiletries. The bed and pillows are especially comfortable.
Views of the garden can be enjoyed from the windows. The yoga shala and gym offer beautiful views of the fields.
A daily breakfast is served with a menu selection. The food at the restaurant is amazing and reasonably priced. You can order breakfast to your room and enjoy it on the balcony overlooking the pool and rice fields.
The surroundings are popular among cycling enthusiasts, and bicycle rentals are available for guests.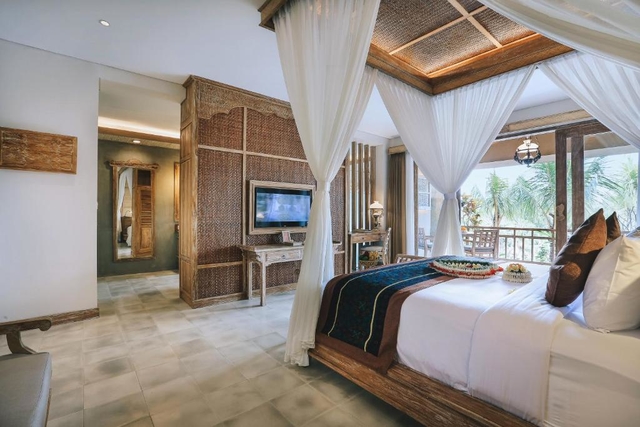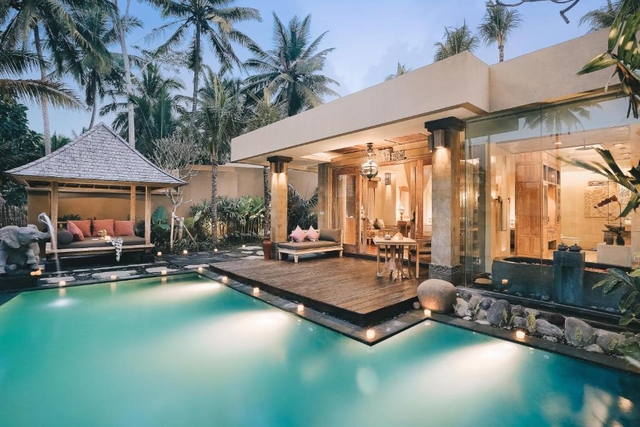 Mandapa, A Ritz-Carlton Reserve
5 stars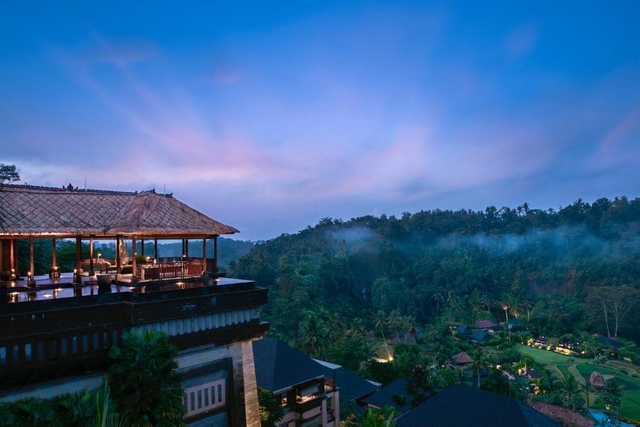 The hotel is located a 10-minute drive from the center of Ubud. It features an outdoor pool, a spa salon, and a wellness center. Complimentary 24-hour butler services are available in all rooms.
Most of the villas and suites offer views of the surrounding tropical forest, rice fields, and even the Ayung River.
The hotel provides a children's club, a conference/banquet hall, and an on-site shop where guests can purchase souvenirs. Guests can also access the fitness center for free.
Several restaurants and bars are available at the hotel, such as Kubu Restaurant serving Mediterranean-European cuisine, Sawah Terrace with Balinese and Asian cuisine, as well as a pool bar and a library where guests can enjoy drinks in a post-lunch setting.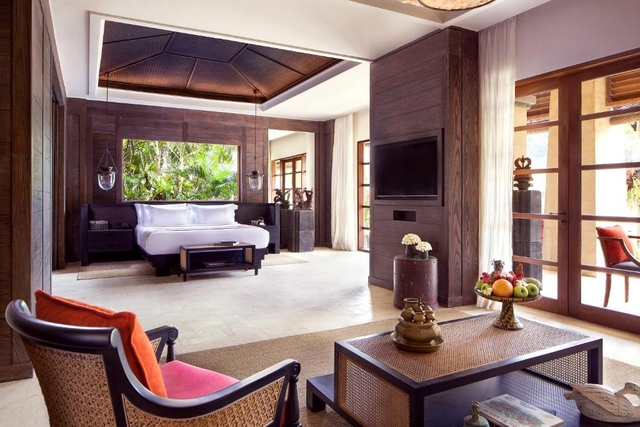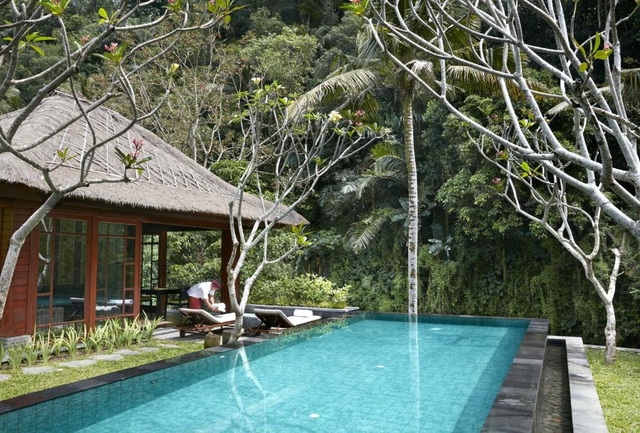 Komaneka at Monkey Forest Ubud
5 stars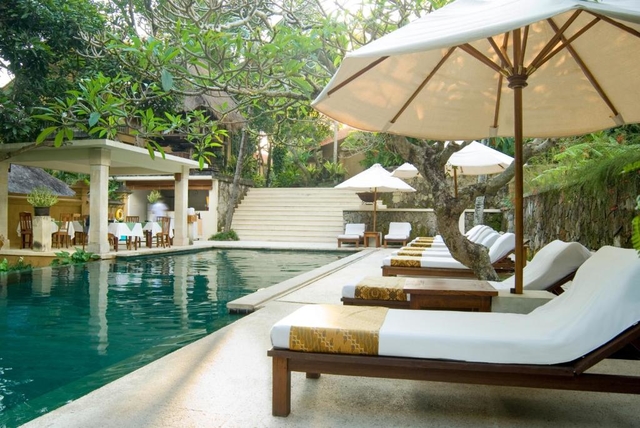 The hotel is located near the Monkey Forest, yet in a quiet and tranquil setting. It offers Balinese-style decorated rooms with private terraces overlooking rice fields or landscaped gardens. There is an outdoor pool and a spa salon available.
The spacious rooms are furnished with dark wood furniture. Private bathrooms feature a separate shower and bathtub. Guests have access to a minibar and tea/coffee making facilities. The rooms are large, comfortable, and very clean.
At the open-air Komaneka Bali restaurant, they serve dishes of local cuisine. The restaurant offers excellent breakfast and afternoon tea.
Guests can enjoy reading a book in the library or purchase gifts at the souvenir shop.
The staff is exceptional, professional, warm, and welcoming.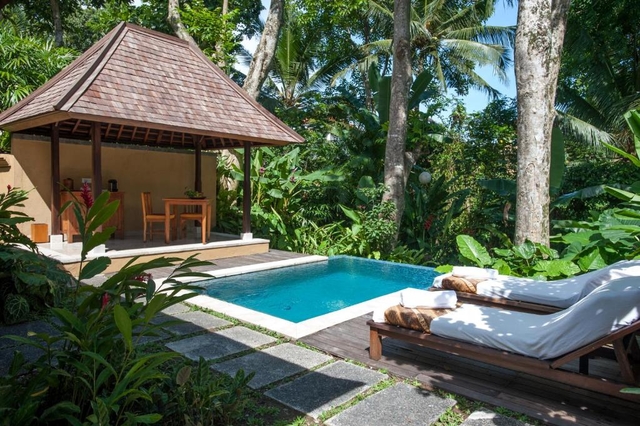 Bisma Eight
5 stars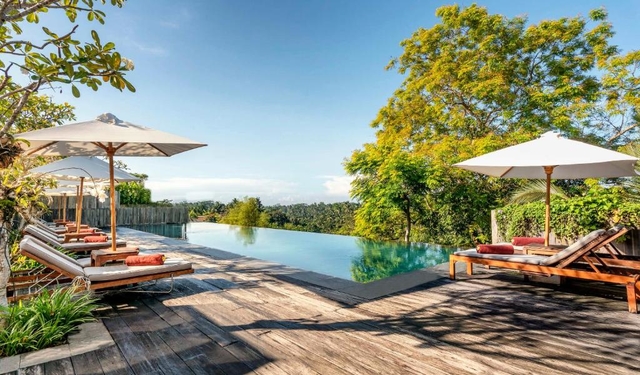 The hotel is located just a few minutes' walk from the center of Ubud. It is very well situated close to all major attractions, yet on a quiet street. Guests can enjoy spacious modern rooms with traditional Japanese baths. Additionally, there's an outdoor pool with adjustable temperature.
The modern rooms with parquet floors are equipped with air conditioning, a safe, a flat-screen TV with satellite channels. Each room has an electric kettle, a minibar, and a dining table. The private bathroom with a bath or shower provides a hairdryer and slippers. There's also a living area with a sofa in the room.
Guests can work out at the fitness center or attend daily complimentary yoga classes upon request. The morning yoga sessions are wonderful. The hotel also offers a garden, a sun terrace, a library, and free parking.
At the Copper Kitchen & Bar, guests can savor various Asian cuisine dishes, while the Library café offers pastries and drinks.
Being a boutique hotel with a limited number of rooms, the stay here feels exclusive and relaxed.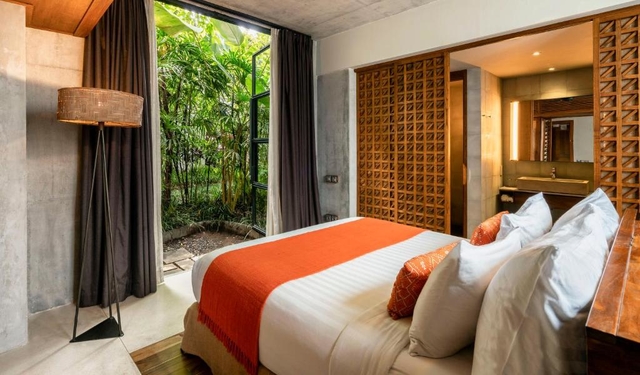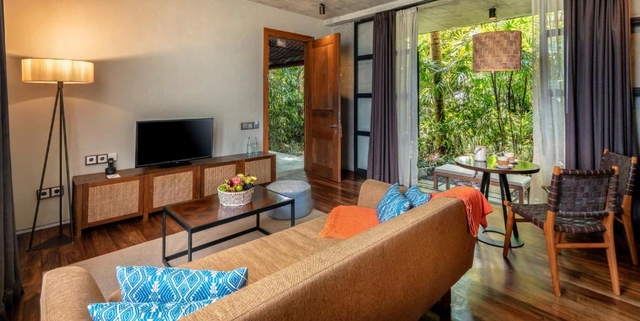 Chapung Sebali
5 stars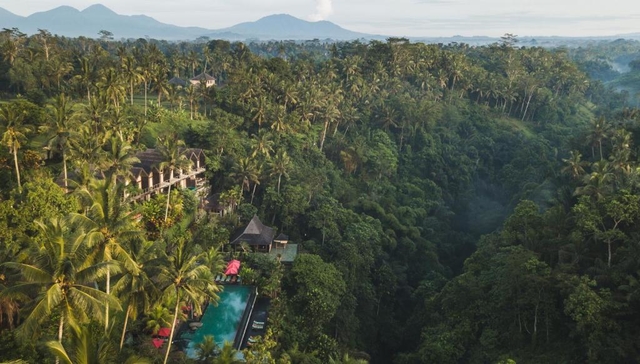 The hotel exudes a very stylish ambiance and is immersed in authentic Balinese atmosphere. It's situated in a traditional village on a hillside.
Guests are offered villas with private pools, as well as the renowned Jungle Fish poolside bar and a panoramic pool overlooking the valley, accessible to both residents and non-residents. The pool and poolside bar are perfect for relaxation and enjoying the scenery.
The views from the rooms are stunning and provide a great escape from everyday routines.
Thanks to the staff, you won't just feel at home, you'll feel like it's your own home. You can freely wander, swim, read books, practice yoga, make yourself a cup of tea or coffee.
Yoga classes, rice field walks, horseback riding, and bike rides are offered here.
Guests can rent bicycles and use the transfer services. Massage services are also available.