The monument to the Hindu god Vishnu and his mythical bird Garuda was built in Bali for many years in the cultural park of Garuda Wisnu Kencana. The statue, rising 121 meters above the ground, was designed with earthquake resistance in mind, which is common in Bali.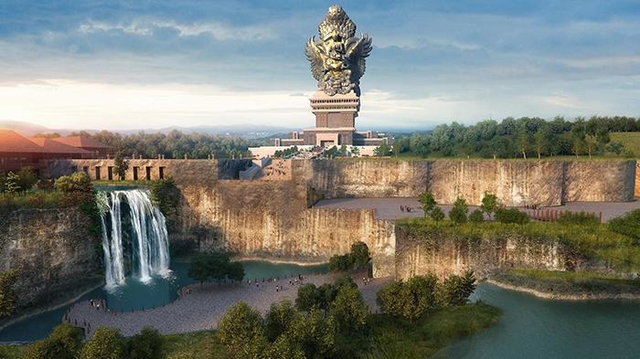 The pedestal must withstand earthquakes of 8 on the Richter scale. And the statue - wind gusts of up to 250 kilometers per hour,
The statue was designed 28 years ago, but the history of this monument was long. Hindu leaders opposed the project, considering that it could destroy the spiritual balance. In addition, religious leaders raised the issue of the appropriateness of using a sacred symbol as a commercial tourist attraction.
However, the project was actively promoted by those who argued that the construction of a sculptural complex would attract more tourists and profits to Bali. The most decisive steps were taken in anticipation of the meeting of the International Monetary Fund and the World Bank, which will be held in Bali in October of this year.
The statue, weighing 3,000 tons, sits on a pedestal that will function as a restaurant, serving up to 500 guests. There will also be a museum and a viewing gallery with a panoramic view of the southern part of Bali. The observation deck with an ocean panorama will be located under the head of Vishnu. Two elevators will take guests to the top of the statue.
Significance
This is our gift to the Republic. This is not a national, but a private project. In this way, we will embody the mission of the Garuda Wisnu Kencana park to become the basis of our cultural life. And our goal is to attract about 6,000 tourists a day,
Other famous statues
The Statue of Liberty in the United States is only 93 meters high. Monuments such as the Ushiku Daibutsu Buddha statue (120 meters) in Ushiku, Japan, the Laykyun Setkyar Buddha statue (130 meters) in Myanmar, and the Spring Temple Buddha statue (153 meters) in China can surpass the new statue of Vishnu and Garuda.