In Indonesia, locals and foreigners have the opportunity to get an electronic driver's license called Smart SIM. What is it, what is it for, and what additional capabilities does it provide?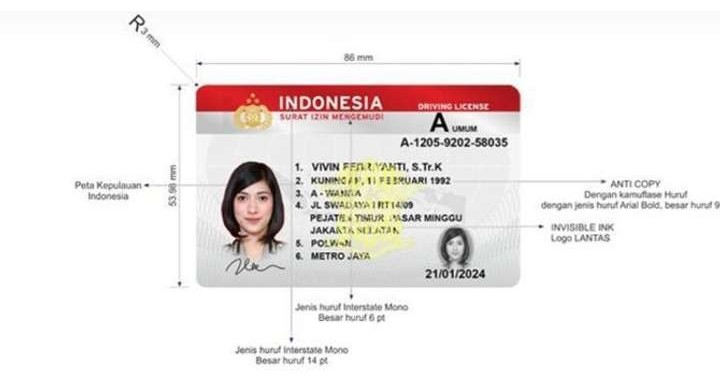 The Smart SIM is one of the innovations in state services related to traffic management based on IT technologies. It is a plastic electronic card with enhanced capabilities. It can be used to pay tolls on highways, street parking, airport parking, make purchases in mini-marts, buy train tickets (if you are on Java, for example), and it offers a range of other additional features that will gradually expand. This card was launched quite recently, in September 2022.
Motorists who already have licenses can also obtain the Smart SIM when renewing their driver's licenses.
Smart SIM as electronic money
You can use your driver's license as a debit bank card, paying for small purchases in stores. Additionally, there is no longer a need for a special road card to pay for toll roads, the balance of which is not always easy to check and replenish. A drawback of using the Smart SIM as an electronic money option is the limited balance on the card, within 2,000,000 rupiahs, but it can be topped up at any time through an ATM.
Mobile application Smart SIM
In addition to electronic licenses, a mobile phone application has been developed for Android devices, where you can view any information related to your traffic record. This includes details about accidents, traffic violations, issued fines, their payment, current license ownership status, and more. There is no need to go to a police station for this information. To use this application, the phone must support NFC (Near Field Communication). The application also provides a convenient way to check the card's monetary balance.
Banking activation of Smart SIM
Currently, Smart SIM only works with three banks: BRI, BNI, and Mandiri. Therefore, using the card as electronic money is only possible if you have personal accounts with these banks. To activate the card, registration is required by linking the card to your account. For detailed information, you will need to contact your bank branch.
Smart SIM balance replenishment
This can be done through the ATMs of the banks BRI, BNI, and Mandiri. The maximum top-up limit is two million rupiahs. You will need an ATM that accepts deposits. Insert your card, enter the PIN code, and in the main menu, select "Top-up." Then:
1) In a BNI ATM: Choose BNI TapCash, enter the amount, and select savings in the menu.
2) In a Mandiri ATM: Choose e-money.
3) In a BRI ATM: Choose e-money, then Brizzi.
Next, enter the desired amount and deposit the money. Wait for a notification of a successful transaction, after which a receipt will be issued, and the card balance will increase. You can also check the balance of the Smart SIM through the ATM by selecting the "Check Balance" menu.
Smart SIM validity period
New electronic licenses are issued for a period of 5 years.
How to get a Smart SIM for a foreigner, general requirements and list of documents
Smart SIM is a convenient tool, an additional option that will simplify your life at the most crucial moments and save time. Many individuals often find it challenging to access toll roads because they lack a specific card. In a challenging situation on the road, you can easily enter any automated store parking lot by simply presenting your license – this additional identification document holds the same authority as a passport and residency permit. It serves as an additional wallet, providing essential information without the need for unnecessary interactions with government officials. We will closely monitor the gradually expanding functionality.
Foreigners can obtain "Smart SIM" just like a regular driver's license. When submitting documents, it's essential to specify that you specifically want "Smart SIM."
Before proceeding, check the administrative requirements for obtaining a driver's license in Indonesia:
1. Minimum age of 17 years for categories A, C, and D (cars and motorcycles).
2. Minimum age of 20 years for category B1.
3. Minimum age of 21 years for category B2.
Additional conditions for category B1: one must possess category A for at least 12 months. For category B2: have category B1 for at least 12 months.
Each category is processed separately, with fees for each set of documents. For example, if you apply for categories A and C (car and motorcycle), you will need to pay twice.
To apply for a driver's license in Bali, there are several central road management offices. If you reside in the south, it is convenient to visit the Denpasar city office at Jl. Gunung Sanghyang No.110. If you live in Ubud, the Polres office in the Gianyar area at Jl. Ngurah Rai-Gianyar, Kabupaten Gianyar, is closer. However, note that currently, they do not process Smart SIM due to the lack of necessary equipment and direct applicants to Denpasar for this purpose.
Documents are accepted from 8:00 to 10:00.
In Denpasar, you will need to turn into a narrow lane to the right of the police office itself and drive almost to the end, then turn right, there you can park and enter the courtyard, you will see the document collection area immediately on the left on the street.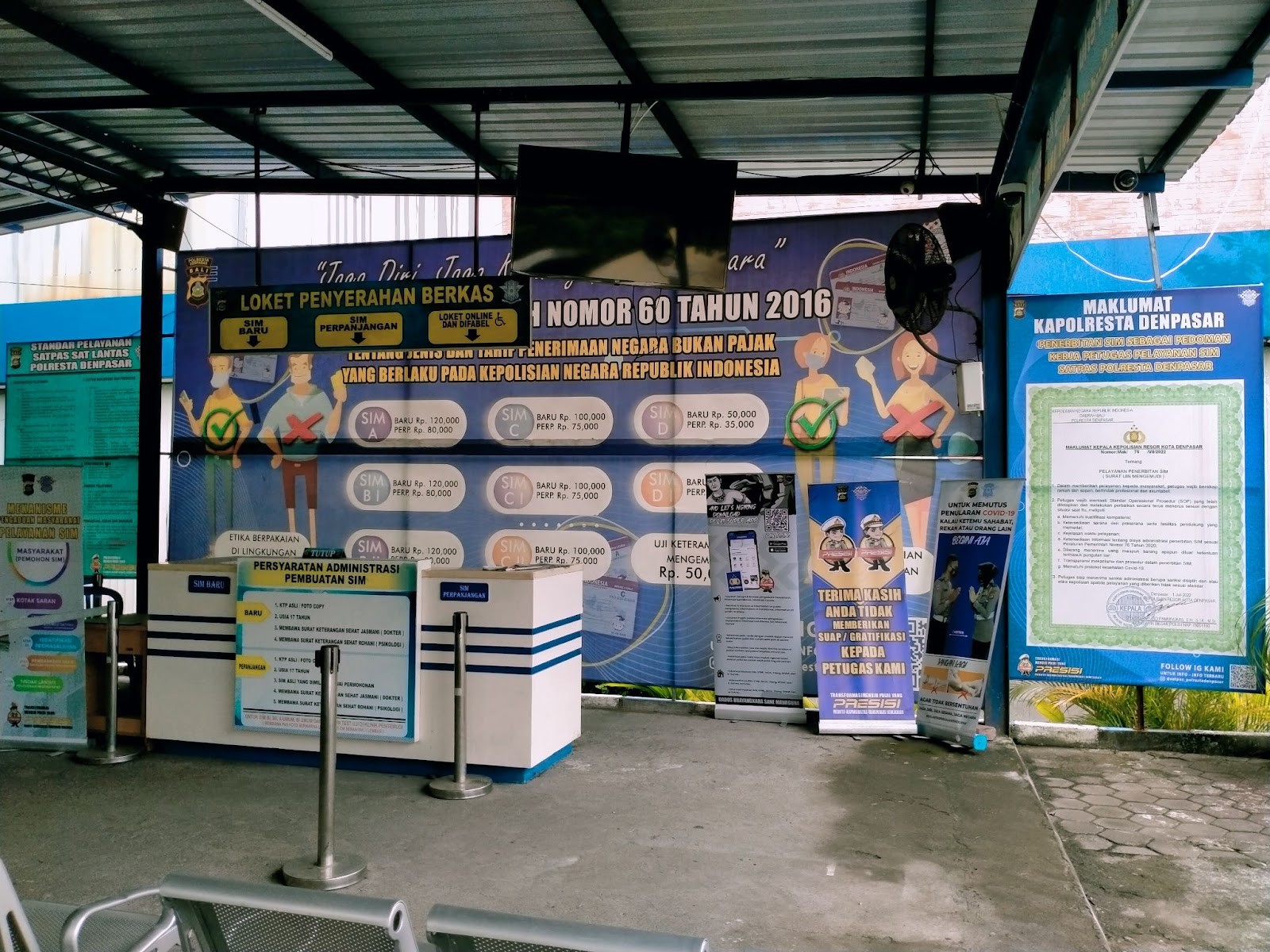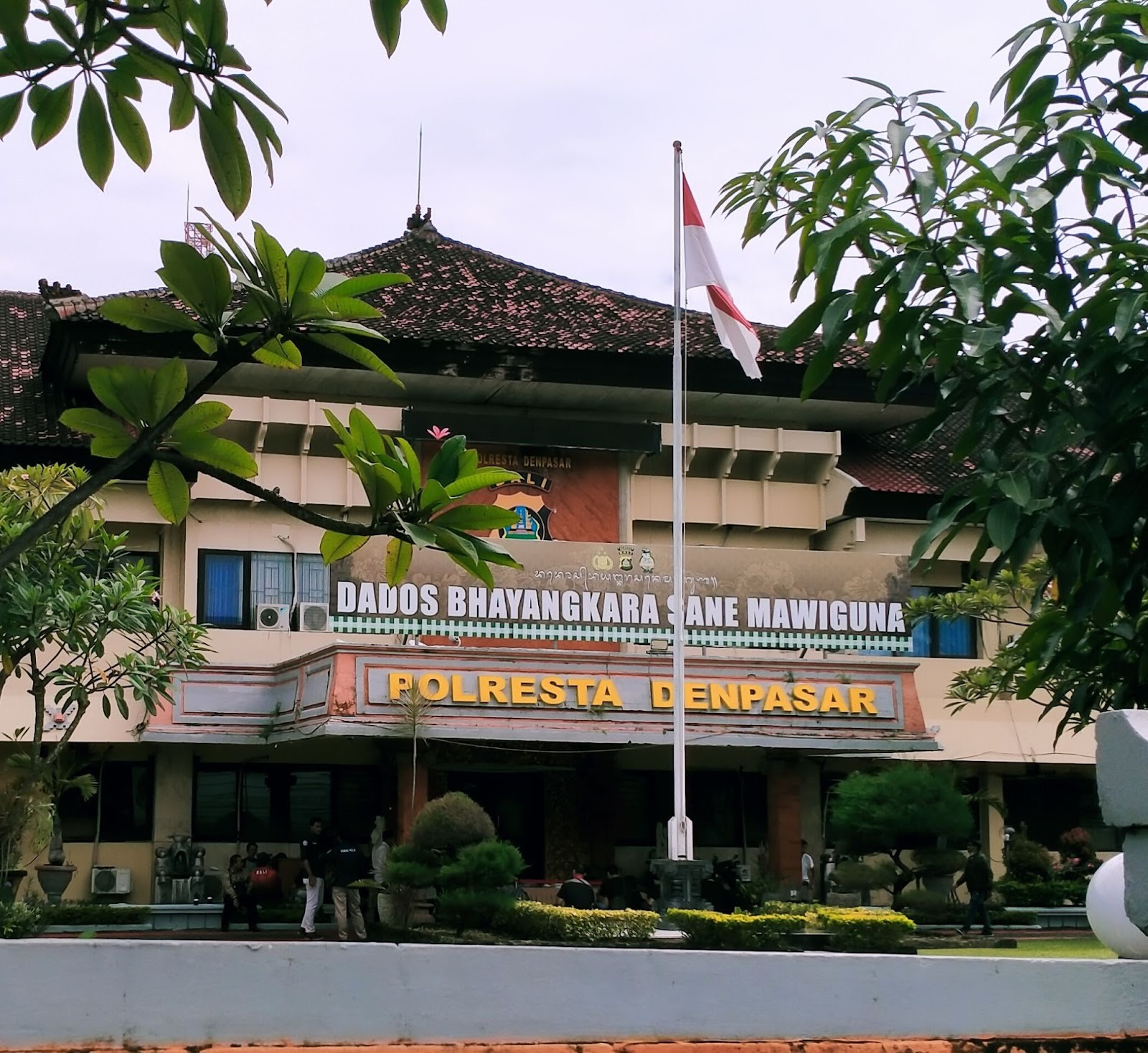 When submitting your documents, be sure to specify that you are applying for an electronic driver's license.
You will need a foreign passport and a long-term visa or a residency permit known as KITAS (KITAP). You will be asked to fill out an application, provide fingerprints, and submit two medical certificates: a general physical examination and a psychological test.
Medical certificates can be obtained near the road management office: just after the alley you will pass, there is a street cafe called Babi Guling. On the opposite side, you will find a small door where they conduct the psychological test, and the medical certificate is processed on the alley near the cafe.
The psychological test is available in both English and Indonesian languages.
Price: 100,000 rupiahs for each category. The standard medical examination typically involves a quick eye examination and blood pressure check, with a payment of 25,000 rupiahs for each category.
In addition, additional documents may be required (they are listed below). If your license has expired, you will need to reapply. For those obtaining a driver's license for the first time, two exams are required: theory and practical.
Online registration, as described on the internet, is only possible for Indonesian citizens.
Cost of production, card renewal, as well as additional payments for documents
Issue of license categories A (passenger cars), B1, B2 - IDR 120,000 IDR
Category C (motorcycles) - 100,000 IDR.
Category D – 50,000 IDR.
Driving license renewal:
Category A and B license - 80,000 IDR
Category C license - 75,000 IDR
Driving category D - 30,000 IDR
Documentation:
Psychological test – 100,000 IDR
Medical examination – 25,000 IDR
Exam – 50,000 IDR
Each category of rights is paid separately, as well as medical certificates for them.
List of documents required to obtain a driver's license in Indonesia
1) Original passport
2) Original and copy of KITAS or KITAP visas
3) Original and copy of any valid driver's licenses you already have.
4) Medical examination certificate ("Surat Keterangan Dokter" or "Surat Kesehatan").
5) Psychological test.
6) Original and copy of SKTT (if applicable).
7) "Surat Tanda Melapor" (STM), if you do not have item 6.
When applying for different categories, separate copies must be made for each type.
Conducting theoretical and practical exams for new license applicants and those upgrading their driver's category.
At the police station, English may not be spoken, so you may bring a friend as a translator, even for the testing process.
Theoretical test
This is a computer test where you have to choose True or False. The test is conducted in Indonesian, however, you can bring an interpreter with you if you wish. You have 30 minutes for 30 questions, you must answer 21 questions correctly, the result is given immediately. If you fail, they will offer to retake it any day from 10-00 to 12-00, except Sunday.
Practice test
You can take the practical test using your own car, which will certainly be more comfortable for you. Typically, for Category A, the test vehicle is a Daihatsu Xenia or a similar car. The test includes tasks for Category A (car):
- Moving straight forward and backward through a narrow cone lane.
- Zigzagging forward and backward around 9 cones.
- Parallel parking.
- Perpendicular parking.
- Uphill driving, engaging the handbrake, disengaging the handbrake, and then driving off.
- Downhill driving, stopping, and pulling away.
You are allowed to hit only one cone; the test will not be considered passed if there is a second impact. Watch videos of practical driving tests on YouTube to understand the process.
The practical test for Category C (motorcycle) includes:
- Maneuvering through a narrow road with closely spaced cones.
- Zigzagging around cones.
- Figure-eight pattern.
- Reaction test.
- U-turn.
Just like the theoretical test, if you fail the practical exam, you can retake it within the same timeframe.
Good luck!
Additional useful information
For assistance with obtaining a driver's license, you can turn to the agency
LegalIndonesia.
Keep in mind that not only a driver's license is a mandatory requirement for driving, but it's also important to have vehicle insurance.
It is worth noting that driving on roads in Indonesia is significantly different from what you might be accustomed to. The traffic moves on the left side, and there's an Asian flair to the driving style. Local drivers often rely on visual contact, elderly and young individuals ride scooters, and pedestrians may emerge from small streets without looking. Dogs may be on the roads, so exercise extreme caution. Even being involved in a minor accident with local residents can lead to deportation, not to mention other unpleasant consequences. Wear a helmet, yield to others, refrain from consuming alcohol while driving, avoid speeding in the rain, and most importantly, take care of yourself.