Pura Taman Ayun Temple is one of the most beautiful places to see in Bali. This temple is the second largest temple complex on the island after Besakih. Its name means 'temple in a garden'.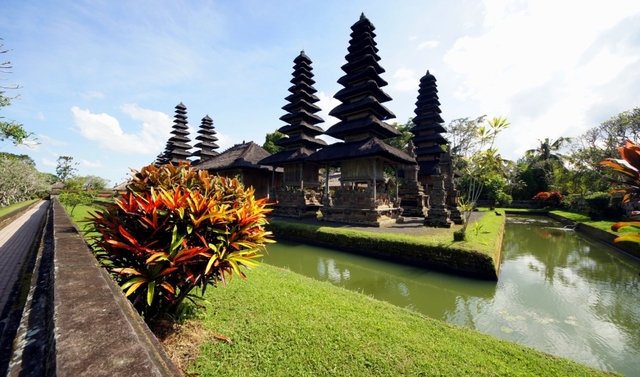 History of Pura Taman Ayun Temple
Pura Taman Ayun Temple was built in 1634 as a royal temple of the Mengwi dynasty, and until 1891, it was the main temple in the kingdom. It has been influenced by Chinese architecture. In 1937, the temple underwent a major restoration, which resulted in its new external appearance.
Distinctive features of Pura Taman Ayun
One of the distinctive features of Pura Taman Ayun is the numerous pagodas that rise above the inner temple courtyard. These pagodas are symbols of the sacred Mount Mahameru. It is believed that this mountain is the axis of our universe. The supreme deity and the souls of the deceased are believed to reside on the top of Mahameru.
The Taman Ayun temple consists of four zones on three terraces that are arranged one above the other.
Exploring Pura Taman Ayun
You can enter Pura Taman Ayun through a bridged moat that surrounds it. From the bridge, you can see a small courtyard with a fountain. The fountain has nine jets, four of which point in different directions. Each of the nine jets represents one of the Balinese gods.
In the next courtyard on a higher terrace, you can see a small temple called Pura Luhuring Purnama. To get to the second and third terraces from the first, you need to pass through the Bale Pengubengan pavilion. This pavilion is decorated with ornaments depicting nine Hindu deities. In the eastern part of this courtyard, you will find Pura Dalem Bekak, and in the west - the eight-meter wooden bell tower Bale Kulkul with two wooden bells.
North of the bell tower is a pavilion where the priests used to prepare for the holidays. Now artists work in the pavilion, creating paintings with Balinese motifs.
Across the road from the temple is the Manusa Yadnya Museum, whose exhibition is dedicated to the rituals of Balinese Hinduism.
The fourth courtyard, located above the previous three, is the most sacred. The richly decorated central gates to it are usually closed except on holidays. The second gates to it are located in the eastern part of the courtyard.
The three terraces of the temple correspond to the three cosmological levels.
The entrance fee to the temple is 30,000 rupiahs.