Indonesian cuisine: dishes you must try in Bali!
Let's start with the fact that Indonesia is an Asian country. And, like in all of Asia, a lot of spices are used in the cooking process in Bali. If you are visiting Asia for the first time, we recommend that you gradually try Balinese cuisine. Some dishes can be quite spicy. However, there are also quite mild dishes.
The main food in Bali, as well as in the rest of Asia, is rice. It is the main staple for Balinese people. Local farmers grow rice in huge quantities, and rice is used in all ceremonial offerings to the gods. No festival is complete without rice. In Indonesian, it is called nasi. The most common types of rice in cafes and restaurants are white rice (nasi putih), red rice (nasi merah), and yellow rice (nasi kuning - white rice cooked with spices).
Special taste and aroma in Balinese food are given by Basa gede or basa rajang. These are very popular pastes made from a mixture of spices that form the base of many Balinese dishes.
Balinese food cannot be called vegetarian. Balinese people love meat and seafood. Very often, dishes include beef, pork, chicken, fish, shrimp, and squid. In addition, soy products - tofu and tempeh - are widely used. They are prepared in various ways: boiled, deep-fried, grilled. Vegetarians may sometimes find it difficult to choose a dish from the restaurant menu, but as they say, where there's a will, there's a way. And, of course, it is important to remember that Balinese chefs are creative and will always try to accommodate the needs of tourists. If you don't eat a certain ingredient, simply ask the waiter not to include it. There is a 50% chance that they will not put it in and prepare it as you need.
Here is a small list of Balinese and Indonesian dishes that are worth trying during a visit to the island.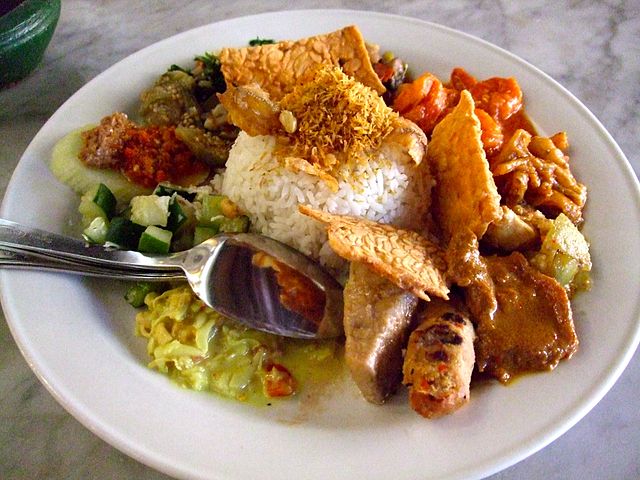 One of the most common and popular Balinese dishes. It's more like a concept than a specific dish and can be found in practically every restaurant, cafe, warung, and other food places. It consists of rice (white, red, or yellow, your choice) with various toppings such as meat, vegetables, fish and seafood, eggs, tofu, and tempeh. The variety of toppings can be almost infinite. Each cafe has its own selection and recipes. Some toppings are commonly found, while others are rarer. You'll likely find spicy eggs, fried eggplant, braised pumpkin, fried shrimp, fish head curry, green beans with tofu, braised chicken in sweet sauce, prawn crackers, and more. It's impossible to list everything, so you have to try it for yourself.
One of the most common and popular Balinese dishes. It's more of a principle than a specific dish, and can be found in practically every restaurant, café, and food stall. It consists of rice (white, red, or yellow, according to your preference) with various toppings - meat, vegetables, fish and seafood, eggs, tofu, tempeh. The assortment of toppings can vary greatly. Each café has its own selection and recipes, with some toppings being more commonly used than others. You're likely to find spicy egg dishes, fried eggplant, stewed pumpkin, fried shrimp, fish head curry, green beans with tofu, sweet chicken stew, prawn crackers, and more. There's no point in listing everything, you just have to try it.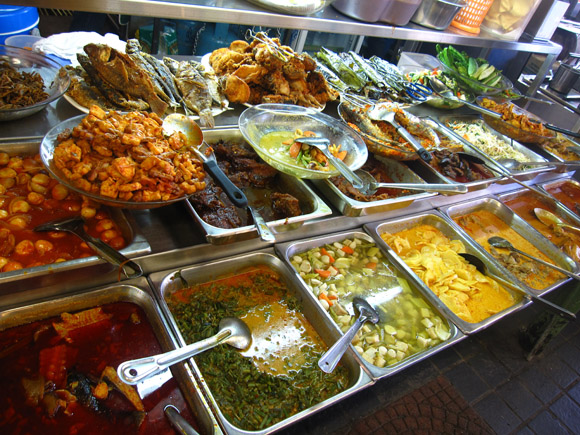 The visitor can choose what they want to add to their rice - trays with various toppings are displayed on a separate table or counter. Order what you like, and in such cases, the price usually depends on the quantity and composition of the toppings. In some cafes, there is a standard set of toppings, and they will bring you a ready-made dish. In such cases, the price will be fixed. And of course, with nasi campur, be sure to try sambal - a spicy sauce made from tomatoes, peppers, and other spices. 
Nasi Goreng - fried rice.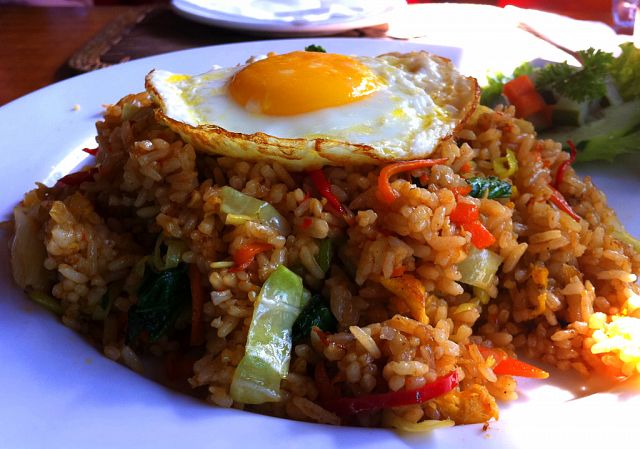 This is also a very popular dish. In taste and composition, it differs from its Thai, Indian, and other Asian "relatives" due to its special set of spices. Usually, it is prepared with chicken, shrimp, or vegetables. A fried egg, shrimp chips (not always), and greens are served as an addition. The dish is very filling and aromatic. It is suitable for children and is not spicy.
Babi guling - spit-roasted young pig.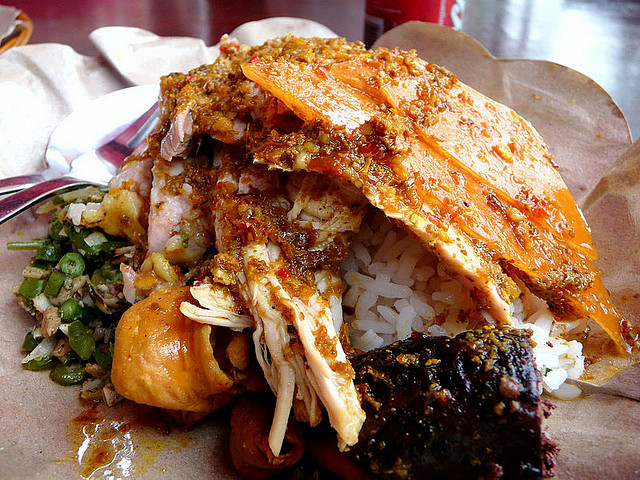 One of the most specific must-try dishes. A purely Balinese dish, as the rest of Indonesia is predominantly Muslim and they do not eat pork. It is prepared using a special blend of spices and local herbs. After roasting, the pig's skin is removed and turned into crackling. The innards are used to stuff sausages and other delicacies. All of this is served with boiled rice and various sauces. Babi guling is usually sold in specific places. Cafes and restaurants that serve this dish specifically announce that they cook this wonder. So, while walking the streets of Bali, pay attention to the signs. There are often cafes that specialize only in these little pigs. Babi guling takes several hours to prepare, so you can taste it for dinner or lunch. Usually, as soon as the pig runs out, the cafe closes. Sometimes you need to leave a request for a plate of babi guling in advance, and the next day they will definitely serve it to you. It sounds a little strange, but what can you do - there are many who want to try it, and the pig is small, so there may not be enough for everyone. According to numerous reviews, the most delicious babi guling is served at Ibu Oka on Jalan Suweta in Ubud, Babi Guling Pak Malen in Seminyak on Sunset rd., and Sanur Babu Guling in Sanur across from McDonald's.
Bebek betutu - baked duck.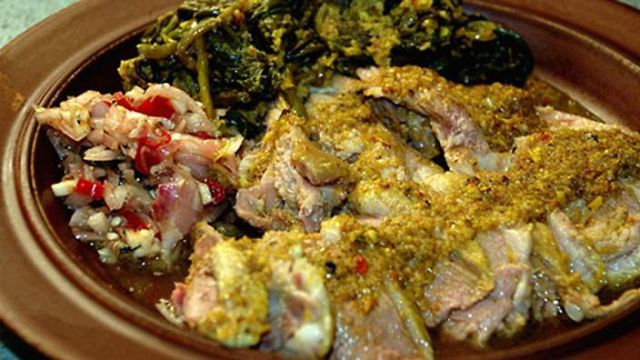 Sometimes there is a version made with chicken - ayam betutu. In both cases, the bird goes through the same procedure. Whole duck carcasses are rubbed with a set of spices and baked in banana leaves in rice ovens for about 24 hours at low temperature. 20-30 ducks are cooked at a time. The result is an incredibly tender and aromatic meat that practically falls off the bones. It is served with rice and a very tasty peanut sauce, sometimes with a spicy sauce made of onions and peppers. It is also recommended to order bebek betutu at a restaurant in advance so they can prepare it for you.
Sate - skewers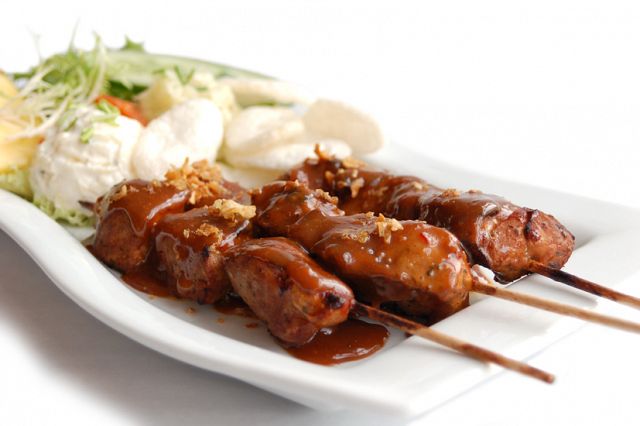 This is more of a principle than a dish. Essentially, it's small skewers of different types of meat: chicken, beef, shrimp, and other seafood. They're grilled on wooden sticks, sometimes on a lemongrass stick. You can often see sate being cooked in small local cafes. Usually, 30-50 sticks are grilled at the same time, and if there's a big celebration, even up to 100. But the grills are much larger for such amounts. Sate is served again with rice and spicy peanut sauce. The smell of smoke makes these skewers particularly flavorful.
Iga Babi Panggang - pork ribs.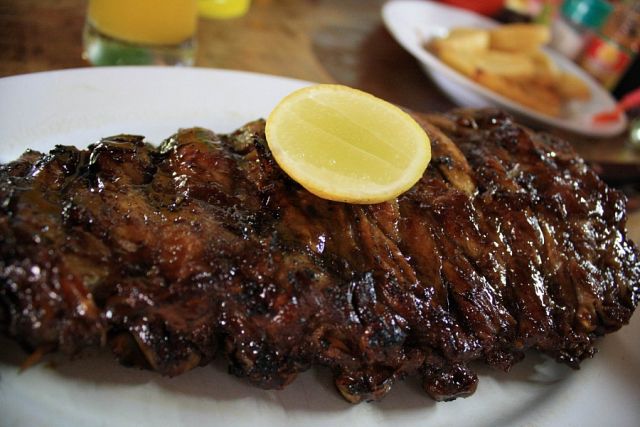 Another must-try dish. Glazed or caramelized pork ribs, incredibly juicy, fragrant and tender. They literally fall off the bone and melt in your mouth. The ribs are marinated in spices and honey, then grilled. They are usually served with baked potatoes and vegetables. This dish is served in many warungs, there are no difficulties with it, but if you come across it, don't deny yourself the pleasure, be sure to try it.
Mie Goreng - fried noodles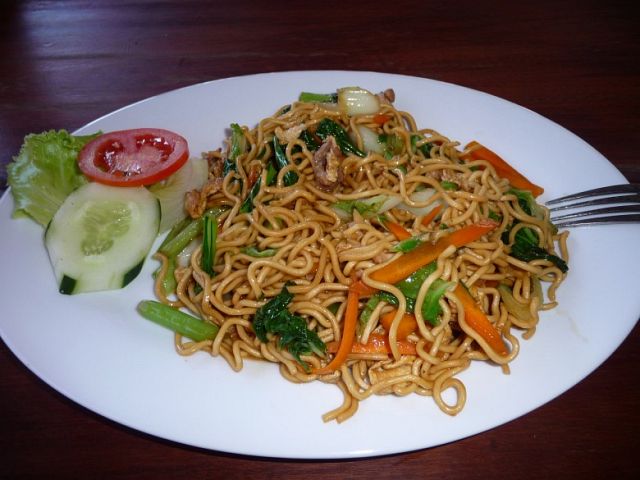 This is an everyday dish, but it's also a must-try to find out what Balinese people eat. The noodles usually look very similar to instant noodles like Indomie. Depending on the level of the restaurant, the noodles may differ. In decent restaurants, they make the noodles from scratch, but they will still be curly. In simple warungs, they don't mind using instant noodles. Rice noodles may also be used, which can be thin or wide. Fried noodles are made with chicken, shrimp, seafood, vegetables, or eggs. All the ingredients are stir-fried in a wok with spices and sauces and served with fried egg and fresh vegetables. It's a great find for pasta lovers. It's quick, delicious, filling, and always easy to find."
Nasi Lawar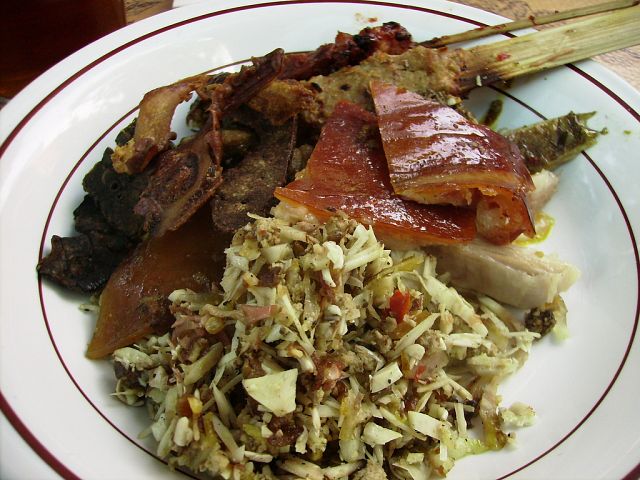 This dish is made from a mixture of vegetables, coconut, and chopped meat cooked with aromatic herbs and spices. Some types of lawar add meat with blood, which gives the dish a special aroma and makes it even more authentic. In this case, the dish should not be stored for a long time (if you buy it to go), and eaten on the spot. Nasi lawar can be found in almost every restaurant or warung. There can be different types of lawar - with chicken, beef, seafood, etc.
Gado Gado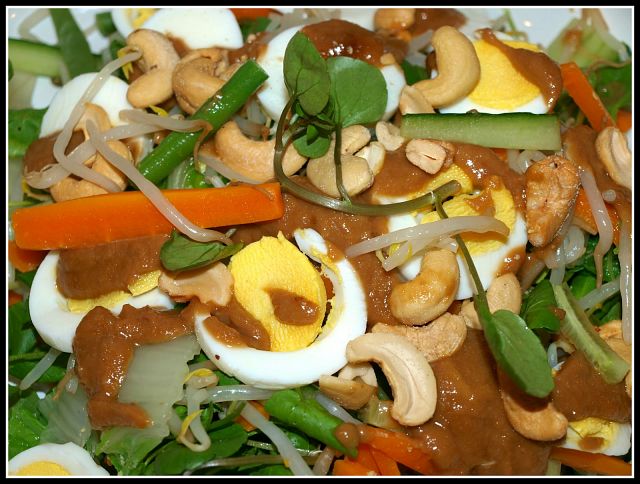 If you are a vegetarian and the first thing you ask for when you come to a restaurant is something vegetarian, then you will be offered gado-gado. This is a warm vegetable salad with a sweet nutty sauce. It usually includes boiled potatoes, spinach, boiled cabbage, cucumbers, shallots, soybean sprouts, boiled egg, corn and other available vegetables. The nut sauce is sometimes made right in the restaurant, but you can also buy ready-made paste in stores and dilute it with warm water. By the way, if you like gado-gado sauce (the sauce itself is also called that), then it is sold in almost any grocery store. It's delicious. The salad is usually served with boiled rice and shrimp chips.
Buntut - oxtail soup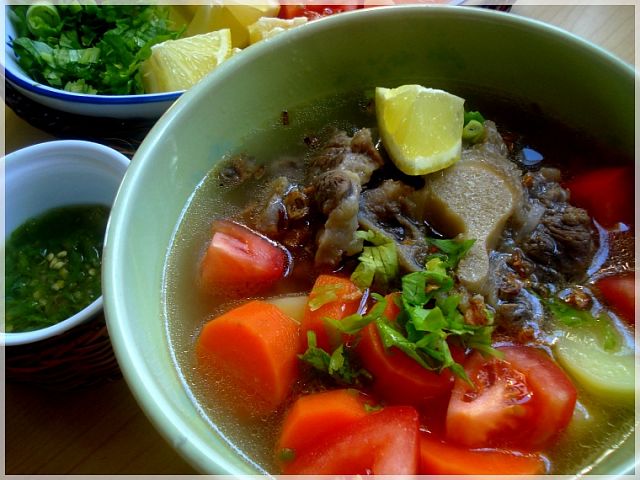 This is a very authentic and incredibly aromatic dish. This thick and flavorful soup can be found on the menus of restaurants and warungs very often. The beef tails are marinated in spices and grilled beforehand. Then they are simmered with potatoes, tomatoes, carrots, and other vegetables that are quite familiar to the Russian palate. However, what gives this soup its specific taste are the spices and the smoky aroma. You're unlikely to try such a soup in other countries, so don't miss the opportunity, give it a try. The soup can be not spicy at all, or you can ask for it to be made spicy. The chef will definitely add some chili peppers to it. Balinese people love it when a white person tries spicy dishes. They always watch with interest for your reaction, and if you like spiciness, they are happy like children.
Bubur Injin (Black Rice Pudding)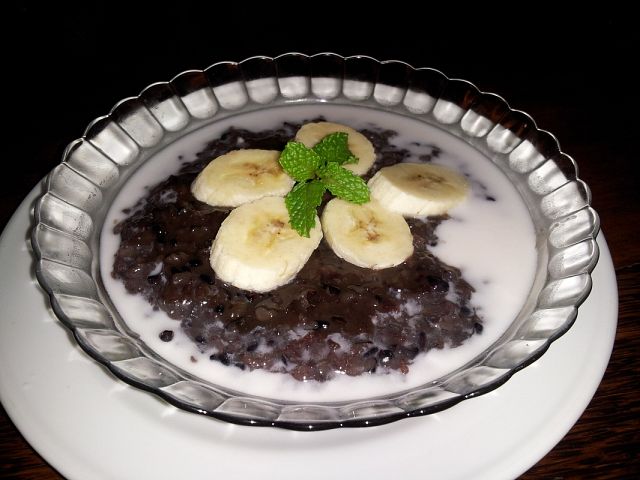 is a must-try dessert on the island of Bali. It is usually served in a beautiful bowl with coconut cream sauce and a scoop of ice cream. Sometimes, fruit pieces are added to it. Bubur injin can be a lifesaver if you are traveling with a child. In taste, this dessert resembles sweet rice porridge, so children enjoy it. It's hearty, sweet, and healthy. The dessert is not overly sweet, so there's no need to worry, not only for children but also for those who care about their figure. It contains a moderate amount of palm sugar, which is healthier than white sugar.
Drinks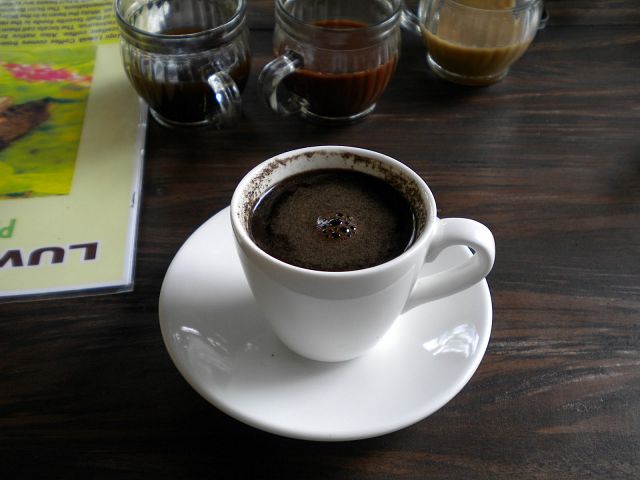 We need to talk separately about drinks. Besides various shakes, smoothies, and juices, Balinese people love coffee very much. No wonder, Indonesia is one of the most coffee-producing countries in the world. They produce it here and love to drink it. That's why in every warung, even in the most shabby one, not to mention fancy restaurants, you will definitely be offered kopi Bali. Usually, there are two options: simply kopi Bali and kopi Bali susu. The first option is regular black coffee, and the second option is coffee with milk. They drink it here in the morning, at lunch, and in the evening. Coffee is usually not expensive, but very aromatic. Often, Balinese people just pour ground coffee with boiling water and do not bother to brew it. There is a lot of it here and much cheaper than Nescafe instant coffee. By the way, coffee will be an excellent souvenir for relatives and friends. You can find it in any grocery store; it is incredibly delicious and cheap. And of course, don't forget about luwak coffee.
When it comes to tea, things are not as good as with coffee. Javanese tea is one of the most well-known global brands, but for some reason in restaurants and cafes you will be offered tea bags of local production, which is not of the best quality, in addition to global brands such as Dilmah or Lipton.
That's probably all for now. Of course, the menu of each restaurant is much wider, and there are many more dishes. But these are the ones that you must try while relaxing in Bali. Of course, you can also eat more familiar spaghetti, pizza, sushi or hamburgers, but did you fly 10 hours on a plane to the other side of the world just for them? ;)