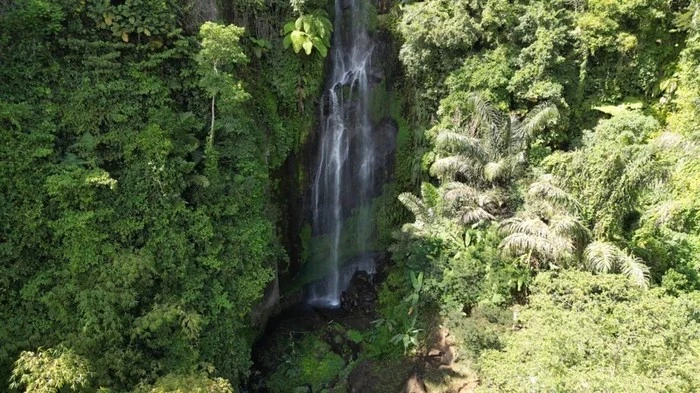 The Buleleng region in the northern part of the island is known for its natural beauty, especially its waterfalls. There are dozens of them, each impressive in its own way. For nature enthusiasts, the island's administration is opening access to the new Bengbengan waterfall, already dubbed the northern pearl of Bali.
Bengbengan, which translates to 'cliff,' is a relatively tall, 50-meter waterfall cascading down into a densely forested gorge. Fresh spring water flows down the cliff into a clear natural pool below, surrounded by stunning tropical forest with towering vegetation.
Bengbengan is just a 15-minute drive from the well-known Sekumpul waterfall and is situated on the same hills as the Fiji, Gerombong, Ikut Sampi, and Lalang waterfalls. All these locations fall under the management of the tourist center of the Lemukih village, where there is much more to explore in the surrounding areas.
Getting to the waterfall is not difficult; it is located just 1 km from the administration of Lemukih village in Banjar Nangka. If you are coming from the south of the island, follow the main Denpasar-Singaraja road. When you reach the 7B or 18th-kilometer mark, turn right towards Banjar Amerta Sari. Follow the road until you reach the waterfall's parking area. You can reach it by bike or car. Then, you'll take a trail with many steps, descending about 100 meters to the waterfall.
Due to its secluded location, this place is ideal for hiking and trekking. Make sure to wear good hiking boots, as some parts of the trails can be steep.
The ticket cost won't burden your budget; the entrance fee for foreign tourists to the waterfall is 20,000 rupiahs, and for locals, it's 10,000. These funds contribute to maintaining the cleanliness of the surrounding area and improving the infrastructure on forest trails. There are plans to introduce an electronic ticket system with card payment options in the future.
While there are few visitors to the waterfall currently, soon this place will be added to the tourist map. Village residents hope that this lesser-known wonder of nature will gain popularity. The head of Lemukih village, I Nyoman Singgi, shared plans with journalists to attract more tourists to this area.
Lemukih village itself is also very picturesque: along the roads, carnations, coffee bushes, mangosteen, and durian trees grow. Tourists like to stop in these places, take photos, and learn more about the local flora. The village is home to about four thousand people, many of whom are engaged in agriculture, so they are ready to share information about plantations, but only in the Indonesian language.
Currently, resort tourism has not yet influenced this area, and local residents lead a traditional way of life, providing an opportunity to immerse yourself in the unique, authentic atmosphere of the island.