Getting to the Gili Islands can be done by water or air. The choice of method depends on your budget and the weather.
1. By Fast Boat
Beautiful, fast, and convenient. Sometimes the waves can be serious, making your trip full of excitement. Most people reach the Gili Islands by a speedboat, also known as a fast boat.
Usually, tickets to the islands come with a transfer from Bali. This means you will be picked up from your hotel, taken to the port, and then boarded onto the boat to the Gili Islands. On the return journey from the Gili Islands, you will be taken back to Bali and then by car to your hotel.
If you take tickets with a hotel transfer, you won't have to 1) take a taxi (as a taxi from the south of Bali to Padang Bai, for example, can cost around 250,000 rupiahs) 2) leave your bike at the port, where no one will personally guarantee its safety.
Boats depart from Bali to the Gili Islands, most frequently from Padang Bai on the east side of Bali, or less frequently from Benoa or Sanur ports. The boat usually arrives at either Gili Trawangan or Gili Air. Meno is only stopped at by Eka Jaya. A large fast boat approaches the port, meets the shuttle boat, which transports passengers to the dock.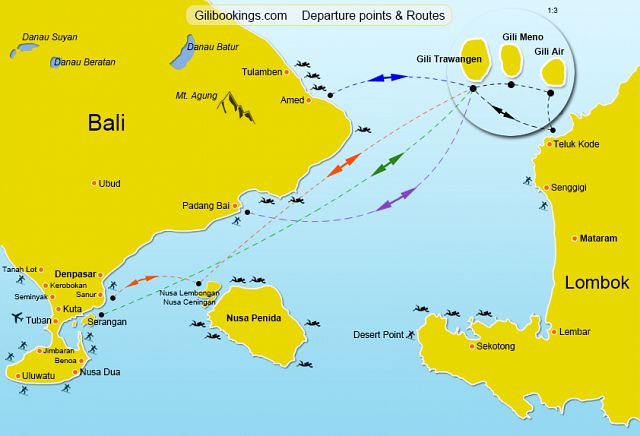 After arriving in Padang Bai and getting ready to sail to the Gili Islands, find the office of your boat company and check in for your journey. They will provide you with your ticket and a sticker that you need to attach to your clothing. Wait until the manager signals that it's time to go to the pier and board the boat.
The boats have luggage compartments where the company's staff help load heavy items. You can bring suitcases to the Gili Islands—they will assist in loading and unloading them. Take fragile items with you in the cabin.
Transfer services within the Gili Islands are not provided by boat operators. You will need to either walk to your hotel or take a horse-drawn carriage at the port. Some tourists also practice this option: if the hotel doesn't provide free bicycles, they rent a bicycle near the port, load part of the luggage onto the bicycle, and ride with it or push it with the luggage.
Several companies operate transportation to the Gili Islands. Some of the main ones include:
- From Padang Bai: Wahana, Eka Jaya, Gili Gili, Marina Srikandi, Ganggari Express, Marlin, Golden Queen
- From Serangan: Eka Jaya, Gili Getaway, BlueWater Express
- From Sanur: Scoot Cruise
Do not fall for offers with very large discounts from dubious carriers, and only purchase tickets from recommended companies that maintain their boats in good condition and prioritize the health and safety of their passengers. Remember that your health, life, and safety are priceless!
The most optimal ticket options to Gili are:
1) Round-trip tickets with transfer from the
company Wahana
for 450,000 rupiahs. This is the most budget-friendly option. The fast boat stops at Gili Trawangan, Gili Air, and the Bangsal port in Lombok. If you need to go to Meno and you are traveling with Wahana, you will need to take the Karya Bahari boat for the transfer to Meno. Wahana's boat is of medium size, clean, comfortable, with an open upper deck. If you are prone to seasickness, it's advisable to bring motion sickness tablets like antimo or dramamine, as the sea can get rough in strong waves.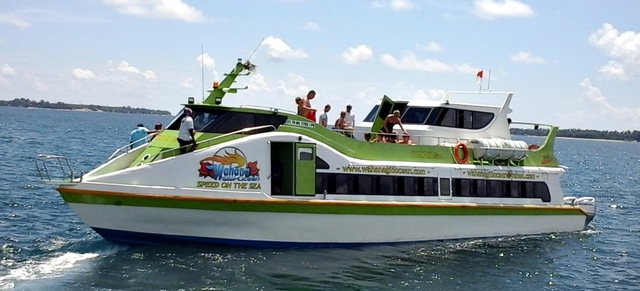 2) More expensive tickets from the
company Eka Jaya,
round-trip with transfer to Padang Bai port for 600,000 rupiahs. Eka Jaya operates a huge and comfortable fast boat. Choose tickets for this option if you want to minimize the impact of sea motion even in high waves or if you prefer to reach Gili Meno directly without transfers. Near the shores of Meno, a boat shuttle approaches the fast boat about 100 meters from the shore, picking up passengers and taking them to the Meno harbor.

3) Tickets from
Gili Getaway,
round-trip with transfer, cost 1,250,000 rupiahs. These tickets stand out because the boats depart from the Serangan port in the touristy south of Bali. So, it's worth choosing these tickets if you don't want to spend time traveling from your hotel in Nusa Dua or Sanur to the Padang Bai port.
Attention!
1) Tickets to the Gili Islands are sometimes purchased with a fixed return date, and sometimes with an open return date. If you decide to change or fix the return date on the Gili Islands, you need to go to the office of your boat company and inform them at least two days in advance. All offices are located in the ports of the islands within 100 meters from the pier.
2) Be cautious on Meno! Among the major boat companies that transport from Bali to the Gili Islands, only Eka Jaya has an office on Meno. This means that there is no office for Wahana or Gili Getaway on Meno, and while on Meno, you won't be able to change the dates of your tickets from these companies. Only when you're on Trawangan or Air.
3) On the way back at the Padang Bai port, near the pier, you may encounter private individuals who will assure you that your buses with paid transfers to the hotel are 1) canceled, 2) will go to the hotel in 3-4 hours, 3) in poor condition, 4) have already left. Don't believe these people. Their goal is to hinder you from getting your pre-paid transfer and make you use their service. For example, from Padang Bai to Canggu, a car ride takes 1.5 hours, not 4 as claimed by port taxi drivers. Look for representatives of your transport company in branded clothing and your cars with branded logos. Do not give your tickets to free transfer to strangers.
4) If your fast boat does not include a stop on Meno, and you have booked a hotel there, you will need to take a separate boat to Meno. There is a type of transport called island hopping from the company Karya Bahari, which runs between the islands. Twice a day, a cheap and slow boat with tickets at 35,000 - 40,000 rupiahs, and several times a day, a fast small boat - also Karya Bahari, with tickets at 85,000 rupiahs. All these tickets without intermediaries can be purchased at the Karya Bahari ticket office in the port of each of the islands. The boat schedule can be seen in the Gilis smartphone app.
2. By ferry through Lombok
This route will be much longer, more difficult, but cheaper, more adventurous, and richer in adventures. Ferries depart from Padang Bai in Bali every hour around the clock. They arrive at the Lembar port in Lombok. The ferry journey time is 4-5 hours. 120,000 rupiahs for a bike and 2 passengers.
In Lombok, you will need to move to the Bangsal port about 60 kilometers north of Lembar. However, the road through Lombok from port to port is very beautiful, passing through the coast on one side and mountainous terrain on the other.
From Bangsal, you can reach the Gili Islands on a public boat. Boat time is half an hour, and the ticket costs 15,000 rupiahs. In this case, you will need to leave your bike in the paid parking in Bangsal. You won't be able to take a bike to Gili because gasoline bikes are prohibited on Gili. On the island, you can only ride a bicycle, in a horse-drawn carriage, or on an electric scooter.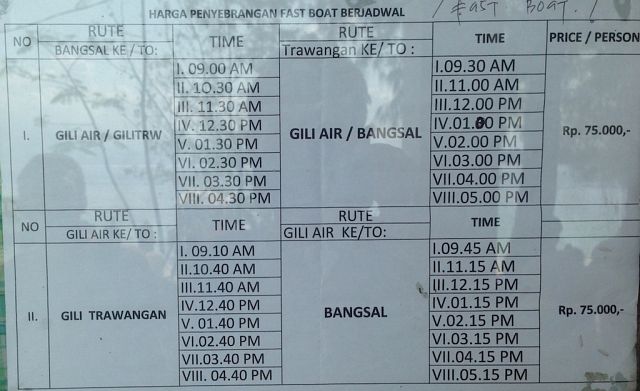 This trip will cost you approximately 100,000 - 150,000 rupees one way if you bring your own bike on the ferry.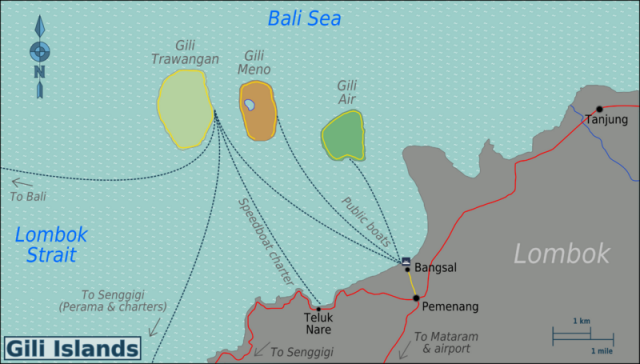 3. By plane
At first glance, it seems that this option is faster and more peaceful. However, plane tickets are more expensive, and then you still have to travel from Lombok Airport to the Bangsal port and take a boat to the Gili Islands.
Tickets from Bali Airport to Lombok Airport start from 250,000 rupiahs. The flight takes only 30 minutes. Look for tickets in advance on local search engines. Transfers to Lombok Airport from Trawangan are offered for 200,000 rupiahs per person. The same price should be from the airport to Trawangan. Just look for a transport company at the airport that offers a transfer from the airport to Gili at this price. The boat price from Bangsal to Gili should be included in the fare (200,000 rupiahs per person).
4. By helicopter
There is even such an option. Naturally, it will be quite expensive, but if you have the means, why not. The flight takes only 45 minutes from the south of Bali to the Gili Islands. You can inquire about booking with the helicopter carrier in Bali at
airbali.com.
ATTENTION!
Try to plan your trip to Gili not on the first or last day of your arrival in Bali. Sometimes boats to or from the islands may be delayed by an hour or two, and if your flight departs on that day, you may get nervous or miss your flight. Sometimes, in strong waves in July, boat trips can be canceled for several days to avoid risking the lives and well-being of passengers.