Dusun Kuning Waterfall is located 4 kilometers south of Bangli. Its height is about 20-25 meters. This is a rather quiet waterfall and even many locals do not know about it.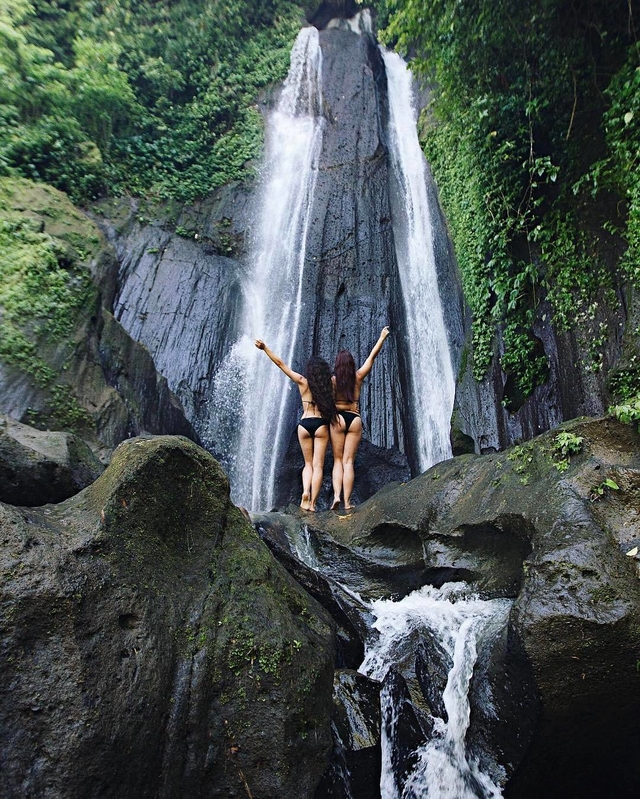 How to Get There
You need to make some effort to get to this waterfall. The path from Umanyar village passes through fields, which takes about 20 minutes to walk, to a cliff on the riverbank. From the cliff, you need to descend to the waterfall. Be careful: the trail is quite difficult and dangerous. You need to descend backwards, holding onto tree roots. In addition, the trail is partially overgrown with grass and bushes. There are no steps or handrails. It is best to go to the waterfall in the dry season, because the slope is quite slippery and can crumble.
Features of the Waterfall
Dusun Kuning Waterfall flows down the cliff with a powerful stream. At the bottom it forms a swimming lagoon. Water from the waterfall flows through huge rocks and into the river.
Near the waterfall, a group of monkeys live that can be seen along the way by jumping from tree to tree. There are no restaurants near the waterfall, only stalls with local food near the parking lot.
Additional Information
Sometimes a parking fee is charged for visiting the waterfall, but this does not happen always.