Compilation of cafes where you can go for coffee and/or breakfast in the Nusa Dua and Benoa area.
Honey and Bread Cafe
Opening hours: 08:00–23:00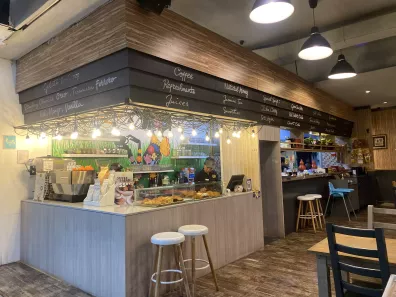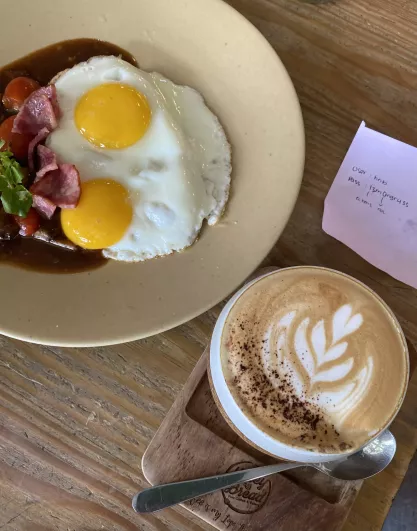 The cafe is situated in the same building as the Pepito supermarket.
There are tables both inside and outside. Service might be a bit slow. Suitable for a coffee break. Prices are moderate.
For breakfast, you can choose from pancakes, Belgian waffles, omelets, or toasts.
Not all items on the menu received positive feedback. They serve wine.
I recommend trying their coffee and desserts: waffles, banana bread. Delicious fruit bowls. Tea comes with syrup and honey.
The cafe has a bookcrossing area: you can read a book while waiting for your breakfast or bring your own for exchange.
Prices:
Drinks 25,000-55,000
Breakfasts 40,000-50,000
Main menu 30,000-100,000
Plus 10% tax
Reviews:
"One of my favorite places in Bukit. Incredibly tasty food, served quite quickly, good portions. Polite and friendly staff. Definitely recommend!"
25:PM Coffee - Nusa Dua
Opening hours: 08:00–00:00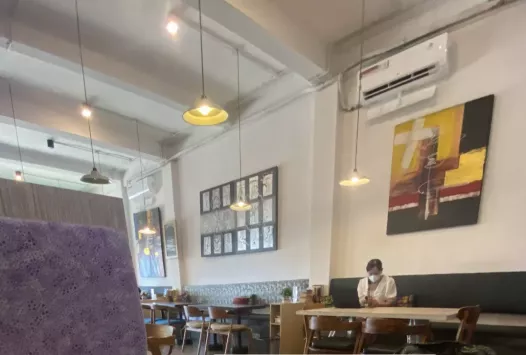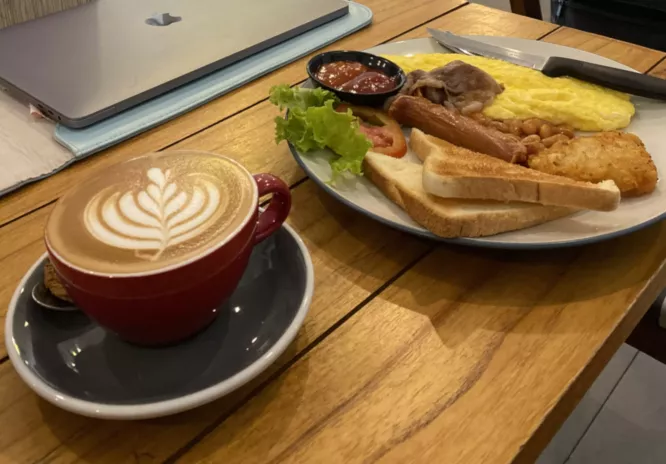 Here's a good coffee place, decent breakfast, and friendly staff. Breakfast
The snacks were good - snack platter.
If you choose a comfortable spot, it's quite suitable for work or studying, but not every table is equally convenient.
The cafe closes at midnight, which was handy on days when the power was out at home.
In Jimbaran, there's a second cafe from the same chain, open until 01:00.
Prices:
Drinks 20,000-40,000
Big breakfast - 75,000
Main menu 15,000-70,000
Plus 10% tax
Reviews:
"Excellent place. Had breakfast here. They offer only one type of breakfast, but it's very tasty - toast, scrambled eggs, grilled sausage, hash browns, beans in tomato paste, bacon, tomato. The coffee is delightful. The cappuccino has a perfect consistency, the right temperature, not overheated, creamy texture. The taste of the coffee has a pleasant bitterness (not burnt, but genuinely enjoyable)."
Seru Coffee
Opening hours: 07:00–22:00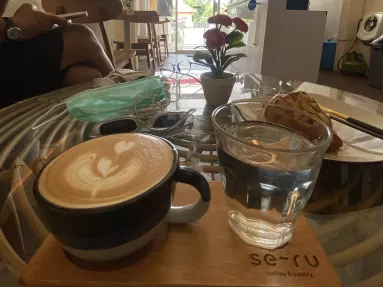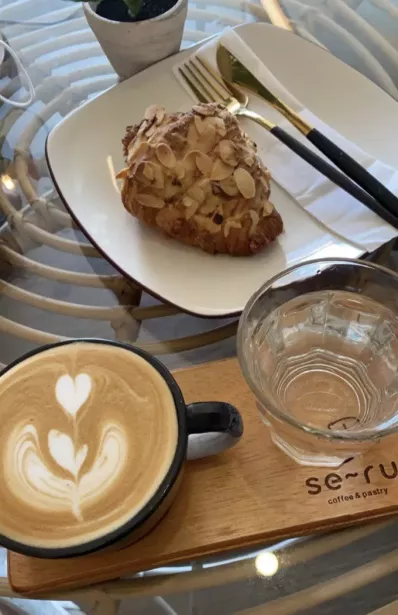 A very small place, but it's bright and cozy. Friendly and welcoming baristas. Good sound and a pleasant playlist. The internet isn't the fastest.
Here, you can have coffee while waiting for your laundry. The coffee is very tasty, and the almond croissant is delightful. They also offer tea. It's not a place for a full meal, but it's great for a snack. I recommend the latte with a croissant.
Prices:
Coffee 25,000-30,000
Coffee + croissant - 50,000
Reviews:
"Cozy atmosphere, delicious coffee, fresh pastries!"
Secret Cafe
Opening hours: 8:00–16:00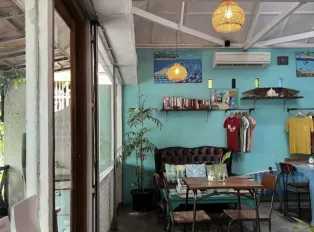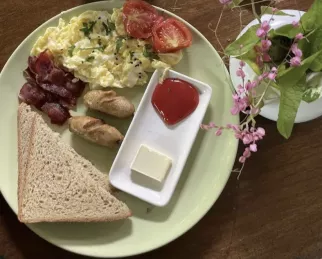 Great place for breakfast! The cafe is quite popular, almost always full. Diverse menu with many options for vegetarians and vegans, including gluten-free pancakes.
They don't accept cards, only cash. Open until 16:00 and closed on Wednesdays.
Prices:
Coffee - 25,000-50,000 IDR
Main menu - from 40,000 IDR
Reviews:
"A stylish and cozy spot in Nusa Dua. Can't say I'm ecstatic about the food, but they serve quickly, creating a pleasant atmosphere with good coffee."
Rehat Cafe
Opening hours: 8:30–21:30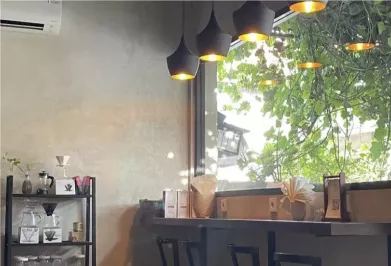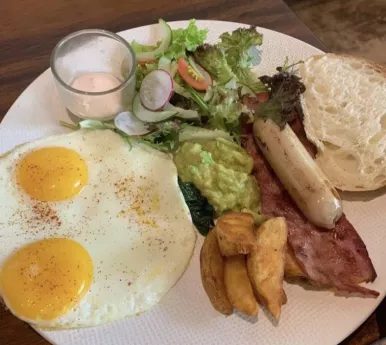 You can order breakfast here at any time of the day. There's a simple option – eggs cooked to your liking with toast. Or you can choose avocado toast, pancakes, smoothies, or a big breakfast.
I love the coffee and tasty food at democratic prices. Cool atmosphere and pleasant music. Good WiFi. Try the lemon cheesecake!
Prices:
Coffee - 20,000-36,000 IDR
Breakfast - 27,000-45,000 IDR
Reviews:
"Really liked the place, it's cozy, and the coffee is delicious! In the nearby places in Nusa Dua for sure! There are options for breakfast and snacks! But the coffee is magical; we always choose the place counting on delicious coffee, and we weren't wrong! Highly recommend!"
Pause Café
Opening hours: 07:00–21:00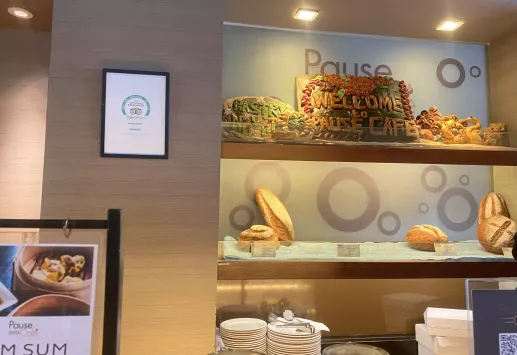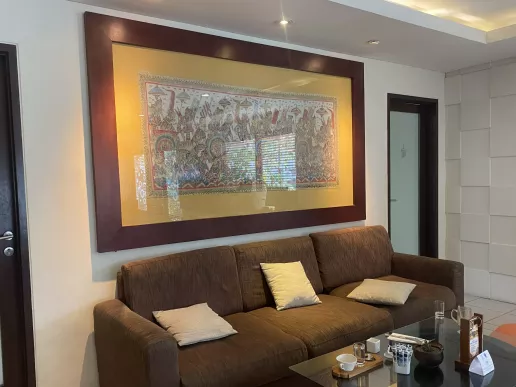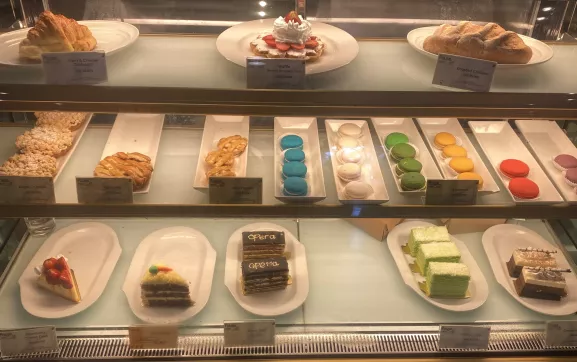 The café is located in the Novotel Nusa Dua hotel. They offer good breakfasts and a variety of desserts, including macarons, carrot cake, strawberry cheesecake, and much more.
For breakfast, you can choose waffles, pancakes, cinnamon toast, or eggs prepared in any style. The bread is very tasty. There's also good internet, comfortable air conditioning, and cozy chairs.
Prices:
Breakfast - 50,000-100,000 IDR
Drinks - 35,000-67,000 IDR
Reviews:
"A good alternative to local breakfasts. Reasonable prices. Delicious food!"
"Excellent café. All the pastries are very tasty. For some, there might be a lot of cream in the buns. After 8 pm, there's a 50% discount on pastries. Comfortable and cozy."
Tino's Coffee and Resto Nusa Dua
Opening hours: 08:00–23:00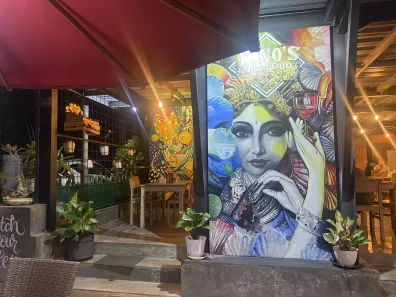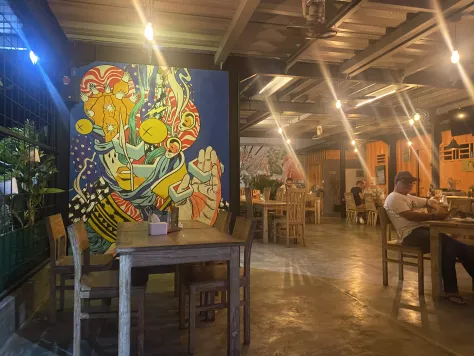 Another excellent place for breakfast and more. They serve good coffee, prepare food quickly and deliciously. Very friendly staff, happy to welcome and assist you. For breakfast, you can order pancakes, avocado toast, panna cotta, or a big breakfast. I recommend trying the avocado toast (smash avo).
Prices:
Main menu - 25,000-80,000 IDR
Drinks - 15,000-35,000 IDR
Reviews:
"A pleasant place with delicious and inexpensive food. I recommend the chicken black pepper, mushroom soup, coffee, and juices."
"Everything is very tasty, and the cost is excellent!"
Tasty Turkish
Opening hours: 12:00–22:00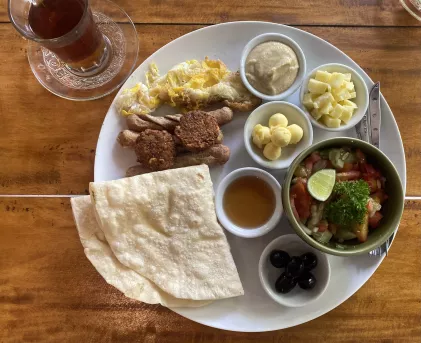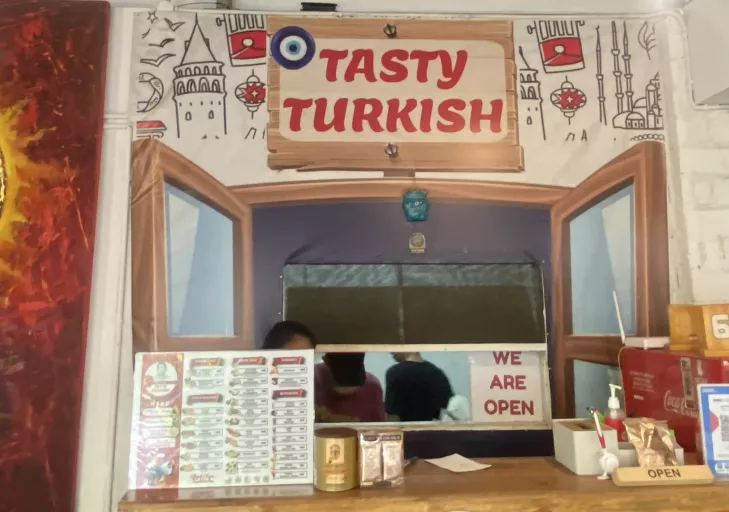 One of the cafes at the Silicon food court. It's cozy here, although it can get hot during the daytime as the food court is located in a garden. But it's perfect for an early breakfast. The Turkish breakfast includes eggs, butter, soft cheese, hummus, olives, vegetable salad, flatbread, and honey. Also, real black tea is served. There's an option with meat and a vegetarian version with falafel. Very delicious!
Prices:
Turkish breakfast - 50,000 IDR
Ayran (yogurt drink) - 15,000 IDR
Reviews:
"Inexpensive and delicious. Really liked the free clove tea that comes with the order, gösleme, and beef pide. Tasty meat, cheese, and lavash. We couldn't finish everything, and they packed it all for us for free."
"Delicious. Reasonable prices. Highly recommend!"
Nusa By/Suka
Opening hours: 11:00-23:00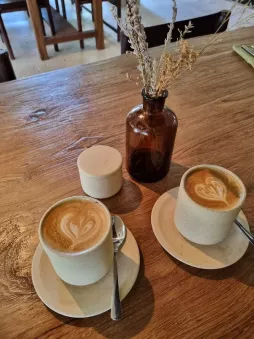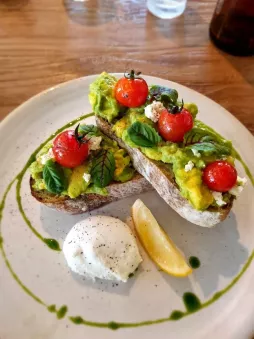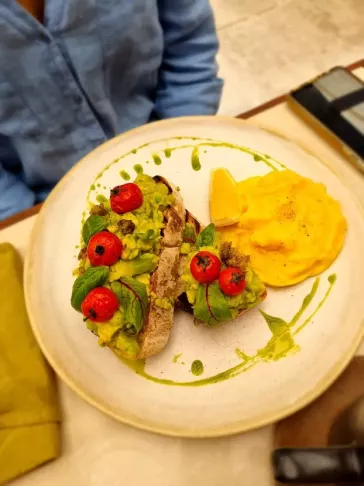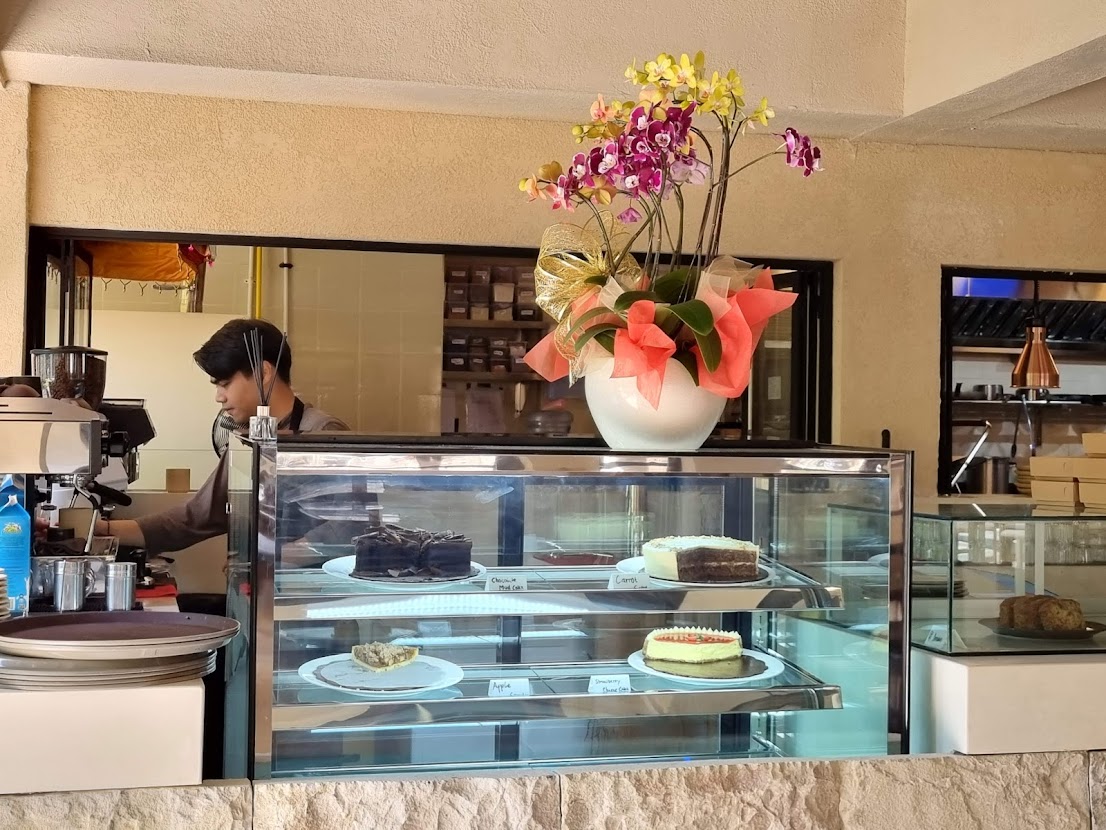 Посмотреть еще
2 фото
The new creation of the popular Suka coffee shop network. The restaurant is located in the Bali Collection shopping center, right in the heart of the tourist area of Nusa Dua. It is perfect for both late breakfasts and exquisite dinners. Stylish interior with a small terrace that can get crowded in the evenings. The service is at the restaurant level, and so are the prices. Beautiful presentation of dishes, and there's a dessert showcase. They offer a children's menu, a high chair, and colored pencils for the little visitors.
Prices:
Coffee: 40,000-60,000 IDR
Smoothies: 55,000-65,000 IDR
Brunch cocktails: 110,000-120,000 IDR
Breakfasts around 100,000 IDR
Additional charges include a 7% service fee and 10% tax.
Reviews:
"In two weeks on the island, this is the best food we've had. Everything is fantastic, from drinks and champagne to meat dishes and pizza. Polite staff. Despite the restaurant being busy, the wait was no more than 10 minutes. We will definitely visit this place again and more than once 🙏🏻."
"This is the best restaurant we've been to in Bali! The food is not spicy or greasy, like in other places. The staff is very polite and friendly. On Sunday evening, we enjoyed a performance by local vocalists, which made our evening even more enjoyable! Thanks for such a warm welcome and delicious food! ❤️"