Benoa District (Nusa Dua) in Bali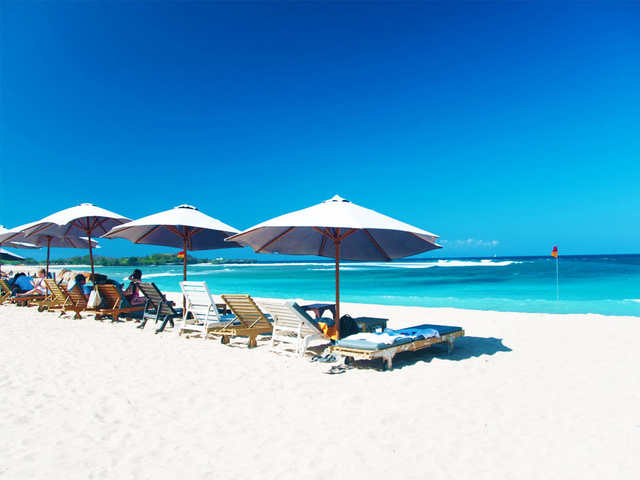 Location
The area of Benoa (Nusa Dua) is located on the southeastern point of the island.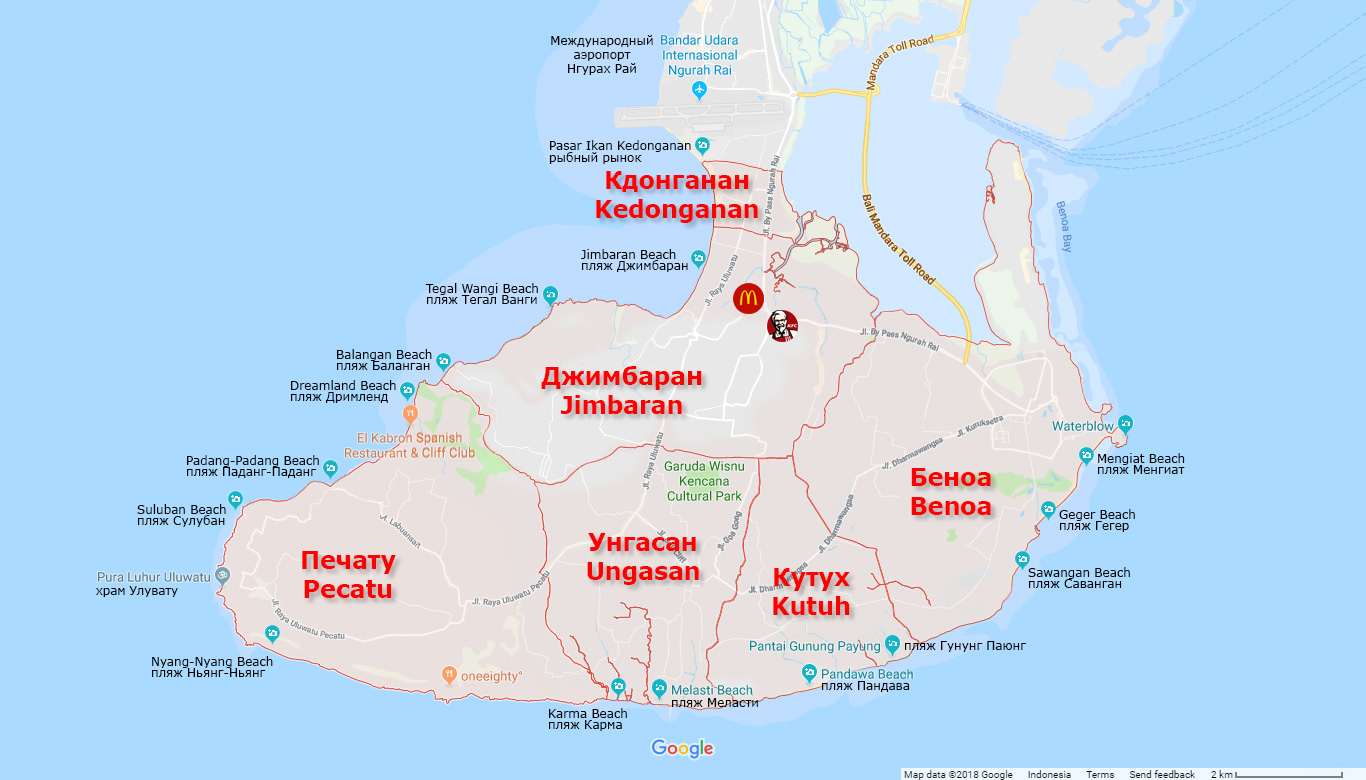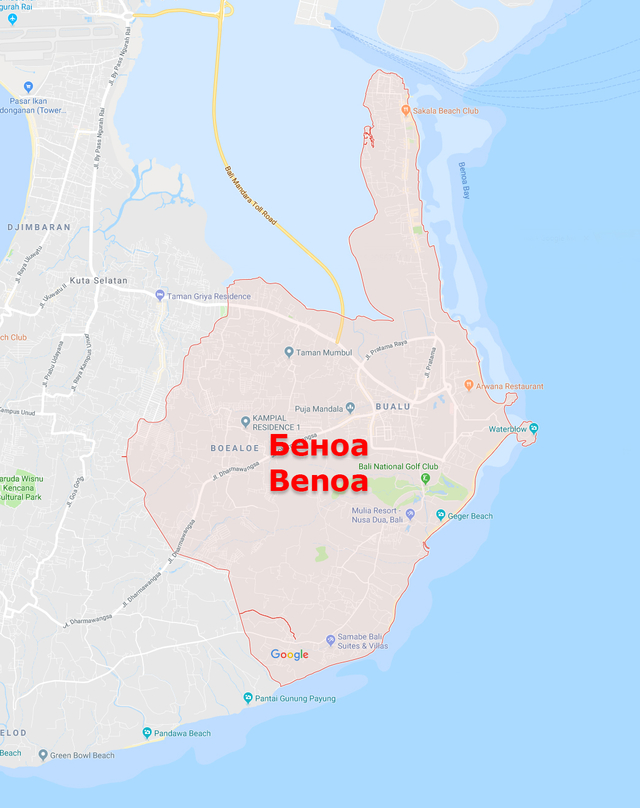 Transport
The journey from the airport via the Ngurah Rai By Pass expressway by taxi will take no more than 30 minutes. And if you take the expressway along the ocean, it's even faster.
If you are staying at a resort in the Benoa - Nusa Dua area and don't plan to travel actively to other regions, you may not need to worry about renting transportation. Most hotels offer free shuttle buses to the central shopping complex of Nusa Dua - Bali Collection. If you occasionally need to go somewhere, you can use online ride-hailing services like Uber, Grab, Go-jek, or Blue Bird Taxi.
If you are staying in the non-touristy part of Benoa and plan to stay for an extended period, it's better to rent a scooter or a car. You can find rental contacts in our discussion on Car and Scooter Rental Contacts in Bali.
Choose rental options from Jimbaran. It's close, and with good arrangements, the rental provider can deliver a scooter to your home.
Atmosphere
It's common to refer to the Benoa area as Nusa Dua. However, Nusa Dua is just a small part of it. "Nusa" translates from Indonesian as an island, and "Dua" means two. The name comes from two small peninsulas on the Bukit Peninsula.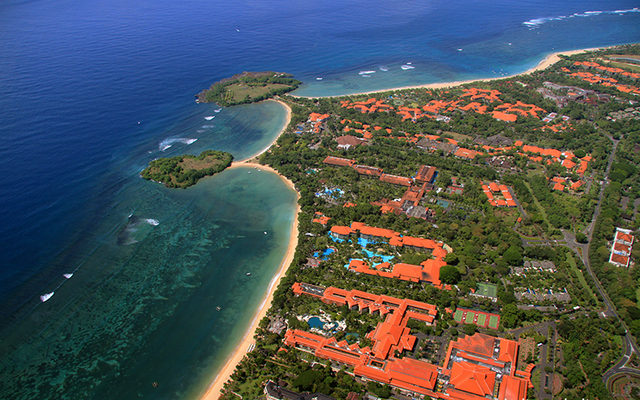 The history of Nusa Dua began in 1973 after a study by the World Bank and the Indonesian government, which aimed to create a sustainable and comprehensive tourism model.
As a result, the Bali Tourism Development Corporation (BTDC) was established to manage the future Nusa Dua complex.
Now, more than four decades later, Nusa Dua has become an area with hotels, golf courses (Bali Golf & Country Club), the Pasifika Museum, the Bali Collection shopping center, the Bali Nusa Dua Theatre, conference centers (Bali International Convention Centre, Bali Nusa Dua Convention Center), and a medical center (BIMC-Siloam).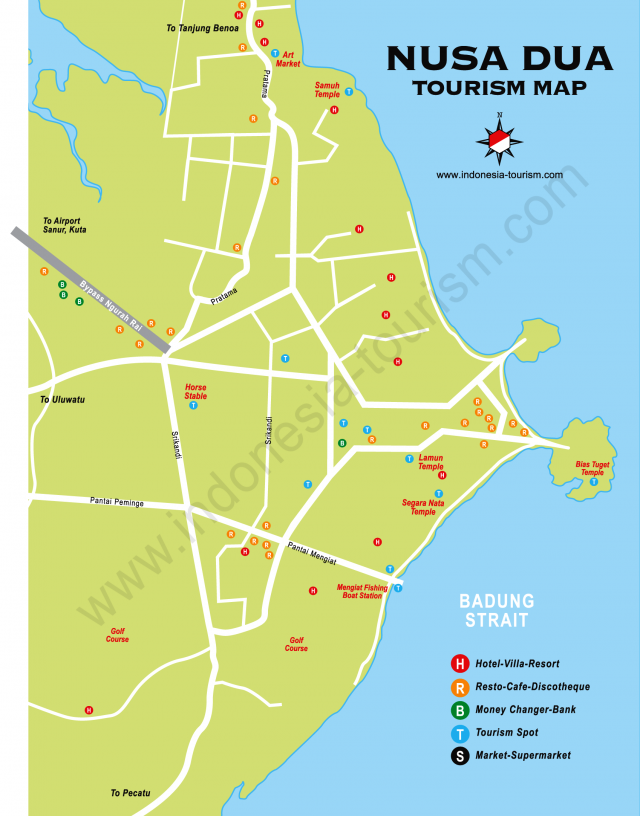 Over the past four decades, Nusa Dua has hosted kings, presidents, ministers, and international high-level meetings. It has been the venue for the United Nations Climate Change Conference, the Asia-Pacific Economic Cooperation (APEC) Summit, and in the fall of 2018, it was planned to host the annual meetings of the International Monetary Fund and the World Bank Group.
Within the area often marked on maps as BTDC or ITDC (named after the corporation), you'll find a splendid park that captivates tourists with its well-maintained beauty.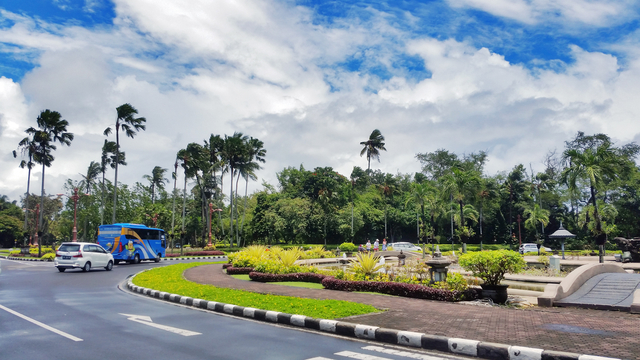 Part of this territory is located beyond control points marked by traditional Balinese split gates known as "candi bentar." Beyond Nusa Dua, in the rest of Benoa, regular Balinese life continues.
Nusa Dua is a part of the Benoa district, situated in the highly developed tourist area. The Nusa Dua district in Bali is a place for those who enjoy peaceful beach vacations and people who prefer finding everything they need within walking distance.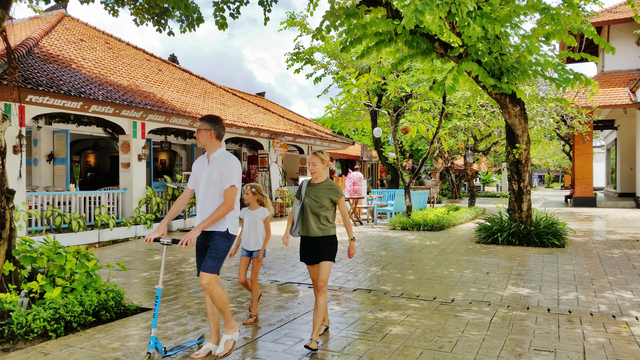 Nusa Dua is a great place for a family vacation, offering green spaces, safety, and excellent amenities for children. There are beautiful golf courses in the area, and along the beach, you'll find a very long pedestrian path that's perfect for leisurely walks or jogging.
Housing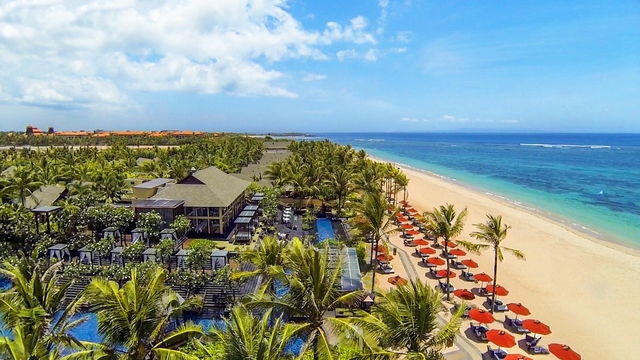 Nusa Dua is home to luxurious five-star beachfront hotels with beautiful sandy beaches.
Some of the highly recommended hotels in the area include The St. Regis Bali Resort, Samabe Bali Suites & Villas, INAYA Putri Bali, The Ritz-Carlton, Mulia Resort Nusa Dua, Ayodya Resort Bali, Hilton Bali, and more. These hotels are situated on the beachfront and are ideal for beach vacations, as they are less affected by shallow waters during low tide.
Slightly further north, you'll find hotels where shallow waters can be an issue during low tide. Some of these hotels include The Royal Santrian Luxury Beach Villas, The Laguna, The Westin Resort Nusa Dua, Bali, Nusa Dua Beach Hotel & Spa, Meliá Bali, Sofitel Bali Nusa Dua Beach Resort, Grand Aston Bali Beach Resort, Bali Tropic Resort & Spa, Conrad Bali, and Grand Hyatt Bali. While they offer excellent service, it's important to choose your swimming times based on the tide schedule.
In addition to luxury hotels, you can also find budget guesthouses, mostly located in the Tanjung Benoa area. If you're looking for guesthouses under $35 per night, consider options like Puri Clinton Bali, Frangipani Homestay, Palm Garden Bali, Kubu Garden, and d'Mell Bali. Don't expect five-star luxury, and be aware that the beach may not always be suitable for swimming. However, these are some of the best budget guesthouse options in Benoa near the beach.
In the southern part of Benoa, closer to Savangan Beach, you can find private houses for rent within a 5-15 minute drive from the beach. If you're looking for budget accommodation in Benoa for an extended stay, try searching for options in the Kampial Residence, Taman Mumbul, and the Kemuning Street areas.
Entertainment
Nusa Dua does not have a vibrant nightlife scene. Tourists who come to this area for clubs and nightlife often head to Kuta and Seminyak after unsuccessful attempts to find clubs in Nusa Dua.
The Bali Nusa Dua Theatre offers theatrical dance performances four times a week that focus on the history and culture of Indonesia. The "Devdan Show - Treasure of the Archipelago" showcases Indonesia's rich heritage and traditions through dance and theater.
Devdan Show - YouTube Bali Nusa Dua Theatre Devdan Show preview YouTube
If you enjoy water activities, apart from surfing which will be discussed below, you can try various water attractions such as riding on inflatable bananas, jet skis, underwater walks in a diving suit, and flyboarding over the water. You can find all of these activities in the Tanjung Benoa area, in the northern part of Benoa.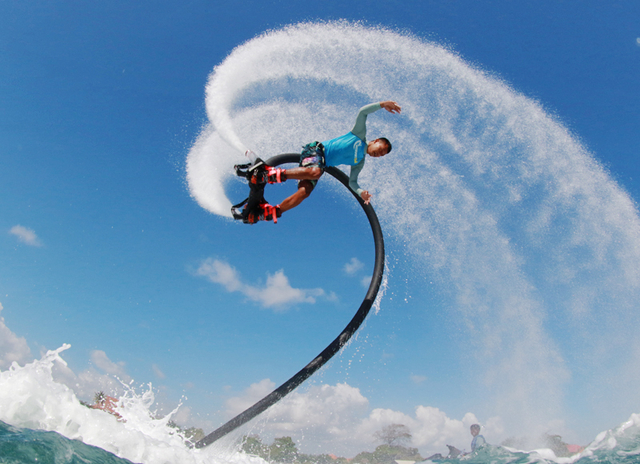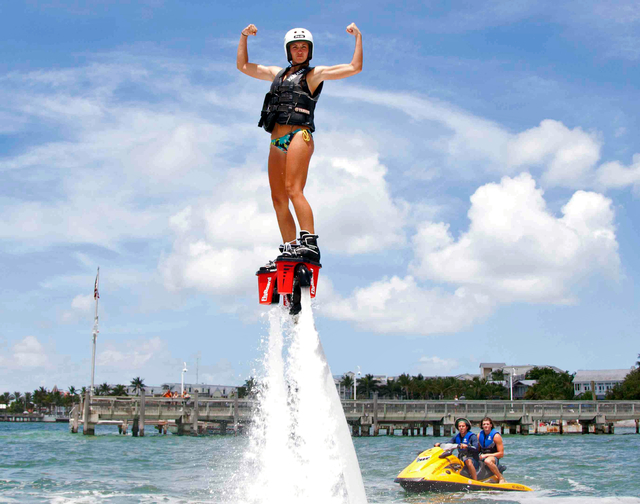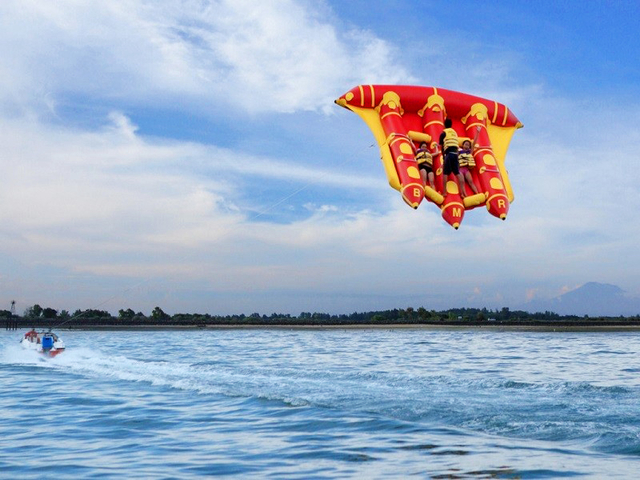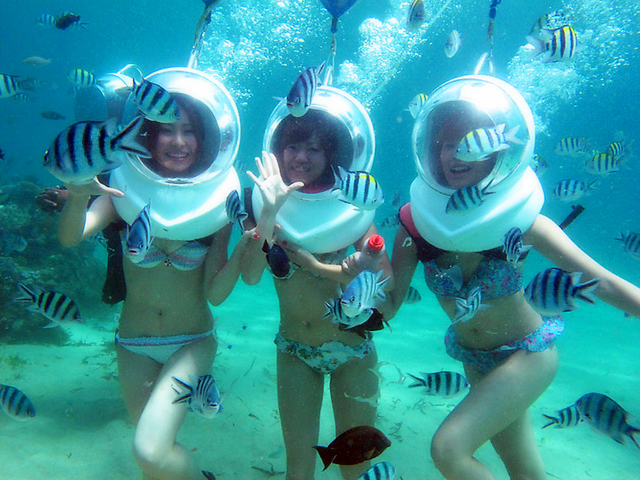 Bali Jet Set offers some great water leisure options.
Take note of the wake park (Bali Wake Park), which is also located in Tanjung Benoa. It offers both wakeboarding and a large complex of water slides.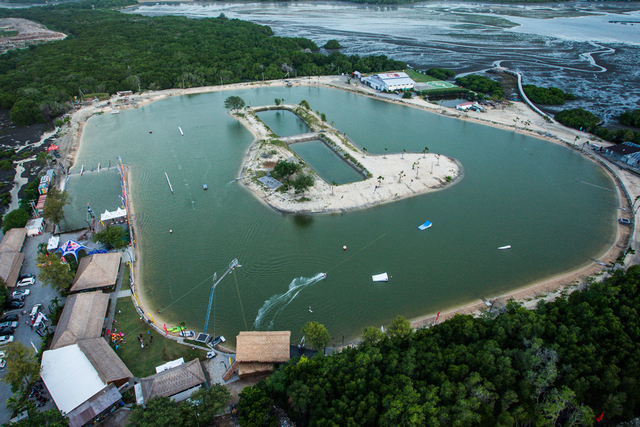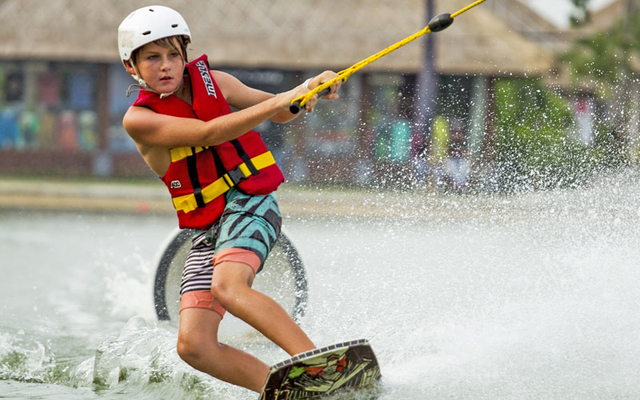 Families with children can visit "The Pirates Bay Bali" restaurant. The food here is quite typical Indonesian cuisine, but the restaurant is located on the waterfront and is known for its unique interior, bamboo decorations, and treehouse seating.
Attractions
Nusa Dua Park is one of the most interesting attractions of the area.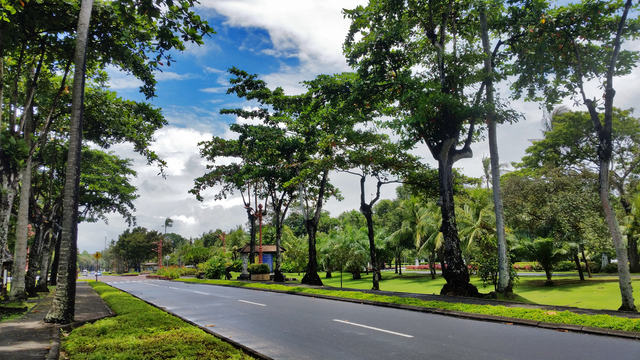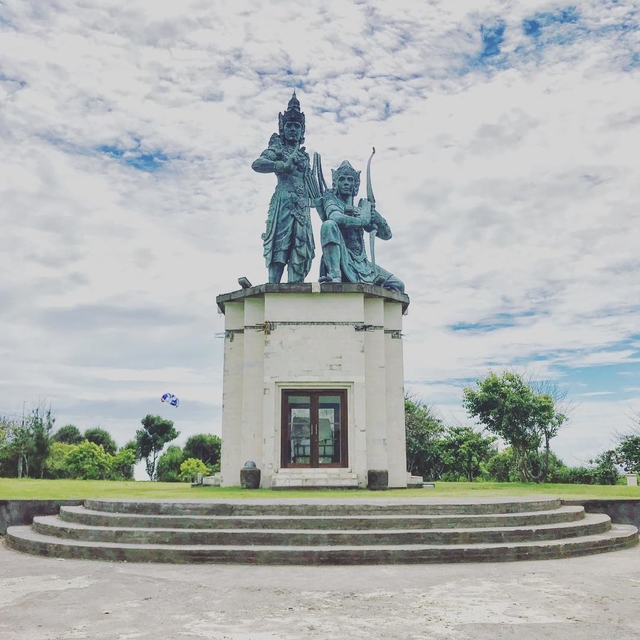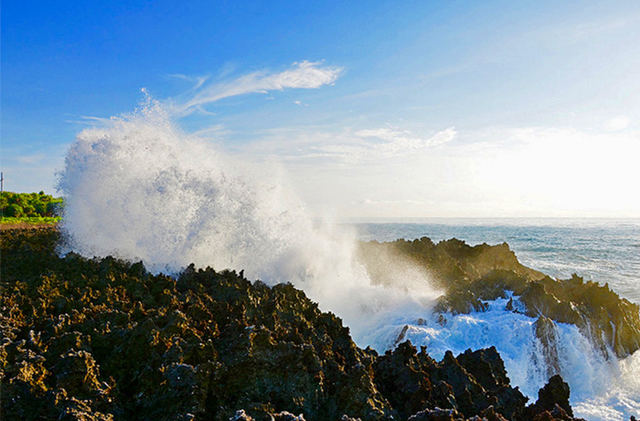 In Benoa, there is a place called the Square of Five Temples (Puja Mandala), where a relatively small area houses active temples representing the officially recognized five religions in Indonesia - a mosque (Masjid Ibnu Batutah), a Hindu temple (Pura Jagatnatha), a Buddhist temple (Vihara Buddha Guna), a Protestant church (GKPB Bukit Doa), and a Catholic church (Gereja Katolik Maria Bunda Segala Bangsa).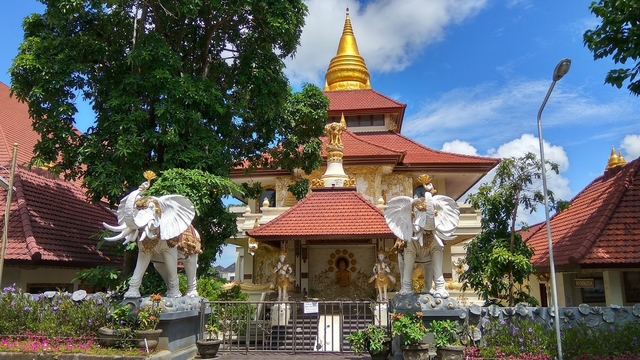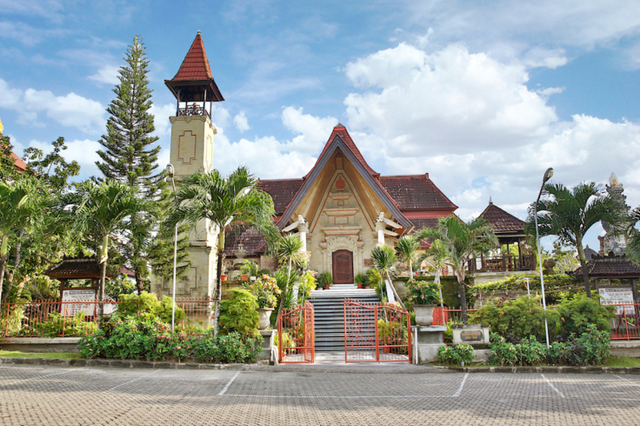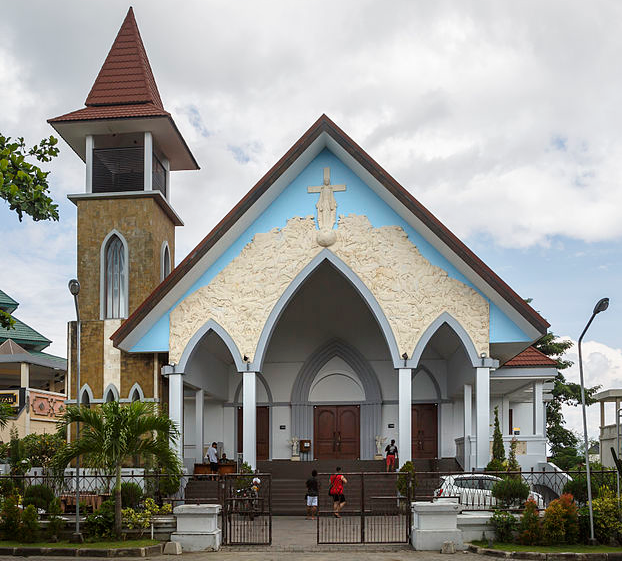 The Puja Mandala project was opened in 1997 and was funded by the BTDC company, the same company that created the Nusa Dua complex. All the temples within the Puja Mandala area are active, but their accessibility to worshipers may vary according to a schedule.
The Pasifika Museum has gathered a collection that includes masterpieces of Balinese painting spanning from the classical era of traditional works to contemporary pieces. The museum features works by both foreign artists who moved to Bali and made it their home, as well as Balinese masters. Additionally, there is a rich collection of ancient Indonesian religious and everyday items.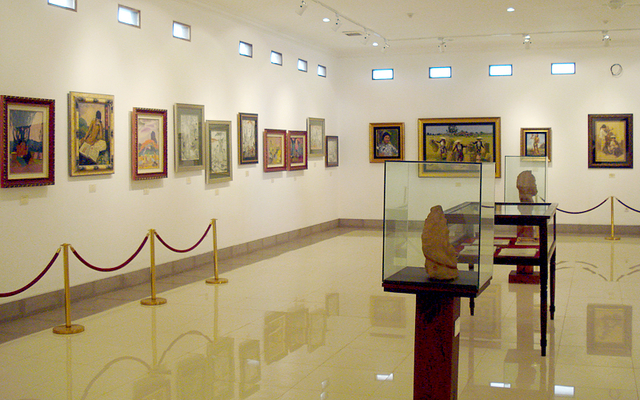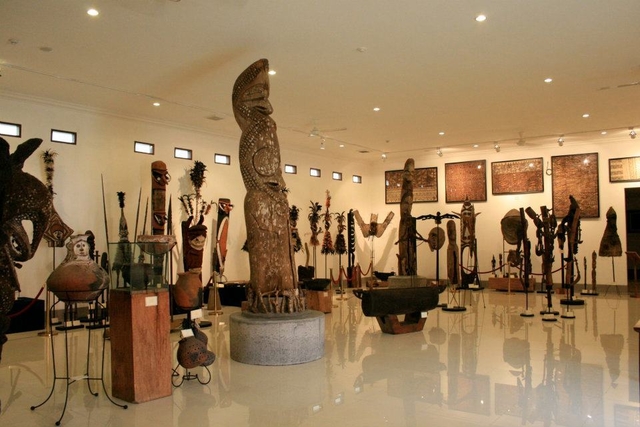 You can find more detailed information on the museum's website.
Pura Geger, the Hindu temple, is a place you can visit if you'd like to see a non-touristy, authentic Balinese temple. Moreover, it's located very close to the luxurious hotels of Nusa Dua.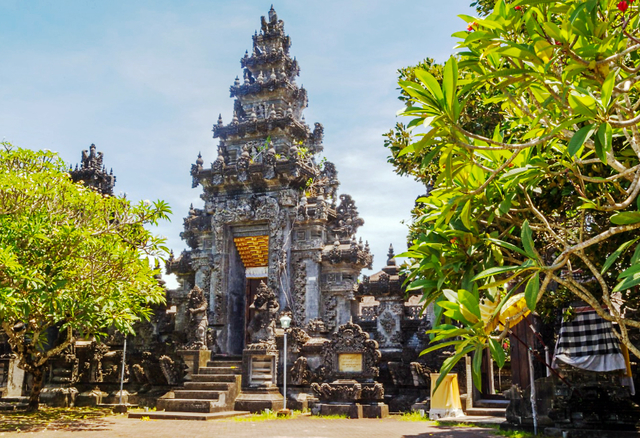 The temple is situated on a cliff overlooking the calm blue ocean waves. The sound of the waves, the tranquility of the temple, the ocean breeze, and the scent of the offered flowers will bring you harmony and serenity.
Please make sure to follow the rules when visiting temples.
Back to the table of contents
Shops and Markets
Within Nusa Dua, there is a massive shopping complex called Bali Collection, featuring clothing stores, accessories shops, souvenir stores, and a wide variety of restaurants offering various cuisines. You can find the Sogo department store with clothing and accessories, items for surfing and tourism, three jewelry shops, the Periplus bookstore, 12 spas and beauty salons, the Melaway optical store, 11 souvenir shops, three Coco Mart supermarkets, two currency exchange counters, two Guardian pharmacies, 23 restaurants, and 37 clothing stores (Levi's, Billabong, Quicksilver, Nike, Polo, 69 Slam, Hurley, Uluwatu, Bamboo Blonde, and others). Many Nusa Dua hotels offer free shuttle buses to this shopping complex.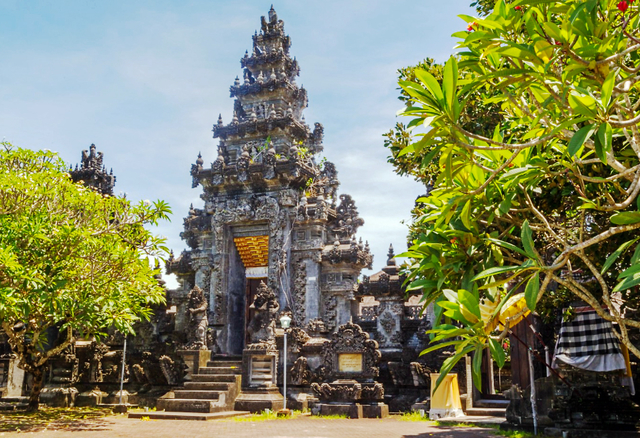 Outside of Nusa Dua in Benoa, there is a souvenir market just beyond the checkpoint gates. Prices at the market are not fixed, so don't forget to haggle. Sometimes you can negotiate the price down by 4-5 times.
Near the official area of Nusa Dua, there is a supermarket called Hardy's Nusa Dua Bali Plasa, where you can buy both groceries and souvenirs at reasonable prices.
There are also a couple of Pepito supermarkets that are slightly more expensive than Hardy's, with fewer souvenirs but a wider selection of imported products. These include Pepito Nusa Dua (Pepito Market / Bread & Honey Cafe - Nusa Dua) and Pepito Siligita (Pepito).
Back to the table of contents
Restaurants
Many of the most expensive and luxurious restaurants in the area are located within the five-star hotels.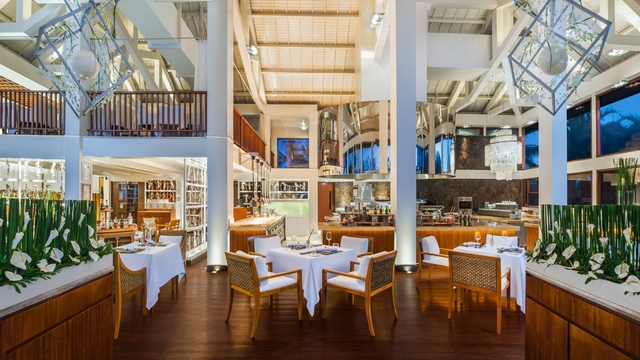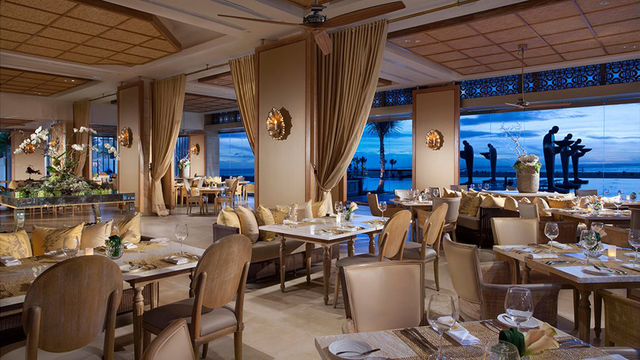 In addition to the restaurants at the hotels, you can find many interesting dining options at the Bali Collection shopping complex. Here, some of the highly-rated restaurants and cafes by guests typically include: The Sampan Seafood And Grill, Bemo Corner Coffee Shop, Cold Stone Creamery, Verdant Organic & True Food Kitchen, Lesung Bali, Japanese Garden, Aroma Fusion Restaurant, Bangle Bali, Bebek Tepi Sawah, Mai Mai.
On the central street of Tanjung Benoa, Pratama Street, you can find many interesting and affordable restaurants. Further away from the beachfront, deeper into Benoa, you can discover authentic Indonesian eateries called warungs.
If you're looking for restaurants in Nusa Dua and Benoa, check out the Bali Food-selected establishments in this area.
Back to the table of contents
Beaches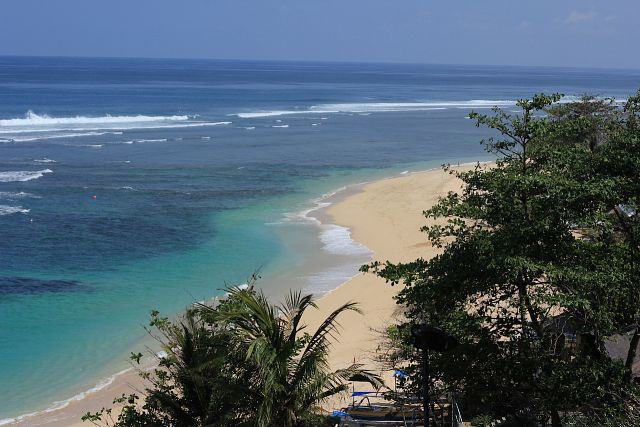 Nusa Dua boasts luxurious beaches that are regularly cleaned. However, the influence of tides and low tides is strongly felt in most areas (use the tide schedule). The Savangan, Geger, and Mengiat beaches are almost unaffected by tides and low tides. You can swim there at any time. That's why Russian tourists who are more familiar with Bali tend to stay in hotels located nearby these beaches.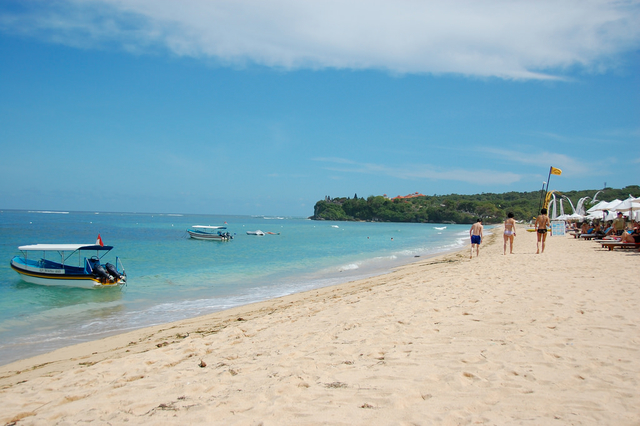 During the winter months, Nusa Dua's beaches offer excellent waves for surfing, which, however, don't hinder swimming. Lifeguards are present on the beaches.
Surfing
Surfing in Nusa Dua becomes popular during the rainy season, which corresponds to our Russian winter. This is because the wind direction changes, and the currents also shift, making the surfing spots on Bali's east coast more attractive during the winter. You can read more about Nusa Dua surf spots in the article "Surfing in Bali during the rainy season."