Everyone comes to the island of Bali for different reasons. Some are enchanted by the power and grandeur of the ocean. Mysterious and lush Balinese jungles and forests, spread across the hills, conquer others. There are those who find their 'zen' in spiritual practices. Gourmets are captivated by the rich selection of local and imported restaurants, cafes with delicious and diverse food, and some are very drawn to Bali for the vast number of places serving vegetarian and vegan dishes. And some thank the island for its magnificent sunsets.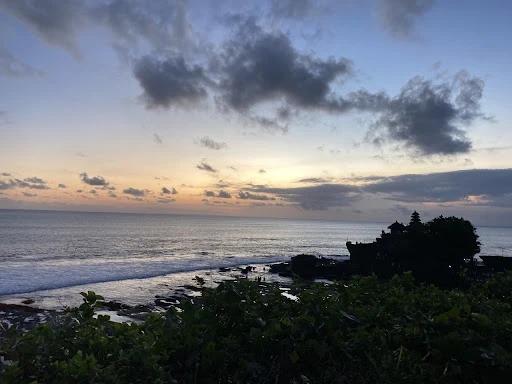 And the more Balinese 'riches' we can hold in our hearts, the more we want to share them with our loved ones who haven't had the chance to visit the island or couldn't travel with us. Sometimes a small 'amulet' in the form of a gift from Bali helps to open the door to this rich, full of surprises world. Who knows, maybe your gift will inspire your loved one for a new adventure?
What gifts to bring to our loved ones from Bali? What will help convey the atmosphere of the island and not just become a trinket collecting dust on the shelf, but bring benefit and joy? Food and drinks are a universal gift that will please both men and women. And even children, if we're not talking about alcohol. Let's take a closer look at each souvenir.
Fruits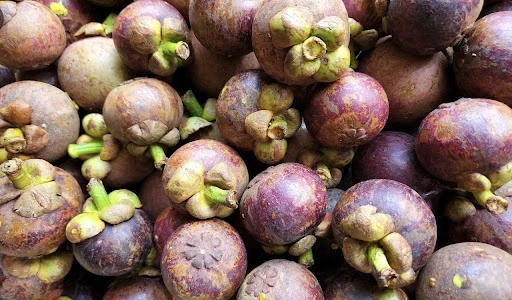 The most universal surprise that tourists often delight their relatives and friends with is local fruits. However, there are two 'buts.' You won't be able to bring coconuts because they don't pass through customs, and they won't allow them. Also, durians due to their divine/monstrous (important to emphasize) smell. Everything else can be brought. At the top of the list for tourists are exotic fruits like mangosteens, papaya, cantaloupe, mango, rambutans, dragon fruits, soursop, snake fruit, and passion fruit. You can buy fruits both at traditional markets and in large supermarkets.
The key is to buy fruits slightly underripe, considering the travel time. Dried fruits are also an excellent purchase: they are easier to transport, and the vitamins and flavor are preserved since sugar is hardly added to any of the products. You can find dried Balinese fruits in souvenir Balinese shops or in the souvenir sections of large hypermarkets.
Don't confuse dried fruits with Balinese snacks - 'kripik' and 'krupuk.' Krupuk is airy shrimp chips sold either ready-made or as semi-finished products that need to be deep-fried. Chinese tourists love buying such semi-finished krupuk. Kripik, on the other hand, are snacks that look vibrant, made from flour, peas, spices, and sometimes nuts, but they are not always tasty.
In the snack sections, you may also come across traditional Balinese sweets called 'dodol.' They are made from rice flour mixed with palm sugar. If they are sold in such a traditional wrapper, they will likely have a simple sweet sugary taste. To open such a sweet, rub it in your hands, and the sugar will slightly melt, making it easy to remove the outer layer.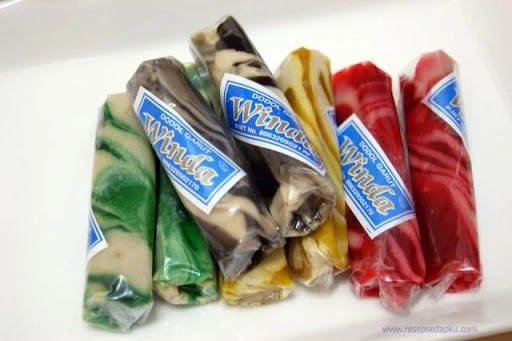 In the multicolored dodol in plastic transparent wrappers, they add aromas. Sometimes among them, you can come across quite mysterious and unexpected ones. For example, the aroma of durian or tomato. Read the labels on the packaging carefully.
Bali Coffee (Kopi Bali)
Coffee is the most popular drink in Bali. It is customary to offer a guest a cup of coffee when they come to a home. Perhaps the popularity of this drink can be explained by the fact that the locals, exhausted by the heat, need some way to perk themselves up in challenging, relaxing conditions.
In Bali, two types of coffee are grown. The more expensive, aromatic, slightly acidic, and high-quality Arabica is grown in the highland plantations. The cheaper, caffeine-rich, and slightly bitter Robusta is found closer to the plains. Even in the heart of Kuta's touristy south, there is a small exemplary Starbucks plantation in the 'Starbucks Reserve'.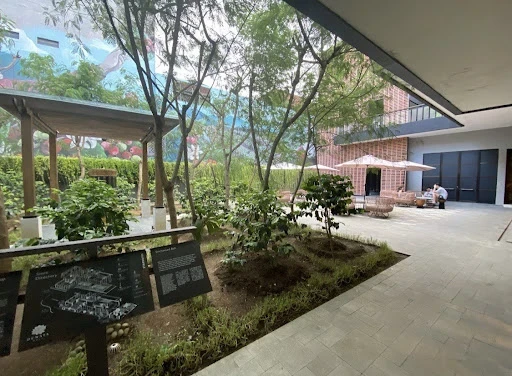 Local Balinese people often buy inexpensive 'kopi bubuk,' which is coffee powder that is simply brewed with hot water in a cup. The most popular brands of this coffee are Kupu-kupu (butterfly) and Bola Dunia (world ball). This coffee is primarily made from Robusta beans. However, many European tourists really like this coffee for its taste and aroma, as well as its affordability, of course.
You can buy cheap 'kopi bubuk' in almost any even the smallest supermarket. Transparent packets of 200 grams are inexpensive and won't burden your wallet.
For those who prefer something more sophisticated, you can recommend coffee from the Excelso brand. It is available in large and medium-sized supermarkets. They offer options in both whole beans (kopi biji) and ground coffee (kopi bubuk). This powder is also finely ground, and you can brew it with boiling water in a cup. Excelso offers various blends of Arabica and Robusta with different ratios and from different regions of Indonesia, and this information is very detailed on the packaging. Excelso also has a very convenient option with 10 individual use packets. 
Civet Coffee (Kopi Luwak)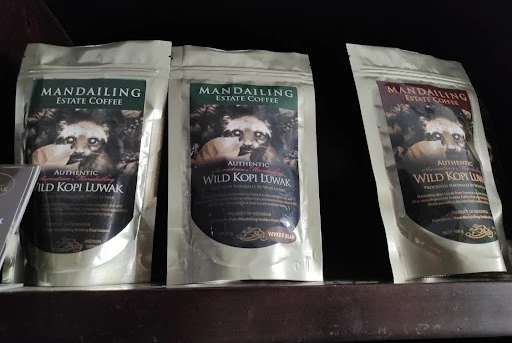 It is considered one of the most expensive types of coffee in the world because during the 'processing' of the beans, they are fed to a civet, and as they pass through the animal's digestive tract, the beans acquire unique flavor characteristics.

To be honest, only a very discerning gourmet can distinguish good civet coffee from just good coffee. If you're a vegan and opposed to the exploitation of animals for commercial purposes, this coffee is unlikely to be suitable for you.
However, if coffee obtained from civets still intrigues you, you can find it in large supermarkets like 
Hypermart
,
Lotte
, and
Grand Lucky
. It's available in various packaging. You can also buy it directly at plantations, where you can witness various stages of the 'processing' of this coffee, including beans collected right from under the civet.
There's another interesting place where you can try Luwak coffee. On the grounds of the Pura Tanah Lot temple, there is a cafe with two civets and two flying foxes. They are all domesticated and don't fly away from the cafe. For 50k, they offer you a chance to taste this exquisite coffee, pet the animals, and take photos and videos.
Chocolate (Coklat)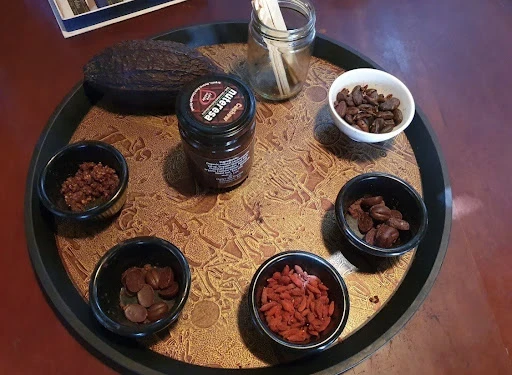 In Bali, there is a colorful factory - its buildings resemble hobbit houses, and it is located on the oceanfront, where you can swing on romantic swings overlooking the azure expanses. And there's also a handmade goose at Charlie's Chocolate Factory. We can guarantee that if you visit this factory, it will be impossible to resist buying chocolate as a souvenir.
Even if you don't appreciate the taste qualities of Balinese chocolate per se, you might be interested in the unusual mixes created here - chocolate with pepper, ginger, goji berries, sea salt, cloves, mint, cinnamon, cloves, banana chips, rosella flowers, cranberries, and other atypical ingredients. Such unique chocolate can be purchased at factories, in large supermarkets, or in souvenir shops. The key is to ensure that the chocolate is transported in a cool place and doesn't melt on the way to your country.
In Sanur, there's a chocolate cafe called
Junglegold
Bali, where you can buy sweets as souvenirs: bars, chocolates, candies with various additions, and gift sets. All products are available as testers in the establishment - you can taste them before making a purchase.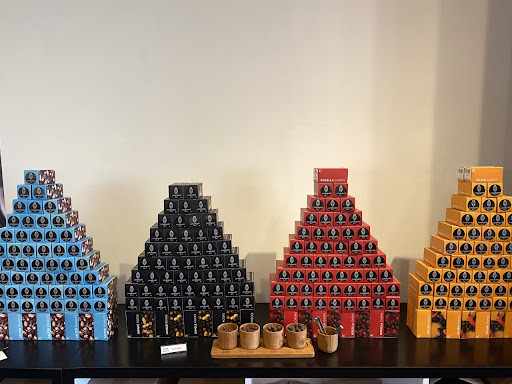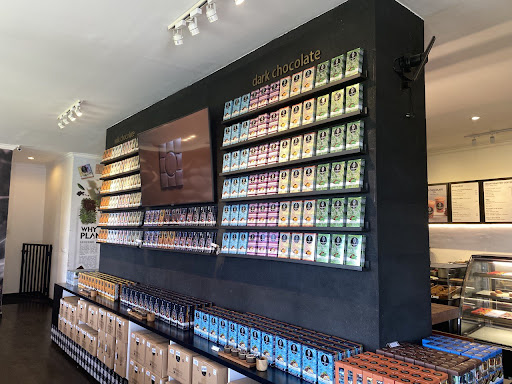 Superfood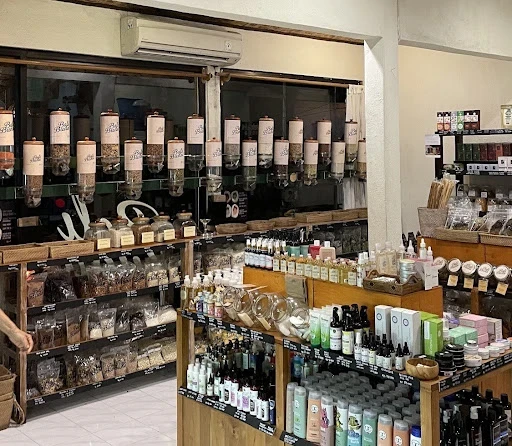 Nowadays, you can find organic cafes and restaurants all over the island. Among the stores where you can get products promising to breathe new life and happiness into you, it's worth mentioning
Bali Buda
,
Dijon
, and
Club Sehat Bali (Ubud)
. These are both stores and cafes where you can find organic products, vegetarian and vegan items, dietary supplements, vitamins, and a thousand other delightful goodies for health-conscious enthusiasts and those pursuing a healthy lifestyle.
Among the most interesting superfoods that you can bring as a gift is spirulina, chia seeds, and goji berries.
Black Rice
Black rice is a traditional Balinese dish. 'Bubur Injin' is prepared from black rice with the addition of coconut milk, palm sugar, and vanilla, served as a dessert. Asians claim that this product possesses special energy. Black rice activates natural healing mechanisms in the human body and helps remove toxins. In a store, you can buy all the ingredients for this dish - a pack of black rice, a packet of coconut milk (santan), and a pancake or package of palm sugar (gula aren).
Sauces for Cooking
Home cooks who love to prepare something unusual will certainly appreciate Balinese sauces. There aren't too many traditional sauces specific to Indonesia, but among them, two are worth mentioning - sweet black sauce (kecap manis) and peanut sauce (pecel).
Kecap is not ketchup in our understanding, made from tomatoes, so don't be confused. In Indonesia, kecap refers to soy sauce, which can be either sweet (kecap manis) or salty (kecap asin), made from soy.
By the way, the thick sweet version is more popular here. It's used to fry meat, prepare the traditional dish 'nasi goreng' (fried rice), and is added to Indonesian meatball soup 'bakso' for richness. It can be plain sweet or have a slight hint of lime flavor.
You can buy sweet black sauce in any store and at any stall.
Pecel is a peanut sauce. It can be served with meat dishes, especially chicken, is delicious with fried tofu, and can be added to salads. The traditional Indonesian salad 'gado-gado' is made with pecel sauce. The sauce itself usually comes in a solid form, which can be easily dissolved with warm water and mixed. Pecel can vary in levels of spiciness - consider this when buying.
Spices (Rempah-Rempah)
Spices are the foundation of Balinese cuisine. It's hard to imagine any dish without them. Balinese people would simply call it tasteless. In the hot climate, spices prevent food from spoiling. The most popular spices like turmeric, curry, chili, and ginger can be bought in large supermarkets such as
Grand Lucky
,
Bintang Supermarket
, and at health food stores like
Soil Food
Temple and
Nourish WholeFoods Berawa.
Alcohol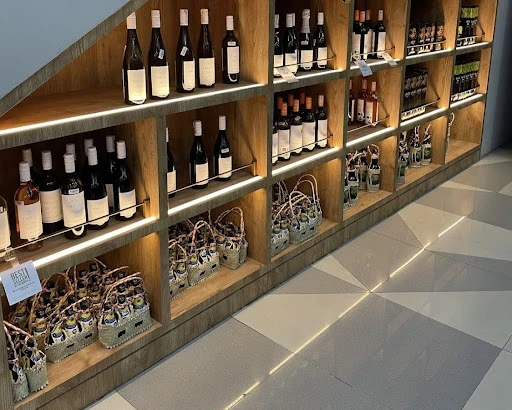 Bali is a Hindu island, which means, based on the religion, there are no restrictions on alcohol. However, you are unlikely to see openly intoxicated Balinese people on the streets; it's not customary here.
If you travel to the east of Bali, towards the Karangasem region, you may come across plastic bottles filled with semi-transparent, sometimes pinkish liquid along the roadside stalls. This is 'tuak' or 'balok,' palm wine, which can be used as raw material for traditional arak vodka or enjoyed as a standalone beverage.
And how can you not bring back alcohol from an island where it practically flows from the trees? That is, if you have nothing against alcoholic beverages.
The best alcoholic choice is the signature high-quality 'arak.' It is sold in large (Lotte) and medium-sized (Grand Lucky, Pepito, and CircleK) supermarkets in decent packaging. You can find it in a bottle with a box, and sometimes the bottle is shaped like a Balinese spirit, which can be an additional nice touch for a gift.
Arak has a distinctive smell and taste, and if you don't like it on its own, you can use it in cocktails or infuse it with coffee.
Textiles
For an Indonesian, especially one living in the village, a 'sarong' is a versatile item. It's not just a scarf and a pareo. It's a head or shoulder wrap, a dress, a skirt (including for entering temples), a bag, a beach mat, a blanket, a towel, a tablecloth, a belt. That's why, if you buy yourself a batik or ikat sarong at the very beginning of your Balinese journey, you'll be delighted with how useful it will be.
Balinese people typically wear an unstitched sarong, which looks like a simple piece of fabric measuring 1 by 2 meters.
Batik
For a long time, there has been a dispute between Indonesia and Malaysia about which of them can be considered the true homeland of batik. In other words, batik is taken very seriously in Indonesia, and a gift from the motherland of Indonesia, like a scarf with intricate patterns, perfectly captures its essence.
Batik comes in two forms - hand-drawn and machine-made. Naturally, the more unique human labor is invested in the fabric, the more expensive it can be. Truly unique original works can cost hundreds of dollars.
However, if you want to purchase a nice and affordable silk or cotton pareo, you don't need to spend a fortune. Typically, batik is sold in pieces measuring 1 by 2 meters. Depending on the material, the uniqueness of the work, and the markup in the store, it can cost from 60,000 - 100,000 rupiahs and higher. Indonesians make painted shirts, scarves, sarongs, and dresses from batik. And both women and men wear them.
On Fridays, Indonesian enterprises hold a so-called batik day when employees wear something made from this patterned fabric to work. Members of the Indonesian government also appear in batik clothing during national holidays and official events.
Ikat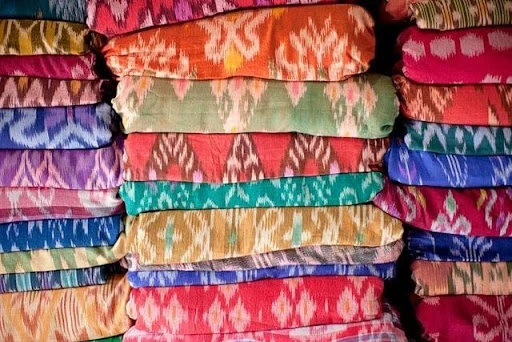 This is another traditional type of Indonesian textile. The fabric, transformed by the method of resist dyeing or coloring in segments, is denser and more durable. And in the village of Tenganan, the cradle of one of the ancient indigenous Balinese tribes, the Bali Aga, it is believed that ikat can have magical properties and protect against evil spirits.
You can often buy ikat in the same places as batik. In souvenir shops and markets. By the way, if you would like to learn more about the history of ikat and its spread in Indonesia, you can visit the Ikat Museum in Ubud, Thread of Life. There you can see various styles of ikat, common throughout the archipelago, read stories about how it is made, and see the tools used to create it.
Balinese cosmetics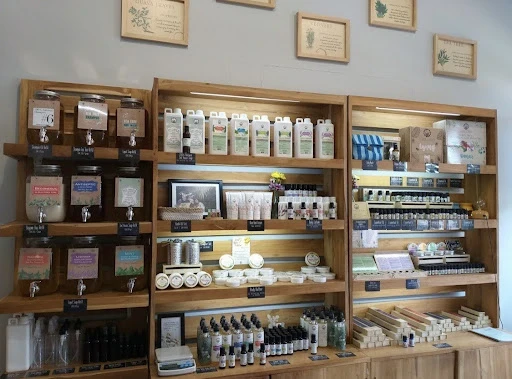 In any large Balinese supermarket or souvenir shop, you can find a variety of Balinese cosmetics - essential and base oils, scrubs, handmade soaps, face and body masks, shampoos, and conditioners. The scents are enchanting - lotus, sandalwood, papaya, frangipani, champaka.
Many items are very affordable, and for a dozen dollars, you can buy a bag of such cosmetics. Don't expect astounding results, but it will be charming, authentic, and very fragrant.
If you need higher-quality cosmetics, you'll have to spend a bit more. Among the mid-budget options, you can consider
Utama Spice.
They have their own stores, and their products are sold in Guardian pharmacies. Utama Spice offers a wide range of products, with excellent body oils, natural mosquito repellent sprays, and lip balms being standouts.
A bit pricier is
Sensatia Botanicals
organic cosmetics. They have outstanding shampoos and conditioners that make your hair very soft. 
The top-tier Balinese cosmetics that you can find on the island is
By Cosmetics
. This cosmetics line is more expensive but delivers quick results, which you can see after the first use.
Coconut Oil
Coconut oil is a tale of great and pure love. Fans of coconut oil manage to use it everywhere - in salads, for cooking, for hair, and for the body.
Keep in mind that coconut oil comes in hot-pressed and cold-pressed varieties. Hot-pressed oil is less expensive, more aromatic, more yellow in color, and contains fewer vitamins. It is suitable for cooking.
On the other hand, cold-pressed oil is more expensive, less fragrant, richer in vitamins due to the absence of temperature processing, and suitable for cosmetic purposes.
You can find hot-pressed coconut oil at traditional markets in large bottles. Balinese people may make it at home. Cold-pressed oil can be found in the souvenir sections of large supermarkets and in organic stores like Bali Buda, Bali Natural Organic, and Green Habit Kerobokan.
Coconut oil possesses antioxidant, regenerative, and antibacterial properties. Despite its high fat content, coconut oil is made up of simple carbohydrates and does not contribute to obesity.
Cajeput Oil (minyak kayu putih)
This oil is sometimes called tea tree oil, which is not entirely accurate. The oil is extracted from the melaleuca tree, a member of the myrtle family. It has antiseptic and locally irritant effects and smells like eucalyptus. Indonesians often use it in massages to achieve a more pronounced effect. A massage with cajeput oil is especially helpful for colds.
Please note that cajeput oil is not recommended for infants and pregnant women. There is a milder version for them in the form of telon oil (minyak telon) with eucalyptus.
You can buy cajeput oil literally in any small shop, even in minimarkets like Indomaret, Alfamart, and Circle K. It is very affordable.
Silver Jewelry
For women, you can bring bracelets, pendants, earrings, and rings from Bali. A good gift from Indonesia for men can be keychains or animal-shaped pendants symbolizing strength.
Usually, silver items are purchased in Celuk. It's a large craft village known for its home-based jewelry production. Along the village's roadsides, you'll find numerous jewelry shops.
Wooden Statuettes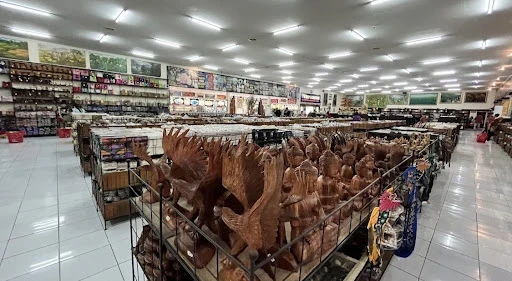 There are many wooden crafts, but preserving them in good condition in Europe can be problematic due to the difference in humidity levels compared to Bali. When brought to Austria, wooden souvenirs tend to dry out and may warp or crack. Consider this before purchasing a wooden item.
Masks (topeng)
Enthusiasts of myths and legends will appreciate Balinese masks. They may look eerie but are captivating, even when these masks symbolize benevolent spirits. In traditional life, masks are used for ritual dance performances dedicated to gods during festive ceremonies. The most popular mask is the image of the benevolent spirit Barong. Before buying a specific mask, ask the seller about the spirit it symbolizes. Balinese believe that such images can protect homes from evil spirits, negative influences, and black magic. You can find small souvenir masks in any major souvenir shop on the island. If you're looking for something unique, consider exploring the shops of artisans in villages like Kemenuh and Mas near Ubud.
Lingam
Often, in the first days of your stay on the island, you'll notice a large number of carved phalluses being sold everywhere. They come in various sizes, colors, and intricate designs, and they can take the form of bottle openers, keychains, bars of soap, ashtrays, and other practical household items.
In Bali, this isn't something that should shock you. Hindu culture places great importance on the lingam, which is the depiction of Lord Shiva's phallus—a traditional symbol of fertility and prosperity. However, carved phalluses are not used by Balinese in their households or decor. It's more of a novelty item specifically aimed at tourists.
Rattan Bags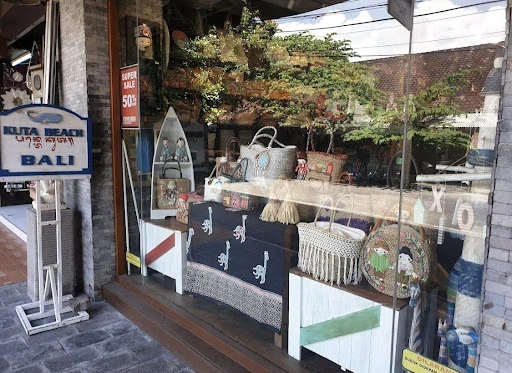 Woven Eco-products are in high demand worldwide. They look authentic yet stylish. You can find women's or men's bags made of rattan for various occasions. They come in round or rectangular shapes and can be adorned with beautiful shells or wooden beads. Such bags are known for their durability, serving you for a long time while maintaining their appealing appearance.
Rattan is a plant found in tropical regions of Asia and Africa. Various items, including bags, are crafted from its fibers.
One of the advantages of rattan bags is their eco-friendliness. Rattan requires minimal care and is environmentally friendly. Plus, they have a stylish appearance.
Musical Instruments
Balinese people adore music, and it seems like almost everyone here can play at least one musical instrument.
One of the popular Indonesian musical instruments is the Suling. It's a large flute with a rattan cover.
If you're inclined to make music, you'll undoubtedly find the Gamelan intriguing. Its origin is traced back to Java, where it combines multiple instruments, including percussion and stringed ones.
Another popular local instrument is the Angklung. It was invented thousands of years ago and is still crafted by artisans from bamboo tubes. What's unique about the Angklung is that it's played collectively. Musicians, holding the instrument in their hands, become part of an orchestra, playing their parts in harmony with others. Angklungs come in various tonalities, allowing for diverse musical compositions.
More complex in design are the Sasando and Kulintang. The Sasando is played with two hands. Initially, it had 9 strings, but today, instruments with 32 to 48 strings are crafted.
Kulintang is one of the most recognizable instruments in Indonesian musical culture, playing a crucial role in Balinese music and dance.
Kulintang is a set of 5 to 7 drums arranged on a stand. They are made from various types of wood, such as canary, mahogany, and ebony. Each drum has a unique size, shape, and sound, allowing for various musical tones and rhythmic patterns. Balinese people frequently use this instrument in their ceremonies.
Tea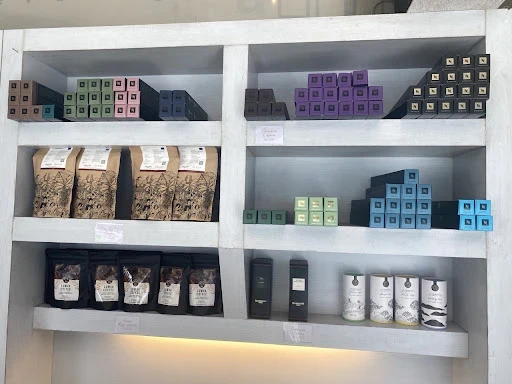 Indonesia ranks seventh in the world in tea production, and tea is grown in various parts of the country. You can visit some plantations on guided tours and purchase tea there. If you simply want to buy Balinese tea, you can do so at various shops.
Here's a list of cafes/shops where you can purchase Balinese tea: Pepito supermarket chain, Artteas cafe, Gourmet Shop, Bali Buddha, Biku Bali, ChaiChitai (Tea House), Chontea, Made Tea, The Chai.
Shell Jewelry
The best gift for children that you can bring from the island of Bali is shell jewelry, including bracelets and necklaces. It looks stylish and unique. These beautiful and unique items are sold at local markets, shops, and beaches. Shell jewelry has a long history in Balinese culture. In the past, they were used as symbols of wealth and status, as well as for decorating temples and other sacred places. Today, they symbolize beauty and elegance and are a wonderful way to preserve the cultural heritage of this amazing island. The cost of these items ranges from 20k to 200k.