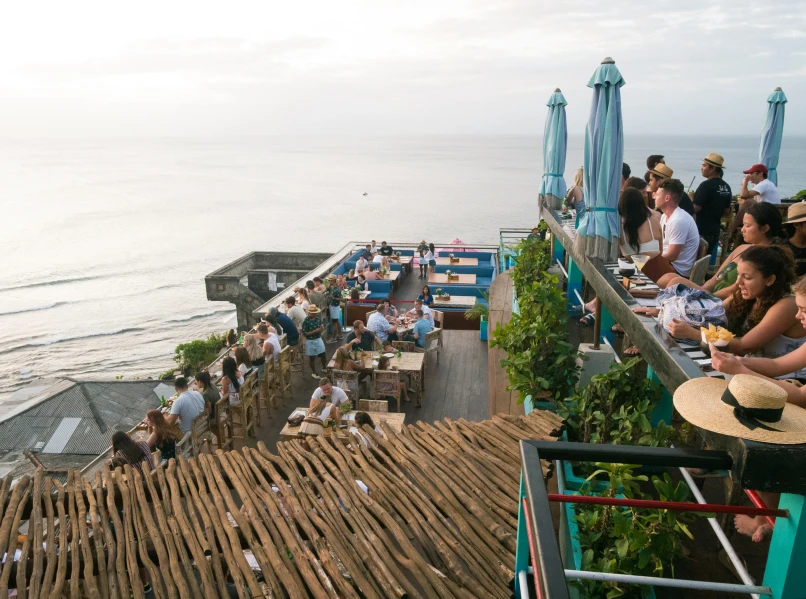 How much are you willing to pay for a great view? Restaurateurs and hotel owners know that places with incredible views attract more tourists and locals than any trendy club. Along the beaches, there are many establishments and hotels with ocean views, and some of them even have a rooftop bar. We've gathered the best places with ocean views and cocktails.
Bukit
Unique Bar - Rimba Jimbaran Bali в Ayana
The uniqueness of this establishment is reflected in several factors. A long infinity pool, unparalleled views of the ocean and greenery, an excellent sunset spot, Instagram-worthy aesthetics, and delicious cocktails.
The stylish rooftop bar with a pool is what most people say about Unique Bar. Unfortunately, the food here is not highly regarded, with very few satisfactory reviews over the years. The cuisine is Mexican. However, they can prepare cocktails to suit your taste and preference, with Margarita and Strawberry Daiquiri being popular choices. The service is also good, just like the alcoholic beverages. Perhaps the high service rating is due to the five-star Rimba hotel, where Unique Bar is located. Successful photos in the sunset on Instagram are guaranteed.
Prices for alcoholic cocktails vary depending on the ingredients, ranging from 165,000 to 185,000, with a service charge and tax of 21%.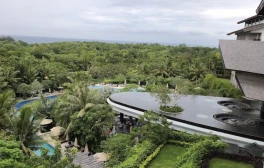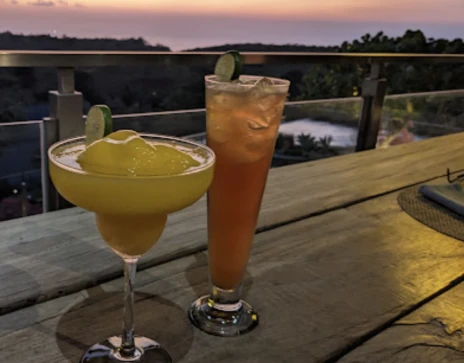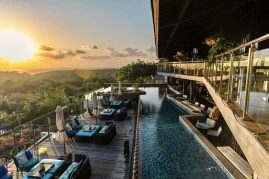 Baruna Sky Lounge by Jimbaran Bay Beach
This establishment tends to attract more locals and tourists from other islands. Its style is fitting: it may not be considered a luxurious location, but it's a place where you can spend time, have a couple of glasses of wine, and eat. Baruna may have aimed to be among the top bars in Jimbaran, but in reality, it's a standard Balinese café with a good view.
They serve various local wines here at a price of 350,000 IDR per bottle, and you can also order them by the glass. Strong alcoholic drinks are not part of the menu, but they offer classic cocktails. In general, it's worth a visit if you find yourself in the Jimbaran area during sunset.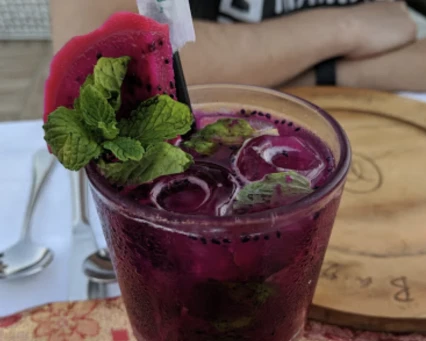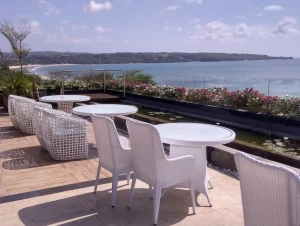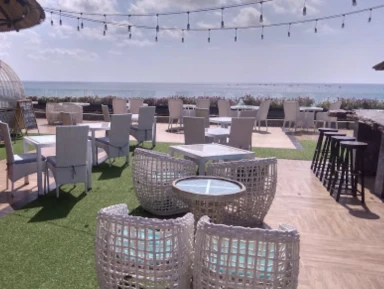 Rock bar
This is a fantastic place on the grounds of the Ayana hotel. Besides hotel guests, there are quite a few tourists here. The place attracts with its stunning cliffside terrace and a bar serving signature cocktails. However, it can't be said that the food justifies its cost in terms of taste. People come to the Rock Bar for the atmosphere, cocktails, great sunset views, and upscale ambiance.
The bartender will gladly mix cocktails based on rum, tequila, vodka, or whiskey. They serve both classic and signature cocktails here, with drink prices starting at 215,000 IDR, plus taxes of 21%.
This place is visited at any time of the day, primarily closer to sunset. It's an excellent location for a date or cocktails after dinner. Many people come here, so don't expect it to be empty.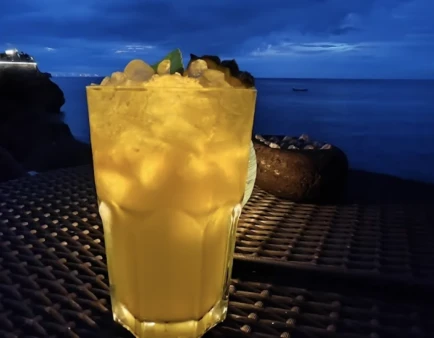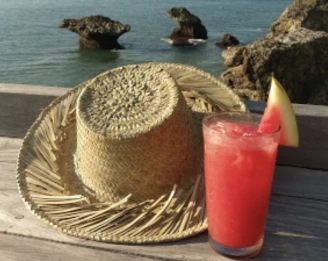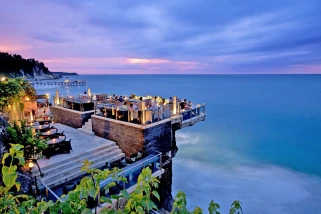 Sky Bar - Mulia Resort and Villas in Nusa Dua
One of the bars with an excellent atmosphere and enticing views is located on the grounds of the luxurious Mulia Resort. Mulia is among the world's best hotels, and that's already a great reason to drop by for a cocktail.
Please note that the bar is closed during the rainy season, and you can visit during the dry season. Information about the bar's operation is usually updated on their website. The refined atmosphere, like a movie set, permeates every detail. The staff is super polite and attentive, which is quite unusual for Bali.
Cocktails here are served to suit any taste and preference. The bartender can mix ingredients according to your preferences or strictly follow a recipe—it's up to you.
Happy hours in September are indeed delightful with a wide timeframe: from 17:00 to 21:00.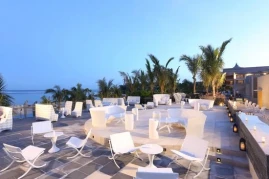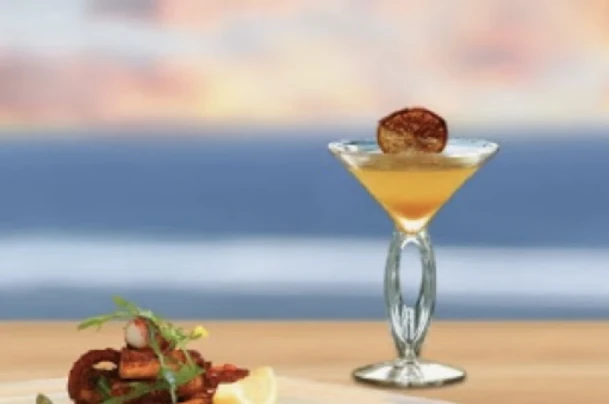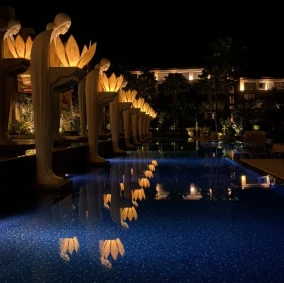 Single Fin
Single Fin is a famous gathering spot for surfers, featuring bar counters right on the edge of the cliffs. The best views of the ocean and sunset are guaranteed; the main thing is to find an available spot at the bar. Single Fin cannot be described as prestigious, luxurious, or elegant, but it enjoys immense popularity. The establishment resembles more of a classic warung with a touch of style, perched on the cliffs. However, few cafes can boast such a fortunate location. Here, you can spend time with a bottle of beer or wine, observing the ocean from a high vantage point.
The drink menu is diverse, offering not just beer and cocktails but also three wine options for each type and sparkling wine. There's also Albens cider available, either by the glass or as a whole bottle.
Prices for a glass of wine range from 95,000 to 175,000 IDR, beer costs between 45,000 and 85,000 IDR, and cider is priced at 65,000 IDR. It's worth noting that in some stores, cider is available for 35,000-40,000 IDR, and accordingly, beer is cheaper. Cocktails here are priced at 95,000 IDR, while champagne is only available by the bottle, with Moet & Chandon listed at 2,750,000 IDR.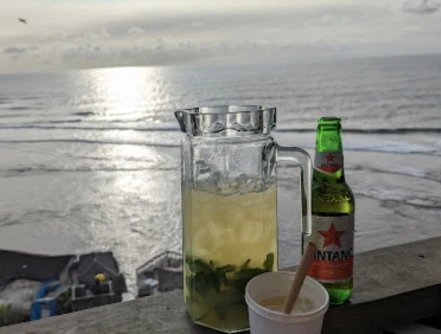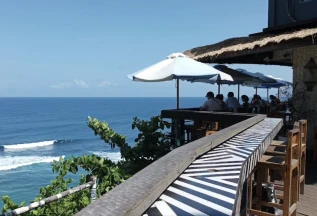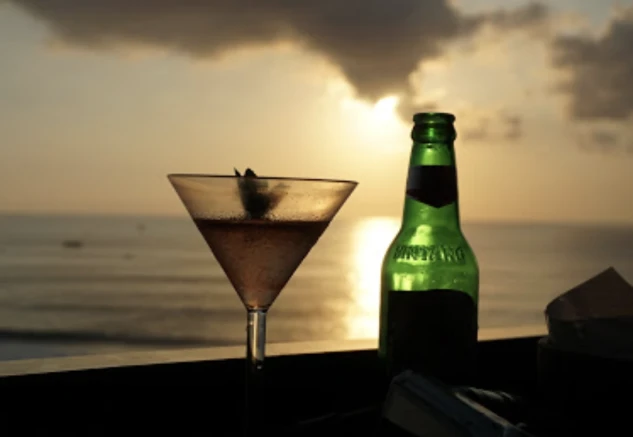 Mana Uluwatu
This restaurant with a bar is located in a luxury surfers' complex in Uluwatu. The terrace offers an impeccable view of the cottage roofs, greenery, and the ocean. You can enjoy your time here at any time of day: during the first half of the day, visitors often spend time at the pool, and entrance is free for guests. In the evening, more visitors gather around the bar. There's an interesting community here, and the crowd is quite sophisticated. Many live in the complex and come to spend the evening with a couple of cocktails after an exciting day of surfing. Some people simply come from nearby villages to socialize and enjoy the atmosphere.
The establishment features brown tones, is well-kept, and follows modern Balinese traditions with lots of wood and open space.
During happy hours from 16:00 to 18:00, you can get sangria at half price and a second cocktail for free. The bar can mix classic cocktails, and the menu offers signature cocktails with various flavor profiles based on wine, prosecco, rum, priced from 120,000 IDR to 125,000 IDR.
Finding an available table here in the evenings can be challenging, but there are usually seats at the bar.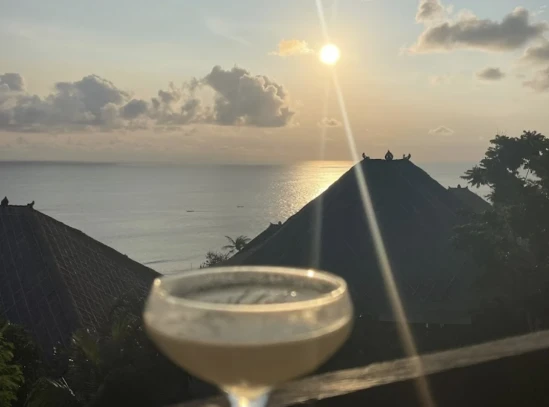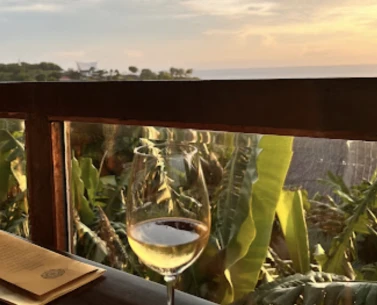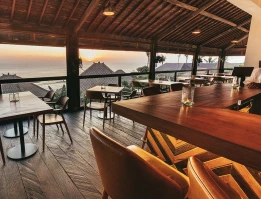 Seminyak
U-Paasha Rooftop Bar
Another rooftop with a bar and pool in Seminyak. It's simple yet appealing, featuring just the pool, a bar counter, and a view from the building overlooking Seminyak. You can spend almost the entire day here, relaxing by the pool on sun loungers or bean bags, or you can come during Bali's favorite time – sunset. Guests appreciate the cleanliness of the pool and the excellent lunches at the bar.
Hotel guests particularly highlight the rooftop pool and bar as a distinct pleasure of staying at the hotel. Therefore, you might not count on having many available seats, it seems.
You'll need to check the menu for snacks and cocktails at the bar, and the pricing can be estimated as moderate for beverages.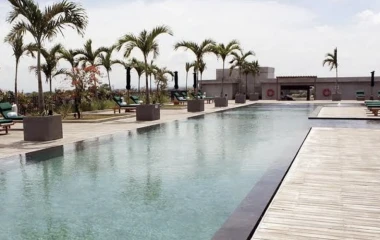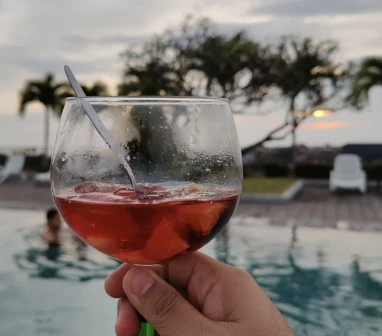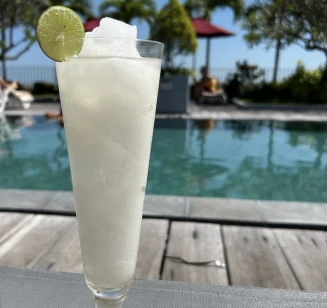 Double Six Rooftop Double Six - Double Six Luxury Hotel
According to visitors, this place is somewhat underrated but well worth every rupee spent. Excellent service combined with quality and tasty cocktails impress most guests. Of course, the sunsets here are magical. It's during this time that those in the know gather from Seminyak and nearby areas to enjoy the view. The bar is definitely worth highlighting as a must-visit spot for sunset. In fact, coming here for lunch won't work – it opens at 5:00 PM and closes at 11:00 PM. Finding your way here is quite simple. As you approach the Double Six Hotel, you'll see a sign that says "Rooftop Sunset Bar," and after entering the main entrance, you go to the top floor.
This establishment can't be described as posh or requiring a specific dress code, unlike the previous ones. The atmosphere here is simpler and more relaxed.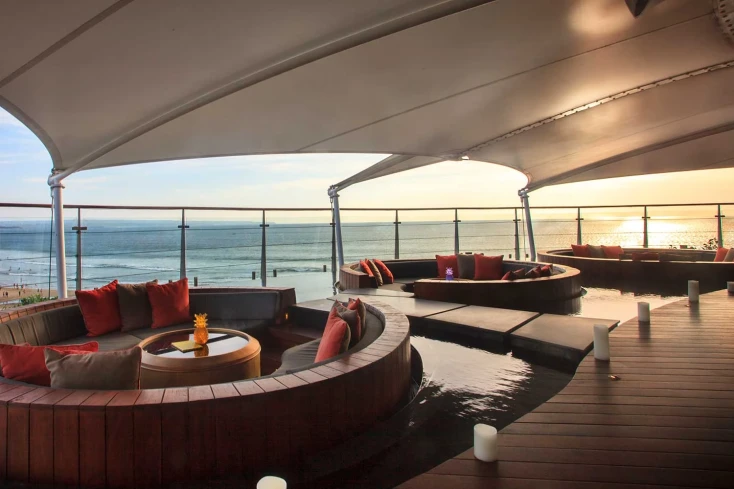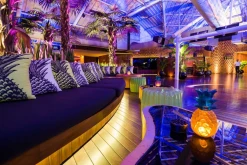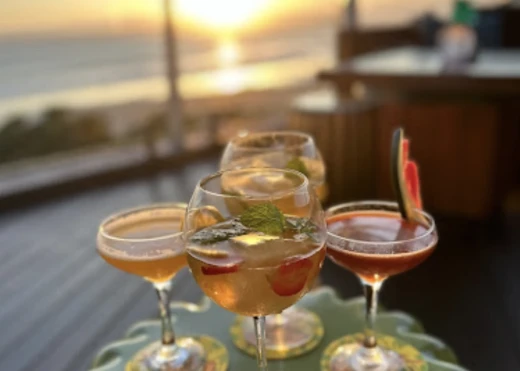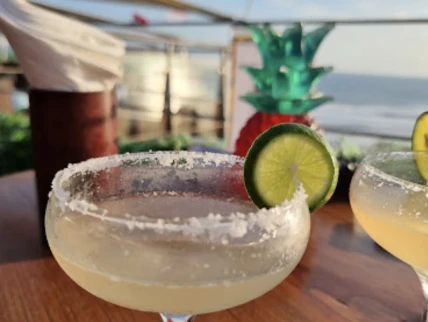 MoonLite Kitchen and Bar
A restaurant and bar in Seminyak overlooking the beach. You can come here for a cocktail, but the atmosphere is more suitable for a full dinner and a chilled glass of wine. The view here is excellent.
Live music is often played in the establishment, and the food is of average quality for its price. They have an extensive wine list and a variety of stronger drinks and cocktails.
MoonLite Kitchen and Bar is part of the Anantara resort. It's better to make a reservation for a table on weekends and holidays.
The drink menu includes tropical, signature, and classic cocktails, sparkling wine, whiskey, and bourbon.
The cost of cocktails starts from 120,000 IDR, and shots of strong drinks start from 125,000 IDR.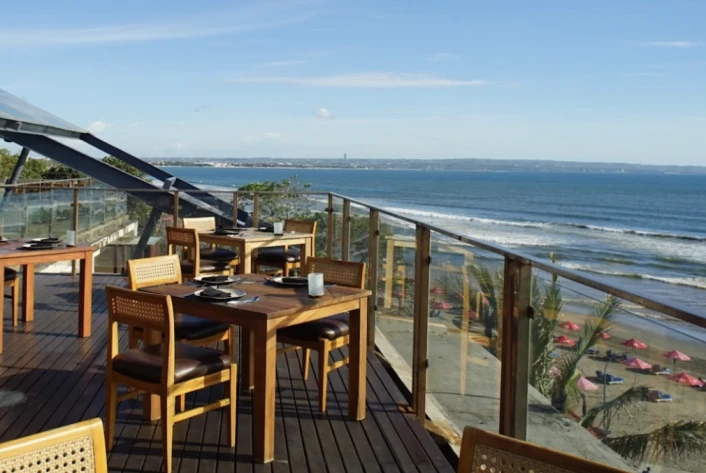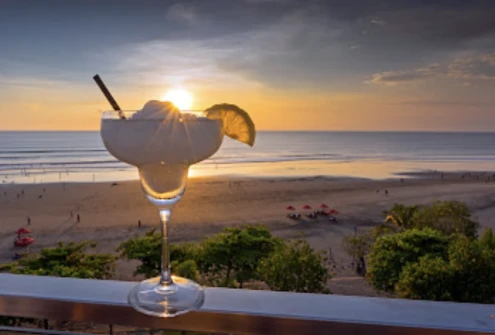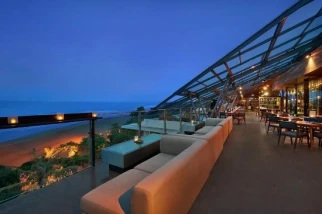 Changu
WOOBAR Bali
A great beachfront bar in Kerobokan. You can sit on the green terrace or inside. In the evenings, the fairy lights come on, creating a particularly warm atmosphere, and the sound of the waves adds to the tranquility.
The establishment is suitable for various occasions: for watching the famous Balinese sunsets, for a romantic evening, for a group of friends, and even for families.
If you want to leave happy and tipsy, Woobar is recommended for a visit. Cocktails range from 145,000 to 170,000 IDR. The menu includes martini, Margarita, and signature cocktails.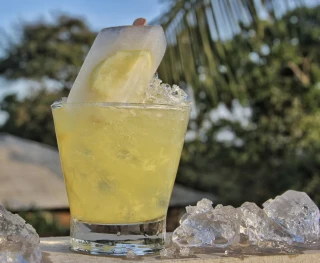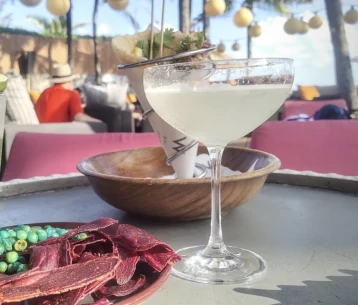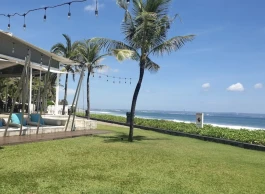 Finns
This complex is suitable for day-long parties, family outings, or sunset cocktails. The resort is quite large, and it's easier to say what it doesn't have. The entertainment section consists of a building with a restaurant and bar, surrounded by pools. The beach club area with sun loungers and pools occupies a significant part of the complex. Entrance to the architecturally attractive structure with a huge thatched roof is free, and that's where the bar is located. I've never seen this place empty or even sparsely populated. There are always people in the pool and at the bar. It's probably one of the first places visited by new tourists in Changgu.
The establishment has been around since 2005 and gained a new look in 2016. It's located on the beach of the same name, Finns Beach, and it never loses its popularity.
The bar opens at 10:00 AM and operates until midnight daily. If you're a fan of sophisticated atmosphere, calm quality music, and privacy, then this might not be the place for you. It's noisy, English-language pop music plays here, and there are many people.
The wine list is extensive, and there's a wide variety of spirits available. There are 13 signature cocktails, all the classic ones too, priced at 125,000 IDR. For spirits, vodka, whiskey, rum, and gin are available by the shot (40ml) or by the bottle. There are 12 options for French and Italian sparkling wines, roughly the same for red and white wines. The cost of a glass ranges from 95,000 IDR to 150,000 IDR. Champagne and sparkling wine are sold by the bottle.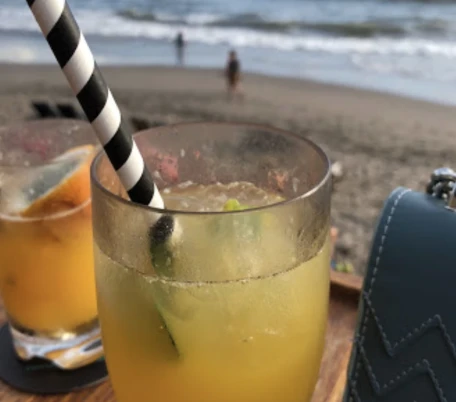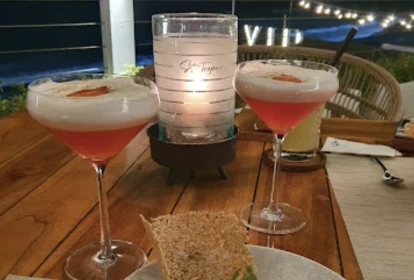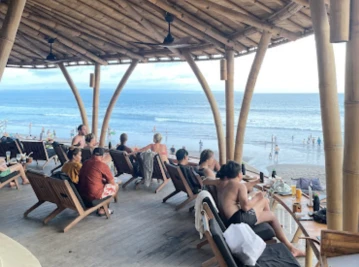 La Lucciola
A cozy establishment located in the Petitenget Beach area. It offers Italian grandmother's cuisine, the best sunset views with a glass of Prosecco, and a sense of calm and tranquility. Planning a visit during the pre-sunset hours is advisable, and it's a great place to reserve a table. While it's primarily a restaurant, no one will judge if you only order a couple of cocktails.
The drink menu is excellent, offering various cocktails ranging from classic to signature creations. Additionally, there are a couple of aperitifs and premium whiskey selections. They also have whiskey and brandy, as well as digestifs. As you can tell, this is not a place for quick shots; it's meant for savoring cocktails or a glass of whiskey thoughtfully. Following Italian tradition, the wine list is extensive with numerous options, mostly available by the bottle. There are only 2-3 wine options available by the glass, with prices starting at 140,000 IDR.
They also haven't overlooked beer, offering craft lager and several classic options, with prices starting at 47,000 IDR.