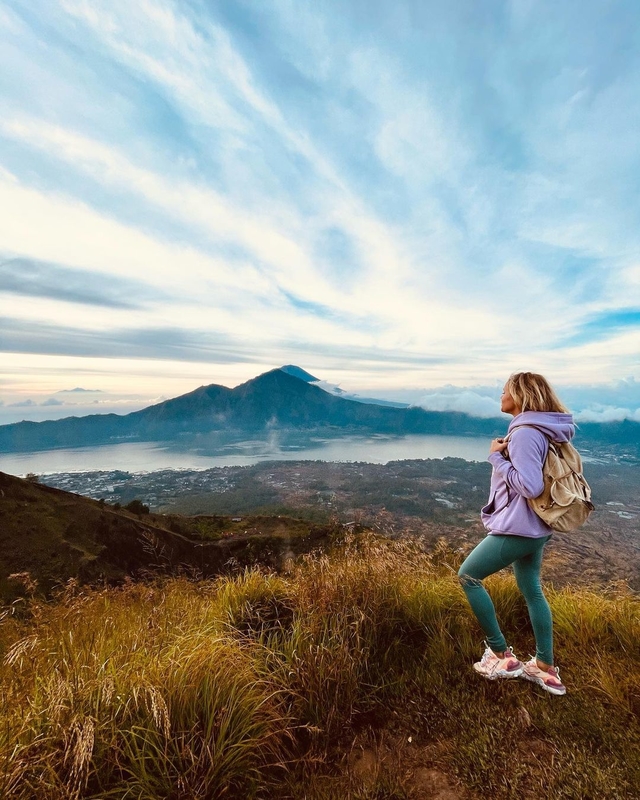 Do you dream of watching the sunrise on a volcano?
It's worth noting that this activity is not for everyone! The ascent itself is not difficult, but it takes place in the darkness. The start is at 4 in the morning to reach the summit by 6-6.30 am.
The views from the height of Mount Batur in the early morning light are incredible indeed! You have the chance to see Mount Agung (the largest volcano in Bali) and even Mount Rinjani (on the island of Lombok) if you ascend early enough. It's an amazing adventure!
If you choose the longer route, you'll get a close look at the active craters of Mount Batur and even witness breakfast being prepared using volcanic steam (eggs and bananas)!
This area is indeed very interesting and beautiful on its own.
The active volcano Mount Batur is situated within the crater of another very ancient volcano. Within this same crater, the Lake Batur was formed, which is the largest lake in Bali and holds great sacred significance for the Balinese people.
On the shores of this lake, there is also an ancient settlement of the indigenous Balinese people - the Bali Aga
village of Trunyan.
Additionally, in this area, there are several hot springs. Although they are more warm than scalding hot, it's very pleasant to relax your body in them after the ascent to the volcano. The water in these springs is very soothing, leaving your skin soft and tender!
If you plan to hike Mount Batur, we recommend staying overnight at the base of the volcano.
There are a few more options in the village of Kedisan. However, most of the accommodation there tends to be of lower quality, older, and sometimes overpriced. If you look at the reviews for these hotels, you'll find that most of them are negative, and in reality, these reviews are accurate. The only good option in Kedisan with a beautiful view of Mount Batur is
Batur View Homestay
.
We stayed at
Mapa Lake View Bungalow
. It's located away from the main options, but that's perfect for those seeking tranquility and peace. The bungalow is new and clean with two separate rooms. It's situated on a small hill with a beautiful view of the lake and Mount Abang. You can even enjoy a view of Mount Batur from the shower. The rooms are spacious and bright, very minimalist. And most importantly, the bedding is clean (which is a rare find in budget hotels in Bali). From this place, you can walk to the hot springs in about 15 minutes.
By the way, if you don't want to hike up Mount Batur, you can watch the sunrise right from your bed! The rising sun is visible from the room's windows!