Threads of Life is a small gallery located in the streets of Kajeng in Ubud, a few minutes away from the city center.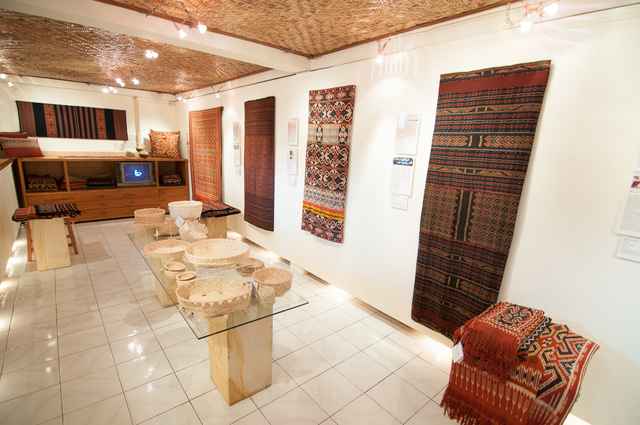 This place opens your eyes to the richness of the traditional textile-making art in Indonesia. The collection showcases textile weaving from different regions of the archipelago, featuring rare styles of weaving and dyeing. All exhibits are handmade and brought from various regions of Indonesia where they are part of the cultural tradition.
The gallery has curators who are always happy to talk about the exhibits, their origin, and the methods of their creation. Some Bali textile samples are representing techniques that were once lost but later revived. Mostly working with Bali textiles, gallery representatives go to the villages of Sidemen, Sereh, and Nusa Penida.
When you step into the gallery, you are amazed by the abundance of bright, saturated colors since all the works are created using natural dyes such as indigo, red pigment made from the noni plant or morinda. Information regarding each exhibit's region, manufacturing process, and color symbolism and pattern drawings is also available.
The gallery's partner company, the Bebali Foundation, has documented more than 300 types of natural dyes used for textiles in Indonesia.
Many exhibits are available for purchase, with prices ranging from $10 to $500.
The gallery also organizes masterclasses for those who want to learn textile-making skills firsthand. Classes are held for groups of four people and cost 75,000 rupees. You can also sign up for batik-making classes, which take place at the Umajati Retreat and cost 350,000 rupees.
Threads of Life Textile Gallery: A Must-See Attraction in Ubud
If you are looking for a unique cultural experience in Ubud, you must visit the Threads of Life Textile Gallery. This place is a treasure trove of traditional Indonesian textiles and is sure to surprise and delight you with a rich collection that showcases the country's textile-making diversity.
Bebali Foundation: The Guardians of Indonesia's Traditional Textile-Making Art
The Bebali Foundation is a partner company of the Threads of Life Textile Gallery, dedicated to preserving Indonesia's traditional textile-making art through documentation and revitalization.
Threads of Life gallery is a must-visit attraction in the city of Ubud.
Textile collection represents traditional weaving and dying techniques from different regions of Indonesia.
All exhibits are handmade and represent cultural tradition of Indonesia.
The gallery offers detailed information about each exhibit's history and manufacturing process.
Bebali Foundation is a partner of Threads of Life and aims at preserving traditional textile-making art in Indonesia.
The gallery offers textile-making classes at affordable rates.