Short videos are still the most popular format on social networks around the world. Some people shoot reels, tic-tocs and shorts for fun, while others make millions (and not just Balinese rupees) with them.
What does it take to make videos "fly"? Is it just charisma and expertise? Do you have to think up a script in advance or is impromptu our best bet? And why do you need a director when shooting content for insta and tik-tok?
how to make your content high-quality and, most importantly, sellable. Today let's try to understand: is it necessary to turn to professional reelsmakers and spend money on content creation or can you film everything yourself?
Where do the reels that can "knock up" begin?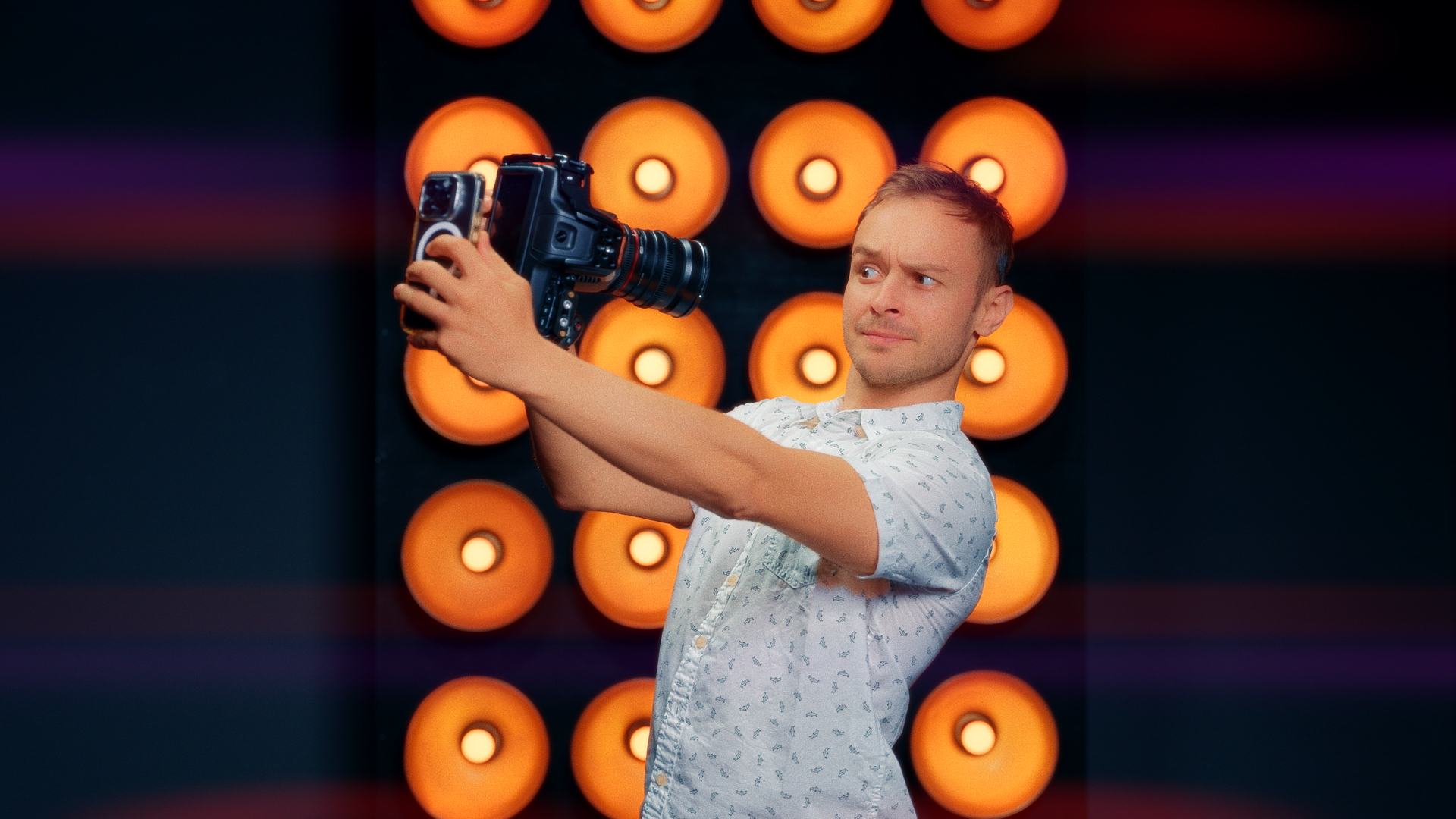 It starts with the fact that you have previously recorded pieces of 20-30 cool selling rils and tick-tocks. Because the algorithms of modern social networks start ranking and giving out recommendations after they see you motivated to make content all the time, not in bursts. That doesn't mean you have to saw content every day, it just means you have to put some effort into it. Next, as far as content structure is concerned.
The first shots should make it clear what exactly we're about to be told. If you show beautiful nature and then start about Instagram sales, the viewer will have dissonance. My personal advice: you don't need long introductions of yourself, your account should tell everyone everything, in rils, start broadcasting right away. Visual hooks also work well when we do something unusual in the frame.
For example, for makeup, it can be the transitions from an unpainted face to a painted face through the movement of the brush. It's a tried-and-true story, but it immediately grabs the viewer's attention. For expert content on visuals, it can again be some before-after work: how it was shot - what came out. And for a restaurant, you just need a beautiful first shot that gets the viewer involved - now it's going to be a foodporno.
I'll tell you straight away - there is no universal hook that will always hook the viewer - you need to find and stick to your style.
⚫It used to be thought that an iPhone was enough to record rils. Now everyone is getting more complicated: someone has a loop, someone buys a monopod, a light....
What are the pros and cons of having a phone? When you have a phone, you can start shooting reels anywhere as soon as inspiration comes to you. What's the "minus?" Since most people record on their phone, everyone's picture is the same. If you want to stand out in the market, make a kickass, juicy picture, then the equipment upgrades start. It's good cameras, it's good lenses, it's well exposed, proper lighting. But buying it is half the battle (although the most expensive). The main thing is how you're going to use it.
And here it's easier to turn to a specialist who has made it his profession. For example, in our studio. We under the client can pick up absolutely perfect lighting, corresponding to the colours of his brand, his brandbook, his personal stylistics. Or you can study for a few years in film schools, freelancing to understand how to work competently with the picture and with light.
🔴 Do you need to write a script before you start shooting reels?
A script is definitely needed, but again we have to go from the sphere of activity. There are speakers who are good at streaming, and they can start producing the right content without a script. They have it structured in their heads, so they have a habit of speaking in a structured way. If a person doesn't have that talent, then they definitely need to script, to write a script.
If we are talking about some kind of visual work, that is, let's say, transitions, special effects, different modern tricks, when there is a change of clothes on people, here a script and storyboard is mandatory, because otherwise you can't get the result.
In our studio we often use a teleprompter so that the speaker can read his text while looking at the camera. Then you get the impression that he has a very good grasp of the topic, but his eyes don't run away from the camera, he looks directly into the viewer, and that keeps the audience engaged.
⚫ Popular bloggers have a director on the set of reels. Isn't that a bit much?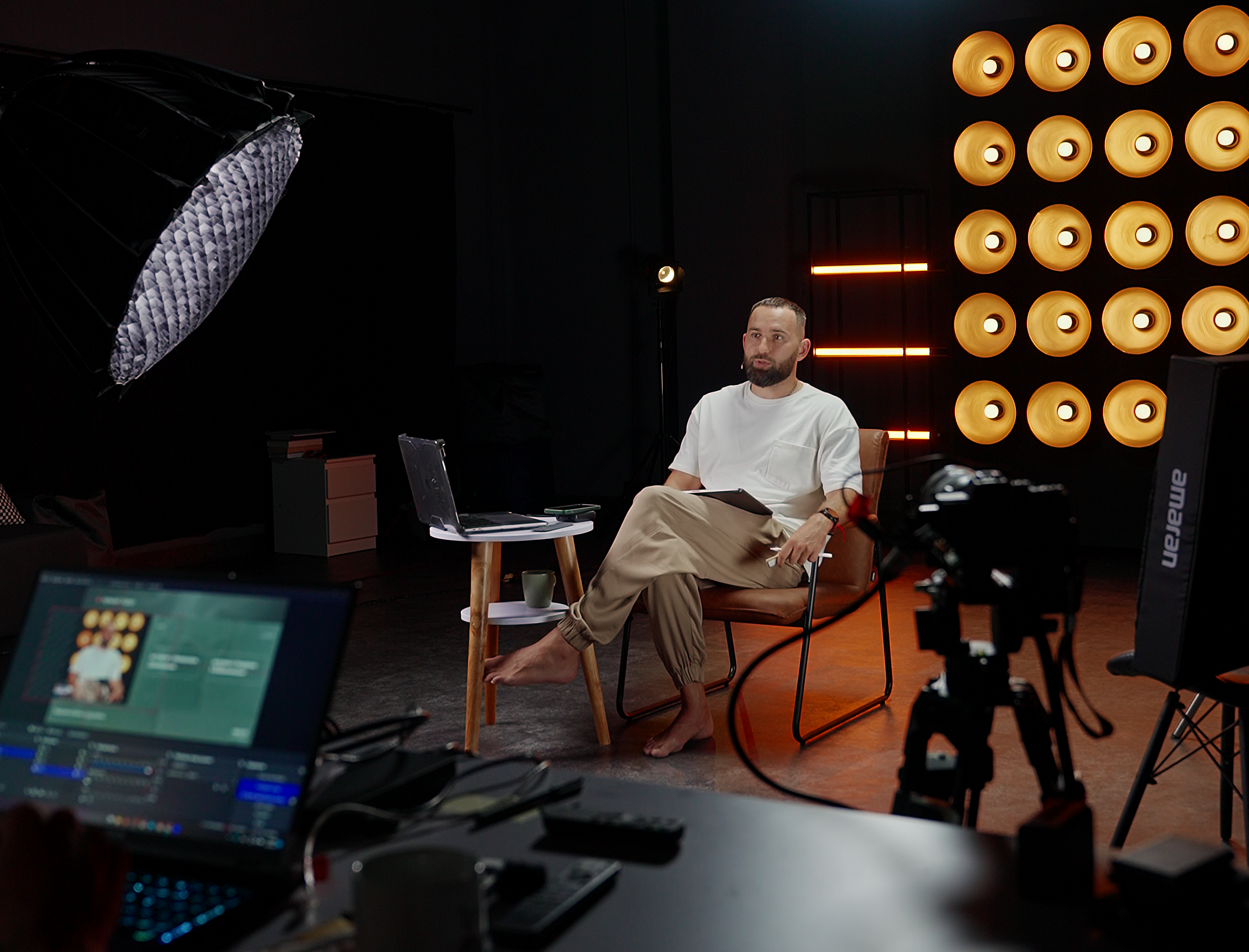 The director's job is to keep several aspects in mind. The first is the overall stylistic one, so that what happened in the frame is in keeping with the spirit of what they want to show the audience. The second is to work with the actor. If a person directs himself, he should pay attention to his intonation, to his body position, to his voice timbre and voice tempo. It is better to voice different themes with different tempos.
Someone gets a soft, deep, heartfelt voice, someone on the contrary begins to quickly throw a stream of words and it is organic for him. So ideally it is better that the director was on the set and looking from the outside could say, this is great, this is not so good, this is better to redo. He should be watching the rhetoric of the hero of the video, his poses.
🔴 What is the right way to borrow other people's ideas and is it acceptable in principle?
Borrowing other people's ideas is necessary and good, but you need to steal like an artist. Now there is a massive wave of reposts of various rils and their remodelling. For example, some blogger has done something cool and everyone is repeating it. And there are two options here.
First: directly steal, simply copy what another person has done, without noting it in any way, and pass it off as your own work. Everyone, of course, will realise that you did not do it yourself.
The second option is to steal like an artist. For example, film the same thing, but add your own charm, some of your own visual tricks. For example, someone can make a video on fashion, which looks cool, but the selection of clothes is not cool, the ratio of colours of the background and clothes. And the other can do the same thing, but add their own style. And already reels will look much cooler. Or you can play around and combine tricks from different rils. That is to steal as an artist means to steal not to take work 100% from the same person, but to collect many different visual techniques from different people and make something that will reflect you as an artist, but using these techniques. Then it turns out, you didn't steal, you were inspired.
⚫ What are the biggest mistakes when writing short content that sells?
The first is the sound. Usually people don't pay attention to the quality of recorded sound. Most of the time they shoot on iPhones, which is not bad, it's not bad quality, but if you compare it with studio recording and recording on a good studio microphone, the difference is dramatic.
And especially if you're recording somewhere where it's noisy, where the wind is blowing, where your words are blown away. People subconsciously react very badly to any stimuli that distracts them from the content.
The second mistake is a boring picture. That is, people often just don't relate to the composition in any way. Even elementary, if we don't have artificial light on an open area, we can use natural light, build a nice frame somehow, show depth, so that the viewer was more pleasant to look at our picture, and he was not distracted.
The third mistake is a delayed start.
That is, an expert usually needs to get ready to start producing content. And we start with some general phrases that take away from the essence, just like when meeting people. The viewer doesn't feel useful and leaves. You don't need any introductions, remember - you have very little time to get interested.
🔴 As an expert, would you advise to film yourself or hire a specialist?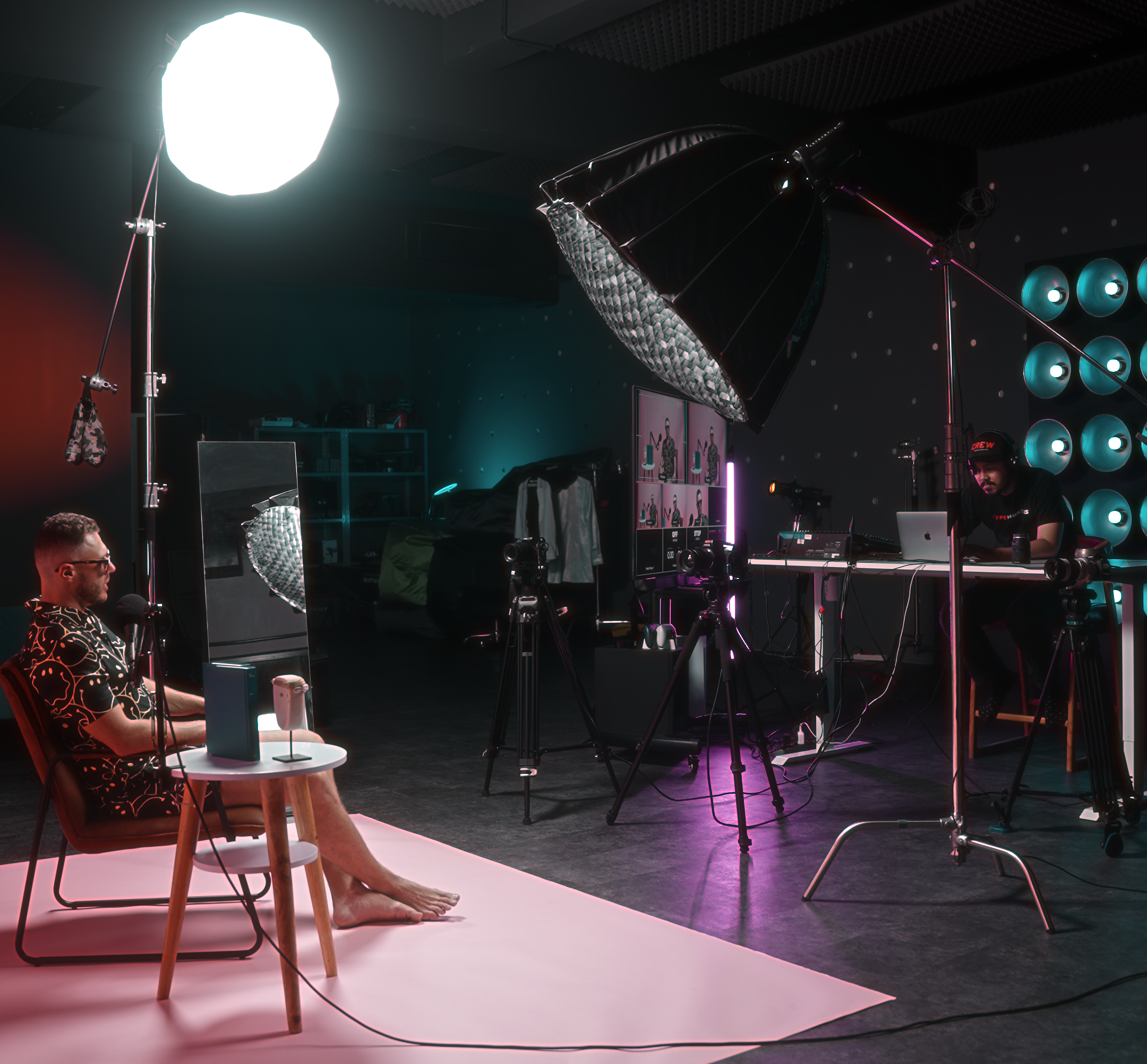 It all depends on the scale of your business and your personality. If you have conversational content, you are, for example, an expert in something and your task is simply to talk about it, then a picture is not critical for you. However, all the speakers who have been on the market for a long time, who have money, start recording their speaking content in good studio conditions. Why? Because an expensive picture sells.
It causes more trust in the expert, he fancied himself, he spent effort to make the viewer more pleasant and produce a beautiful picture. The audience feels that the expert has money to spend on content, it adds credibility.
And most importantly, the beauty of the picture - it gives what? The desire to look at it. And if we enjoy listening and we enjoy looking at it, we'll linger longer on the content. And if the content is useful, we will subscribe to this person and add it to our bookmarks.
I would advise newbies (especially when you need to get conversations going, test recordings, test rils) to film yourself, test, try things out, see how it goes with your audience.
But once you have reached some level of maturity and understanding of the value of your content for the audience, add work with a specialist, hire a team that will make your visuals beautiful and show you as a specialist. We have so many examples of people coming to us who do makeup, for example. And they have work shot on their phone.
Then we do a series of 3-4-5 reels done professionally. They add them to their instagram clips. And the conversion rate of ordering their services increases several times, because as soon as you go to the page, there is beautiful professional content.
⚫You are considered one of the best teams in Bali for short turnkey videos. What do you know that a million other reelsmakers on the island don't?
We specialise in videos in general, not just short videos, but video content creation in general. But since Reels, and the short format in general is actively gaining popularity, and absolutely all the speakers who make YouTube videos, make great videos, they necessarily make short videos as well, so naturally part of our services is to create such content.
We can record reels in our specially equipped studio with soundproofing, with a huge amount of space in which we can use modular sets and lighting to expose different atmospheres, different controlled environments. There will be no dogs barking here, no kids screaming in the background, no bikes pushing their klaxons and honking there.
The studio creates a very comfortable environment where you can record video much more efficiently without distractions from anything around you. Plus professional lighting, plus professional sound. Well, for example, one good professional microphone costs about 500 quid. Hardly anyone will buy a huge long microphone for their personal purposes, which you can't take with you when travelling and can't point at yourself. But in the studio it's all there and ready to use.
Again, the studio is perfectly air-conditioned. When you're writing somewhere hot, you overheat, you start to sweat, you get tired. We have a completely controlled, comfortable environment, professional light.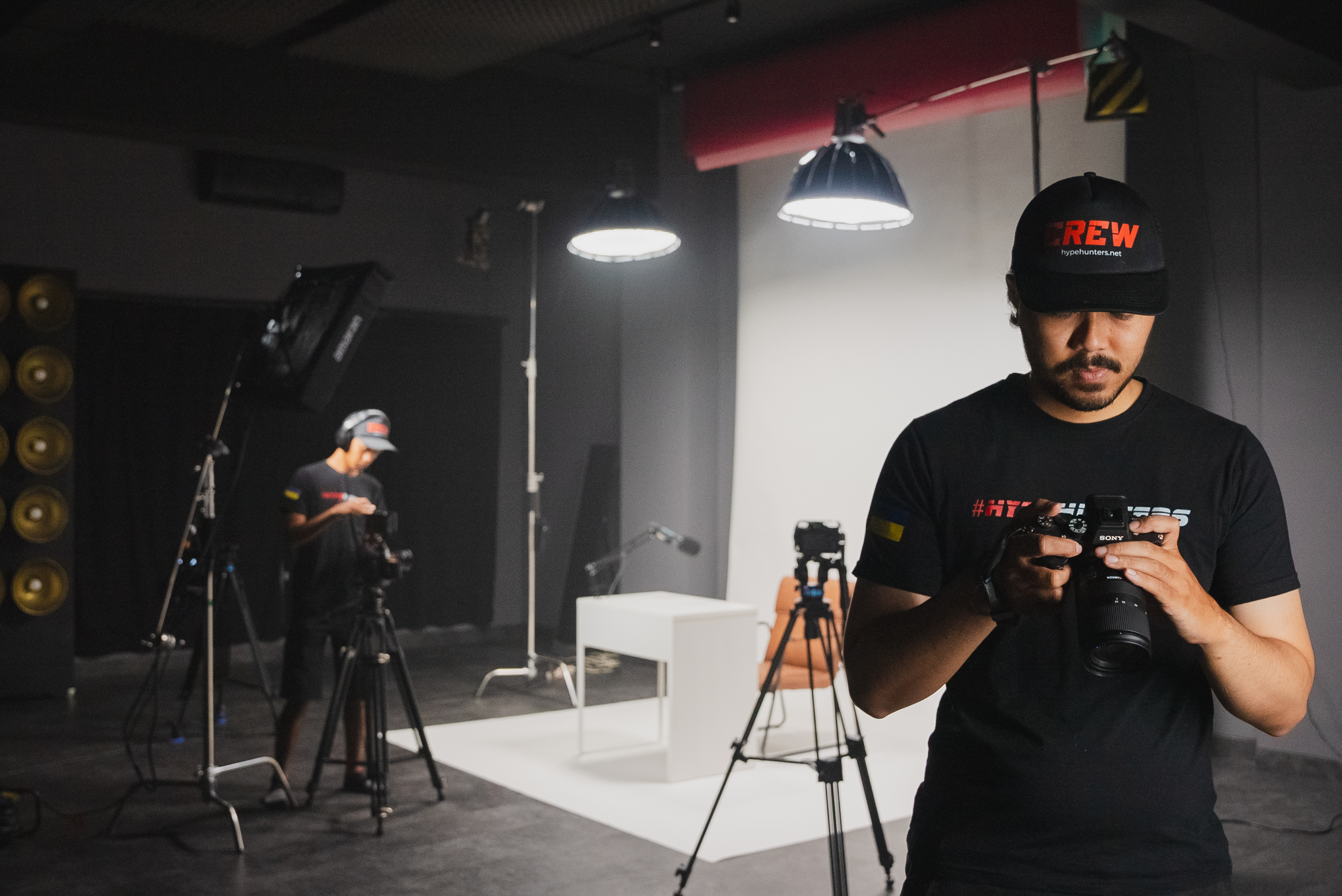 But you know what our biggest advantage is? We think big. We have a team of high-class specialists, each of whom is specialised in his or her field to create top-class content. That is, we have professional colourists who do professional colour correction, we have professional lighting technicians who can set the mood with spotlights, we have decorators who know how to build a mise-en-scene, create a beautiful backdrop for the client's request, not just to make it pretty, but to understand the main colours of the speaker, his visual brandbook, if he has one. If he doesn't have one, then we can assume for his style ourselves.
We work only with professional equipment. We have Netflix approved cameras. So you can film Netflix on them. They're high quality enough to shoot film on. And all of that together, the combination of factors, is the perfect recording environment. The best equipment you can buy on the market, the best light, the best sound, plus a team of specialists who can focus on the task at hand and make the product unique, not like everyone else.
We are responsible for quality, we guarantee quality, and we are here for the long term. So you can come to us today, or you can come to us in a year. There are clients who have been working with us for several years, and every time they come to Bali, they come to us for content.
For any questions, write to: