This review includes diving and snorkeling spots on the Tri Gili Islands - Trawangan, Meno and Aire (Eire). If you found any other cool spots on these islands, please add them.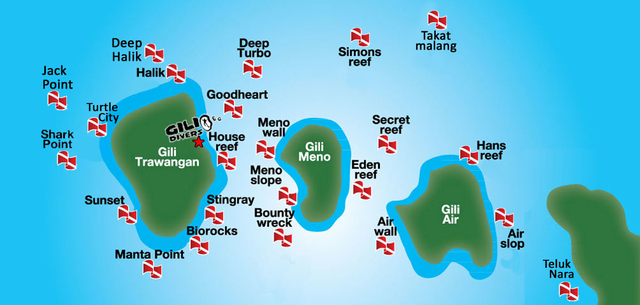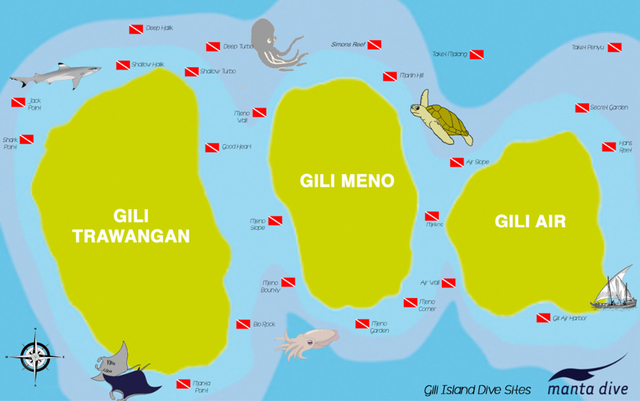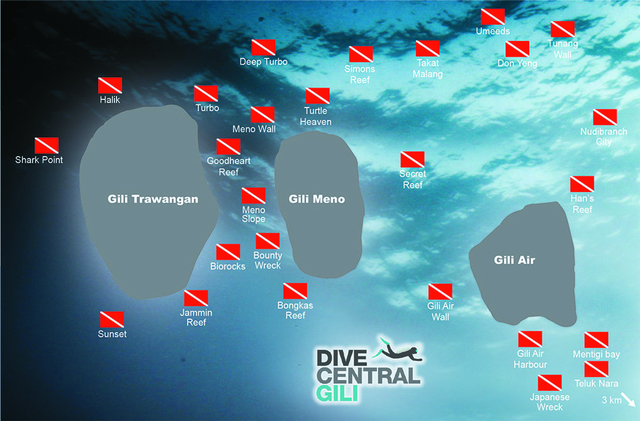 If you've arrived without your snorkeling gear, you can rent it on the street for around 50,000 Indonesian Rupiahs per set (mask, snorkel, fins). Separately, a mask and snorkel or just fins can cost around 25,000 - 30,000 Indonesian Rupiahs per day. Alternatively, you can purchase them from one of the dive centers that have dive equipment shops.
The decision of whether to go on an organized snorkeling tour or go independently is not straightforward. If you're experienced, going snorkeling independently, especially with a group, and are willing to study the spot maps, you can go on your own. If you're traveling solo, are apprehensive about the water, or want to visit more remote spots, taking a tour is a good option. If you choose a tour, snorkeling equipment is usually included in the price.
Experienced divers and snorkelers often say that the underwater world in the Gili Islands cannot be compared to the beauty of the Red Sea. However, the Gili Islands attract visitors with a combination of factors such as calm, clean beaches, water sports, pleasant restaurants, and more. So, it's important not to rush to criticize the Gili Islands too harshly. Here, there is an excellent chance to interact with turtles, witness interesting underwater creations, and even spot sharks.
Gili Trawangan
Excursions
Excursions are offered everywhere in stalls along the main street along the harbor. You can take a tour starting at 10:30 AM for 100,000 Indonesian Rupiah, but there will be a boat for 40 people. Now, imagine how all these people will be splashing around in the water around the famous "Nest" statue to take selfies. There's also a more humane option for 150,000 Indonesian Rupiah. This boat carries 20 people and departs at 1:00 PM.
These tours are often advertised as boat trips with a glass bottom. There's not much advantage to the glass bottom. The "glass bottom" consists of two transparent inserts in the boat's floor. They are not very large, often murky, and it's unlikely that you will see much through them. You'll still need to dive to see the beauty underwater.
The standard tour of Tranggan  includes:
1. The "Nest" statue off the coast of Meno (about 50 meters from the shore).
2. Turtle Point (opposite the Seri Resort on Gili Meno).
3. Lunch at a roadside warung on Gili Air. Lunch is very long, service is poor, and the food is so-so. You won't have time to explore Gili Air.
4. Some unknown point south of Gili Air where there isn't much to see, but everyone is tired and wants to go home, so no one lingers in the water.
You can ask the agent selling the tour to clarify which points are included. Perhaps there will be something more exclusive. Also, at the kiosks offering snorkeling, you can arrange a private tour where it's just you and your friends. The price can vary depending on the size of the boat. Tourists are usually taken to the underwater "Nest" statue and Turtle Point.
You can also snorkel independently in Tranggan. The main and most interesting points include the "Bio Rock" underwater reef with corals, fish, and turtles, which stretches along the entire eastern coast about 30-50 meters from the shore, and the northwestern part of Tranggan, where there is a "wall" along which you can observe corals, fish, occasionally turtles, and sometimes even non-dangerous sharks. At "Bio Rock," opposite the "Villa Ombak" hotel, there are famous underwater scooters.
1. Biorock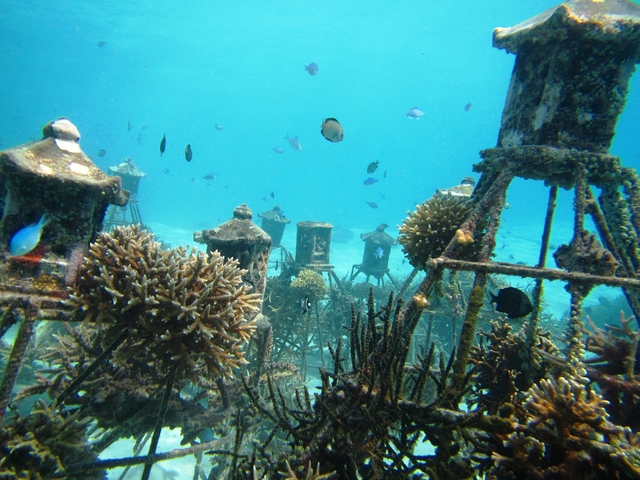 Manta Reef Restoration Project - Gili Island - Indonesia - YouTube In collaboration with Vila Ombak and Gili Eco-trust, Coral Guardian has conceived, developed, and installed the first and largest coral reef restoration prog... YouTube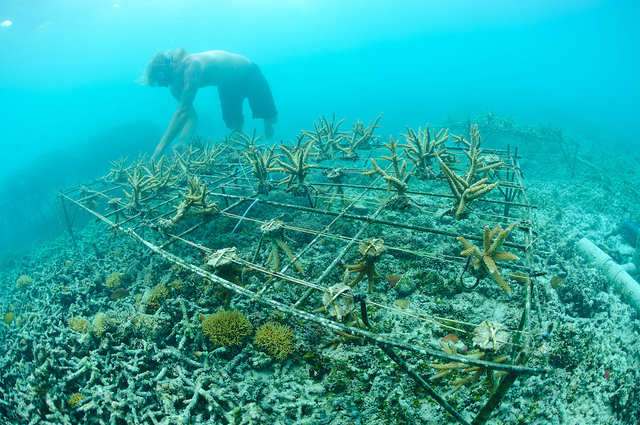 Opposite the former turtle center, there is a structure shaped like a giant turtle.
Opposite the Villa Ombak hotel, there is a structure with underwater scooters that are very popular on Instagram. How to find it? Opposite the hotel, locate the beach jetty and head south from it to find a square yellow pontoon measuring 2 by 2 meters. Underwater scooters are installed next to it.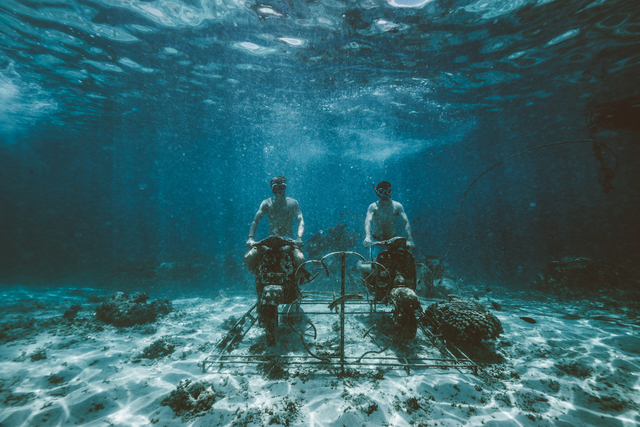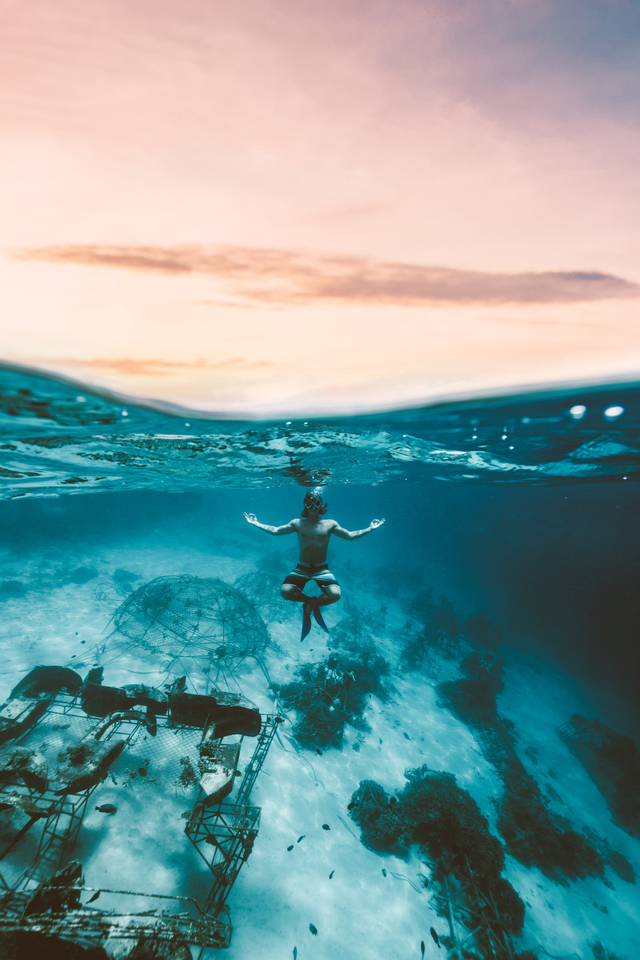 Try to go in at high tide because it will be easier to reach the scooters. If there are strong waves in the sea, the water may become murky from the sand, and visibility may not be very good.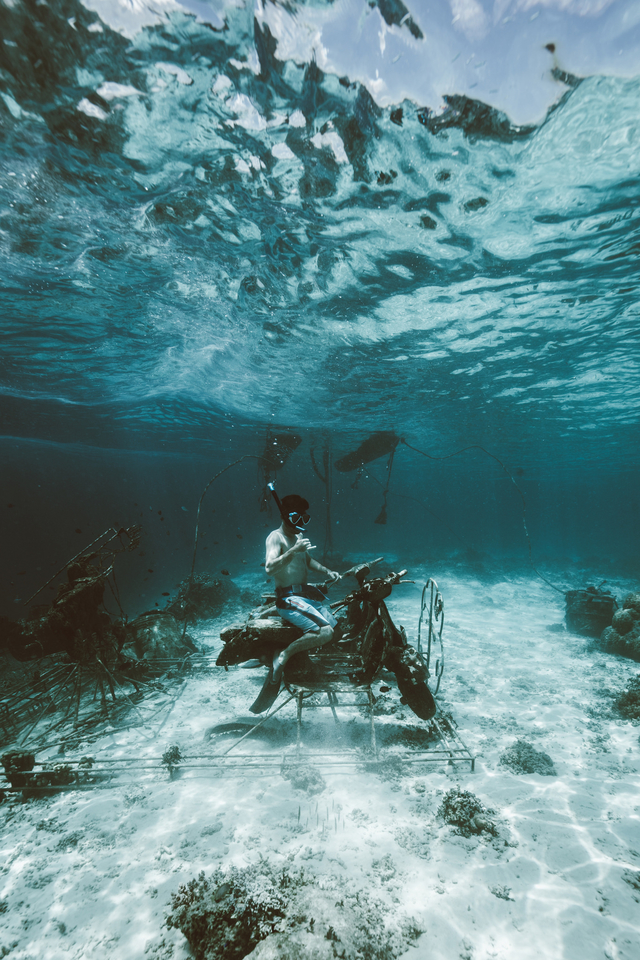 Near this bio rock, boats pass by, so if you're diving for a long time, be careful not to come up under a boat or dive as close as possible to the pontoon. During low tide, the scooters' rudders may be about a meter from the surface of the water. During high tide, they can be about two meters underwater.
The bio rock is located along the coastline of Trangan, extending eastward from the shore. Another area to explore is approximately north of the turtle center.
There is a good chance of seeing turtles in the northern part of the eastern beach. Opposite the turtle center, you can encounter them at depth, and farther north, they also appear in shallower waters.
2. Shark Point
There's a good dive/snorkeling point on the west side of Trangan, approximately across from the Desa Dunia Beda and Le Pirate Club resorts.
If you're on the shore, look in the morning for where all the dive center and snorkeling excursion boats are congregating, and swim there. This point is called Shark Point. Yes, they occasionally spot sharks there, but they are very small and completely harmless. They have no interest in people and are even afraid of them. While swimming towards the sharks, you can see plenty of beautiful marine life.
Head to this point during high tide. It will be easier for you to reach the spot from where you can start swimming.
Gili Meno
Meno is considered the most ideal for snorkeling among these three islands. It has some of the most beautiful snorkeling points around it.
If you're planning to take a snorkeling tour, it will start at around 150,000 rupiahs here. You'll get to visit four points, there will be very few people on the boat, and there won't be any time wasted at some unknown café on a neighboring island.
1. "Christmas Tree"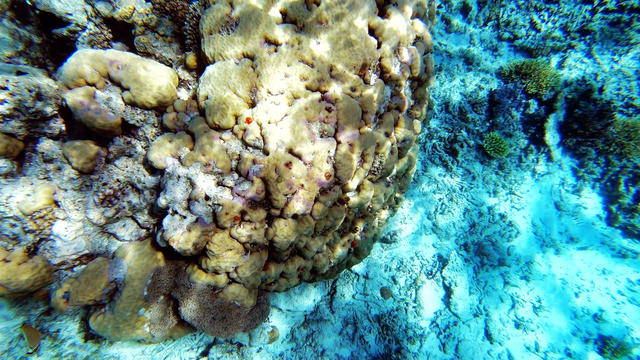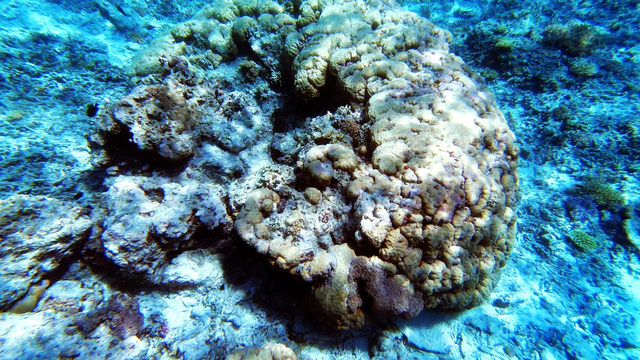 There were many turtles at the point because it is right at the "Turtle Paradise" dive site.
One turtle was initially sitting at the bottom, but then it started to ascend. They do this to take a breath of air. So, if you see a turtle on the bottom, you can wait for a while, and it will eventually come up. The point is located approximately opposite the Seri Resort, and if you wish, you can swim to it from the shore.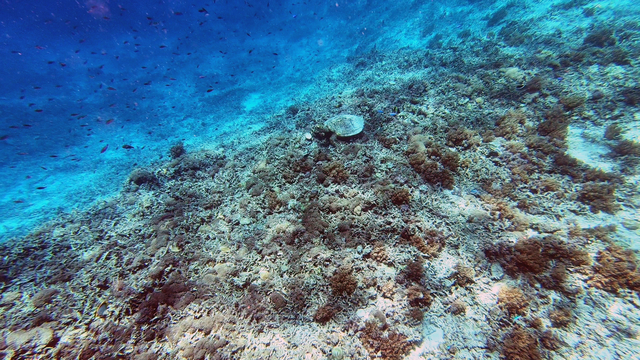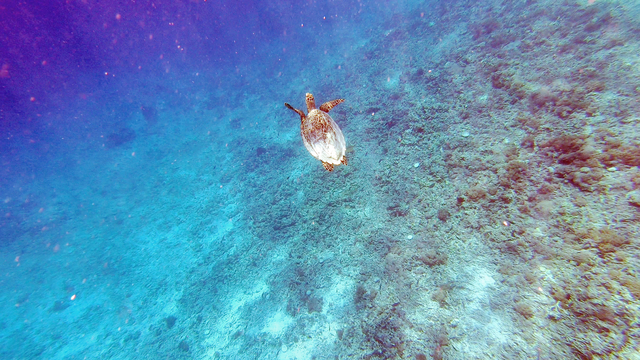 If a turtle is sitting on the bottom and not coming up, the guide dives down to the bottom and touches it to make it surface. It's unclear how exactly this is done, but it's possible that the turtle gets startled by the touch, runs out of air, and then comes up to breathe. Healthy turtles in their natural environment typically surface for air about once every 5 hours.
2. Wall Meno or Meno wall
Located approximately opposite the Mahamaya Hotel. There are very beautiful colored corals and fish there. You can swim and admire all this splendor for a very long time. You can swim to this spot from the shore.
3. Statue "Nest" or Nest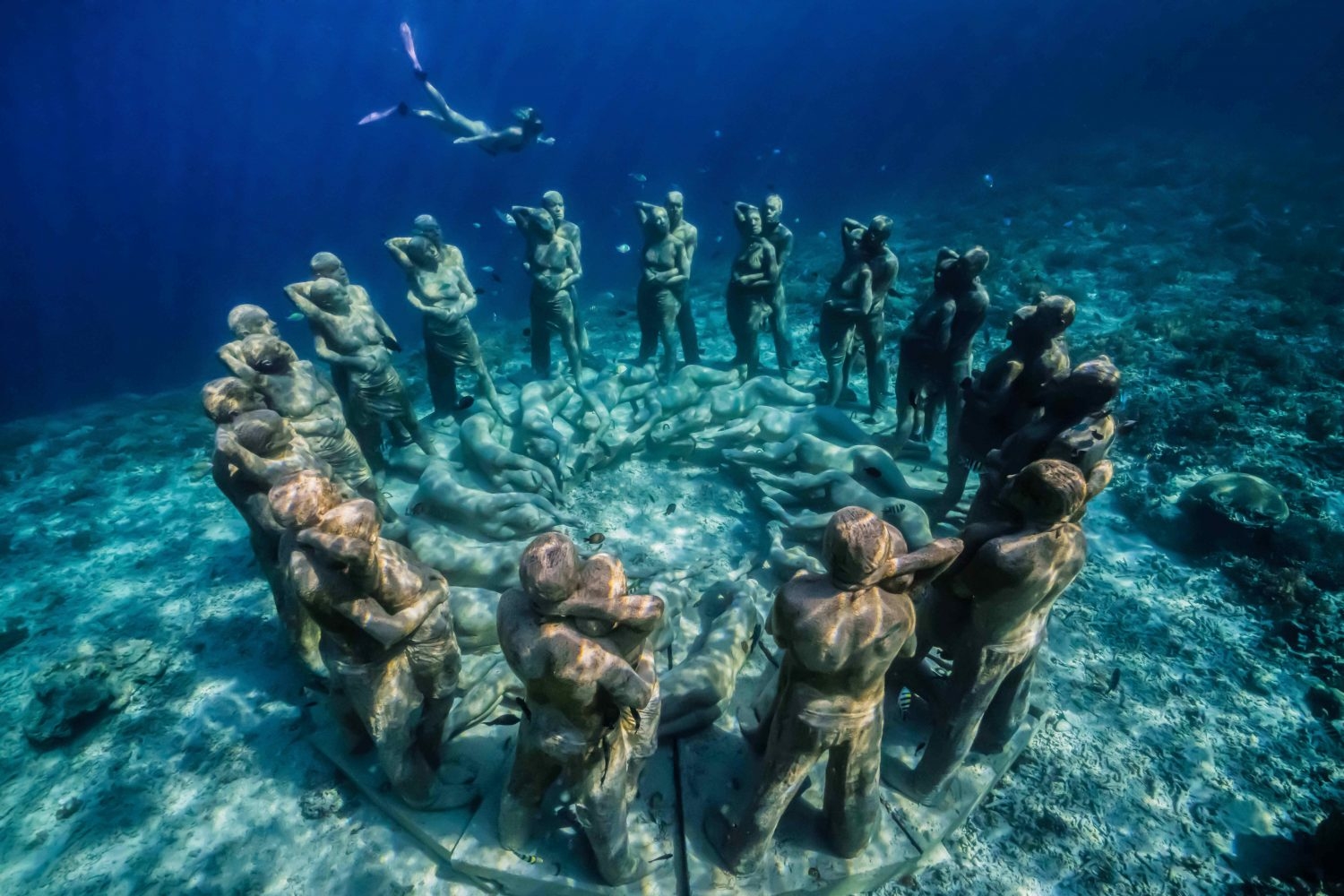 It is located in front of the central sign of the under-construction Bask hotel. When you are brought there by boat, you have some time limit. If they bring you there when the area around the statue is crowded with a soup of fluttering fins and semi-naked bodies of other tourists, it will be difficult to wait for a good moment, although it is possible.
From experience, it can be said that a lot of boats from Trangganu arrive there from 10:30 to 12:00, and then it becomes calm. Perhaps more boats arrive after 13:00. But if you find a "window," you can get the statue to yourself for a while order.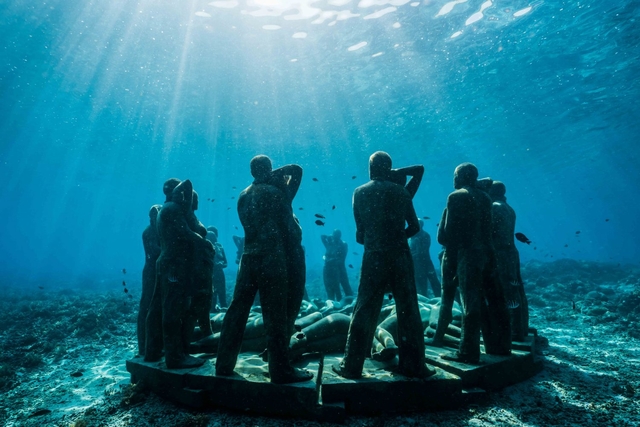 First of all, it's amazing on its own. Secondly, someone constantly feeds the fish in this place, and there are swarms of them. Colorful, big, and small fish. If you bring fish food with you, be careful because curious fish might try to give you a little nip. It doesn't hurt much, but you'll instinctively pull your hand away.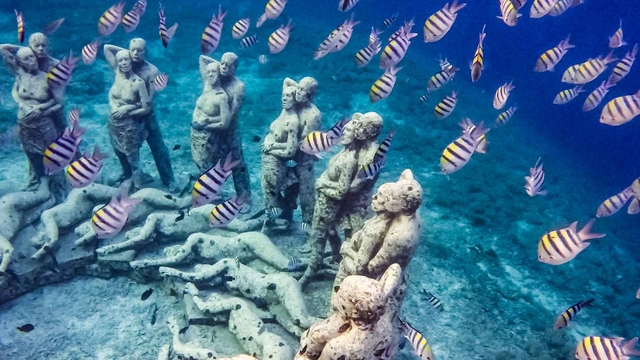 If you snorkel from the shore, determine the ebb and flow of the tide. I enjoyed snorkeling the most at low tide. Of course, going into the water without fins and coral slippers is very difficult.
Definitely, you shouldn't attempt to swim from Gili Trawangan to the statue because there's a southward current in the strait, and it will likely carry you into the ocean.
In addition to the statue, there are many fish swimming among the corals when you descend. Since they swim at a depth of up to 1-1.5 meters, it's very convenient to capture this beauty. I highly recommend visiting this place for those who come to Meno.
a kiss for Gili - YouTube The Indonesian islands of Lombok and the Gili's were shook up in August 2018 by earthquakes, and many people lost their homes. Please go here for support: ht... YouTube
video: Daan Verhoeven
4. Bounty Shipwreck
It is located approximately opposite the Avia Villas hotel. Not much remains of the ship. There's a long hull and a couple of staircases. It lies at a depth of about 12 meters. So, unless you have good free-diving skills, you are unlikely to reach it.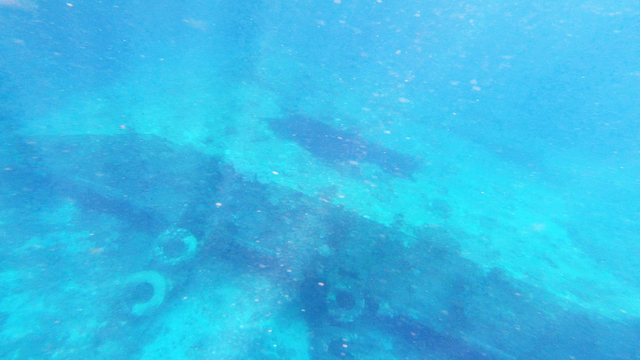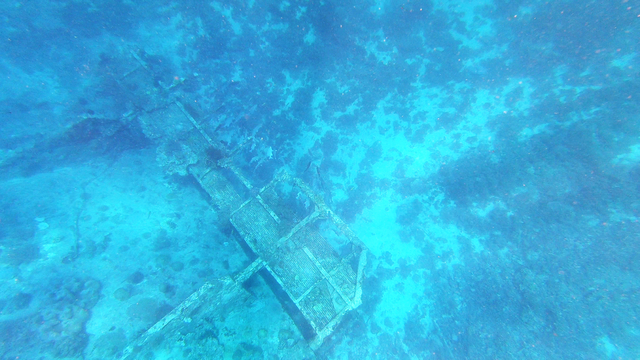 There are fish there, of medium size, but they swim at depth and do not come up to the surface.
It is not advisable to swim to this point from the shore by yourself.
If you live on the east coast or dive near the "Nest" statue, I can advise you to dive around the Mahamaya Resort. This is part of the "Meno wall," and in this area, there is a good chance to see turtles in the shallows and swim with them. In addition to turtles, you can also see corals and beautiful fish there. Mahamaya Resort is an excellent landmark that is easy to find.
Gili Air 
1. Biorock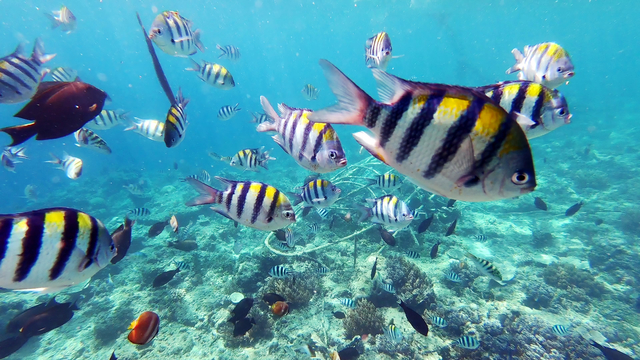 On Gili Air, there is also an artificial reef called "Biorock," although it may not be as large as the one on Gili Trawangan. There are no distinctive structures like scooters, for example. Most of the figures in "Biorock" on Gili Air resemble fish, domes, and "tables."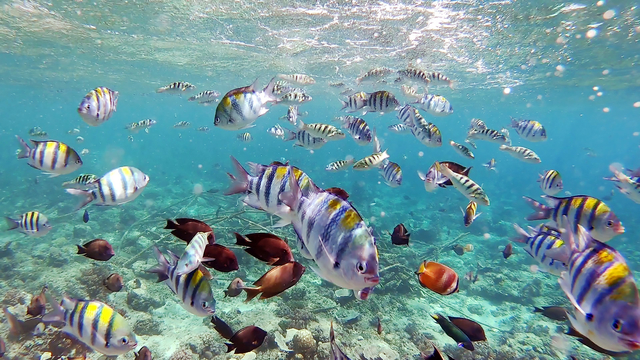 The reef is located on the eastern coast, which is convenient for swimming both during high tide and low tide.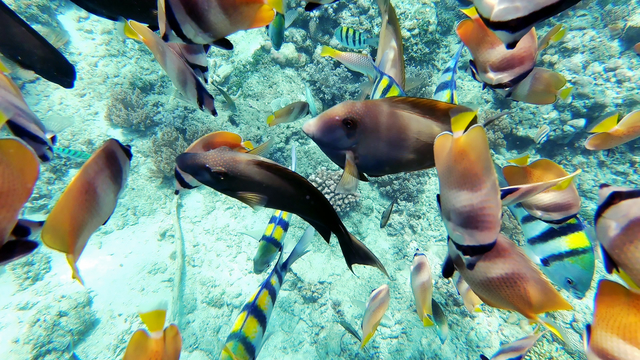 You can swim to Biyora from the popular beach where most sunbathing tourists gather. The beach stretches from Scallywags Resort to Sunrise Resort. Then the sandy beach ends and is replaced by a fortified promenade.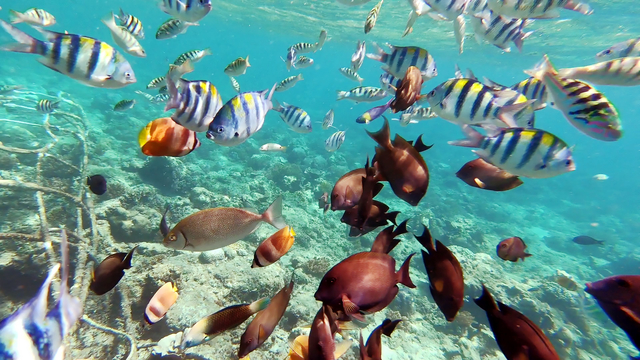 If you're on the southeast beach, just swim in the direction of Manta Dive Center; there are always many boats, and you'll easily figure out how to find it. There are always a lot of fish here that tourists feed.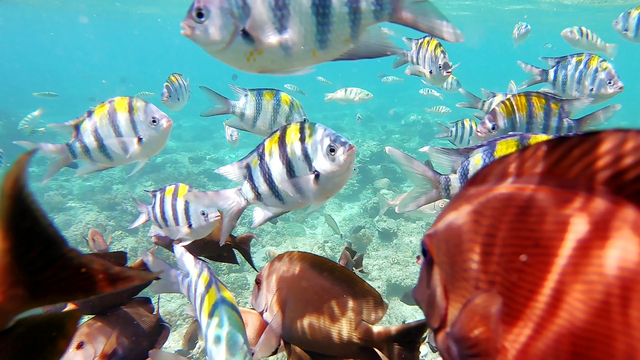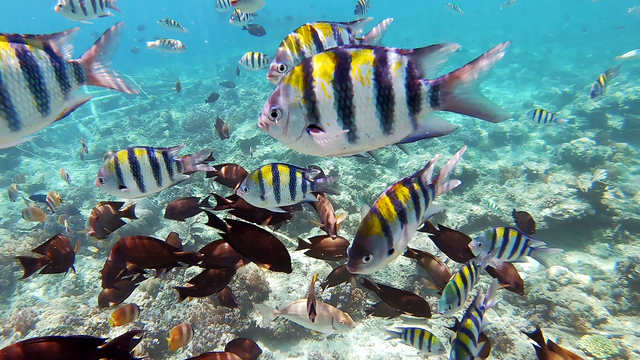 If you go even further north, about 100 meters north of the 3W Dive Center and opposite the signs of the Raja Bar, you can find turtles in shallow water in this area. You can swim with a turtle for about half an hour or observe it while it's eating.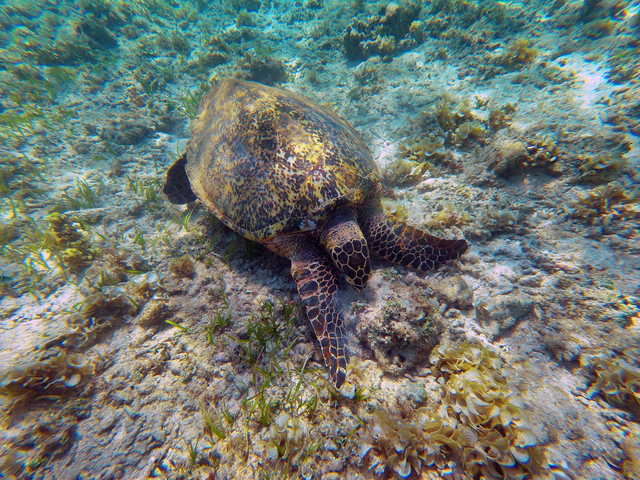 Of course, no one can guarantee 100% that you will see a turtle in that spot, but it's possible to encounter up to 3 turtles there in one morning.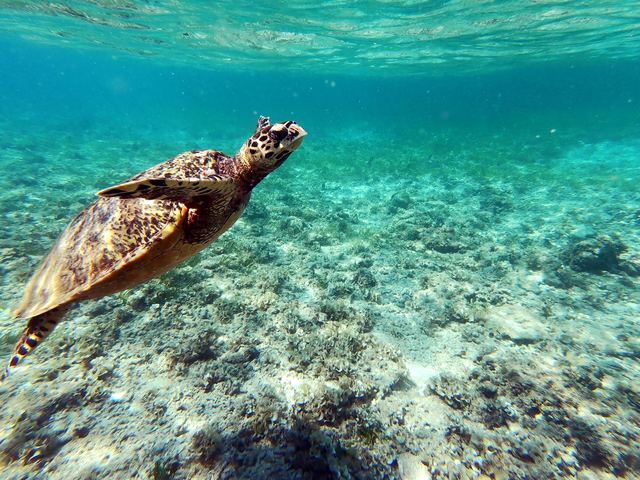 2. Air Slope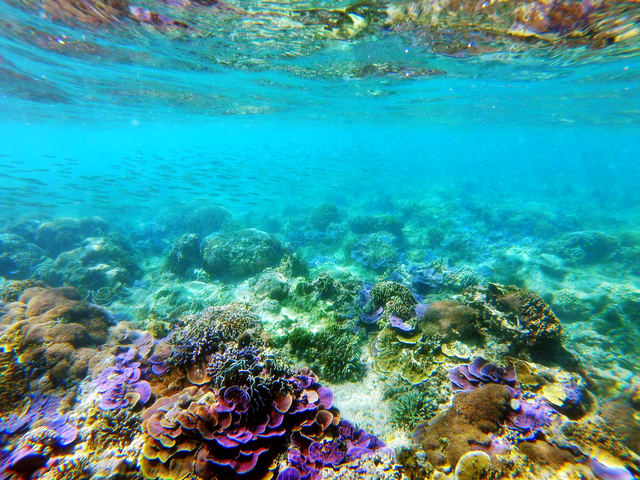 This spot is easiest to reach during high tide. During low tide, you'll first have to walk about 100 meters over the coral, and then you'll encounter a zone with a coral garden that's at the surface. So, whether you swim or walk, it will be equally challenging during low tide.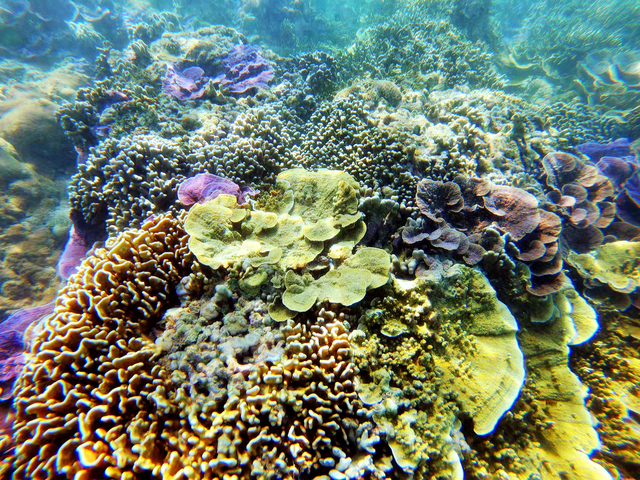 You can easily find this spot by heading into the ocean from the Blue Marlin dive center in the direction of the dive boat from that center, which often anchors at a distance of about 150 meters.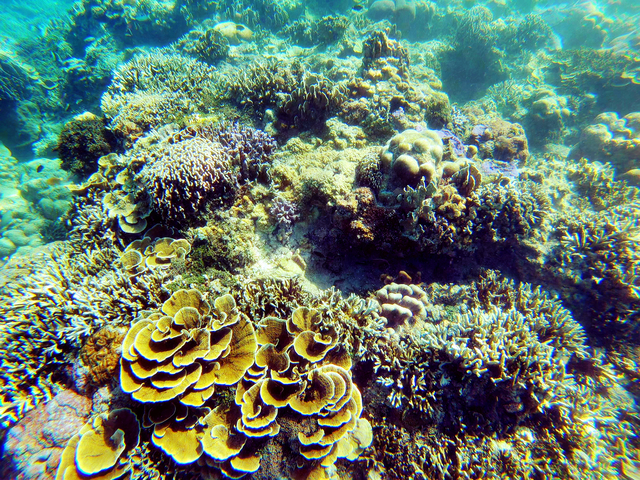 Once you reach the coral gardens, you can swim through them at this spot and explore in a southerly direction for about 100-200 meters.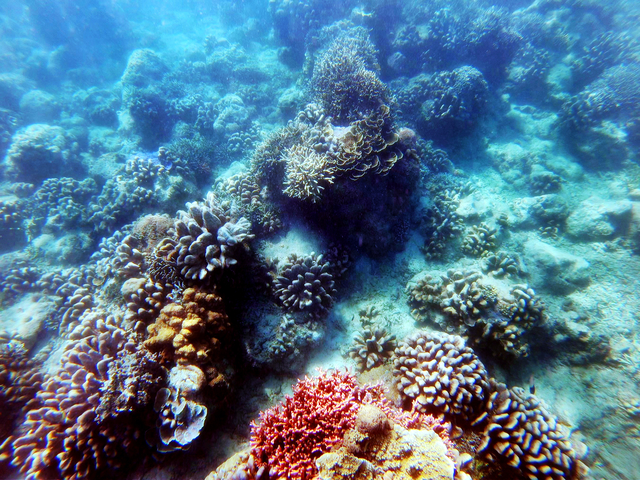 Slightly to the north in the water, you may encounter jellyfish. Their stings can be mildly painful but noticeable. The coral gardens are colorful, with shades of blue and yellow, and there are grooves extending further into the ocean.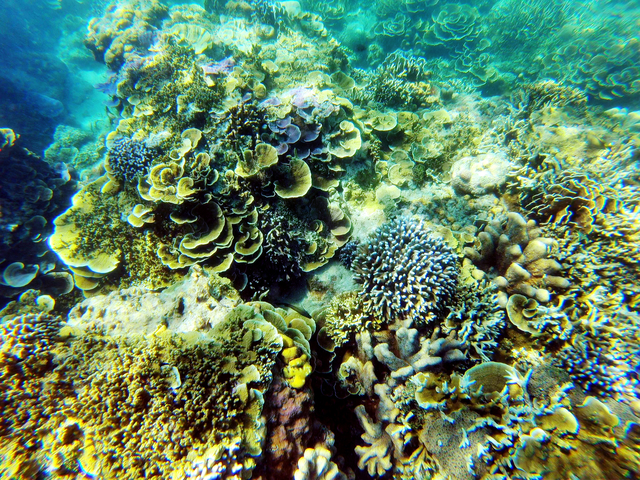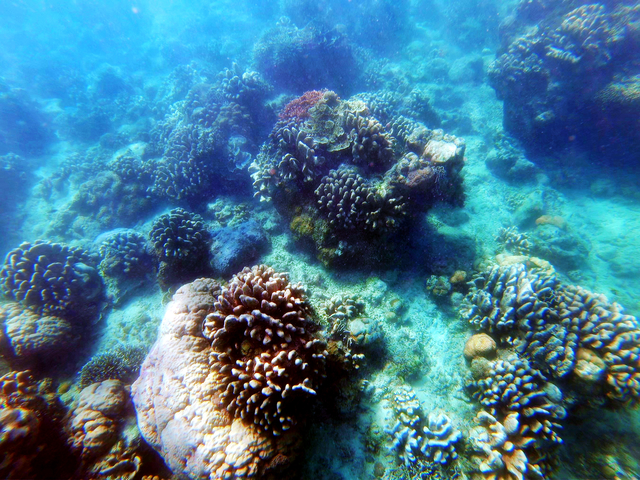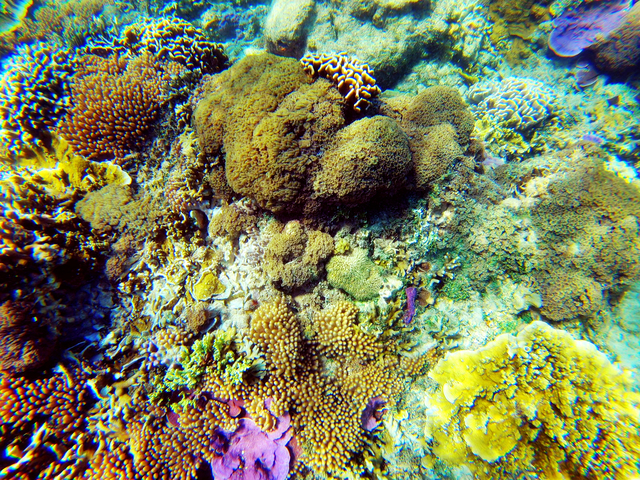 Turtles can be found near the Blue Marlin boat. They can swim in the depths or sit there. They don't particularly swim in shallow water.
Helpful Tips:
1) Take into account the tides and try to snorkel during high tide to avoid walking a long way on exposed reefs. You can find tide schedules in the Gilis smartphone app.
2) Don't swim beyond the coral zone where the depth suddenly increases and there are no more corals.
3) Always bring a buddy when snorkeling and avoid going alone.
4) Do not touch sea turtles or any other marine creatures underwater, as this can harm them or transmit diseases. Never attempt to ride on turtles.
5) If you plan to feed fish, remember that excessive feeding by tourists can disrupt their natural feeding habits. If the fish suddenly lose access to tourist food, they may struggle to adapt to other sources of nutrition.
Please, if you have swam or snorkeled in the Tri Gili Islands, if you have cool photos, videos, any stories or tips, post them in your comments. This will be very useful for other travelers.