A stand-up paddleboard, often referred to as a SUP, is a board used for paddling while standing upright, using a single long paddle. Each year, stand-up paddleboarding, or SUP surfing, becomes increasingly popular worldwide among riders of all ages. Despite the presence of large waves at most beaches in Bali, we have discovered beaches with calm waters suitable for this sport. Scenic cliffs, pleasant sands, crystal-clear and warm waters create an additional atmosphere of comfort for such a marine excursion. We'll tell you where you can rent a SUP board and enjoy it alone, with your family, or with friends.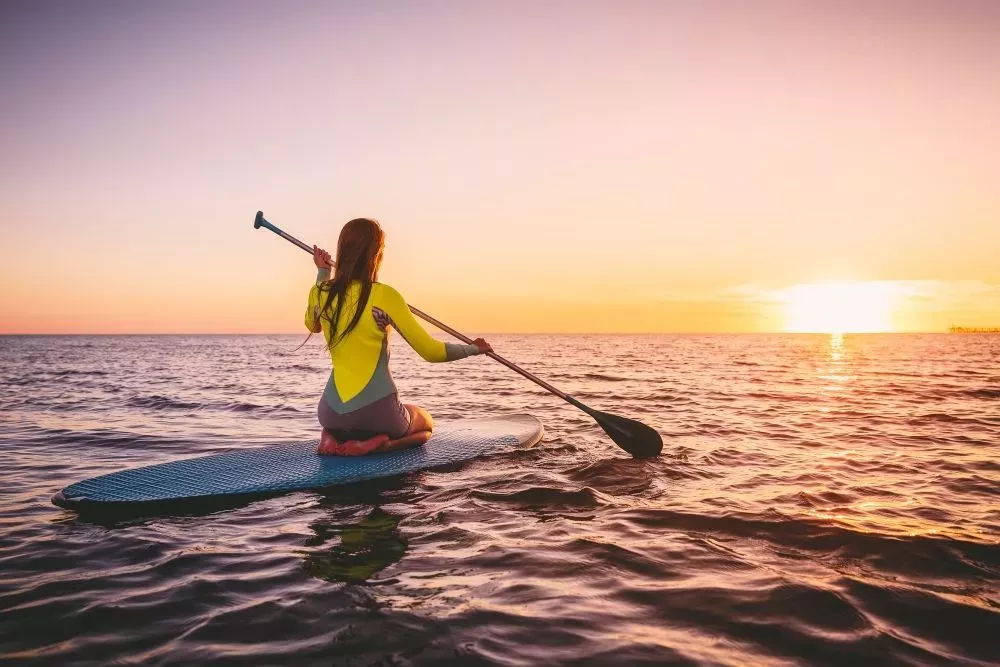 Nusa Dua (Mengiat Beach)
Nusa Dua is the perfect choice for parents with children. The water is calm and suitable for beginners. The gentle descent to the sea offers stunning views of the coastal cliffs.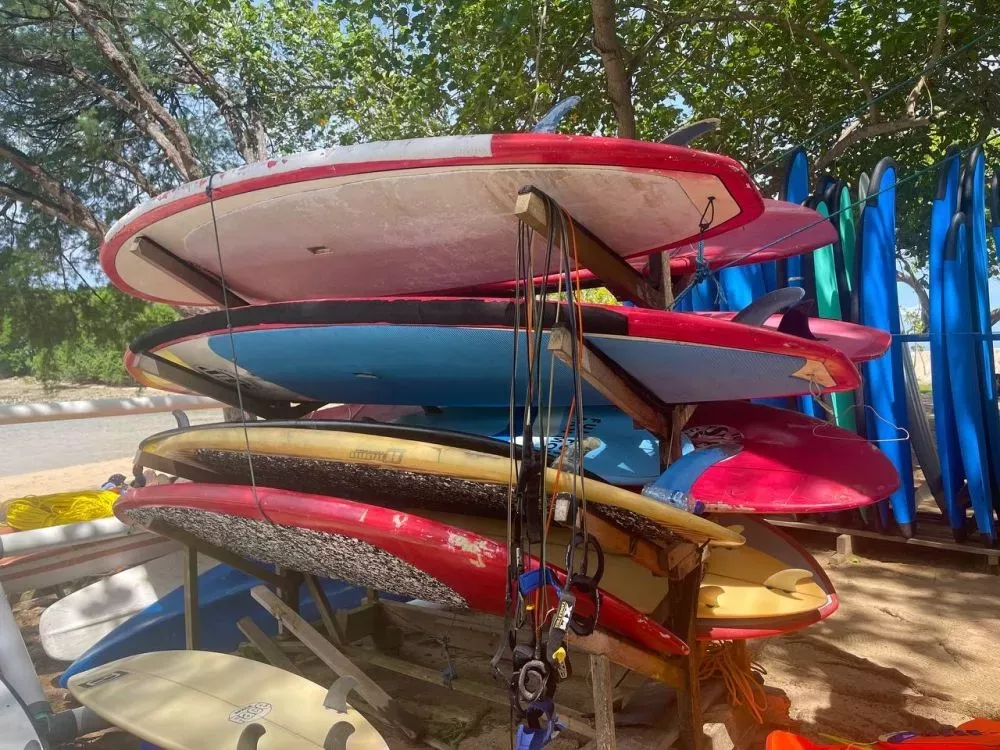 Nusa Dua offers several rental points on the beach, providing both inflatable SUPs (stand-up paddle boards) and rigid ones. Rigid boards are great for high-quality surfing, while inflatable boards are convenient for accommodating children and dogs, making it perfect for a family outing. To make your choice, consider all the factors, rent both types of boards, and try them out.
Rental prices start at 150,000 Indonesian Rupiahs per hour, and for two hours, it's 250,000 Rupiahs. You can get two SUP boards for two hours for 450,000 Rupiahs. Renting a board for a full day is not necessary, as the marine area is small, and an hour or two of paddling should suffice. There are no SUP surfing instructors on the beach, so if you're a beginner or have never been on a board, you'll have to learn on your own. The great thing about SUP surfing is its universality. You don't need special physical preparation or years of training. Anyone can learn to handle an inflatable board in just 20-30 minutes.
Nusa Dua has a well-developed beach infrastructure, where you can easily find sun loungers, umbrellas, grab a snack, or enjoy a relaxing massage after an active paddle session.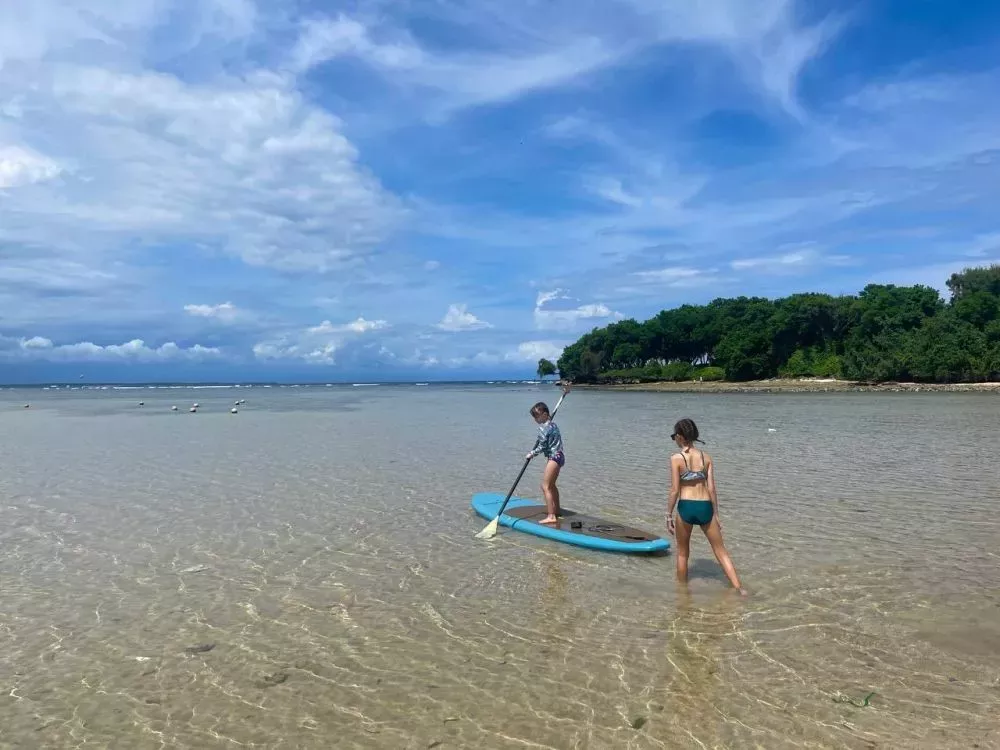 Nusa Dua (Geger Beach)
Geger Beach is also located in the upscale resort area of Nusa Dua on the southeastern part of the island. Its main advantages are its cleanliness and tranquility, making it suitable for children to swim safely. Not far from the shore, there is a coral reef that effectively protects the beach from the wild forces of the ocean.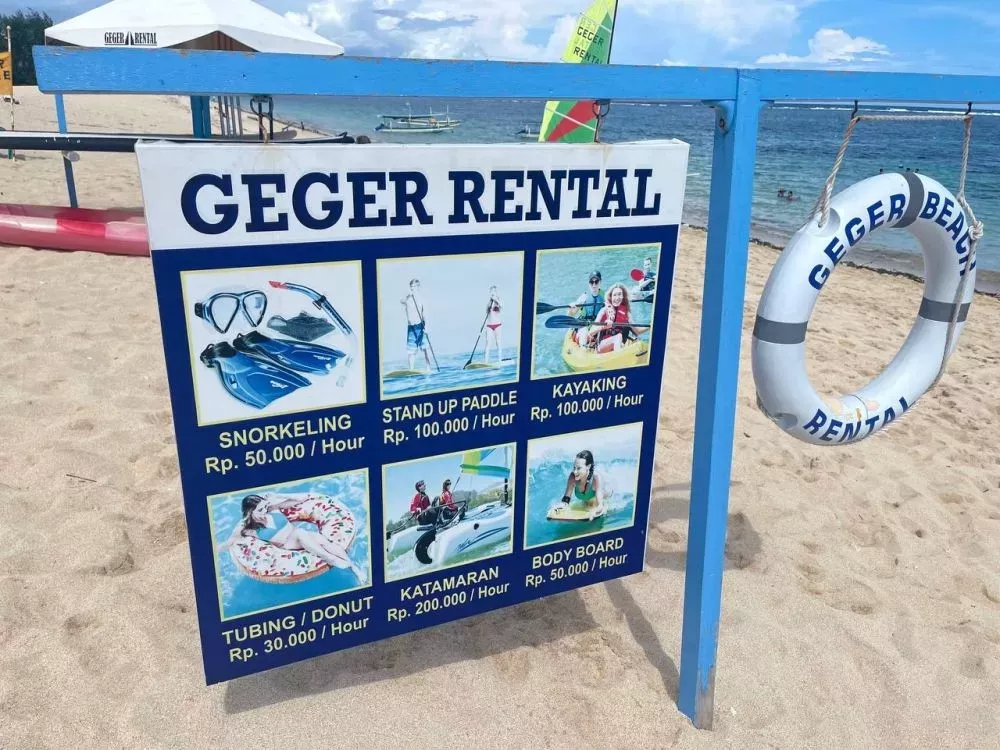 You can rent a variety of equipment here, so you won't need to buy your own gear. Rental rates are as follows: paddleboard (SUP) for one hour - 100,000 rupiahs, for three hours - 250,000 rupiahs; kayak - 100,000 rupiahs per hour; catamaran - 200,000 rupiahs per hour; snorkeling gear (mask, snorkel, and fins) - 50,000 rupiahs per hour.  
Kelan Beach Transport
This large beach is located near the fish market in Jimbaran and close to Ngurah Rai International Airport. Stand-up paddling here can be interesting for those who enjoy watching planes taking off and landing. There are many fishing boats "parked" near the shore, so you'll need to navigate between them, which might make the sea ride a bit less comfortable for some people.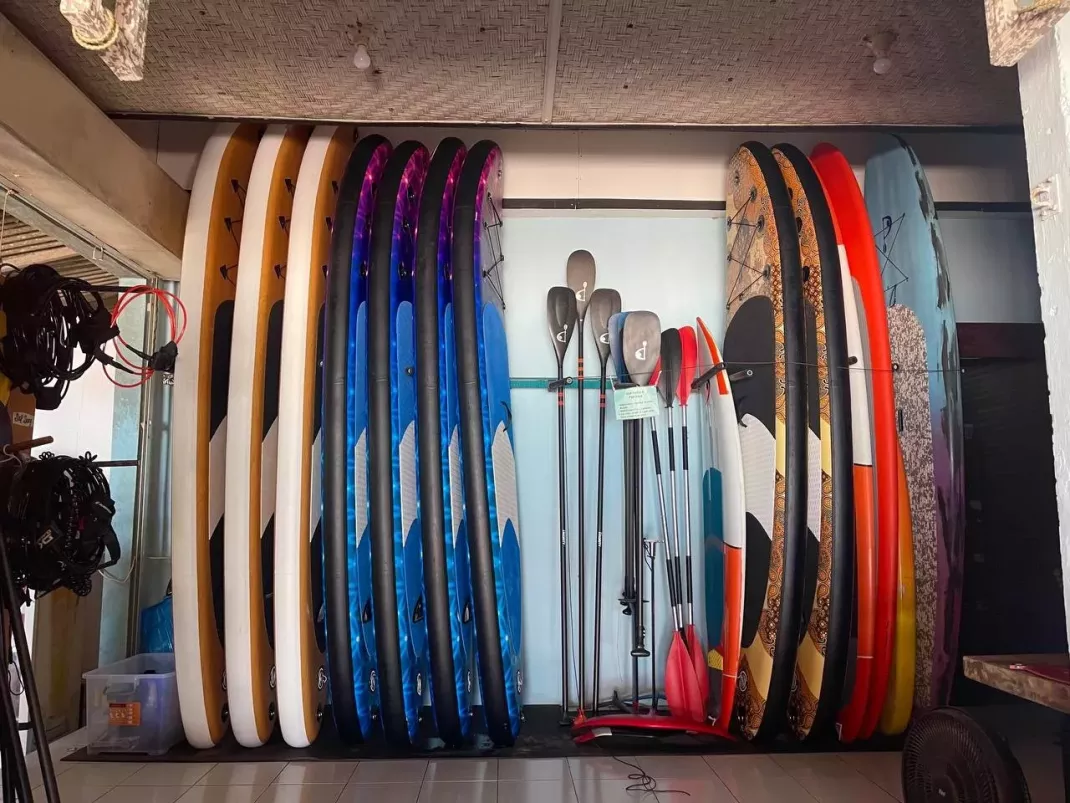 The beach features the Stand Up Paddle Priority club with a wide variety of SUP boards suitable for all weights, heights, and ages. Rental rates are 100,000 Indonesian Rupiah per hour or 250,000 Indonesian Rupiah for a full day, which includes a life jacket. While there is no on-duty instructor on the beach, you can arrange lessons with a trainer in advance for groups of five or more people at a cost of 750,000 Indonesian Rupiah per hour for the entire group. Additionally, they regularly offer SUP yoga classes, which is a great way to add variety to your routine. If you're tired of indoor workouts, take it to the water. Instead of a solid floor, you'll be balancing on water that constantly shifts beneath you. It requires effort to maintain your balance. Moreover, practicing yoga on the water can be very calming. The sound of the water is considered one of the best relaxation aids. You don't necessarily have to do complex poses; simply meditating can be enough.
And finally, SUP yoga is beautiful. After all, in nature, every moment matters.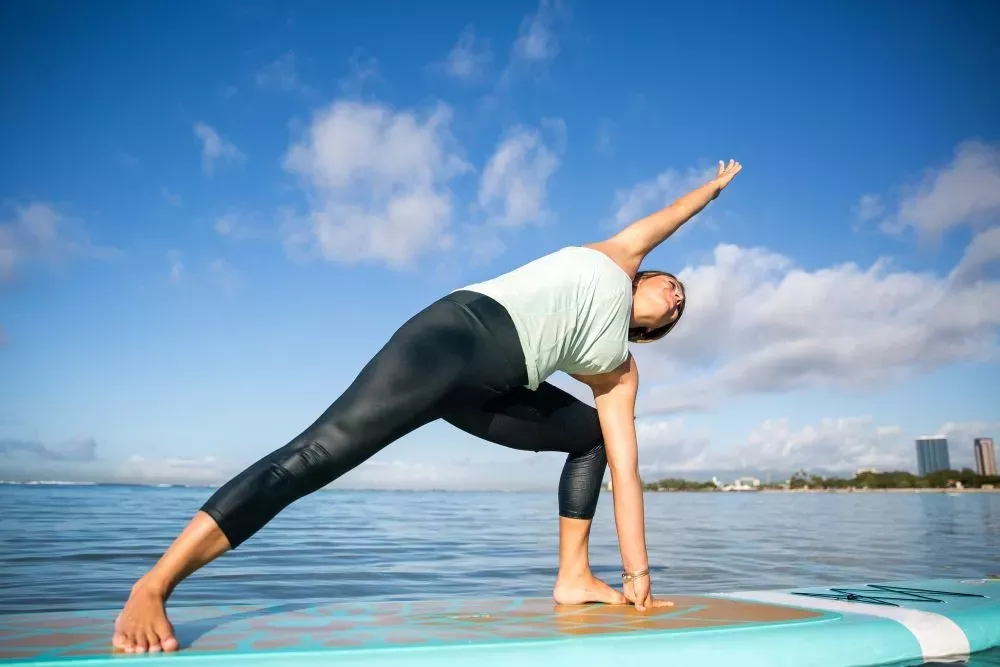 To join a group, you need to come to the beach and discuss all the details on the spot. All instructors are certified. A 1.5-hour SUP yoga session costs 250,000 Indonesian Rupiah, and if you book multiple lessons, it may be more cost-effective.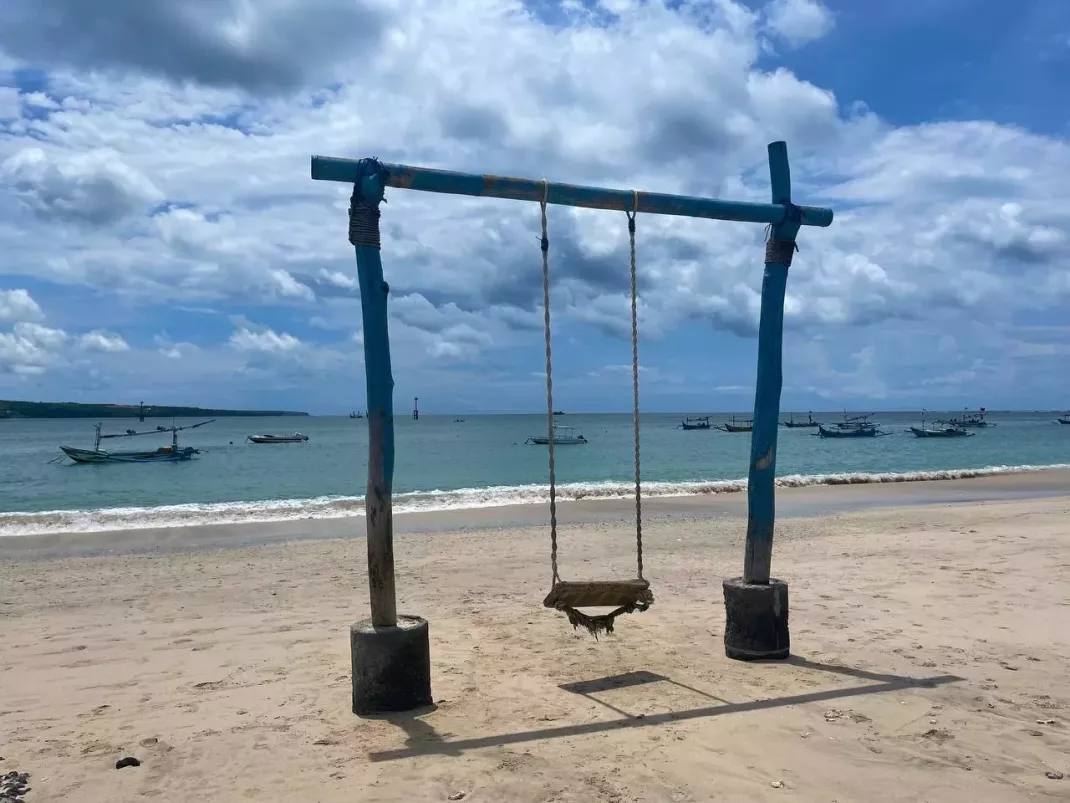 Padang Padang Beach
Padang Padang Beach has gained a reputation as one of the most romantic beaches on the entire island. It was featured in the movie "Eat Pray Love" starring Julia Roberts, and after the film's release, the popularity of the beach quickly rose. Today, you can find many couples visiting in search of romance.
Despite being known as one of Bali's world-class surfing beaches, Padang Padang also offers a large marine area with calm waters. This makes it a safe spot for stand-up paddleboarding, where you can observe fish, turtles, and surfers battling the waves. The beach's appeal is further enhanced by the high cliffs and beautiful trees that surround it.
While the primary focus on the beach is surfboard rentals, there is a limited availability of SUP board rentals. However, during our search, we found only one rental shop with three hard boards, one of which was of a smaller size, making the SUP experience on the marine area less comfortable.
The rental cost per hour for one person is 150,000 Indonesian Rupiah. If you negotiate, you may be able to get three boards for one hour at 300,000 Rupiah.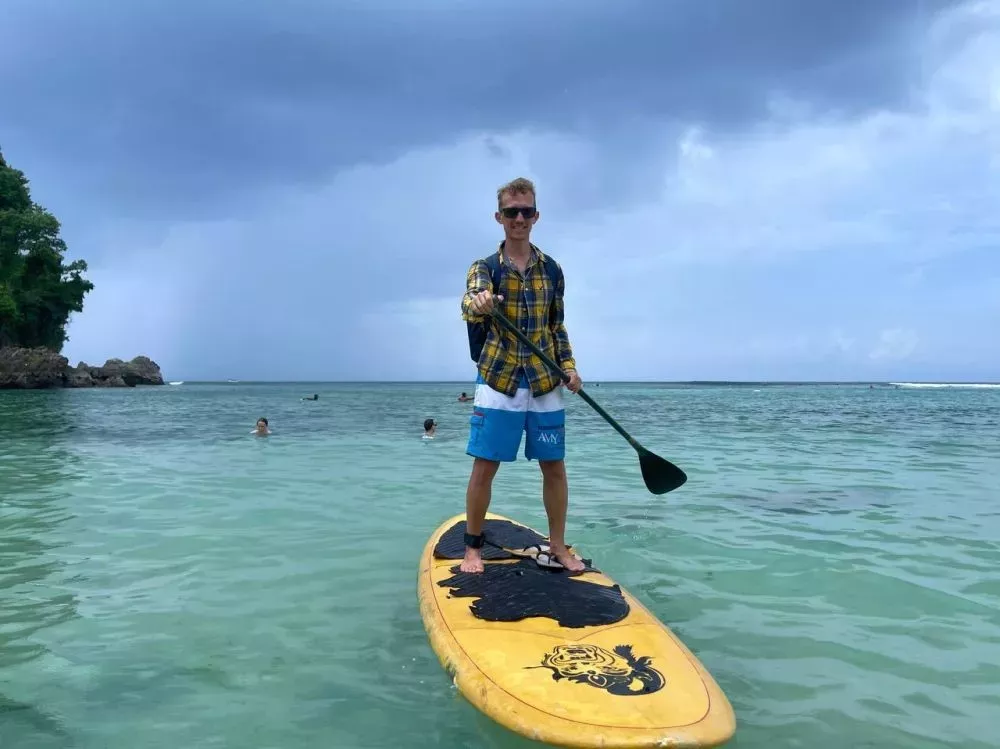 Sanur (Semaga Beach)
On Padang Padang Beach, you'll find the Bali Stand UP Paddle School, which offers a wide selection of SUP boards, lockers with keys, and changing rooms.
A 1.5-hour session with an instructor costs 400,000 Indonesian Rupiah. Before starting your excursion, experienced instructors will provide detailed instructions, explain the theory and basic safety rules, assist you in getting into the water, and accompany you on the route, offering guidance and taking photos.
Lessons and rentals are available by appointment only. Typically, lessons start from 7:00 AM to 9:00 AM, depending on the tides.
If you're an experienced rider, you can rent a board on the beach for independent paddling along the coastal waters. The cost is 200,000 Rupiah for one hour and 300,000 Rupiah for up to three hours. For those who want to rent a SUP for a full day (400,000 Rupiah), a week (1,800,000 Rupiah), or a month (5,000,000 Rupiah) and explore other locations, a deposit of $400 USD and a copy of your passport are required. This price includes all necessary equipment: paddle, pump (if the board is inflatable), ankle leash, fin, and a life jacket.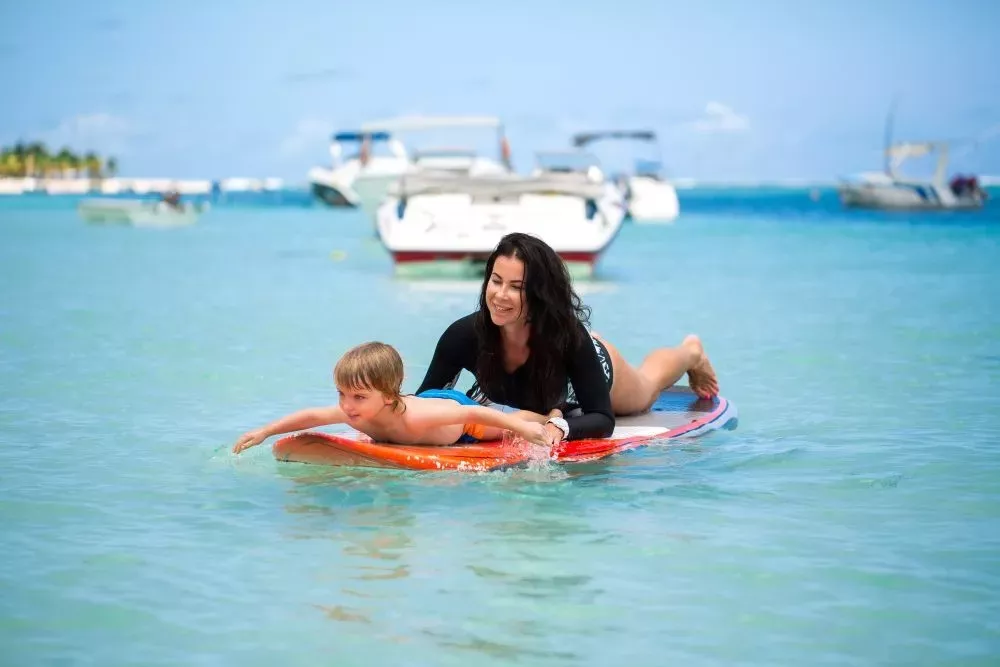 Here are some safety tips and guidelines for behavior when using a SUP board
Choose the right board: Ensure that the board matches your weight. If the weight significantly exceeds the recommended limit, the board may become unstable, bend, and lose its balance.. Assess the conditions
Before heading out on your SUP board, evaluate the situation around you. Check the wind direction and its strength, as wind is one of the most significant factors affecting SUP riders.
Be aware of currents: Ocean currents can change direction frequently. Avoid paddling too far from the shore, as currents can become very strong beyond the reefs, even for experienced swimmers.. Wear a leash
Secure a leash to your ankle or leg to prevent the board from drifting away if you happen to fall off. Always wear a life jacket or personal flotation device.
Protect from the sun: Use sunscreen to protect your skin from direct sun exposure. This is especially important for those with sensitive skin.. Stay hydrated: Bring water with you. Staying hydrated is crucial, especially when exposed to the sun and salty sea air.
Communication: Carry a means of communication that will work throughout your paddle, ensuring you can call for help if needed.
Safety in numbers: It's generally safer and more enjoyable to paddle in a group. Group outings make it easier to distribute supplies and provide assistance if necessary. Always be ready to help fellow paddlers.
These tips will help you and your companions stay safe while enjoying SUP paddling. Have a great time out on the water!
If you know of any other locations with calm waters suitable for SUP boarding in Bali, please share them in the comments.